7 Best Toy Car Washes: From Wood to Real Working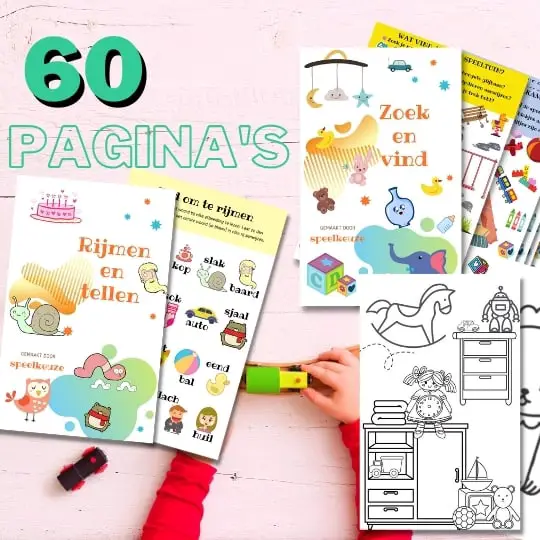 Always something to do for the holidays or rainy day?
Play Choice now has the ultimate activity book collection, with over 60 pages of fun coloring pages and educational puzzles.
Toy cars are great to play with, but one of the best pretend play games is to give them a nice soak.
This Stunt & Splash car wash from Hot Wheels for example, works with real water to wash your cars and can be used together with Color Shifters cars to make the cars change color.
In this guide I look at the 7 best toy car washes and what you should pay attention to when purchasing.
Let's take a quick look at the top options. Then I'll go into more detail about each of these choices.
Toy car wash buying guide
What should you pay attention to when buying a toy auto car wash?
Sustainability
There are quite a few differences in quality between toy car brands. Just look at the difference between Vtech and Hot Wheels, you can clearly feel the quality.
Virtually nothing can go wrong with Vtech. It is also really made for toddlers who can be quite heavy-handed with it.
When it comes to sustainability, I pay particular attention to the small parts. Do they break easily and are they essential parts for the car wash to work?
Quality of driving
With toy cars you want them to be able to drive well. If there are cars involved, there are a number of things to watch out for:
the distance from the wheels to the chassis: some toy cars run into problems so they don't drive very well
the rigidity of the shaft: some toy cars are very wobbly so the wheels can move far in and out, and still rub
the quality of the wheels: is it plastic or are there really rubber wheels on the tires? Rubber rolls a lot better
the weight of the car: you may not realize this right away, but the weight of the car plays a very large role in how well it rolls. A heavier car made of diecast or wood rolls a lot better and further than a plastic car
Replayability
Much of the car's replayability is in how well it drives, but there are other factors that determine how often they return to it.
Age also plays a part. Is it a car wash that is left behind after toddlerhood or can it last longer because it is also suitable for older children?
Here I have arranged these playsets by age:
The number of extra functions also plays a major role, such as the extra figures and accessories at Playmobil or the building blocks at Duplo.
I rated each of the cars on this list on these parts on a 5-point scale.
Top 7 Best Toy Car Washes Reviewed
The first on the list is a real working car wash. You can put hot and cold water in it so that the Hot Wheels Color Shifters can change color.
The set is suitable for 1:64 scale cars. So the Hot Wheels cars but also many other die-cast cars are on this scale, such as Majorette.
All the water is collected at the bottom in a wide container so that you do not have water everywhere.
The set is suitable from 4 years old, maybe with some help and supervision also for 3 year olds.
The hot water must be quite warm and the cold water almost ice water, so that is a bit difficult for the color shifters, because the reservoirs are quite small.
But all in all a nice set with a lift, a movable foam roller and a pretend vacuum. Very fun pretend play activities.
Age: 12 months +
The Vtech Toet Toet car garage is what we chose for our son. We already had a separate Toet Toet car, I think at his birth or when he turned 1 maybe.
And he already played quite well with the car. If you press on the front, it makes a noise and of course he could drive around with it.
But what makes the cars really nice is that they have pins on the bottom that make it possible to say different sentences.
That is why it was time to give the garage a try, because it also has elevations and when the car drives over it, the pins on the bottom are pressed in a certain way.
Because some pins are pressed and others are not, the car says a certain sentence that belongs to that place on the garage:
like parking,
going to wash in the car wash
ride the elevator to go up and down
Stand on the repair platform ready for maintenance
Those kind of things.
The garage itself can also make noise by pushing the buttons and there is one tow truck that triggers songs, phrases and fun sound effects when it crosses one of the garage's 9 SmartPoints.
The only sad thing about it was that the car that comes with it is one of the least suitable for the garage because it is a bit high and does not slide off the garage slide so well, while the car we already had is much better off to drive.
Anyway, this is only a minor detail and immediately fixed if you buy several cars for it.
Why I like him: a well-priced, easy-to-assemble garage that is solidly set up for children under 3 and offers a lot for the money.
The buttons to press are nice and sturdy, and the sound effects are great, entertaining and educational, but not too overwhelming and fortunately it also has two volume levels.
Also read: these are the best toy car parks rated, from wood to light and sound
Age: 3 +
What it is: not strictly a garage, this is a 41 cm x 31 cm x 13 cm petrol station, with a lifting platform and a car wash with movable brushes.
Comes with a car (with 4 spare wheels) and a screwdriver to take the whole thing apart and put it back in.
Why we love itWe really appreciate the dismantling / rebuilding aspect - and our testers also had a blast changing the wheels on the car.
Although that is a bit too difficult for the 3-year-olds, this is a great addition to the collection of slightly older children and a nice addition to one of the other parking garages in our selection.
Age: 3 years +
What it is: A garage theme (6cm x 14cm x 30cm). Comes with different colored cars from Melissa & Doug.
Why we love it: the sliding doors are really fun to play with. It's a basic garage if you want to keep it small, not too expensive, but still want quality.
The car wash is at the back and it is basically a road for the cars to drive through.
But it does give extra fun with fantasy play.
Duplo is always super fun to play with for toddlers and they can even build something with it. So is this Town Car Wash.
There are 4 DUPLO figures that can perform the work or drive through the car wash in the car.
The car wash doesn't really work, but I really liked the fabric cleaning curtain, and what toddler can resist a movable barrier?
It is quite a complete set because there are 3 cars, one of which is even a Push&Go car.
There are 112 pieces in total and it says suitable from 2 years old, but my son could already play with it at 1 year old. Then you might hold back the very smallest parts for a while.
Also read: Have you seen these toy cars with removable wheels and parts? Very educational!
Ok, this might not be a classic car wash because the car can't drive through anything. But I still wanted to put it on the list because of the many nice accessories.
Behind the gas station there is a place to clean the car, just like in real life.
The nicest accessories I've seen with any set are the vacuum cleaners to thoroughly clean the car.
Furthermore, it is a nice play set to re-enact a refueling. Including shop with snacks and products to make the car roadworthy again.
There are 3 adult figures, with 1 child, the gas station with shop, SUV, car seat, snacks, cool box, drinks, magazines, kayak, oil can and many other accessories.
Playmobil always has quite a few small pieces and is therefore recommended from 4 years old, or maybe 3 if you stick with it.
It is quite pricey, but you get a lot of fantasy play in return.
Ok, it's probably not the worst toy car wash ever made, but it's quite popular and almost everyone who owns it is disappointed.
As with the Hot Wheels car wash, the car must be able to change color. But here it is even more difficult to get it done.
Warm water must be really hot because only a little drips down. And that is actually quite dangerous. Cold water must be really ice water, whatever it stays for a while.
In addition, this play set also leaks on all sides, so a good drip tray as with Hot Wheels is missing.
The fact that you can move the car through the car wash is funny and the foam rollers at the end are a nice addition.
But I'd say save your money for other toys.
Conclusion
There are a lot of fun toy car washes for sale, whether you want a real working one or not. With fun accessories for lots of imaginative play.
Also read: these are the best toy cars rated