10 best toy cars for preschoolers for endless pretend play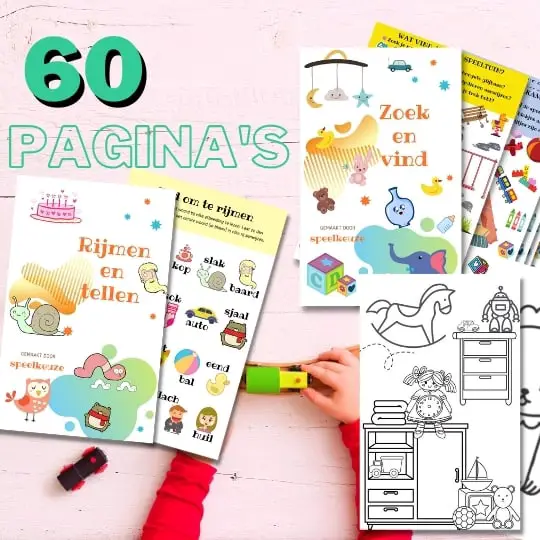 Always something to do for the holidays or rainy day?
Play Choice now has the ultimate activity book collection, with over 60 pages of fun coloring pages and educational puzzles.
You usually start with toys cars for toddlers, or maybe even babies, but toddlers can play a lot of imaginative play with it.
For instance this Bruder Dodge Ram 2500 with horse trailer. A wonderful auto to see, very sturdy and can withstand rough play, but especially the suspension is great and the fact that the doors can be opened for dolls. It has everything for good pretend play.
In this guide, I take a look at the 10 best toys cars in front toddlers and what you should pay attention to when purchasing.
Let's take a quick look at the top options. Then I'll go into more detail about each of these choices.
Toy cars for preschoolers buying guide
What should you pay attention to when buying toys cars in front toddlers?
Age is very important. First they played a little with the cars and they drove through the house. Now pretend play is becoming more and more important.
So above all it has to be done cars or play packages that they can do something extra with.
Sustainability
There are quite a few differences in quality toys car brands. Just look at the difference between Bruder and Hot Wheels, you can clearly feel the quality.
With a complete diecast auto In any case, virtually nothing can break. That's what I paid extra attention to when assessing the durability of the cars.
Quality of driving
At toys You want cars to drive well. Some may be for display only, not for play. But you still want them to roll well.
A few things to watch out for are:
the distance from the wheels to the chassis: some toy cars run into problems so they don't drive very well
the rigidity of the shaft: some toy cars are very wobbly so the wheels can move far in and out, and still rub
the quality of the wheels: is it plastic or are there really rubber wheels on the tires? Rubber rolls a lot better
the weight of the car: you may not realize this right away, but the weight of the car plays a very large role in how well it rolls. A heavier car made of diecast or wood rolls a lot better and further than a plastic car
Replayability
A big part of the replayability of the auto It's in how well it drives, but there are other factors that determine how often they return to it.
Age also plays a role. Is it a auto which is left behind after toddlerhood or can it last longer because it is also for toddlers is appropriate?
The number of extra functions also play a role, such as the horse trailer at Bruder and the fact that everything can be opened or the extra figures and accessories at Playmobil.
I have each of the cars on this list on these components are assessed on a 5-point scale.
Top 10 toy cars for preschoolers reviewed
The Dodge pick-up has a cab with four doors that can be opened and closed. The tailgate can also be opened.
Toys Horse trailers are also available for older children who can handle small parts responsibly and may be more interested in a more truthful design.
Great fun for children who still have a lot of interest in horses and horse trailers as they grow up.
It is one of the strongest toys cars I've ever seen. Bruder is expensive, that's for sure. But it is also really of quality.
Due to the size and especially small parts (the doors can be detached and there is a loose tekhook), the set is particularly suitable for children from 3 years old.
The horse trailer is equipped with a rear door that can be easily folded open and can serve as a platform for the horse to be guided inside.
The Dodge Ram is also available separately without the horse trailer.
Tegu is a toy brand that makes everything from wood. Beautiful and sturdy wood.
It's durable and made in Honduras in a responsible manner, that's playing good.
It also makes the set a bit more expensive, but playing with wood gives your child much more in return than plastic toys.
The set is also just very well put together. The magnets click well and stay in place, even during heavy driving.
And that's ultimately what you want from one toys car.
This set offers less building options than the Magformers police set. But you can also supplement this with other sets from Tegu.
They all fit together. Here you get at least 12 building pieces.
Type: Toy Grade
This is a auto for when you want to drive around without worrying about bumping into something.
That may be because you really like it, but it is also perfect for toddlers and toddlers toddlers who don't really know what they are doing yet.
This kind of 360 degree rotation cars you see them popping up everywhere, and the best brand for this type of RC car at the moment is Sgile.
Super sturdy so bumping or falling from something won't hurt it and it charges nice and fast (in 1,5 hours) so your child will never run out of battery (because they will often forget to charge it before they want to ride) ).
Oh, and charging is done via USB so you can do that anytime, anywhere.
That fast charging is also necessary because it can only last 25 minutes on a single charge. That is one of the major drawbacks.

But they also paid attention to safety with high-quality ABS materials that are non-toxic and environmentally friendly. The battery has short circuit protection and overcharge protection.
The Carrera GO - Pixar Cars Edition racetrack is a fun spin-off of the popular Disney / Pixar movie 'Cars'.
Nice starter set with the characters of Cars.
It's a more traditional racetrack than some of the others on our list so it will bring back memories of your childhood as well.
While Disney certainly valued the odds for gold from this movie, there's no underestimating the appeal this trusted character can have in the world of racetracks.
This set is a more traditional racetrack, the kind of kit you'd know from your childhood.
Two metal car tracks
two speed controllers
two cars (McQueen and Bernoulli)
and a few exciting extras (high curves, narrow section, intersection, flyover, loop).
Featuring one of the most renowned race track designers in the form of Carrera, along with the endearing characters from the movie, this is the perfect starter kit for younger children.
Wow! This Hot wheels monster jam monster truck is very impressive!
This starter set gives you the opportunity to build your favorite Monster Jam truck and then race it.
There is even a ready-made ramp that you can use as a ramp or to perform crazy stunts. You also get 227 grams of kinetic sand with the set that you can drive over and build the ramp.
The Monster Jam truck is detailed and has dirt-stained tires. This makes the look of the truck even more real!
It's the perfect starter kit for a speed champion who likes huge, tough trucks!
I only found the downsides that there was not so much kinetic sand, we were lucky ourselves so we could experience the second disaster, but otherwise there was not even enough to fill both ramps.
And maybe you want to buy a second truck to be able to race too, because what is Monster Trucks (top rated here) without monster racing.
The downside is that the wheels are very wobbly. This makes the monster truck a bit difficult to drive at times.
Not so much when you hold it in your hand, but more when you want to push it forward. He just wants to go in circles.
Playmobil is always perfect for pretend play. You don't just get one auto that drives well, but also has a lot of accessories.
The same goes for this police bus. The button on the roof turns on the lights and sounds for a realistic police sound.
There are two dolls included but there is enough room in the bus for seven and the rear seat folds down for more storage space.
Furthermore, there are handcuffs, a walkie-talkie and 2 pistols. You can easily transport the crooks in the bus because the roof is removable and the sliding side doors and rear doors can really open.
A real toys cars like the Interceptor from Dickie Toys drive slightly better than Playmobil. This is more of a playset.
The first on the list is a real working car wash. You can put hot and cold water in it so that the Hot Wheels Color Shifters can change color.
The set is suitable for 1:64 scale cars. So the Hot Wheels cars but also many other die-cast cars are on this scale, like Majorette.
All the water is collected at the bottom in a wide container so that you do not have water everywhere.
The set is suitable from 4 years old, maybe with some help and supervision also for 3 year olds.
The hot water must be quite warm and the cold water almost ice water, so that is a bit difficult for the color shifters, because the reservoirs are quite small.
But all in all a nice set with a lift, a movable foam roller and a pretend vacuum. Very fun pretend play activities.
Building this set is quite easy. They are solid pinewood parts that you can build together with your child from the age of 6, maybe a little earlier.
This set is mainly about your own auto pimp. You get sticker sheets and paint to paint the auto completely to your taste.
The nice thing is that you can do it together with brothers and sisters because you get 3 races cars.
There are 12 colors and stickers like flames for a real race auto to build and the cars The ride is also quite reasonable and you can then play with your creation.
That's also nice at this age of about 6 years. That you make something and they are also of the age to do it toys cars to play.
Each auto is 6 inches long and 1,5 inches high (15,2 by 3,8 cm) so they fit well with other toys cars.
The glue that comes with the set is not very good. The cars They didn't last long with playing so we ended up using our own glue. It's smarter to just do that from the start.
But they added child-resistant glue because it's aimed at 6-year-olds.
I have also reviewed Picasso Tiles before at the best magnetic tiles for their creative designs.
You can combine this set with their other magnetic tiles, and actually all magnetic tiles of this size (such as Magna Tiles and Desire Deluxe, etc.).
This time it's about building a cool race track, and with the pieces you can actually build it the way you want with the 48 track pieces.
The magnetic tiles connect to each other so there is really no limitation.
The cars can not only travel across the floor but also go up high with the 16 poles you can build on and the 4 ramps to race up and down.
There are 2 LEDs cars bee. A bit similar to other brands, nothing really to write home about but they do the job.
Ultimately, it is the most fun to make your own creations and combine them with other magnets toys or with others toys cars.
You cannot use regular magnetic tiles to drive them on because these tiles have grooves for the cars.
The cars cannot drive without batteries, which is a downside. But otherwise a very nice set for quite a bit of fun.
Also read: Are your children perhaps ready for cars for school children? These are the best
This electric children's car is a super cool version with all kinds of technical gadgets.
It features a powerful 12-volt battery, not as powerful as some on our list, but still packs a punch.
Let your toddlers or toddlers so never play on it alone and make sure you always keep an eye on them when they are on the auto to sit.
A 12V7A is connected to both wheel axles for the wheel drive.
A remote control is included. You can take over the controls yourself at any time when your child is on the auto drives and the auto has 2 driving speeds.
There is a slow start so that your child does not immediately fall off as soon as they accelerate. There is also a handle on the back so that you can easily move the quad.
Most people are happy with the battery life.
What age is this for toys recommended?
Toddlers from 3 years and up toddlers up to 7 years
What makes this toys remarkable?
The ease of use, strength and safety ensure that children have a lot of fun.
Parents are also happy because you can be in control if you wish, depending on the driving skills of their child.
Conclusion
There are a lot of choices for it toddlers and this is a great age to have fun with toys cars to discover the world in all kinds of creative play.
Also read: these are the best toy cars for any age