Best toy cars with eyes for pretend play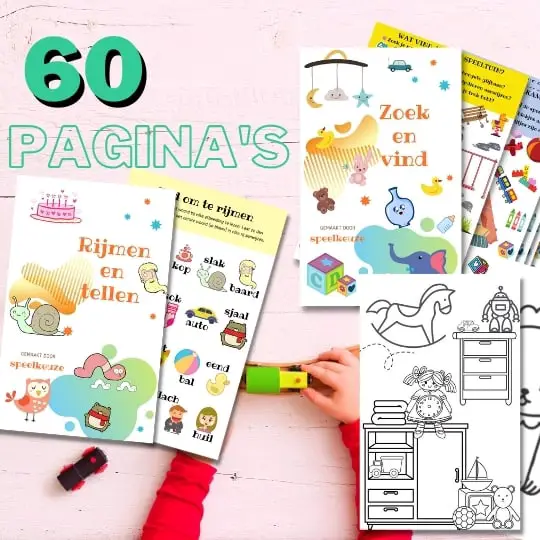 Always something to do for the holidays or rainy day?
Play Choice now has the ultimate activity book collection, with over 60 pages of fun coloring pages and educational puzzles.
If you are looking for cute cars for your child with eyes and faces, then it is like looking for a needle in a haystack. Or you just happen to come across them.
Fortunately, there are a number of brands, such as these amazing Vtech Toet Toet cars with a complete garage, which make fun and interactive toy cars with eyes.
In this guide I look at the best toy cars with eyes and what you should pay attention to when purchasing.
Let's take a quick look at the top options. Then I'll go into more detail about each of these choices.
Toy cars with eyes buying guide
What should you pay attention to when buying toy cars?
Sustainability
There are quite a few differences in quality between toy car brands. Just look at the difference between Melissa & Doug and Ontel, you can clearly feel the quality.
Can they last a long time and certainly at the age for which they are intended. That is what I paid extra attention to when assessing the durability of the cars.
Quality of driving
With toy cars you want them to be able to drive well. Some may be for display only, not for play. But you still want them to roll well.
A few things to watch out for are:
the distance from the wheels to the chassis: some toy cars run into problems so they don't drive very well
the rigidity of the shaft: some toy cars are very wobbly so the wheels can move far in and out, and still rub
the quality of the wheels: is it plastic or are there really rubber wheels on the tires? Rubber rolls a lot better
the weight of the car: you may not realize this right away, but the weight of the car plays a very large role in how well it rolls. A heavier car made of diecast or wood rolls a lot better and further than a plastic car
Replayability
Much of the car's replayability is in how well it drives, but there are other factors that determine how often they return to it.
Age also plays a part. Is it a car that stays on the left after toddlerhood or can it last longer because it is also suitable for older children?
The number of extra functions also plays a role, such as the race track at Disney Cars et or the balloons at Ontel.
I rated each of the cars on this list on these parts on a 5-point scale.
Best toy cars with eyes reviewed
Age: 12 months +
The Vtech Toet Toet car garage is what we chose for our son. We already had a loose toot toot car got, I'm guessing at birth or when he turned 1 maybe.
And he already played quite well with the car. If you press on the front, it makes a noise and of course he could drive around with it.
But what makes the cars really nice is that they have pins on the bottom that make it possible to say different sentences.
That is why it was time to give the garage a try, because it also has elevations and when the car drives over it, the pins on the bottom are pressed in a certain way.
Because some pins are pressed and others are not, the car says a certain sentence that belongs to that place on the garage:
like parking,
going to wash in the car wash
ride the elevator to go up and down
Stand on the repair platform ready for maintenance
Those kind of things.
The garage itself can also make noise by pushing the buttons and there is one tow truck that triggers songs, phrases and fun sound effects when it crosses one of the garage's 9 SmartPoints.
The only sad thing about it was that the car that comes with it is one of the least suitable for the garage because it is a bit high and does not slide off the garage slide so well, while the car we already had is much better off to drive.
Anyway, this is only a minor detail and immediately fixed if you buy several cars for it.
Why I like him: a well-priced, easy-to-assemble garage that is solidly set up for children under 3 and offers a lot for the money.
The buttons to press are nice and sturdy, and the sound effects are great, entertaining and educational, but not too overwhelming and fortunately it also has two volume levels.
This is just a set with 12 very cheap cars. They can all be pulled back and then drive off "pull back."
The plastic feels quite thin, but it is made of non-toxic material, so safety has not been spared in any case.
The colors are bright so it's a happy bunch. Each car is about 2 inches (5 cm) so that's really, really small.
Because they are so small, it is recommended to give them from 3 years old. They are a bit more fun for small children unfortunately, but if you stick with them you can also give it to a younger child.
There are 12 cars, each with its own role, such as a police car, taxi, fire truck, bread truck, petrol truck, truck, fruit truck and etc.
This also makes the set extra fun for pretend play.
The images and the translations on the cars are not very good. A bit strange combinations arise with a fire truck, for example, with hot sauce and pizza on it.
When you say cars with eyes, the first thing that comes to mind is Disney Cars.
And why not immediately a complete play set so that they can have fun with it. You get Lightning McQueen and Jackson Storm.
The mountain serves as a race track that they must drive off. They have also really added a racing element with the two spirals on either side.
This way the cars can drive off at the same time and the question is who wins!
On top of the Wheel Well Motel is a button so that both cars start at the same time, so they drive down the mountain and through the waterfall.
The background of the mountain looks a bit cheap. For example, the waterfall is just some blue clear plastic hanging off the track.
But my son has no problem with it and the cars run well.
These are already fun for the smallest children from 9 months. Perfect size for your baby and nice and soft.
They are 4 safe, soft vehicles, including a school bus, family car, fire truck and police car with cheerful colors.
It is a nice introduction for your child to friction cars. They can pull them back and they ride nicely on the floor. Real cause and effect toys.
They are also safe to put in the mouth for exploring. And Melissa & Doug has anticipated this by being able to detach the fabric cars from the undercarriage.
They are attached with Velcro and so you can just put them in the wash.
They are good for the price, but they are equal to 4 cars, which makes the set a bit more expensive, and you don't actually need 4.
But very fun to play and they last a long time.
Very nice design and bright colors, that's what the school bus, racing and police car from B. Toys look like.
These also have a nice pull-back system so that they can drive themselves.
While Melissa & Doug really focuses on babies with the soft cars, these are suitable for slightly older children from 1 year.
They become really fun to play with for the older toddlers and toddlers. The plastic is flexible and very soft so that even small children can play with it.
The set is slightly cheaper than Melissa & Doug's but you get 3 cars instead of 4. Ultimately, the price per car is comparable.
The idea is super fun and kids think it's very funny. A balloon-powered race car.
You attach the balloon, inflate it and let it ride. Completely on balloon energy.
You can also use the balloons on the rocket that comes with it that you can let go like this.
Very nice toy that immediately teaches your children about energy and gravity.
Suitable for children from 3 years old and it is STEM toy par excellence.
The system to inflate the car and the rocket is quite fragile, so it is best to help, especially with toddlers.
I would also advise using the car and rocket only with this set and not putting them in the car box with other toys.
If it breaks, there is no way to make an airtight seal and you cannot inflate the balloon. Then it is of no use to you anymore.
Conclusion
Hopefully this will give you some ideas for fun car toys. I paid particular attention to the different ages so that there is something for everyone.