Best toy cars with removable wheels & parts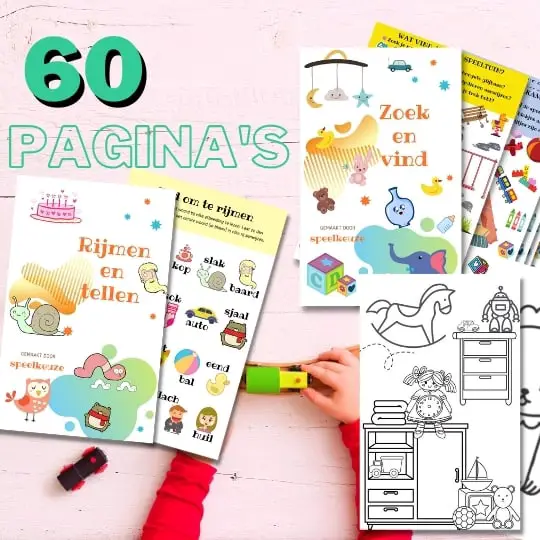 Always something to do for the holidays or rainy day?
Play Choice now has the ultimate activity book collection, with over 60 pages of fun coloring pages and educational puzzles.
Playing with cars is fun, but if you can also take them apart, it's absolutely beautiful.
Take for example this Theo Klein Bosch car with electric screwdriver of which the wheels and the hood and trunk can all be removed. Awesome toys for toddlers and preschoolers to tinker with.
In this guide I look at 6 different toy cars that can be separated and what you should pay attention to when purchasing.
Let's take a quick look at the different options. Then I'll go into more detail about each of these choices.
Toy cars with removable parts buying guide
What should you pay attention to when buying toy cars?
Sustainability
There are quite a few differences in quality between toy car brands. Just look at the difference between Theo Klein and Top Race of Joyin, you can clearly feel the quality.
Sturdy plastic is very important. It makes the toy last longer, but also makes it easier to build because the parts are sturdy.
Quality of driving
With toy cars you want them to be able to drive well. Maybe that's not the most important thing with cars that are made to take apart, but it's certainly important for replayability.
A few things to watch out for are:
the distance from the wheels to the chassis: some toy cars run into problems so they don't drive very well
the rigidity of the shaft: some toy cars are very wobbly so the wheels can move far in and out, and still rub
the quality of the wheels: is it plastic or are there really rubber wheels on the tires? Rubber rolls a lot better
the weight of the car: you may not realize this right away, but the weight of the car plays a very large role in how well it rolls. A heavier car made of diecast or wood rolls a lot better and further than a plastic car
Replayability
Much of the car's replayability is in how well it drives, but with this type of construction car it's mostly about the way you can build it.
Age also plays a part. Is it a car that they can already disassemble and disassemble themselves at their age or do you have to help every time?
The number of extra functions is also very important, such as the RC from Top Race or the garbage cans from Joyin.
I rated each of the cars on this list on these parts on a 5-point scale.
Top 6 toy cars with removable parts reviewed
Using
the demountable car,
4 interchangeable straps,
3 interchangeable label sets,
the screwdriver
and of course the working Bosch electric screwdriver
you can assemble the car and then take it apart again, and do it as often as you want!
All the plates can be detached, so you can actually see exactly how a car is put together.
There is also a sticker sheet with which you can give those blue parts nice speed stripes, just like a real race car.
A very nice set from Bosch so that they can learn a little about how to work with screwdrivers and also with power tools, with the wheels and everything there is to a car to get to know them a bit.
The car is not very sturdy. It's hard to play well with it.
That's why it was mainly used with us to take apart and rebuild, but never made it in our son's pretend play.
Revell has some great model cars, but with this kit you can assemble it yourself.
There are a total of 60 parts such as standard and custom hoods, a detailed engine, 2 types of wheels and soft black tires.
The scale is 1:25 and especially suitable for children 12 years and older.
It is a nice extra idea that you can choose your own model with the different hood and wheels. It's a shame the idea wasn't taken further with even more interchangeable parts.
There is no glue and paint, so you need to have them on hand when you assemble the package.
The car is not orange as in the picture but just white. So you have to paint it yourself with your own model paint.
You can like this, but it can also be disappointing because there are no pictures on the site where you can see that the car is white.
Also read: these are the best toy car kits reviewed
Joyin is not my favorite brand because it's a bit cheap plastic, but the amount of fun they manage to put into their toys every time is huge.
And my son never finds the build quality much of a problem.
This garbage truck can be taken apart with the screwdriver with 3 types of replaceable heads. It is 12,5 inches long and 4,5 inches wide (31 x 11,4 cm).
The best activity is the garbage arm that can actually lift the 3 included garbage cans.
It is also a friction powered system (push-n-go without batteries) and has lights and sounds.
It is not suitable for children under 3 years old because all screws and such are very small. But if you stay with it, a 2-year-old could also play with it.
You will probably have to put it back together yourself often because they can unscrew it with 3, but they can no longer put it together.
They have tried to cram a whole lot into one car, so everything has not been worked out properly.
But it gives a lot of fun and it is mainly me who has a problem with it, not my child.
It is a car to tinker with and RC car in one. Actually, there are 3 types of construction cars that you can make with it.
It is suitable for about 3 to 5 years and children can get started with the electric screwdriver.
The screwdriver turns into the drive for the car when it's finished so you can drive it. That's a nice detail.
And it saves a lot of material. Just like with the 3 cars. It is actually 1 chassis, but with different parts to attach to it.
This is how you make a crane, cement truck or dump truck. You get a lot for little, but the quality of the plastic has also been saved.
It builds less well than Theo Klein's car and the electric screwdriver also does less well.
This is clearly aimed at the smallest children. With cheerful bright colors and funny dolls.
The working electric screwdriver is nice and you can see the gears inside. A nice addition.
The dolls can also come apart so that's funny. The plastic also feels quite sturdy and can last a long time.
The screwdriver is slightly less sturdy. That feels like the weak spot of the set. And the car doesn't drive great. He's running a little.
A somewhat more complete play set than the Theo Klein car with figures, but the quality is clearly less.
A perfect activity set for children who are very interested in engines and engine parts.
It is an official John Deere truck and it is 27 inches high (68,5 cm). With light and sound, your child is stimulated to tinker with all removable parts.
It does take 8 AAA batteries, but it lasts quite a long time with a set. The set is suitable from 3 years to about 6 years.
It contains 15 different functions with numerous parts that can be mounted, removed and replaced: the engine, spark plugs, wing nuts, wheels, radiator grille and much more.
Battery powered headlights and horn and 2 different electronic start sounds when the ignition key is turned.
The set is not super stable, so play a little wildly and it will fall over. It is more suitable for children who take it easy.
Conclusion
There are a lot of building kits for tinkering with cars and with this list I have chosen the best ones for different ages. So there is something for everyone.
Also read: these are the best toy cars we could find