7 best toy cars with trailer for great pretend play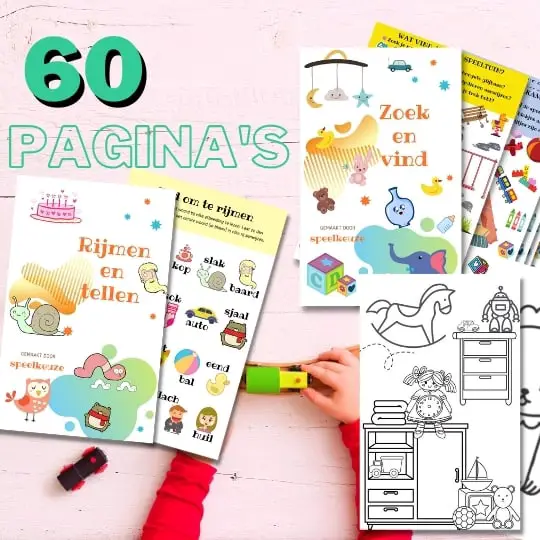 Always something to do for the holidays or rainy day?
Play Choice now has the ultimate activity book collection, with over 60 pages of fun coloring pages and educational puzzles.
Is there anything more fun than with cars to play? Yes, one toys car with trailer to tow items, animals or vehicles.
It caters even more to fantasy play, like this amazing Dodge Ram Truck with horse trailer from Bruder. A very sturdy toy with a large horse for endless pretend play.
In this guide I look at the 7 best toy cars with trailers and what you should pay attention to when purchasing.
Let's take a quick look at the different options. Then I'll go into more detail about each of these choices.
Toy cars with trailer buying guide
What should you pay attention to when buying toy cars with a trailer? With every toy car you look at how well it drives and how much fun it is to keep playing with.
But with trailers you also have to pay extra attention to the connection between the car or truck and the trailer. These are often fragile and the first thing to break.
That is why I paid extra attention to these reviews.
Sustainability
There are quite a few differences in quality between toy car brands. Just look at the difference between Bruder and Hot Wheels, you can clearly feel the quality.
There are different grades of plastic used for cars. Bruder, for example, is one of the sturdiest. While Green Toys gives more, but is very good for the environment.
Quality of driving
With toy cars you want them to be able to drive well. Some may be for display only, not for play. But you still want them to roll well.
A few things to watch out for are:
the distance from the wheels to the chassis: some toy cars run into problems so they don't drive very well
the rigidity of the shaft: some toy cars are very wobbly so the wheels can move far in and out, and still rub
the quality of the wheels: is it plastic or are there really rubber wheels on the tires? Rubber rolls a lot better
the weight of the car: you may not realize this right away, but the weight of the car plays a very large role in how well it rolls. A heavier car made of diecast or wood rolls a lot better and further than a plastic car
Replayability
Much of the car's replayability is in how well it drives, but there are other factors that determine how often they return to it.
Age also plays a part. Is it a car that stays on the left after toddlerhood or can it last longer because it is also suitable for older children?
The number of extra functions also plays a role, such as the horse in the Bruder trailer or the Lego bricks in the police set.
I rated each of the cars on this list on these parts on a 5-point scale.
Best toy cars with trailer reviewed
The Dodge pick-up has a cab with four doors that can be opened and closed. The tailgate can also be opened.
Toy horse trailers are also available for older children who can handle small parts responsibly and may be more interested in a more truthful design.
Great fun for children who still have a lot of interest in horses and horse trailers as they grow up.
It's one of the toughest toy cars I've ever seen. Bruder is expensive, that's for sure. But it is also really quality.
Due to the size and especially small parts (the doors can be detached and there is a loose tekhook), the set is particularly suitable for children from 3 years old.
The horse trailer is equipped with a rear door that can be easily folded open and can serve as a platform for the horse to be guided inside.
The Dodge Ram is also available separately without the horse trailer.
The Melissa & Doug Magnetic Wood Truck Crane with Vehicles consists of six parts and includes a red loader with magnetic army arm, a car transport trailer and four magnetic wooden cars.
The four cars all have a different color, namely red, blue, yellow and white and each has its own number. In this way, a child learns to count, sort and group and playfully stimulate fantasy.
I had already written about it here with the nicest wooden toys as wooden toy car, that the magnet (like this magnetic toy) could have been a little stronger.
That is really the case because it becomes very challenging to drive the car while holding something.
You can pick up cars with the magnetic crane on the truck and they are very loose. You have to be extremely dexterous with that magnet.
In the end, he liked picking up other magnet toys, such as magnetic blocks and magnetic animals.
But it's such a fun and cute set and my son is absolutely full of it.
2 years
This green pedal tractor has a trailer and large tires. It is extremely suitable as a pedal vehicle when a child is ready to switch from walking car to pedal car.
The chain guard is shielded so that the tractor is safe to use. The product stimulates movement in children by means of the pedals.
It is a John Deere version, the tractor brand par excellence.
What makes the Rolly Toys rollyKid - Pedal Tractor with Trailer our favorite?
In addition to the friendly price for such a product, this is a tractor that is ideal for children who are going to make the switch from walking car to pedal car.
Where they were used to moving around with dragging movements, children are challenged with this tractor to get started with the pedals.
That may seem like a complicated job for children at first, but practice makes perfect.
When kids have figured out how to use the pedals, they'll want to ride the tractor all day long.
The tractor is suitable for children between 2 and 5 years old.
The tractor has solid tires and comes with a trailer where children can store and transport their things.
Children will also feel useful when they can help mom and dad move objects or do odd jobs in the garden.
Children love to be active, especially outside! Read about more fun outdoor toys here.
The trailer that comes with the tractor can also be uncoupled if necessary. The hood of the tractor opens and the chain guard is hidden.
This makes playing with this Rolly Toys tractor 100% safe for children.
In addition, the tractor is robustly designed and can take a beating. It is also easy to assemble, so that a child can play with it immediately after purchase.
This pedal tractor is designed in Germany and is a toy that, according to the various customer reviews, has been very popular with the children who own this tractor.
This is also a perfect toy choice for us, because in addition to fun and movement, it also contributes to the development of every child.
The tractor is suitable for both boys and girls. Put a smile on your child's face with this cool tractor from Rolly Toys!
The excavators also need a way to get to the construction site, of course, so a good trailer is certainly a nice addition and to use with many of the smaller vehicles.
Fortunately, there is also an excavator with a front loader and a rear digging area to make playing a lot more fun.
Just like the Bruder horse trailer, this toy is indestructible. Small parts may have expired, such as a side mirror, but the cars themselves will last for many years.
With this toy you have a complete set for a lot of imaginative play and creativity on the construction site.
Green Toys lives up to its name with toys made from fully recycled plastic. Naturally BPA-free and it can even be put in the dishwasher.
It's time for a holiday with this toy. A nice trip with the Camper. It is actually a 3-in-1 playset with two trailers and some accessories.
The boat can also float in the bath so they can even be taken there.
With so many included, it's fun for toddlers to explore and use in all their other pretend play.
There are 2 characters, 2 chairs, a picnic table and a camping stove with a total of 10 pieces in the set.
You may pay a little more, but it is better for the environment and toys that can withstand many brothers and sisters and later even grandchildren.
Schleich is the brand with toy animals with enormous detail. Now they have implemented that in a fun play set with Quad and trailer.
The quad with trailer and forester is part of the Wild Life collection of figures and playsets from Schleich.
As with every set from Schleich, the detail is enormous, but the price is also appropriate. For example, the 3 inch (7,6 cm) long tiger is beautiful to look at.
What I just never quite understand about the Schleich toys is that the figures are stuck in their role. For example, the ranger can sit alone on the Quad, but the legs do not move from a sitting position.
This was also the case with a horse trailer from Schleich that we reviewed earlier.
There are nice parts such as a helmet, walkie-talkie and axe. These are very small so the set is suitable from three years. Or you have to omit these parts when you give it.
Normally, Schleich is indestructible and made to last for generations. Yet they have opted for a quad here and it has thin handles.
That is something to watch out for, especially with small children.
Lego is always fun to build with and the more you have the more fun it gets.
This police set is another nice one with a lot of things to play with.
The command center features a detachable cabin, prison cell, surveillance room, satellite dish, ATV and motorbike.
So there is plenty to do for fun fantasy play. There are 374 pieces in total, so quite a bit to build and children from 6 years old can get started.
From the age of 5 they come a good end if you help a little.
It's pretty solid once built so they can actually play around with it without having to rebuild it every time.
Conclusion
These sets certainly include a trailer that suits you. I've added some for every age and these really are the best in their category.
Also read: these are the best toy cars rated