I enjoy writing these articles for my readers, you guys. I don't accept payment for writing reviews, my opinion on products is my own, but if you find my recommendations helpful and you end up buying something through one of the links I may be able to receive a commission on that.
More information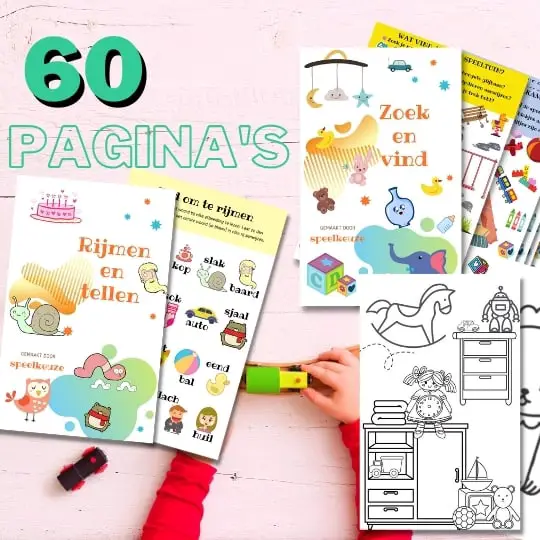 Always something to do for the holidays or rainy day?
Play Choice now has the ultimate activity book collection, with over 60 pages of fun coloring pages and educational puzzles.
The best toys for your enterprising child?
We don't have to think long about that, that is of course a lifelike toy farm!
After all, children really enjoy learning how to take care of animal friends.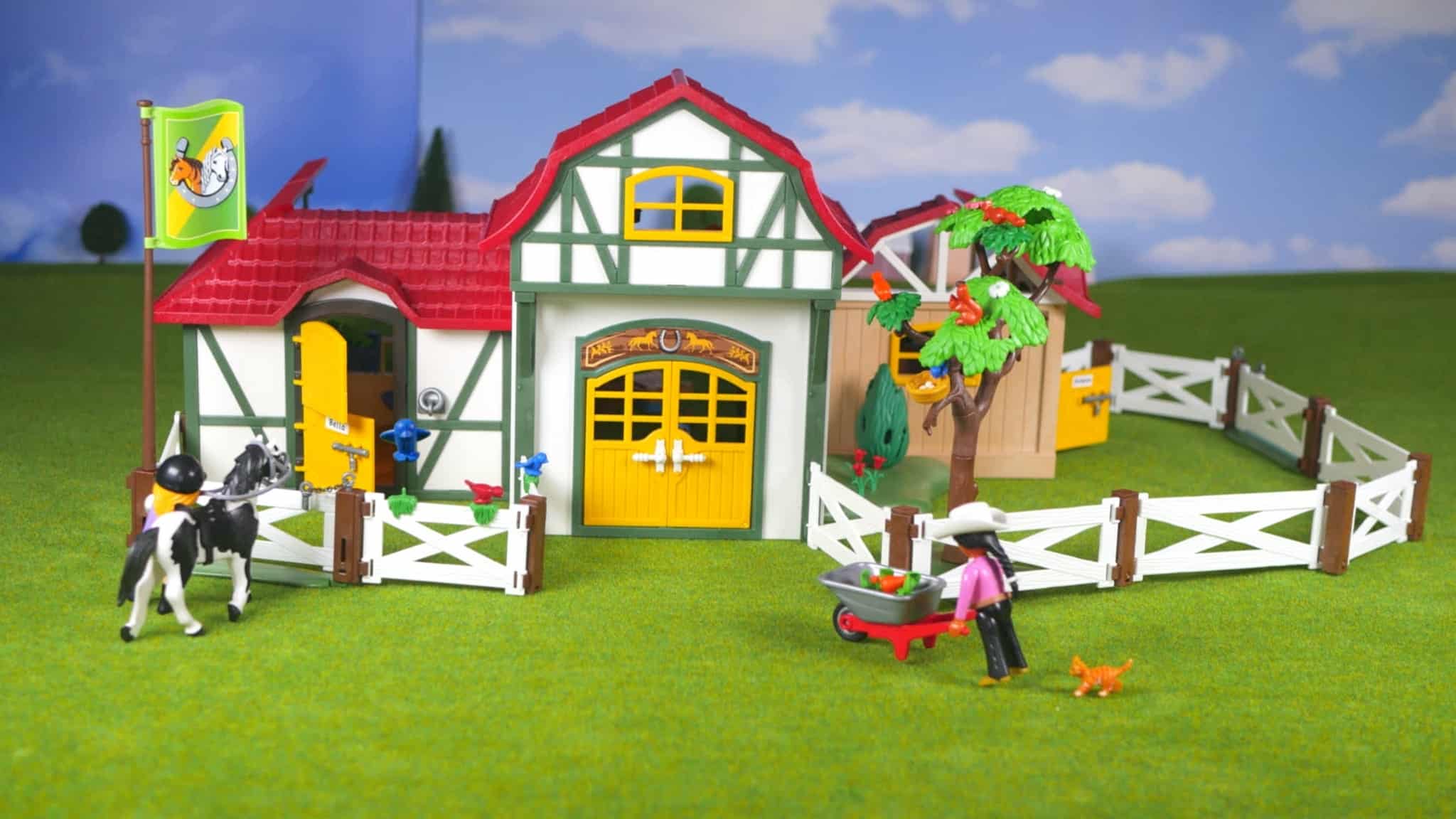 They learn to feed the chickens or to stable the horse when it is cold. And how do you take care of a cow? Doesn't that have to be milked?
While playing, children discover what happens on a farm.
They can learn, fantasize, or act out the names of all the animals and tools, and develop their motor skills in the bargain!
For all these reasons, we have made a top 10 of the best play farms for you.
We also explain what to look out for when buying a toy farm, and what makes these toys so fun and educational.
Let's start with our absolute favorite. We absolutely love our best toy farm overall!
This Fisher-Price Little People Animal Care Farm is already suitable for the very little ones, from 1 year.
The animals are eager to be cared for and fed by the farmer with the big cool cowboy hat.
Read more about these beautiful favorite and budget options. First, we'll continue with our 'best farms' top 10.
What should you pay attention to when buying a good toy farm?
If you plan to buy one for your child, pay attention to a few points.
Safety is of course the most important thing, but sustainability is also a point of attention.
First of all, the material is of great importance. If you buy one made of wood, it is nice if it is sustainable wood. Also check whether the paint is child-safe.
Also read: Which wood is suitable for toys? Pay attention to these woods.
If you buy one made of plastic, you want to be sure that no toxic substances have been used during the production process.
Also realize that plastic is not environmentally friendly.
Are the accessories and figures small in size? Make sure that a child cannot put them in the mouth.
This is also where the age of your child comes into play; the smaller the pieces, the less suitable for the very little ones.
Are you looking for a farm which is easy on holiday or can go to a lodging address? Then it is useful if it is collapsible and has a handle on top.
Is the farm solid and can it take a beating? Then it may be able to last for several generations!
Another extra tip: Maybe it is also nice for your child if a farm set can be expanded.
Best toy farm playsets reviewed
Then let's take a look at our recommendations. What makes the toy farms in our top 10 so good?
Overall Best Toy Farm: Fisher-Price Little People Animal Care Farm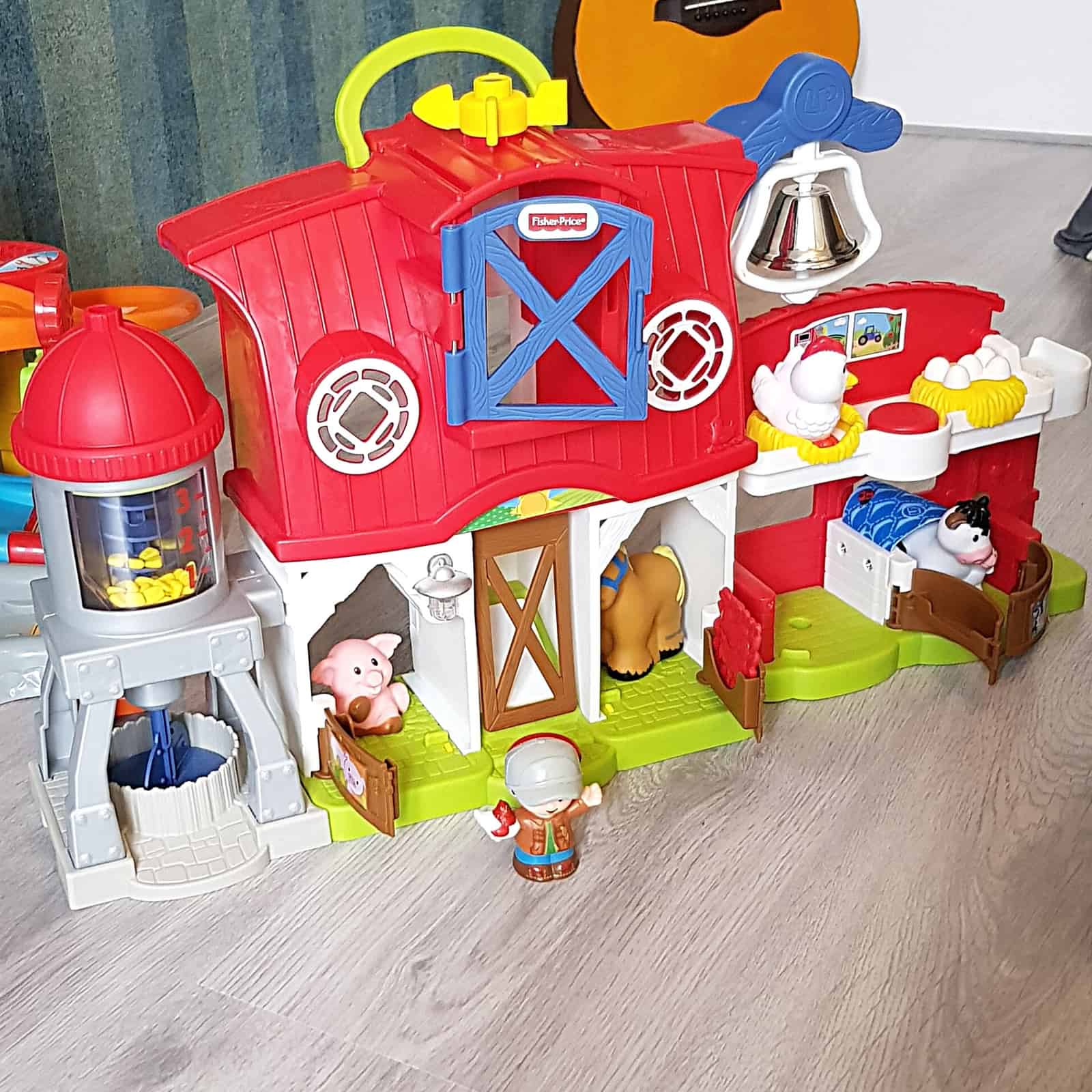 What play opportunities this Fisher-Price Little People Animal Care Farm offers your child!
We think this is a very nice, sturdy farm and the surprise buttons are a real plus in our opinion: there is a button to open the barn doors and you hear nice songs and phrases.
Even when opening the hay hatch in the shed, your child activates even more sounds and sentences.
With the push of a button, the eggs can 'hatch' and you can turn the silo over to hear the corn fall down. The maize can be fed to the chickens, because of course they also have to eat.
When the bell rings, all the animals come together in the yard. It is then dinner time!
Packed with exciting activities, this Fisher Price playset is much more than just a farm with animals - it's a true home for all farm animals.
Besides the great fun, this farm offers a great stimulus for the development of your child.
After all, it is nice to let things happen by means of the buttons - perhaps their first encounter with cause and effect - and to explore various materials with the little fingers.
The cheerful colors, songs and sounds give your child that little bit extra.
Let your little farmer help Jed, he is always so busy taking care of all the animals on the Little People care farm and could use some assistance.
It is wonderful for children to discover how to take care of the animals, this is conducive to their self-development and empathy.
The accessories are a bit bigger and rounder than at the other toy farms. Suitable for children aged 1-5 years.
Expand your farm with the inexpensive one Little People Animal Love Tractor, then you also have a tractor and more farm friends!
Check prices and availability here
We've written about this fun Fisher-Price Animal Care Farm before in: 10 cutest toy animals for every child | check out our review.
Best cheap toy farm: Janod Story Mini farm
As the best cheap toy farm we have the Janod Story Mini farm chosen. With the 10 colorful figures, this one is very complete.
The Janod Story Mini farm - made of wood - has many nice animals to take care of: a donkey, sheep, chicken, rabbit and a sweet pink pig.
Which animal do you think is the cutest?
The friendly farmer and his wife have a yellow tractor with a trailer. If the animals want, they can sit in the trailer.
An only playset with a friendly price and delicious toys for children from 3 to 6 years old.
All figures are easy to grasp for small children's hands. A strong toy.
Nice to expand with the - somewhat pricey - magnetic Janod Baby Story Fire Train.
Children are challenged in their hand-eye coordination, their creativity knows no limits with this farm.
Best Portable Toy Farm: Melissa & Doug Portable Farm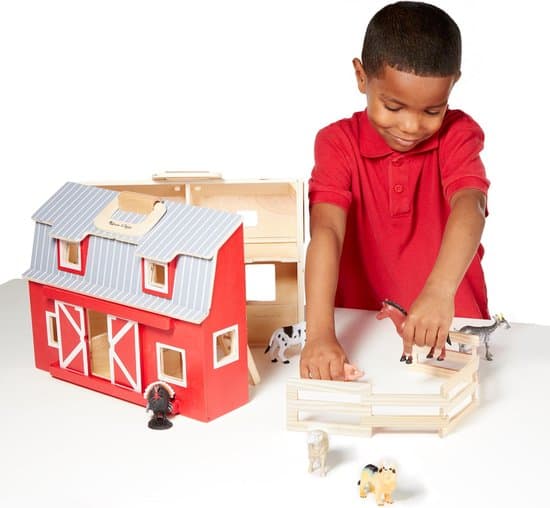 A beautiful wooden stable with many farm animals and a very practical handle: the Melissa & Doug portable farm.
If you open the stable you can store all the animals in it. From the turkey to the horse, from the cow to the pig and from the sheep to the loyal sheepdog.
Don't forget to put the stubborn goat in the stable!
You can put them all in the meadow with the fence around it in good weather.
If you close the stable, you can easily take it to grandpa and grandma or out stay.
Nice details are the wooden ladder to climb to the hay shed and the handy folding fence.
We think this is a very nice, solid farmhouse in a beautiful red color. Suitable for children from 3 to 7 years.
Would you prefer even more animals? The Farm friends also from Melissa & Doug will be happy to be there on your farm!
Best Playmobil toy farm: Playmobil Country farm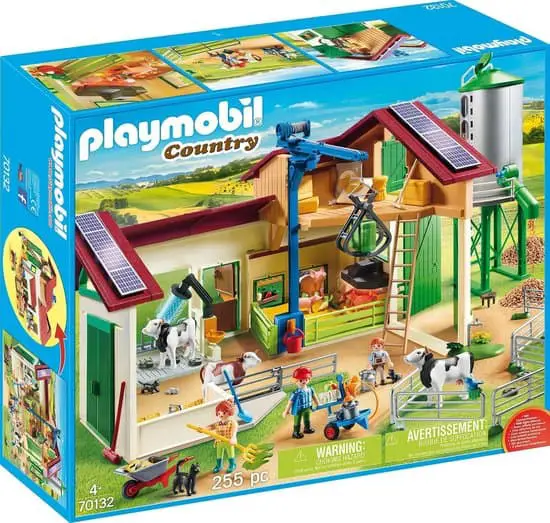 This great big Playmobil Country farm complete with silo and farm animals gives a lot of leeway!
The farming family has built a nice stable for the pigs, and there is a milking machine and even a nice washing place for the cows; absolutely everything is there, on this new farm from the Playmobil farm series.
The farmer even has a winch to move hay bales to the hayloft.
The cute kitty also wants to play along and keeps an eye on the milking machine! The cows have to be milked, there is always a lot to do on the farm!
This modern farm has a silo, a milking machine, freight elevator and many animals.
The silo can be filled and emptied and the goods lift can be rotated and moved.
A great and super complete farm, suitable for children from 4 to 14 years old.
Playmobil toys are practically indestructible - as is known by almost everyone - and will last for generations.
As a wonderful addition to your farm, there is the Country Horse Riding Club - also from the Playmobil country series - quite an edition, but then you also have something special!
A feast for the horse lover.
Best wooden toy farm: Eichhorn Wooden Farm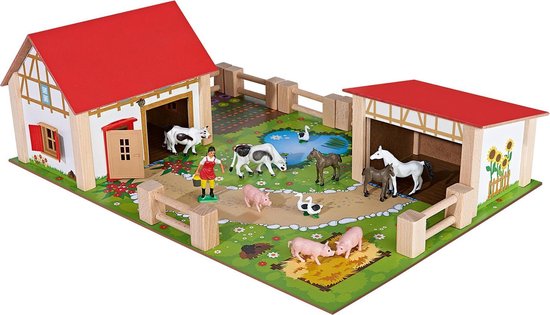 The Eichhorn Wooden Farm is a very cozy, sustainable farm, made from sustainable 100% FSC certified wood.
The spacious playing field of 36 by 51 cm provides plenty of space for the two stables and all the farm animals.
The set consists of no less than 26 parts and is suitable for children from 3 years due to the smaller pieces.
In addition to the playing field with grass, a pond, a path and a vegetable garden, the set also includes two stables, a farmer's wife, three horses, three geese, three pigs, two cows and pieces of fence as a fence.
The set offers a lot of possibilities for role play and will lead to hours of fun.
Due to the sturdy wood, the farm will last a long time, and the set is easy to assemble.
The German toy brand Eichhorn is known for it quality wooden toys that they make.
A nice extension of this farm is the Eichhorn wooden horse stable, for the little animal lovers who are especially fond of horses are.
Also read: Cleaning wooden toys: easy with these tips.
Best Luxury Farm Toy: Schleich Large Farm Play Figures Set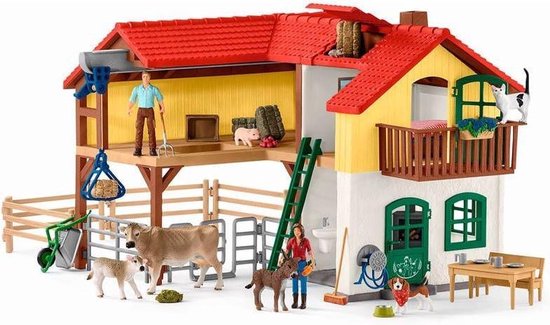 Another well-known quality toy brand, Schleich, comes with this luxurious large farm figure set.
This set is a bit more on the pricey side, but you get a lot in return.
The farm is very detailed and ideal for lifelike role play.
The farmers Laura and Paul live on the farm themselves and together with your child take care of all the animals every day.
The working winch, which can lift the hay to the attic, will be a big hit with any child.
But also the wheelbarrow, the gates that can be opened and closed and of course the animals that look lifelike will appeal to the imagination.
You can always count on the quality of Schleich toys, so this toy farm will last a long time.
The set is part of the Schleich Farm World series and can therefore be expanded in many ways.
You can order most animals separately, but you can also take a look at the Schleich Horse Stable or the fanciful Schleich tree house from the Farm World series.
Definitely recommended and always value for money!
Best train track toy farm: BRIO Train set with farm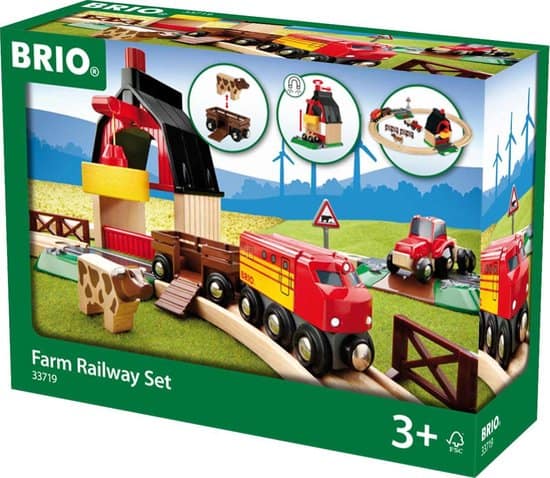 On the BRIO Train Set (view more wooden train sets here) With the farm, the tasty cow is grazing in the meadow, while the farm train drives by.
The tractor is busy driving the hay bales to the shed. The hay bales are placed there with the help of the crane on the hayloft.
When it's time to bring the cow in, put it in the wagon - it has a fold-out ramp - and return the cow to the warm stable.
Children can bring their imagination to life with this beautiful, strong playset.
There is no right or wrong in their adventures. After all, every new story has an open end!
Brio World can be expanded with various fun themes such as Travel, Explore, Rescue, Lift & Load and Village.
You can expand this train / farm set with the great BRIO Train with farm animals and make the rails much longer with the BRIO Beginners track set B.
The recommended age is 3-6 years.
Best toy farm with molds: EverEarth Toy Farm
With this fun wooden EverEarth Toy Farm, your little one will learn about life on a farm in a playful way.
What is good about this multicolor farm is that it is so educational for the little ones: there are shape puzzles, abacuses and clocks.
All conducive to the development of hand-eye coordination and the fine motor skills of your child.
Besides that, your child will have hours of fun with this solid farm-puzzle combination.
Every side of the house, even the red roof, has a new surprise in store. The sheep, the dog and the cow make the farm completely real.
Thanks to the wooden handle on the roof, the toy farm can easily be taken to a guest address.
Suitable for children from 2-3 years old to about 5 years old. Make sure your little one does not put the loose shapes in his mouth!
Check prices and availability here
Best Miffy toy farm: Miffy wooden blocks Farm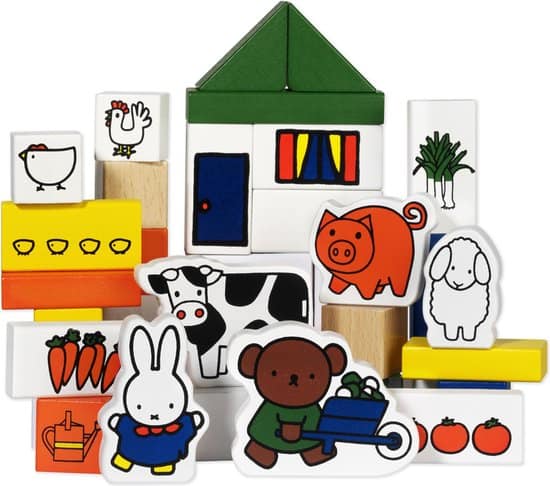 This Miffy wooden blocks Farm has no fewer than 28 wooden blocks.
Let your little one play and build endlessly with this wooden farm, which is made of blocks!
The brightly colored plywood blocks consist of animals, fruit and also Miffy with her boyfriend Boris.
After playing, the blocks can be neatly stored in the sturdy full-color suitcase. Also nice that it has a handle.
An ideal gift as a first toy farm and can be expanded with the wooden block barrel of 50 blocks from Miffy.
This block farm promotes the use of the imagination in your child and in a playful way fine motor skills and hand-eye coordination are also trained.
Suitable for children from 2 years.
Best Musical Toy Farm: Mega Bloks Musical Farm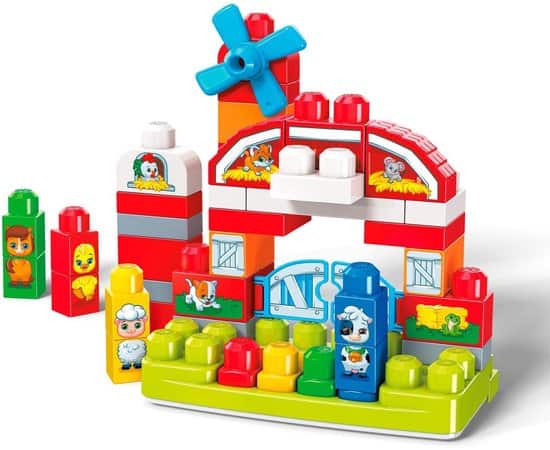 Let your little one discover music and animal sounds at the Mega Bloks Musical Farm.
By matching the same colors, you hear music and animal sounds.
Learn about colors and animals as you build a beautiful farm for the 4 cute animal friends in the yard. You can build a silo or turn the windmill!
Or you build a horse, cow, chicken or lamb. Each animal has to be put on its own music key to hear what their specific sound is.
The barn doors that can swing open and closed.
Be prepared for lots of sounds and musical surprises! This 46-piece set has building blocks with pictures on them and with special shapes
These 'First Builders' blocks are ideal for little hands and fingers and indestructible. Building promotes your child's fine motor skills.
You can combine this farm set with other Mega Bloks toys, but it's also great to build the farm on the Megablocks table for even more building fun!
Ideal for children from 1 to 5 years.
Check prices and availability here
Best Toy Farm to Build: Duplo Farm Adventures 10869
As I said before, I chose only the Lego Duplo farm set myself. My main choice was based on the price of the product.
Children who love the farm. If you have a little more to spend. As an extension of farm attributes you already have.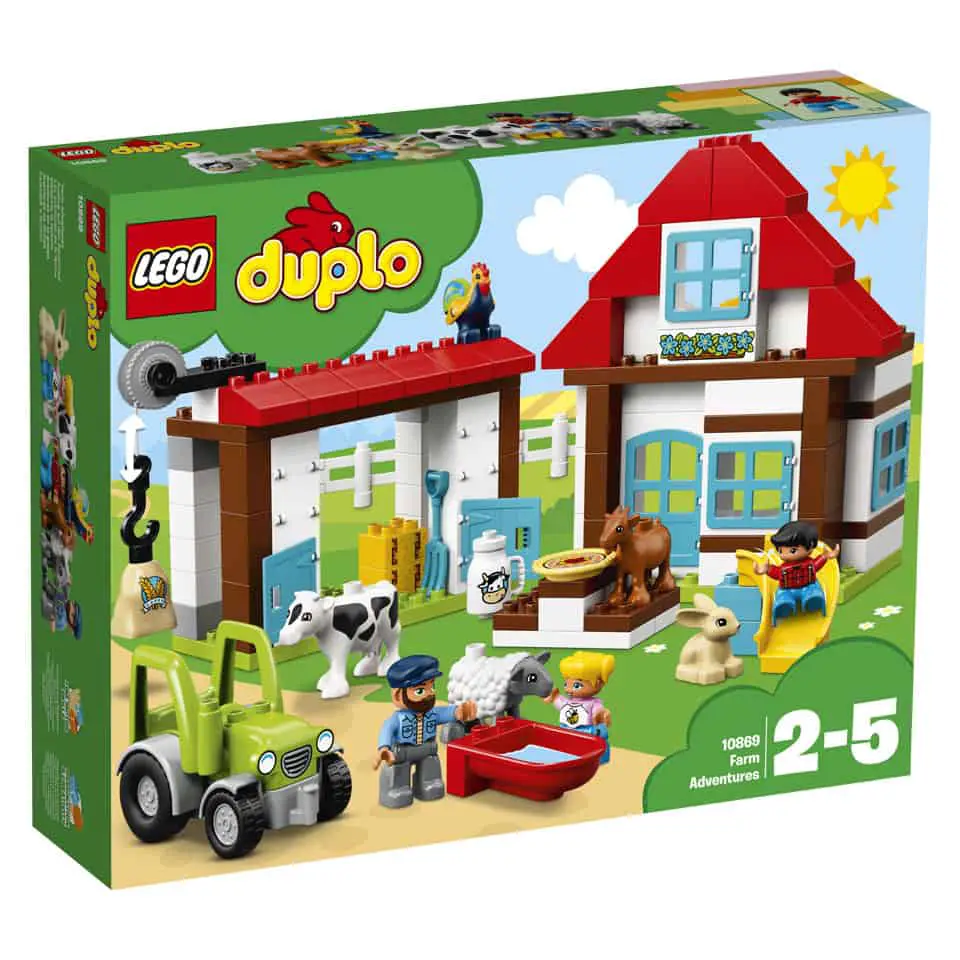 Since the product is not very expensive, I think it is very suitable for two reasons.
First of all, this way I could see if my children actually liked the product.
If the Lego Duplo set is very satisfactory, I always have the option to purchase more Lego Duplo products.
In addition, it was just a very nice product for my son.
He loves tractors and the farm very much, which is why I thought the Lego Duplo farm with tractor was so suitable for him.
In addition, the product contains nice extras. If you want to know what these extras are, read on!
Why I am so happy with the choice!
As I said, my son is very fond of tractors and the farm.
He was very happy with the tractor he got, but what got him most excited were all the accessories that could be used in combination with the cow.
Because the product also includes accessories such as an oil can, pitchfork and feeding trough, my son can completely immerse myself in his own fantasy.
In addition, I think it is good that, although the Lego Duplo Tractor consists of 59 parts, there are no parts that my son can swallow.
I have also consciously looked at this.
Because the products are all quite large, he often does not even have the opportunity to put these parts in his mouth.
I don't have to worry if he is playing with the set.
Because the set is still quite compact, I can also take it anywhere.
When we go to my parents for a day, I don't have to bring whole bags to put all his toys in. Everything fits easily in a small bag.
Since they are so big and few parts, I don't have to look under all the chairs or couches to see where all are. I personally like this very much.
Finally, I find it very nice that my children do not immediately tablets get your hands on.
This way my son also gets some spatial insight and he can also play with this set together with his brother.
For example, they are not both individually behind a game console or tablet.
Why you must have this product
The Lego Duplo Farm Set was an ideal purchase for me. The price was very low, making it a great product to use as an entry-level model.
In addition, my son loves the farm very much and finally the products are fun to play with and he does not have the opportunity to put the pieces in his mouth.
I would therefore certainly recommend this product to parents of young children who are looking for a nice Lego Duplo product to start with and do not want to spend too much money.
Are you interested, take a look at this one link for the latest price and to purchase the product.
In addition, you can also look at bol.com for more experiences from others.
Looking for farm toys for older children? Take a look at my review of the Best Bruder farm and countryside toys
Why is a play farm good for a child's development?
You may think that a toy farm is 'just' fun toys, but make no mistake, your child can really learn a lot 'on the farm'.
Many children have lost contact with nature and they are interested in video games or computer games at home from an early age.
Romping outside or experiences in nature are no longer part of the deal; do our children know that their daily vegetables, milk and fruit do not just come straight from the supermarket, but from the land?
Do they know how fruit and vegetables grow and where milk really comes from?
With this toy farm they learn the names and sounds of animals and how to take care of them.
What do chickens, cows and horses actually eat? Did they also know that a hen lays eggs, a cow needs to be milked and a horse likes a stable with straw?
Play and development come together; children can express their creativity and emotions with such a toy farm and can join the role play on the farm.
They learn to take care of the animals and all other farm chores (here also more tips to make tasks fun) to do.
In this open-ended farm world, children are challenged to discover more and more in a safe way.
Did you know that farm toys can stimulate the physical and mental development of your child?
After all, we find a lot of books, songs and stories for children about farm animals or about the farm itself.
Like the books Sounds on the farm en Tracking on the farm.
It is wonderful to make sounds and make up farm stories with your little ones.
And how about an afternoon really at the (children's) farm? Children love it and may already know some of the animal names and actions that take place on the farm.
And how nice is it to stay in the farm atmosphere after your visit?
Play at home what sound an animal makes or how you take care of the animals. All very educational, even for very little ones.
Check out some here too Miss Janneke talks about the farm! And did you know there a real farm school is in the Netherlands?
Children really enjoy visiting the petting zoo. Especially if they are allowed to feed the animals.
Many children's farms sometimes hold activities, such as petting guinea pigs or feeding baby goats, just like in the Amsterdamse Bos at the Goat Farm.
On some farms, kids are allowed to put on clogs and sometimes help to take care of the animals. How educational is that?
Why buy a toy farm for children?
Farm toys ensure the mental development of your child. Farm animals to learn to care for creates a sense of responsibility in little ones.
Parents and children can play together and make animal sounds and you can make up stories about the inhabitants of the farm.
Furthermore, this toy is good for the development of hand-eye coordination of the smaller farm fans.
Why play with animal figures?
Animal figurines have a timeless charm. Most preschool-age children love animals as much as they love fantasy play.
They are thus stimulated to take care of, in their development, creativity and imagination.
What do children learn from farm animals?
By telling kids stories about farm animals, you teach them how to love the animals of our world.
It teaches them to understand that animals also need to be fed and cared for and - like us - they need love.
This skill will translate into caring for others as well.
Specific uses for a toy farm
Toy farm with animals and fences
One of the most fun things to play is to guide the animals to their next destination. That is why many people are really specifically looking for nice farms with fences.
I even made a video about it on our channel, one that was very well received:
All the fences are at the large Playmobil farm, you can simply place them in a different way instead of around a cow as stated in the booklet and lead the animals to a pasture!
A toy farm: indispensable for every child
We think a play farm is an item that should not be missing at home.
And why do we think so?
Well, children of different age groups simply enjoy discovering all there is to do on a farm.
They can use their imaginations through role-playing.
Furthermore, most (wooden) play farms are solid and durable toys, good for use for several generations.
There are studies showing that playing imaginative games on a regular basis will greatly benefit a child in his development.
A few benefits of playing with a toy farm include:
it helps build cognitive skills
the child learns to solve problems through imaginative play
building vocabulary and language skills
develop better coordination
the child develops an interest in nature
The words of farm animals also allow babies and toddlers to practice the many sounds we use.
Phrases such as 'a piglet grunts' or 'a cow that moos' will also quickly help your child learn new words.
If you practice with your little one every now and then they will develop a greater vocabulary. This is especially true if children are between 9 and 21 months old.
Most kids just love farm animals and often the machines, vehicles and jobs that can be done!
For even more farm play fun, take a look at our top 11 of Best toy tractor & pedal tractor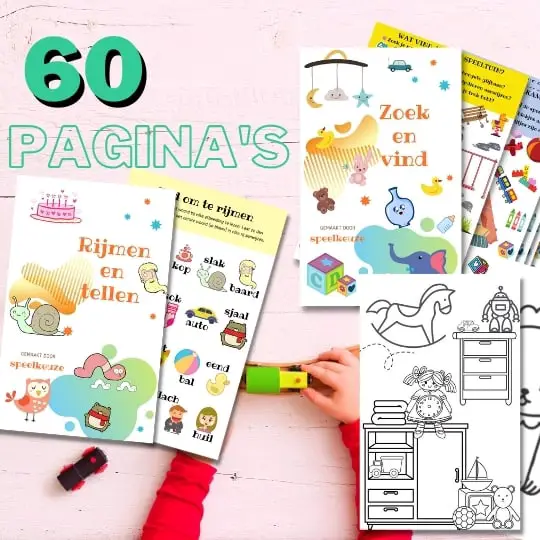 Always something to do for the holidays or rainy day?
Play Choice now has the ultimate activity book collection, with over 60 pages of fun coloring pages and educational puzzles.
Joost Nusselder, the founder of Speelkeuze.nl is a content marketer, father and loves trying out new toys. As a child he came into contact with everything related to games when his mother started the Tinnen Soldaat in Ede. Now he and his team create helpful blog articles to help loyal readers with fun play ideas.