12 Best Toy Phones Reviewed: Baby, Toddler & Toddler
I enjoy writing these articles for my readers, you guys. I don't accept payment for writing reviews, my opinion on products is my own, but if you find my recommendations helpful and you end up buying something through one of the links I may be able to receive a commission on that.
More information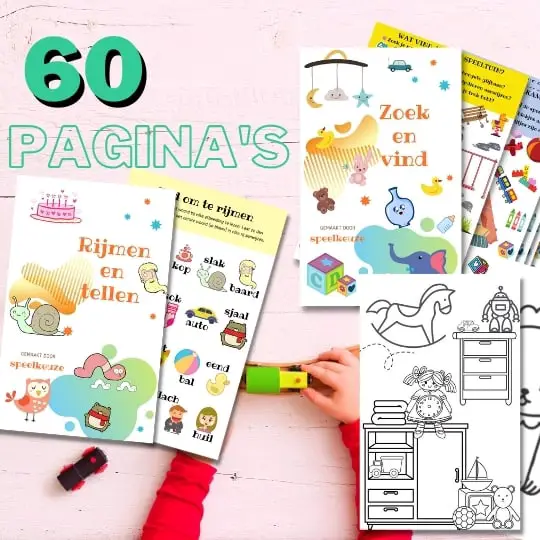 Always something to do for the holidays or rainy day?
Play Choice now has the ultimate activity book collection, with over 60 pages of fun coloring pages and educational puzzles.
Little ones want to play with your phone all the time, if you don't look for a moment, they'll get it!
My son too, he sees exactly that that thing is one of the most important objects in life, even if you think he is not looking and you quickly check your messages or mail, he sees it all.
Fortunately, there is a great alternative for these smarties; Your own phone!
We have the best toys Phones tested and checked for sounds, sturdiness and even recording functions and with this guide you know exactly which one to buy.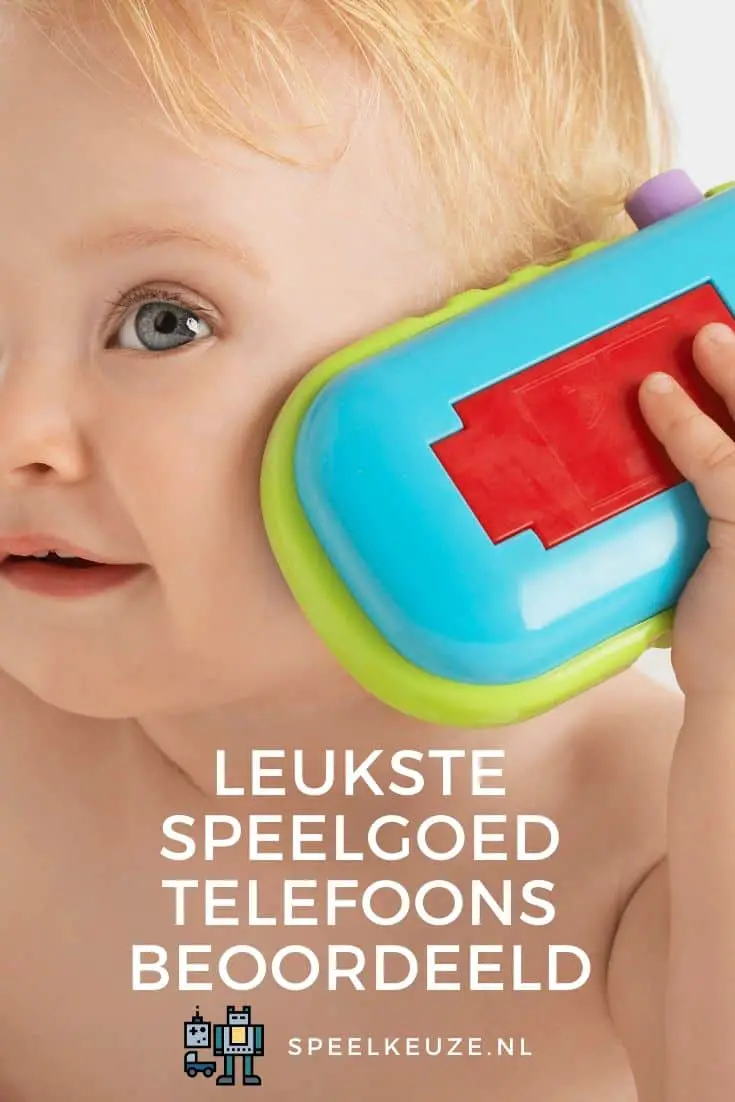 They can grab a toy phone, they can push the buttons, make a call to mom or a friend and… they can let it fall from their hands.
The nicest and most sturdy I have found for babies up to toddler are these Mom's on the Phone in various fun figures (I like the dog best!) where you not only have a nice doll, but also nice sounds and record function for your own voice.
But there are more fun, certainly a few for slightly older children or some that are a bit more lifelike.
I have selected a number of toy phones that are fun and educational for your baby, toddler or toddler!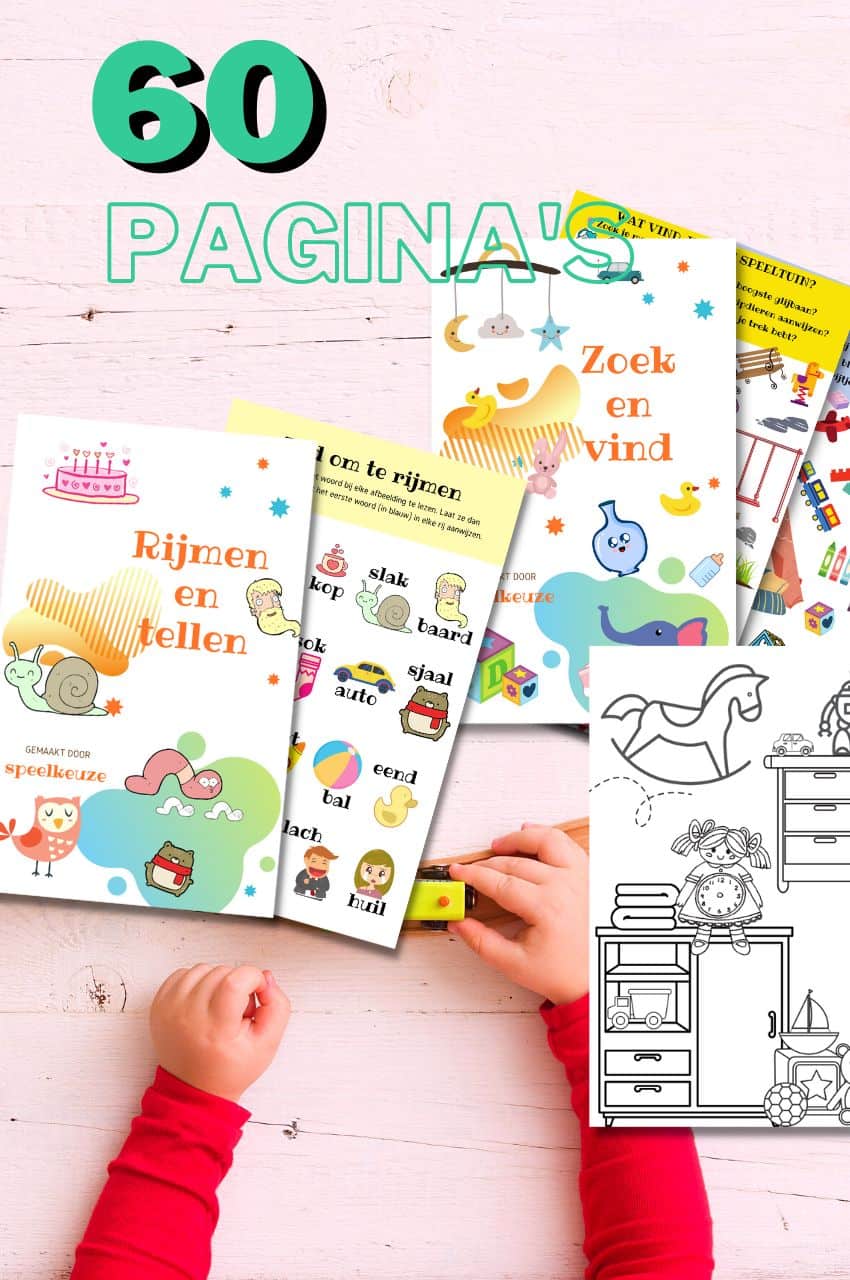 A play theme in your mailbox every month?
Fun play tips, activity books and more, with the first email being our free mini-guide "educational toys"
We will only use your email address for this newsletter and respect your privacy
Toy Phone Buying Guide
A telephone for children should be comfortable to grip so that they can try everything safely.
It also stimulates the imagination, social contact and also improves your little one's fine motor skills. By playing and imitating, your child discovers the whole world around him!
Especially by imitating your actions, your little one learns a lot; After all, you are the one who spends a lot of time with him or her!
Watch out; Newborn babies hear very intensively. Therefore, do not expose them to very loud noises.
Most toys take this into account (if you buy something that is made for their age), so choose a toy, or a phone, that is suitable for the age of your child.
Stimuli and sounds ensure that babies' hearing develops well, toys with sound are fine, but make sure that the volume remains modest.
Best toy phones reviewed
Cutest baby toy phone: Mom's on the phone with record function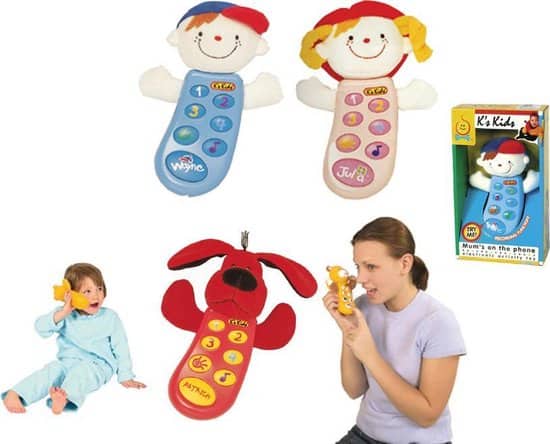 This MOM'S ON THE PHONE PATRICK educational phone with record function is a lot of fun! It is an interactive toy telephone made of plastic with fabric.
There is a cup and two legs attached to the mobile, so that it is a soft cuddly dog ​​at the same time.
The phone has nice sounds and also has a recording function, so that your child can record his or her own voice and then listen to it.
The phone is already suitable for babies from five months!
Best toy phone iphone: B. Toys HiPhone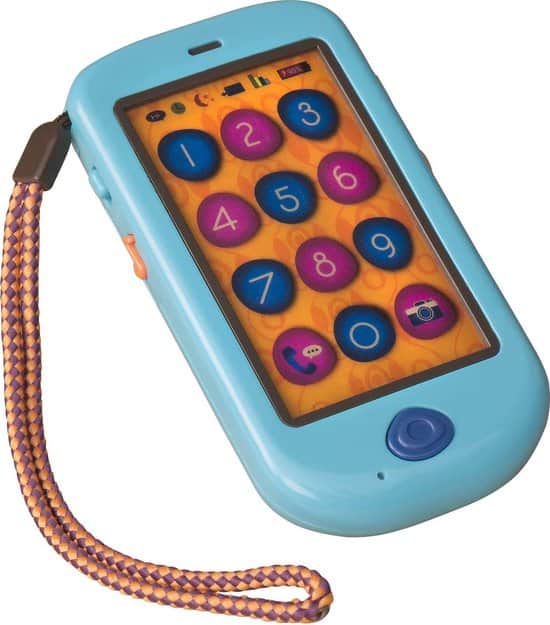 A real HiPhone phone like your mum! Your child's first mobile phone, but luckily without a high telephone bill!
Suitable for children from one and a half to five years.
The funny toy version of your iPhone works on a penlight battery.
The numbers on the touchscreen are spoken when you press little one, spoken messages can be recorded and played and music can be listened to.
This commercial shows what he can do:
Another nice extra; If your child leaves the phone on the left for too long, your phone will call him or her yourself! What more do you want?
Best toy telephone with wire: Fisher-Price Toddler Telephone with Pull Rope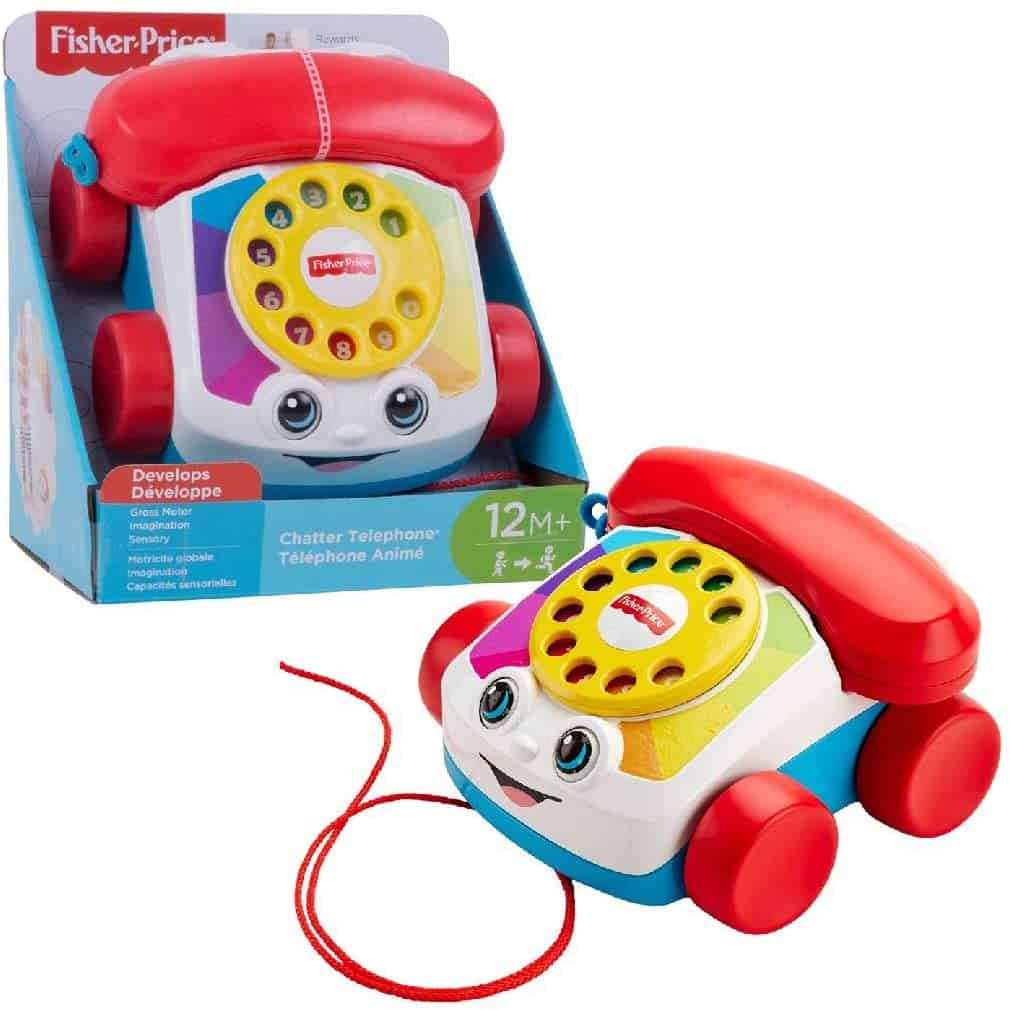 We all know the Fisher-Price Toddler Telephone with Pull Rope from the past! It is therefore a real classic, but with a whole new look!
Great for children from one to three years old. The phone has a nice face and its eyes move when it is pulled by your child.
In this English video you can see how it works:
The old-fashioned dial can easily be turned with a little finger and the phone works without batteries, great!
Best Toy Smartphone: VTech Preschool K3 Call & Learn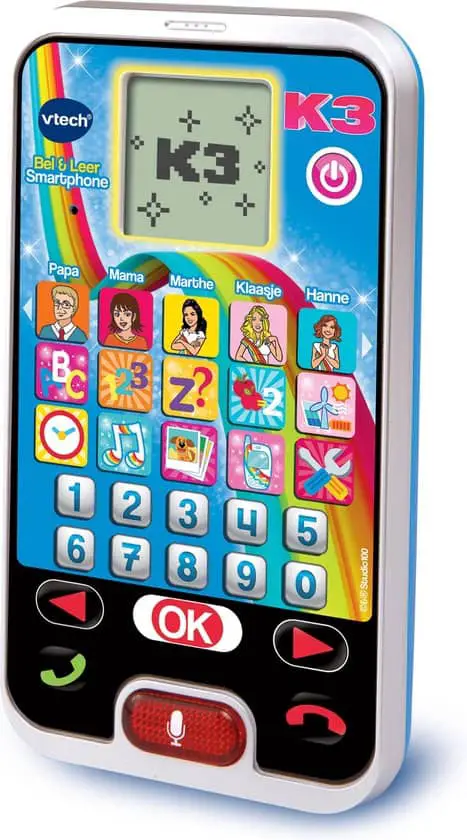 That's cool! With the VTech Preschool K3 Call & Learn Smartphone your child can call our Hanne, Marthe and Klaasje from K3!
Your little one is also introduced to letters and numbers and can learn to tell the time, for example. Your child can choose from various interactive games.
Using the sound sensor, your child can talk to the K3 friends and hear the original voices of all K3 girls!
In this video you can see the global version for the US market (in English):
Your child can save five phone numbers of their choice and there are five ringtones to personalize the smartphone. It's a solid call and has an automatic shutdown.
Check the most current prices and availability here
Such an extensive children's telephone is only a small step away from one of these educational children's tablets that are available from toddler and toddler
Wooden toy telephone: Simply for kids Brio wooden first mobile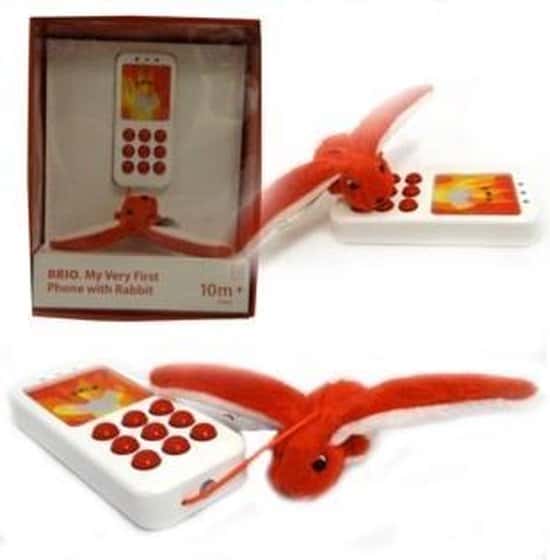 The Simply for kids Verve wooden first telephone / mobile is a nice wooden telephone for the little ones in a red-white color! When you press the buttons, small sounds can be heard.
The image on the screen of the phone moves as soon as your child moves the phone back and forth.
There is a sweet red cuddly rabbit attached to it and it is suitable for babies from ten months.
Simply for Kids is a great brand, without fuss, for sustainable toys. Every time they come up with something beautiful to add to their range.
Also check out another phone with our nicest wooden toys which we previously reviewed
Cutest pink toy phone: VTech Preschool - Baby phone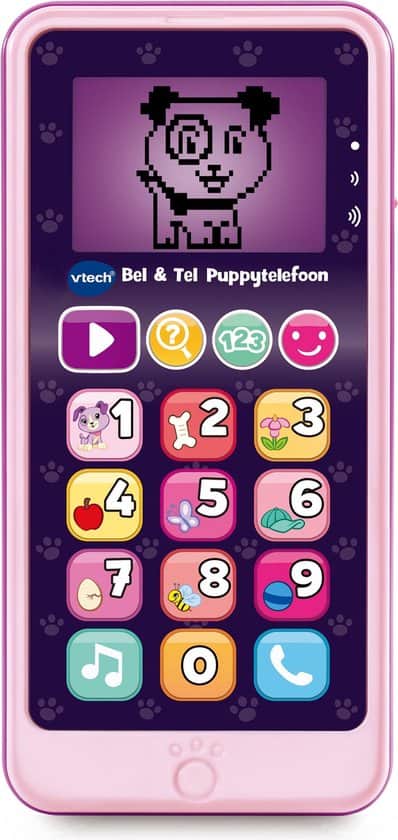 This sympathetic VTech Preschool Baby Phone is a cheerful pink phone with colored screen! The emoticon button shows your child funny animations on the screen.
Your child can learn numbers in a playful way and play a game with Violet.
The phone has an adjustable volume and switches off automatically. He can play many melodies, songs, sounds and phrases.
The phone works on batteries, which are also included, and is suitable for children from one and a half.
Best toy phone for your toddler: Chicco Fotomobile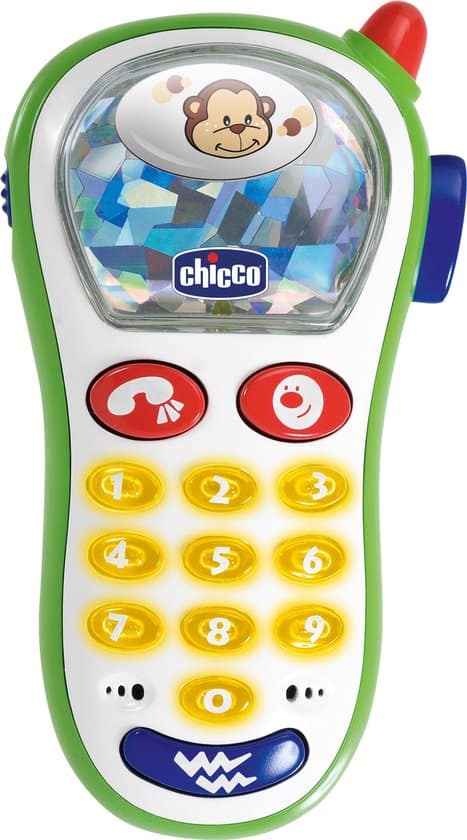 De Chicco Baby's Photo Mobile is your child's favorite first mobile phone!
Your little one can have a chat with a friend, take nice "pictures" and choose different buttons with melodies. This phone has a vibration function and makes a sound when your little one takes a picture.
Suitable for your toddler and toddler.
Most fun musical toy phone: Fisher-price grab toys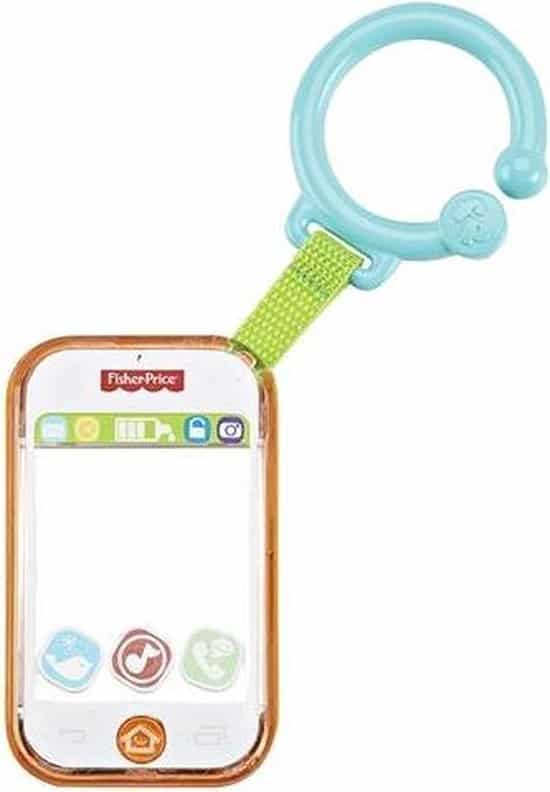 Children are always delighted with the Fisher-price Musical Telephone!
This musical telephone from Fisher-Price has colorful buttons and if your little one presses one, he or she will fully enjoy the cheerful music.
Children love to handle and feel toys. Playing with this musical mobile is not only great fun for your little one, but also stimulates the development of motor skills and eye-hand coordination.
The phone works on a button cell battery and is suitable for kids from one year.
Check out this musical phone here
Best Miffy toy phone: Rubo Toys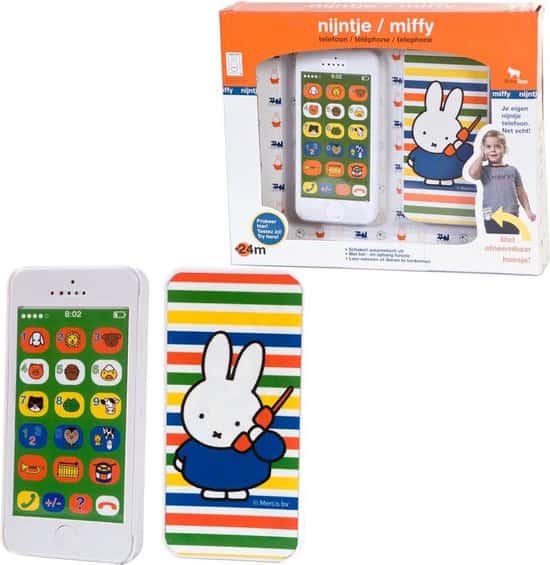 A Miffy phone, yippee! This Rubo Toys Kv Miffy Phone is the nicest mobile phone ever for your child! It has a super nice cover, also with Miffy on it.
When your child presses the buttons, you can hear sounds. With this phone it is fun to play and learn at the same time! The mobile phone comes with batteries and is suitable for children from the age of three.
Toy telephone Bumba: Bumba Telephone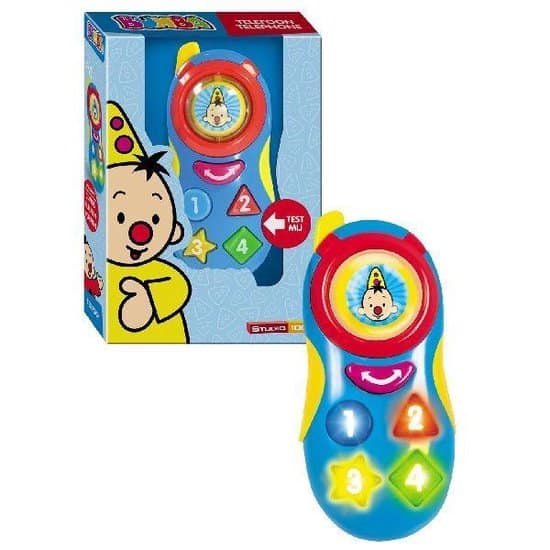 A great phone for your little Bumba fan, this Bumba Phone!
Let your child learn colors, shapes and numbers while playing. The Bumba phone has lights and sounds. Your little one will be able to hear the famous Bumba tune and a number of 'Bumba sayings'.
Each test tells your child which color, shape or number he or she has pressed. A very nice play phone! Suitable for children from one to three years old.
Toy phone from Sofie the giraffe: Sophie the Giraffe music phone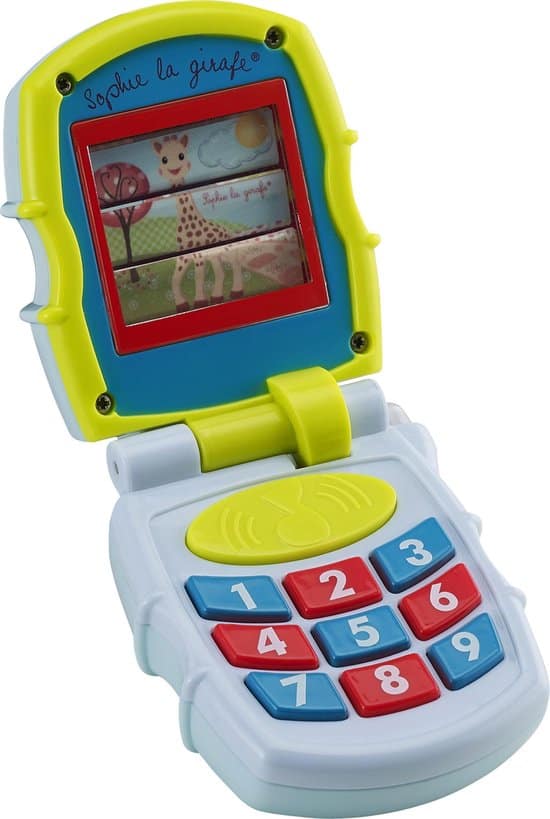 Play and learn with your own Sophie the Giraffe music phone! What's more fun than imitating mom and dad?
The phone has a cheerful color and every time you open it you will see a picture of Sophie the Giraffe, Josephine the Mouse or Gabin the Bear, very original!
Your little one learns five to activate different melodies by pressing the big button. All small buttons also each have their own sound.
A very nice toy, suitable for babies from three months!
Best Retractable Toy Phone: Johntoy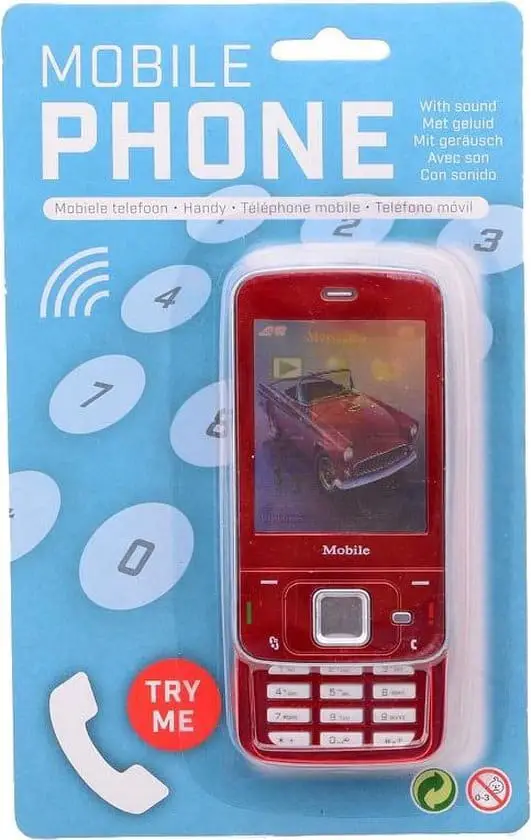 The sturdy Johntoy Mobile Toy Phone Red is a retractable phone for cool toddlers!
Buttons will appear when your child slides out the phone and when you press the buttons you will hear small fun sounds.
The plastic telephone works on batteries and is suitable for kids from three years old.
Can playing with a real cell phone be dangerous for children?
Little ones are drawn to the vibrant colors, lights and different sounds of a telephone. Still, it is not advisable to let them play with your mobile!
Children may be at greater health risk than adults when using or playing with real cell phones.
The radiation emitted from cordless telephones and other devices can be dangerous to unborn babies as well as small children.
Therefore, choose a nice toy phone!
What is the best age for a real cell phone?
The appropriate age to give your child a real mobile phone is from the age of twelve or thirteen, but of course it always remains the decision of the parents.
One child is not the other and some cannot yet handle the responsibility. Did you know that quite a lot of children get a cell phone at a much younger age?
We have to ask ourselves if that is good for them!
Also read all about it screen time and your child's development
Conclusion
A toy phone is fine!
However, a toy cell phone does not hurt and can be seen as any other toy with buttons and sound. So it's not like your little one is already developing a phone addiction. Don't be afraid of that!
There are plenty of fun toy mobiles that your little one can enjoy for a while, just like any other toy, no problem.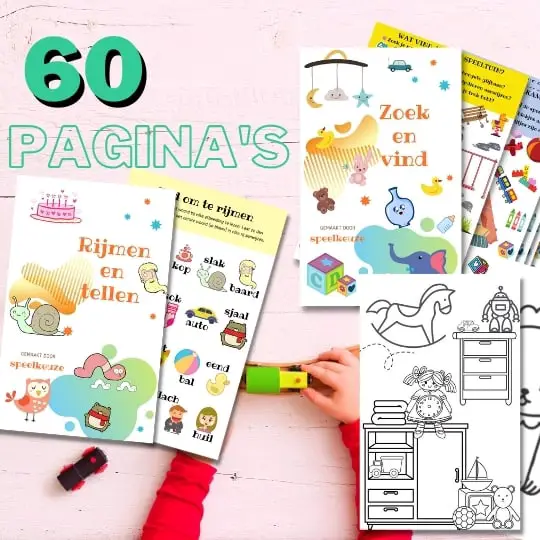 Always something to do for the holidays or rainy day?
Play Choice now has the ultimate activity book collection, with over 60 pages of fun coloring pages and educational puzzles.
Joost Nusselder, the founder of Speelkeuze.nl is a content marketer, father and loves trying out new toys. As a child he came into contact with everything related to games when his mother started the Tinnen Soldaat in Ede. Now he and his team create helpful blog articles to help loyal readers with fun play ideas.