Best toy trailer | Why semi-trailer trucks are so cool [+ Toplist]
I enjoy writing these articles for my readers, you guys. I don't accept payment for writing reviews, my opinion on products is my own, but if you find my recommendations helpful and you end up buying something through one of the links I may be able to receive a commission on that.
More information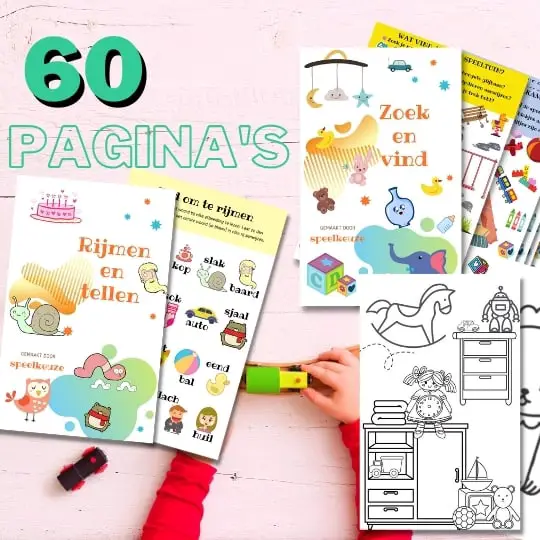 Always something to do for the holidays or rainy day?
Play Choice now has the ultimate activity book collection, with over 60 pages of fun coloring pages and educational puzzles.
Our children are often fascinated by impressive trucks with trailers: dump trucks, fire trucks, car trucks and so on.
Trucks therefore play a major role on our roads, our children notice this of course.
Why are these enormous trailers with a trailer so very attractive now?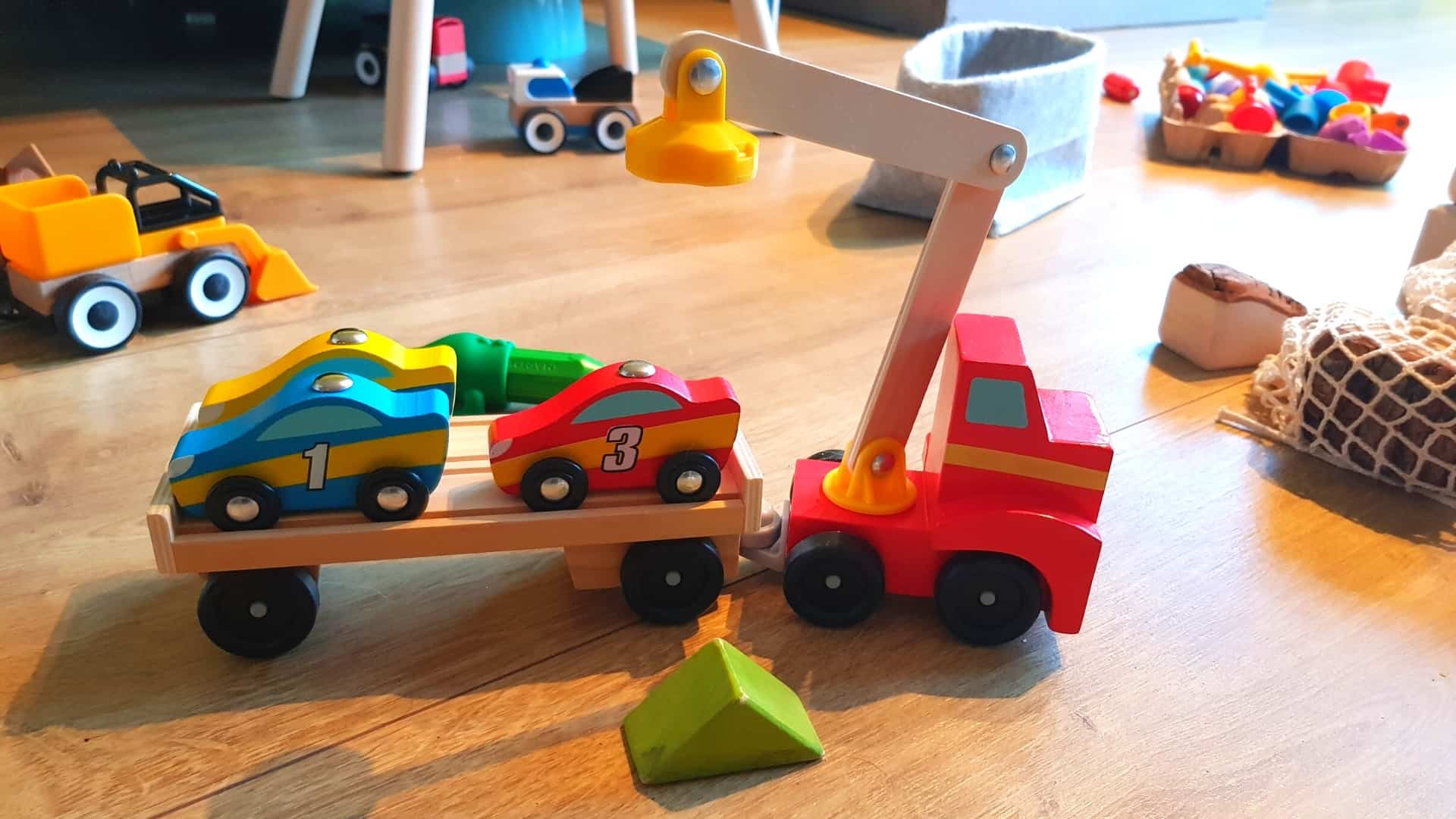 Well, they are big, their colors are striking and they make quite a noise, they can also be fully loaded; the trailer with up to 10 cars on it is a good example.
With toy trailers you can make most children very happy.
Below we have selected a number of very cool trucks with trailer for your little one.
We will also discuss what makes these toys so fun, and what you should pay attention to when buying a toy trailer.
What is the best toy trailer?
It is of course difficult to choose just one, but this one is very beautiful Wooden car trailer from Melissa & Doug is a magnetic loadable trailer with crane that you can move.
In this way, the cars can easily be lifted onto it. 4 cars can be charged and the colors of the truck are beautiful.
Your little one will love it! - just like us, by the way.
We'll now move on to our other favorite semi-trailer trucks and I'll list them for you first: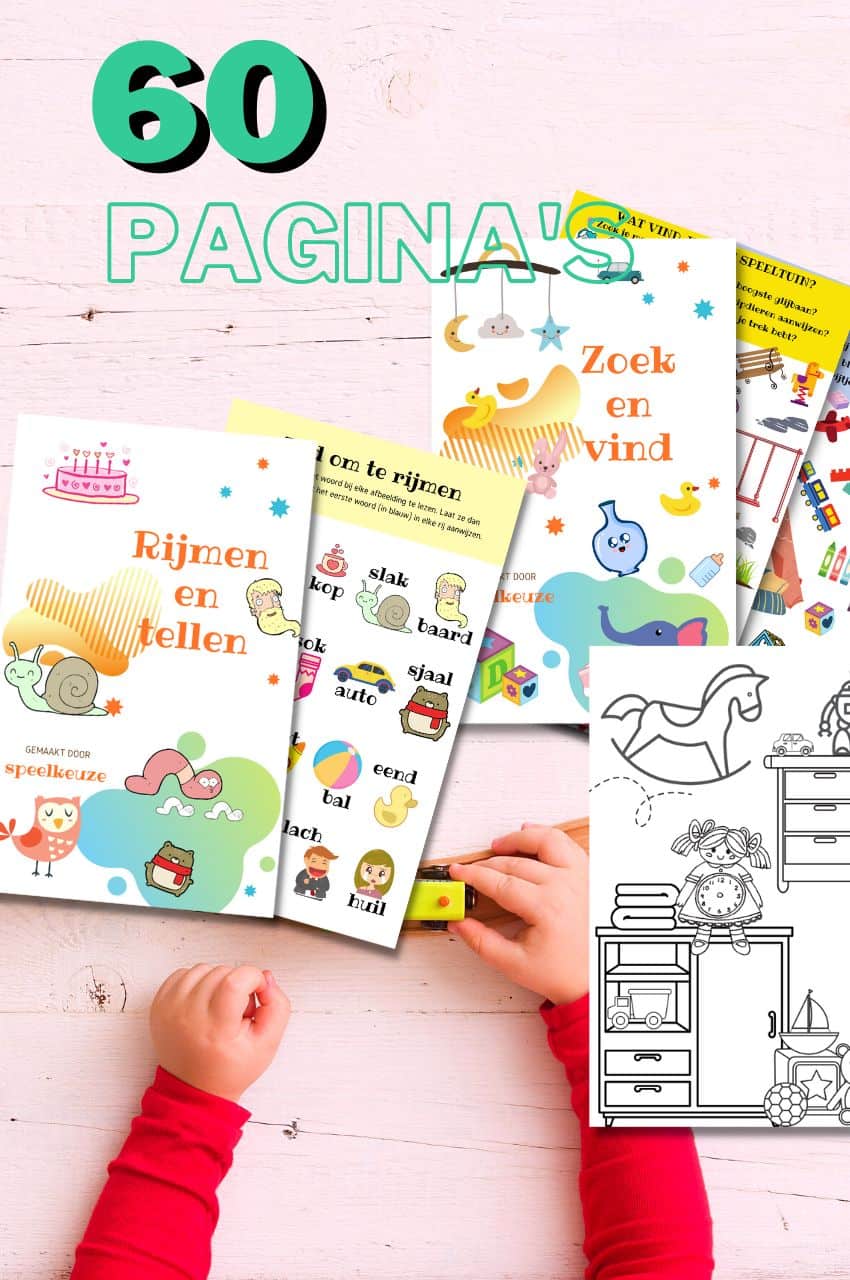 A play theme in your mailbox every month?
Fun play tips, activity books and more, with the first email being our free mini-guide "educational toys"
We will only use your email address for this newsletter and respect your privacy
Best toy trailers rated
As adults, we no longer pay attention to the 'details' such as truck and trailers on the road. It's just part of everyday life.
But for children, such 'details' are still new and exciting!
Playing with toy trucks is a great way for kids to act out the situations they so enthusiastically watch from the window in the back seat.
Let's discuss with you the best toy trailers we've found.
Best toy trailer made of wood: Melissa & Doug Wooden Car trailer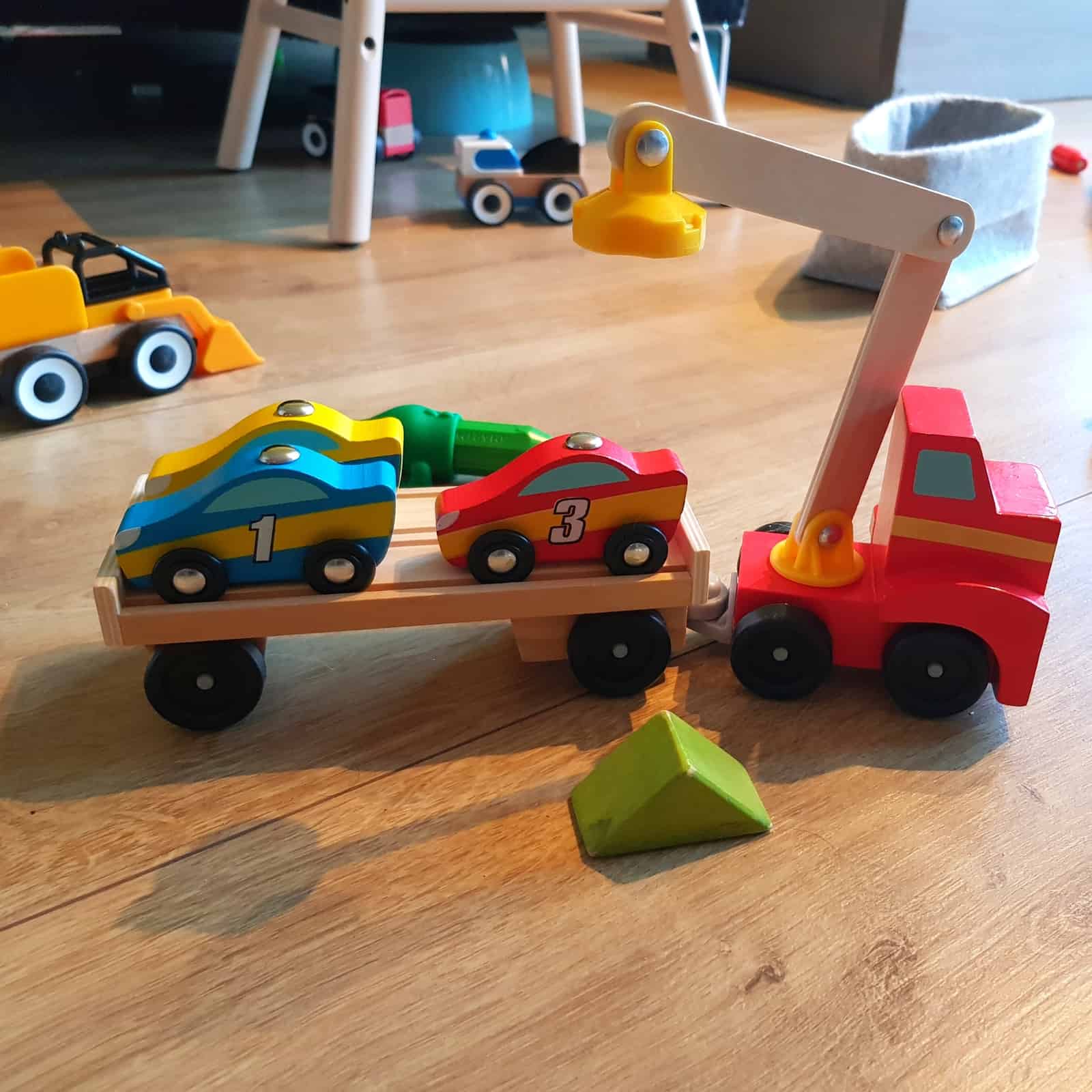 Your child can play to your heart's content with this Melissa & Doug Wooden Car trailer.
There are four colorful cars, which must be transported at the same time.
You can move the crane of the trailer and it has a magnet to pick up the cars for loading the vehicles. This gives a lot of fun.
This car transport trolley is specially made for transporting the supplied cars, but you can of course also load your other cars on it, just as fun!
And he works well with other magnetic toys that I wrote about before to pick up blocks or building pieces or other cars.
I just thought that the magnet was just not strong enough for the cars, which can sometimes be a bit frustrating for a small child because it does not work properly.
So maybe more fun for a toddler than a toddler, or at least slightly older than 3 I would say.
Check prices and availability here
Best small toy semi-trailer: SIKU Semi-trailer with excavator 1790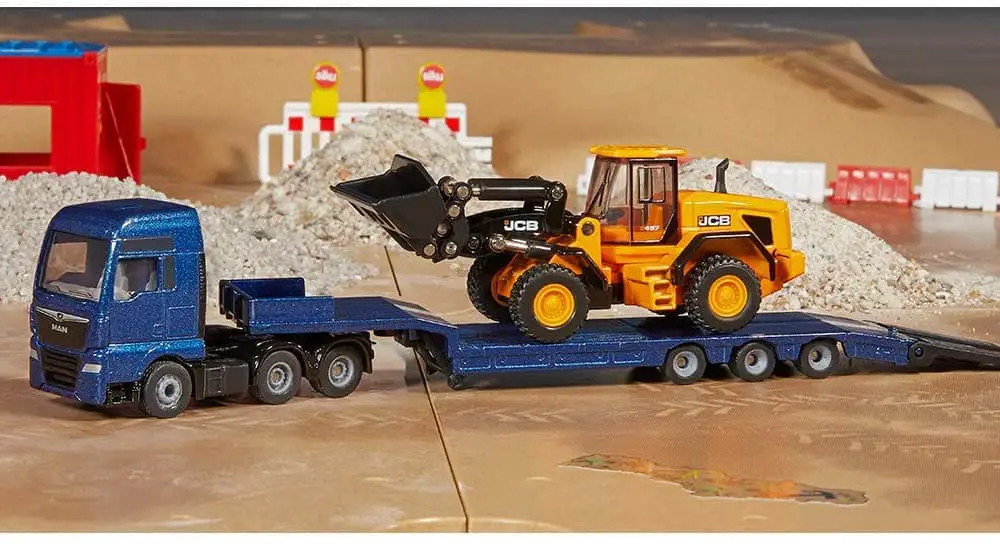 The detailed SIKU Trailer with excavator is suitable for children from 5 years old and is really a beautiful truck with trailer and so actually two cars in one!
We sometimes see them on the highway and then all the kids – and sometimes parents too – turn their heads and shout enthusiastically 'Look, there's a excavator on that truck, wow!!'
We therefore thought it was a good number 2! An interesting detail, the truck is made entirely of zinc.
This SIKU Semi-trailer with 'low-loader' is quite a special appearance among trucks with semi-trailer. This truck - and the excavator - are manufactured with great precision.
SIKU trucks are made of zinc and meet the highest quality and safety requirements. They provide a lot of safe fun for children and they are beautiful.
SIKU is an expert in the field of detailed toy trucks, agricultural implements and other vehicles.
The toys of this brand are robust and very realistic, children love them.
Check prices and availability here
SIKU is a great brand, and a nice alternative to the more expensive Bruder toys.
Best big toy trailer: Little Tikes Auto Transporter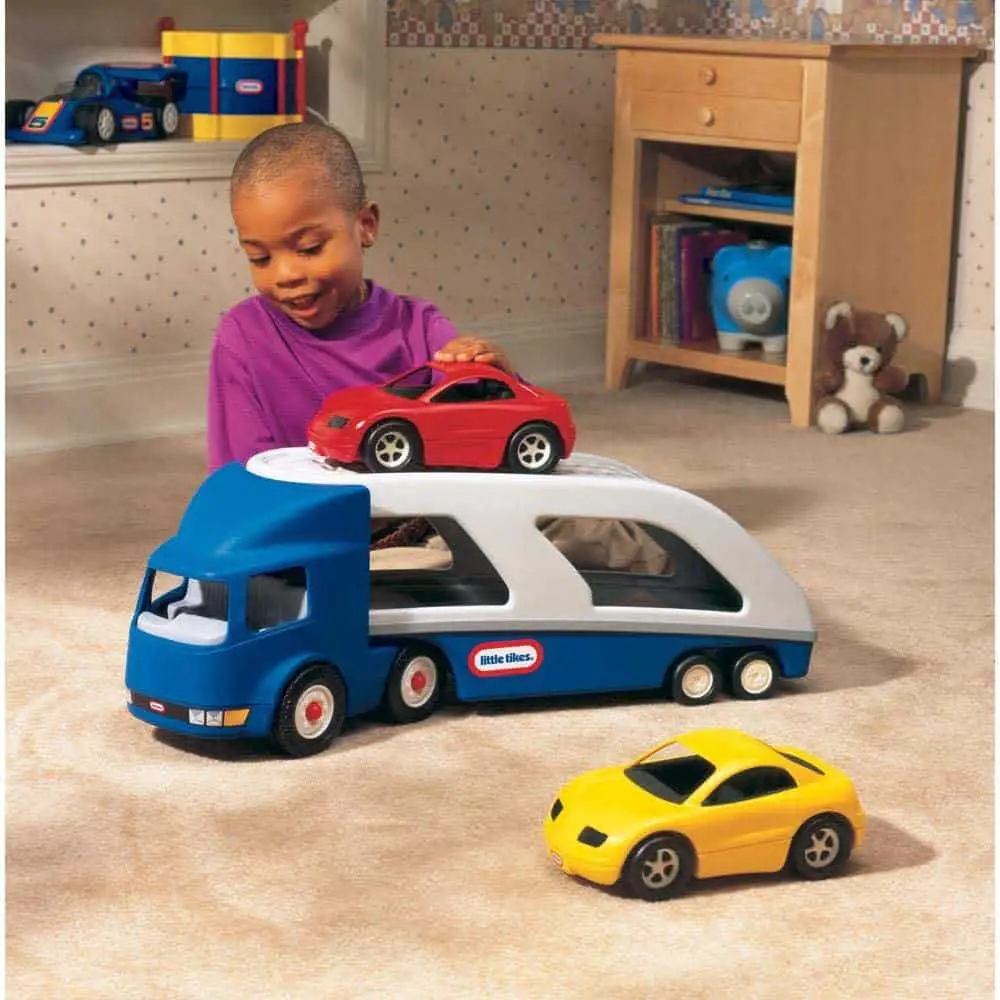 A super big strong truck: the 74 cm long toy truck trailer.
The brightly colored truck is equipped with up to 4 axles and large, wide wheels. The shafts are also extra reinforced with a screw at the bottom.
With this truck made of sturdy plastic, your child will experience endless fun.
The truck with trailer is super safe for your little one; there are no harmful dyes or plasticizers in the plastic. The 'trailer' is suitable for children from 3 years old.
A dream for every trucker-to-be, and there are 2 large cars that also have a very nice size to play with.
My son had seen this for the first time at the daycare and was already crazy about it at 2 years old, so you don't necessarily have to wait until 3 years.
It is so sturdy that they can even sit on it, although it keeps that easy in our case it may not be advisable so I do not, but children will always remain children of course.
Check prices and availability here
Best toy trailer for toddler 1 year: Fagus Mini Transporter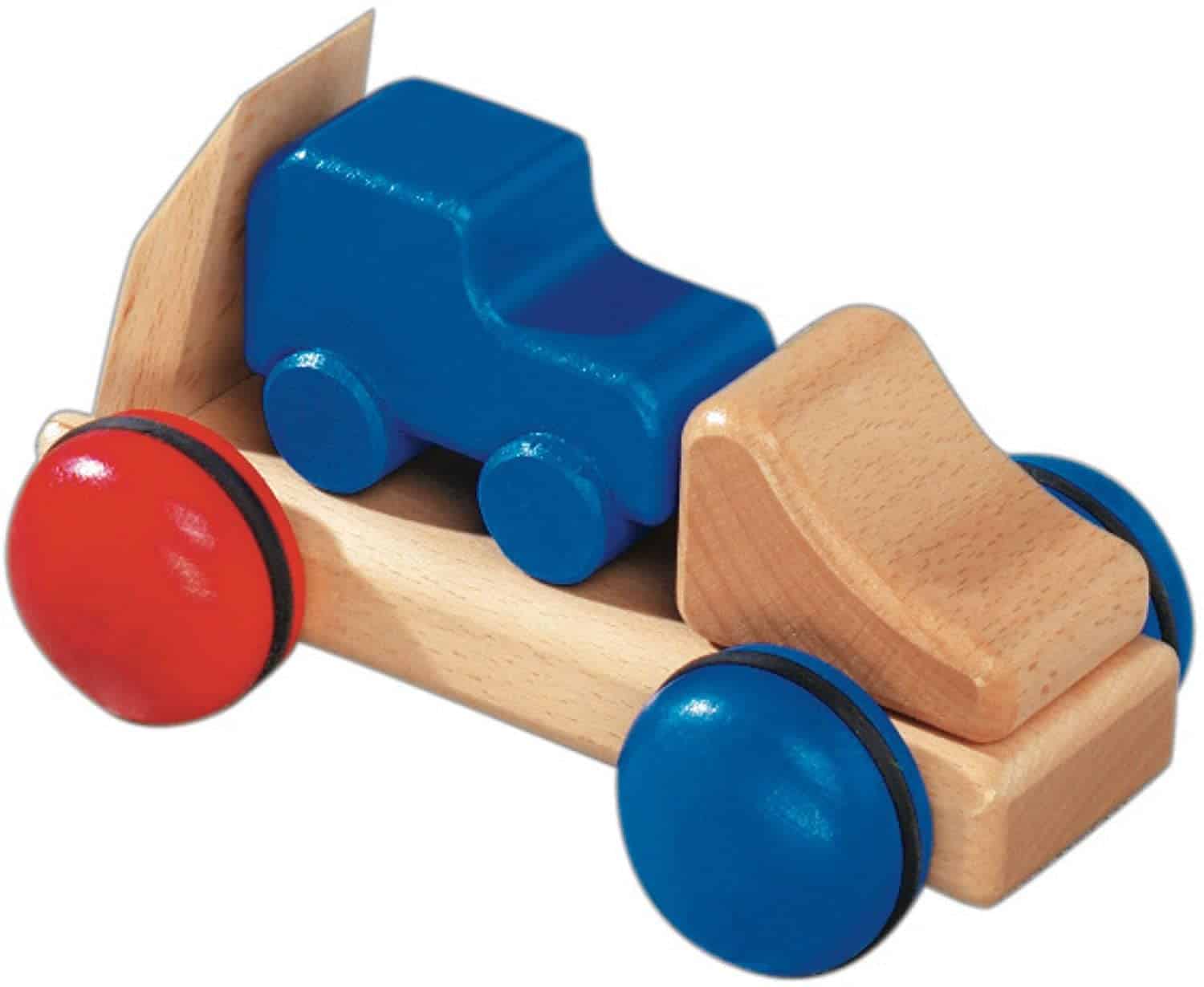 How nice is the Fagus mini trailer?
This brightly colored trailer for very little ones promotes the creative and fine motor development of your child.
This trailer is made by Fagus, a German manufacturer that makes high quality toys from certified beech wood this one and has a large adjustable tailgate.
He comes with a car, which can be loaded on and in by moving the cover down.
The wheels are brightly colored and made of wood but have rubber rings to avoid being too hard on your floor.
Check prices and availability here
Best toy trailer for toddlers: Goki Wooden Bulldozer with Trailer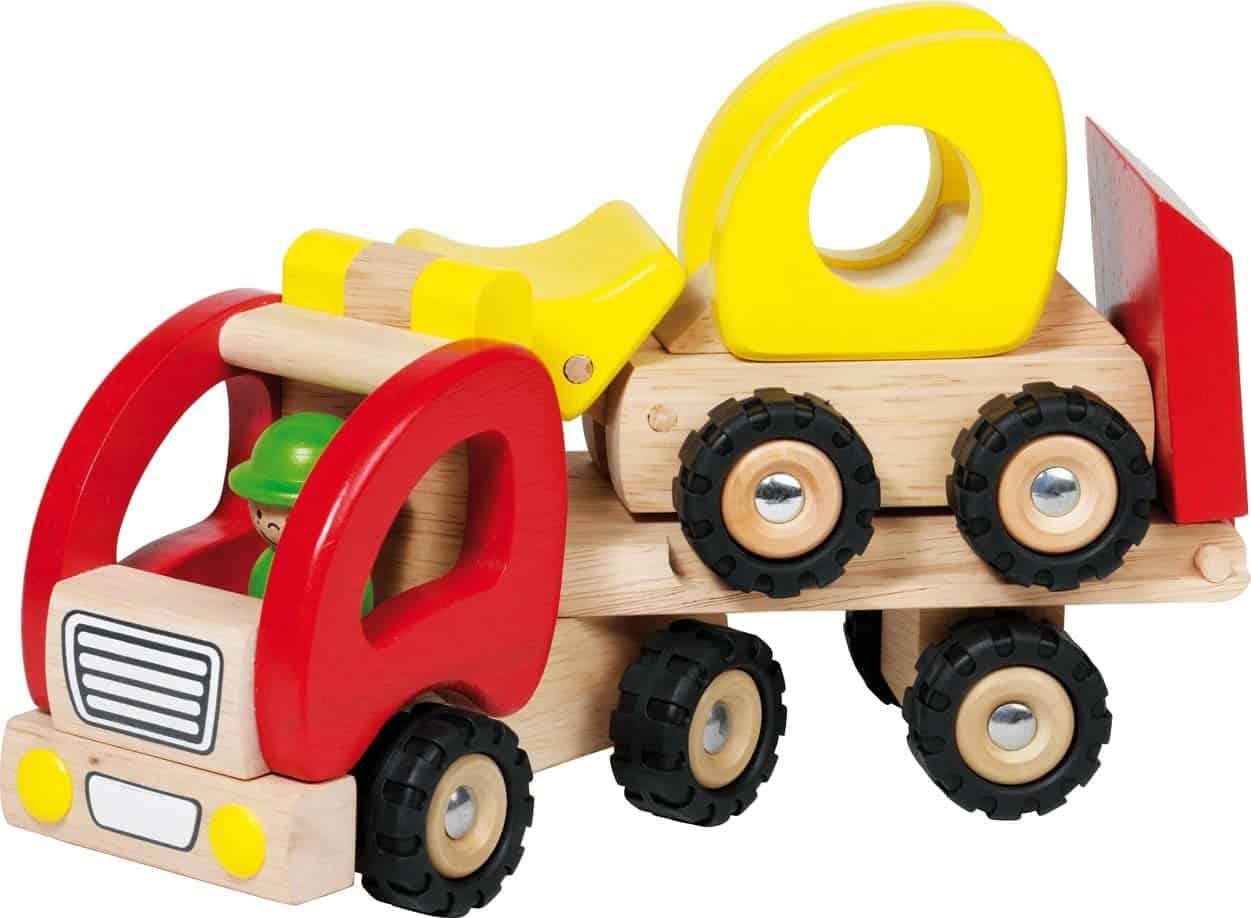 For a change, we chose a bulldozer with trailer! This Goki Wooden Bulldozer with Trailer is a robust wooden low loader.
The low loader and bulldozer are both sturdy and can take a beating. Your toddler will love it.
Let your little one romp in the sand and mud with this neatly finished bulldozer.
It is equipped with coarse rubber tires and is controlled by a real construction worker.
The colors are beautiful, natural wood in combination with red and yellow.
Check the latest prices here
Best toy trailer for preschool children: Paw Patrol Patroller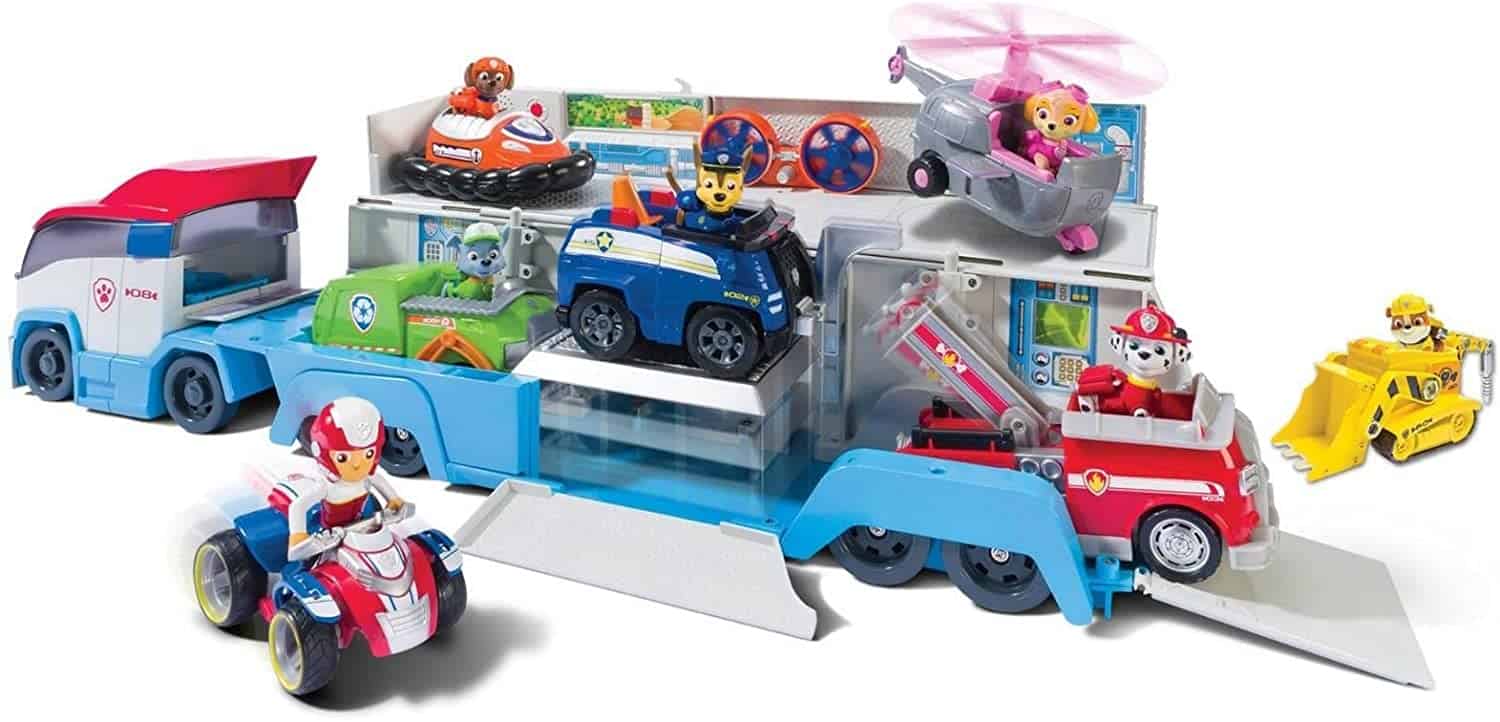 Your toddler will certainly love to play with this Paw Patrol Patroller.
It is a trailer that is perfect for a lot of fun indoors and outdoors.
There is one car from Ryder, but if you already have other cars or figures from this TV show you can also use them of course.
He also makes noises and gives space to quite a few figures at the same time.
Check prices and availability here
Best Toy Trailer for 6 Years: Disney Pixar Cars Mack Mini Racers Hauler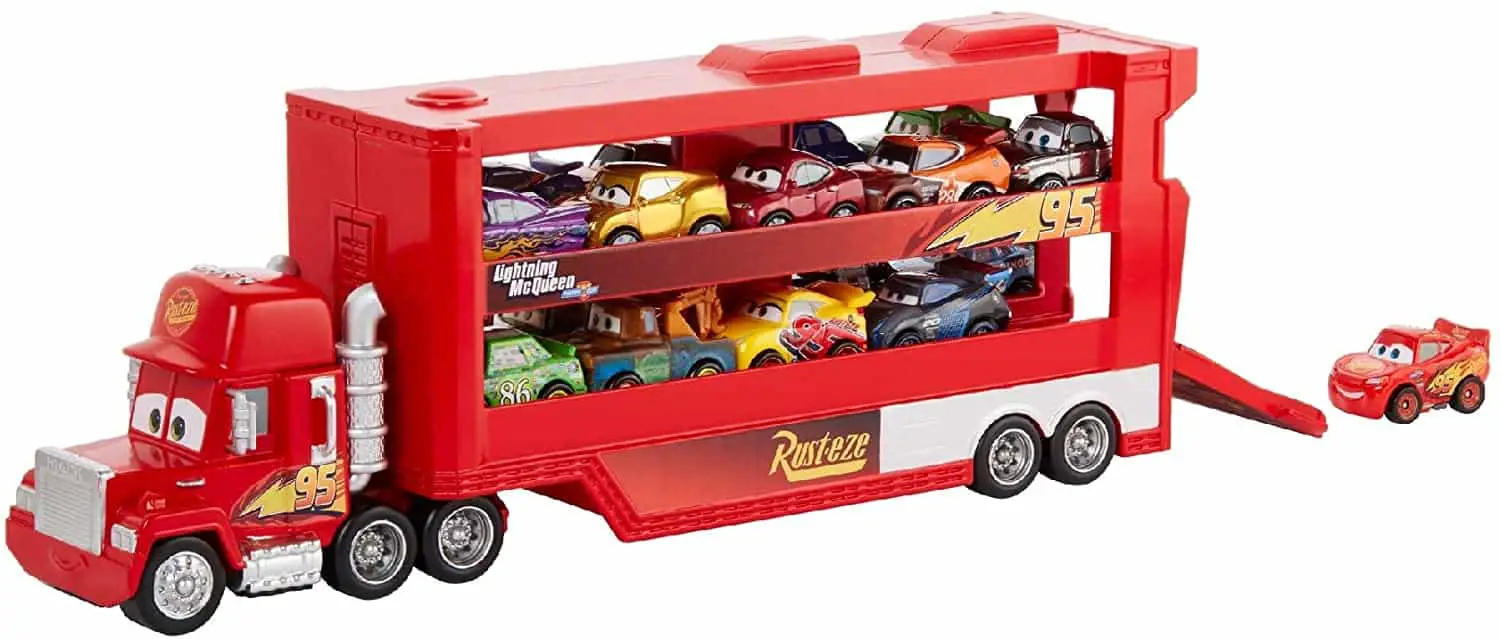 The Disney Pixar Cars Trailer comes with 1 vehicle: Lightning McQueen that can be loaded onto the truck.
But there is much more to the Mini Racers set from Cars, who wouldn't want to hit the road with this cool truck?
Is the car broken and does it need to be transported to the garage? And what about the tough jeep, has it already been repaired?
Make sure to come to the rescue quickly with your truck and trailer.
We think these toys are suitable for older children, because the wheels and details are very small.
View the most current prices here
Best toy trailer for 8 years: LEGO City Great Vehicles Combine Transport 60223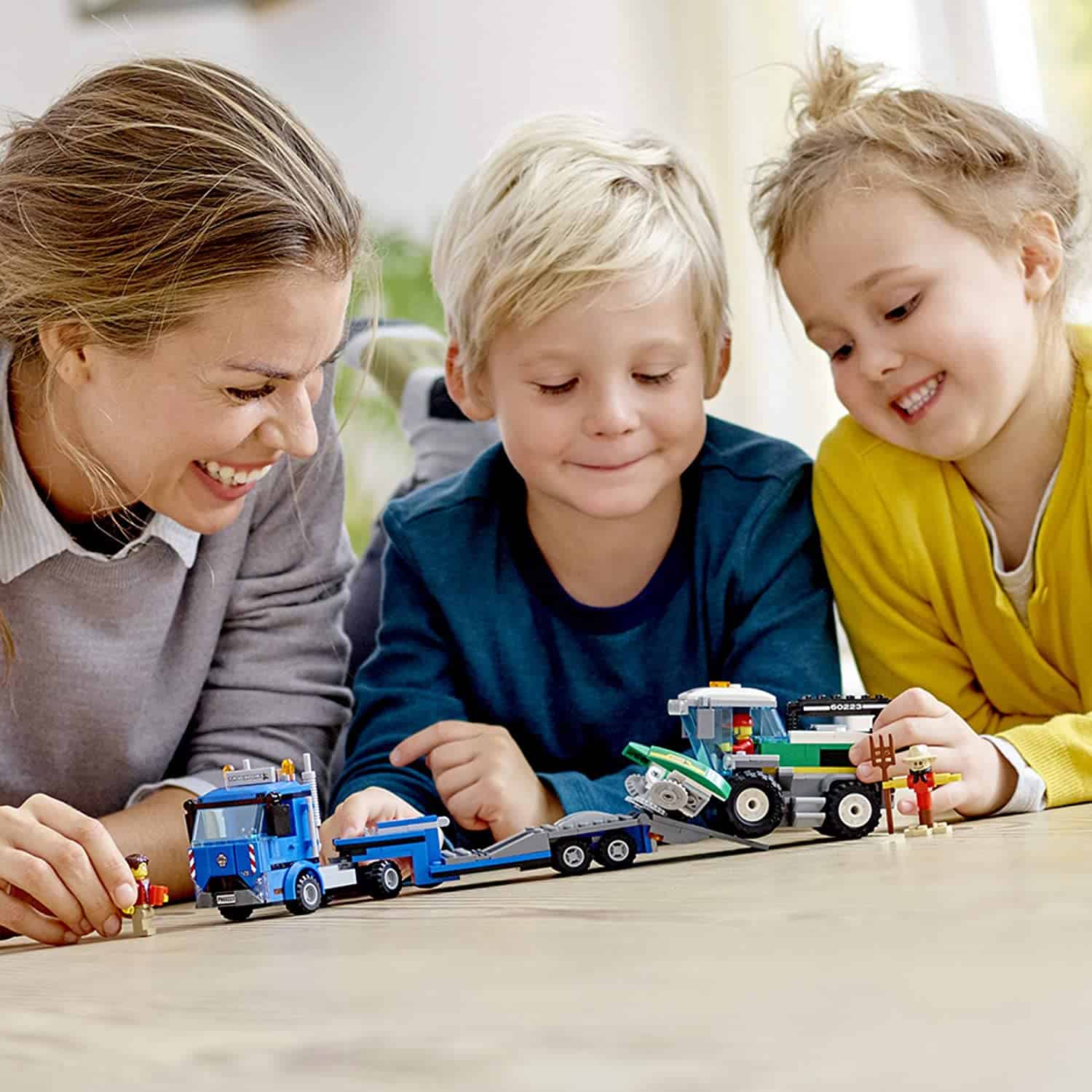 This LEGO City with trailer transports the accompanying combine to work the land, but can of course also take other cars with you.
This is the nicest trailer for an 8-year-old child, because what 8 year old doesn't love LEGO?, and with the LEGO City series you can combine endlessly.
Of course, children of a younger age can also start because it doesn't have that many pieces. The recommended minimum age is 5 years.
But the detail is great and there is even a scarecrow!
Check prices and availability here
Is a trailer truck only for boys?
Having an truck can make a boy very happy, like a doll can make a girl.
But the opposite scenario is of course just as possible!
The myth that only boys are interested in trucks and vehicles is - hopefully - debunked in most families by now.
Let's not make our girls feel like they're on the 'wrong' toy path when they're interested in trucks and bulldozers!
Maybe nice to take a look at Lip Gloss and Crayons: Why Little Girls Need to Play With Trucks.
Trucks are simply impressive, for all children, just like garbage trucks, cranes and trains that run on the track.
Perhaps this gave you an idea and give your daughter or niece a vehicle as a gift!
Why do kids like trucks, fire trucks and other large trailer vehicles?
Young children simply love imaginative play. While playing with these toys, they imagine they are a construction worker, truck driver or firefighter.
When they see them on the street, it is almost impossible to pull them away.
However, our parents do not allow them to come too close to real trucks and trucks. We don't think that's safe, and rightly so.
With toy trucks, the little ones can still play with them in a child's size and thus satisfy their great interest.
They especially like toys with movable parts. These vehicles usually have large wheels, sometimes ladders, sometimes fire hoses and they often actually work.
Digging and building, which sometimes also takes place near trucks with trailers, is often also very attractive for children.
They learn to be constructive and sensory in this way, and can completely imitate the adult world, especially if they playing outside in the sand.
Is the weather not so nice outside and does your little one want to work with trucks inside? We have here the 10 best toy building materials and play sand alternatives listed for you.
Better vocabulary and development of fine motor skills
Children often quickly learn the names of different types of trucks, such as 'dump truck', 'car trailer', 'lift truck', and they learn new words about truck parts.
Many children enjoy learning and repeating this specific vocabulary; 'look mum a truck with containers'.
Learning words that they are interested in also help children gain confidence in language and reading. After all, their vocabulary is increasing rapidly.
Young, but also older children love this kind of toy; little ones because they put their fine motor skills to the test and be able to perform a wonderful fantasy play.
The older children because they may already be interested in certain vehicles and professions.
Playing with trucks and other vehicles improves the motor skills of every child.
For example, the little ones who play with vehicles put cars on a trailer, fetch blocks from the bed and these actions are not only good for hand-eye coordination, but also for fine motor skills.
Only advantages: let your child play with trucks and trailers. Whether young or old, boy or girl, there is the perfect toy trailer for every child.
Parking garages also capture the imagination of most children! Find the best toy parking garage here: a top 11 from wood to electronic.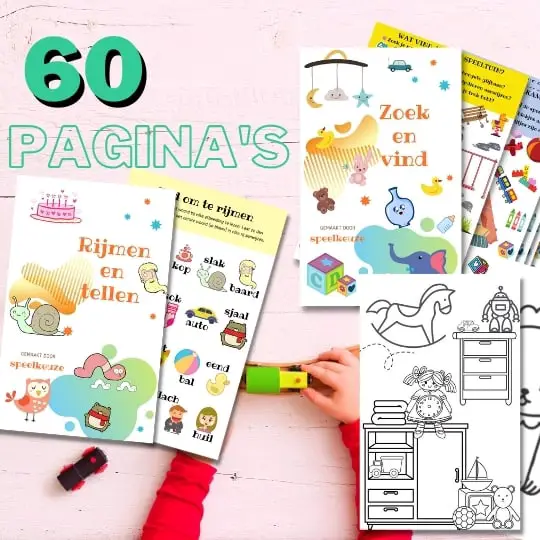 Always something to do for the holidays or rainy day?
Play Choice now has the ultimate activity book collection, with over 60 pages of fun coloring pages and educational puzzles.
Joost Nusselder, the founder of Speelkeuze.nl is a content marketer, father and loves trying out new toys. As a child he came into contact with everything related to games when his mother started the Tinnen Soldaat in Ede. Now he and his team create helpful blog articles to help loyal readers with fun play ideas.