12 best toy tractors & pedal tractors reviewed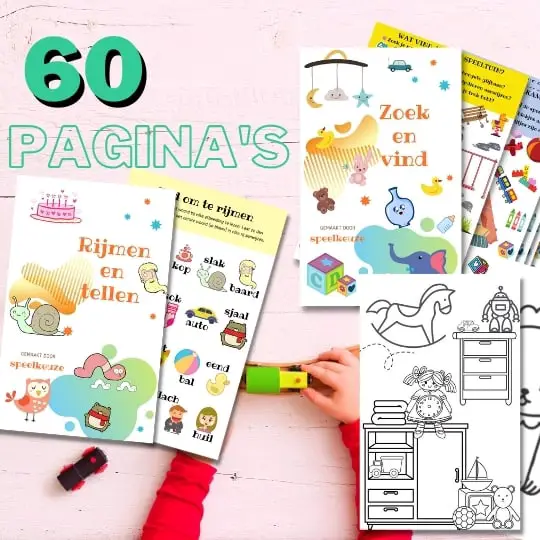 Always something to do for the holidays or rainy day?
Play Choice now has the ultimate activity book collection, with over 60 pages of fun coloring pages and educational puzzles.
Many children really enjoy driving a tractor. You sit high and in the open air, very exciting! But what if children could now drive around in the garden on their own tractor?
The smallest are developed for children from 2 to 5 years, such as our top choice, this Rolly Toys Rollykid. Great fun with trailer and it is super sturdy!
In this article I look at the best pedal tractors and toy tractors, so that your child can learn great with pretend play.
There are nice toy tractors that your child can have fun with, inside or outside. Here are the top picks, then I'll dig deeper into each of them:
Tractor Toy Buying Guide
Most of you will probably think of a real pedal tractor, one you can sit on, when you are looking for a toy tractor.
Still, I have included a lot of choices for anyone looking for a fun toy.
Today there are tractors that are made for children.
A child tractor can be a child's first contact with a vehicle suitable for his or her size. It is something that will immediately spark the interest of children and something they may want to climb on right away.
A child can drive around with the tractor for hours, so that Mom and Dad can occasionally find a moment of peace.
In general, pedal tractors can be divided into three categories.
The smallest stair tractors are designed for children from 2 to 5 years.
The medium size is for children between 3 and 7 or 8 years
and the large designs are for kids from 3 to 10 years.
The age of your child is certainly an important factor to take into account when you want to purchase such a toy tractor.
Choose one that suits the child's abilities and that challenges the child to develop and move as well as possible.
These children's tractors are of course designed without an electric motor, but are very similar in design to reality.
You can even buy these children's tractors with a trailer and/or shovel, so the kids can help with gardening.
That makes playing with such a children's tractor extra fun!
Children's tractors are popular toys and besides the fun aspect they also play an important role in development.
Pedaling the pedals and steering at the same time are actions that can be experienced as rather difficult by children in the beginning.
However, children will quickly learn these movements. Once they get the hang of it, they won't be able to get rid of it!
Different types and sizes of stair tractors
Children's tractors are available in various types. You can opt for a pedal tractor where the child has to pedal himself to set the tractor in motion.
There are also walking tractors for the smaller children where they can reach the ground with their feet while sitting on the tractor and can move with dragging movements.
What is the best pedal tractor?
Are you looking for such a nice children's tractor? Maybe for your own son or daughter, or as a gift for another child?
It is not always an easy task to find a fun and original birthday present for a child.
A toy tractor is an example of a beautiful gift that a child is guaranteed to enjoy and is suitable for both small and slightly older children.
It is useful to know all the ins and outs of these types of toys when purchasing and to compare various products in terms of price, design, colors, safety, etc.
It may also be useful to know which children's tractors are considered as good products by satisfied customers, that children can play with in an extremely safe way.
However, we also know how time-consuming it can be to view and compare the dozens of options.
In addition, you can sometimes get lost in the many options and no longer see the forest for the trees.
Best 12 Tractor Toys Reviewed
2 years
This green pedal tractor has a trailer and large tires. It is extremely suitable as a pedal vehicle when a child is ready to switch from walking car to pedal car.
The chain guard is shielded so that the tractor is safe to use. The product stimulates movement in children by means of the pedals.
It is a John Deere version, the tractor brand par excellence.
What makes the Rolly Toys rollyKid - Pedal Tractor with Trailer our favorite?
In addition to the friendly price for such a product, this is a tractor that is ideal for children who are going to make the switch from walking car to pedal car.
Where they were used to moving around with dragging movements, children are challenged with this tractor to get started with the pedals.
That may seem like a complicated job for children at first, but practice makes perfect.
When kids have figured out how to use the pedals, they'll want to ride the tractor all day long.
The tractor is suitable for children between 2 and 5 years old.
In this video from the German Stan you can see his son working on it:
The tractor has solid tires and comes with a trailer where children can store and transport their things.
Children will also feel useful when they can help mom and dad move objects or do odd jobs in the garden.
Children love to be active, especially outside! Read about more fun outdoor toys here.
The trailer that comes with the tractor can also be uncoupled if necessary. The hood of the tractor opens and the chain guard is hidden.
This makes playing with this Rolly Toys tractor 100% safe for children.
In addition, the tractor is robustly designed and can take a beating. It is also easy to assemble, so that a child can play with it immediately after purchase.
This pedal tractor is designed in Germany and is a toy that, according to the various customer reviews, has been very popular with the children who own this tractor.
This is also a perfect toy choice for us, because in addition to fun and movement, it also contributes to the development of every child.
The tractor is suitable for both boys and girls. Put a smile on your child's face with this cool tractor from Rolly Toys!
4+ years
This blue tractor has a shovel at the front and a trailer at the back.
The product is of robust quality. The tractor has plastic wheels made of durable material and the black steering wheel has a horn.
The Falk pedal tractor incl. trailer and shovel is our second favorite pedal tractor and is a bit more expensive than our number one.
But there is also something to be said for that. The tractor has a nice color with black steering wheel, big black tires and a black seat.
The shovel is also black and the tractor comes with a trailer.
This toy is intended for children from 4 years old and can be loaded up to 50 kg. It is a sturdy tractor that children can play with safely.
Mom and Dad can rely on this product that their son or daughter can safely drive around in the garden.
The wheels are made of plastic and wear-resistant and the steering wheel has a horn. The shovel can be put in different positions.
The trailer can also be uncoupled on this tractor.
The tractor, including shovel and trailer, is about 160 cm long and is suitable for both indoor and outdoor use.
This means that in the summer you can drive around in the garden and when it rains you can also play with the tractor in the house (if the space inside allows this).
This New Holland tractor has a flashy blue color. With the large black tires it can carry a lot of weight, namely 50 kg.
The tractor comes with a trailer and has pedals.
In addition to Rolly Toys and Falk, New Holland also has children's tractors (see, for example, number five in the table above).
New Holland is a brand that, in addition to adult tractors, also thinks of the little ones among us who are fascinated by the beautiful, giant tractors.
Especially children who grow up in the countryside would like to learn about agriculture and everything that goes with it, so that they can later take over the beautiful profession of mom and dad with a lot of passion.
In order to pursue this dream, a child can start early on learning how to handle a smaller and simple version of a tractor.
With New Holland toys, a child can simulate the chores of a farmer or farmer's wife, for example by helping to work the land or transporting things in the trailer.
New Holland has designed various agricultural machines so that there is a wide choice for children.
Yet another has a shovel and trailer. Which one does your son or daughter like the most?
You can of course also choose color, if your child has a real favorite color.
Whichever tractor you buy from New Holland, quality is guaranteed. In addition, all products are robustly built and can take a beating.
A tractor or other New Holland toys is a great investment for the development and education of your child.
Toys that provide hours of fun and also lasts for years.
Customers who have purchased this tractor for their children have nothing but good words about it.
In the reviews it becomes clear that these toys are of good quality, offer endless fun for kids and have a nice design.
Because this tractor corresponds to reality in terms of design, a child learns at an early stage to use the shovel by, for example, shoveling sand and transporting things in the trailer.
Playing with this tractor brings so much more than just fun!
1,5 - 4 years
This Falk Claas pedal tractor is ideal for smaller children to learn to drive. The tractor is green in color and has a horn on the steering wheel.
The tractor can carry 30 kg.
Then there's this one for the little ones among us.
When they are still too young to go out with a go-kart / pedal car, but already show an interest in all things tractor, then there is this carriage with all the associated development benefitsvoordelen.
Very cute and fun to give to children from 18 months.
6-8
The tractor is green and yellow in color and is equipped with a front loader and rubber wheels.
The tractor has solid tires and is really top of the line and also suitable for slightly older children.
The hood can also be opened and you can adjust the seat. The trailer can be uncoupled if necessary.
If you have slightly older children and they are crazy about tractor toys, then this Rolly Toys John Deere pedal tractor is the tractor to have.
It has real rubber wheels and can switch and is big enough for children up to 8 years old.
One of the nicest toy tractors is this adorable animal sound set. Very nice for your little farmer-to-be.
The tractor has a trailer with which it pulls all the farm animals forward.
They can be taken out piece by piece and then put back in their own place.
If they are placed correctly and you press them, the animals will make a realistic sound; great for the animal knowledge of kids.
And even the farmer in front sings a song when you press him.
Very sturdy tractor from Bruder. It is so sturdy that a child can even lean on it and this tractor is also perfect for outdoor work that requires sand to be moved (that's the best kind of outdoor play, right?)
The front loader can be moved up and down and even the trailer body can tilt far.
Furthermore, the supplied trailer has a system with a support that you can fold out so that you can tip the trailer over and let your sand (or other toys) slide out.
We've looked at quite a few nice toy cars from Bruderbefore, that was among other things
In fact, all Bruder toys have always been made very realistic - with lots of details - and so is this toy tractor.
The front loader is very sturdy and that is because you can put heavy things in the container.
It doesn't fold down easily and is very stiff, so that's something to watch out for if you have a smaller child. It does require some force.
I haven't seen many tractors with wheels that can steer and this one can.
The steering wheel is in the cabin near the passenger seat, but there is also a slide in the skylight that can be opened where you can put a steering wheel extension through the roof for easy play with.
A great detail!
This tractor can compete with both building and construction vehicles (also a nice article to read!) as with cars, but certainly also with farm animals.
From 1 years

Best: 2 – 4 years

Until: 5 years
It is very simple and the ease of use is therefore high. Consideration has been given to the large openings so that small hands can also grasp it. The simple design also encourages open-ended play.
The interactivity is not very high except that it can roll, and also the social interaction is low from a toy like this unless it is combined with other cars or farming toys. That makes it versatile, also considering that it can also be used outside due to the large wheels.
The design is completely aimed at small children, but still looks very nice and perhaps even timeless due to its sturdy wooden construction. It is certainly sustainable and also produced in an environmentally friendly way with FSC-certified wood and rubber tires.
Small Foot has won several awards, including the Spiel Gut and the Toy Award from the Toy Fair in Nuremberg.
If you want a nice building kit with enough challenge and with which your child can also play afterwards, then you should take a look at this one from Wood Trick.
It is a complete kit with 401 parts that you can assemble without gluing.
So you can always take it apart and do it again.
It is quite a tough job; So either you have to help a lot so that they can play and drive with it afterwards, or you could give it as a present to children from 14 years old, to do it themselves and to learn a lot from it.
The color is a natural wood color so it looks beautiful, but you can of course also paint it, which might make it even more challenging.
Wood Trick has many more of these types of building kits, all kinds of different designs are discussed.
This is just a really fun playset and it's made to take everything in and to be able to transport around the farm.
A nice trailer with a tipper that your child can use in his fantasy game, especially when you also have more playmobil to use with it, also perfect with some 'play corn'.
When you get it you can put it together first. That in itself is not very challenging. Could be a fun activity to do together.
The car drives well and has sturdy wheels. The top cover can be opened so that Playmobil dolls can enter.
A handy front loader that can scoop and tip and the trailer can also tilt and has a nice slide at the back that can be opened so that small corn or other things can fall out when you tilt it.
Playmobil vs Bruder tractors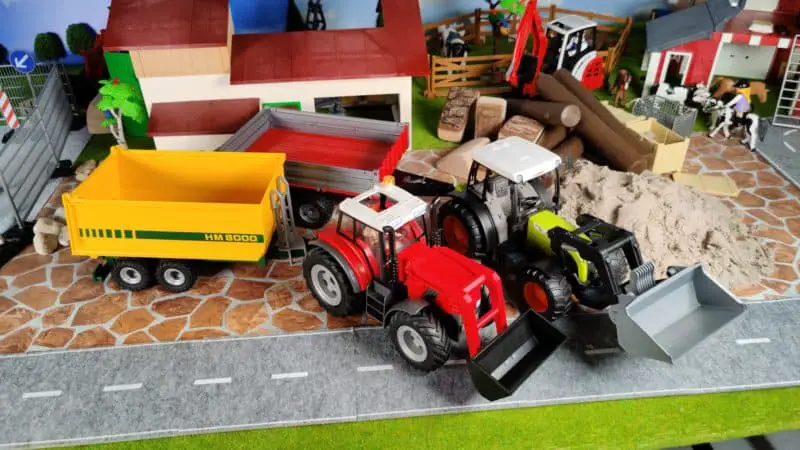 Here you can see the Playmobil tractor next to Bruder's.
You see, they are about the same size. That doesn't make them suitable for the same age category if you think so.
Playmobil is really for slightly younger children. Although Bruder's tractor is also fun for younger children, you should always be a little careful with children under three.
With force, quite a few pieces can come loose and then be put in their mouths.
With the use of thicker pieces of plastic and larger parts, the Playmobil tractor is more suitable for smaller children, but on the other hand also a lot less realistic and more "toy-like".
Read here about Attune's Bruder vs Playmobil toys
If you are looking for a good RC tractor, then you can't go wrong with Siku . tractors, and the Fendt is the most popular, because of its green and red wheels and its iconic look.
If you like Bruder's tractors, you'll love Siku. I always call it the little brother of the Bruder tractors, but more because they are 1:32 instead of 1:16 like most Bruder toy vehicles.
Just a size smaller, but with the same quality.
This forest tractor with its huge wheels, easily puts the fallen logs on the stand, so you can cut them to pieces with the cool chainsaw. The forester will then replant a young pine tree.
The tractor's arm has a movable grab to pick up the logs.
Accessories that come with the tractor include a chainsaw, shovel, small fir tree and two logs.
This great toy is suitable for children from 5 to 12 years old and offers a lot of fun!
A beautiful building game where your child can let his imagination run wild.
This sturdy green tractor with trailer for the little ones - from 1 year old - comes with music, can say a number of phrases about the farm and make animal sounds.
There are push buttons on the tractor and you can also press the driver's seat to hear the sounds.
Here you can see it compared to the Playmobil tractor that I have discussed earlier on my list:
There are three friends who travel on the tractor and in the trailer: the farmer drives the tractor and the sheep and pig are in the back. You can also disconnect the trailer to play with the tractor alone.
Why do I like this tractor so much? While your child is driving the tractor, fun songs can be heard. Your little one also stimulates his gross motor skills while playing and after all, the farm theme is considered an educational theme as it stimulates the imagination of children. Furthermore, the tractor is solid and suitable for little fingers.
Good toys for toddlers, toddlers and preschoolers.
How we chose pedal tractors
We have taken the time to compare the children's tractors that can be found on the current market.
We are happy to help you on your way by highlighting the best options for you.
We will also further explain our two favorite toy tractors for children with all the important information and details.
See above in this article the table with our top 5 toy tractors for children.
The tractor that deserves our number one is the Rolly Toys rollyKid – Pedal Tractor with Trailer.
We have named it as a favorite, mainly because of the price and play options that you get in return as a child.
This tractor has pedals, so that a child can propel himself by means of bicycle movements.
A child is thus stimulated to move in a playful way.
The tractor resembles a real tractor because of the green color with black details, and because of the trailer that you get with purchase.
We are sure this tractor will appeal to children who have an affinity with these types of vehicles!
This is our number two favorite and is of a slightly different budget than our number one. However, we believe that this tractor is well worth the money.
The tractor is red in color and has a trailer and shovel.
With this tractor every child can help with chores in the garden by loading the trailer and shoveling sand with the shovel.
That is of course very useful for mom and dad!
This tractor also has pedals, so a child can keep moving, while playing outside in the garden.
Conclusion
In short: a children's tractor is a promising toy that is guaranteed to make every child happy.
Let a child get used to exercise from an early age, he will benefit greatly later!
Children love to drive around in vehicles from an early age. Read more here about the fun DUPLO buses for your little one!
Finally, a few fun facts about tractors
Did you know..
... it is legal in the US for 12-year-olds to do simple tractor work on their parents' farm and 16-year-olds to be allowed to drive tractors on public roads?
... a tractor is called a tractor because of the Latin word 'trahere', which means 'to pull'?
... tractors are used to pull all kinds of agricultural implements for plowing the soil, planting, cultivating, fertilizing and harvesting crops? They can of course also be used for transporting materials.