16 best toy trucks rated for indoor & outdoor use
I enjoy writing these articles for my readers, you guys. I don't accept payment for writing reviews, my opinion on products is my own, but if you find my recommendations helpful and you end up buying something through one of the links I may be able to receive a commission on that.
More information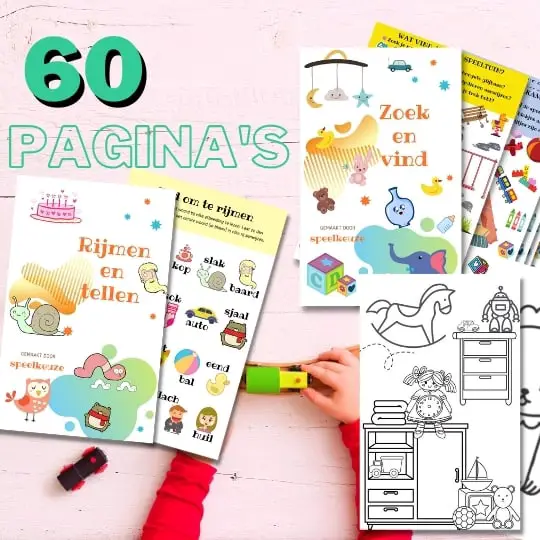 Always something to do for the holidays or rainy day?
Play Choice now has the ultimate activity book collection, with over 60 pages of fun coloring pages and educational puzzles.
Many children really love trucks and some dream of driving such a big truck when they are big.
Let them dream and play with beautiful toy trucks!
In this article, I'll be looking at the coolest indoor, outdoor and more toy trucks, plus a real scale model driving truck at the end that's really insane!
So read on.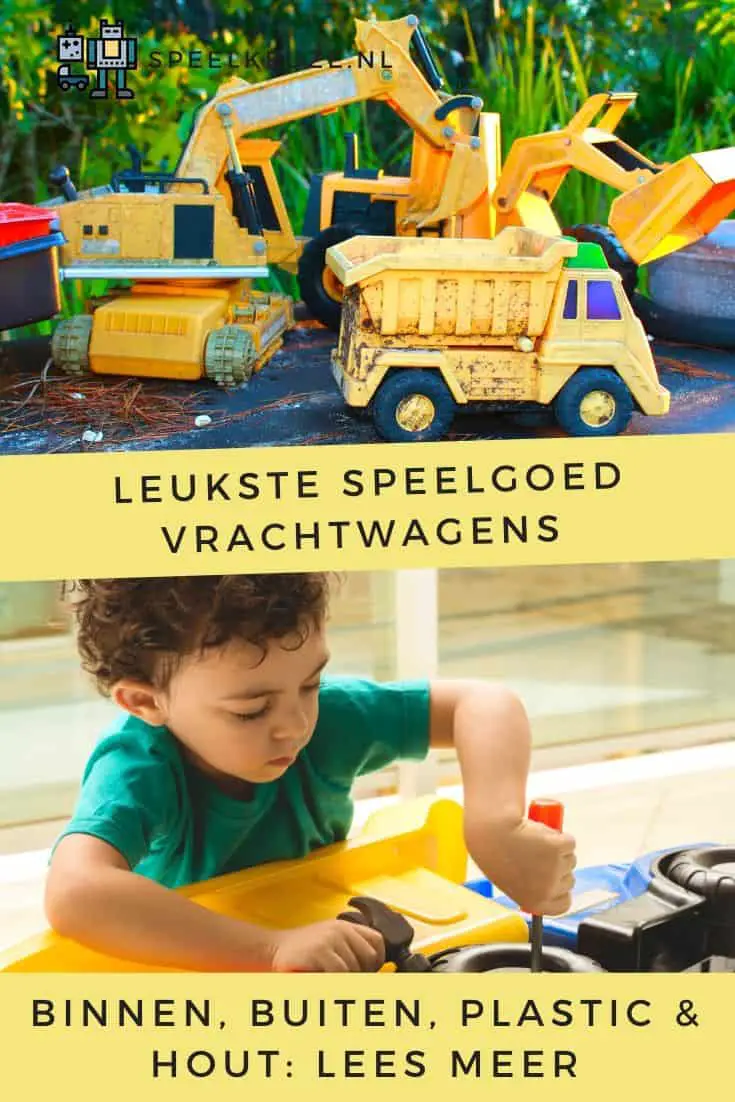 There are very simple trucks with cargo box for sale for the little ones to play with in the sand box, but there are also remote-controlled cars for sale or cars with a crane.
The complicated construction kits to build a truck also work well with what older childrenYour child must have some interest in technology.
Enough exciting choices for your child!
In the table you can see what we have chosen for your little one: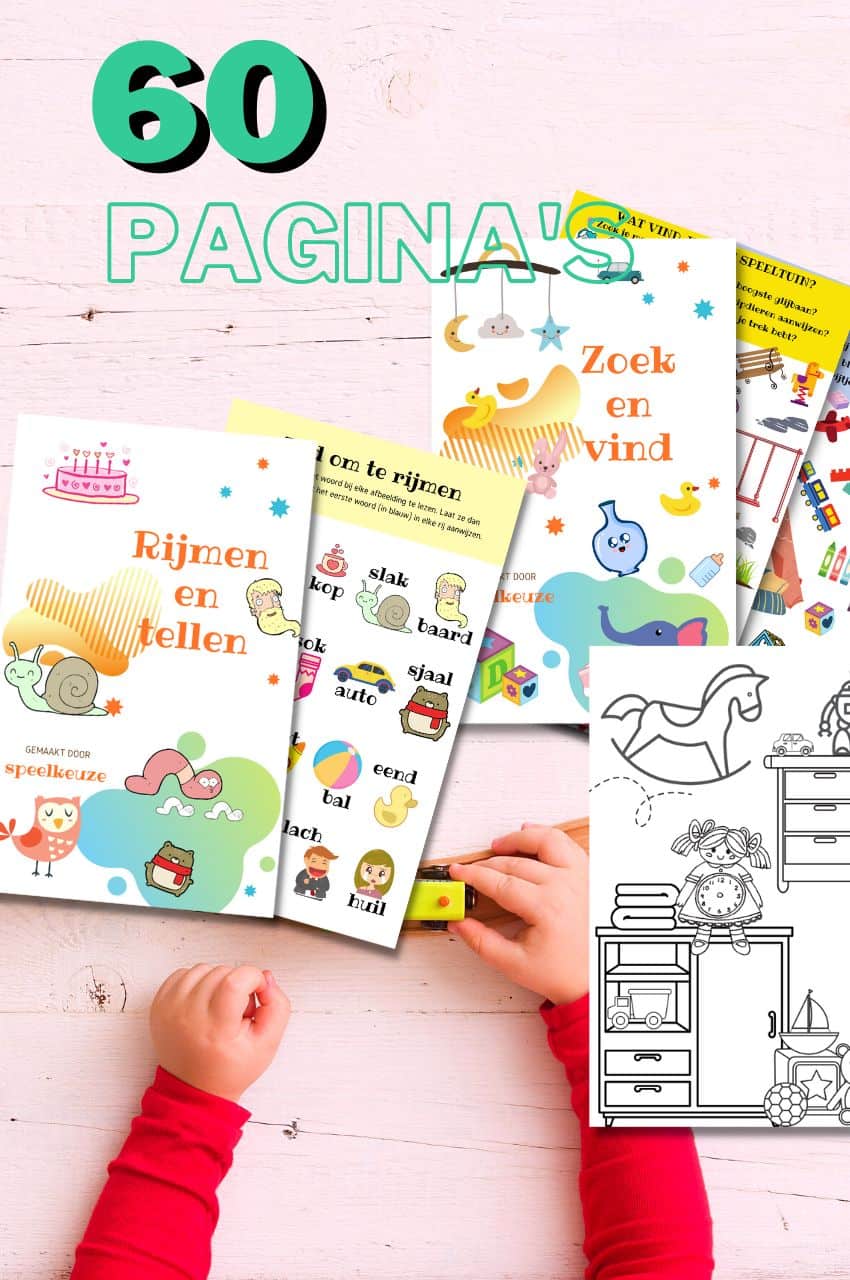 A play theme in your mailbox every month?
Fun play tips, activity books and more, with the first email being our free mini-guide "educational toys"
We will only use your email address for this newsletter and respect your privacy
16 Best Toy Trucks Reviewed
Best toy truck with trailer: Truck for Car Transport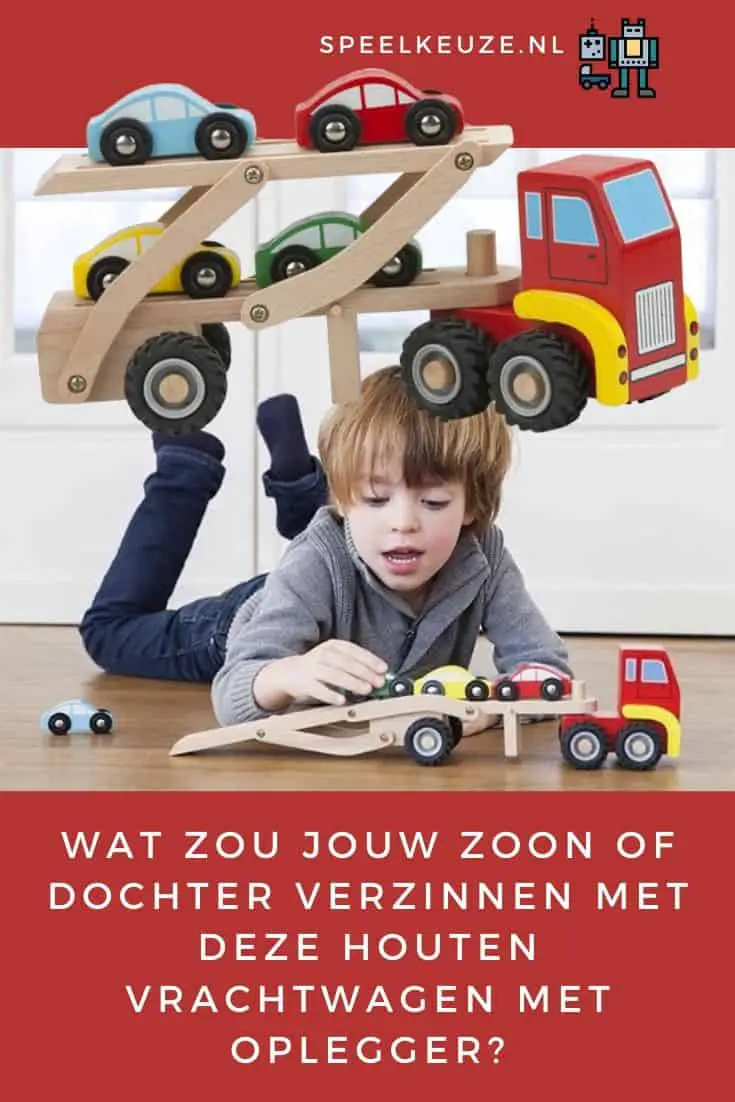 Your child can load cars on a truck with this Car Transport Truck and take them anywhere.
This product is slightly cheaper than the dump truck below. Four cars fit on the trailer, two on top and two on the bottom.
The top section can be raised and lowered so that the cars can drive on and off the truck.
This durable, colorful set of wood is an original and durable birthday gift to give to your little one.
Suitable for children aged two to four. A very nice truck!
View the most current prices here
Best toy dump truck: Truck with tailgate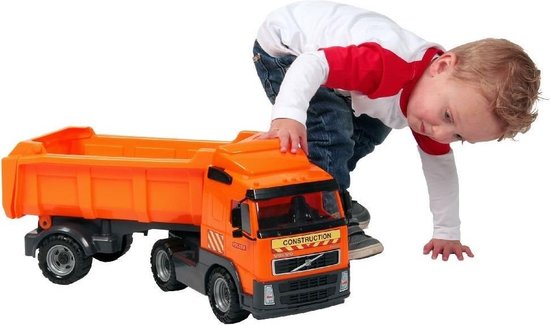 A beautiful large Toy orange dumper car for boys that your child will certainly appreciate!
The truck has a tilting body, a tailgate and another trailer. Your little one can also use the car without a container, you can take it off in no time!
The truck is made of sturdy plastic in combination with metal. This dump truck is great for indoor and outdoor use, but only suitable for very tough boys and girls!
Best big toy truck: Ecoiffier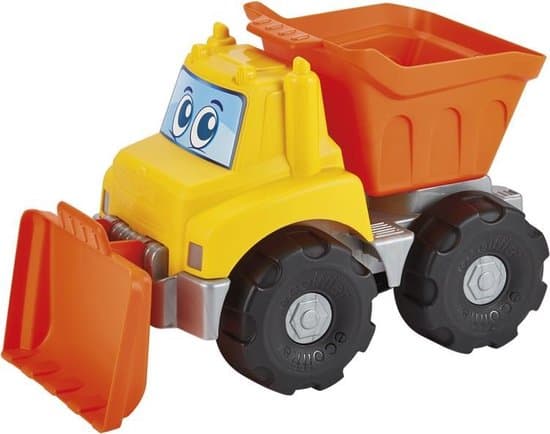 This yellow orange Ecoiffier toy truck has a spacious loading area for sand or stones, so your little one can easily move his load.
The truck is also equipped with a shovel that you can conveniently set in two positions. A nice car for inside and outside.
The Ecoiffier brand is known for its modern designs and vibrant colors, all in line with the latest trends.
Their high-quality products are produced in France. This truck is suitable for kids from a year and a half.
Check prices and availability here
Cheap mega truck 70cm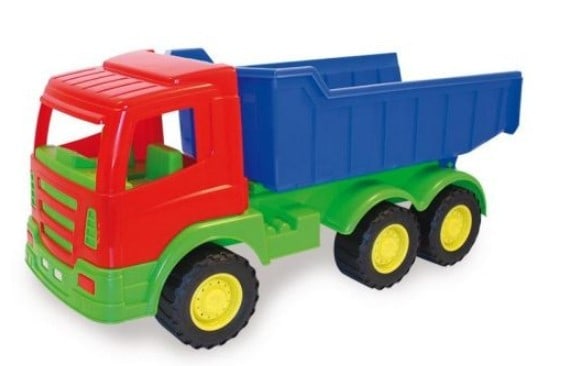 A slightly cheaper alternative in this category is the TRUCK 70 CM. This truck will give you a hand to get a big job done!
Your child probably likes to shovel this big and super strong truck full of sand.
He or she can drive the truck to another place to dump the sand out again.
The colorful truck is made of plastic and measures no less than 70 centimeters!
It sounds unlikely, but the carrying capacity is a whopping 130 kilos, the weight of 2 adults! Not only a large, but also very sturdy truck.
View it here at the cave toy store
Outdoor toy truck: Limonada Beach Set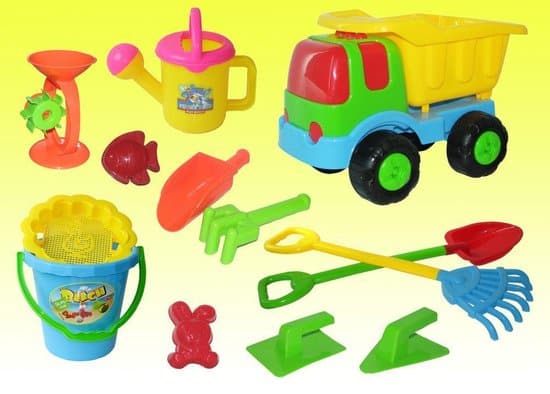 This colorful set of Limonada Beach Set Truck (12 accessories) is perfect for playing in the sand.
Take the truck nice to the beach and build the most beautiful sand castles.
Fill the watering can with water from the sea and use the molds to make beautiful cakes of sand and mud.
There is also a sand mill! This set will keep your little one sweet for a long time because of the many accessories.
Then you can relax in the sun! Suitable for young children, from one year.
Cheap Beach Toy Truck Playset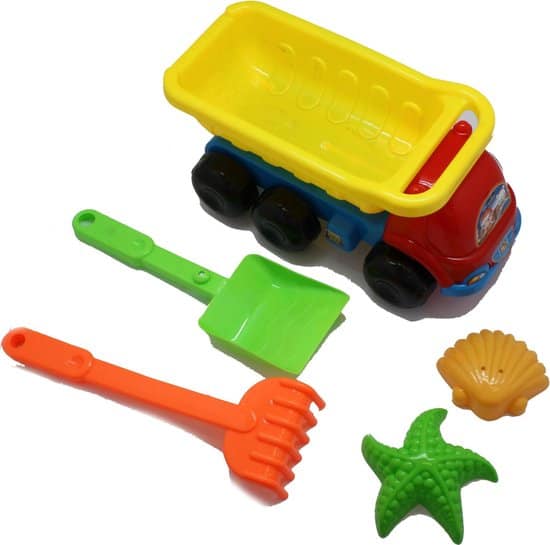 An alternative in this category with an incredibly low price tag is the Beach toys / sand play set - 5-piece incl. Toy truck, 2x sand mold, beach shovel, 1x beach rake.
This sympathetic plastic toy set comes with a truck, two sand molds, a shovel and a rake.
The set looks a bit simple and is suitable for the very little ones among us. Your little one can shovel his sand into the cargo box and transport it to the 'construction site'.
With the molds he or she can bake cakes in the shape of a shell or starfish and have hours of fun!
The best toy truck for the sandbox: 36cm dump truck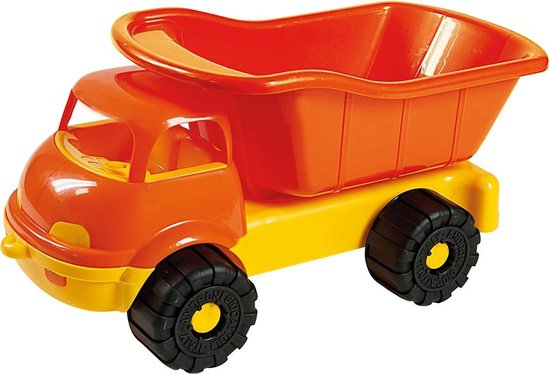 This 36cm dump truck with four sturdy wheels to play in the sand is a fun and simple truck for children from the age of three.
The dump truck, which can be raised and lowered, can be filled with sand. Available in the colors orange, yellow-blue or yellow-red.
The truck is very lightweight, so it can be easily taken to the beach or park.
It is solidly built and durable, the round shapes are ideal for small children's hands.
Sandbox truck with loading platform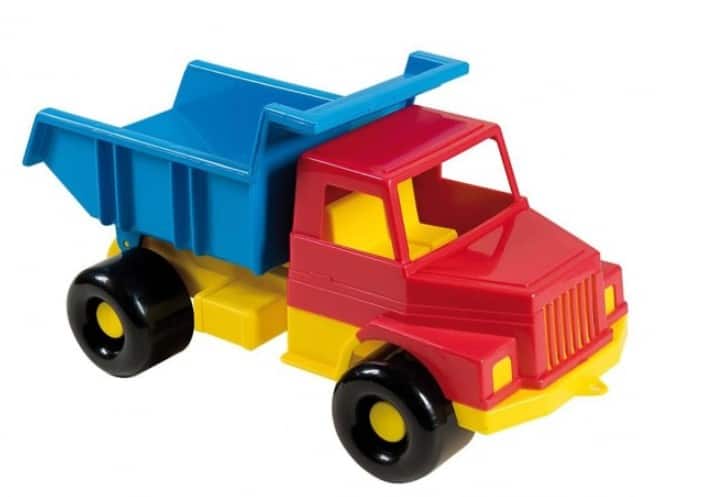 You could also opt for the TRUCK WITH LOADING BOX 29 CM.
This plastic truck has a huge loading box that your child can fill with sand, stones or maybe with wooden blocks.
When the container is full, it can be tipped empty again at the next location. Ideal for the beach or in the sandbox!
The truck has vibrant colors; red, blue and yellow.
Best toy truck made of wood: Indigo Jamm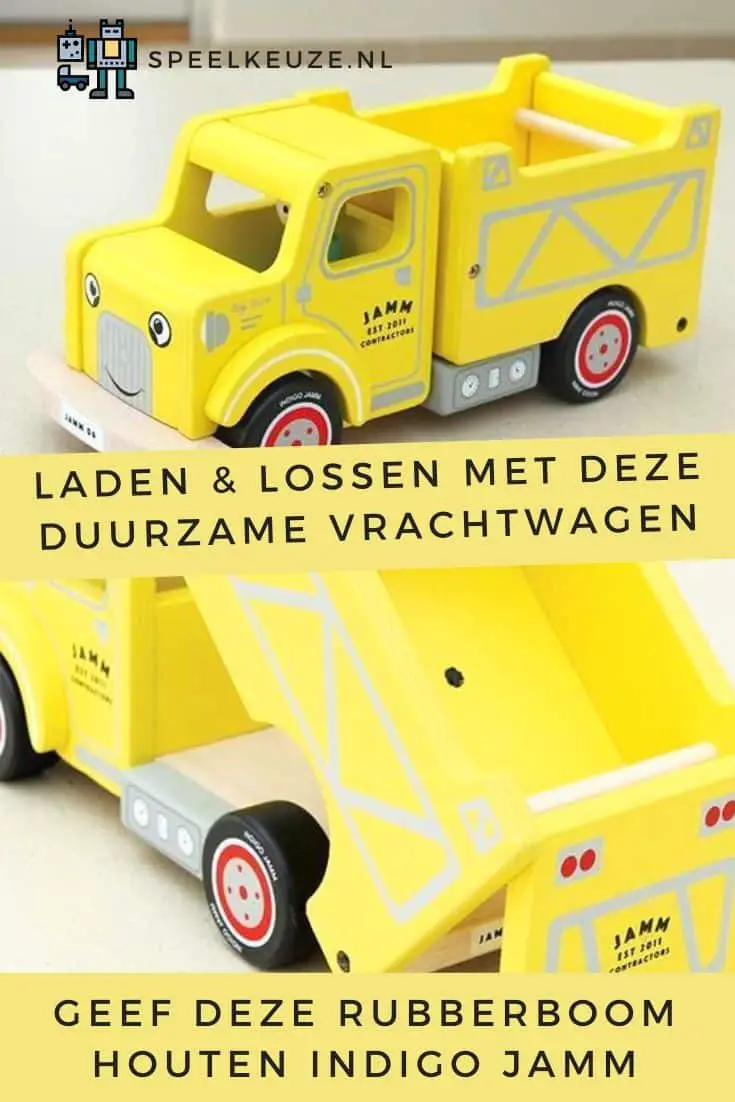 The yellow Indigo Jamm Wooden Truck is a cool truck with semi-trailer (more nice examples here!). This wooden truck also has a driver!
The cargo bed can really tip up and down and has a flap on the back that can be opened.
The material used for the truck comes from the durable rubber tree. The paint used is water-based. Very beautiful and durable wooden toys (like these brands).
View the most current prices here
Wooden container truck New Classic Toys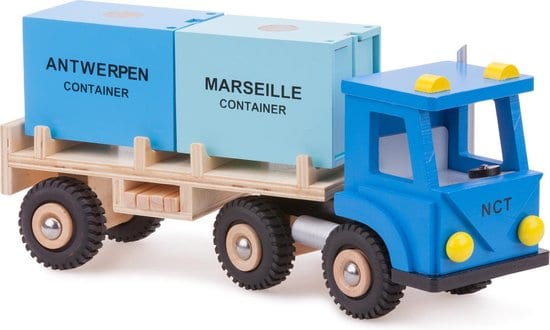 Another beautiful wooden toy truck is the New Classic Toys - Toy Truck with 2 Containers - Harbor Line.
A tenner cheaper than the Indigo Jamm truck, one of the most popular and unique models of New Classic Toys.
With this truck your child can discover the exciting world of the container port series!
This series was designed by Goochem Dutch Design and consists of various vehicles that are used in the port.
This beautiful wooden truck with containers is a durable and beautiful gift. You will certainly make your toddler or toddler happy with this.
Best toy truck with crane: Bruder Towing Service Roadster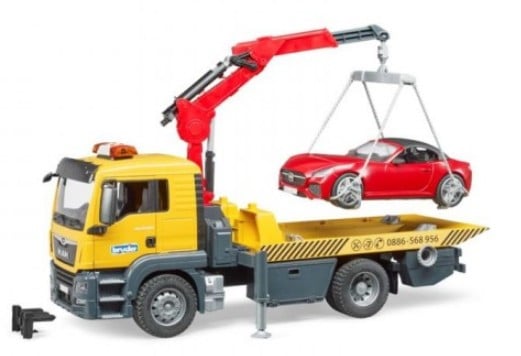 With the 3750 BRUDER TRUCK MAN REMOVAL ROADSTER WITH LIGHT AND SOUND, your child will hoist cars up and down.
If there is an accident, this truck is ready to tow cars. Your child can hoist up a car that has landed on the shoulder!
Everyone knows when he or she is coming because the truck has its lights and sound on. Nice toy, this one Bruder (more options here!) truck.
It comes with four wheel chocks, four chains and four rim hooks. Suitable for children from 4 years.
Check prices and availability here
Mechina truck with crane 10 in 1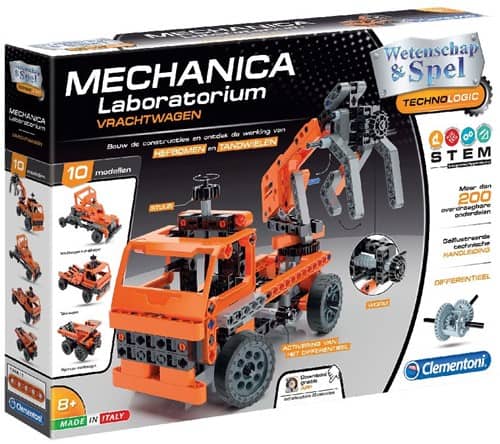 For a cheaper truck with a crane you can go to the brand Mechanica.
Your child will learn how trucks really work with the Mechanics - Truck 10 in 1 set. Let your child learn the basics of mechanics and technology in an easy way!
There are 200 parts in the box, including gears, rods and panels.
Up to ten moving models can be built: trucks with a crane with a tree trunk grab or, for example, a mining truck, everything is possible.
The clear manual will help your child build the models step by step and teach them the basics of mechanics, engineering and much more!
Suitable for older children with an interest in technology.
Remote control toy truck: RC cars fire truck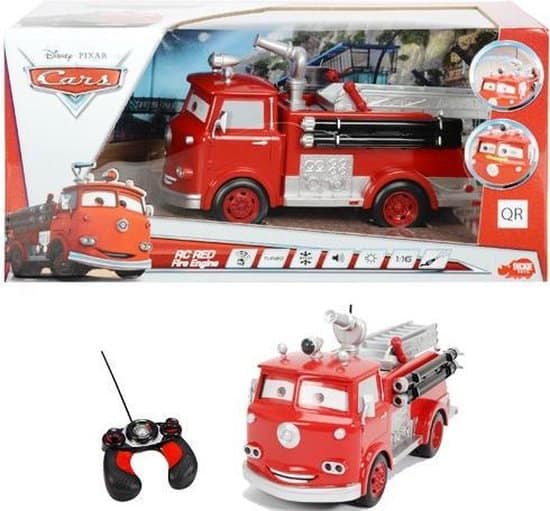 This radio controlled fire truck Rc cars fire truck red truck 1:16 has a real siren and even a rotating water cannon, all controllable with the remote control.
The cannon is located on the roof of the Red Fire Engine truck. He has moving eyes and his facial expression can change!
The truck has 3-channel radio remote control and a turbo function. A real speed demon!
Silverlit Falcon Mission with RC helicopter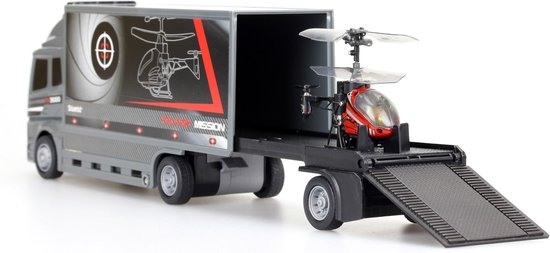 The Silverlit Falcon Mission consists of a tough truck, plus the Nano Falcon Helicopter, both of which can be controlled with the remote control.
You can transport the helicopter inside the truck. The platform slides out of the back of the truck when your child presses the button.
Then the helicopter can take off. The helicopter has a built-in stabilizer that provides balance while flying.
This Falcon Mission set is very suitable for use at home. The set is designed for older children from 8 to 16 years old.
Check the most current prices and availability here
Toy truck with logs: Siku wood transport cargo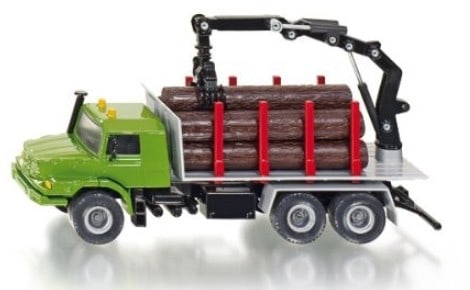 This strong 2714 SIKU TIMBER TRANSPORT FREIGHT truck has a rotating crane plus grab and can transport many logs.
Your child can transport the logs from the forest to the factory or perhaps to the sawmill.
The timber transport truck has rubber profile tires, giving it a robust and sturdy appearance.
Both the plastic and metal parts are of high quality. For boys and girls from the age of three.
Available here at the cave toy store
Cars & Trucks Friction with tree trunks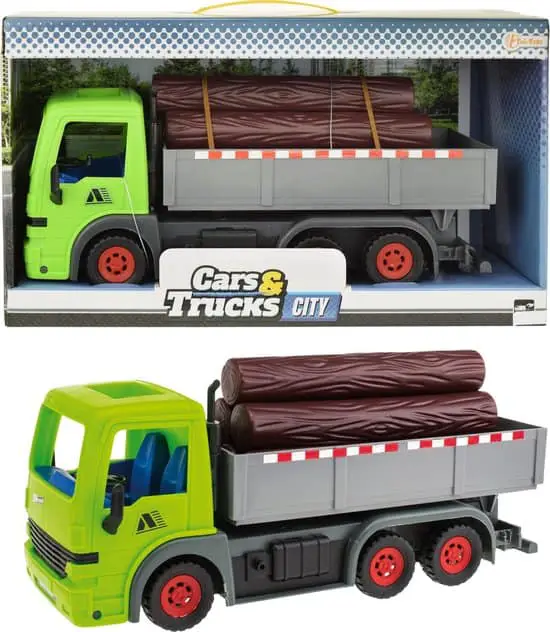 For a slightly smaller budget, there is also the CARS & TRUCKS FRICTIE TRUNK WITH TRUNKS GREEN 33CM.
Let your child hit the road with this truck! The plastic truck comes with four large tree trunks, which your little one can load and unload.
The truck is bright green and has a gray loading platform. Suitable for cool kids from three years old.
Scale model of a real truck!
Ok, this is really cool and I have one Read about this at Topgear.
The S730 Scania truck for children is truly the cream of the crop and is built in Ireland under Scania's official license.
The truck is a design by the creator Scaled Rigs. This scaled Scania truck really drives!
It's a great invention for kids. If your child wants to start the car, the key must be put in the ignition, just like with a real car.
The truck is strong enough to transport an adult. Your child can drive it 6 kilometers per hour and a speaker provides the real diesel V8 sound.
It does have a hefty price tag: That's 3300 euros, so keep saving for a while, so parents!
Real truck experience for kids
Mega Truck Festival
Are your kids, and maybe you too, big truck enthusiasts? The largest indoor truck show in the Netherlands is held every year in the Brabanthallen in Den Bosch.
It is a great event for young and old with an interest in trucks and transport.
There are trucks, demonstrations of various truck brands and more entertainment.
There are children's activities such as a treasure hunt, the kids can have their face painted, there are inflatables and a workshop drawing truck.
The children are also given information about the dangers of the blind spot.
Stands with model trucks in all shapes and sizes should of course not be missing at this festival.
Most children are therefore allowed to choose one by their parents. Are your kids crazy about trucks too?
Do you also want to admire different trucks up close with your kids? Then you should definitely visit this festival!
Truck Star Festival
This summer, the fascinating Truckstar Festival was to take place in Assen on the famous TT circuit.
Again many beautiful trucks could have been admired.
Unfortunately, this fun festival for truck enthusiasts has been canceled this year due to the Covid-19 virus that has taken hold of us.
In recent years, there have been beautiful stands and a lot of trucks to admire. A must for your family next year if you love these mega large vehicles!
Conclusion
You may have had some ideas after reading this piece and now have a better look at what's for sale in toy trucks.
There are trucks for children of all ages, for the young children they are a bit simple, often to drive a bit, shovel in sand and throw it out again.
For the older children, however, there are trucks that are remote-controlled or there are whole kits for sale where your child learns the principles of mechanics and technology.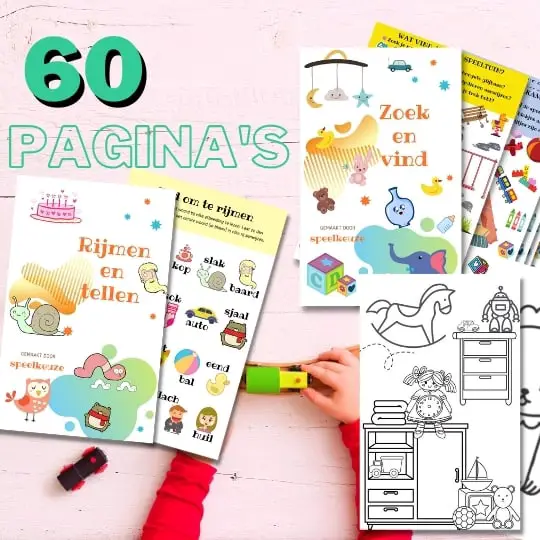 Always something to do for the holidays or rainy day?
Play Choice now has the ultimate activity book collection, with over 60 pages of fun coloring pages and educational puzzles.
Joost Nusselder, the founder of Speelkeuze.nl is a content marketer, father and loves trying out new toys. As a child he came into contact with everything related to games when his mother started the Tinnen Soldaat in Ede. Now he and his team create helpful blog articles to help loyal readers with fun play ideas.