Best toys for the beach | Top 8 that really should go to sea
I enjoy writing these articles for my readers, you guys. I don't accept payment for writing reviews, my opinion on products is my own, but if you find my recommendations helpful and you end up buying something through one of the links I may be able to receive a commission on that.
More information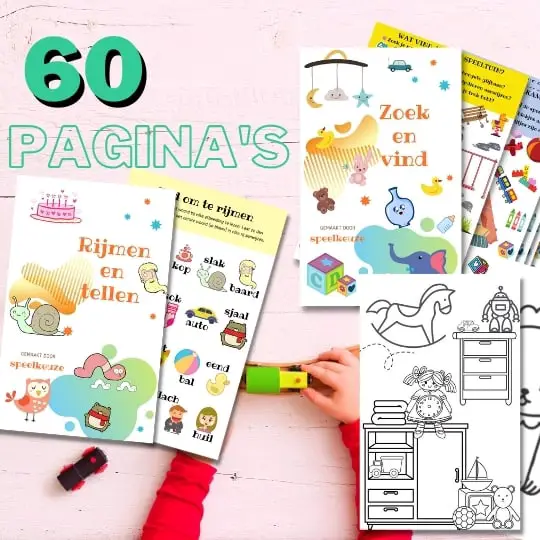 Always something to do for the holidays or rainy day?
Play Choice now has the ultimate activity book collection, with over 60 pages of fun coloring pages and educational puzzles.
Have you booked a wonderful beach holiday with your family?
Means for children beach run back and forth with buckets of water, build castles, make shapes out of sand, swim and above all have a lot of fun!
Maybe your little one is ready for some new beach toys.
As a parent you want to be sure that you don't always have to entertain your children during the holiday. You too deserve a little rest!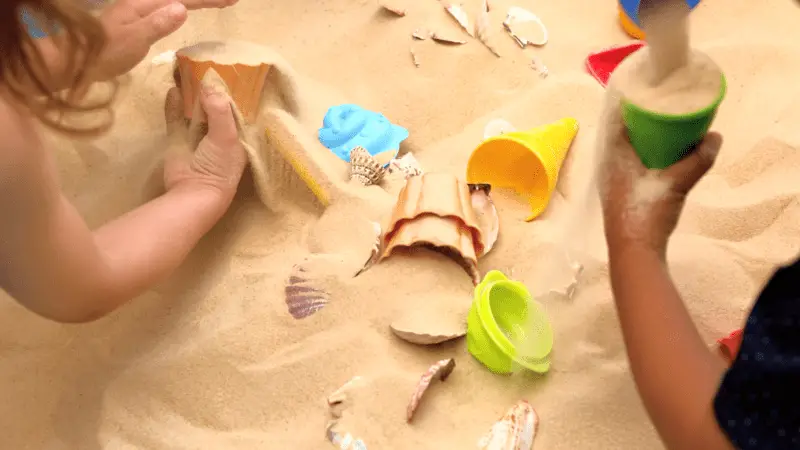 There are several brands of children's toys that have brought fun products to the market to make every beach holiday unforgettable.
I've been looking for beautiful ones for this post toys items that are a bit different than what we are used to.
So I have omitted the average buckets with scoops for this article.
An example of innovative beach toys that I personally love is the Quut Mini Ballo Beach Bucket† Anything but a standard beach bucket! The material is durable and indestructible, and the bucket is designed to be non-spillable. It is easy for children to fill with water with this bucket, run over the sand and empty it again.
Curious which other special beach products there are? You can find my favorite articles in the table below.
Later in this post I will discuss the products one by one and you can decide for yourself which toys you want to buy for the next beach holiday.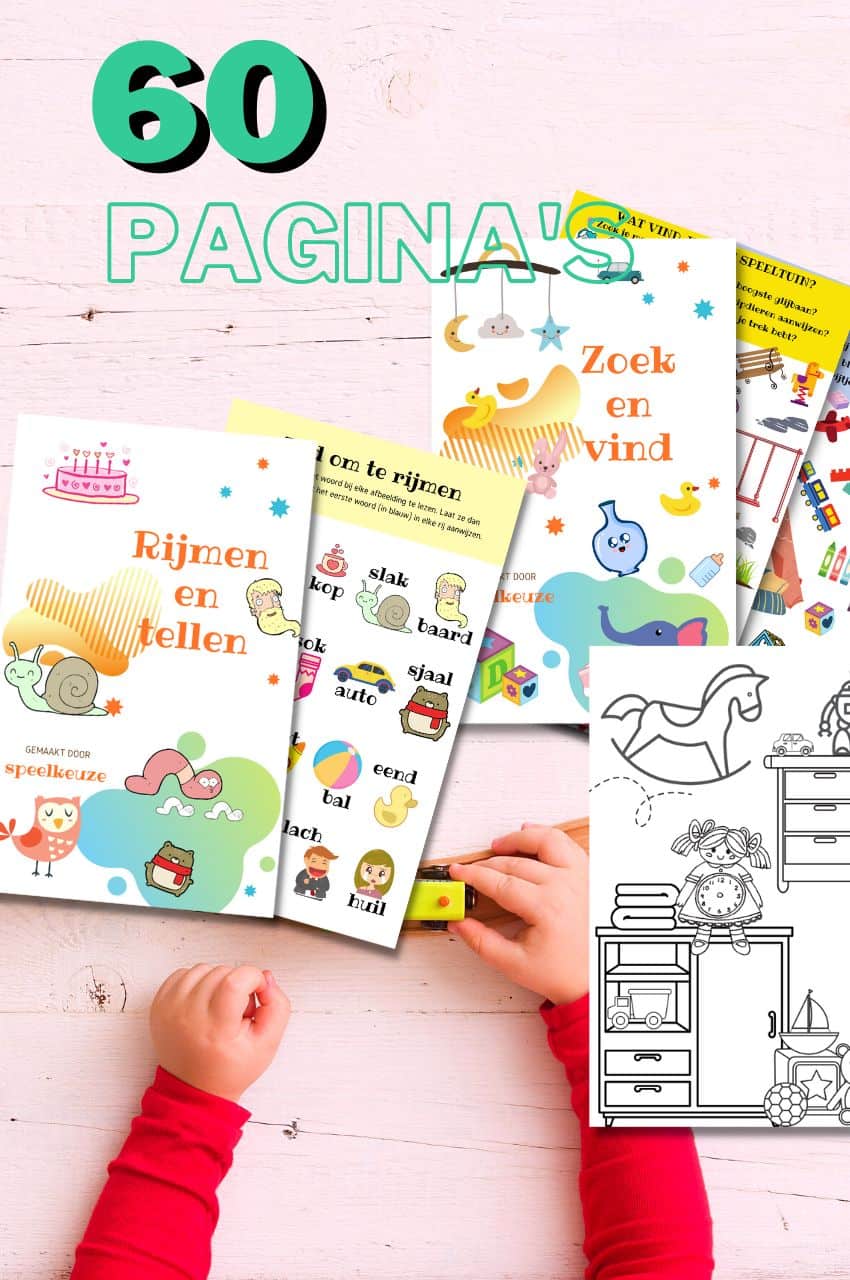 A play theme in your mailbox every month?
Fun play tips, activity books and more, with the first email being our free mini-guide "educational toys"
We will only use your email address for this newsletter and respect your privacy
What do you look for when buying beach toys?
Summer is the favorite season of many children. A beach holiday is wonderful and the suitcases will be well filled.
In addition to swimming gear, towels and your most beautiful sets of clothes, there must also be (considerably) some space left for the children's toys.
That is why it is important to purchase fun and beautiful beach toys, so that your child can enjoy themselves for hours on end and you can relax on your beach bed with a book.
And let's face it… New toys are always welcome!
Because there are so many beach toys to be found, it is sometimes difficult to make a choice.
It is then best to compare various products, and especially to view the offers.
To lend you a helping hand, I've already researched the best kids' beach toys for you.
All you have to do now is choose your favorite product!
When purchasing any product, it is always wise to know in advance which questions to ask yourself.
In the case of beach toys, you pay attention to things such as the age of your child(ren), the price, the size and the type of material. Some people also have a favorite brand.
The age
In the first instance, take into account the age of your son or daughter.
In the case of children under five years old, a bucket with a shovel, rake and some molds is often sufficient.
If you have children who are a little older, this will naturally become a bit boring in the long run. During the day the growth and development his children are ready for new challenges and more adventure.
An inflatable beach ball is always a good option, or a (beach) volleyball.
Often only little is needed to be able to enjoy yourself on the beach. Being bored on the beach is almost non-existent!
There are beach toys available for all ages, and even beach games that you can play with the whole family.
The price
Just like with anything you buy, it's always nice to keep the price tag in mind.
For example, keep a certain budget, so that you don't spend more than you actually planned. The budget is personal, and can therefore differ from person to person.
for yourself what you want and can spend and do not exceed this limit.
You'll also get a lot of expenses on vacation, so saving a little on other things never hurts.
The size
Some beach toys are simply bigger than others. So the main question is: how many products do you want to carry with you?
Will it all fit in the car or plane? How big can it be maximum? And is there enough space to store all this again?
In addition, take into account any toys that you can take apart.
Buy toys that are easy to transport. especially if you travel by plane, large items are not very useful.
The material
It would also be good to consider the materials used. For example, you could opt for products that are sustainable.
Also go for sturdy materials, and toys that may not weigh that much. There are also plenty of fun toys made from sustainable woods that will last a lifetime.
It is also always useful to view customer reviews when purchasing products. It often contains useful information and useful tips.
You may soon find out whether a certain product is indeed something for your child, or not at all.
Also keep an eye out for nice offers, because if we can save money, we are only too happy to do so!
Top 7 best beach toys in a row
Now that you know how to search for the cutest beach toys, it's time to review my favorite items.
Best Beach Toys overall: Quut Mini Ballo Beach Bucket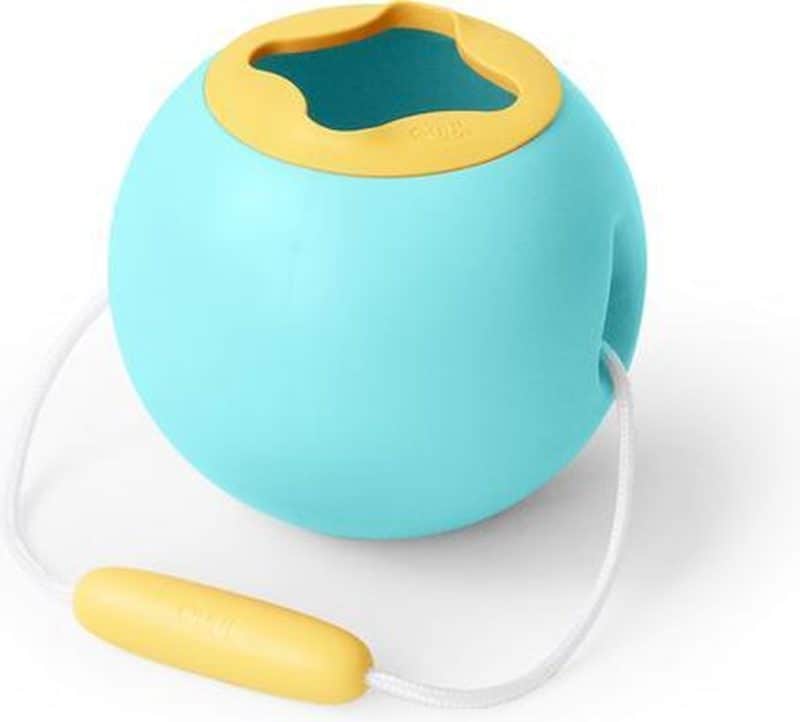 Durable, strong material
ergonomic
Free from BPA, phthalates and latex
Size x 16 16 16 cm x
1-5 years old
A beach bucket with which your little one will not spill? That's possible with the Quut mini ballo!
The bucket has a modern and smart design with a soft finish. As you can see, it is not the standard beach bucket we are used to.
The bucket is made of sturdy and durable material (HDPE, ABS, TPR and PP) and has an ergonomic handle with good grip.
The bucket will therefore not just slip out of your child's little hands.
Your little one will happily run to the sea, fill the bucket with water and also happily run back over the sand without losing any water!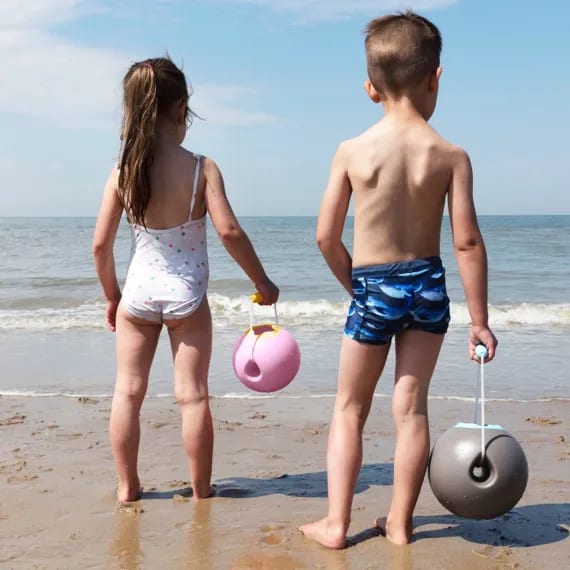 You can of course also use the bucket at home, in the garden or in the bath. Furthermore, the product is safe to use and cleaning is no problem.
It contains no BPA, latex or phthalates. The bucket is made in the colors pink and yellow and can hold 1,70 liters.
By the way, all Quut products are free of toxic substances and recyclable! Perhaps a brand to remember…
Check the latest prices here
Best Family Beach Toys: Catch and Throw Game Kubb
Family game (2-12 players)
Durable material
Endless fun with the family? This Swedish game provides excitement and competition. It can be played perfectly on the beach, or cozy at home in the garden.
Kubb is a Swedish throwing game made of spruce wood. You play it with two teams that face each other and in the middle is the king.
The aim is to knock down all the opponent's blocks. However, you have to be careful not to knock over the king, then you're out.
Each group gets six throwing sticks, 4 take-off sticks and five blocks. The game comes in a cotton carrying case including four field markers.
You can play it in pairs, or even with a group of 12 people. It's an ideal game that makes every holiday that much more fun.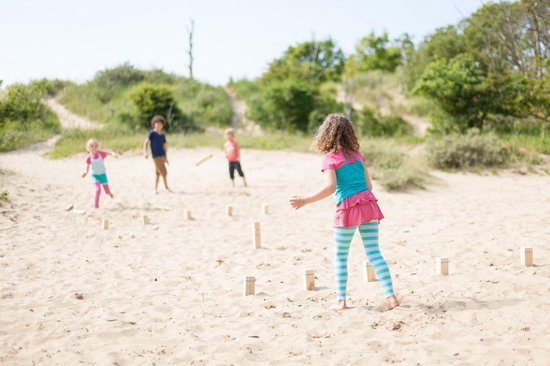 It may be a bit more expensive on average than other beach toys, but you do get quality and hours of fun in return.
The best game that stimulates cooperation and thus contributes to teamwork. Suitable for slightly older children and adults!
Check the latest prices here
Best Beach Toys from 1 Year: Green Toys Stacking Cups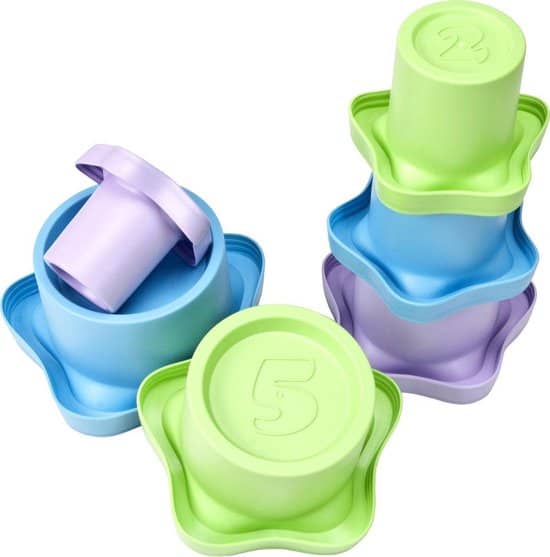 durable
easy to clean
Recycled plastic
These beautiful and durable stacking cups offer what is also called 'open-ended play', something that is also true Grimm's rainbow known for.
Eco-conscious, these 6 cups are made from 100% recycled plastic milk bottles.
They are easy to grab and stack on top of each other in different ways.
With the numbers on each cup, the children can practice counting and they also match mathematically.
This means that cup 1 fits into cup 2, for example, 2 times in cup 3. Cup 3 and 2 together fill cup 4.
So it is nice VOICE toy for the little ones if you help them come up with some puzzles.
They are of course also just fun to build towers with, or to make part of a sand castle. Or fill them all with water and tip again.
The six cups together weigh only 300 grams, and are therefore easy to carry. They are made of sturdy material and will therefore last a long time.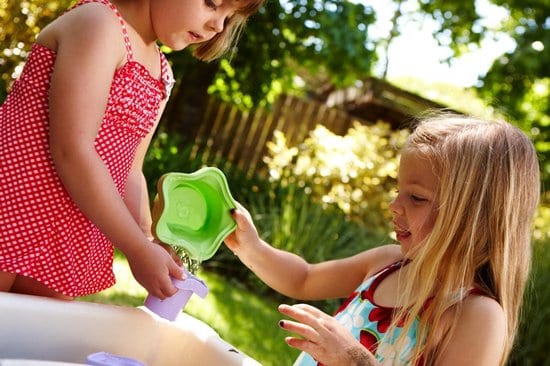 Children can start using these cups from 0 years old.
Combined with a bucket (like the Quut Ballo above) or Melissa & Doug's cupcakes below, they will provide many play options.
Also nice to be at home at the water play table of in Bath to use!
Check the latest prices here
Also read: On holiday with your baby | with this checklist you have everything arranged
Best Beach Toys for Ages 2 and Up: Melissa & Doug Seaside Sand Cupcake Set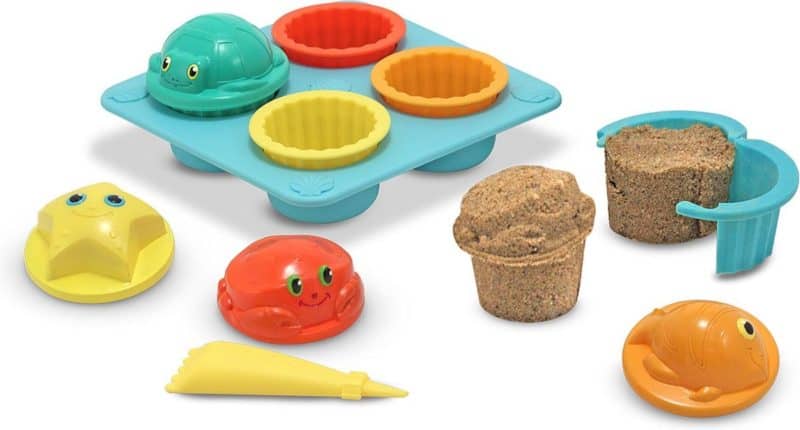 This sand cupcake set from Melissa & Doug turns the beach or sandbox into your own cupcake shop!
Fill the four cupcake molds with sand, apply the topping and let the cupcakes bake in the sun. A great gift for children from 2 to about 8 years old.
The set consists of twelve parts and will extra stimulation of playing with sand† The toys can also help with counting!
The set includes a cupcake mold that opens and closes with a sort of hinge, four regular cupcake molds, four toppings, a baking tray and a piping bag for icing.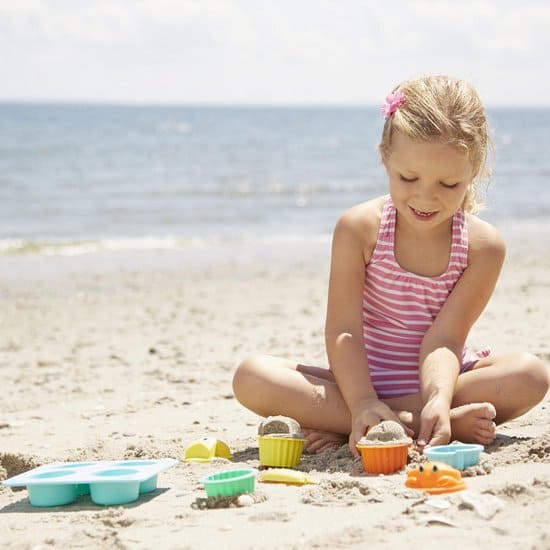 Let your little one bake cupcakes on the beach all afternoon, he or she won't get enough!
Check prices and availability here
Best beach toys from 3 years old: Waboba Splashbal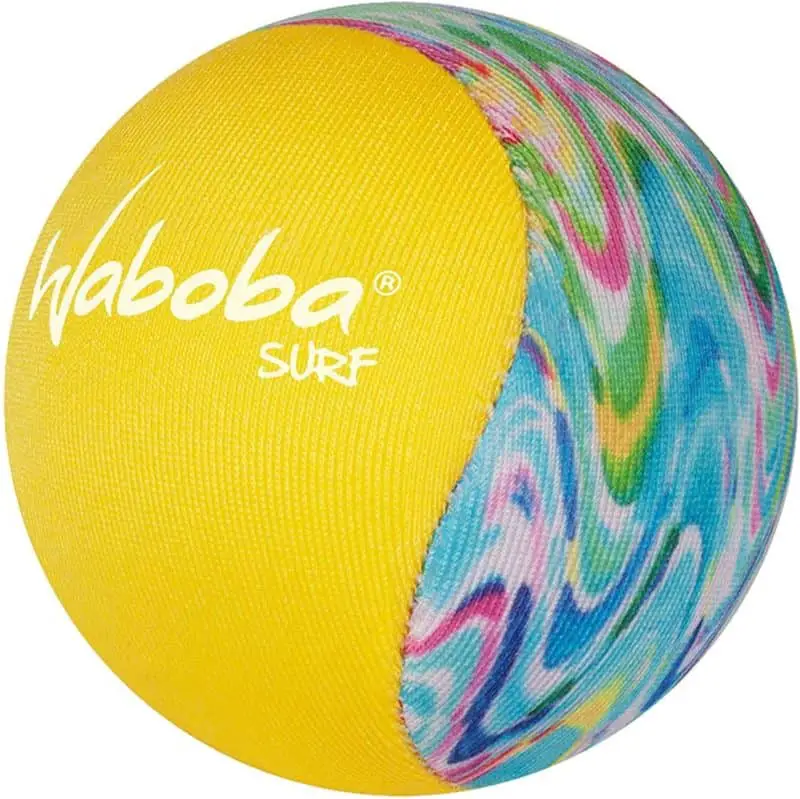 The beach ball should not be missed in the list of 'nicest beach toys'. It only costs a few euros and 100% fun is guaranteed.
There isn't much to say about a beach ball, but I still wanted to include it in the list.
This neopropene ball is small with a diameter of only 5,5 cm.
It lies well in the hand and the soft foam material makes it easy to grip, even with the smallest children's hands.
It is therefore suitable for children from about 3 years old, and will remain fun for even teenagers. Adults can also play with it by the way!
The ball impresses because it feels nice and soft and has a good grip layer.
Skin irritation will also not be a problem, for example when children play with the ball with their bare feet.
You can have fun in all kinds of ways with a beach ball. Think of lounging together, throwing, relay and a lot more.
And the best part is perhaps: the ball bounces on the water!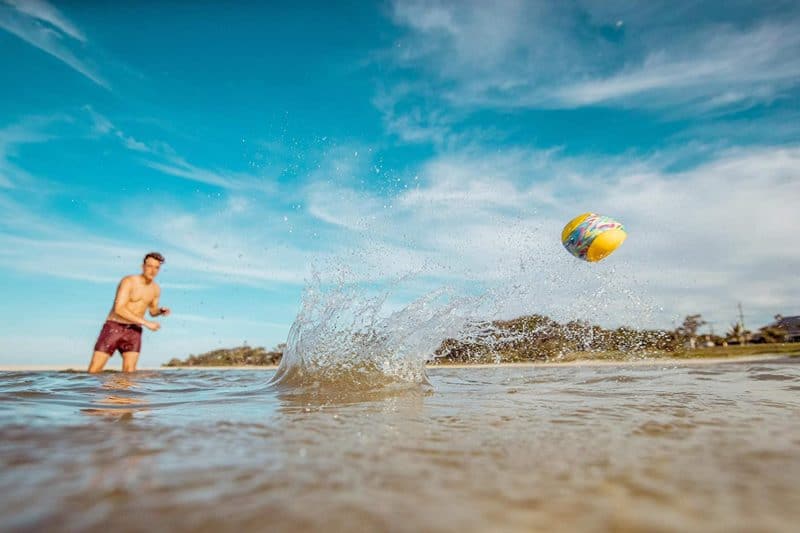 It is an ideal toy because it takes up no space, weighs nothing, and so you can easily take it with you everywhere.
Check the latest prices here
Best Beach Toys from 4 Years: Activ Life Flying Saucers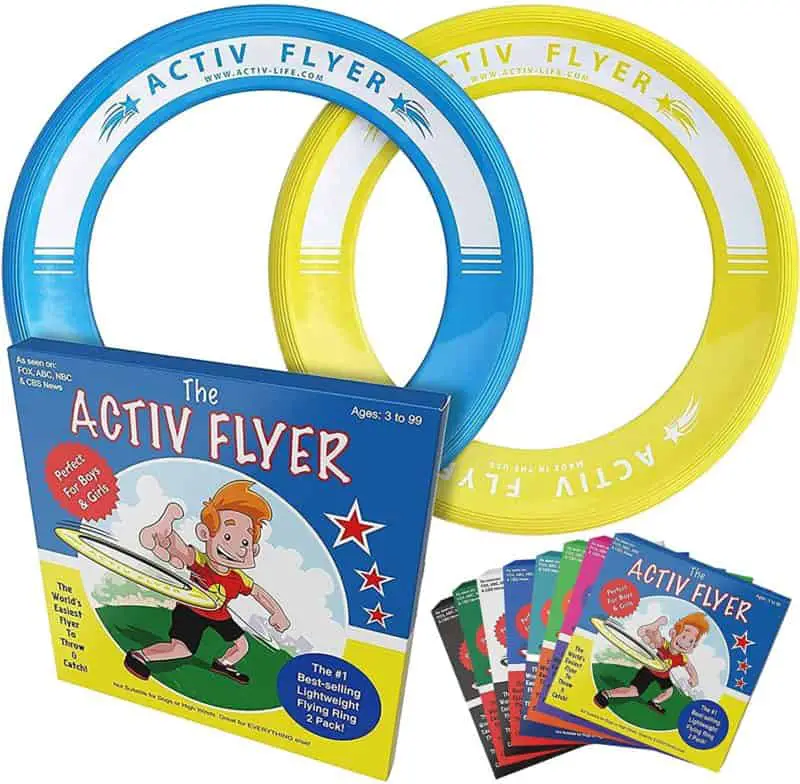 Light, weighs less than 33 grams
Suitable for children from 3/4 years
Do you want to keep your child active during the beach holiday? These Activ Life flying saucers can come in very handy..
The toy kites are very easy to throw and catch. Thanks to the unique design, the rings will continue to fly straight and even the smallest hands can catch the rings!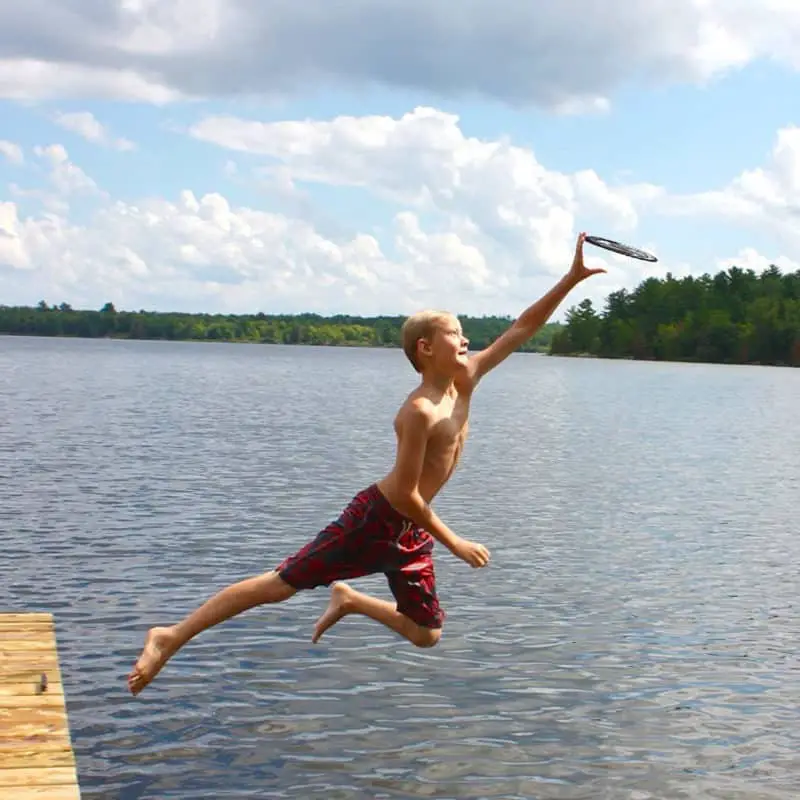 The toy is very light in weight, so that nobody can actually hurt themselves while playing.
By the way, mom and dad will also like to play with these toys, I can guarantee that!
With this set you get a red and a blue ring and they come in a cheerful gift box.
The nice thing is that the rings float on the water, so you can also play with them in the sea!
Check the latest prices here
Best beach toys for ages 5 and up: NUOBESTY Flying Glider Planes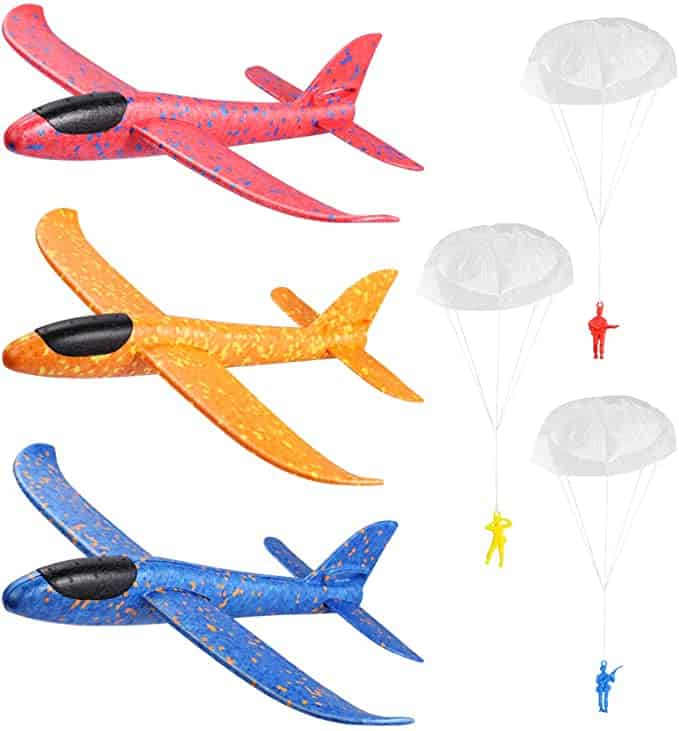 Sustainability and
dismountable
Each plane has (approximately) a size of 35 x 36.5 x 17.5 cm
Sitting inside is no longer an option with this toy! The Nuobesty glider is a feast for the eyes and very light in weight.
A child can throw it easily and the product is indestructible.
It is the best gift for little airplane lovers! The planes are made of foam and help to improve hand-eye coordination and operational ability of children.
The toy is made of premium material and safe to use. In addition, it is convenient that the planes are easy to assemble and disassemble.
Each plane consists of three parts (the fuselage and the two wings).
When you buy this set you get three different airplanes in the colors orange, blue and red as well as three paratroopers in the same colors!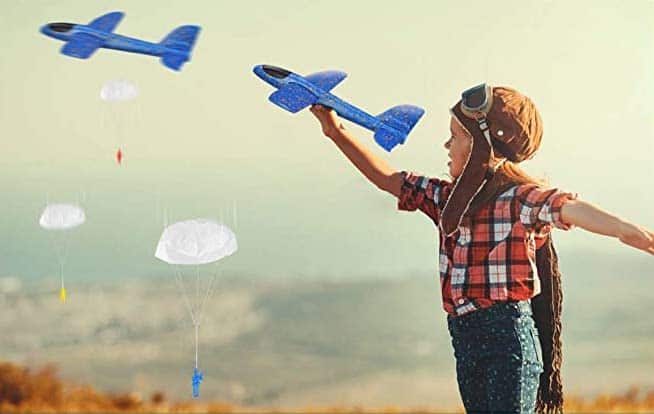 Toys that you can enjoy for years to come, and that really don't just break.
Because you can take the planes apart, it is an ideal toy to take with you.
The size of each plane is (lxwxh) 35 x 36.5 x 17.5 cm and it weighs nothing!
Check the latest prices here
Best beach toys from 6 years old: JOYIN Underwater Toys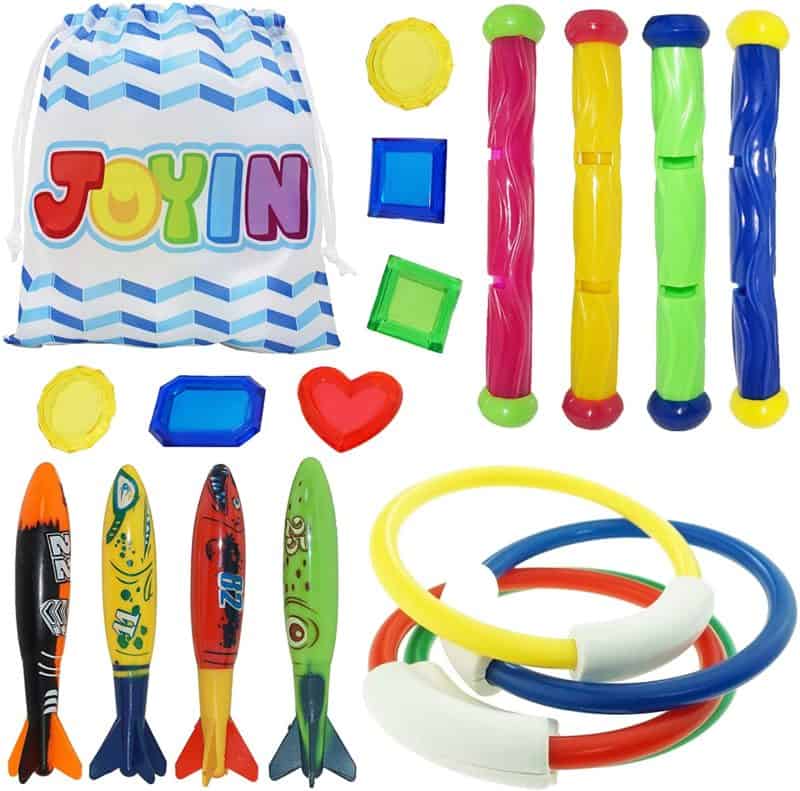 Suitable for children from 6 years
Many items, but weigh nothing
Do not contain any toxic substances
wow! What a great toy set for the greatest water fun! It is an all-in-one pack with four diving rings, four water torpedo bandits, four diving sticks and six pirate treasures.
Your child will not get bored quickly with this toy!
The items with the longest dimensions are the sticks, with a length of 18 cm. Might be useful to keep in mind when transporting.
The toys help take your diving skills to the next level and the products are child safe and non-toxic.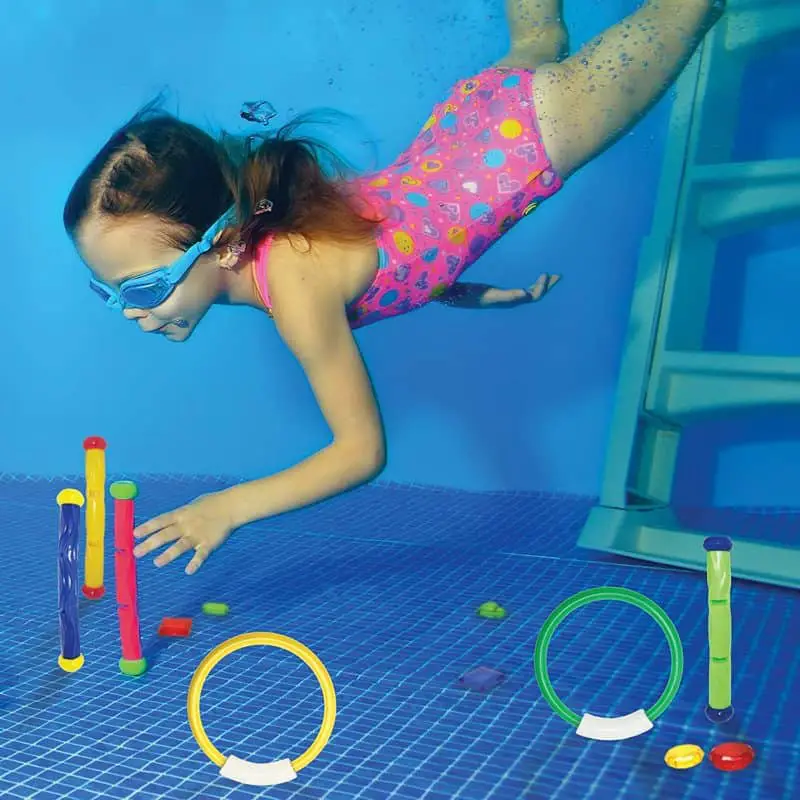 A super toy set for children who love a challenge and are active.
Check the latest prices here
Beach toys Q&A
What kind of toys do you use at the beach?
Beach toys are sturdy, versatile and must be able to withstand salt water and sun. Solid plastic and without electronic parts.
A good start is always a sand toy set, which contains different types of toys for the sand and on the beach (shovel, bucket, moulds).
With this you will enjoy a day at the beach.
There are also toys that the family can play with, such as a ball or Frisbee.
With just a few simple items, your child can have a lot of fun at the beach.
Conclusion
On this page you have become acquainted with different, fun beach products to play with all summer.
Whichever beach toy you choose, your little one will love it!
As you have read, there are some brands that have brought out the best beach toys that are modern and unique.
Buy toys that suit your child's developmental stage, age, within your budget, made of sturdy (and durable) materials, and of course liked by your son and/or daughter.
Do you let your kids play outside in the sun?
Don't forget to rub them well with sunscreen! Only then is playing on the beach 100% safe.
It is also fun shopping on the beach. These are the 9 nicest children's clothing stores you want to visit in Katwijk!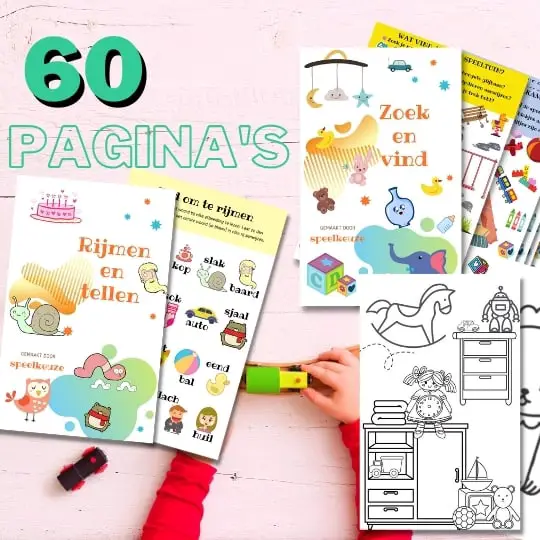 Always something to do for the holidays or rainy day?
Play Choice now has the ultimate activity book collection, with over 60 pages of fun coloring pages and educational puzzles.
Joost Nusselder, the founder of Speelkeuze.nl is a content marketer, father and loves trying out new toys. As a child he came into contact with everything related to games when his mother started the Tinnen Soldaat in Ede. Now he and his team create helpful blog articles to help loyal readers with fun play ideas.