Top 11 Best Toys Every Toddler Boy Should Have
I enjoy writing these articles for my readers, you guys. I don't accept payment for writing reviews, my opinion on products is my own, but if you find my recommendations helpful and you end up buying something through one of the links I may be able to receive a commission on that.
Further information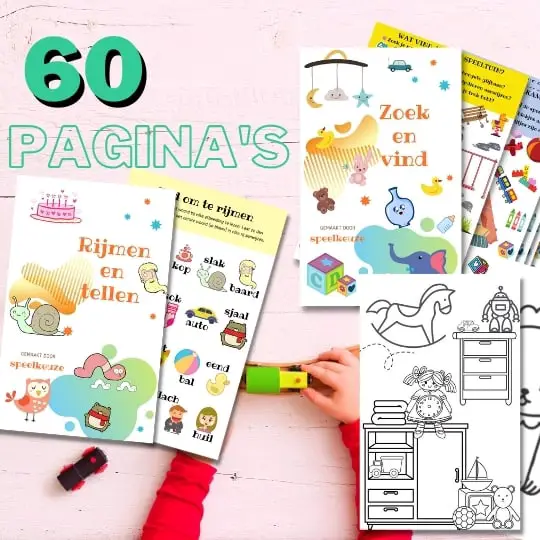 Always something to do for the holidays or rainy day?
Play Choice now has the ultimate activity book collection, with over 60 pages of fun coloring pages and educational puzzles.
Toddlers are curious creatures and love to explore.
If you're looking for a gift for a 2-year-old boy, you've come to the right place! I will give you the necessary inspiration in this article.
There is much beautiful toys for toddler boys.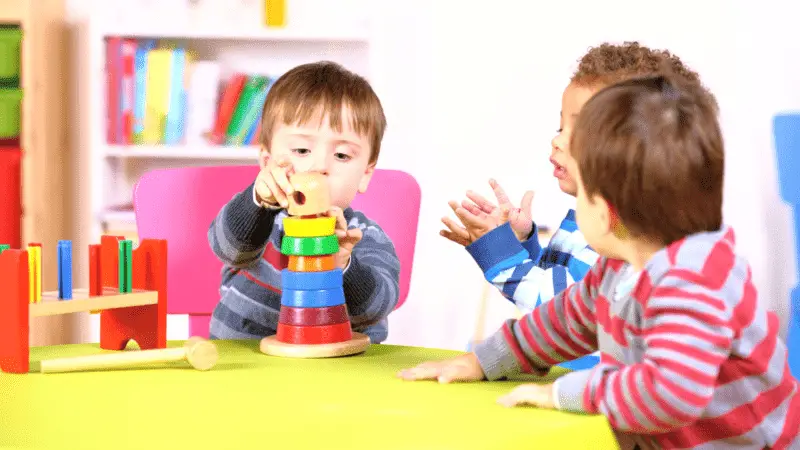 If I had a toddler myself, I would at least have the Magformers Basic Set Line take home. The Magformers toy set is not only great fun to play with, you can also learn a lot from it. It also stimulates the motor development of your child. Exploring, experimenting and learning while playing is exactly what we want!
Below is an overview of my top 11 must-have toys for every male toddler.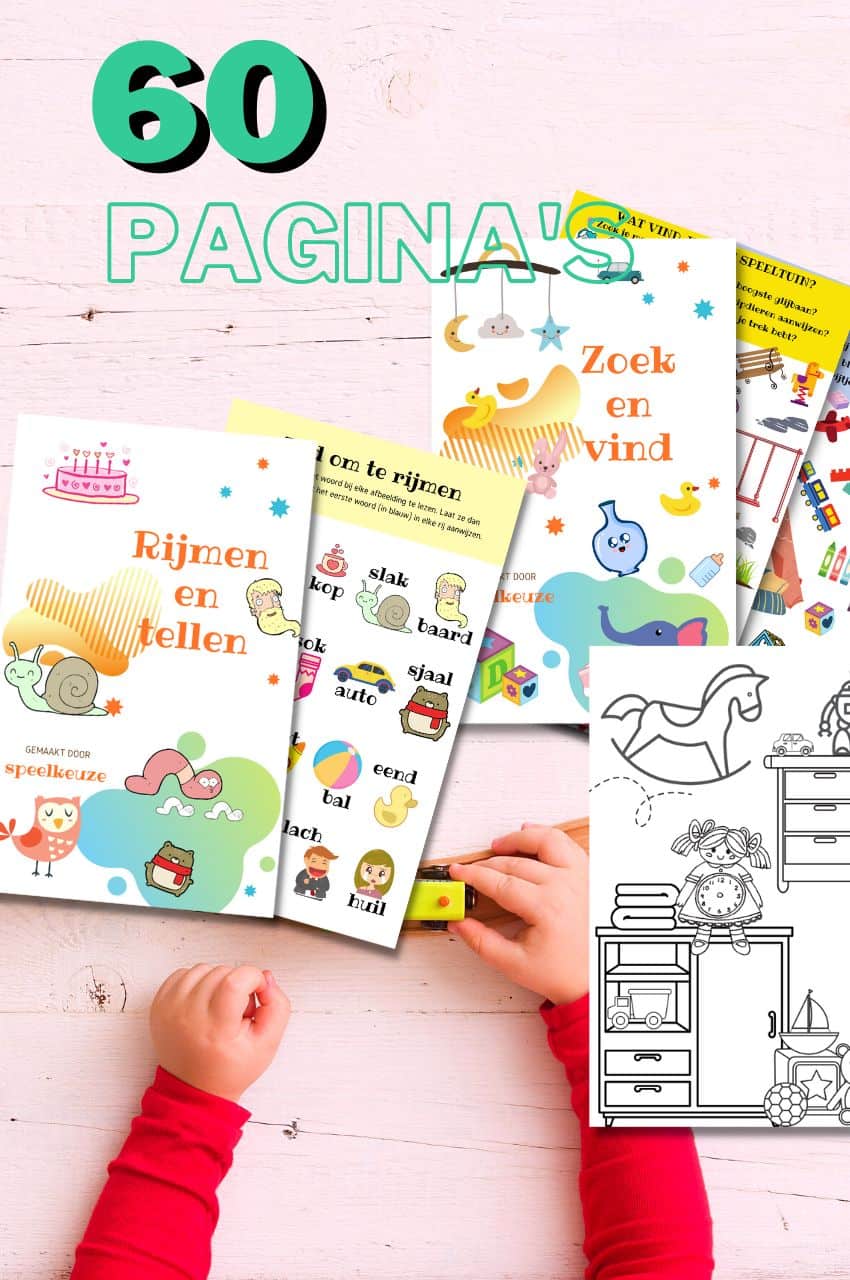 A play theme in your mailbox every month?
Fun play tips, activity books and more, with the first email being our free mini-guide "educational toys"
We will only use your email address for this newsletter and respect your privacy
Why special toys for toddler boys?
A toddler grows quickly and will soon go from 'messing around' here and there to structured play.
Around this period it is important to look for toys that go well with the developmental stage of the child.
Specific toys will stimulate your child in the right way.
Two-year-olds learn to run in addition to taking steps, springen and dancing. They practice their fine motor skills.
Their language use also suddenly starts to develop rapidly, in which they try to express themselves fully and indicate what they want. Every day they learn and discover a new word.
Special toys for boys
'Boys will be boys' is sometimes said.
Of course we see more and more gender neutral toys these days, and there are certainly boys who like play with dolls and girls who love cars.
But in general, boys more often play with special 'boys' toys and girls more often go for 'toys for girls'.
Differences toys between boys and girls
Boys and girls differ not only in their appearance. It is well known that boys are often a bit wilder than girls, and also show coarser motor skills.
This also makes it immediately clear why they need to play with different types of toys.
What should you pay attention to when buying toys for a toddler boy?
Every child develops at his or her own pace and has his or her own interests.
Find toys that match your toddler's age and preferences, but don't hesitate to set your child up for new challenges.
Creative play and crafts
Because the fine motor skills of a toddler is already quite well developed, it can already get started with small crafts.
Let your child experiment with colors and textures. Think of a coloring book, painting, sticking, stringing large beads, etc.
Your child will gain confidence and the imagination will also be stimulated.
Role play
Toddlers love to act out everyday things. Think of playing 'shop', 'postman' or 'doctor'.
Cuddly toys and dolls help your toddler to better empathize with the different stories. The great thing is that this role-playing game is starting to resemble reality more and more.
In the beginning, your little one will be very busy moving things around, but at some point he or she will realize that – at 'playing shop' for example – you also have to pay for the groceries!
clay
Clay stimulates the imagination of toddlers. Clay is also perfect for developing tactile skills.
Kneading and rolling with clay teaches your child that they can make shapes with their own hands. For example, your little one can 'bake cookies' or make imaginative monsters from clay.
It is wise to always choose child-friendly clay.
So go for clay that is not harmful, because it can sometimes happen that your child accidentally swallows some of it.
construction toys
Construction toys cannot and should not be missed in a household with children. These toys are often durable and your child can simply learn a lot from them.
Building stimulates your child's fine motor skills, but also their imagination and creative thinking skills.
Er is find plenty of construction toys, and mom and dad often like to build with too!
In addition, keep the following things in mind:
Safety
Only choose toys that are safe for your child and, for example, do not contain sharp edges or small parts that they could put in their mouth.
Firmness
Go for toys that can take a beating. Sturdy toys are also more durable, so they last a long time and may even be passed on to the next generation!
Suitability
The toys should match your toddler's age and developmental level.
If the toy is too complicated or even too easy, your toddler will probably have little interest in it.
The best toys for a toddler boy
Now that you know what to look for when choosing boy toys, let me tell you more about my favorite products.
Best Construction Toys For Toddler Boy: Magformers Basic Set Line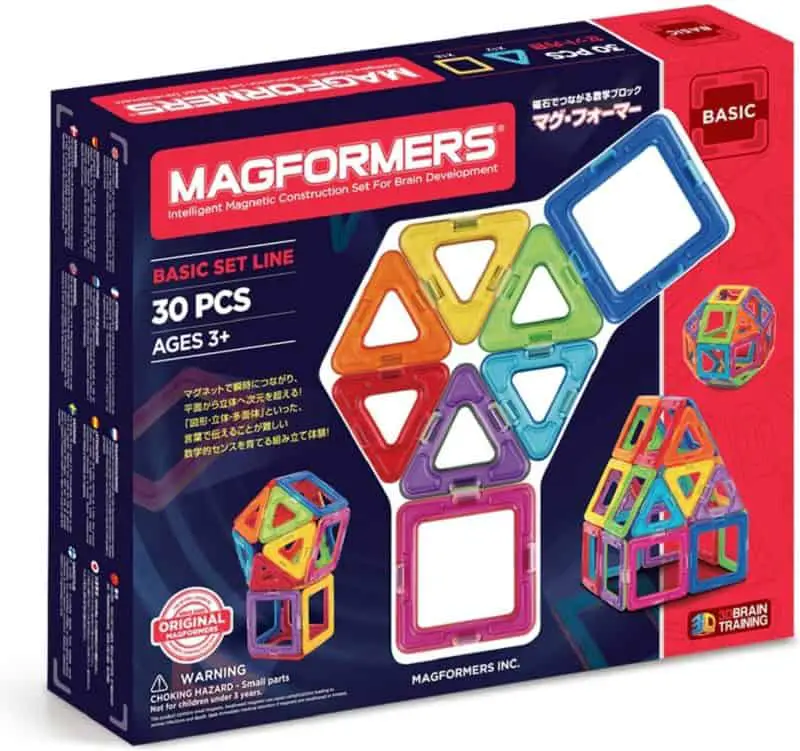 Magformers is a set consisting of 26 pieces magnetic toys which is made of high quality ABS plastic.
You can build simple 2D and 3D creations with it.
You can use the magnetic triangles and squares to make the best creations: from kittens to stars and even a ball!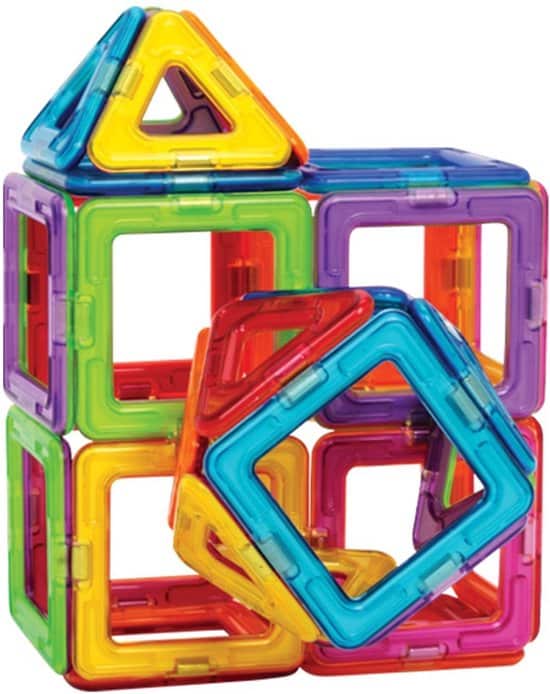 The toys are attractive, educational and have beautiful colors. It stimulates the motor development of kids from 3 years old.
An awesome VOTE toy gift for your baby or toddler!
But even when your toddler gets a little older, these toys will remain fun. You can expand the set with more pieces, or even purchase a special engine and wheel set.
It will therefore remain interesting for a long time and will have a place of honor in the toy corner for quite some time.
26 parts magnetic toys (triangles and squares)
2D and 3D creations
Educational
Stimulates motor development
From 3 years old
Check the latest prices here
Best Tractor For Toddler Boy: Bruder Claas Nectis 267 F With Front Loader And Trailer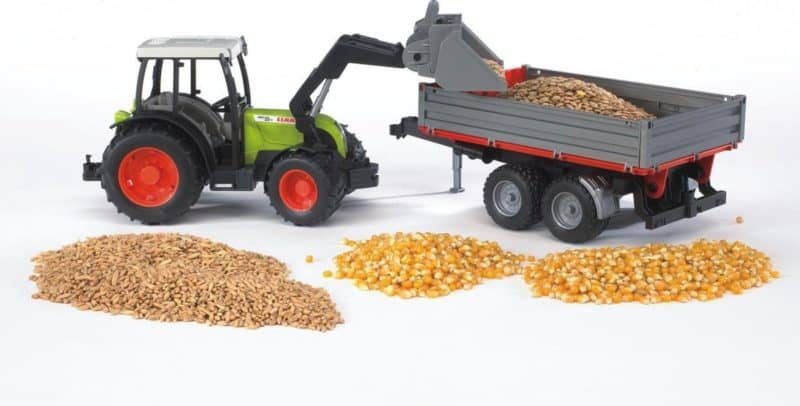 Another great toddler toy is this green tractor from Bruder which comes with a front loader and trailer.
The toy is made of high-quality plastic, is perfectly detailed and has a realistic design.
The size of the toy is (lxwxh) 65,6 x 12,9 x 15 cm and the scale is 1:16. The recommended age is 8 – 14 years.
Tractor with front loader and trailer
1 scale: 16
Dimensions (lxwxh): 65,6 x 12,9 x 15 cm
8-14
Check the latest prices here
watch here even more beautiful Bruder vehicles, all just like real!
Best Train Track For Toddler Boy: BigJigs Alps Wooden Train System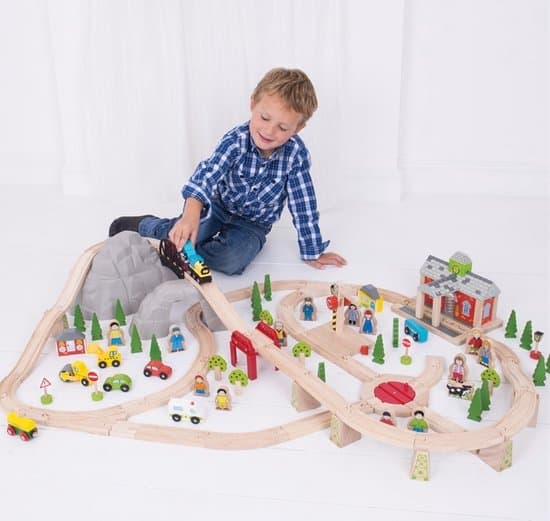 Does your toddler like trains? Then this train track set from BigJigs might be a fantastic gift.
The train track consists of 112 parts and connects perfectly to other wooden train systems.
The toy is made of wood and is suitable for kids from 6 years old.
You get a lot of nice accessories with this train track, such as wooden trees to put down, figures, cars and even traffic signs.
The parts may be less suitable for younger children as they run the risk of putting them in the mouth.
112 parts
Including nice accessories
From 6 years old
Check the latest prices here
Best Highway for Toddler Boy: Waytoplay Highway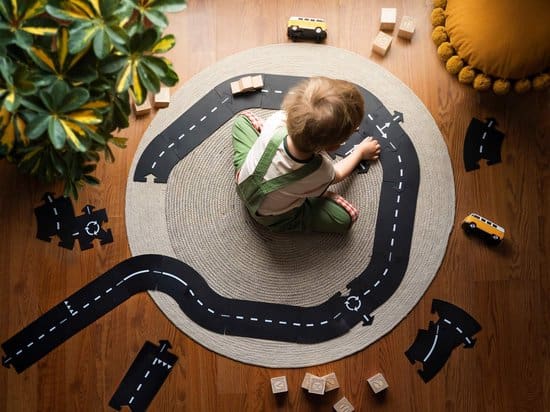 Say for yourself: which boy doesn't like an exciting car track?
This flexible car track from Waytoplay is 24 pieces and is a great toy that stimulates your child's creativity and imagination.
With this toy you build your own road for your favorite vehicles. Whether at home or on the beach, you can build a road anywhere and on almost any surface!
The track is also easy to clean.
The total length of the motorway is 376 cm and has 12 bends, 8 straight parts, 2 crossings and 2 roundabouts for maximum fun.
You can expand the track with extra sets if desired and the toys are suitable for children from 3 to 6 years.
24 parts
Stimulates creativity and imagination
For every surface
Easy to clean
Length: 376 cm
12 bends, 8 straight parts, 2 intersections and 2 roundabouts
3-6
Check the latest prices here
Best Construction Vehicle Set For Toddler Boy: Sanlebi Diecast Toy Set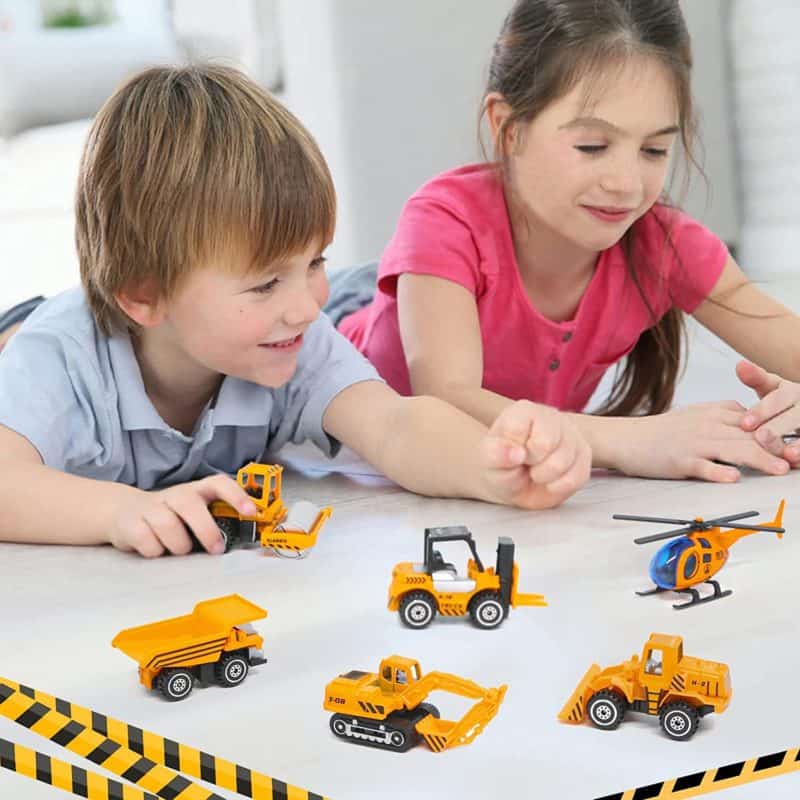 Does your little one absolutely love construction vehicles? Then you are probably considering buying a set with all kinds of fantastic construction vehicles.
This set from Sanlebi is ultimate and has six different vehicles!
They are built on a scale of 1:64 and you get an excavator, bulldozer, road roller, truck, forklift and a fighter plane/helicopter.
This popular baby and toddler toy is designed for small children's hands: each vehicle is approximately (lxwxh) 8 x 4 x 4 cm.
The toy is the perfect size and small enough to put in your pocket.
The vehicles are cast, have aluminum bodywork and plastic parts, and feature working wheels with sliding function.
The toy is suitable for kids from 3 years of age.
6 different vehicles
1 scale: 64
Each vehicle is approximately (lxwxh) 8 x 4 x 4 cm
cast
Aluminum body
Working wheels with sliding function
From 3 years old
Check the latest prices here
Best Modeling Clay for Toddler Boy: Play-Doh Rainbow Clay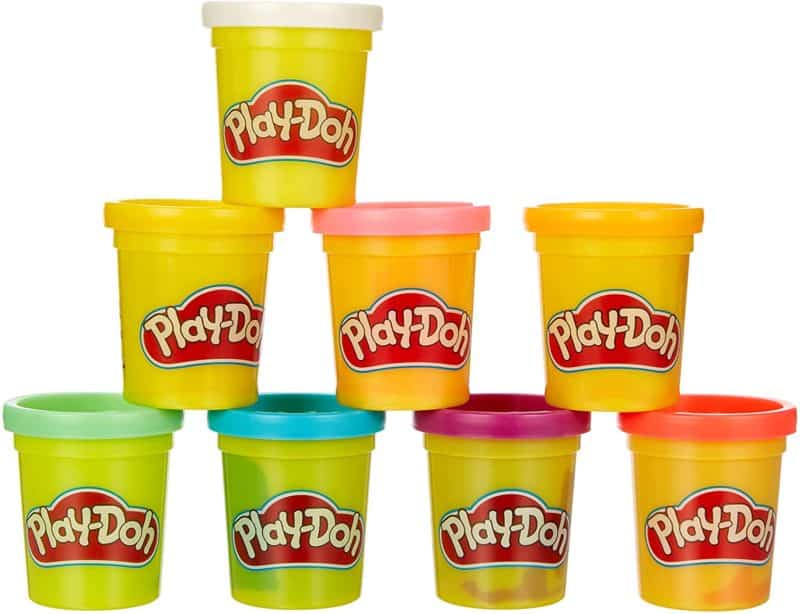 Is the weather bad outside and are you looking for something to do at home for your toddlers? Modeling clay is always a good idea!
With this set you get 8 pots of 56 gram clay in different, attractive rainbow colors. The clay is suitable for children from 2 years.
With the clay your little one can make the most vibrant creations.
And because the jars are airtight, the clay is kept fresh, supple and malleable so you can use it over and over again.
8 jars of 56 grams
Different colors
Clay stays flexible
From 2 years old
Check the latest prices here
Best Construction Toys: Lego DUPLO Truck & Excavator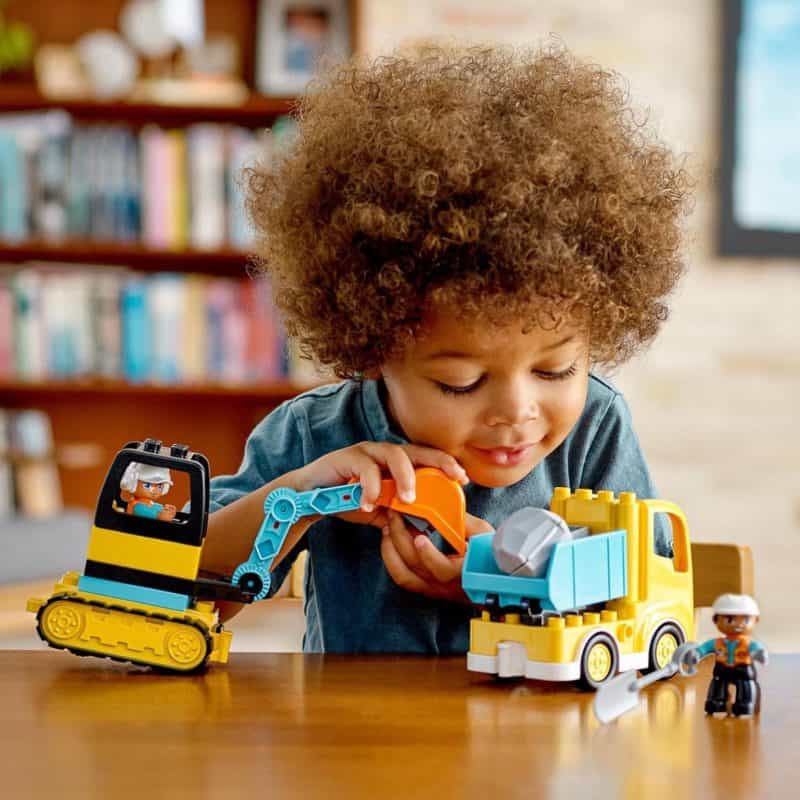 Construction toys are appreciated by most boys (and girls too!)
This Lego Duplo set is suitable for kids between 2 and 5 years old and consists of 20 parts. The set also comes with two fun minifigures or construction workers.
Your little one can also play with the dump truck, an excavator with revolving cabin and moving shovel and the toy boulder.
By operating vehicles, children learn to perform various tasks and their fine motor skills are stimulated and they develop problem-solving skills.
For example, they can scoop up Lego bricks and load them into the truck.
The Lego Duplo construction range has been launched to provide toddlers with toys that stimulate their development.
The vehicles and parts are just the right size for little hands to pick up.
20 parts
2 minifigures
With nice accessories
Fine motor skills are stimulated
Problem-solving skills are developed
2-5
Check the latest prices here
Best Paint Kit For Toddler Boy: Hobby Kit SES My First Paint With Water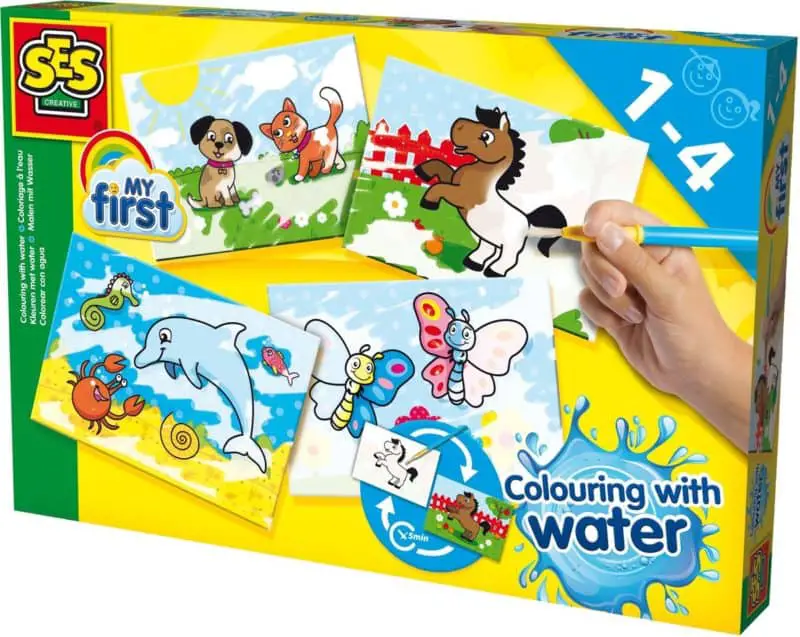 Paint with water
Four pre-printed coloring pages
From 1 years old
What child doesn't like to paint? With this hobby set from SES you can paint without a mess. How it works?
Very simple: run a wet brush over the pre-printed cards and see how the coloring page becomes visible.
So you don't need paint at all for this, just water! The brush is safe for kids, the hair cannot fall out.
After drying, the four pre-printed coloring pages can be used again and again. The set is suitable for very young kids, from 1 year old.
Check the latest prices here
Best Kids Kitchen For Toddler Boy: New Classic Toys Wooden Play Kitchen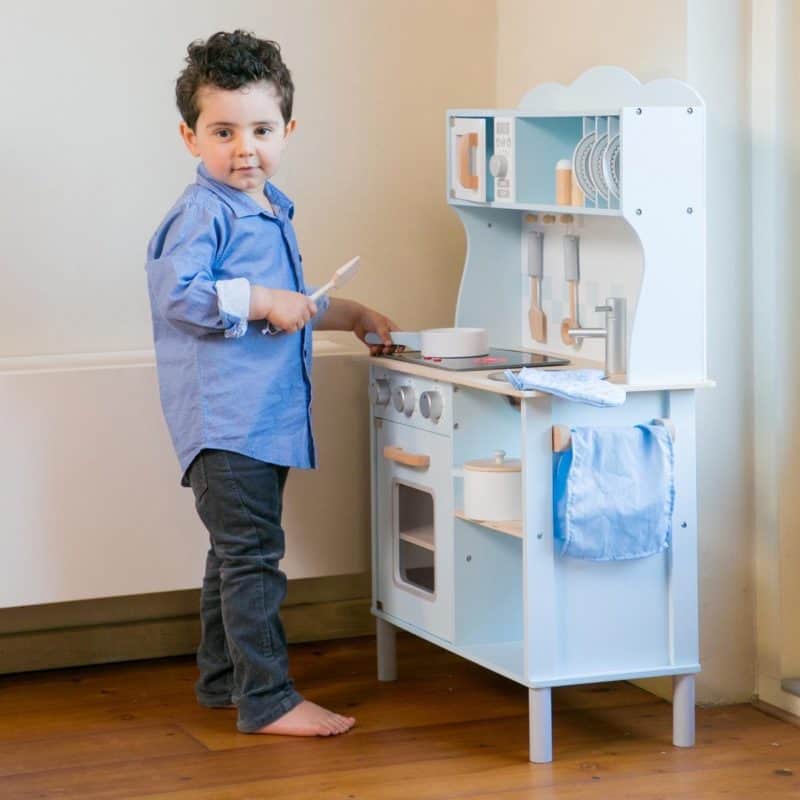 Are you looking for toys that can be an addition to your interior? Then this wooden play kitchen from New Classic Toys is a great option.
The kitchenette is perfect for children between the ages of 3 and 6. The hotplates light up and even make noise.
What you also get with this spectacular kitchen are the following accessories: a pan with lid, a saucepan, three cooking spoons, an oven glove, three plates and a salt & pepper pot.
You can operate the two electric hotplates by hand.
You also get an oven with a transparent door, knobs that you can turn, an extractor hood, microwave, tap with rotary knobs, a removable metal sink and a shelf for storage.
Just like a real kitchen! The knobs on the hob make a realistic sound, for an even more real experience.
With this kitchen, your toddler will learn from an early age what is involved when cooking!
Cutting ingredients, baking everything and – once the table is set – you can enjoy a nice meal together.
The kitchen is definitely a feast for the eyes.
Made of wood
Hobs light up and make noise
With many different accessories
with oven
Rotatable knobs
Between 3-6 years
Check the latest prices here
Is this just a little too pricey? I've reviewed more beautiful wooden play kitchens for you here!
Best Car Garage For Toddler Boy: VTech Toet Toet Auto's Garage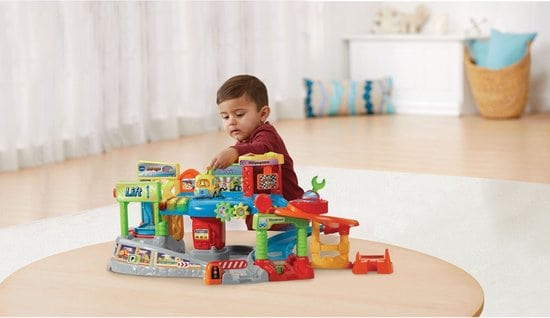 Do you have a little one between 1 and 5 years old and are you looking for interesting toys? This car garage from VTech can then be a perfect solution.
It consists of 24 parts and is simply very attractive for small kids.
Place Teun Tow Truck or one of your other favorite cars on the lift and move it up. Enjoy the cheerful sounds and watch the platform rotate.
When you press the flashing keys, you get to know the different colors.
You will also hear cheerful phrases, songs and melodies and you can even learn about (simple) traffic rules.
You can also drive your vehicle through the car wash or service it on the repair platform.
Is your car ready for a refuel? Then go to the gas station!
The playset is sturdy and durable and will automatically shut off when not played for a while.
24 parts
Happy sounds, phrases, songs and melodies
Rotatable platform
Flashing keys
Learn about (simple) traffic rules
Lots of play options
Sustainability and
Switches off automatically
1-5
Check the latest prices here
Best Vehicle Set for Toddler Boy: Little Tikes Big Car Transporter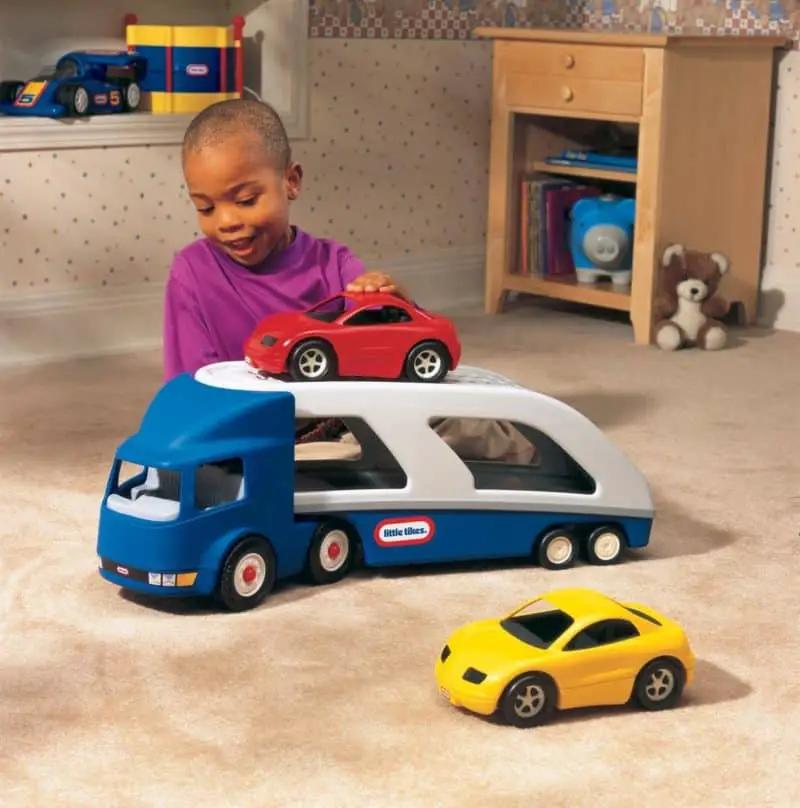 Transport
Includes two sports cars
High Quality
2-6
Little Tikes is for sure one of the popular brands in the toy industry.
The large car transporter of this brand is suitable for kids with an age between 2 and 6 years. This car is equipped with a flap so that you can load and unload cars with it.
Two sports cars – which you get with it – can be placed in the transporter. The trailer can be detached from the truck so that there are multiple play options.
Perfect toy to play with indoors, but also ideal outdoor toys† It is made of an indestructible quality.
Check prices and availability here
What toys should my two-year-old play with?
Children learn a lot during their first two years of life.
Toddlers mainly learn by playing. They do this by exploring and using all their senses while playing.
As kids start to become more mobile, they will explore the world around them more and more.
Think, for example, of hiding things, or – against Mom and Dad's wishes – throwing things off the table.
Children play these kinds of games to understand what is up and down, in and out, far and near.
The moment children can sit up by themselves, they will experiment even further.
Stack and build blocks help develop a lot of skills.
Not only are motor skills practiced and further developed, they also develop a sense of logic and call on their problem-solving skills.
Around the age of 18 months, children begin to take an interest in animals, appliances, cars and other aspects of everyday life.
Role play also becomes interesting around this age. Children practice their social skills by making up stories and acting them out.
And by playing with big versus small stuffed animals, a child learns to categorize.
Is your little boy turning 2 already? Time flies so fast!
Frequently Asked Questions
What will your 2 year old toddler learn soon?
Your toddler is developing at a rapid pace. Toddlers love to play actively and develop fine motor skills.
Furthermore, it will soon learn other new skills, such as:
Playing with others
Fantasy and role-playing games
Increasingly better eye-hand coordination (think of to cut, to stick)
Cycling (tricycle)
Being able to undress oneself
say short sentences
imitate others
Why toys for your 2 year old toddler?
A lot of toys are not only fun educational† Especially when you make sure that the toy is appropriate for the age of your child, he will learn a lot.
Toys that your child played with when they were 1 year old are still fun.
But your little one will now play with the toy in a slightly different way.
Suppose your child is going to paint (finger) then it may already be able to make small works of art, while before it would paint random and thick stripes.
Toys such as kitchens, cars, trains and other vehicles are now used 'better', or 'as they should be played with'.
Also, your toddler will learn a lot by imitating you. Role-playing is increasingly taking shape.
At the same time, your child is ready for new challenges.
What is the difference between toddler toys and baby toys?
The difference between toddler toys and baby toys is that baby toys is mainly aimed at children up to 3 months and this concerns rattles and soft toys that make noise.
For babies up to six months, there are toys that your baby can rattle, hit or roll with and bright colors are a favorite. Think of Miffy or Bumba toys.
Toddlers, on the other hand, are ready for new challenges where toy products as discussed in this article are much more in line with their interests and developments.
Conclusion
Your two-year-old already has many milestones reached and also possesses various skills.
But there is still a lot to learn!
The right toys give your child pleasure and stimulate him/her to develop further.
Find toys that appeal to your toddler, but also present him or her with new challenges. While playing, your child learns everything.
All the toy products that I have discussed in this article are not only fun, but also very educational. I hope my tips have helped you a bit!
Little boys grow up! Check out the best educational toys for toddlers here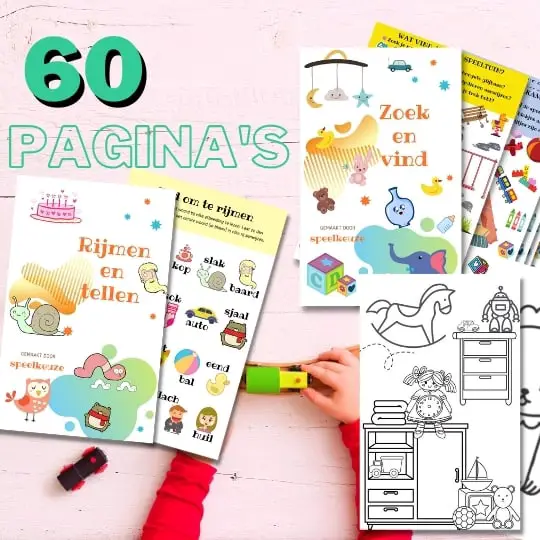 Always something to do for the holidays or rainy day?
Play Choice now has the ultimate activity book collection, with over 60 pages of fun coloring pages and educational puzzles.
Joost Nusselder, the founder of Speelkeuze.nl is a content marketer, father and loves trying out new toys. As a child he came into contact with everything related to games when his mother started the Tinnen Soldaat in Ede. Now he and his team create helpful blog articles to help loyal readers with fun play ideas.