I enjoy writing these articles for my readers, you guys. I don't accept payment for writing reviews, my opinion on products is my own, but if you find my recommendations helpful and you end up buying something through one of the links I may be able to receive a commission on that.
More information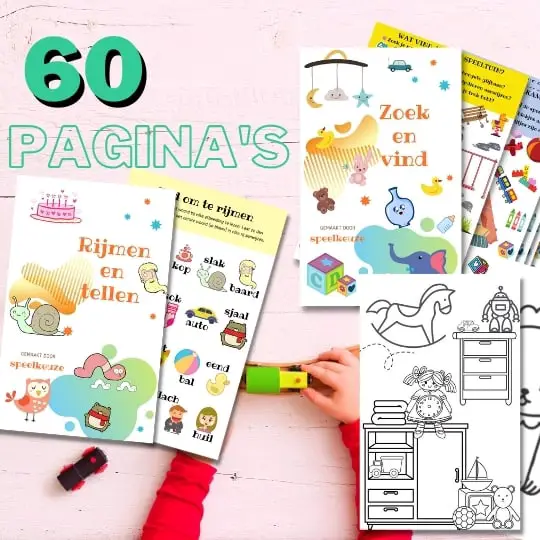 Always something to do for the holidays or rainy day?
Play Choice now has the ultimate activity book collection, with over 60 pages of fun coloring pages and educational puzzles.
A trampoline is a great toy for getting rid of some energy.
Jumping up and down on a trampoline is great fun for kids, but it can also be a fun activity for adults.
In this article we find out which trampolines are the best.
This way you can see at once what options there are in terms of trampolines and make the best choice for your family.
Do you have a trampoline as an attraction at your child's birthday party or just for play days with boyfriends and girlfriends?
Then you know that it will be a meeting full of joy and conviviality.
The best trampolines have the necessary safety aspects and durable parts that last a long time.
The trampoline you buy now should serve you well for years to come.
For most gardens I would recommend this rectangular Salta Combo recommend. It is not too big, but because of its shape you do not lose any space and it fits beautifully in the corner, for example. It is also not too expensive and from a brand known for its quality.
But there are more, for different situations, and in this article you can read everything about trampolines regarding:
The brands
The forms
The mates
The set-up
The safety
The possibilities
With the foregoing in mind, I have analyzed a number of trampolines and have come up with a complete list of the best trampolines.
Below you will find a brief overview of the best trampolines sorted by category.
In this overview you will find the best mini trampoline, the best small trampoline and the best large trampoline.
I have also listed the best trampoline for you based on its shape and setup.
If you need a detailed review per type of trampoline, you can feel free to continue reading the article.
What do you pay attention to when purchasing a trampoline?
There are a number of things to consider when buying a trampoline.
Except that it has to look nice, there are many more important aspects that deserve your attention.
Below is a checklist of the things that are important for every trampoline:
Age category
Trampoline safety
Size of the trampoline
Shape of the trampoline
Quality of the trampoline
Use of the trampoline
Maximum carrying weight of the trampoline
Size of the spring mat
Age category
Always look at the age range of a trampoline. Does it suit your child's age and what you are going to use it for? That's the first step to take with you.
Trampoline safety
Can a trampoline be dangerous? Safety is one of the first aspects to consider when buying a trampoline.
How nice the play equipment also looks, can accidents still happen.
This can happen because of a trampoline that does not meet the necessary safety requirements or perhaps because of incorrect installation or use.
The safety requirements for trampolines depend on the use. Different requirements apply to trampolines in an arcade than trampolines for private use.
Since this article is about trampolines for the private sphere, the playground equipment must meet the safety requirements of toys.
In that case, a safe trampoline will have a quality mark. Generally speaking, this should be indicated on the packaging.
But not only a quality mark keeps you safe. In a practical sense, you should also consider a net for your trampoline.
This prevents people from going outside the jumping surface and falling over the edge. Some nets are made to keep the springs out of the bounce area.
Other trampolines have a special covering for the springs. If it is a mini trampoline, it is useful that it has a rail.
The rail provides extra stability and keeps the jumper in the center of the trampoline.
Are trampolines a waste of money?
Perhaps this is a very personal matter, but I can say with certainty that it is not so for me. My children have been jumping on it for years and when there are friends or visitors, the trampoline is always used.
Some find a trampoline expensive, it is a considerable expense, but any good trampoline will last for years. During these years it is usually used daily by several children.
Suppose you buy a € 500 trampoline that will last 8 years, costs only € 62,50 per year and therefore only € 0,17 per day!
Large trampolines are generally more expensive than the smaller variants, to spend more now while a smaller trampoline could have been just as suitable is a shame.
The same applies the other way round, because buying a trampoline that is too small while a larger trampoline will ultimately be more useful is not a good investment.
Size of the trampoline
Most trampolines are intended for outdoor use. Many people choose to give their trampoline a place in the garden.
Both a large, medium or small outdoor trampoline give a lot of fun in the garden.
It is actually quite difficult to indicate which trampoline is best for your garden in terms of size, because everyone has a different idea of ​​what is large or small.
It is therefore wise to first check how large the available space is and whether the trampoline you have in mind will fit in at all.
What you also take into account is the fall zone. That is a distance of 1.5 m around the trampoline, which you must keep clear.
With this in mind, you will then look carefully; What are the different trampoline sizes? And how big will the space that is needed ultimately be?
For the sake of convenience, below is a list of the size of your garden and which round or rectangular trampoline could possibly fit in it.
Trampoline size chart for the size of your garden
| | | |
| --- | --- | --- |
| Garden size | Diameter round | L x W rectangular |
| Small garden <30 m² | 100-244 cm | French 150 x 200 cm |
| Medium-sized garden 30-60 m² | 250-330 cm | French 215 x 305 cm |
| Large garden> 60 m² | > 366 cm | French 244 x 277 cm |
Little space in the house?
If you are worried that you will not have enough space at home for a trampoline, then compare them with one of these air tracks in our article about this newest kind of air mats.
Shape of the trampoline
Trampolines come in 3 shapes: rectangular, round and oval. The shape you choose depends on the shape of your garden and what you already have in the garden. However, each shape has its own advantages.
A rectangular trampoline
If you have an elongated garden, a rectangular or oval trampoline is a better choice. Jumps on a rectangular trampoline are also more controllable.
It turns out that people are not so likely to jump against each other or hit the edge.
In this regard, a rectangular trampoline is safer than a round trampoline. Have you noticed that professional trampolines are also always rectangular?
However, rectangular trampolines are in most cases slightly more expensive than other shapes.
This has to do with the extra material (steel) that is incorporated in the frame.
When jumping on a rectangular trampoline, the most pressure is on the middle part of the frame.
To prevent buckling and possible tearing, extra steel has been placed on those parts.
Although this extra material provides more strength to the frame, it does mean that the trampoline will cost more.
A round trampoline
With round trampolines there is equal pressure all over the frame. As a result, the frame of a round trampoline does not need any additional material.
The tension on the springs is evenly distributed and ensures that you automatically jump to the center of the trampoline.
This makes your child less likely to jump off the trampoline.
If several children are jumping on the trampoline, the chance is greater that they will bump into each other.
An oval trampoline
An oval trampoline has the best of both worlds.
With a combination of features of a round and a rectangular trampoline, the oval version offers a more controllable jumping experience.
The child is still centered, but never quite centered. The chance of colliding is thus considerably reduced.
In general, an oval trampoline is more expensive than a round because it requires extra reinforcement.
You also pay attention to the quality, use and carrying weight of the trampoline.
Quality of the trampoline
A quality trampoline is not only safe, it is also durable. You want to choose a trampoline that can provide years of enjoyment to the whole family.
Wonder how durable the parts of the trampoline you want to buy are.
Cheaper parts may save you money, but will cost you more in the long run.
You will then have to replace parts such as the mat, the net or the springs at least once a year.
Buying a slightly more expensive trampoline will save you money and effort for years to come.
Manufacturers who support their product will therefore offer an extensive warranty at no extra cost.
Use of the trampoline
Since we have (reasonably) bad weather during half of the year, it is advisable not to leave the trampoline outside all year round.
So you can choose a collapsible trampoline that you can easily fold out on sunny days.
On the other less beautiful days you can just keep the trampoline in the garage. Please note that it can also find a place in the garage in the collapsed position.
However, a trampoline on legs is more stable. You will have to assemble these types of trampolines. A trampoline on legs can stay outside for a longer period of time.
As soon as winter comes, you will have to take the trampoline apart again.
During the time that the jumping device remains outside, you can optimally protect it by covering it with a cover.
If you choose a trampoline that you have to dig in, it will become a permanent part of the garden. There is then no question of climbing a ladder, but only a step.
A small disadvantage of an in-ground trampoline is that it takes a lot of time and effort to dig in the trampoline.
The bigger the trampoline, the more effort it takes.
Maximum carrying weight of the trampoline
How much weight a trampoline can support is probably one of the most important things to consider when buying a trampoline.
The weight of a trampoline depends on its size.
Keep in mind that several children may jump on the trampoline at the same time.
The combined weight may not exceed the maximum carrying weight.
If the maximum carrying weight is exceeded, the jumping surface can crack and cause accidents.
So choose a trampoline with a high maximum carrying weight for the safety of the jumpers.
Size of the spring mat
The size of the trampoline's jumping surface depends on how you plan to use the trampoline.
Check how many people you will have on the trampoline at the same time. Also check how old they are and whether the trampoline is only for playing or also for sports.
Properties of a good trampoline
To go into it in detail, here are the most important properties you are looking for in a good trampoline.
It are these 3 important aspects that every good trampoline should meet.
Anchoring the trampoline
The worst that can happen to you is your kids jumping on the trampoline and the whole thing tipping over, kids and all! Therefore always choose a trampoline with a stable base. Go for a trampoline that you can anchor to the ground or one with a heavy weight as a base.
If the trampoline does not have any of these options, you will have to consider purchasing the anchor separately to create a stable base.
How do you anchor a trampoline?
Very simple! An anchoring set for a trampoline consists of tires and ground anchors.
Sometimes these can be spirals and sometimes straight anchors with a metal disc at the end. The function is the same.
You screw the ground anchors firmly into the ground. You attach the tires to the frame and then to the anchored ground anchors.
In this way, the trampoline is firmly attached and can no longer be blown away or tipped over.
What if I don't have real grass? Can a trampoline run on artificial grass?
When jumping on the trampoline, the ground under the legs experiences a lot of pressure. This creates a great load on small parts of the artificial grass.
This can cause the artificial grass to crack.
It is advisable to partially dig the trampoline in here. And you can place a tile under the trampoline to increase the load distribution.
This is not only safer for the children, but prevents cracks in your artificial grass.
Stainless material of the trampoline
Because most trampolines are outside in all kinds of weather for a large part of the year, it will be subject to corrosion.
Especially the metal parts are most sensitive to this.
So it is best to go for a trampoline with a stainless frame, if you want your trampoline to last for years.
A trampoline with stainless metal parts is much more durable than a trampoline without.
A safety net at the trampoline
Make sure the net is firmly attached to the trampoline and stretches with the movements.
Is a safety net a must?
A trampoline that will mainly be used by children is almost impossible without a safety net. With a net around the trampoline, the little ones will never be able to fall off the trampoline and hurt themselves on the ground.
A safety net is included with many of the trampolines in our favorites list.
If this is not the case, consider buying it separately anyway.
Some trampolines offer other extra options in addition to a safety net, such as a basketball ring, a flexible wall to jump against or a rail to hold on to.
Look at the needs of your family and make a targeted choice. It all depends on what you and your family like.
Even more fun in the garden? Then take a look at these fun slides for children from toddler to 10 years old.
Top 13 best trampolines rated
After these handy tips on buying the right trampoline, let's now go into our favorite trampolines in the different categories.
Which one is it going to be for you?
Best Rectangular Trampoline: Salta Combo
With a safety net measuring 153 x 213 centimeters and is equipped with a black safety edge for maximum safety.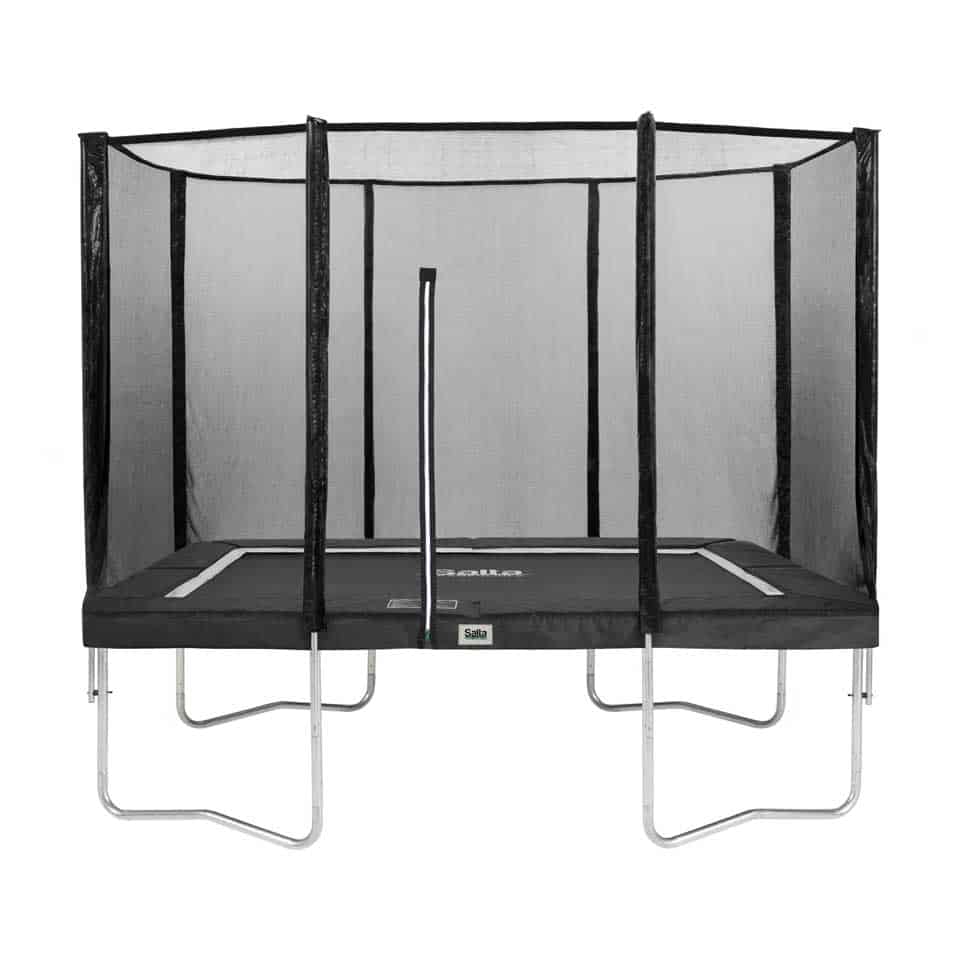 With this rectangular combo trampoline from the Salta brand, it will be a lot of fun on summer days.
The trampoline is spacious and can accommodate several people at the same time. With the size of 153 x 213 cm, this trampoline fits in a small garden.
It is also equipped with a black safety edge and a safety net for maximum safety.
It gets a 4.5 out of 5 out of 175+ reviews, and for good reason. The springs of the trampoline are very sturdy, so you can jump nice and high.
For example, one customer has been satisfied with it for more than a year, but he still has a good tip about putting it together because that is quite a thing:
I think it's a great one. You can assemble it all by yourself, but assembling it together is a lot easier and faster. I have had it for almost 1 year and it is only outside. The trampoline still looks good.
Below you can see how you can safely set up a trampoline like the salta combo:
Best inground trampoline: Salta Comfort ground
You can dig all trampolines in, but there are also special inground trampolines available.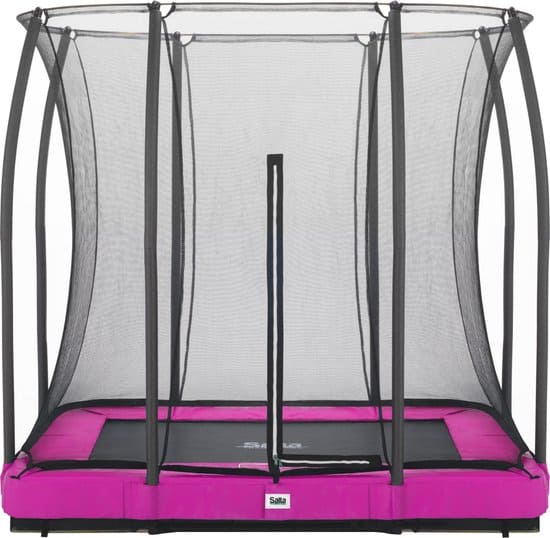 These types of trampolines have short legs, so you don't have to dig up as much soil. The legs are outside the hole.
A disadvantage of an inground trampoline is that you can only use it inground. Without a pit there is not enough space under the jumping mat.
My favorite inground trampoline is this spacious model from the Salta brand customers with an average score of 4.8.
And this, of course, is why you would buy an inground one, as one customer puts it:
Really solid trampoline, thick protective edges and sturdy bouncy cushion. Top quality for a good price. Also just a much nicer design than the typical round legs
It looks great and I think it is a lot safer, but it does require some digging, as Salta shows here:
This trampoline offers an excellent jumping experience because of the integrated ventilation system, which ensures sufficient air flow from the pit under the trampoline.
Check prices and availability here
Best mini trampoline: Jump up Fitness
With a diameter of 96 cm and low to the ground, due to its compact size, this trampoline fits everywhere.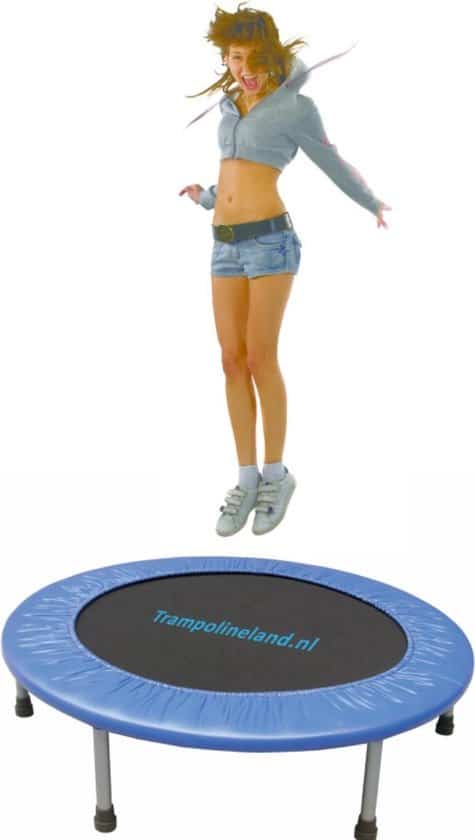 You can basically put a mini trampoline anywhere. In the garden and even in the living room.
This mini trampoline with a diameter of 96 cm is ideal to use when you have limited space.
The legs are short, which significantly reduces the risk of a hard fall. Young children from 2 years old can already play on this.
It has only 2 reviews on bol.com, it is not the most popular choice to buy at least at this time of writing, but they do give both a 5 for their sturdiness and quality.
I also like this trampoline as a budget choice. If you are willing to spend a little more for a mini trampoline, you can opt for a trampoline with a rail.
Best trampoline with net: BERG Favorit
No matter how big your trampoline is, there is always the possibility that your child will fall off the trampoline. To prevent this, special safety nets are available.
A trampoline safety net is attached to the legs and closes the entire trampoline. You can then enter the trampoline via a zipper or between two flaps.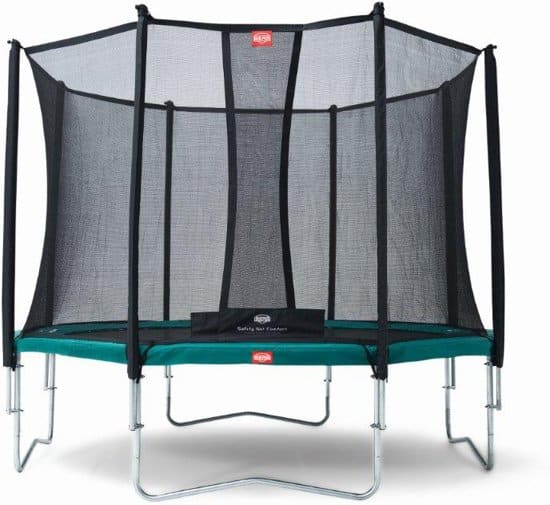 A safety net ensures that your trampoline immediately becomes a lot higher. If you don't like this in your garden, you can always dig in the trampoline.
My recommendation for a good trampoline with a net is the BERG Favorit trampoline.
This trampoline is available in different sizes. You can choose from a diameter of 270, 330, 380 and 440 cm.
Here you can see the main differences between the different BERG trampoline models:
With all BERG properties, this trampoline is weather resistant and perfect for personal use. The supplied safety net ensures a safe and closed jumping surface.
Best Little Trampoline: Plum Junior
With 6 legs and a diameter of 140 cm, designed for toddlers, preschoolers and primary school children, with elastic springs for silent jumping.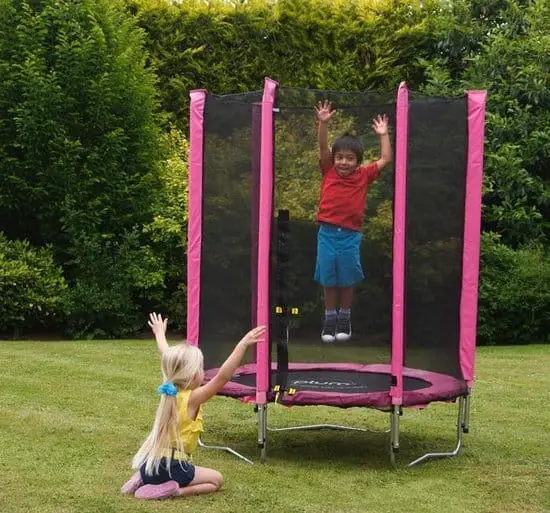 My favorite little trampoline is a nice compact model from the Plum brand.
It is a round trampoline with a diameter of 140 cm. The trampoline has a wide edge and is supplied including a safety net with fine mesh.
Thanks to the integrated safety net, the jumping surface is enclosed to guarantee optimum safety. The 30 elastic springs lie outside the net and therefore outside the jumping surface.
This little trampoline comes in either neutral black or pretty pink and has been specially developed for toddlers, preschoolers and elementary school kids.
The jumping device offers many hours of fun and the opportunity to promote body motor skills at a young age.
It is a nice trampoline that takes up little space and is suitable for a small garden.
Best Pink Trampoline: Salta Junior
In beautiful pink version, on sturdy legs, with foot protection system and with a safety net. The curved posts ensure that the net is extra tightly stretched.
Safe jumping fun is guaranteed with a trampoline from the EXIT brand. Trampolines of this brand are trendy and equipped with the highest safety requirements.
A beautiful pink EXIT Silhouette trampoline like this one looks great in the garden and offers years of fun.
The diameter of the trampoline is 183 cm and fits in a medium-sized garden. This trampoline has a protective edge with a special system that protects the feet when you are jumping. This will prevent your foot from getting caught in the springs.
The curved posts ensure that the supplied safety net is stretched extra tight and closes off the jumping surface completely.
With a zipper in the shape of an L it is easy to climb in and out of the trampoline.
Best trampoline large: BERG champion
The bigger the better. In the case of a trampoline, this is certainly important if you plan to jump on the trampoline together.
My preference for a large trampoline is this BERG champion trampoline, with a diameter of up to 430 cm.
An enormous trampoline with a diameter of up to 430 cm, with safety net and a black powder-coated frame.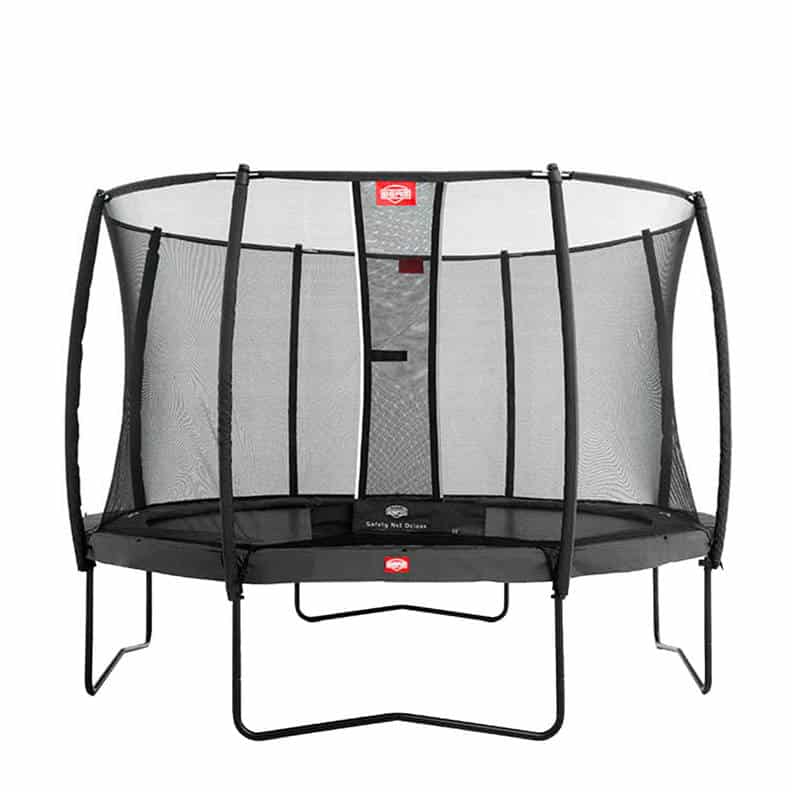 You do need some space for this trampoline because it measures 430 x 95 cm (diameter x height).
It is a high quality trampoline and has a safety net and a black powder coated frame.
With solid steelwork of 2mm thick, your children can jump to their hearts' content on this sturdy trampoline.
A unique detail of the safety net is the self-lockable closure, which closes automatically when you get on or off the trampoline.
Very useful for very keen jumpers who can forget to close the net.
Here is the Tyler Ferullo who shows you what you can do with it:
The net is 180 cm high and makes the trampoline 270 cm high in total.
Furthermore, this large trampoline has a 3 cm thick edge with a width of 38 cm, which is completely covered.
If your child gets on the edge, he is in no danger of getting his toes or fingers between the springs.
Best oval trampoline: BERG Grand Champion InGround
A beautiful and safe oval trampoline is this green colored BERG Grand Champion InGround Trampoline.
With a size of 515 × 365 cm to dig in, including safety net.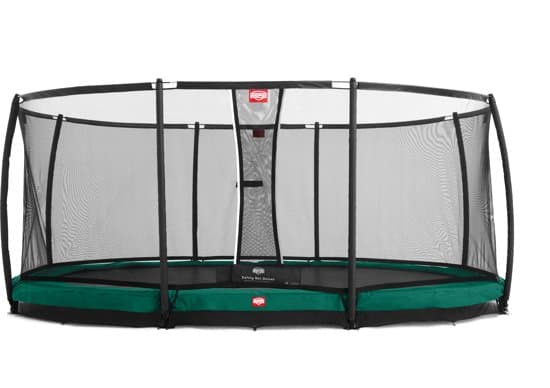 It is an inground trampoline that comes with a safety net for optimal safety.
A very large trampoline to do all your tricks and stunts. The trampoline measures 515 x 365 cm and is intended for a spacious garden.
You dig this inground trampoline into the ground, so you don't have to climb, but just step on it.
As known from this brand, the materials used are of the highest quality and all necessary safety functions are present.
This trampoline can hold a number of people and offers a safe, but also fun jumping experience thanks to its oval shape.
Best trampoline for a small garden: EXIT Elegant
With a diameter of 251 cm and a sturdy frame with strong L-shaped legs.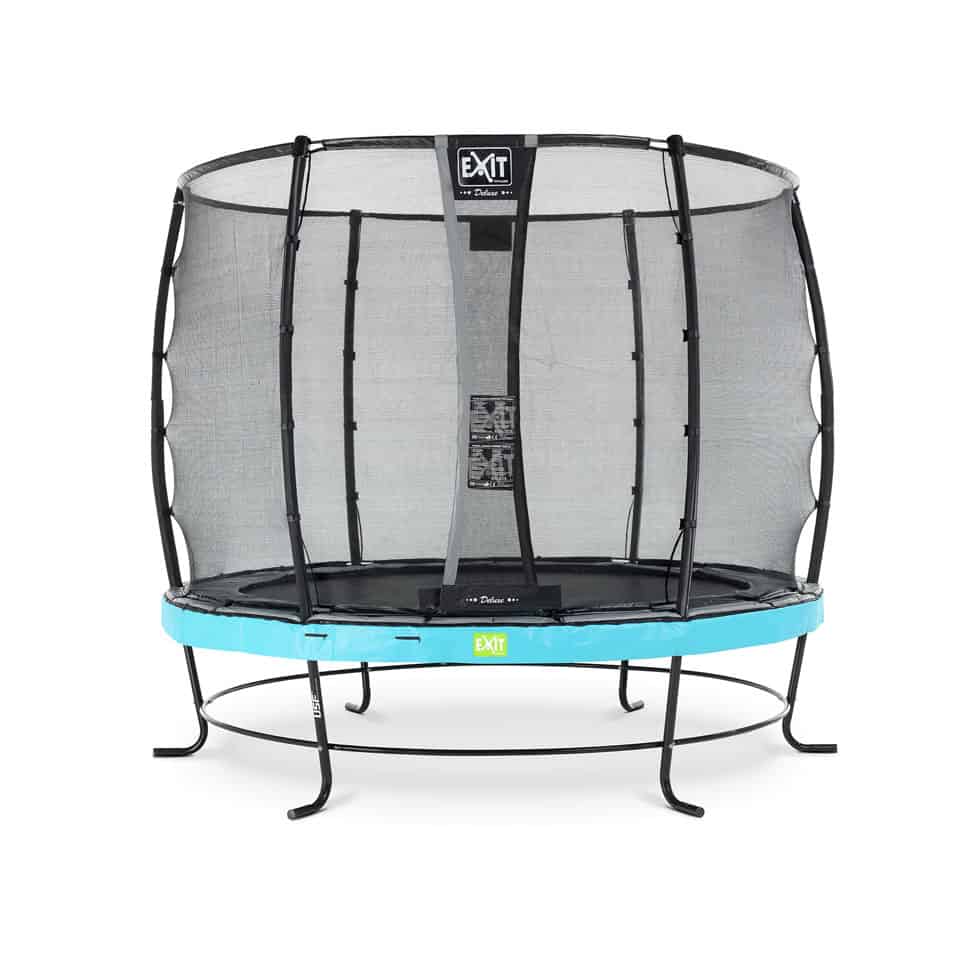 A good trampoline for a small garden is the EXIT Elegant trampoline.
It is a great specimen that offers enough space to jump and just in a small garden suits.
The spherical shape of the net is different from that of the average trampoline, but offers the necessary safety.
It is a high-quality finished safety net with extra thick foam around the posts. Thanks to the net you can jump as high as you can.
It is well rated by these customers on both price and quality, and one of them says:
The kids are very happy with it, they say that the trampoline jumps very well… in addition, we as parents are also happy because there is a solid net around it.
In this video from Exit itself you can see how big it is:
Other features of this trampoline are: the fresh blue color, the diameter is 251 cm and a sturdy frame with L-shaped legs.
Because of the special Foot Protection System in the protective edge, you will never get your feet between the springs while jumping.
Best flat-ground trampoline: BERG Ultim Elite
A flat-ground trampoline is a trampoline that is completely embedded in the ground. There is no step like an inground trampoline.
The flat-ground trampoline is, as it were, built into the ground and at ground level.
The best flat ground trampoline is this Trampoline BERG Ultim Elite FlatGround.
With dimensions of 500 X 220 cm and including AeroWall for ultimate tricks.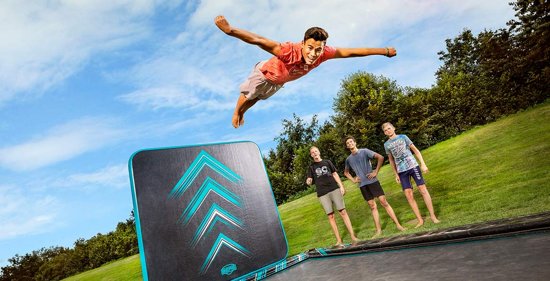 It is a unique trampoline with an extra function. Besides jumping on the trampoline, you can also use the flexible AeroWall springs to do stunts.
You can see this amazing thing in this video from BERG itself:
It is rectangular in shape and takes up a minimum space of 500 x 220 cm. A very nice trampoline for the whole family to enjoy.
Check prices and availability here
Do you want even more jumping action? Then take a look at our article for the best AirTrack mat!
Best indoor trampoline: Tunturi Fitness
With a diameter of 104 cm; the trampoline is foldable and has a bar to hold on to.
A good trampoline for indoor use is this Tunturi Fitness trampoline.
By jumping up and down on it, all your muscles start moving. The lever provides a grip while jumping.
This way you can safely jump without falling off the jumping surface.
The advantage of a somewhat cheaper model is that it is also bought a lot. So it has a whopping 53 reviews and it gets a 4.3 average.
For example, most say that it can be put in and out easily, that it is solidly built and that it jumps well. The most critical assessment does indicate that flexibility come at the expense of stability:
Easy to assemble. The collapsible legs are at the expense of stability. If you attach the rickety handle to those legs, there is at least 10 cm of play in that handle, so it does not provide stability as described in the description…. Without the handle otherwise good in use
It is a compact model that fits perfectly in your home and is easy to store. The dimensions are 104cm x 104cm x 22cm. When folded, the trampoline measures 40cm x 75cm x 10cm.
Best trampoline without springs: Jump-o-lene inflatable bouncer
Do you still want the enjoyment of a trampoline for your children, but do you still find a trampoline with springs too dangerous for your child?
Then you can choose this inflatable trampoline without springs.
With a diameter of 203 cm, suitable for both indoor and outdoor use. Can also be used as a swimming pool.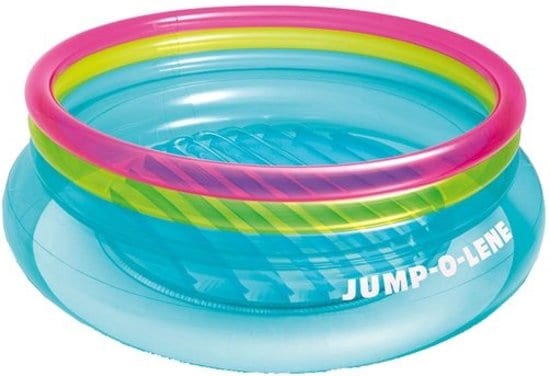 This trampoline is a colorful bouncy cushion that looks very cheerful at home, but is also perfect for outside during a children's party, or just on sunny summer days.
Afterwards you can just take out the air and put it away.
The toy offers just as much jumping fun for your child without the potential danger of springs in which feet can get trapped.
Moreover, this trampoline can also be used as a swimming pool by filling it with water. So double the fun!
More than 600 reviews giving him a 4.1 out of 5 stars. There are a ton of positive reviews about how much fun it is for kids from 2 to a little older and how sturdy it is.
Yet there are also some reviews that it leaked quickly or was difficult to keep inflated. It seems that not every piece offers the same strength:
I bought this for my 1 year old daughter. She absolutely loves it. Has such a pleasure to bounce in it. The first one we received emptied after 3 days. Had a small hole somewhere. After contacting Amazon and the company, a new one was sent for us right away.
In any case, that was quickly resolved.
The trampoline bouncer has a round shape and a diameter of 203 cm. Enough space for your child to enjoy themselves.
It also has a high edge of 69 cm, which limits falls from the trampoline.
Also nice to put in balls, and you can see a bit how big it actually is:
The trampoline can carry a maximum weight of 54 kg. That's roughly the weight of 2 children, between 3 and 6 years old.
Thanks to the sturdy vinyl, the trampoline can take a beating or rather a jump or two.
Check out the prices here at Amazon
Best trampoline foldable: Kid Active Foldable children's trampoline
To take anywhere, with handle and non-slip rubber feet for safe jumping.
Especially useful if you can take a trampoline with you. This folding trampoline is exactly what I mean.
Just a fun toy that you can easily take with you wherever you go with your little one.
The trampoline is executed in beautiful fresh colors and has a handle that ensures that your little one can always jump safely without falling or falling off the trampoline.
The trampoline stands on legs that are provided with non-slip rubber pads so that the trampoline is stable, especially during jumping.
The trampoline can be easily folded and has the dimensions 87x87x85 cm. Your little one can play on this trampoline from 1 year.
Of course under the supervision of an adult.
Best trampoline brands
Many people who want to buy a trampoline wonder which brands are the best.
This is quite a difficult question to answer, because each brand has its own specific characteristics.
However, there are some brands that stand out above the rest, because of the good experiences people have with it. Below you will find the 3 top brands.
A favorite trampoline brand of many: Salta
The trampolines of the Salta brand are known for their innovation and quality. The uniqueness of these trampolines is the wide safety edge and steel frames.
The materials used are of high quality and the springs are also very sturdy. The collection of trampolines of this brand is very extensive.
Another popular trampoline brand: BERG
The Dutch trampoline brand BERG stands for high-quality and durable products.
The trampolines of this brand can stand outside without discoloration or rusting.
A characteristic feature of this brand are the springs that make it possible to jump easily.
The BERG range is wide and has something for everyone.
A top trampoline brand: EXIT
Trampolines from the EXIT brand are high-quality products that also look hip and trendy. However, safety comes first.
It is a brand that is popular with both adults and children.
The EXIT brand has a wide range of design trampolines with a cover edge in different colors to change the look of the trampoline.
Tips for making a trampoline last for a long time:
The more intensively a trampoline is used, the sooner it needs to be replaced.
And: the better the quality, the longer the trampoline will last. But he must be well maintained, both while jumping and afterwards.
Below are a few tips to make sure you can enjoy it for as long as possible:
Don't jump on it with shoes on
Do not bring pets or toys on the trampoline. This can cause damage to the jumping mat.
Clean the trampoline regularly. With a cloth and water. This way, no dirt remains between the frame. Preferably you do not use cleaning products.
Break down or cover your trampoline in the winter. Special protective covers are available for purchase.
Replace parts that are unexpectedly corroded, if necessary. Many parts can be ordered separately.
Frequently asked trampoline questions
We hope that for you there is a nice option for a good trampoline in the list above. Finally, we have some more useful information about trampolines for you.
What is a nice trampoline park?
Our country knows a number of trampoline halls where you can go with the whole family to jump together and lose some energy.
Some even have different times for the smaller children.
You can contact them, and go with your small child for example to bounz with your little one.
But also Jumpskillz en Cross Jumps are fun trampoline parks where you can enjoy an unforgettable jumping experience.
Can I also take lessons on a trampoline?
Trampolining is not only a recreational activity at home or in the hall, but you can also really take lessons for this.
There are trampoline gymnastics courses, but also more cardio-oriented sports lessons.
This is a new way of fitness where you work intensively on the trampoline with large groups of people.
You can even become very adept at this sport and become a competition jumper.
From what age can children jump on the trampoline?
From about 4 years old. This does depend on the development of the child and 4 years is therefore an average. There are trampolines that are specially made for small children. These trampolines can often also be placed indoors.
What are the safest trampolines?
Springless trampolines are touted as 'the safest trampolines in the world'. Instead of using metal springs, flexible composite rods have been placed under the SoftEdge mat so that little fingers and hands do not get caught in the springs.
Which size trampoline is best?
Trampolines in the 14 to 16 foot category (approximately 4 to 5 meters in diameter) are the largest you will find in round shape. If you're a daredevil or plan to bring all your friends in, you'll want a trampoline that is at least 14 feet in diameter. A 14-foot trampoline is also necessary if you want to have fun as a parent too.
How do I choose a trampoline?
When considering a trampoline, measure the width and depth of your yard and check it with the size of the trampoline, not just the size of the mat. If you have limited space, you can opt for an oval trampoline or one where the springs are under the trampoline, making it smaller than other trampolines!
What should I pay attention to when buying a trampoline?
Safety nets are important. The trampoline weight limit is an important consideration when buying a trampoline. The frame must be robust and the shape is also important. Installation should be simple.
What size trampoline is best for adults?
While most conventional backyard trampolines look big and sturdy, some have a weight limit of just 75 pounds - too low for even one adult man. The 16-foot rectangular trampoline has no individual weight limit and has a much larger surface for jumping.
Why should every child have a trampoline?
When you jump on a trampoline, your blood starts pumping and your lymph system works, which strengthens your immune system and promotes good blood circulation. Since jumping is considered a low impact, it is also safer and less strenuous on the joints than other forms of exercise.
How long should a trampoline last?
In general, you can expect an outdoor trampoline to last an average of 3 to 8 years, with higher quality models potentially exceeding this. The life of your trampoline largely depends on the level of care and maintenance and the quality of the materials.
Are springless trampolines better?
Fiberglass trampolines have become a bit more popular in recent years, but are they better than spring-loaded trampolines? The answer is no. Here's why: Unlike steel spring trampolines, springless fiberglass rods require a high degree of force to generate a good bounce.
Does the trampoline have to be flat on the ground?
Trampolines are designed to be installed on a flat surface. Try to get the trampoline as flat as possible. If the ground has a slight slope or is uneven, you can make small channels in the ground to allow the legs to sink slightly where necessary.
Are square trampolines better than round?
Compared to round shapes, a rectangular trampoline can make you jump even higher. If you like stunts or backflips, you can achieve this more easily with a rectangular one.
Can you lose belly fat by jumping on a trampoline?
The good news is that jumping on a trampoline does burn fat. While belly fat is hard to lose, it is possible to burn it off by doing simple aerobic exercise on the trampoline. Those exercises that you don't like, like crunches and sit-ups, really don't contribute much to burning belly fat.
Why are trampolines bad for toddlers and younger children?
Trampolining poses a high risk of injury to children. The activity can lead to sprains and fractures in the arms or legs - as well as head and neck injuries. The risk of injury is so great that the American Academy of Pediatrics strongly discourages the use of trampolines at home.
Is jumping on a trampoline bad for your brain?
Jumping on a trampoline is one of the few ways to feel weightless on Earth, but statistics show that trampoline accidents are the cause of many neck and spinal cord injuries. … About 15% of all head injuries involved fractures, concussions and internal head injuries.
Is it okay to leave the trampoline outside in the winter?
If your trampoline has been exposed to harsh weather conditions, there is a chance that the springs will rust. This reduces the bounce of the trampoline because the springs cannot stretch much anymore. Rust causes the springs to lose elasticity. If you can cover it, that would be better.
How long do you have to jump on a trampoline to lose weight?
Just hopping on a trampoline for 30 minutes a day is good for weight loss. The higher your heart rate, the more weight loss results.
Can a trampoline be placed on concrete?
Do not place the trampoline on concrete, asphalt or any other hard surface without a trampoline safety net or fall mats in place. Create a safe drop zone of at least 8 feet around the outside of the trampoline and keep this area clear.
Do nets make trampolines safer?
Trampolines are a great activity for kids, when used properly. Safety nets around trampolines reduce injuries by up to 50 percent. But safety nets don't prevent all injuries.
Is trampolining good for your core?
It strengthens your abs and pelvic floor, but also back strengthening is one of the best benefits of trampoline jumping.
Why do I get a headache when I jump on the trampoline?
Headaches are the result of tight muscles in the neck. A small number of unfortunate people may feel more pressure and tightness in their muscles when they start jumping on a trampoline. When they stop jumping, the pain goes away.
Buy the best trampoline yourself
Now with this information you can choose the best trampoline for your garden or you can visit a trampoline park to jump in a fun way.
Perhaps it is a good idea to visit a trampoline hall before purchasing your own trampoline.
You then know better what to expect.
I think you will enjoy it so much, together with your children, that you will probably immediately consider buying your own trampoline.
As soon as the adrenaline rush starts to flow, you cannot get your kids off that easily.
Back home you will notice that your kids are wonderfully satisfied and tired and you're no match for them that evening.
However, you will soon notice that having your own trampoline in the garden is much cheaper in terms of time, costs and safety.
You do not have to leave home and you have your children in their own familiar environment.
Another advantage is that you only have your own kids at home to watch out for.
Parents who have been to a trampoline park before know exactly what I am talking about: enthusiastic, energetic children with a lot of cheers and noise.
Great fun if you want to do this once, but certainly not something to put on the to-do list every weekend. A private trampoline in the garden is therefore ideal.
A trampoline at home is ideal for children. Not only for the jumping fun, but you can also relax on the trampoline.
Jumping on a trampoline is very good for young children's motor skills. Jumping on a trampoline teaches kids how to bend their knees, maintain balance, plus it strengthens leg muscles.
Trampolining is also a fun activity for older children: being active instead of gaming and social media.
Nice trampoline tricks to end the game
Once you have purchased your own trampoline for your home, then jumping and jumping again is blown.
In the videos below you can already take a look at how you can perform the best trampoline tricks.
Not a nice day outside? Read all about it these fun tips to do when it rains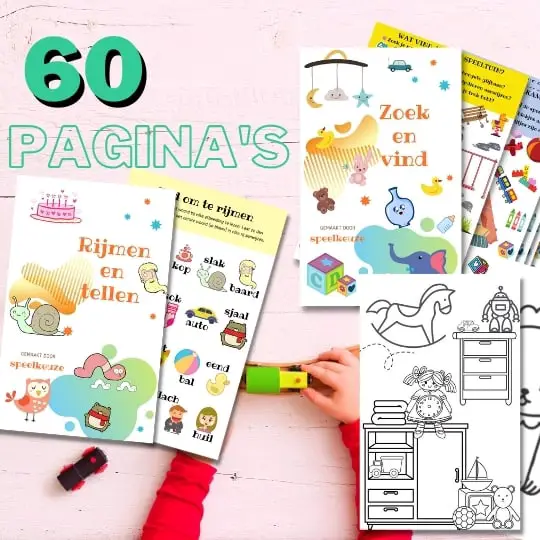 Always something to do for the holidays or rainy day?
Play Choice now has the ultimate activity book collection, with over 60 pages of fun coloring pages and educational puzzles.
Joost Nusselder, the founder of Speelkeuze.nl is a content marketer, father and loves trying out new toys. As a child he came into contact with everything related to games when his mother started the Tinnen Soldaat in Ede. Now he and his team create helpful blog articles to help loyal readers with fun play ideas.