11 Best Trampolines: Everything you want to know before you buy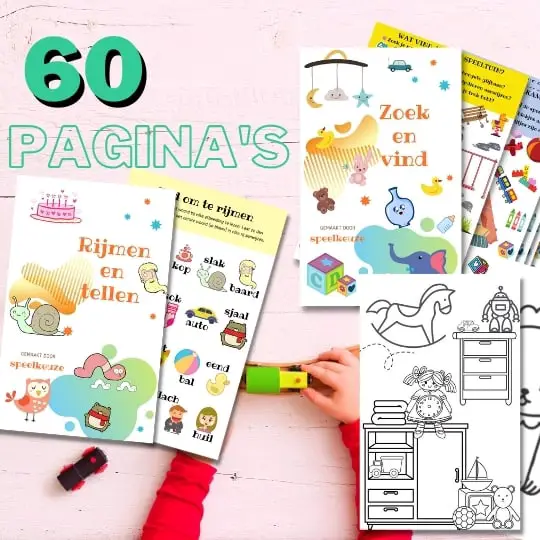 Always something to do for the holidays or rainy day?
Play Choice now has the ultimate activity book collection, with over 60 pages of fun coloring pages and educational puzzles.
Are you considering buying a trampoline? When your children see the new addition to the garden, they will certainly jump for joy!
For almost every family I recommend this rectangular Salta Combo On. Due to its shape, it can easily be placed in the corner of the garden, so you don't lose any unnecessary space. The brand is known for its high quality while not being too expensive.
In this article I have listed the very best trampolines per category for you, plus a handy buying guide with what to look out for, such as; the different shapes, age category, which format works with your garden and much more.
There is of course quite a bit to consider when buying a trampoline and that is why we have prepared an extensive buying guide for you. You will also find a detailed review per type of trampoline later in this article.
Buying guide – What do you pay attention to when buying a trampoline?
Logically you want the device to look good in the garden, but there are a number of other important aspects that you want to pay attention to beforehand. Below is a quick checklist:
Shape of the trampoline
Format of the

trampoline


– Size of your garden
– Carrying weight and jumping mat
- Age category
Safety
Shape of the trampoline
Trampolines come in 3 shapes: rectangular, round and oval. Each shape has its own advantages. The shape you choose depends on the shape of your garden and what you already have in the garden.
A rectangular trampoline
Do you have an elongated garden? Then a rectangular (or oval) trampoline is a better choice. Also jumps on a rectangular trampoline more controllable.
You have more jumping power on a rectangular shape because you are not automatically driven to the center as with a round shape.
It turns out that you don't jump into each other or get on the edge that quickly.
In this regard, a rectangular trampoline is safer than a round trampoline.
A round trampoline
With round trampolines, there is equal pressure everywhere on the frame. As a result, the frame of a round trampoline does not require any additional material, which often makes it cheaper.
The tension on the springs is evenly distributed and ensures that you jump to the center of the trampoline.
An oval trampoline
An oval trampoline has the best of both worlds.
With a combination of features of a round and a rectangular trampoline, the oval version offers a more controllable jumping experience.
Here I have compared the different age categories of the trampolines in this roundup review:
Size of the jumping mat and loadable weight
The loadable weight and the size of the trampoline go hand in hand and age also plays a major role here.
Below you will find a table with average sizes, the maximum weight of the trampoline and ages. It may differ slightly from trampoline to trampoline, but it will at least give you an idea.
Quality of the jumping surface
Number of springs
The number of springs on a trampoline is important because it affects the overall jumping performance of the trampoline. The number of springs determines how much bounce the trampoline has and how high someone can jump.
If a trampoline has too few springs, it will not have enough bounce to support the jumper's bounce. This can lead to an awkward landing and a less enjoyable jumping experience.
On the other hand, if a trampoline has too many springs, this can lead to an overly stiff jumping mat and reduced bounce.
However, the number of springs is not the only factor that determines the jumping performance of a trampoline. Other factors such as the length and thickness of the springs, the quality of the jumping mat and the frame design also play an important role.
That is why it is important to choose a trampoline that offers a good balance between the number of springs and these other factors in order to have an optimal jumping experience.
The 11 best trampolines reviewed
After these handy tips on buying the right trampoline, let's now go into our favorite trampolines in the different categories.
Carrying weight: 100 kg (note! Different from description!)
Dimensions: 305 x 214 cm (but also available in other dimensions)
Material: Galvanized steel
Safety net: Yes
Number of springs: 56 (8,6 per m²)
Spring length: 156
A safe choice! This rectangular trampoline has a safety net and is equipped with a sturdy and thick safety edge.
This rectangular trampoline will easily fit into a medium-sized garden with its dimensions of 305 x 214 cm, but it is also available in other sizes to fit small gardens.
Another user commented that the trampoline is also suitable for exercises that the children learn at gymnastics. This is a nice touch if your kids are also on gymnastics.
However, the smaller version of the trampoline is actually only suitable for a maximum of 2 small children at the same time. It is therefore important to take a good look at the dimensions and capacity of the trampoline before purchasing it.
A user also commented that they claim that the trampoline can hold 150 kg of weight, when it is actually only 100 kg. This is something to take into account if you are looking for a trampoline that is suitable for adults or older children.
It gets a 4.5 out of 5 out of 175+ reviews, and for good reason. The springs of the trampoline are very sturdy, so you can jump nice and high.
For example, one customer has been satisfied with it for more than a year, but he still has a good tip about putting it together because that is quite a thing:
I think it's a great one. You can assemble it all by yourself, but assembling it together is a lot easier and faster. I have had it for almost 1 year and it is only outside. The trampoline still looks good.
Below you can see how you can safely set up a trampoline like the salta combo:
Weight: 100 kg
Dimensions: 214 x 153 cm (but also available in other dimensions)
Material: Galvanized steel
Safety net: Yes
Number of springs: 48 (14.5 per m²)
Spring length: 178
You can dig all trampolines in, but there are also special inground trampolines available.
These types of trampolines have short legs, so you don't have to dig up as much soil. The legs are outside the hole.
The rectangular shape and the fact that it is an in-ground trampoline make the Salta Comfort ground a safe choice for your children. It can be easily placed in a corner.
A disadvantage of an inground trampoline is that you can only use it inground. Without a pit there is not enough space under the jumping mat.
My favorite in-ground trampoline is this spacious model from the Salta brand, which customers rate with an average of no less than 4.8.
And this, of course, is why you would buy an inground one, as one customer puts it:
Really solid trampoline, thick protective edges and sturdy bouncy castle. Top quality for a good price. Also just much nicer design than the typical round on legs
It looks very nice and I think it's a lot safer myself, but it does require some digging.
This trampoline offers an excellent jumping experience because of the integrated ventilation system, which ensures sufficient air flow from the pit under the trampoline.
Unfortunately, the size is too small to jump on with several children at the same time, making it less suitable for larger families or older children. But there are also larger variants for sale.
Carrying weight: 100kg (220lbs)
Dimensions: 142,24 cm (56 in) diameter
Material: Steel
Safety net: No
Number of springs: 40 (38,95 per m²)
Spring length: 92
With a diameter of 142,24 cm (56 inches) on the longest side and 92 cm (36 inches) on the shortest side, there is enough jumping surface for 2 children, especially with the 100 kg (220lbs) carrying capacity. It stands low to the ground and due to its compact size, this trampoline fits anywhere. It is also easy to fold and store. This provides enormous ease of use.
The handle is adjustable in 5 positions so that it remains fun for all ages, and even for adults. He jumps a bit heavier, but that is nice with 2 on it at the same time. The social interaction is therefore also somewhat higher, which greatly improves the play value.
Weight: 120 kg
Dimensions: 430 cm in diameter
Material: Galvanized steel
Safety net: Yes
Number of springs: 96 (14,2 per m²)
Spring length: 190
Does a round trampoline fit better in your garden? Then the BERG Favorit is a good trampoline choice!
No matter how big the trampoline is, there is always the possibility that your child will fall off the trampoline. To prevent this, special safety nets are available.
A trampoline safety net is attached to the legs and closes the entire trampoline. You can then enter the trampoline via a zipper or between two flaps.
A safety net ensures that your trampoline immediately becomes a lot higher. If you don't like this in your garden, you can always dig in the trampoline.
My recommendation for a good trampoline with a net is the BERG Favorit trampoline.
This trampoline is available in different sizes. You can choose from a diameter of 270, 330, 380 and 440 cm.
With all BERG properties, this trampoline is weather resistant and perfect for personal use. The supplied safety net ensures a safe and closed jumping surface.
The round jumping mat is made of strong woven polypropylene and the loops for the metal spring eyes are firmly attached with no less than 8 rows of stitching. This ensures that the jumping mat is super strong and lasts a long time, even after many hours of jumping fun.
What makes this trampoline really special are the Goldspring Solo springs that are used. These springs are longer than the springs on the Talent trampoline line, making them even more flexible. They are also galvanized inside and out with a solid rust-resistant zinc layer, which makes them even more durable.
The frame of the Favorit trampoline is not only strong, but also rust-resistant and provided with a solid zinc layer. It is easy to assemble and the thick, large diameter tubes ensure that the trampoline has a long service life.
But the protective edge of the Favorit is also of high quality. The full-width firm foam layer is made of water-repellent closed cell foam and encased in a thick, weather-resistant outer layer of reinforced PVC. This way, the padding remains firmly in place even after many hours of jumping, without having to worry about damage or wear.
In short, the Favorit trampoline is highly recommended for anyone looking for a sturdy, durable and safe trampoline with great jumping power.
Weight: 40 kg
Dimensions: 140 cm in diameter
Material: Galvanized steel
Safety net: Yes
Number of springs: 30 (13,6 per m²)
Spring length: 140
My favorite little trampoline is a nice compact model from the Plum brand.
It is a round trampoline, has 6 legs and a diameter of 140 cm and is specially designed for toddlers, preschoolers and primary school children, with elastic suspension for silent jumping.
The trampoline has a wide edge and comes with a safety net with fine mesh.
The safety net fixings in particular are top notch, unlike my previous experience where the fixings broke right off. I definitely recommend this trampoline!
The trampoline can be quite hard if you fall on it or land with your bottom, but the price-quality ratio is superb.
All in all, the Plum Junior Trampoline seems to be a good choice for children who like to jump and parents who are looking for a high-quality and safe trampoline for the garden.
It is a small but nice trampoline that takes up little space and is suitable for a small garden. If you think your garden is too small for a trampoline, you haven't seen it yet.
Weight: 120 kg
Dimensions: 520 cm in diameter
Material: Galvanized steel
Safety net: Yes
Number of springs: 144 (17,7 per m²)
Spring length: 190
The bigger the better? In the case of a trampoline, this is certainly important if you plan to jump on the trampoline together.
My preference for a large trampoline is this BERG Champion trampoline, with a diameter of 520 cm.
It really is a large trampoline with a large jumping surface and a maximum carrying weight of 120 kg. It comes with a safety net and a black powder coated frame.
You do need some space for this trampoline because it measures 520 x 95 cm (diameter x height).
It is a high quality trampoline and with solid steelwork of 2 mm thick, your children can jump to their heart's content on this sturdy trampoline.
A unique detail of the safety net is the self-lockable closure, which closes automatically when you get on or off the trampoline.
Very useful for very keen jumpers who can forget to close the net.
The net is 180 cm high and makes the trampoline 270 cm high in total.
Furthermore, this large trampoline has a 3 cm thick edge with a width of 38 cm, which is completely covered.
If your child gets on the edge, he is in no danger of getting his toes or fingers between the springs.
Weight: 110 kg
Dimensions: 350 cm in diameter
Material: Galvanized steel
Safety net: No
Number of springs: 80 (14,5 per m²)
Spring length: 190
A beautiful and safe oval trampoline is this green colored BERG Grand Champion InGround Trampoline.
It is an inground trampoline that comes with a safety net for optimal safety.
A very large trampoline to do all your tricks and stunts. The trampoline has a diameter of 350 cm, but other sizes are also available.
You dig this in-ground trampoline into the ground, so you don't have to climb, but simply step on it. Everyone I speak to has found it very easy to put together, although digging it in is quite a job of course.
As known from this brand, the materials used are of the highest quality and all necessary safety functions are present.
This trampoline can hold a number of people and offers a safe, but also fun jumping experience thanks to its oval shape.
Weight: 80 kg
Dimensions: 278 cm in diameter
Material: Galvanized steel
Safety net: No
Number of springs: 54 (12,3 per m²)
Spring length: 177
With a diameter of 251 cm and a sturdy frame with strong L-shaped legs.
A good trampoline for a small garden is the EXIT Elegant trampoline.
It is a great specimen that offers enough space to jump and just fits in a small garden.
The spherical shape of the net is different from that of the average trampoline, but offers the necessary safety.
It is a high-quality finished safety net with extra thick foam around the posts. Thanks to the net you can jump as high as you can.
It is well rated by these customers on both price and quality, and one of them says:
The kids are very happy with it, they say that the trampoline jumps very well… in addition, we as parents are also happy because there is a solid net around it.
Other features of this trampoline are: the fresh blue color, the diameter is 251 cm and a sturdy frame with L-shaped legs.
Because of the special Foot Protection System in the protective edge, you will never get your feet between the springs while jumping.
After reading the positive reviews we decided to choose this trampoline and the quality of the material is indeed great and it looks beautiful.
What struck me most is that assembling this trampoline was a piece of cake. Although it seems like a big job, the two of us did it in no time. It was even fun to do! In addition, it is very nice that there was a clear description.
Even after several months of fun with this trampoline, it still looks like new. It's really a good investment. The kids love it and play on it daily. The fact that it makes little noise when jumping is also a big plus.
Weight: 120 kg
Dimensions: 300 x 500 cm
Material: Galvanized steel
Safety net: No
Number of springs: 270 (18 per m²)
Spring length: 190
A flat-ground trampoline is a trampoline that is completely embedded in the ground. There is no step like an inground trampoline.
The flat-ground trampoline is, as it were, built into the ground and at ground level.
The best flat ground trampoline is this Trampoline BERG Ultim Elite FlatGround.
With dimensions of 500 X 220 cm and including AeroWall for ultimate tricks.
It is a unique trampoline with an extra function. Besides jumping on the trampoline, you can also use the flexible AeroWall springs to do stunts.
It is rectangular in shape and takes up a minimum space of 500 x 300 cm. A very nice trampoline for the whole family to enjoy.
Weight: 54 kg
Dimensions: 203 cm in diameter
Material: PVC
Safety net: No
Number of springs: N/A
Spring length: N/A
Do you still want the pleasure of a trampoline for your children, but do you think a trampoline with springs is still too dangerous?
Then you can choose this inflatable trampoline without springs.
The trampoline bouncy castle has a round shape and a diameter of 203 cm and is suitable for both indoor and outdoor use. It can also be used as a swimming pool!
This trampoline is a colorful bouncy cushion that looks very cheerful at home, but is also perfect for outside during a children's party, or just on sunny summer days.
Afterwards you can just take out the air and put it away.
The toy offers just as much jumping fun for your child without the possible danger of springs that small feet can get between.
Moreover, this trampoline can also be used as a swimming pool by filling it with water. So double the fun!
More than 600 reviews give it a 4.1 out of 5 stars. There are a ton of positive reviews about how much fun it is for ages 2 to a little older and how sturdy it is.
Yet there are also some reviews that it leaked quickly or was difficult to keep inflated. It seems that not every piece offers the same strength:
I bought this for my 1 year old daughter. She absolutely loves it. Has such a pleasure to bounce in it. The first one we received emptied after 3 days. Had a small hole somewhere. After contacting Amazon and the company, a new one was sent for us right away.
In any case, that was quickly resolved.
It also has a high edge of 69 cm, which limits falls from the trampoline.
The trampoline can carry a maximum weight of 54 kg. That's roughly the weight of 2 children, between 3 and 6 years old.
Thanks to the sturdy vinyl, the trampoline can take a beating or rather a jump or two.
Weight: 40 kg
Dimensions: 87 cm in diameter
Material: Metal
Safety net: No
Number of springs: N/A
Spring length: N/A
To take anywhere, with handle and non-slip rubber feet for safe jumping.
How nice is it for your little one to take the trampoline with you? For example on vacation or to grandpa and grandma. This mini trampoline is ideal because it is foldable and also super safe!
The trampoline is executed in beautiful fresh colors and has a handle that ensures that your little one can always jump safely without falling or falling off the trampoline.
The trampoline stands on legs that are provided with non-slip rubber pads so that the trampoline is stable, especially during jumping.
The trampoline can be easily folded and has the dimensions 87x87x85 cm. Your little one can play on this trampoline from 1 year.
Of course under the supervision of an adult.
Are there also fun toys for the trampoline?
Yes, there are certainly fun toys and accessories available that are specifically designed for use on trampolines. For example, a basketball hoop is a perfect toy for the trampoline. This is a small basketball hoop that is attached to the side of the trampoline. It challenges children to play basketball while jumping, which provides extra fun and exercise.
Plus it's a way for kids to dunk things they otherwise wouldn't be able to do.