17x STEM toys for every age: learn science & technology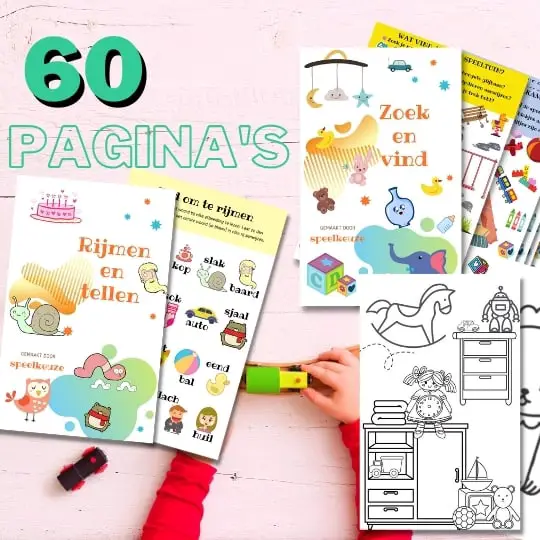 Always something to do for the holidays or rainy day?
Play Choice now has the ultimate activity book collection, with over 60 pages of fun coloring pages and educational puzzles.
In this age, kids learn about life sciences, how the Earth was formed, how problems are defined, and more.
The science curriculum for 7-8 year olds differs a lot, but these are just a few of the concepts you can expect.
That is why in this article I have included some of the nicest ones STEM collected challenges for your kids, such as puzzles, robots but also a rocket!
In math, students learn to use standard units of measure, develop their addition and subtraction to 100, and analyze shapes.
What better way to reinforce what your kids are learning in school than with great educational toys?
If the weather is nice and you feel like experimenting together, I would this 4M water rocket recommend.
Super fun to build your own rocket and 4M has shown that they have great fun educational STEM toys can invent.
But there are of course many more options.
I have my favorite toys for science, technology, engineering and mathematics for 7 and 8 year olds.
Let's take a quick look at all the options, then I'll go into each of these choices in more detail:
Top 17 Best STEM Toys Reviewed
This Water Rocket Kit uses the power of water pressure to blow the rocket up to 30 meters into the air!
You use a recycled soda bottle and then transform it into a high-flying rocket!
There are many more rocket packages available, such as with a newspaper or a mini-missile that costs less than € 15.
Who knew that digging up fossils like the awesome dinosaurs in Jurassic Park could be so much fun?
The set contains an artificial rock with some fossils in it, a few tools for scraping and brushing and a detailed user manual.
You will get the experience of what it feels like to dig up real dinosaur bones, because we all know they are still buried there somewhere!
Each specimen also comes with a small prize once you're done figuring out how to use the excavation tools.
Dig for fossils and become a paleontologist. This fossil dig kit from National Geographic is perfect if you are a fan of dinosaurs, fossils, geology and the like. Plus it's great for science projects!
The set comes with everything you need to grow crystals, including instructions. It's easy enough for kids ages 8 and up to use on their own, but I still recommend being there as a parent to help and supervise.
It is best to read the instructions together and then start growing the crystals. The process took a few days, but it was exciting to see the growth of the crystals every day. The colors were beautiful and it was fascinating to learn about the chemical reactions that made these creations possible.
I also read some reviews before my review. Some customers complained about the quality of the materials and found the experiments uninteresting. I must say I disagree. The materials seemed to be of good quality and my children found the experiments very interesting.
It may not be as comprehensive as some other crystal grow kits, but it's a good starter kit for introducing kids to the science of crystal formation.
From: 8 years

Best: 9 – 11 years

Up to: 12 years
The mBot Robot is an educational starter kit designed to introduce children to STEM fundamentals such as programming, electronics, and robotics. Programming is powered by Makeblock software Scratch 2.0, which gives kids a drag-and-drop graphical programming platform to dictate a variety of robot functions. The system is therefore very flexible and the most educational of any of the robots here.
Assembly parts are obvious to put together but allow for a deeper level of creativity and thinking to do with your bright 10-year-old. The ease of use does suffer a bit, but that is made up for in play value with an open-ended platform.
The core robot is a simple two-wheeled vehicle with a cute smiling face that is controlled via an app. You can choose simple games like balloon bursting or soccer and sumo – each requires fun programming goals. Kids can even customize the robot with Makeblock extensions and LEGOs as they develop in the Arduino open source ecosystem so they can create the robot of their dreams! This makes it very versatile and gives great replayability.
mBot is a winner of multiple awards, such as the Edison Gold Award, IDEA Gold Award, and CES Design Award.
Dash is a colorful one robot which is designed to make coding fun without the typical frustrations of building and programming one robot.
Winner of the "Best Toy Award", Dash is ready to play right out of the box, responds to your voice and rolls through the living room immediately after opening.
While Dash is ready to recognize a number of commands and can be used in games like hot potato, programming it for hundreds of other activities is really fun.
Use the free Apple, Android, or Kindle Fire apps to code in a fun 'Quest Mode' that's colorful and engaging, a great introduction to coding for kids from six years old.
Here's a first overview of what he can do:
With the push of a button, he can explore all his surroundings right out of the box. He sees for himself where he can go and where not.
He will automatically see where the edges of a table or room are, although the table can sometimes present challenges and it could fall off.
Dash can be programmed to follow a race track, dance, light up, make sounds, joust or play all kinds of other games.
Actually very easy with Blockly, an app on your phone or children's tablet to create a pattern for Dash to follow.
This is the best overall robot because of the many possibilities and easy functions straight out of the box without actual programming.
Your kids unlock new skills the more programming assignments they make, using a reward system to keep them motivated and engaged.
Dashrobots play well together, so your kids and their friends can even complete missions together.
This robot is well built, endlessly entertaining, and actually fun to program.
Magformers are not for the little ones. With children younger than XNUMX it's better to go for brands such as PicassoTiles or Magna Tiles.
The recommended age is 3 years. Although a child of 3 can already play with it, this set really only becomes fun at 4 to 5 years of age.
The recommended age of 3 I think is more because of the safety of the toys than the age at which it is fun.
The open-inside tiles are quite challenging to build with, just like the Geosmart tiles.
This also makes it the most fun and educational toys. It is mainly positioned as a way to build 3D models of geometric shapes.
Laying out a flat shape like a cube or ball and then picking it up to 3D shape it is a lot of fun.
It is therefore STEM toys par excellence and a very fun challenge for ages 4 to 7.
Yes, you can also just build nice buildings with them (and robots like my 4-year-old son likes to do) so you could buy them for a 3-year-old so that you toys that they will not grow out of quickly.
Find out more about magnetic toys in our article with the best toys
I recently purchased the Snap Circuits Jr. Bought SC-100 and I am very impressed with this toy. It's a great way to introduce kids to the basics of electrical engineering in a safe and fun way. Best of all, it comes with a colorful instruction booklet that explains over 100 projects for kids to build.
Building the projects with Snap Circuits Jr. is very simple. The parts are numbered and color-coded so that children can easily identify and click them together. No soldering or tools are required, making the building process even easier. My kid loved building a flying saucer that could actually take off and set off the alarm. It's great to see them having fun while developing practical skills and learning more about circuits at the same time.
Another thing I like about the Snap Circuits Jr. is that it is a durable and high-quality product. The parts are sturdy and well made, so I'm sure they will last a long time, even with frequent use. In addition, this toy has been awarded with several awards, which indicates that it is loved by children, parents and educators.
I have also read some reviews from other parents and they are generally very positive. Many parents praise the educational value of Snap Circuits Jr. and note that their children learn a lot while having fun. It is also recommended as a great gift, and I can definitely agree. It will keep kids busy and fun, not just during the holidays, but all year round.
Overall, I am very satisfied with the Snap Circuits Jr. SC-100. It is a great educational toy that introduces children to electrical circuits in a fun way. With over 100 projects to build and a clear instruction booklet, there is always something new and exciting to discover. I highly recommend this product for ages 8 and up.
My mom owned a toy store and had shown this Thinkfun logic game a long time ago.
I tried it myself and was surprised by how difficult some of the more challenging puzzles are.
This is a great educational gift for an 8 year old and it will remain fun and challenging as they grow!
As a world leader in producing mind games and challenging puzzles, ThinkFun has once again proven why they are such a trusted brand with their game Gravity Maze. I recently bought this game and my experience with it was nothing short of fantastic. Not only is it a source of fun, but it also develops important skills and provides a great learning opportunity for young players.
Gravity Maze combines logic, a marble run and STEM (Science, Technology, Engineering, Mathematics) in one game. It comes with 60 challenges from beginner to expert level, a playing grid, 9 towers, 1 target piece and 3 marbles. The game is suitable for boys and girls from 8 years old.
The instructions are clear and of high quality, so you can start playing and solving immediately. The game challenges players to develop their spatial reasoning and planning skills. It's disguised as a construction and engineering toy, making it secretly educational. It's great to see children challenge themselves and come up with solutions as they make the challenges more and more difficult.
What I especially appreciate about Gravity Maze is that it remains captivating for a long time. Although the game has 60 challenges, adults have reported that even the higher levels are quite tricky. However, for a 10-year-old, interest depends on how much they like mazes. Some children may be entertained for hours while others may show less interest over time.
I also read some reviews from other users to get a broader picture. In general, the opinions were very positive. Parents and children enjoyed the challenge and the educational aspect of the game. Many people liked that it stimulates problem-solving thinking and is fun to play at the same time. Some parents commented that the game could also be of interest to older adults who enjoy puzzles.
In short, ThinkFun Gravity Maze is a great game that is both fun and educational. It offers challenging puzzles that develop spatial reasoning and planning skills. The game remains interesting for a long time and offers hours of fun. I would definitely recommend this game as a gift for kids ages 8 and up, as well as adults who enjoy puzzles.
Fractions are one of the toughest subjects in school and can be intimidating even for adults.
But with the Educational Insights Fraction Formula Game, your kids will never notice they are learning!
This awesome set is packed with an assortment of items – cylinders, tiles and a guidebook that works together to teach them fractions. Your child will puzzle with it like never before in a fun matching game!
Fraction Formula Game is the most exciting way to teach your child to multiply fractions. No boring lessons and problems.
It contains a fanny pack with everything you need: 1 Fraction Guide, 4 Cylinders (2 of each color), 240 Tiles (24 tiles in 6 colors), 8 Dividers, and 12 Red Crowns.
Simplify some basics without taking the stress away!
This is fun and educational toys for children of this age who are learning about anatomy and the human body.
Children can learn about the different organs and their functions in the body.
It comes with an educational book to learn about digestion, but kids also get a look at other body systems like the skeleton, muscles, circulatory system, etc.
Focus skills: biology
This is a great math game! With this game your kids can work on the basics of addition, subtraction and counting.
It's a fun and engaging way to build basic math skills!
The numbers only go up to 19, so you can't use it for double-number arithmetic, which is the main drawback.
This science kit comes with everything you need to cast incredible "spells" and then the learn the science behind the reaction!
I love the magical theme of this kit! The science experiments will make your kids say, "whoa!"
While pretending to be a wizard it doesn't feel like at all educational toys!
This kit is great for 5 year olds, but requires adult supervision and assistance.
The set consists of 207 classic K'NEX parts, including bars, shafts and connectors. The parts can be connected in different ways, allowing children to build different fully functioning bridge models.
The parts fit together tightly and can be easily reassembled into other creations.
What I really love about this set is that kids can build 13 fully functioning replicas of real bridges. This helps them learn more about bridge infrastructure and the different bridge types.
Another advantage of this set is the handy storage box. All K'NEX parts store easily in the bin with a sturdy lid, making clean-up and storage a simple task.
The K'NEX Education Bridges set is very versatile and stimulates children's imagination. In addition to building bridges, the parts can also be used to create buildings, houses and towers.
This set aligns perfectly with the STEAM (Science, Technology, Engineering, Arts & Math) approach to learning. Building with K'NEX stimulates children's natural curiosity and creativity, helping them to understand STEAM/STEM topics in a fun way.
The set comes with lesson plans and experiments that align with national education standards.
Do you have a LEGO lover at home? One who can't get enough of it, maybe already registered for it the free LEGO Magazine they can receive at home?
Then this book is definitely something for them! This book explains how to build awesome moving machines.
A bit like the NEMO chain reaction show but then they can get started themselves!
It comes with 30 additional LEGO parts you will need for some of the moving components.
You will need these extra LEGOs to complete many of the projects.
Inspire a future meteorologist with this gift. Put it in the backyard and start reporting on the weather.
Perfect also for the kids who are natural performers. What could be more fun than learning about the weather and then giving the family their evening weather forecast?
Focus skills: meteorology
Activities are endless with a Makey Makey. Create your own game or turn a banana into a remote control.
The possibilities are truly endless when it comes to Makey Makey, it can be connected to just about anything as long as it can conduct a little electricity.
You can approach Makey Makey as a scientific laboratory. When using Makey Makey, half the fun is in the planning phase.
You can make the projects as big or small as you want.
Some projects can be adapted to take up an entire room, others can be done on a small table.
First, let your kids brainstorm and come up with ideas on how to go about the project.
Then let them make an example of the circuit and the game.
Finally, let them implement, test and troubleshoot their ideas as needed, improving designs along the way.
Here are some ideas to get the creative juices flowing!
The simple circuit
For those kids who are just learning the ins and outs of how electricity works, you can start with a simple circuit project.
Have students create a simple circuit using an LED connected to the Makey Makey board so they know when they have successfully completed the circuit.
You can contribute to this by creating challenges for them. See if they can complete a circuit with people included in the loop, or give them an item to use.
You can add complexity by challenging them to include parallel circuits as well. There really is no limit to this simple project!
To play the piano
This is probably the activity (followed by a viral video) that put the Makey Makey on the map!
To add some music to your playing, you can use the simple piano keys application on the website of Makey Makey here use.
Just plug in the Makey Makey with the USB cable and connect the clamps on the back of the Makey Makey board to just about anything.
You can play with
many different foods (bacon, macaroni and cheese, shrimp),
clay like Play-Doh,
foil or items wrapped in foil (popsicle sticks work fine for this).
Whack-a-mole
Bring this timeless arcade game into your home. This project is as simple as you want it to be, free software is available, so you can just download, connect and play.
Or the code can also be changed to add complexity and tailor the game to your kids to make it even more engaging.
You connect the 'moles' you're going to whack to the Makey and this could be anything that conducts electricity (bananas probably won't last that long, so potatoes are a better choice for this).
When the mole comes up on the screen, your child will try to hit it by hitting the potato or other object you have connected.
By changing the code you can essentially change every aspect of the game, and even add pictures of mom or one of the kids as 'moles' to make it even more fun.
No matter how you choose to include Makey Makey in your game, it will certainly open their eyes to the magic of electricity and expand their imaginations.
The games and activities are so much fun that they don't even know they are learning.
Focus skills: programming and creativity
Conclusion
What is your favorite STEMtoys for a 7 or 8 year old? I hope you enjoy it as much as our family does.