10x STEM toys for every age: learn science & technology
I enjoy writing these articles for my readers, you guys. I don't accept payment for writing reviews, my opinion on products is my own, but if you find my recommendations helpful and you end up buying something through one of the links I may be able to receive a commission on that.
More information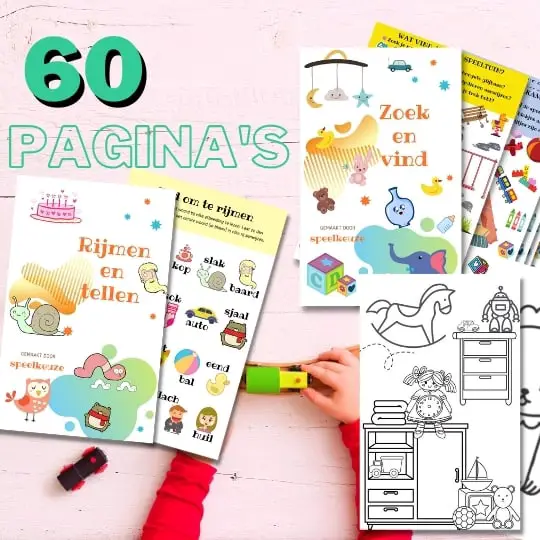 Always something to do for the holidays or rainy day?
Play Choice now has the ultimate activity book collection, with over 60 pages of fun coloring pages and educational puzzles.
In this age, kids learn about life sciences, how the Earth was formed, how problems are defined, and more.
The science curriculum for 7-8 year olds differs a lot, but these are just a few of the concepts you can expect.
That is why in this article I have included some of the nicest ones STEM collected challenges for your kids, such as puzzles, robots but also a rocket!
In math, students learn to use standard units of measure, develop their addition and subtraction to 100, and analyze shapes.
What better way to reinforce what your kids are learning in school than with great educational toys?
If the weather is nice and you feel like experimenting together, I would this 4M water rocket recommend.
Super fun to build your own rocket and 4M has shown that they have great fun educational STEM toys can invent.
But there are of course many more options.
I've collected my favorite science, technology, engineering, and math toys for 7 and 8 year olds.
Let's take a quick look at all the options, then I'll go into each of these choices in more detail: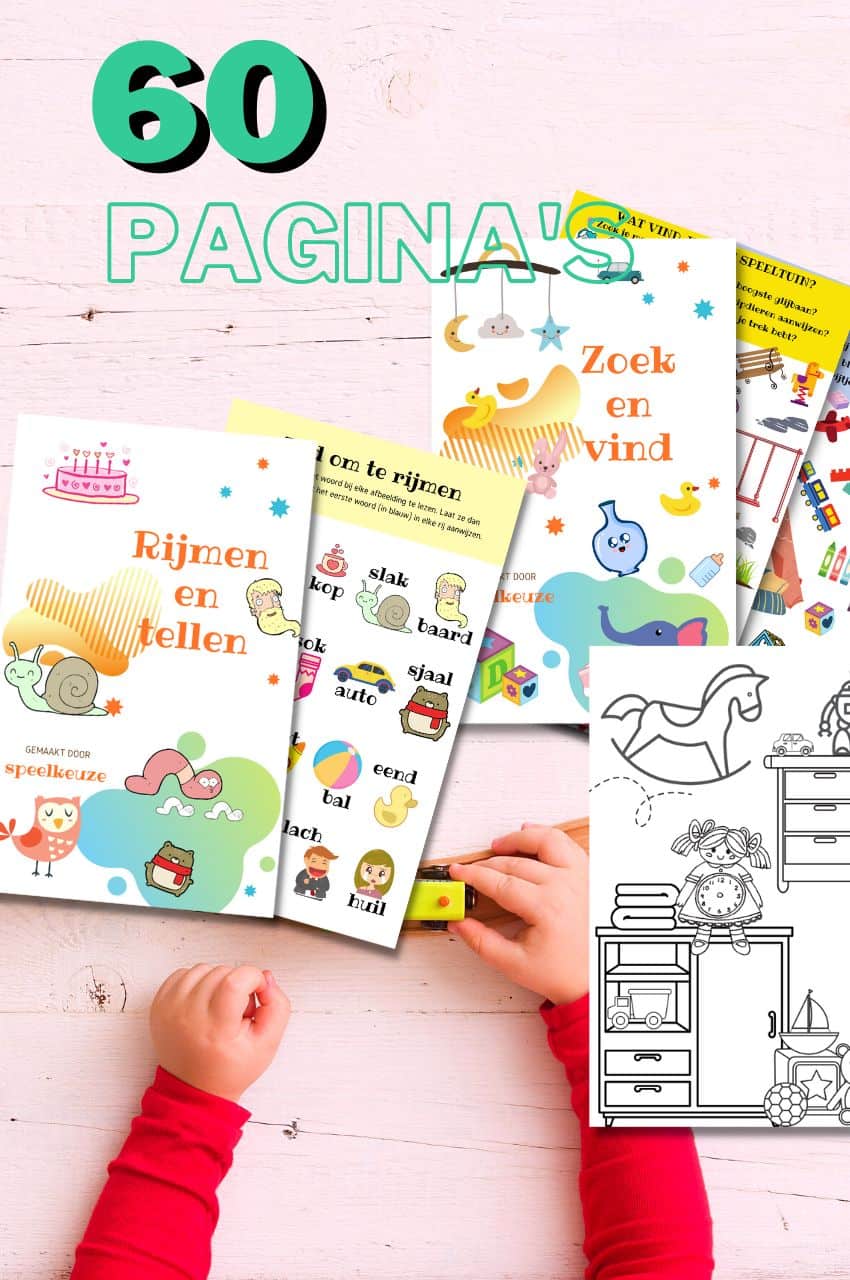 A play theme in your mailbox every month?
Fun play tips, activity books and more, with the first email being our free mini-guide "educational toys"
We will only use your email address for this newsletter and respect your privacy
Best STEM toys for 7 and 8 year olds rated
Best experiment: 4M Water Rocket Kit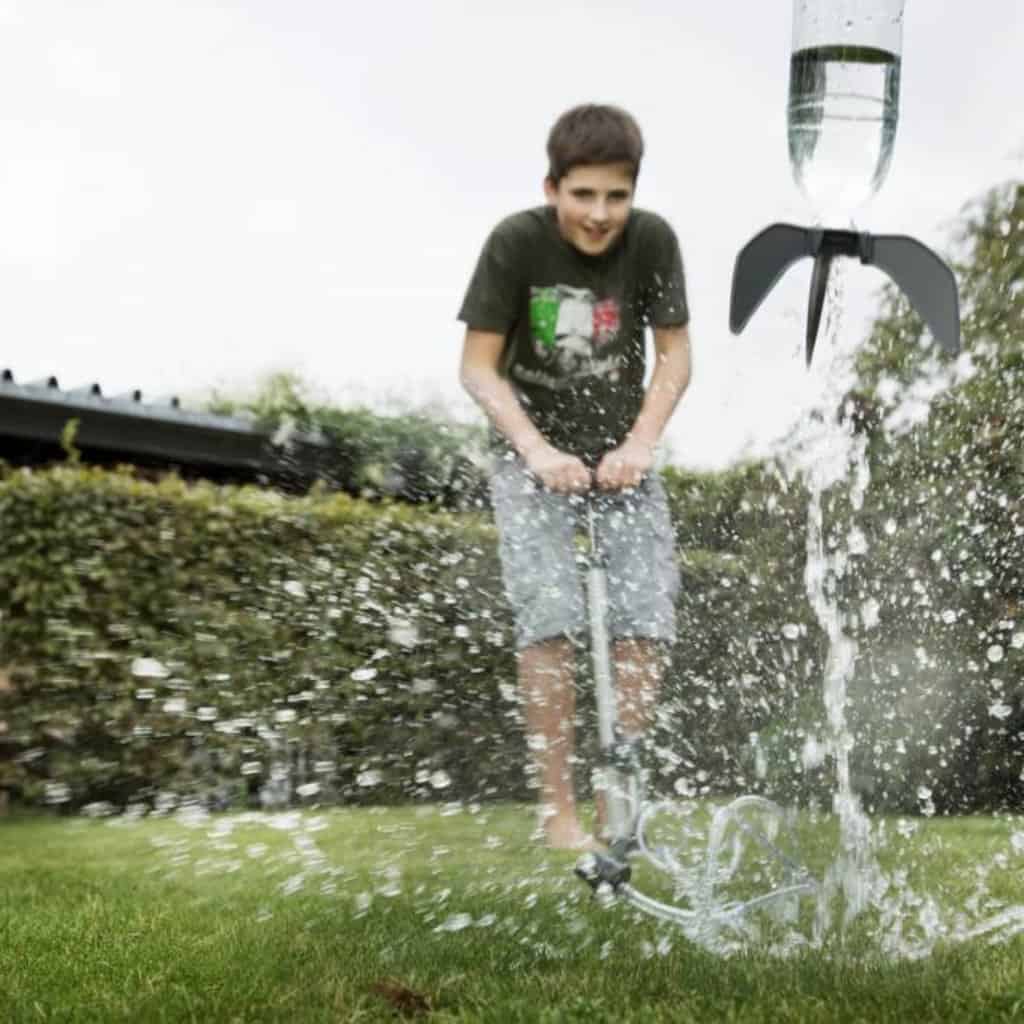 This Water Rocket Kit uses the power of water pressure to blow the rocket up to 30 meters into the air!
You use a recycled soda bottle and then transform it into a high-flying rocket!
There are many more rocket packages available, such as with a newspaper or a mini-missile that costs less than € 15.
Not all of them are always available, but look here for availability and prices.
Best archeology toys: National Geographic Break Open Geodes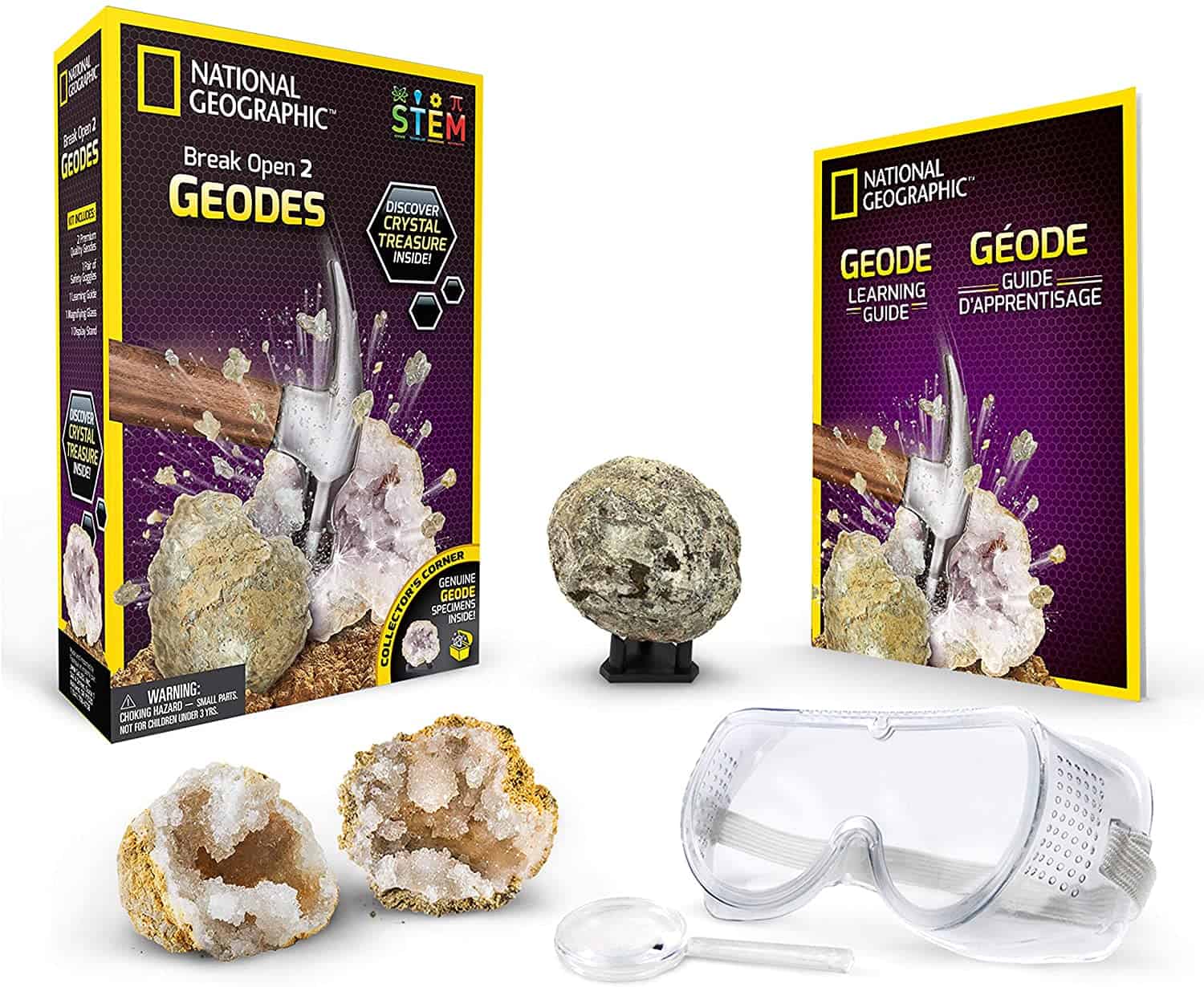 Children this age are beginning to learn the different types of land formations and water bodies and how they are formed.
This is a great kit to get kids excited about geology and rock formation too!
View this set here
Best grow kit: Kristal grow kit Science Kit
If your 7-year-old isn't too keen on geodes and rocks, get this Cosmos crystal grow kit instead!
You can grow 3 different crystals of different colors.
The kit also includes a complete guide to accompany the activity.
Check the most current price here
Most fun expandable STEM robot: Sphero SPRK + Activity Kit
De 7 year old it's not too early to learn programming!
Sphero is my personal favorite coding robot for this age.
There are a number of robots and coding games designed to make kids think like a programmer and it is one of the best educational games from our list here.
It's a great introduction to learning the fundamental structure and patterns of writing code for a robot.
The drag and drop 'block coding' interface is easy for 8 year olds.
And the activities are endless! Code (more tips to practice here!) your Sphero to "play golf", play with the cat or navigate through a maze.
Check prices and availability here
Cutest ready-made robot: Wonder Workshop Dash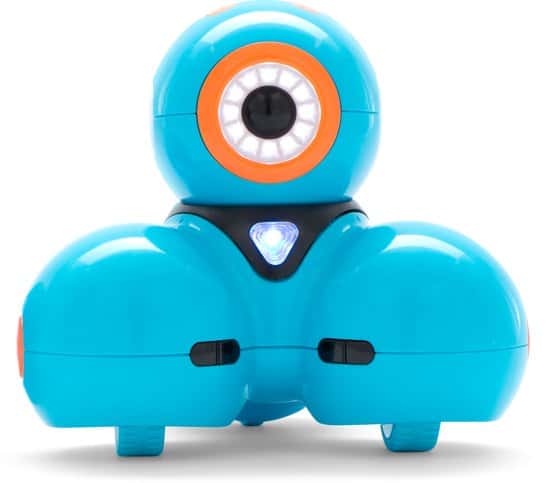 Dash is another great option for a great STEM toy for your 7-year-old, at the same time one of the cutest robots in our article here.
This programmable bot helps kids explore loops, events, conditions and sequences. Dash is also a very popular bot for the classroom!
Check the latest prices here
Best Educational Building Toy: Magformer's Magnetic Building Tiles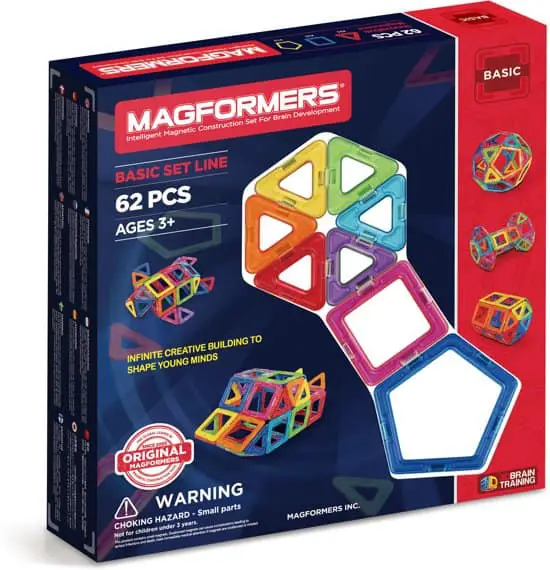 Magna tiles are a great STEM toy at this age as kids start learning basic geometry and analyzing shapes.
Magformers are both creative and mind boggling, making them one of my favorite STEM toys!
Check the latest prices here
Read more about magnetic toys in our article with the best toys
Best electricity set: Snap Circuits Jr. SC-100 electronics reconnaissance kit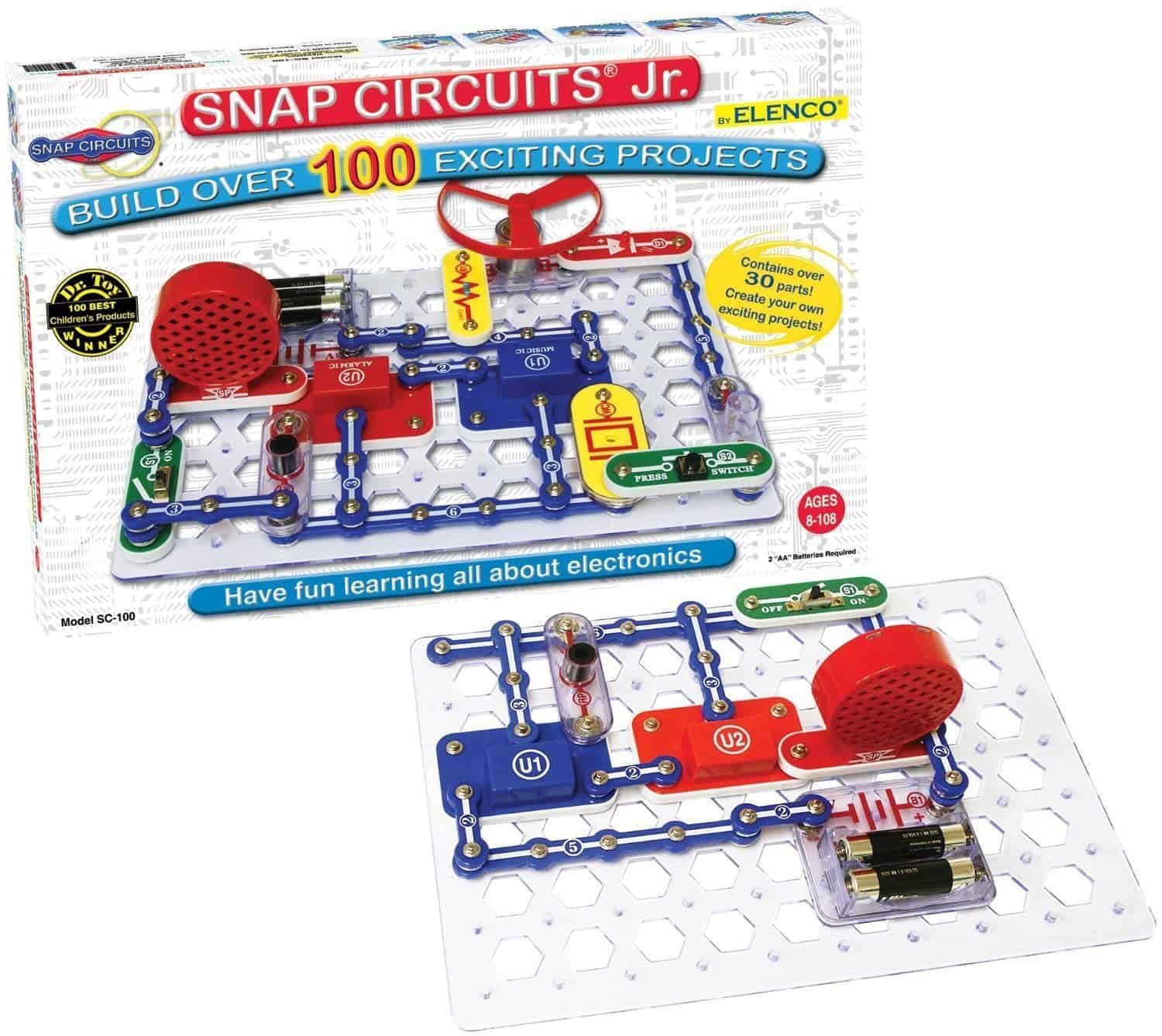 I love Snap Ciruits! Learn about the basics of electric currents as you build your own various electronic circuit projects.
Check the latest prices here
Best brain teaser for 8 years: Rush Hour Traffic Jam Logic Game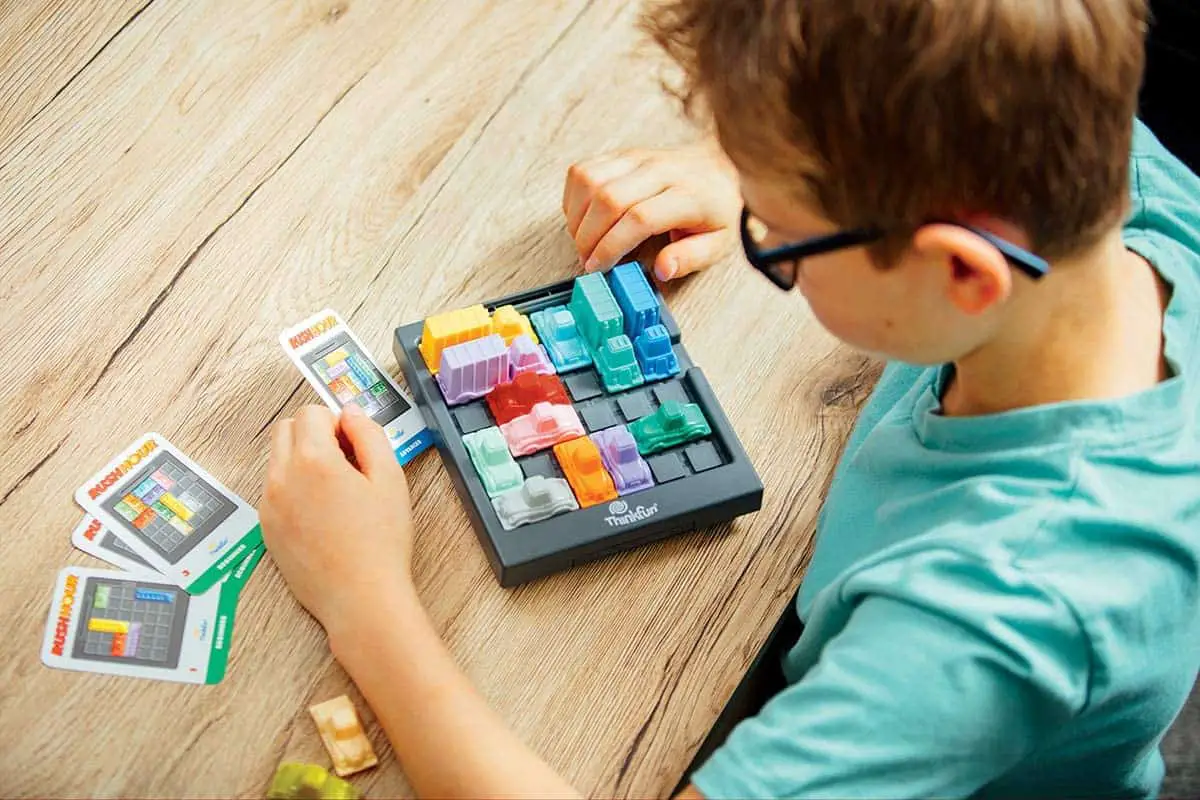 My mom owned a toy store and had shown this Thinkfun logic game a long time ago.
I tried it myself and was surprised by how difficult some of the more challenging puzzles are.
This is a great educational gift for an 8 year old and it will remain fun and challenging as they grow!
Watch this game here
Most fun STEM logic game: Gravity Maze Marble Run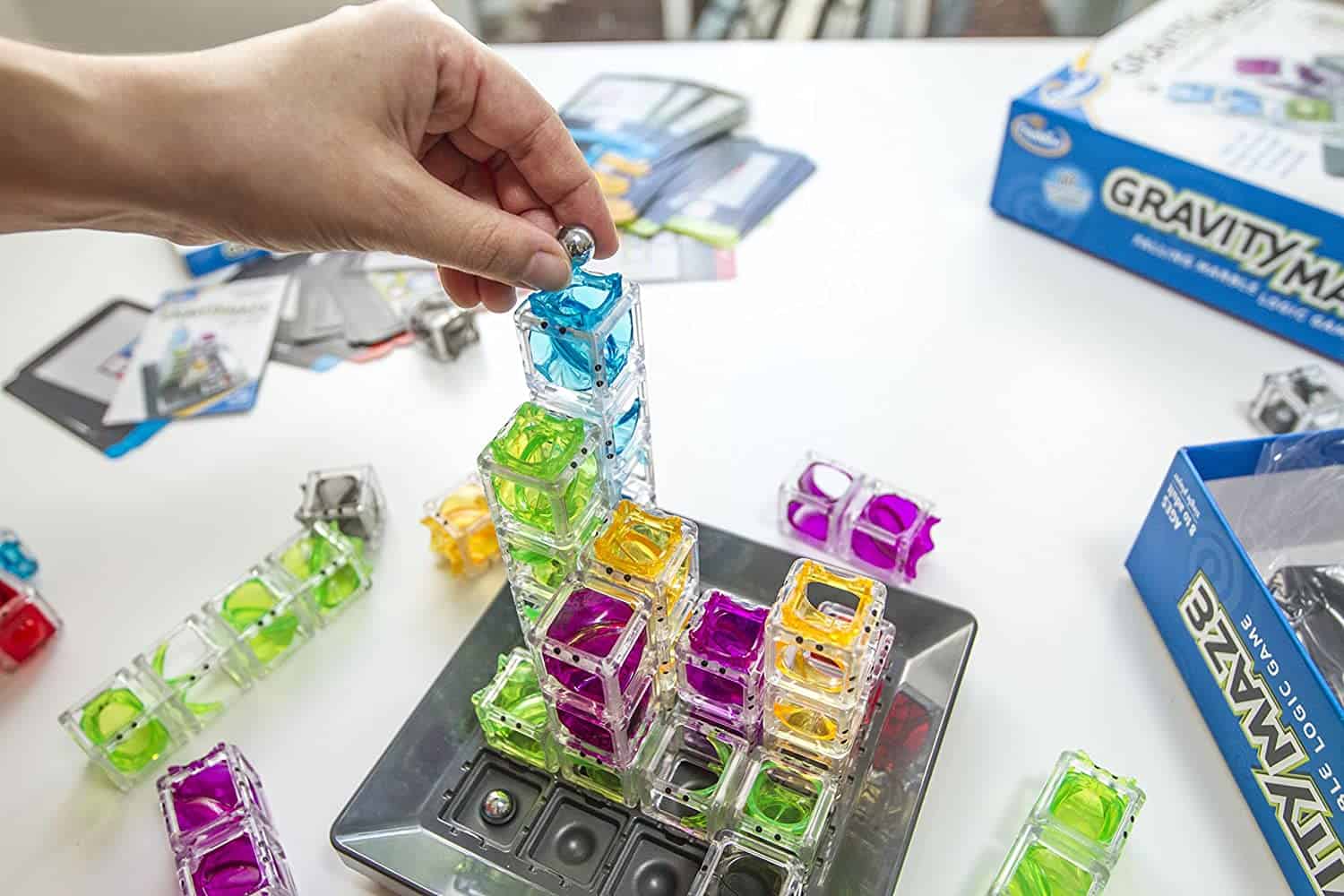 This is one of my favorite logic games and is also from Thinkfun. You are given challenge cards to complete to try and get your marble through the maze!
Check prices and availability here
Best STEM toys for math: Learning Resources Fraction Tower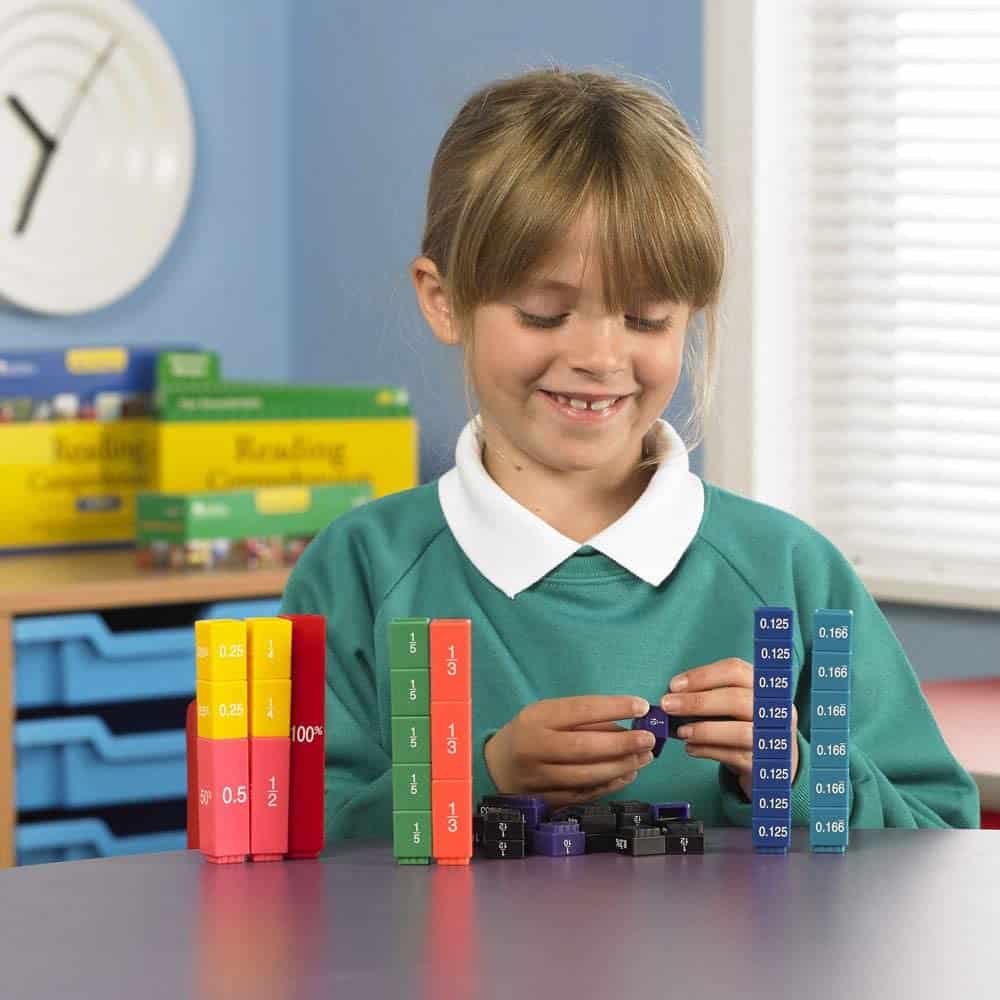 Finally, here's my favorite math game for 7-year-olds as they expand their math skills.
This blocks (here's a lot more we wrote about earlier) are great for visualizing fractions and helping you learn math. I would say the set is particularly suitable for 7 year olds to learn, or for 8 year olds who are having a bit of trouble helping them get the hang of it.
I'm a huge fan of this one from Learning Resources and it's a great combination of challenge and play.
Check availability here
Conclusion
What is your favorite STEM toy for a 7 or 8 year old? I hope you enjoy it as much as our family.
Cutest STEM toys for toddlers 3 and 4 years old
Looking for great toys for your toddler to have fun with and learn at the same time? Search no further.
We've found some great STEM toys for 3 and 4 year olds!
These toys are aimed at developing counting, building and creative skills for a young learner. They are the perfect toy for a daycare or at home.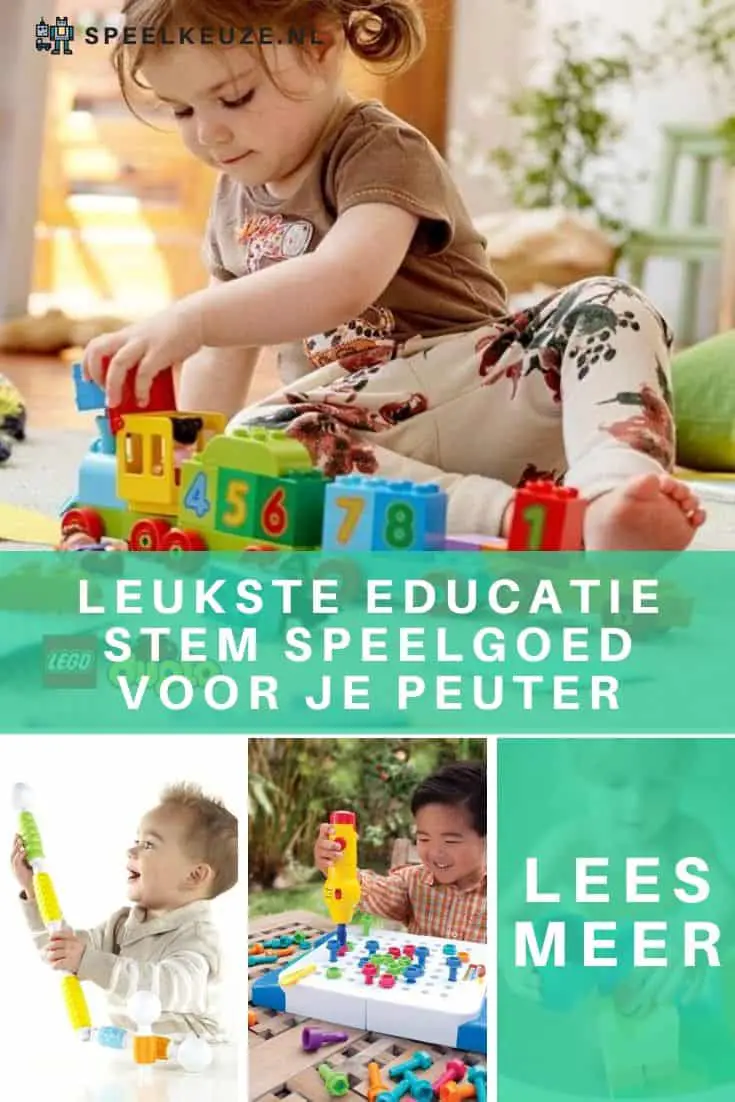 9 best STEM toys for toddlers for fun learning
Learning resources Botley the coding robot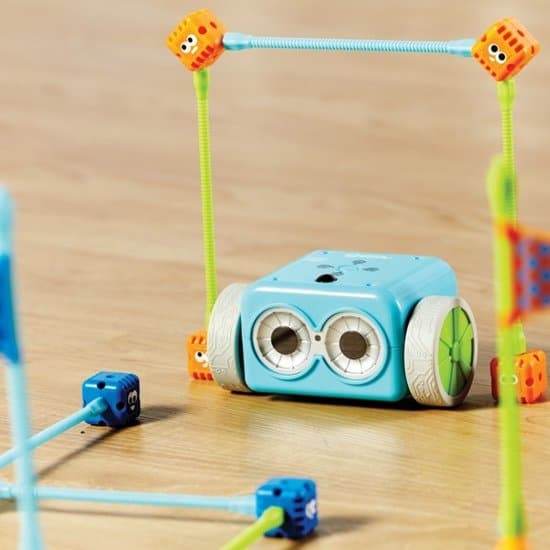 Botley is screen free play that promotes problem solving skills.
This 77-piece set comes with a remote programmer, 40 coding cards and 27 obstacle pieces, so there is a lot of variety in what you can create and the obstacles you can get Botley to tackle!
It has won awards (in addition to taking the top position in our own list of coding games!) for his innovative way of teaching preschoolers the basics of problem solving behind programming.
Just think toys Bath Blocks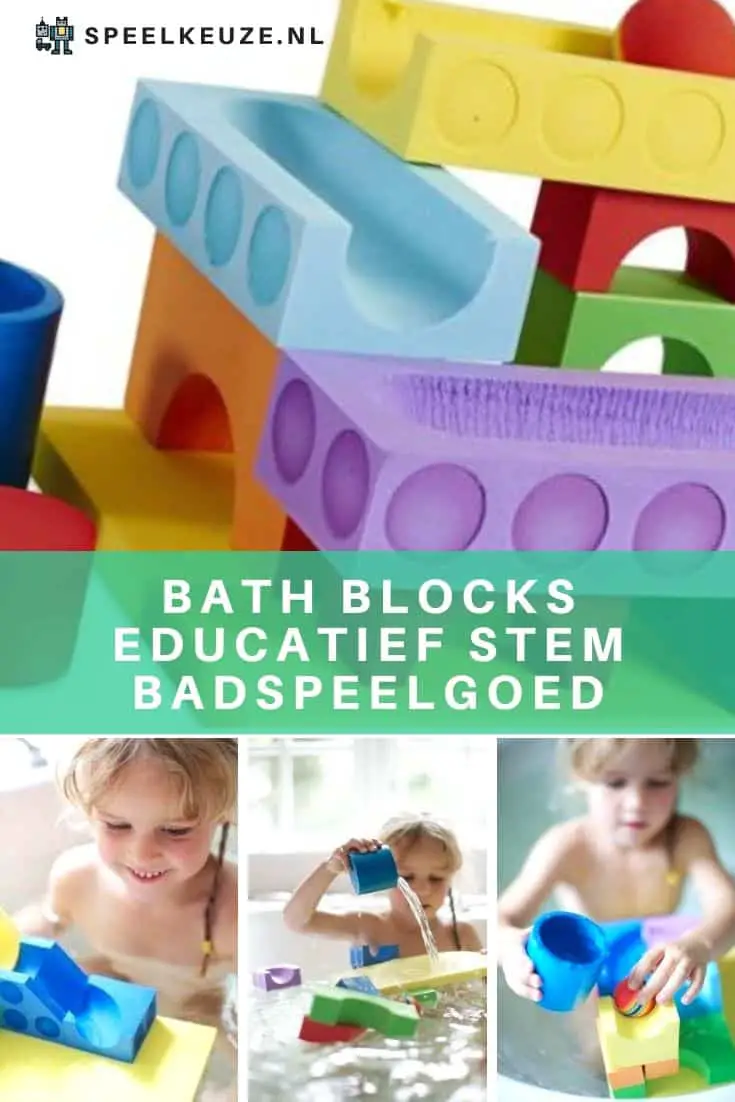 These are the perfect educational plastic blocks (they teach a lot vsn!) for your little one to play with while bathing.
Kids can stack these colorful blocks and build waterways, waterfalls and paths to make a ball go down.
It develops basic STEM skills as your child works hands-on to use their visual and tactile skills.
Funny Bricks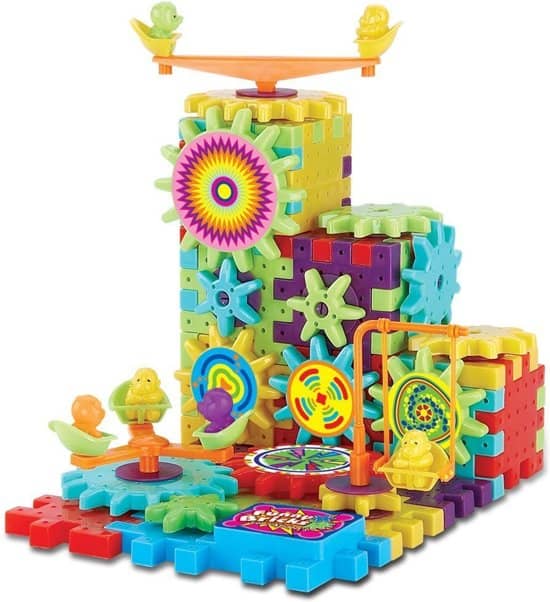 These colorful spinning gears build your child's fine motor skills as they work to fit gears together.
It is one of the building sets at the top of the list in this age category in this article what we wrote earlier.
Winner of four awards, this 87-piece set is guaranteed to promote early STEM skills.
Learning Resources Design & Drill
This is a cool and colorful design studio from Learning Resources for your little one, probably appealing to a young child.
It has a "drill" and plates and bolts that can be made into designs.
It encourages creativity and increases children's hand-eye coordination, patterns and problem solving.
Check availability and current prices here
Guidecraft Grippies
These are soft and magnetic rods and balls, perfect for a toddler / toddler.
It is a 30-piece set that is an early introduction to engineering for your little one. They will certainly enjoy putting this set together in beautiful shapes.
DUPLO number train building set
This is a great LEGO DUPLO toy that learns to count to 10.
It is fun, educational and young people can build their own train in the right order. It certainly fits the 'M' in STEM.
Melissa and Doug Stack & Count parking garage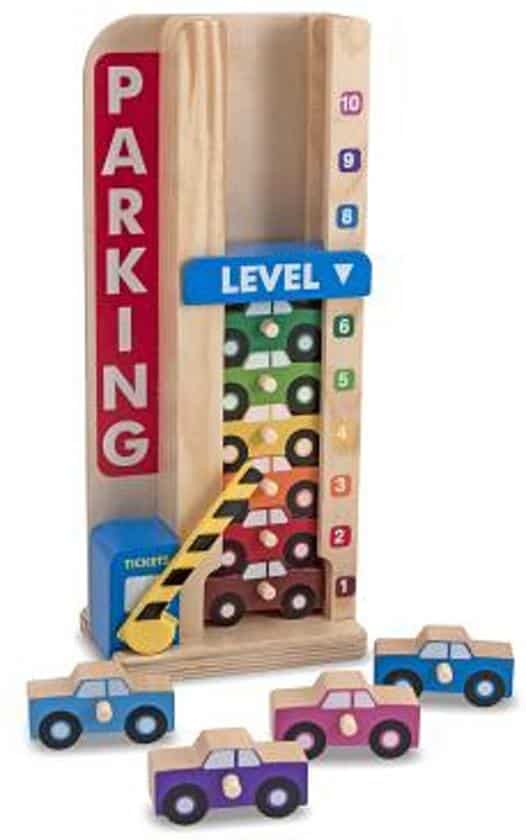 Another great counting game and this time from Melissa & Doug! Children have to stack these different colored cars in the correct order, numbered from one to ten.
It is not only a fun educational toy, but also one of ours favorite toy garages in this article here because you immediately get so many cars.
Pretend and checkout toy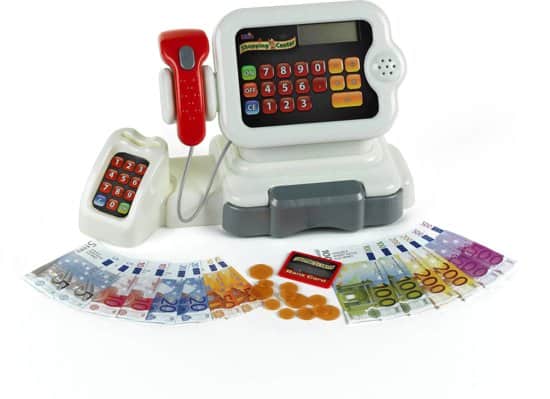 It's never too early to familiarize your child with money handling as they get older.
They may not understand it right away, but it's good to have this as they get older.
It contains counterfeit notes and plastic coins. I know I loved playing shop so this is a great way to combine play time and learning.
They will love the 'cha-ching' sound their register makes when the cash drawer opens!
Cutest STEM toys 5 and 6 years
Five-year-olds are avid learners and problem solvers.
At this age they learn to count, start adding / subtracting and can tell the time.
This is a time when their enthusiasm for problem solving should be encouraged!
You can help develop their STEM (science, technology, engineering, math) knowledge in a fun way with educational toys for 5 and 6 year olds.
The secret to building STEM skills for beginning learners is to tap into their innate curiosity.
They already develop their engineering and math skills naturally through exploration.
The Boston Children's Museum has this great guide on teaching STEM skills to preschool kids, including simple activities that will encourage them to explore further.
An important point we want to emphasize is that with these activities and toys it is important to build confidence at this age.
Ask "what" questions, instead of "why". This allows the child to feel more like an expert, rather than trying to get to a single "correct" answer.
For example, "What can the magnet pick up?" or "What happened there?" instead of "Why could the magnet only pick up certain things?"
You may not even know some of those why questions!
Asking the "what" questions encourages the child to observe and analyze the situation.
Then they will probably start asking you the 'why' questions so be prepared.
Now let's dive into the best STEM toys for 5- and 6-year-olds!
Best STEM toys for 5 and 6 years
Learning Resources Botley the coding robot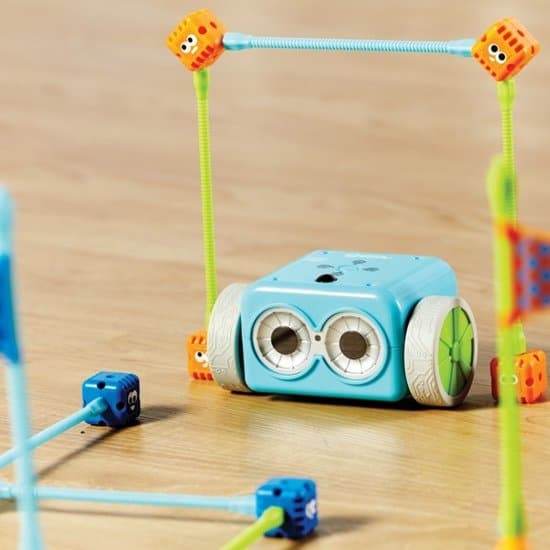 Botley is one of my favorite coding robots (already written about all the choices here)!
You can start building basic problem-solving skills that you use in coding from an early age.
The best thing about the Learning Resources Botley is that it is screen-free.
You have a remote where you enter Botley's commands to program him to navigate a maze, move stones and more!
View this robot and accessories here
Monkey Balance Math game learn to count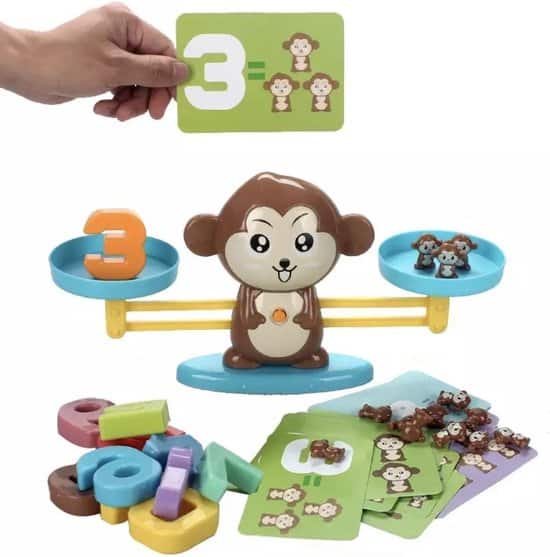 This is a great math game! With this game your kids can work on the basics of addition, subtraction and counting.
It's a fun and engaging way to build basic math skills!
The numbers only go up to 19, so you can't use it for double-number arithmetic, which is the main drawback.
View the most current prices and availability here
Scientific Explorer Magical science for magicians only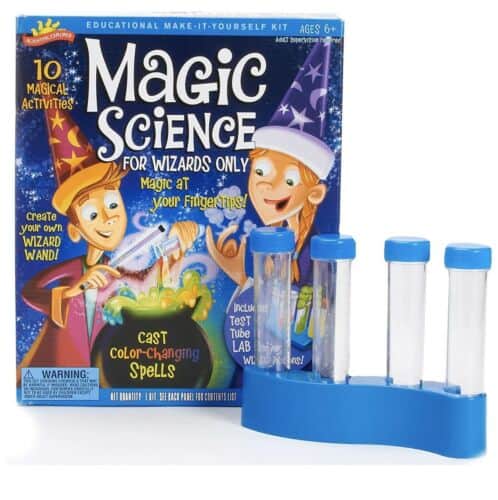 This science kit comes with everything you need to cast incredible "spells" and then the learn the science behind the reaction!
I love the magical theme of this kit! The science experiments will make your kids say, "whoa!"
While pretending to be a wizard it doesn't feel like at all educational toys!
This kit is great for 5 year olds, but requires adult supervision and assistance.
Check prices and availability here
4M Crystal Mining
This fun kit simulates a real crystal hunt and taps into the already active imaginations of 5 year olds.
It's a great way to get kids excited about geology and the natural world around them.
It is a great independent gift for a 5 year old as they can "dig out" the crystals themselves.
Some reviewers do recommend wearing safety glasses.
View the set here at Internet-Toys
Magnetic Stick N Stack Shape Magformers
Now let's take a look at great construction toys to develop technical, creative and problem-solving skills!
If you are a Magna tile enthusiast, you can purchase these sets to add to the collection so your creations can keep growing!
These are great because your 5 year old can get really creative while building STEM skills.
Encourage your child to think about the power of what he is building by asking those 'what' questions. "What's the strongest building?" "What stays together best?"
View the most current prices and availability here
Check them out too in our article about the best magnetic toys
K'NEX Imagine building set
According to the manufacturer, the recommended age for this K'NEX set is 7+, but we are adding it to the list as it can also be a great option for your 5 or 6 year old.
If you have a 5 year old who already works with construction kits this one is great!
Some of the pieces may be harder for a 5 year old to put together, so you may need to help.
This kit is part of the K'NEX Imagine series, aimed at stimulating children in STEM.
If you are looking for a really fun new kit for a young child who likes to build things, this kit with endless options is a great choice.
Lego chain reactions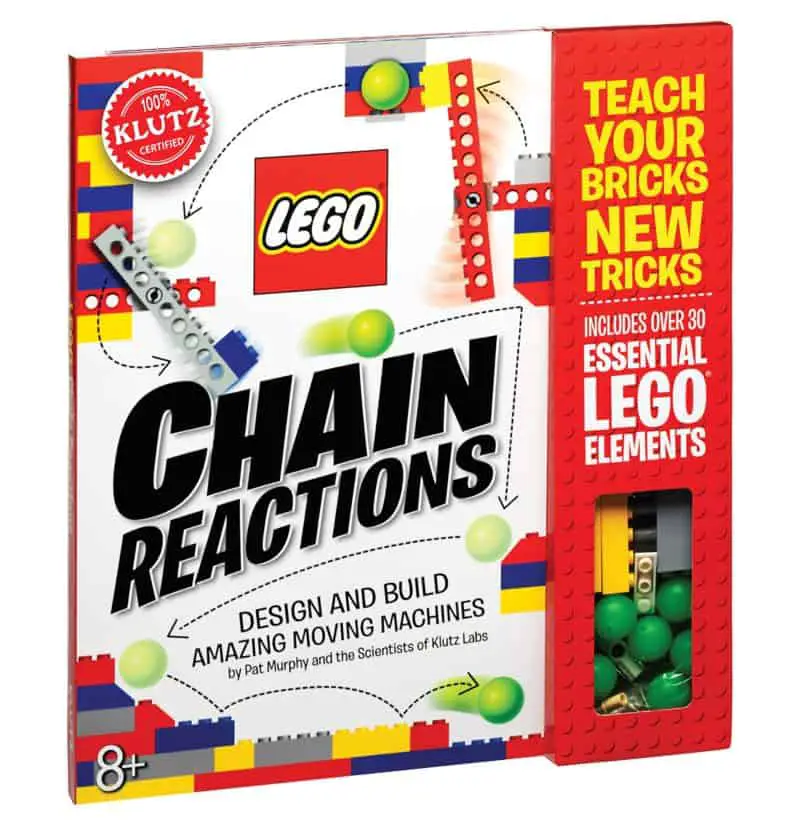 Do you have a LEGO lover at home? One who can't get enough of it, maybe already registered for it the free LEGO Magazine they can receive at home?
Then this book is definitely something for them! This book explains how to build awesome moving machines.
A bit like the NEMO chain reaction show but then they can get started themselves!
It comes with 30 additional LEGO parts you will need for some of the moving components.
You will need these extra LEGOs to complete many of the projects.
Check the latest prices here
Edushape Marbulous Marblerun
Marble tracks may not seem like STEM toys, they are way too cool and especially this one from Edushape!
But they are a great toy for developing problem building and solving skills.
It's a fun toy for a 5 year old, but they will enjoy it for a few more years too!
I previously written about marble tracks here and one of the nicest, and certainly the most fun to build in this age category, is this one from Edushape.
Cutest STEM toys 9 and 10 years
Great STEM toys capture the imagination and keep your kids entertained.
Learning never has to be a chore. And this educational toy is sure to impress even the hardest to please kids!
Looking for the perfect STEM gift for a nine-year-old for the holidays or their birthday?
Well, we searched for educational toys and games that are STEM-related and applicable to what students learn in school.
Improve their math skills, science knowledge and challenge them with puzzles, robots and some games!
Best STEM toys for 9 and 10 years
Anki Cozmo robot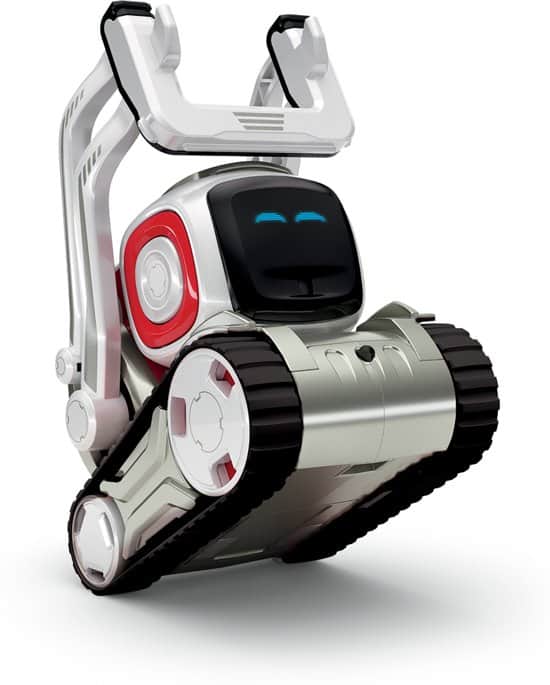 Say hello to your new favorite robot! Cozmo has personality, that's for sure.
It's also one of my top picks in our article about robot toys.
But in addition to being cute (and scaring the dog), Cozmo is great for sparking the imaginations of your young programmers.
Check out everything you can code in Cozmo Code Lab.
The possibilities are endless and only your creativity is the main limiting factor.
Check the most current prices and availability here
Focus skills: learn to code
Thinkfun Gravity Maze
Definitely a must! These toys are just what your nine-year-old needs to build on his critical thinking skills.
These towers are visually stimulating and challenge children to use their logic for the maze that carries the marble to the Target Tower.
The great thing about these toys is that you get 60 challenges with levels ranging from beginner to expert.
You can buy this bestseller buy at a reasonable price on bol.com and it is well worth the purchase.
Focus skills: logic and engineering
MudWatt educational renewable energy
A fascinating STEM kit that teaches kids about renewable energy.
You build your own living fuel cell from mud. Yep, mud!
This is perfect for kids at this age to teach them energy and microbial growth curriculum.
The best part is that kids can track the growth of their MudWatt in the companion app for smartphones and tablets (can also be used on a children's tablet like this!).
Focus skills: environmental sciences
SmartLab Squishy human body
This is a fun and educational toy for children of this age learning about anatomy and the human body.
Children can learn about the different organs and their functions in the body.
It comes with an educational book to learn about digestion, but kids also get a look at other body systems like the skeleton, muscles, circulatory system, etc.
Focus skills: biology
Wonder Workshop Dash Robot
Fits the 'T' in STEM! A really cool advanced little robot that you can connect to your smartphone.
This is another one for learning to code. This is a great technology toy for eight year olds to improve their coding skills and more.
And it is fun!
Design paths for Dash, watch him move and make sounds. More importantly, this is a springboard to your child's programming skills.
Focus skills: computer programming
View the most current prices and availability here
Snap Circuit Jr.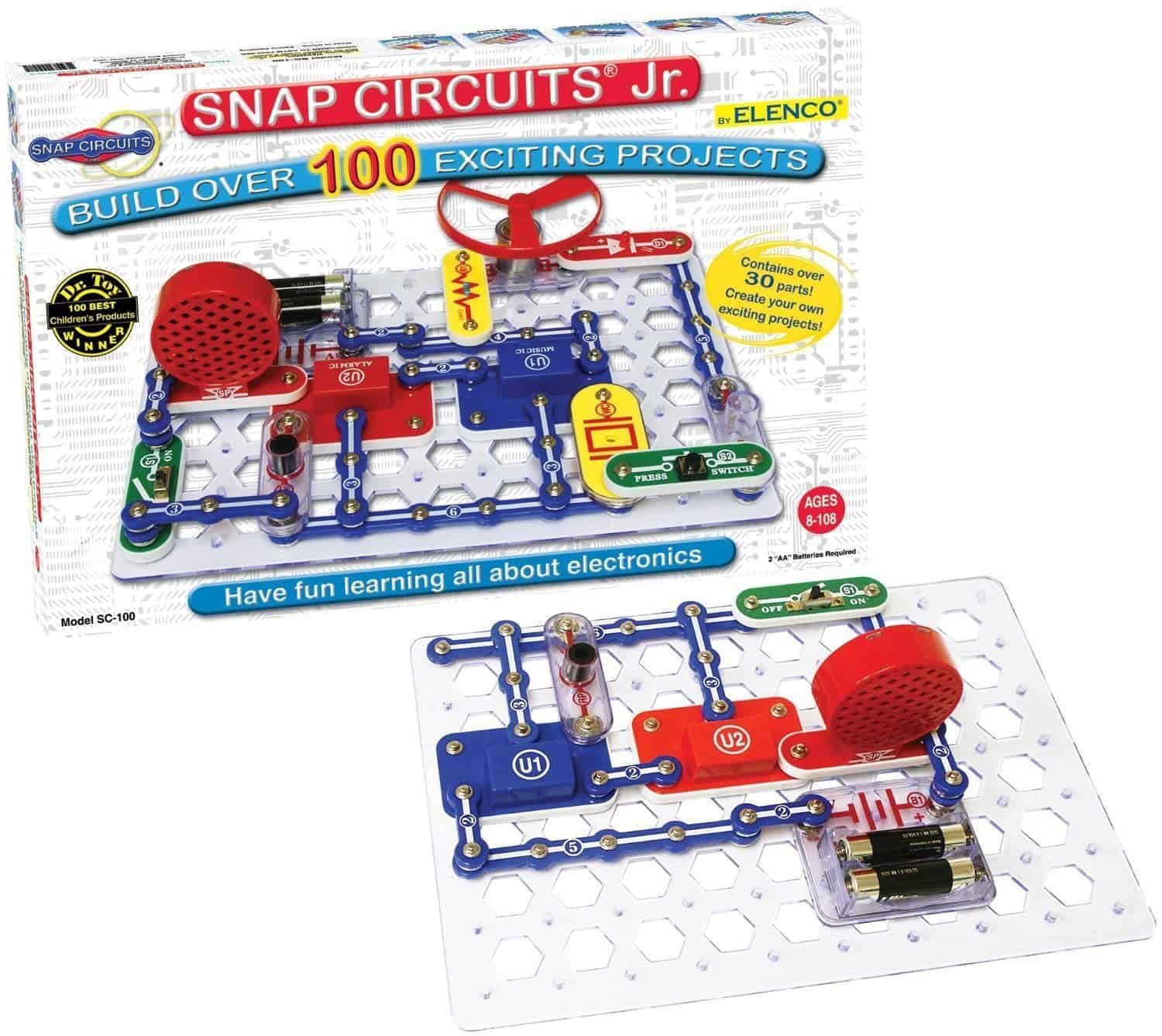 This is the best electrical engineering toys!
The Snap Circuits Jr. is a great STEM toy for young children who are starting to learn about circuits and how electricity works.
It lists 101 projects in an easy-to-read diagrammatic guide.
Starting with a simple light switch circuit, your child will love putting these projects together.
This hands-on learning experience teaches them about currents and how switches work.
Projects make fun alarm sounds, music, lights, a rotating fan and can even become a "flying saucer"!
It also includes projects that are multiplayer games, such as a racing game that uses electricity to spin a pointer.
Putting these pieces together on the board is a fun achievement for everyone!
We love this toy so much, it is also on our list for the best STEM toys for 8 year olds! It is suitable for ages 8 and up.
Focus skills: electricity and technology
Code Master Programming Logic Game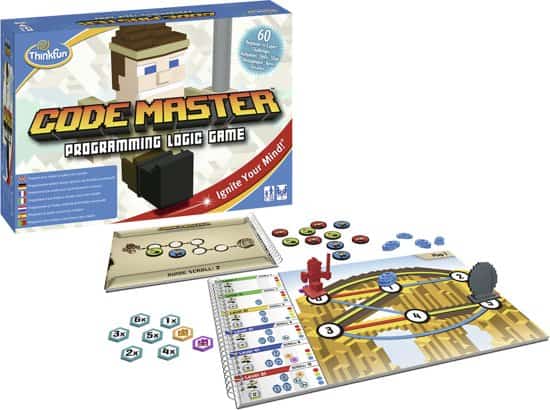 While Dash Robot is my go-to robot for learning to code, sometimes it's also important to step back from technology and just master the process and login behind programming.
This is the perfect game for kids at this age to work on their coding skills as they see a future in technology, and it is also one of the few board games in our article on learning to code.
Children have the option to play this game alone or work with others.
It's a great way to improve their logic skills by starting with the basics and building on them.
There are 10 maps with 60 levels. Get ready to be challenged!
Focus skills: coding
Green Science Weather Station Kit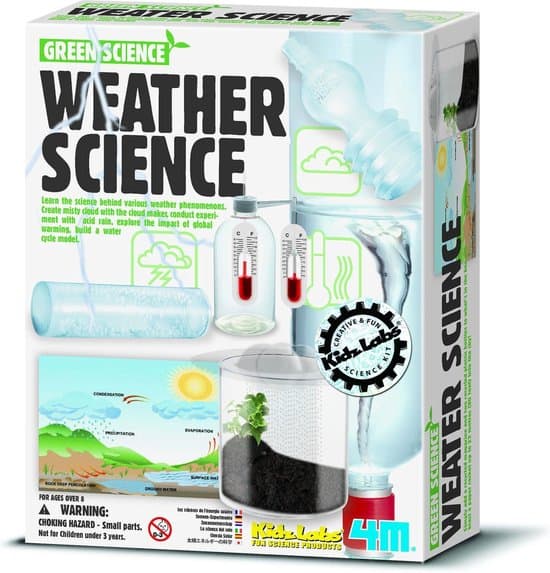 Inspire a future meteorologist with this gift. Put it in the backyard and start reporting on the weather.
Perfect also for the kids who are natural performers. What could be more fun than learning about the weather and then giving the family their evening weather forecast?
Focus skills: meteorology
Makey Makey
Activities are endless with a Makey Makey. Create your own game or turn a banana into a remote control.
The possibilities are truly endless when it comes to Makey Makey, it can be connected to just about anything as long as it can conduct a little electricity.
You can approach Makey Makey as a scientific laboratory. When using Makey Makey, half the fun is in the planning phase.
You can make the projects as big or small as you want.
Jay Silver has a nice Makey Makey demo:
Some projects can be adapted to take up an entire room, others can be done on a small table.
First, let your kids brainstorm and come up with ideas on how to go about the project.
Then let them make an example of the circuit and the game.
Finally, let them implement, test and troubleshoot their ideas as needed, improving designs along the way.
Here are some ideas to get the creative juices flowing!
The simple circuit
For those kids who are just learning the ins and outs of how electricity works, you can start with a simple circuit project.
Have students create a simple circuit using an LED connected to the Makey Makey board so they know when they have successfully completed the circuit.
You can contribute to this by creating challenges for them. See if they can complete a circuit with people included in the loop, or give them an item to use.
You can add complexity by challenging them to include parallel circuits as well. There really is no limit to this simple project!
To play the piano
This is probably the activity (followed by a viral video) that put the Makey Makey on the map!
To add some music to your playing, you can use the simple piano keys application on the website of Makey Makey here use.
Just plug in the Makey Makey with the USB cable and connect the clamps on the back of the Makey Makey board to just about anything.
You can play with
many different foods (bacon, macaroni and cheese, shrimp),
clay like Play-Doh,
foil or items wrapped in foil (popsicle sticks work fine for this).
Whack-a-mole
Bring this timeless arcade game into your home. This project is as simple as you want it to be, free software is available, so you can just download, connect and play.
Or the code can also be changed to add complexity and tailor the game to your kids to make it even more engaging.
You connect the 'moles' you're going to whack to the Makey and this could be anything that conducts electricity (bananas probably won't last that long, so potatoes are a better choice for this).
When the mole comes up on the screen, your child will try to hit it by hitting the potato or other object you have connected.
By changing the code you can essentially change every aspect of the game, and even add pictures of mom or one of the kids as 'moles' to make it even more fun.
No matter how you choose to include Makey Makey in your game, it will certainly open their eyes to the magic of electricity and expand their imaginations.
The games and activities are so much fun that they don't even know they are learning.
Focus skills: programming and creativity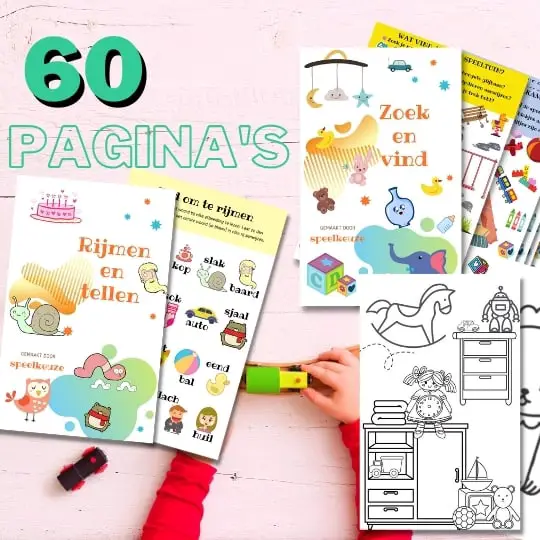 Always something to do for the holidays or rainy day?
Play Choice now has the ultimate activity book collection, with over 60 pages of fun coloring pages and educational puzzles.
Joost Nusselder, the founder of Speelkeuze.nl is a content marketer, father and loves trying out new toys. As a child he came into contact with everything related to games when his mother started the Tinnen Soldaat in Ede. Now he and his team create helpful blog articles to help loyal readers with fun play ideas.