10 Best Volkswagen Toy Cars: Play with iconic classics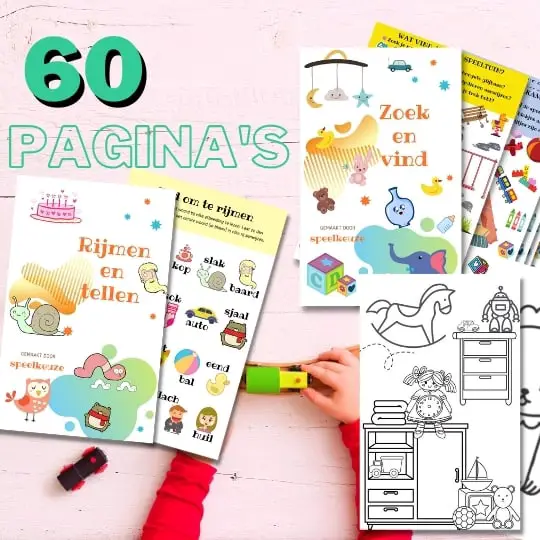 Always something to do for the holidays or rainy day?
Play Choice now has the ultimate activity book collection, with over 60 pages of fun coloring pages and educational puzzles.
If you like that iconic Volkswagen model cars you might want one for display, or one for your child to play with.
This 1973 Volkswagen Beetle from Maisto is, for example, a beautiful example of which the doors and hood can be opened for a detailed interior. Beautiful to look at or possibly to play with.
In this guide I take a look at the 10 best Volkswagen toys cars and what you should pay attention to when buying.
Let's take a quick look at the top options. Then I'll go into more detail about each of these choices.
Volkswagen toy car buying guide
What should you pay attention to when buying Volkswagen toy cars?
Sustainability
There are quite a few differences in quality between toy car brands. Just look at the difference between Maisto and Kinsmart or Hot Wheels, you can clearly feel the quality.
In any case, almost nothing can go wrong with a complete diecast car. That is what I paid extra attention to when assessing the durability of the cars.
Quality of driving
With toy cars you want them to be able to drive well. Some may be for display only, not for play. But you still want them to roll well.
A few things to watch out for are:
the distance from the wheels to the chassis: some toy cars run into problems so they don't drive very well
the rigidity of the shaft: some toy cars are very wobbly so the wheels can move far in and out, and still rub
the quality of the wheels: is it plastic or are there really rubber wheels on the tires? Rubber rolls a lot better
the weight of the car: you may not realize this right away, but the weight of the car plays a very large role in how well it rolls. A heavier car made of diecast or wood rolls a lot better and further than a plastic car
Replayability
Much of the car's replayability is in how well it drives, but there are other factors that determine how often they return to it.
Age also plays a part. Is it a car that stays on the left after toddlerhood or can it last longer because it is also suitable for older children?
The number of extra functions also plays a role, such as the extra figures with the Playmobil bus or the Lego bricks with the Creator Beetle.
I rated each of the cars on this list on these parts on a 5-point scale.
Top 10 Volkswagen toy cars reviewed
Greatly detailed example with opening doors and hood. The interior is plastic and the engine is also detailed.
It is a 1:24 scale and measures 7 inches by 3 inches (18 by 7,6 cm). The body is die-cast and the tires are real rubber.
In terms of detail and price, it is somewhere between a toy car and a model car. Many people give them to their children to play with, but there are also plenty who have them for display.
This is another 6 volt model intended for the smallest children. And what a cute one!
This officially licensed Volkswagen children's car also has a remote control for parental control so nothing can happen.
Everything from the old beetle is there, such as clearly the brand, horn, music, bright headlights, streamlined design and 2 car doors that can be opened.
It is easy to drive for small children, it can handle 30 kg and has extra wide tires and even seat belts.
To make it as easy as possible, there are 2 driving modes:
a manual mode
and a remote control mode.
So you can also completely switch off self-driving if, for example, you go outside on the street and they are not yet able to do it themselves.
The battery is fine and you can drive it for about 1 to 2 hours depending on the speed and whether you also play music.
It is very small, so parents mainly buy it for 2-year-olds and then help with the steering themselves and is fun up to about 4 years.
The T1 Camper Van is a great play set for any child who likes to play and get out and about.
Of course it is also the perfect gift for the Volkswagen fan. Beautiful to see, to play with or to display.
We had just started our 9-month long journey ourselves when he was still 3 years old before he would go to school, so the theme that the dolls went on a journey was extra appealing.
So it's fun for Volkswagen fans, outdoor fans, surf fans, and kids who are still completely full from vacation because they just went or are about to go.
There are a lot of accessories that make it fun to play with. For example, the dolls often went on a picnic at a beautiful exotic location (the coffee table).
The disadvantage is that it is quite large for a toy car. It is difficult to combine with toys other than Playmobil, so it never really participates in car games.
It says from 5 years old, but 4 years is also fine and my son already had it at 3 years old, but then I would never let him play with it alone.
It is very sturdy, just like all Playmobil toys actually. Lasts a very long time and even after a lot of fantasy play.
This Volkswagen bus is not aimed at the outdoor scene like that of Playmobil, but is aimed at the skate scene.
Full of stickers and excesses. A nice detail that gives the bus some character.
It drives well with a reach of 115 ft. (35 meters). It is not very stable, but that also gives this RC car an authentic feeling.
Unfortunately it is not as detailed as the other Maisto cars such as the Beetle on this list.
This is clearly more of a toy car than Maisto's Beetle. A lot cheaper and with less detail, but it can handle rough playing just fine.
This one is also from die-cast with plastic interior. The detail is a lot less than the model cars on this list and the hood can't open either. The scale is 1:34.
This one also has pull-back action so that your child can pull it back to let it drift away. It drives fine.
A great car and what a lot of detail they can get from a stack of blocks! It really is a set for adults, or 16+ because with its 1167 pieces it is a nice challenge.
All the details are there such as curved fenders, distinctive hubcaps, round headlights, wing-mounted turn signals, and the hood, trunk and doors that open.
Even the interior seats fold forward and the roof comes off to get a good look inside. Everything has been thought of.
I also think the surfer accessories are a nice addition and that makes it a gift for surf fans, Lego fans and Volkswagen fans.
The Beetle measures over 15" (25cm) high, 10" (5cm) long and 11" (4cm) wide (XNUMX" x XNUMX" x XNUMX") and is a lot to play with, although many also set it up for display.
Also read: Nissan also has some beautiful models and these are the best toy variants
This is really more in the model car regions, and what a detail. The doors can open and the interior is really beautiful.
With 1:18 scale it is also quite large so this will really be an eye-catcher on a bookshelf or in a collection.
This one is also completely die-cast with some plastic parts such as the interior.
Jada Toys always has a lot of detail and with this Volkswagen Jetta everything can be opened. From bonnet to trunk.
This is another car that is a bit between a toy and a model car, just like the Maisto cars.
This one is more for movie collectors with the official Fast & Furious license. It is Jesse's Volkswagen Jetta in 1:24 scale.
A die-cast body and the rubber tires are also a nice addition.
The detail is super for this price, but most of them give to kids to play with. The detail of the engine under the hood was a bit disappointing to me.
But certainly also nice to put down for a Fast & Furious fan.
Bburago is also a well-known brand and one that I have written about many times. This Scirocco is a 1:24 scale Volkswagen.
The detail is again great right down to the rubber bands. The hood can be opened to show a detailed engine. The side doors can also be opened.
It measures approximately 7 by 3,25 by 3 inches (18 x 8,25 x 7,6 cm) in size.
A fairly large 1:18 scale car measuring 8,25 x 4 x 2,75 inches (21 x 10 x 7 cm). The bonnet, doors and even trunk can all be opened.
A nice detail are the steerable wheels with rubber tires. The engine and interior are super detailed.
This is again really a model car and not a toy, although it is sturdy enough.
Conclusion
Volkswagen has put down some beautiful models and with these toys you can look at them for hours, or buy something for your children to play with.