11 Best Walkers Reviewed + Complete Buying Guide
I enjoy writing these articles for my readers, you guys. I don't accept payment for writing reviews, my opinion on products is my own, but if you find my recommendations helpful and you end up buying something through one of the links I may be able to receive a commission on that.
More information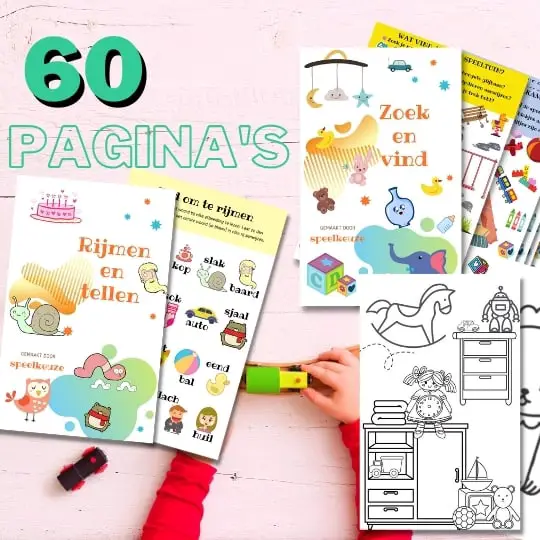 Always something to do for the holidays or rainy day?
Play Choice now has the ultimate activity book collection, with over 60 pages of fun coloring pages and educational puzzles.
Learning to walk is one of the most exciting things a child can do. However, there are many factors that determine the best way for your child to learn to walk independently.
The most important factor is age, but it's not as simple as just waiting until they're old enough to have one carriage and help them learn to walk. You need to know what types of walkers to buy, when to start using one, and how long they will use it before they walk on their own.
This guide has all the answers, so your little one can have fun learning something new while also getting some exercise!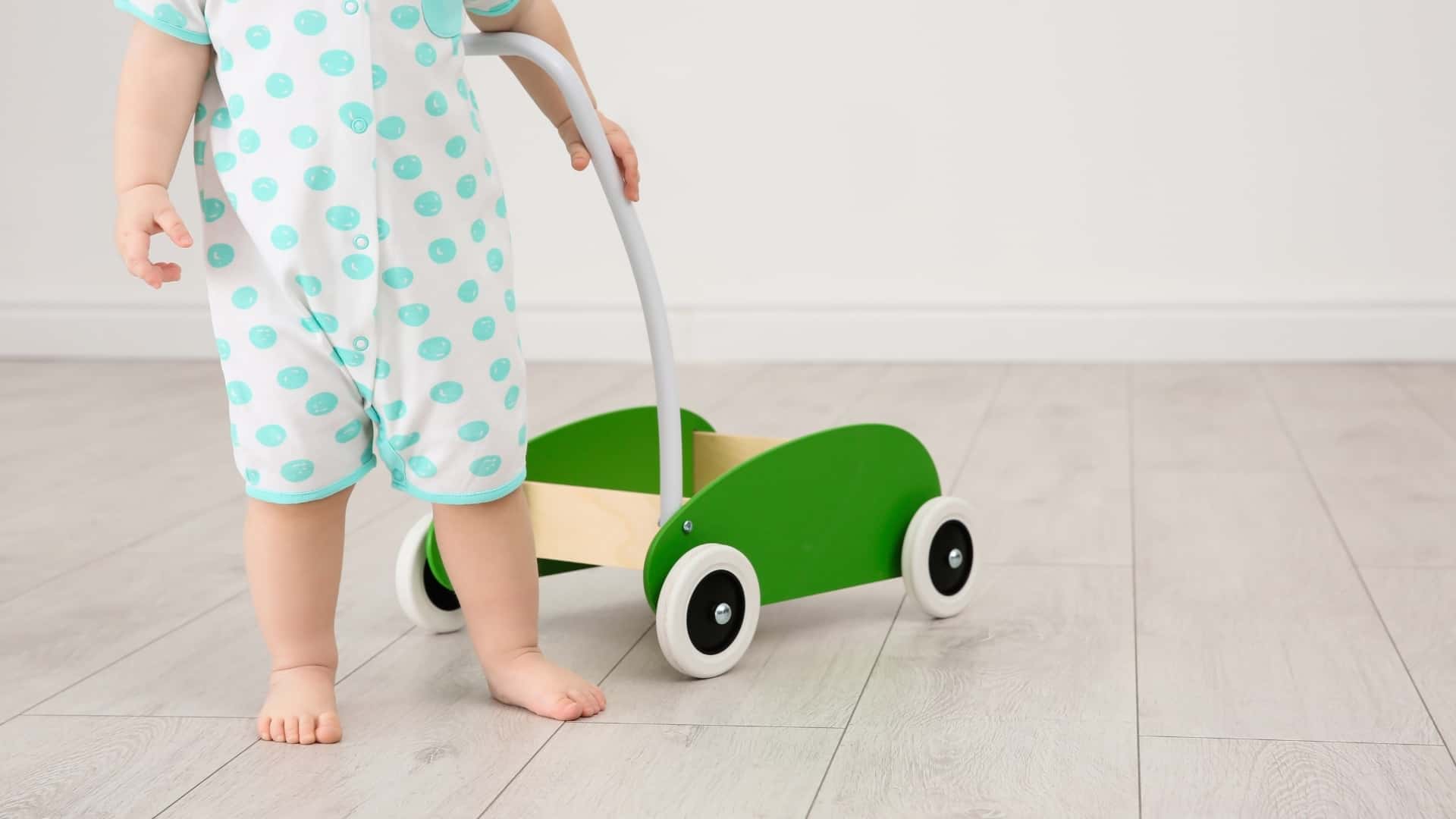 In any case, your child should be able to pull himself up and walk past the table or sofa.
A walker can help with that, and the best aid to start early as a baby (from 6 months until they really stand up) is this walker from Joovy. A walker is easier for them because they are secured in it and fully supported.
But there are many more options and especially for your toddler there are a lot of fun choices that can help.
Below are the best tested picks, then I'll dig into each of these options in more detail: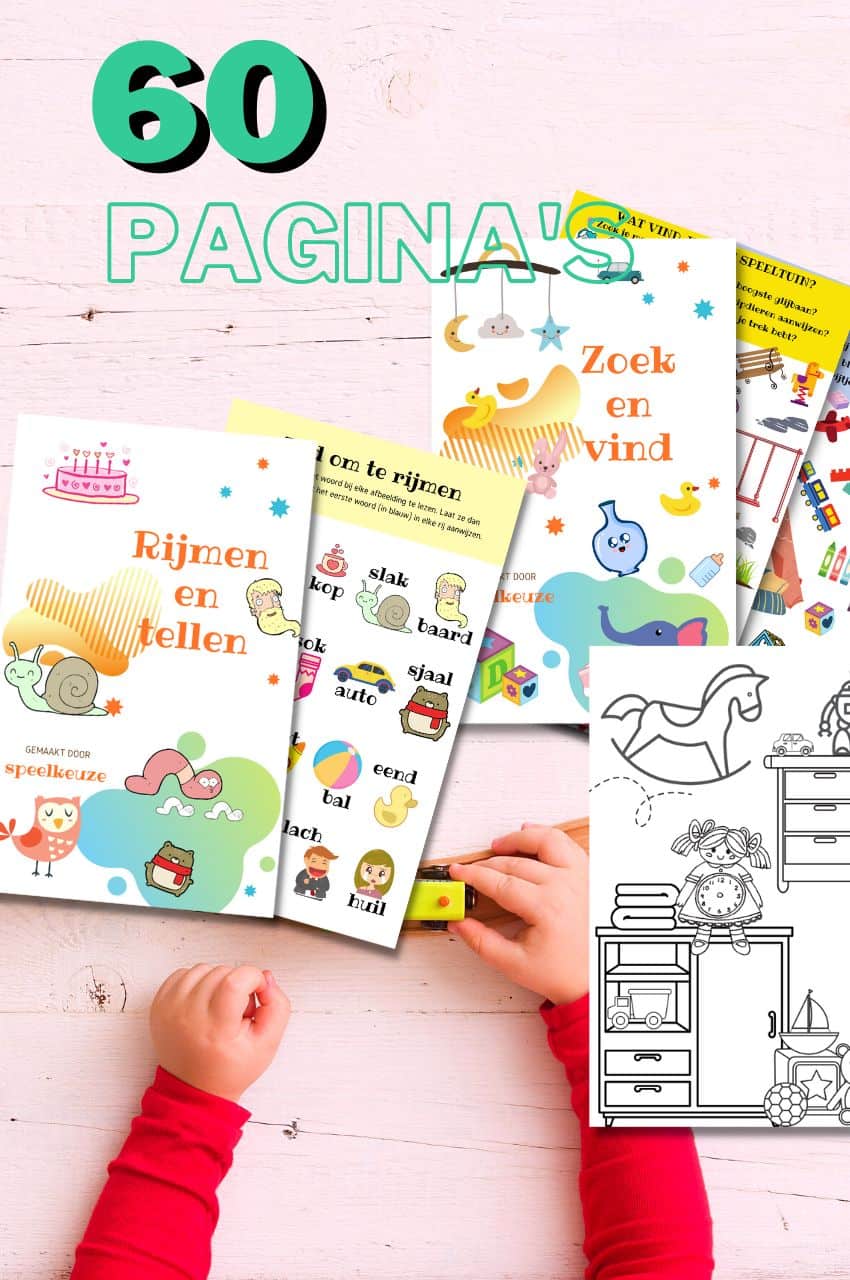 A play theme in your mailbox every month?
Fun play tips, activity books and more, with the first email being our free mini-guide "educational toys"
We will only use your email address for this newsletter and respect your privacy
Complete walker buying guide
First of all, pay attention to the weight of the carriage, most walkers are between one and a half and four kilos.
Resistance of the carriage
Rather start with a somewhat heavier cart (wood is usually heavier than plastic) for your child and make walkers safe for your child so that they fall less easily.
If you buy a car or cart that you can fill with blocks or books, your child will have more resistance, can accelerate better and can learn to walk more easily.
As he becomes more agile, some weight can be removed from the cart.
Some runners, however, have a rolling resistance, which is nice because you can tighten the wheels (in the beginning) or loosely (after some practice).
It is most useful if the adjustable push bar of the walker gives your child some space to take steps and he does not keep hitting the cart with his feet.
Therefore, it is preferable to choose a trolley with an adjustable bar, which can then 'grow' with your child.
Plastic wheels are very suitable for the home, they cannot be used to make too much speed.
Rubber wheels are sound absorbing, more convenient for outdoor use and have more grip.
Weigh all these things carefully against each other, so that you can make a safe choice for your child.
What can the walker best be made of?
Hopefully you have now got a slightly clearer picture of the walker that you want to purchase for your child.
Do you prefer a wooden walker or do you prefer plastic walkers? The plastic version is lighter, more manoeuvrable and easier to clean.
This is more vulnerable than the often simpler wooden version. The advantages of the wooden version is that it is more stable, more environmentally friendly and of course durable.
Plastic walkers are often very colorful and busy, with many bells and whistles and this can distract your child from walking.
You may also like to have a multifunctional car, with which your little one can also develop other skills.
In any case, also pay attention to the wheels. There are trolleys with plastic or rubber wheels.
Plastic is useful to make the kids drive less quickly.
Rubber wheels, however, do not make noise and are also suitable for outdoor use.
A lot of information together, do you think you can make a choice?
Best walkers rated
Best Baby Walker: Joovy Spoon Walker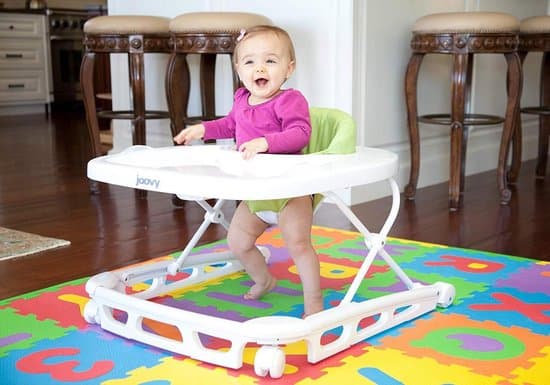 This adorable Joovy walker/baby walker gives your little one the chance to develop their walking skills as quickly as possible.
The trolley looks very nice, is quite deep and your little one can of course do everything with the tray, even a small snack.
Your child can use it both indoors and outdoors.
The four wheels look wobbly but are actually quite sturdy and make it very suitable as a walker for a baby.
The carriage has a stable construction. Your child can use this for quite a long time if you purchase it from 6 months. Highly recommended.
Check prices and availability here
Best walker from 1 year: Hape Shopping Cart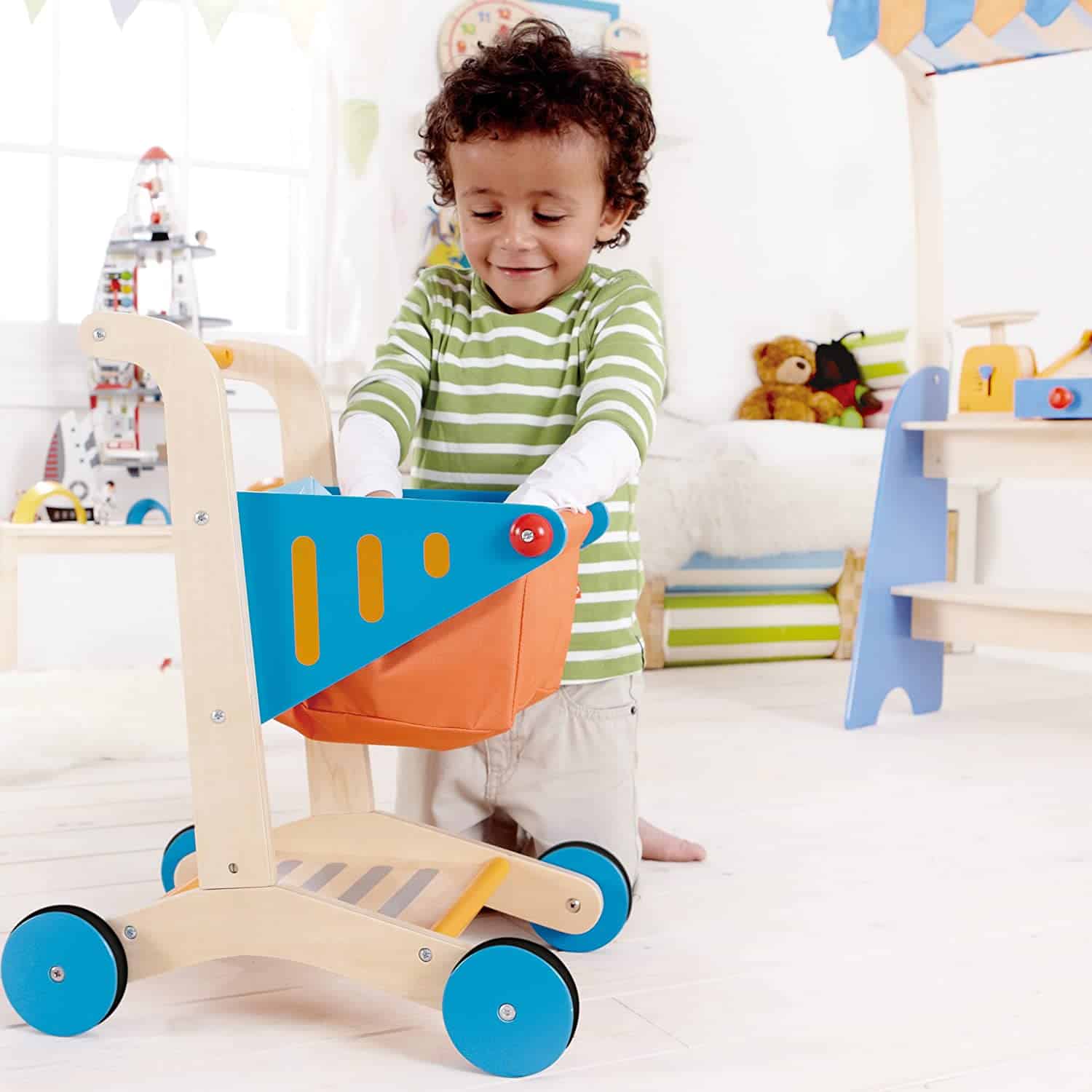 This beautiful Hape Shopping trolley in durable plywood is a very safe trolley with CE certificate.
Children like to imitate their parents, this shopping cart is great for your little one to learn to walk, but also to take to the store and do the shopping with you.
This walker looks nice with wood and a sturdy canvas bag for all the errands.
The gender-neutral cart has a solid construction with smooth-running wheels and a deep basket to load up with groceries or toys.
View the most current prices here
Best wooden walker: Haba craft gnome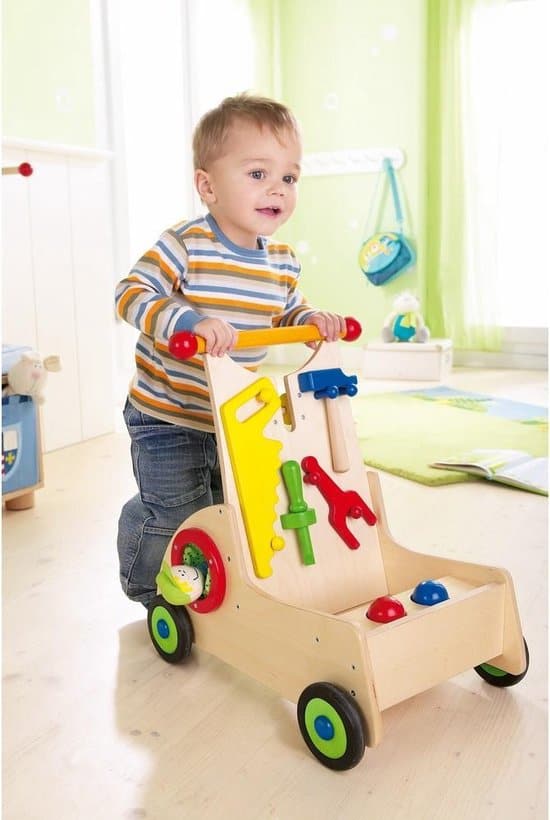 This fun and colorful Walker wood with Haba . activities is a toy with our good old acquaintance gnome!
This modern walker is made for very curious little ones, because they learn to discover and push, and build with it.
The cheerful and colorful materials and tools give your little one so much fun, wherever!
The solid cart has a handy lid and can even be used at the front to hit the balls through the holes with the hammer.
This makes this car a handy tool for taking the first steps. The many educational functions are certainly pedagogically sound.
Suitable for children from 12 months.
Check prices and availability here
Best walker car: Hape VW Beetle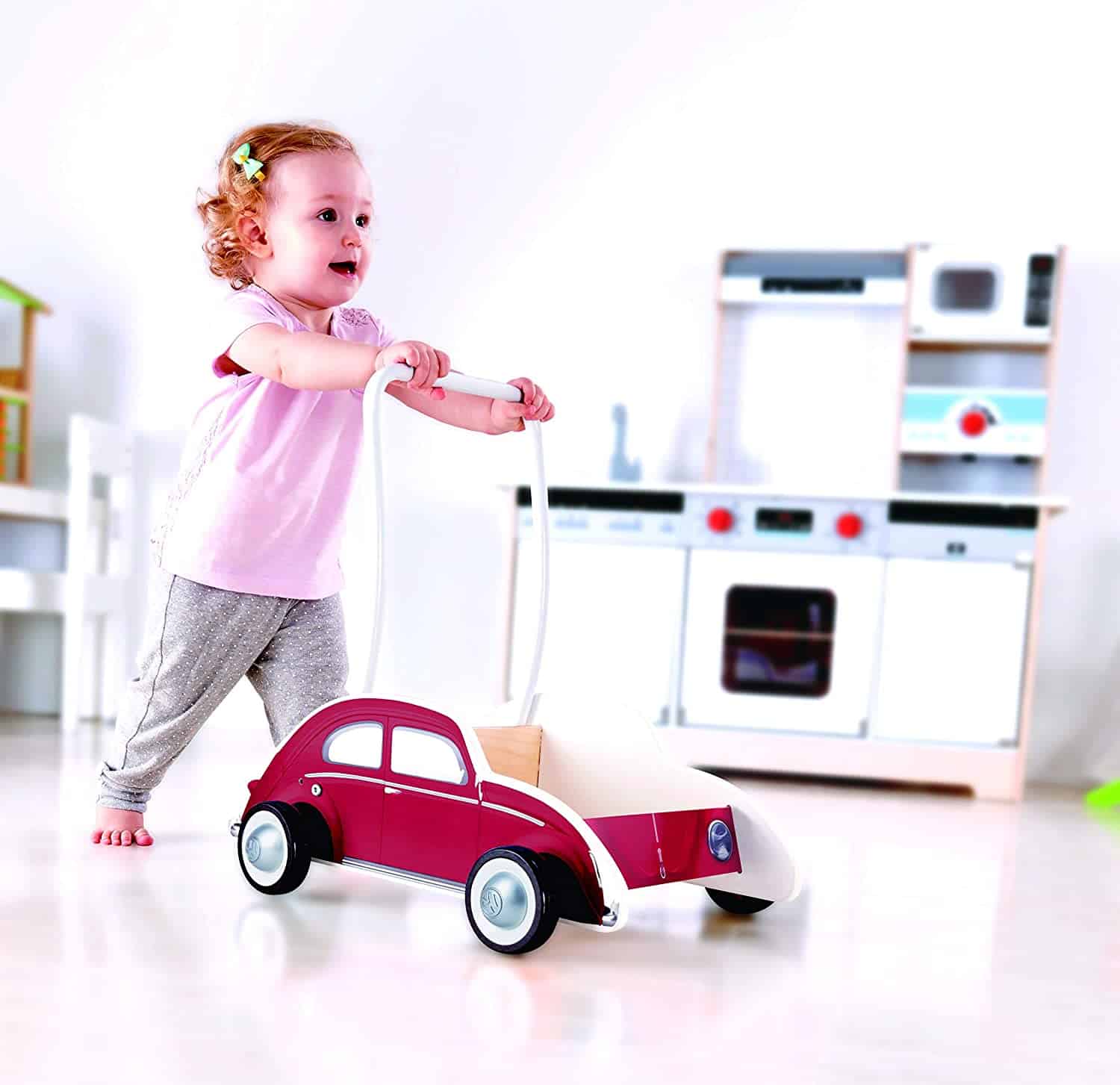 Your little one can go on a voyage of discovery with this cool Hape VW Beetle: a cool red walker for boys or cool girls.
The car is easy to drive and easy to drive.
The black tires with silver-colored hubcaps give this Hape walking car a beautiful old-fashioned look.
The walking car is suitable for children from 18 months and can be used up to approximately six years, a super nice gift!
Best walker with blocks: Janod ABC Buggy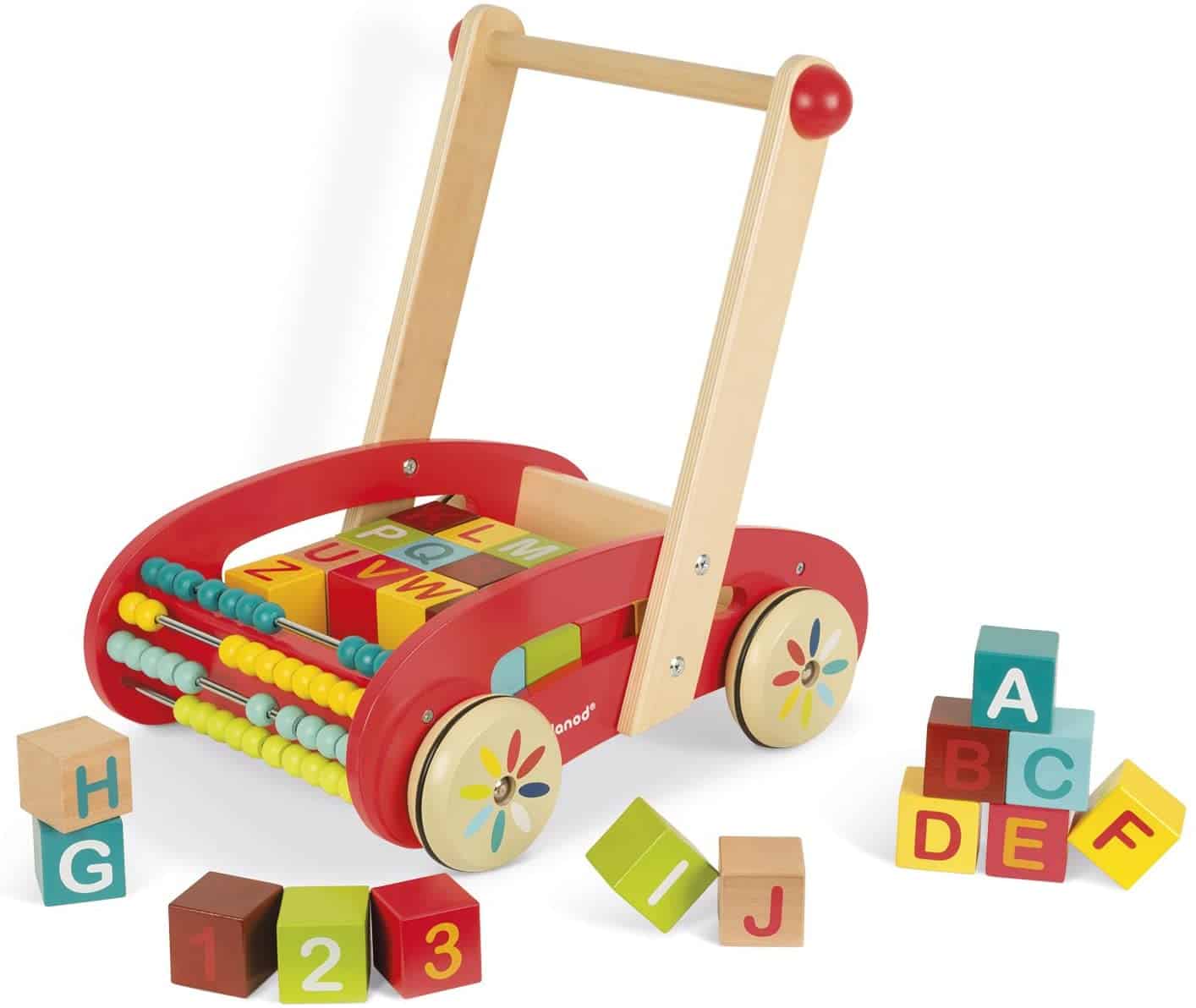 How nice, with this soft-colored walker your child learns to build with blocks and to walk while playing.
After stacking, the blocks can of course be neatly stored in the car where they fit perfectly. My son always likes that the most.
Best walker with brake: Brio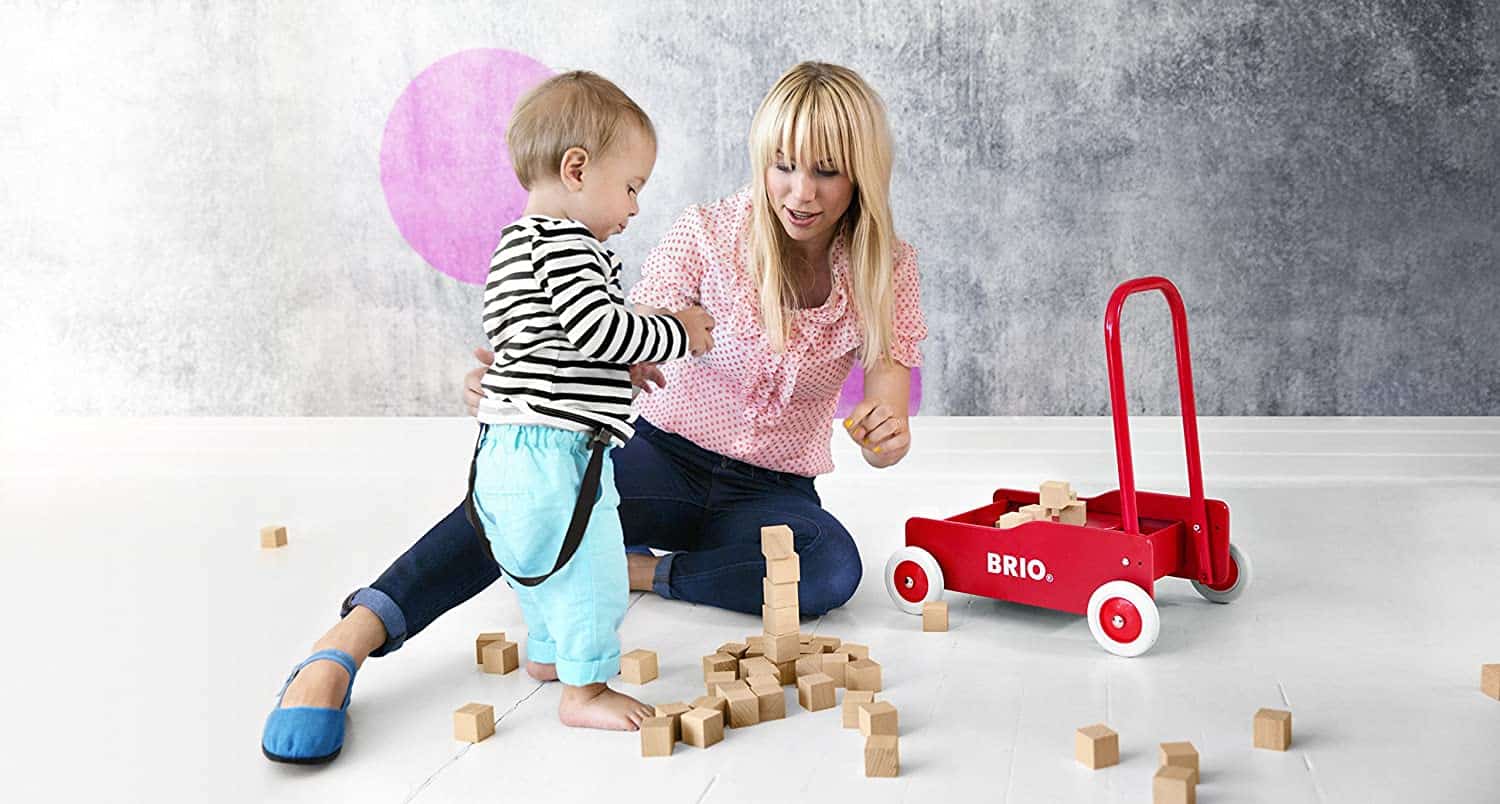 This beautiful VERVE Black carriage can be set in two positions.
If your little one takes the first real steps, the bar should be upright, if he or she can walk a bit better, then tilt the bar slightly for more freedom of movement.
The wheels are adjustable and can be turned so that the trolley cannot shoot forward in one go, making the trolley safe to use.
Your little one can also conveniently pull up on this stable cart without it tipping over. A cart to enjoy for a long time, highly recommended!
Check prices and availability here
Best walker animal: Fisher Price walk with me Zebra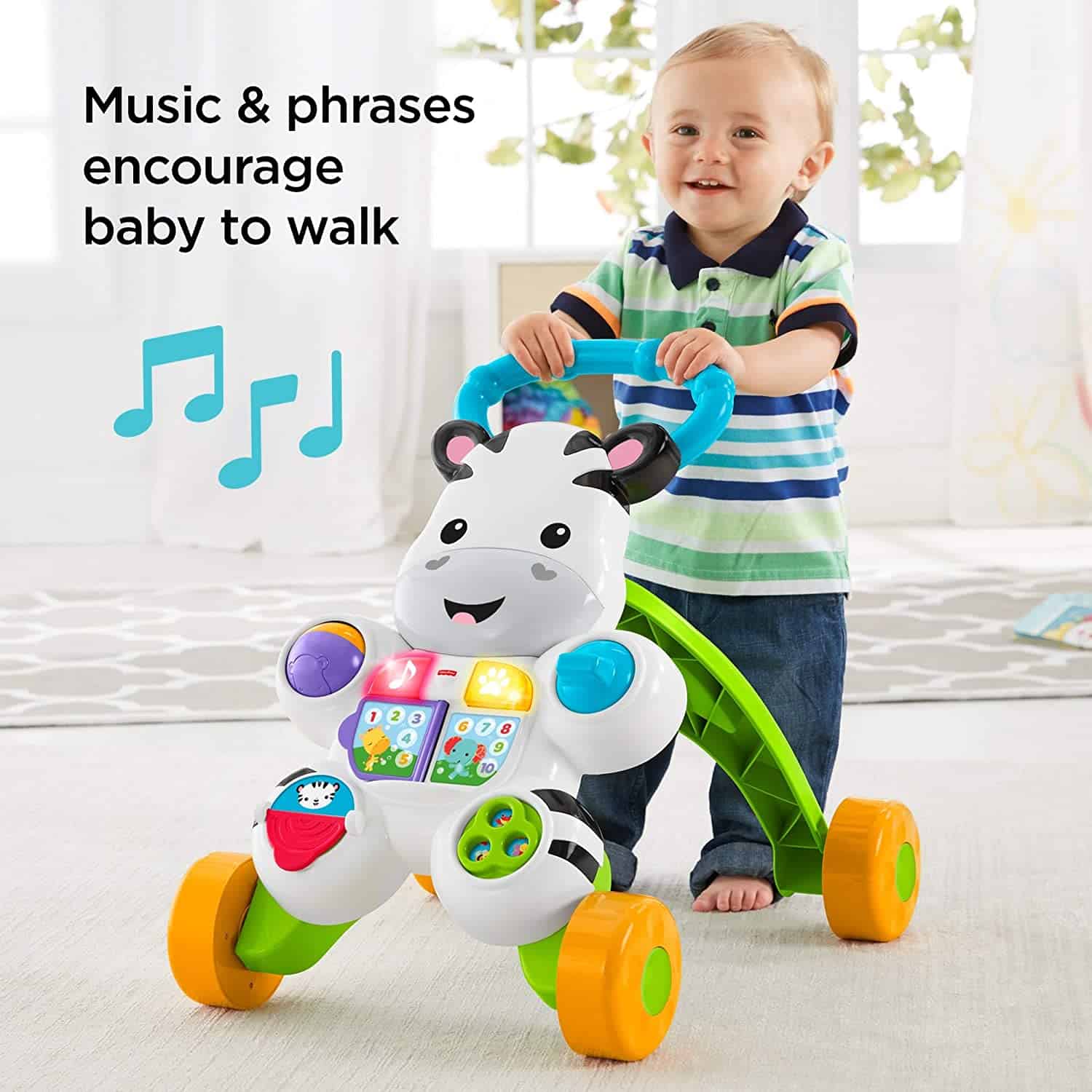 The brightly colored Fisher-Price Zebra teaches your child his first words and also his first steps!
This zebra is full of fun activities for your baby. There are illuminated buttons and you can listen to cozy sing-along songs!
All your baby's senses and motor skills are stimulated.
It has an easy handle and the four wheels give the car a good, solid base.
Your baby can play while sitting and there are so many activities to discover, for example a page that you can turn and all kinds of push buttons that activate songs and also phrases.
Very attractive and educational for the little ones!
Check prices and availability here
Best walker for toddler: Tomy Toomies Pic & Pop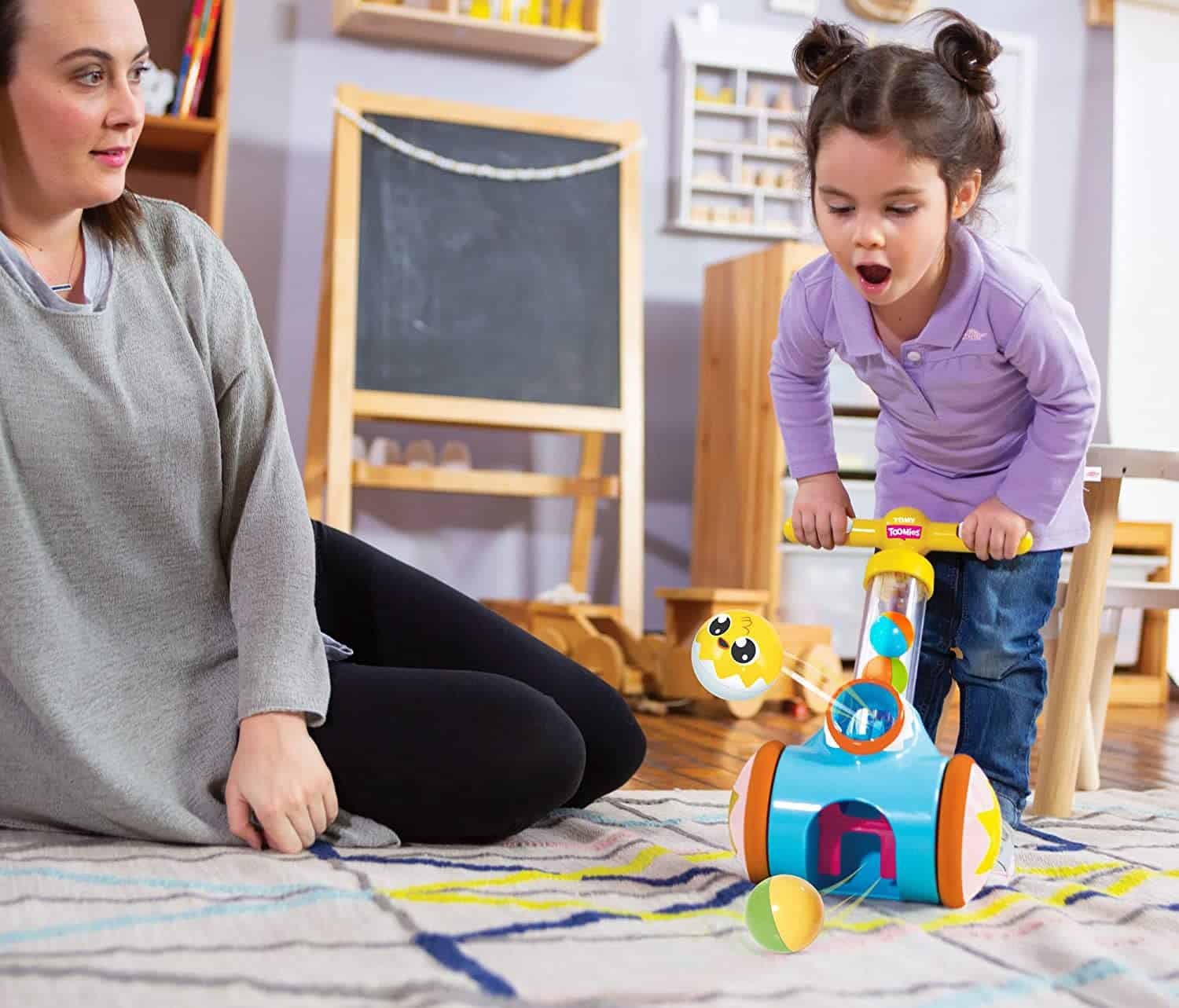 The Tomy Pic & Pop is a cheerful, brightly colored walker that lets toddlers move around.
Your little one must already be able to walk, in between walks a ball can be shot out of the tube with the push of a button and if the ball is driven over with the trolley, the ball is sucked up again.
There are five balls for a lot of fun. Great to play with indoors, but also outdoors!
Check the most current prices and availability here
Best push bar walker: Step2 Whisper Ride II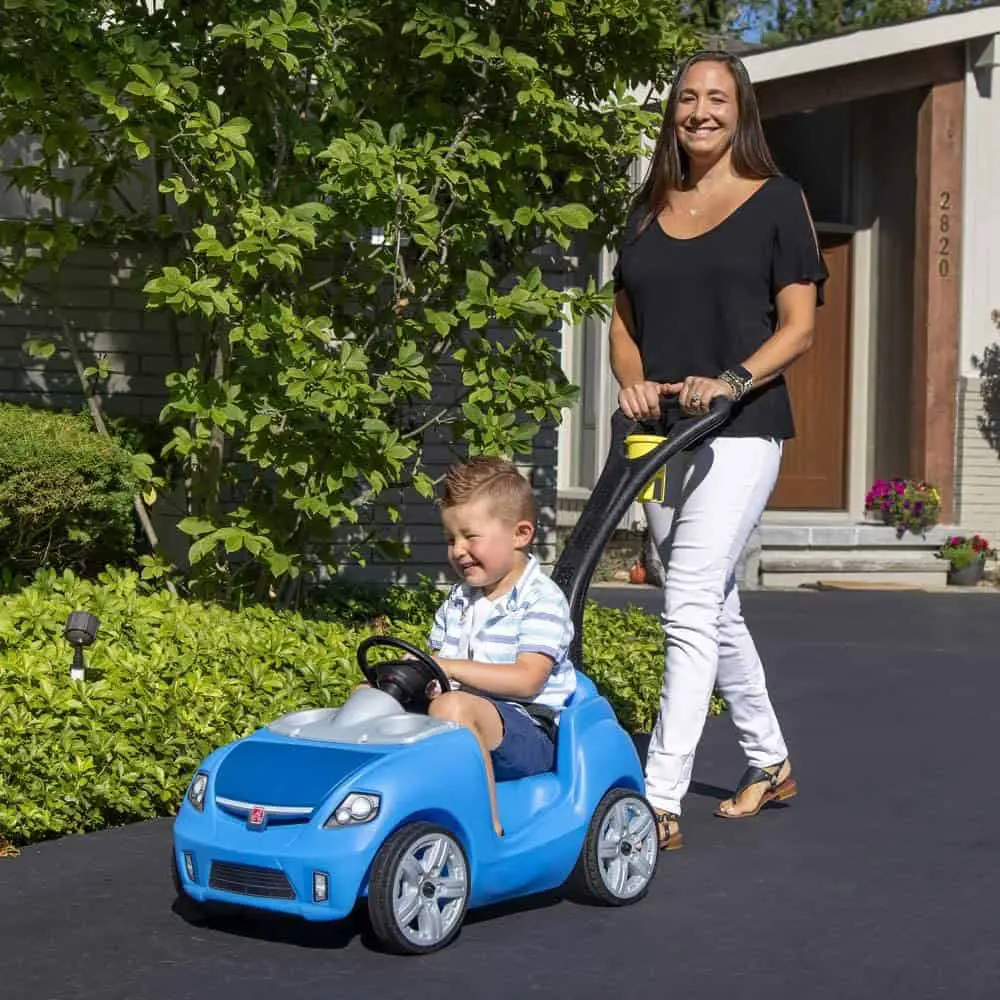 This flashy Step2 Walker Whisper Ride II gives your little one a lot of fun when you push him or her, it is also a great alternative to a stroller on a day out!
This plastic walker on four wheels resembles a real car in every detail and is suitable for children from two to about four years old.
A nice detail is that there are two round holders in the dashboard, for your water bottle when you get thirsty on the road, or maybe for your little cuddly toy that you want to let us drive!
Cutest dolls walker: Janod Mademoiselle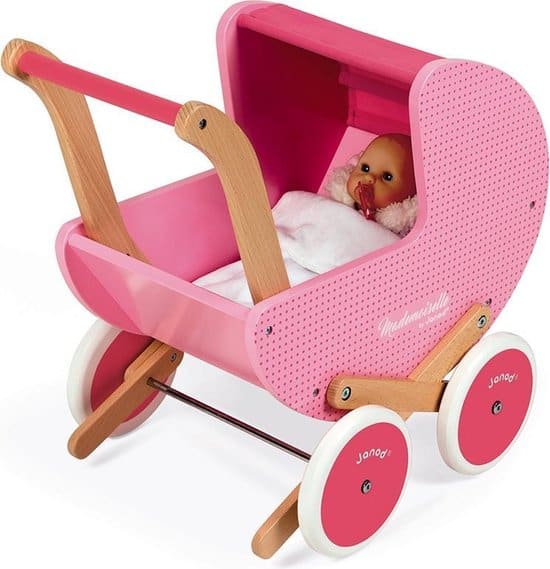 Your child can learn to walk safely with this "Mademoiselle" walker.
The cart is heavy enough not to roll away and gives your little one the confidence to learn to walk.
This sweet pink running either doll pram (view more here) with neat finish, is made of beautiful wood and has well-rotating wheels.
The soft Janod bedding is included so that you can use it immediately with the favorite doll.
A dream car for the sweetest doll of your child!
Check the lowest prices here
Plus it is also and of the nicest Janod toys I wrote about here before
Best walker with resistance: Plan Toys Bird Walker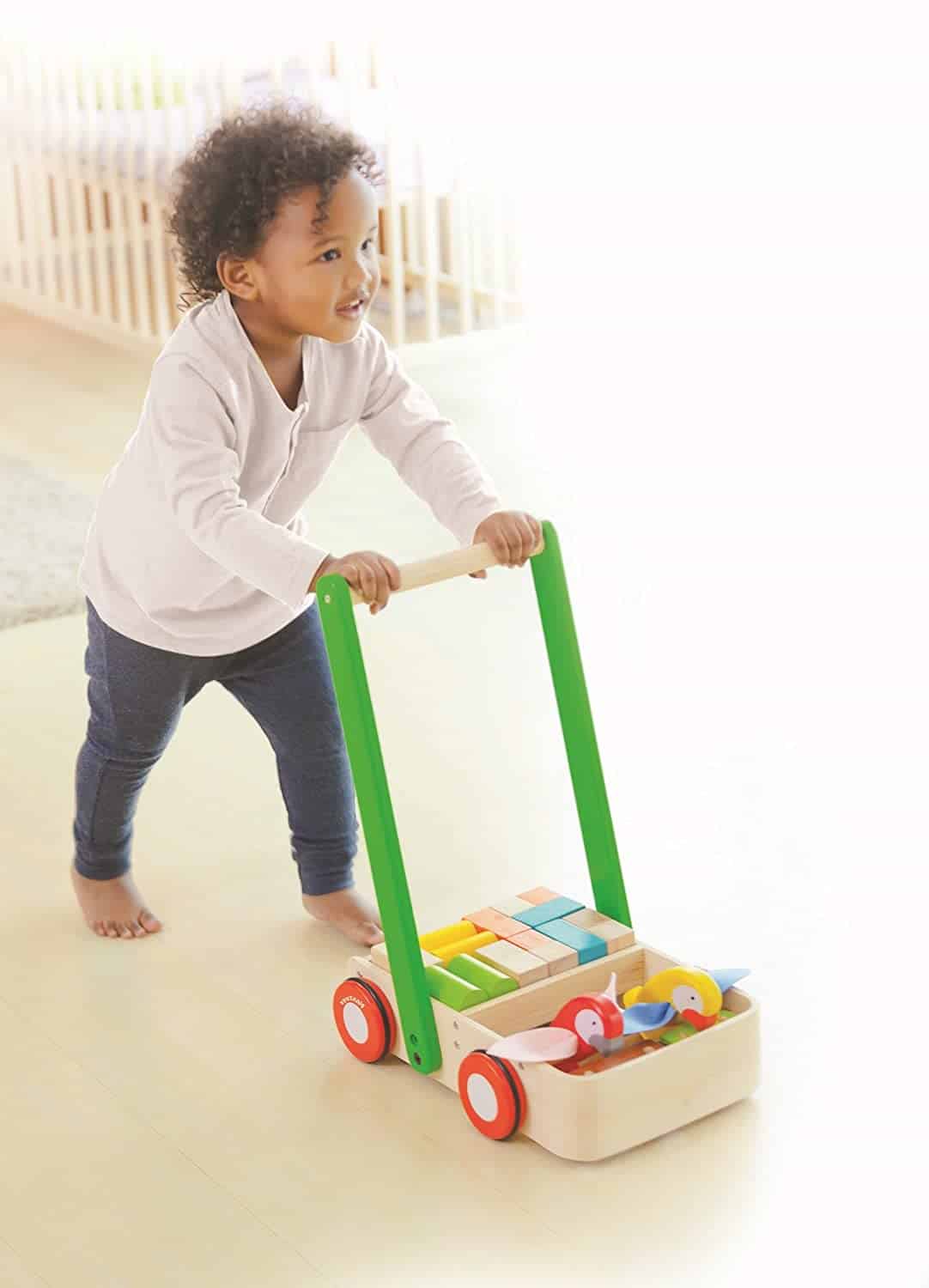 The basic but beautiful Plan Toys Birdwalker walker is a winner. Plan Toys is a very popular toy brand with very beautiful wooden items, whatever it is designed for.
The beautiful walker is made of beautiful and high-quality beech wood and equipped with silent tires.
The wood is perfectly rounded and smooth on all corners, so that nothing can actually be bumped.
But the best feature of this carriage is the two variable resistance positions due to the adjustable push bar.
The wooden wheels can be put in different positions with more or less resistance so that the car rolls more smoothly, and they have rubber tires.
The push bar can be adjusted to grow with your little one and you can secure and tighten it. The wagon can be filled with blocks, toys or dolls.
There are so many possibilities with this beautiful car, it is sure to be appreciated by your child and a nice walker to close the list.
Check the latest prices here
When should you start with a walker?
From the moment your child can pull up reasonably well and toddles along the furniture, you can see what happens when you put him behind a walker.
Most children can pull themselves up well by around twelve months and walk past the furniture around fifteen months, holding on here and there.
However, motor development differs per child, so try out when your little one is ready.
If they start with a bit more brisk walking, it is also nice to set up an obstacle course where they can safely experiment.
I've written about that before in this list with 20 fun games to do with your toddler.
If he or she still doesn't like it at all, accept this and try again later.
When you give your toddler enough encouragement and time to develop their muscles for strength and balance, all babies will walk when they are ready (usually between 9-18 months).
Only if your child can take a number of 'stable' steps when you hold him or her by both hands, is he or she definitely ready for a walker.
Be sure to keep an eye out, because the car can of course roll away and that can lead to a nasty fall.
Sometimes you can turn the wheels a little more to make the carriage roll more slowly, which is very useful to get your child used to the carriage during the first period.
Your child will have a lot of fun with it!
Some walkers also come with extras such as large wooden blocks, shapes, and push buttons with sounds or songs.
How do children learn to walk with a walker
Time on a push car does take time from activities that train real strength to walk.
Although it gives them confidence to take those first steps, it is therefore good to limit their time on the walker and learn to walk in other ways.
Encourage Tummy Time as much as possible, it's best from an early age. Babies should sleep on their back and play on their stomach.
Belly time is the basic building block for all motor skills and a lack of it can have a huge knock-on effect.
If you have a laminate floor, put a large carpet or non-slip mat on the floor so that your baby has a grip while learning to crawl and walk.
When they are ready to exercise, buy your baby a stable push-type walker (or push-type, not one that they have to sit or stand in) so that they are as self-contained as possible.
If you have laminate floors, it's a good idea to put on baby shoes or keep them barefoot so they have a better grip, but extra grip socks worked really well for my son too.
If you decide to use a baby walker:
Limit use to 10 minutes a day while they are still learning to stand on their own
Make sure to keep a close eye on your baby at all times
Make sure the walker is low enough so that your baby can put both feet completely flat on the floor, or buy an adjustable one
Safety walker
A big myth surrounding walkers is that it is a safe place to put your baby in for a few minutes while doing something.
The truth: Putting a baby in a baby walker is a dangerous risk, even those they are stuck in the middle of.
A child in a baby walker needs a lot more attention and supervision than when they are not in it.
They allow babies to move very quickly and often also allow them to reach for heights where they can grab dangerous objects such as knives or hot drinks.
Conclusion
Whatever you want to buy, there is always a trolley that suits your needs, but also style.
It is quite a large toy that will probably be in your living room, where there is most walking space, so it better also fit in with your interior.
Hopefully you enjoyed looking through all of these options and good luck with your choice!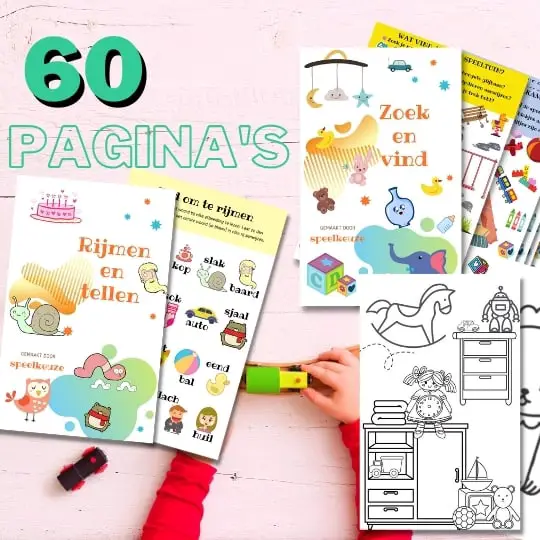 Always something to do for the holidays or rainy day?
Play Choice now has the ultimate activity book collection, with over 60 pages of fun coloring pages and educational puzzles.
Joost Nusselder, the founder of Speelkeuze.nl is a content marketer, father and loves trying out new toys. As a child he came into contact with everything related to games when his mother started the Tinnen Soldaat in Ede. Now he and his team create helpful blog articles to help loyal readers with fun play ideas.