Best wooden blocks toys for the most creative builds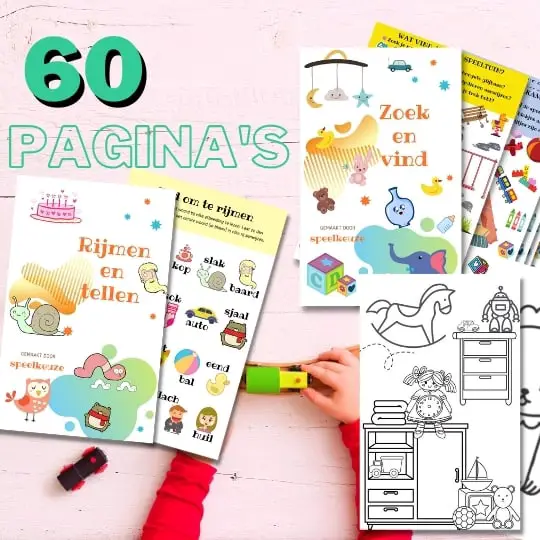 Always something to do for the holidays or rainy day?
Play Choice now has the ultimate activity book collection, with over 60 pages of fun coloring pages and educational puzzles.
Houten blocks are always great fun to play with. So you can make amazing creative things with it. With the right play set, of course.
Take for example these Kapla blocks. Great toys where children can use their creativity. Also commonly seen in schools for preschoolers and young schoolchildren. They are more planks than blocks which makes it challenging.
In this article I look at the 7 best wooden blocks toys and what you should pay attention to when purchasing.
Let's take a quick look at the top options. Then I'll dive deeper into each of these choices.
Wooden blocks toy buying guide
Although normal block toys are suitable for both babies and toddlers, we also have some more unusual block sets on this list.
Therefore, age is the most important factor in choosing the right set.
Age
Building blocks are usually large enough that they cannot be swallowed. So you don't have to worry about that.
That also means that basically all sets can already be given to a baby, although they may not be able to do much with them yet.
Toys with baby activities such as the Haba Discovery Set are the best. But the simple cheap blocks from Melissa & Doug can also be fun for a first discovery.
Some blocks have difficult building systems like Lincoln Logs or Kapla. A baby has nothing to do with that.
I've ranked all the sets on this list by age:
Replayability
Is it fun to play with? That has to do with the ease of playing without frustration and the extra functions it has.
Of course, this also varies by age. Haba's sound features are not fun at all for a 5 year old.
I've rated each set for replayability on a scale of 1 to 5 to give you an idea.
Sustainability
Once you have a set that your child likes and is age appropriate, you want them to be able to play with it for a while.
That's why we've rated each set for durability. How long will it last without breaking.
Some sets such as those from Melissa & Doug and Sainsmart Jr are quite sturdy and not much can break.
I also rated durability on a 5-point scale.
Top 7 Wooden Block Toys Reviewed
Unlike what you are used to from the other building games, the Kapla boards are identical. The precision makes it possible to build larger buildings.
Each board has the ratio 15: 3: 1 and the dimensions are (lxwxh) 11,7 x 2,34 x 0,78 cm. The boards are made of pine and are untreated, although you can also get boards in color.
The toys are available in boxes of 20, 40, 100, 200, 280 and 1000 boards. The sets come with interesting ideas booklets, but don't expect step-by-step guides.
The target group is mainly children. In both the Netherlands and France, Kapla is used as educational toys in schools and childcare. However, more and more adults also find these toys attractive.
To create the most beautiful structures with Kapla, you do not need any glue, clamps or screws. With Kapla toys you can build bridges, a complete city, robots or castles.
Kapla can be played in many different ways. Kapla can therefore be combined with all other toys and is therefore extremely universal.
Simple but so much fun. The toy has already been awarded several times. Originally the Kapla boards were neutral in color, but nowadays they are available in different colors.
You can choose to make small, cute buildings of cheerful colors. Or do you prefer complicated structures, such as skyscrapers and ships?
The toys contribute to the development of a child's fine motor skills and spatial awareness. In addition, the brain is stimulated in terms of concentration, logic, patience and creativity.
Kapla is fun for everyone from 3 years old, but you can also make complicated things with it so that it is still great fun for school children.
Tegu is a responsible brand that makes its wooden toys in Honduras from sustainable wood.
The toy is therefore also naturally safe without plastic, BPA and with water-based paint.
You spend a little more on these blocks, but playing with real wood gives a hand feel that plastic will never be able to give your child.
Is that worth the extra money than, say, the cheap Pixio? I think so. It is good for your child to play closer to nature.
Tegu is one of the few brands that treats the planet in such a responsible way while also bringing modern toys to the market, such as magnetic building blocks.
This set has blocks in different shapes and the slats also ensure that you can do a lot more.
For example, you can make perfect house constructions, or a real race car:
It is by far the best set in this list, but you pay a higher price for it.
With Melissa & Doug wooden blocks you can build small things. A beautiful house or perhaps a beautiful castle, a fast train or a large car!
Let your little one use his or her imagination. The colorful wooden blocks come in all kinds of shapes and have different colors. Completely open-ended style.
The set is suitable for children from 18 months. A bit younger than Tegu's magnetic blocks. It's also a little more open-ended because you're not tied to the pieces being able to "stick" together.
Also read: these are the best wooden toy brands we've reviewed
Lincoln Logs have been popular in America since 1916 and available around the world for several decades.
These classic building sets consist of 100% beautifully stained real wood blocks, which are manufactured in America according to the strictest quality standards.
You can easily stack them on top of each other so toddlers aged 3 and up can improve their fine motor skills, hand-eye coordination and manual dexterity.
There is an example, the classic meeting house, but you can also invent your own structures. And that's what makes the toy really fun.
Maybe not a nostalgic experience for everyone in the world, but definitely a retro building game that has stood the test of time.
From 1 years

Best: 3 – 5 years

Until: 6 years
These TickiT Rainbow Blocks are amazing and a great way to learn colors. Children can simply stack them in front of the window and the light will shine through. You can also use a separate light table. This makes it extremely educational and versatile.
They are ideal for group play and can promote children's social and emotional development. In addition, they are also suitable for children with special needs, as they can help with focus and language development.
The play value is high because they are easy to use and appeal to the imagination in open-ended play where you can build anything or mix colors and it encourages social interaction because it is almost irresistible not to interfere with the colors .
The replayability is also very high because you can combine the blocks in all kinds of games, for example as houses in fantasy play, and the durability of the material is very good. They are just a bit difficult to carry because of their size.
The blocks are made of sturdy wood with a translucent acrylic plastic in the middle, and we haven't been able to break one of them, even after six months of playing. They are designed for children from one to three years old, but I think four and even five years old can learn even more from them by combining the colors and going deeper into how colors work.
We have Haba on almost every list about wooden toys. A great brand with some innovative ideas.
These baby blocks are also beautifully finished. You get Contents: 6 discovery blocks with different sound effects.
Each cube measures 1,75″ x 1,75″ x 1,75″ (4,5 cm) and they are suitable for children 12 months and older, although slightly younger will do.
Some squeak, clap or rattle. Each cube has a different acoustic effect. In this way, early perception and musicality are promoted.
This kind of educational toy has received the attention of many media outlets and has won the Baby Maternity Magazine Toy of the Year and The Bump – Best of Baby awards.
They can also still stack with it a bit because they are all cubes, although they are not very stable.
They are very expensive and they don't make a lot of noise. It can be nice so that you don't have to sit in noise all the time.
But they are really discovery blocks and not really musical blocks.
40 wooden alphabet blocks, made of solid and sustainable wood.
Because the letters are cut out, it has a very nice handfeel that is just fun to grab and explore.
In addition to letters, there are also several numbers and mathematical symbols. This way they can play with it a little longer when they start to find some things interesting.
For example, my son was already interested in sums before he started to like letters and reading. So there is something for everyone up to toddler time.
Elk blok is suitable for children's hands and is 1.18 inches (3 cm) on each side.
Due to the relief, they stack less well, but each block also has sides that are only slightly cut out.
It takes a while before they realize that they can best stack with that.
They are very well made and the price is reasonable.
Conclusion
There are a lot of nice wooden building blocks for sale, and even for different age groups. It's not just for babies and toddlers.
Preschoolers also love building difficult things and some sets are even challenging enough for schoolchildren.
Also read: these are the best blocks games for babies and toddlers