Best Wooden Cause and Effect Toys: SUPER Educational!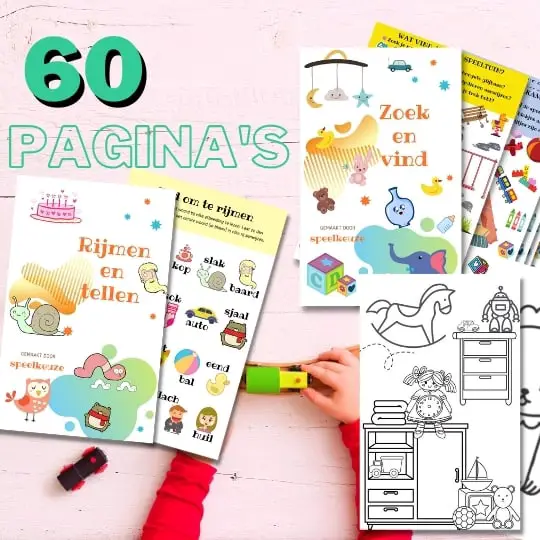 Always something to do for the holidays or rainy day?
Play Choice now has the ultimate activity book collection, with over 60 pages of fun coloring pages and educational puzzles.
Cause and effect is good to learn as well as fun to do, and it's not just for babies to explore.
Take for example this wooden Djeco Zig & Go set who can teach children aged 7+ a thing or two. A box full of experiments and dominoes to see what happens when you make different choices.
In this guide I look at the 6 best wooden cause and effect toys plus what to look for whether you're buying for your baby, toddler, or school child.
Let's take a quick look at the different options. Then I'll go into more detail about each of these choices.
Wooden cause and effect toy buying guide
There are a few things to keep in mind when buying wooden cause and effect toys.
Age
Is the toy appropriate for your child's age? With children under 3 years of age, pay particular attention to small parts or parts that could easily detach.
You don't want your child to be able to swallow anything. When in doubt, always stick to under three, like Galt's pop up game.
Other toys may have small parts but are just too difficult for a baby like Hape's toaster.
In this overview, I've looked at all the toys on this list and arranged them according to age.
Educational
Are the toy sets that they really learn something from or is it just a fun toy?
When learning about cause and effect, it's always a bit educational, of course, but some toys hit more learning goals at once.
For example, the Melissa & Doug gears are very good for fine motor skills and color recognition, while Hape's Raindrop Ratel immediately stimulates musically.
That's why I rated each set for educational ability on a scale of 1 to 5.
Replayability
How many times can they return to the toy without getting tired of it? That's replayability.
I've reviewed each set and also rated its replayability.
Usually this is about the challenge that it can offer permanently and whether you can always come up with something new with it, such as with the Djeco Zig & Go.
Sustainability
You want the toy to last. Especially if they find it fun and replayable and keep coming back to it.
Fortunately, you already choose wooden toys so that they will probably last a long time. However, not every toy is equally sturdy.
I also rated this on a 5-point scale.
Best Wooden Cause and Effect Toys Reviewed
Djeco proves that you can also teach schoolchildren about cause and effect in a playful way. What a wonderful educational chain reaction!
You can build and test different layouts, which also makes it a creative game. Especially when you add more of these sets, because they have quite a few.
Entirely in the VOTE mindset. It teaches you to think about what will happen when you set up the track in a certain way.
The material is very sturdy so will definitely last a while. However, you have to pay attention to some parts that can break off a bit more easily.
I would therefore definitely recommend it from the age of 7. Smaller children may be too rough with it.
I have to say that there are not many different jobs to think of with just this set. But if your child really gets the hang of it, you could consider an extra set.
You can also always combine it with other domino toys you may have, or other small blocks if they are light enough that you can knock them over.
Age: from 1 years
You don't need much for your toddler. A row of cars zooming off a race track is actually enough.
They can't yet come up with a game where the cars have to go through the car wash, or where they have to be parked properly.
For your toddler it is nice that something moves. That is why this wooden garage from Top Bright is so nice, because there is always something to look at.
A classic, actually a marble track with some parking spaces on top, but my little one had a lot of fun with it.
Also read: this is the best wooden toy with wheels
Gears always have something magical for a small child. That's why the Melissa & Doug Caterpillar is so educational.
It certainly holds their attention!
It is a solid wooden base. What a pity that the gears are made of plastic, but that makes it a bit sturdier.
Because of the different colors, your baby can also learn color recognition right away and it is of course wonderful for fine motor skills.
The gears fall off very easily when you pick it up. Of course, that's also learning cause and effect, but that means you're probably picking up all the time with a baby.
Maybe it's part of it, but for many parents this leads to frustration.
With 1,5 years they can also put it together again themselves.
Such a rattle is very calming because of the soothing raindrop sounds. Your baby can grab it nicely and see what happens when they turn it over and over.
An introduction to cause and effect.
It has a sturdy wooden construction with a transparent center piece. Although the edges are made of wood, there is still a lot of plastic in the toy.
It is very well finished with smooth edges on all sides.
Some say it doesn't make enough noise, but I like that myself. Perhaps not every baby is stimulated enough by it.
It really is a kind of rain music, more than just a rattling sound.
From 0 years

Best: 1 – 2 years

Until: 3 years
Every child should have a pop up toy for their development, but there aren't that many wooden options. The social interaction you can have together with your child is great, which greatly enhances the play value. The price-quality ratio is also excellent because the material is sturdy and with us the toy has lasted all through toddlerhood.
When you push a doll down, he will jump up again.
The dolls are a bit narrow so it is good to always stay with them when they play with them.
Swallowing is not easy, but when they walk around with it in their mouth and fall it can be a bit dangerous.
The play value is also a bit disappointing, not because it's not a fun toy, but you can really only use it on its own and it's a bit too difficult for babies to play alone. The fact that you can't combine it is also not very good for its replayability. It really is a stand alone toy which is good. is for learning cause and effect.
Cause and effect because you press the toaster and a delicious toasted sandwich pops out.
But it is also very good for fine motor skills. There are 10 accessories included. Bread, but also butter for cutting.
Such toys are great fun for the play kitchen or eating other toys. I don't know how much fun it would be if this is the only food toy you have. Then it's a bit of a strange loose set.
Hape toys are always very sturdy and this is no exception.
It is suitable from 3 years, it says on the box, but there are actually no small parts, so a younger child can also play with it.
The buns don't go all the way into the toaster, so it's not 100% just right. That might be a bit of a shame.
But a very nice addition to your play kitchen.
Conclusion
There is a lot to do with cause and effect. You sure didn't know that, did you?
I hope these sets give you a good idea of ​​the possibilities so that you can make a good choice.
Also read: these are the 20 best wooden toy brands that always produce quality