Best Wooden Food Toys: ENDLESS pretend play with these 12 sets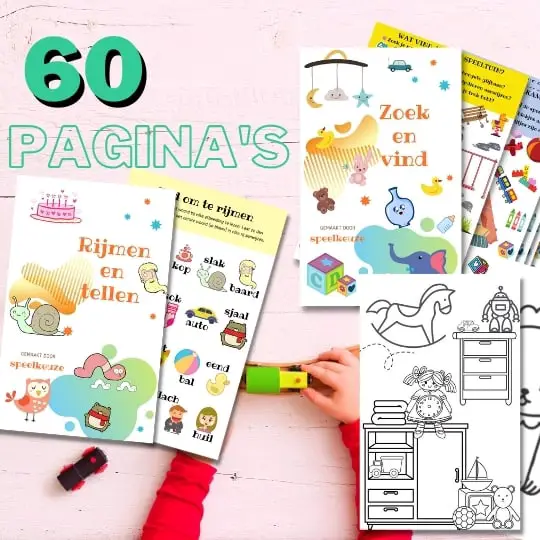 Always something to do for the holidays or rainy day?
Play Choice now has the ultimate activity book collection, with over 60 pages of fun coloring pages and educational puzzles.
A play kitchen or other fantasy play around food is great fun for your toddler and preschooler, but that also includes enough food.
Take for example this best fruit and vegetable set from Janod. Firm wood and you can cut it well through the Velcro. With a colander, it's just like the real thing!
In this article I look at the 12 best wooden eten toys and what you should pay attention to when purchasing.
Let's first look at all options in a short overview. Then I'll go into more detail about each of these choices.
Wooden food toy buying guide
When you choose wooden toys food, then you want it to last a long time.
Furthermore, it is important that it is durable wood is, such as the rubber wood from Plan Toys and Le Toy Van. The buying of toys will have minimal impact on the environment.
You can also choose toys where you do it wood can feel the best.
For example, Janod's play fruit is very finished and looks more like fruit and vegetables than wood. The Tender Leaf set is very natural wood.
It may seem a little less "real", but it also stimulates the senses more and fits better with the natural feeling for Montessori and Waldorf play.
But it also has to be fun to play with. That is paramount.
Every play kitchen should have a set of cut fruits. That's my experience. Cutting the fruit and vegetables makes the pretend play extra fun.
If you already have that, you can look at the additions such as meat products, or cans. Some extra accessories for the kitchen are also nice to give the game some extra dimension.
I have each toys on the list rated on features, replayability and durability from 1 to 5 points.
This way you can see how much it can do, whether it remains fun and whether it will last a long time.
Top 12 Best Wooden Food Toys Reviewed
From: 2 years

Best: 3 – 5 years

Up to: 6 years
The cut vegetables and fruit are incredibly easy to use. Some sets are held together with magnets, but I prefer this Velcro version. It gives a little more resistance when cutting, so your child really has to learn how to hold the knife. This appeals even more to the imagination, plus the texture of the inside gives a different sensory experience.
Toys like this are also extremely versatile, they can participate in all kinds of cooking and shopping games and with us it often joins in with farm toys. This makes it very versatile and easy to combine.
The play value could have been even higher if it encouraged more social interaction. For example, there is only one blade. Yet it is also educational for vocabulary learning and interaction.
What makes the set completely replayable is the fact that everything fits in the handy carrying crate. So you can take it with you wherever you go, combine it, and then store it within reach.
The food is firmly put together and there is even a colander. This allows them to have extra fantasy play so that it is just real. I used to let my son play with our colander but it didn't fit in the play kitchen so this is a better solution.
Cause and effect because you press the toaster and a delicious toasted sandwich pops out.
But it is also very good for fine motor skills. There are 10 accessories included. Bread, but also butter for cutting.
Such toys is great fun for the play kitchen or other toys to eat. I don't know how much fun it will remain if this is the only thing toys food is what you have. Then it is a bit of a strange separate set.
Hape toys is always very sturdy and this is no exception.
It is suitable from 3 years, it says on the box, but there are actually no small parts, so a younger child can also play with it.
The buns don't go all the way into the toaster, so it's not 100% just right. That might be a bit of a shame.
But a very nice addition to your play kitchen.
With 21 pieces and 4 crates you can hardly go wrong for this price. Melissa & Doug know their sustainable wooden toys always affordable.
A lot cheaper to eat per piece than Janod's set, but you can't cut these.
You can combine the pieces for tasty creations, such as a hamburger bun. There are also plenty of healthy things such as cheese, milk, fish and fruit.
The goal is to teach children about the 5 food groups because there is a bit of everything. It is strange that there are no vegetables. That's a missed opportunity for an otherwise educational set.
This set consists of 39 pieces, but that is biased because they are all thin slices for the salad.
Here everything is already pre-cut. Very nice to experience a salad and extra nice is the healthy aspect.
A lot better than the New Classic Toys Donuts if you ask me.
Because everything is already pre-cut, this set never participates in the fantasy shopping that often precedes cooking, and that is sometimes a pity.
Especially if this is one of the few sets you have on wooden food.
You can cut the loose pieces off each other. Also with Velcro as we like to see it.
This is the most sustainable wooden food I have come across. Made of rubber wood and water-based paint and organic pigments.
This is a nice addition to others wooden food because it comes with a bottle of orange juice, a water bottle, a carton of milk, ketchup, jam and a honey jar.
All jars and lids are fun to play with and at this age they probably also drink milk so that the package is close to the real world.
Nice to see how they scoop delicious food from the jar and give their food some extra flavor with the sauce. This is the kind toys which adds a new dimension to fantasy cooking.
The bottles are complete wood so be warned if you have a throwing child. These hit hard.
These are also made of very strong and durable rubber wood, just like the Plan Toys set. This is more about a realistic look than the cute packages of the Food And Beverage set.
What a detail on the meat, it is really very nicely finished with the drawing on the red meat or the sausages that hang together.
They are really very small, much smaller than you would think on the picture because you probably have such a piece of meat in your head.
The steak is about the size of Melissa & Doug's sandwich. So although the price of the set is still reasonable (Le Toy Van is a premium brand), you pay quite a bit per cm of meat :)
A very nice retro toys. Who wouldn't want to play that they're going to the cinema to eat some good popcorn!
It's a cute set and really, really sturdy. The popcorn pieces are made of felt so that there are no small pieces that your child could swallow.
The popcorn in the machine is stuck. It's popcorn bits and wooden balls that rattle inside for a funny sound.
This makes it toys very safe, but many customers said they found this misleading, because you can't see it clearly from the pictures.
So it seems like you have more playing material than you actually get. And that for quite a good price.
The movie tickets and tickets to buy sweet or salty popcorn that are on the box (cut out) are also a nice addition for a lot of pretend play.
Opinions are pretty divided about this machine. I think he's great and it's fun to get involved in pretend play. Others don't care because there is nothing to cut or make.
It's an absolute hit or miss in your home.
They're donuts. Round wooden discs with decorations on them.
The functions are: baking donuts, and serving donuts.
But they are really cute! And indestructible. New Classic Toys has a lot of sturdy wooden toys. For example, our play kitchen is from this brand.
Very well made with very cheerful colors. This set will last a few lifetimes.
Cute sandwiches and other baked goods in a sturdy and durable wicker basket. Very well made.
The color of it wood is kept very natural, which is perhaps the best wooden makes food. There is some paint on it for the hogweed of course and that is done very cheerfully.
This set is also made of durable rubber wood, just like the Le Toy Van and Plan Toys sets. Tender Leaf always manages to keep things a little more affordable.
It's a pity you can't cut the bread like some other bread sets, but the 4-square bun can be pulled apart to share.
That is a nice addition that makes it a bit more interactive.
If you want more of course wood want to go, then this is the set for you!
Lees meer: this is the best wooden toy for toddlers and preschoolers
Super fun filling for their play kitchen or shop with realistic packaging. It includes cookies, tea bags, beans, pasta, cereal, rice and more.
The packaging is very cute, you can immediately tell what kind of food it is. Even if they can't read it yet.
The colors are nice and bright and that makes it a very cute set.
You can play with it no more than fantasy play. There is nothing that can be opened like with the jars from Plan Toys.
But every play kitchen needs a set of stuffing material I think and you couldn't find a better one.
They are really solid blocks, not too heavy and the right size for most play kitchen cabinets.
The suits are all painted but the cans are not. The stickers could come off with a lot of playing, which is a downside.
Does your child like to play shop? Then the Kidkraft market stall is a good solution. It is not a mega store so the space it takes up is limited.
Everything you need is included. From a cash register that opens and closes to chalkboard compartments where you put the food.
There can be quite a bit of it toys eat in whatever you may choose from this list and the market crates in particular do well together with this stall.
It is sturdy and stands well on its feet. Only the checkout is not very good. The case is also sturdy, but the buttons feel very cheap and I don't think they will last very long.
From: 2 years

Best: 3 – 5 years

Up to: 6 years
The set is easy to use, the ice balls are easy to stack on top of each other and the scoop works quite intuitively. There are also handy handles on the tray so that you can take it with you. Working in the ice cream parlor naturally creates a lot of open-ended play and appeals to the imagination.
In the end, there is still quite a bit of plastic in it, which means that it scores slightly lower on materials used, but it is a set that will last a long time and is safe to play with.
Conclusion
There is a lot for sale in this area and so you see how popular fantasy play is around cooking and shopping.
Your child likes to imitate you, and with these sets you can do this in a sustainable way wooden toys.
Also read: these are the 20 best wooden toy brands of the moment