7 Best Wooden Magnet Toys Reviewed: Blocks & More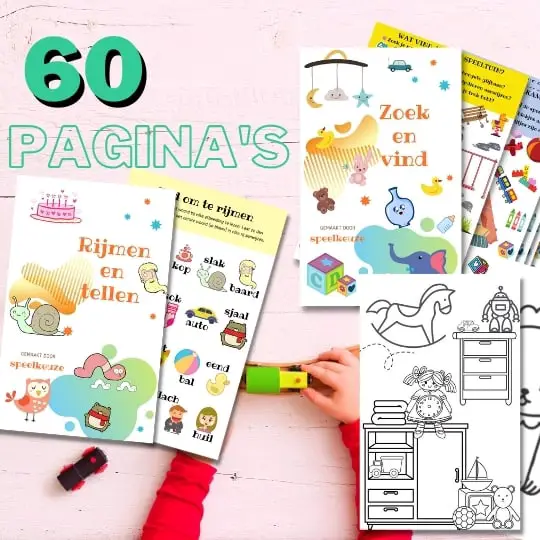 Always something to do for the holidays or rainy day?
Play Choice now has the ultimate activity book collection, with over 60 pages of fun coloring pages and educational puzzles.
There are a lot of magnet toys for sale, but surprisingly few of them wood.
Being the best wooden magnet toys these wooden building blocks from Tegu. You can make a lot with it and it is durable wood with strong magnets. Perfect for testing your child's creativity.
In this buying guide we look at the 7 best playsets and I tell you what you should pay attention to when purchasing.
Let's take a quick look at the top picks. Then I'll go into more detail about each of these choices.
Magnetic wooden toy buying guide
When you are looking for a wooden play set with magnets, there is a lot to consider.
Age
First of all, with magnets it is important to look at the appropriate age. The packaging will usually state which age group it is safe to play with.
Something younger is sometimes possible, but then you always have to stick with it. You don't want your child to swallow magnets.
In addition to the recommended age, you should also look at what age it is fun to play with. Suitable for ages 2 to 99 might be right, but a teenager won't play with it.
magnets
Not all magnets are equally strong. Especially with wooden toys, I have noticed that some magnets have trouble attracting other blocks through the wood.
That's why I rated each set's magnet on a scale of 1 to 5.
Sustainability
Hardwood is the best for making toys. These are sets that will last a lifetime and that the grandchildren can also play with.
Not every toy is made of this. It is mainly a matter of price. The Tegu set, for example, is incredibly sturdy but also pricey. Like Janod's rocket.
But those looking for a wooden set that will last can find the right toy in this list.
I also reviewed some cheaper sets but rated everything for durability.
Top 7 Wooden Magnetic Toys Reviewed
Tegu is a responsible brand that its wooden toys in Honduras made from sustainable wood.
The toy is therefore also naturally safe without plastic, BPA and with water-based paint.
You spend a little more on these blocks, but playing with real wood gives a hand feel that plastic will never be able to give your child.
Is that worth the extra money than, say, the cheap Pixio? I think so. It is good for your child to play closer to nature.
Tegu is one of the few brands that treats the planet in such a responsible way while also bringing modern toys to the market, such as magnetic building blocks.
This set has blocks in different shapes and the slats also ensure that you can do a lot more.
For example, you can make perfect house constructions, or a real race car:
It is by far the best set in this list, but you pay a higher price for it.
The wooden Tegu blocks are also the best magnetic building blocks we've reviewed here
Sometimes there are toys that teach your kids more than fine motor skills, or spatial awareness. Sometimes it is also good to start early with social aspects.
What's great about the Melissa & Doug Julia doll is that it's a woman who can do any profession she wants.
Hopefully our children will never have to experience that some professions are strange for a girl, or that girls are paid less later on.
But let's not dwell on that too much, because Julia is also just a lot of fun to play with.
With the magnetic clothes you can give her a different profession every time. She can become a firefighter, or superhero, or astronaut.
Or you can of course just go crazy and make the wrong pants with a different shirt.
My son used to play these kinds of games in a game on the iPad, with combinations that you can make.
Such a physical game where you can also hold it and made of good sturdy wood makes it so much more fun.
Melissa & Doug also stands for a screen-free play experience and that's exactly what these toys can bring.
This one just had to be added to the list of magnetic wooden toys!
The Janod rocket is quirky and very cheerful. It is a very nice toy to put in the nursery or even living room.
Very sturdy wood and good magnets. Furthermore, it is a fun stacking game with 5 pieces and a separate astronaut that can be removed.
Other than that it's not much anymore, but I have to say that he has often participated in fantasy play.
He is the best from the age of 2 to make a nice start with stacking.
There is always a lot going on with such a magnetic puzzle.
You can try to guide the balls around the maze.
There are blockades on the road that you need to get around.
There are different colored balls that you can each bring to their house.
You can learn about roundabouts and spinning discs.
They learn colors, fine motor skills and a lot of patience.
They can sit down with the puzzle and work on it for a while.
You have to be quite agile for it.
Haba advertises that it is also handy on the go. The balls are stuck in the puzzle so nothing can get lost.
Tegu is a toy brand that makes everything from wood. Beautiful and sturdy wood.
It's durable and made in Honduras in a responsible manner, that's playing good.
It also makes the set a bit more expensive, but playing with wood gives your child much more in return than plastic toys.
The set is also just very well put together. The magnets click well and stay in place, even during heavy driving.
And that's what you ultimately want from a toy car.
This set offers less building options than the Magformers police set. But you can also supplement this with other sets from Tegu.
They all fit together. Here you get at least 12 building pieces.
A blackboard or "easel" is useful for hanging your other magnet toys. But of course it should also be possible to do more.
You must be able to chalk, draw, paint, and much more.
The Hape easel is very sturdy and made of wood. With the double-sided construction you have a magnetic whiteboard and a chalkboard.
The paper roll on top is also a nice addition, but I was a bit worried that it would run out quickly. But luckily you can buy these types of rolls everywhere and standard sizes just fit.
In addition, it is adjustable in height from 37,5 to 43,5 inches (95 to 110 cm) so that young children can also reach it and it can grow with it.
Hape is a good wooden toy brand and this donkey is really sturdy again.
Many fishing rod games are made of plastic and do not last long. New Classic Toys does things differently with a wooden game.
The fishing game from New Classic Toys is a wooden fence consisting of 4 sturdy pieces that can slide into each other. This is the "sea".
Place 10 objects in the sea. These are different fish, a starfish, turtle, whale, conch, crab, and even a treasure chest!
The game is made of really sturdy wood. New Classic Toys is a brand that we have often reviewed for their quality.
This also means that the fish can participate well in other pretend play.
They have done so many times before
in a sensory tank as an underwater world
as a filler when playing with boats
while baking food in the play kitchen (ah, sorry little fish!)
Because of their flat shape, they can participate well. With many plastic fishing games that is not possible.
Conclusion
There are so many nice wooden magnetic toy sets in a world of plastic magnetic tiles.
Although they are also fun to play with, nothing beats the hand feel of a wooden block.