I enjoy writing these articles for my readers, you guys. I don't accept payment for writing reviews, my opinion on products is my own, but if you find my recommendations helpful and you end up buying something through one of the links I may be able to receive a commission on that.
More Information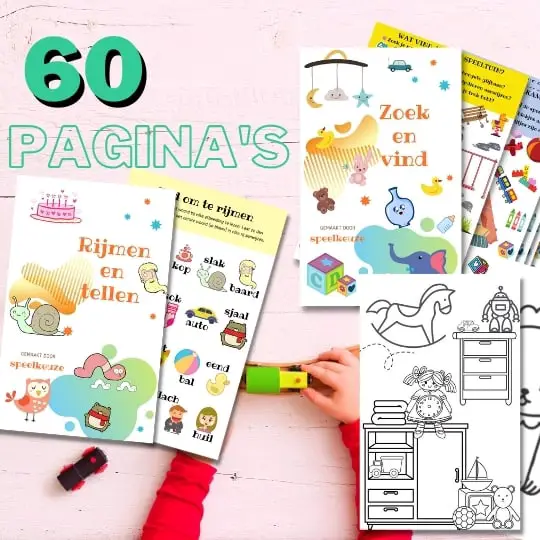 Always something to do for the holidays or rainy day?
Play Choice now has the ultimate activity book collection, with over 60 pages of fun coloring pages and educational puzzles.
Many people who choose wooden toys often do this because of the product's environmental sustainability or quality of construction.
The other reason could be to get kids to play with more natural products.
That's true Waldorf, Montessori and free school around the corner.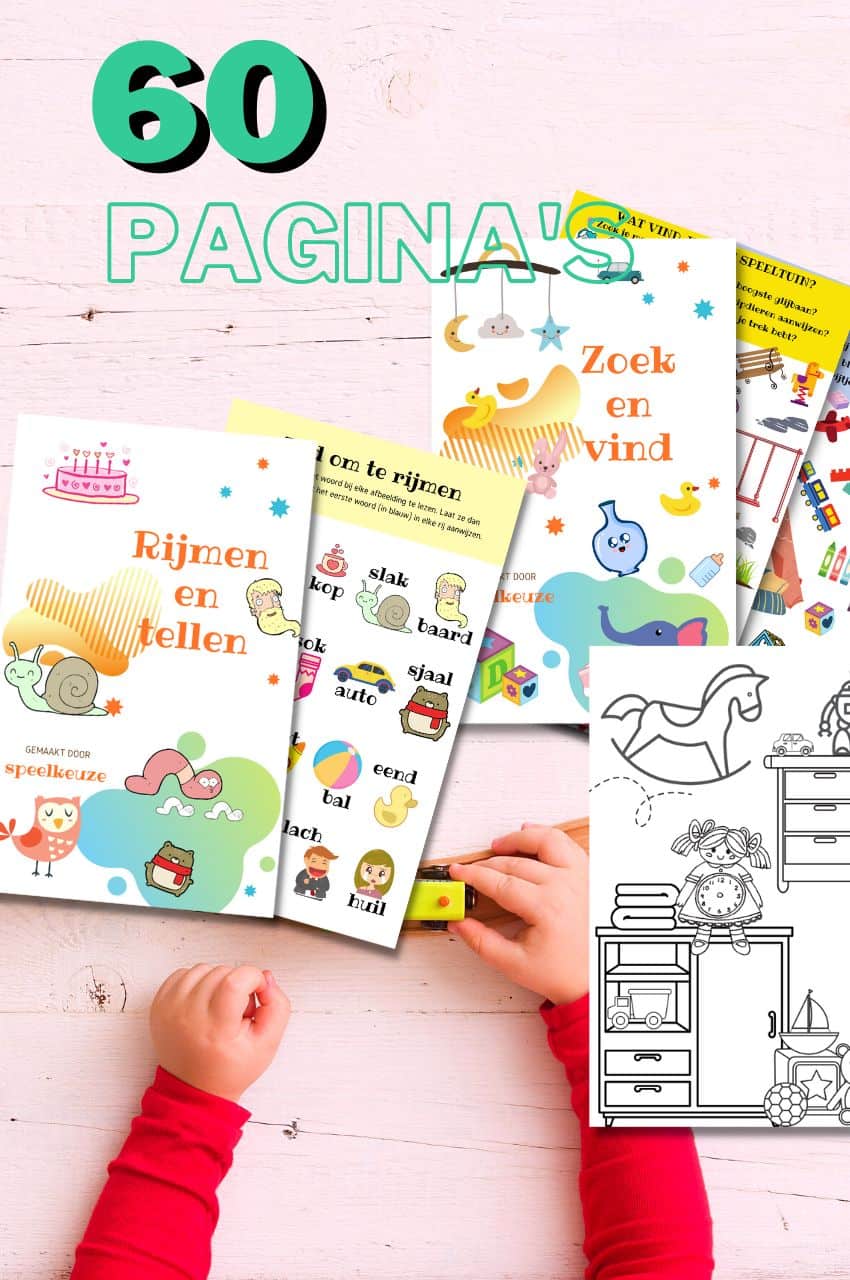 A play theme in your mailbox every month?
Fun play tips, activity books and more, with the first email being our free mini-guide "educational toys"
We will only use your email address for this newsletter and respect your privacy
What is montessori wooden toys?
With Montessori wooden toys it is therefore also about stimulating the senses with natural products, here too a lot of wood is used.
But here we look more at real world experiences and not so much at leaving everything to the creativity of the child.
A toy is therefore allowed to have a clear role, such as a clear father figure and child figure with painted faces and matching clothes, whereas Waldorf prefers dolls without a face or clear role.
You can also see a lot of wooden educational toys in the montessori school.
Montessori toys appeal to multiple senses at the same time.
Children learn not only by listening and observing, but also by touching, tasting and smelling and let the children use their own imagination, also called anthroposophical toys.
The toys are always made of sustainable and natural materials and safe.
Rather let your child play with a realistic toy, as with things that we also use in the adult world. Always make sure that the toy is appropriate for your child's needs and developmental level.
Best Montessori, Waldorf & Waldorf Wooden Toy Brands
Wooden math sticks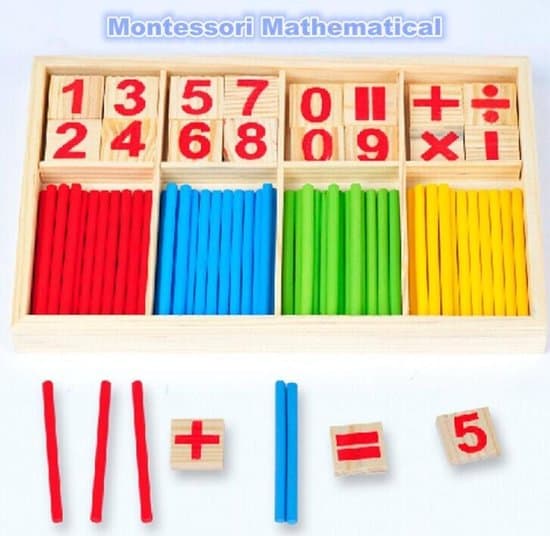 This educational Montessori Math toy is fun and varied and made of wood.
If your little one is a math prodigy or has the ambition to perhaps become one, give him some math fun!
Different ways of calculating are possible which stimulates learning, and a sustainable and educational game for inquisitive children.
Most Colorful Anthroposophical Toys: Grimm's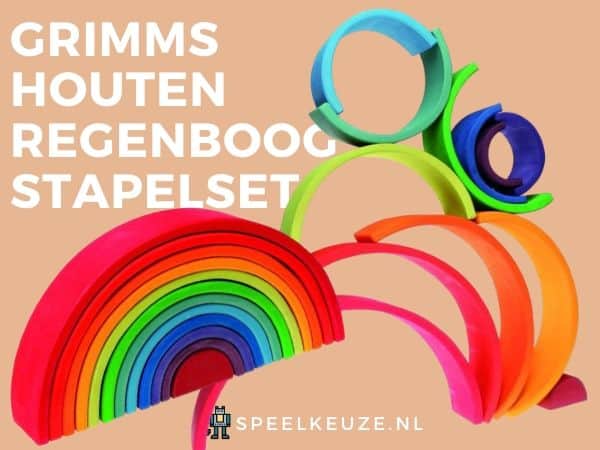 The Grimm's rainbows are infamous. They are handcrafted with simple designs before being hand-dipped in non-toxic food coloring.
This gives them an instantly recognizable style; matte, structured and lively.
The rainbow is one of the most famous pieces; available in the original colors, pastels, monochrome or natural versions, they are a classic.
Grimm's, certainly a great choice when it comes to wooden toys!
Did you know that Grimm's is inspired by Waldorf and Montessori education?
It is super durable, ecologically sound and all hand-made toys from Germany.
You may have already considered buying these for your little one. We say do!
Your child can really build anything with it, on the internet you can find a lot of inspiration about play options with these beautiful wooden arches.
Beautiful, but at the same time very simple, this rainbow toy set from Grimm's and that is what the brand stands for.
With this construction set of 12 curved boards you can come up with new constructions and designs. Check out Instagram for inspiration!
De rainbow is made of lime wood and lime wood treated with colored ecological varnish. As a result, the original wooden structure remains visible.
The product matches great with the various Grimm's building sets and accessories, such as the Grimm's Building Boards and the Grimm's Rainbow Balls. These are also available in different color combinations.
It depends on what your child likes and which colors look great in the nursery.
The rainbow is very decorative in any color, so even if it is not played with for a while, it is not wrong.
But how exactly should you use Grimm's rainbow? Grimm's rainbow looks beautiful, but the real fun starts when you let your little ones loose on it.
It's instantly transformed into a series of tunnels and bridges for cars, a stacking set, curves to rock on the ground, or even bits to hit your dad with, if your kid is a bit like mine.
Here's Yael Haller and Levi with a rainbow set trick:
You can also combine these bows very well with other Grimm's toys, for example with the nice 5 math friends in a wooden tray or the Grimm's cars.
Because all toys can be combined with each other!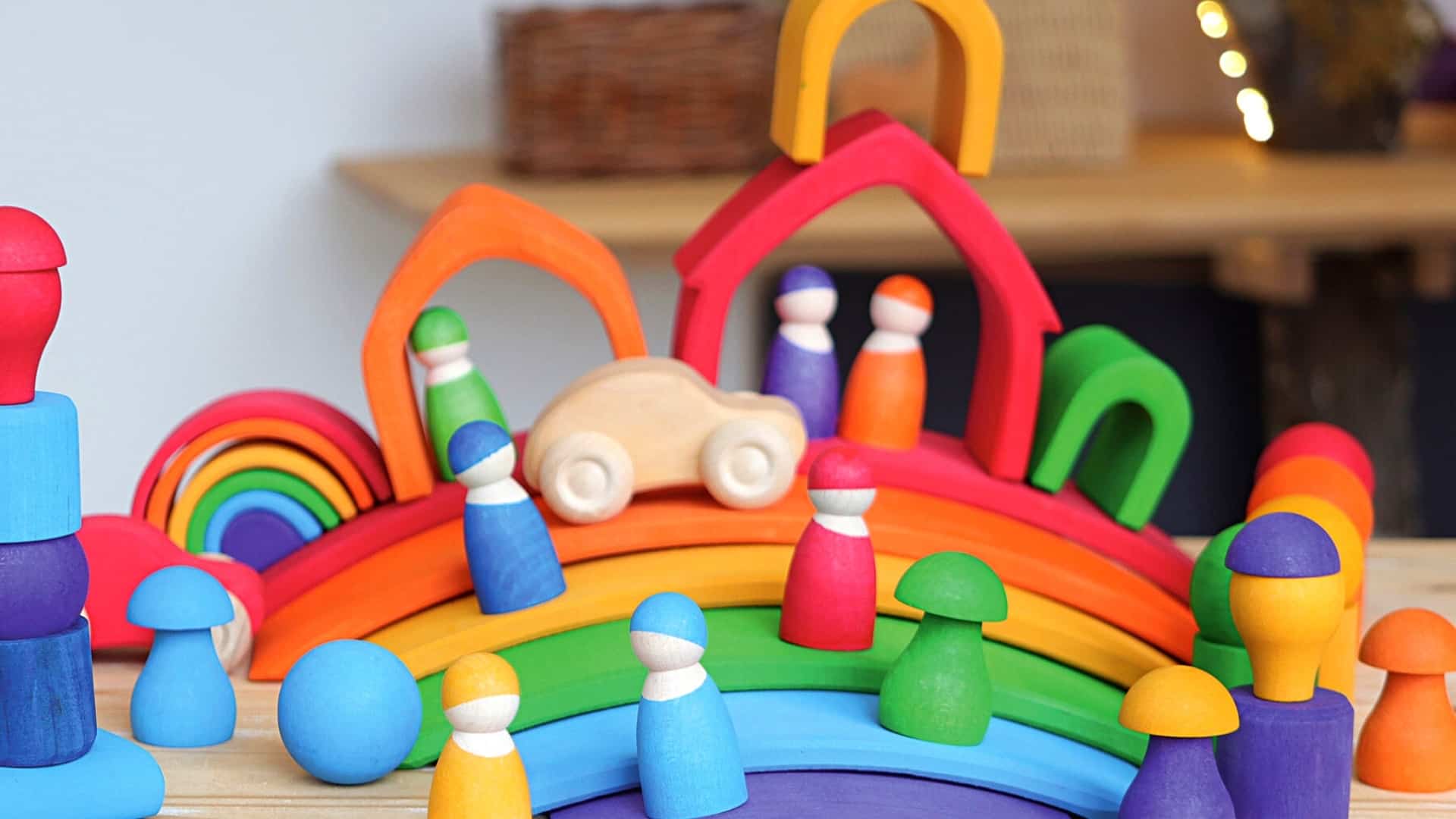 What is really nice about it is that the toy can be used in so many different ways.
Best Wooden Animals: Ostheimer Wood Carved Waldorf Animals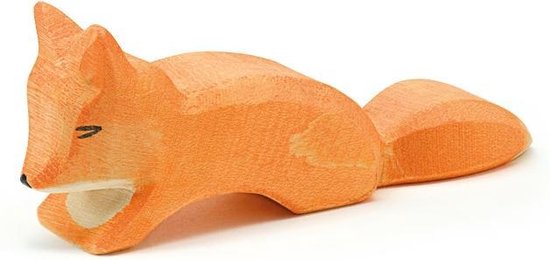 For modern consumers, Ostheimer toys may look almost too simple. Their figures and buildings are carved and painted in muted natural tones.
Ostheimer makes some of the most amazing toys you can find.
The company was founded by Walter and Adeline Ostheimer in XNUMXs Germany, and the ethos behind their products remains the same almost a century later.
The child's imagination is central to every toy they make. Shapes are simple, themes are broad. But it's the simplicity of these beautiful handmade toys that make them such perennial favorites.
Being so neutral means that the child can give each piece their own meaning, and that meaning can change every time they interact with the toy.
Here someone plays shows a huge collection of Ostheimer wooden toys:
Children love toys because of the fantasy they attach to them, not the toys themselves. They want to play with it because of what it makes possible for them, not because of what it can do on its own.
Each product is designed, sawn, sanded, rubbed, painted and oiled by a highly skilled craftsman. They have been handmade in the same slow and steady tradition for nearly a century.
It is this craftsmanship and simplicity that makes a natural product so much fun to play with.
View all wood carved animals here
What makes Ostheimer toys sustainable?
Ostheimer uses wood from regionally and sustainably maintained forests for its toy products.
All materials used, including the paint, are certified and are processed safely.
The figures are painted by hand and the paint is based on organic oil. In this way, the wood structure remains tangible and visible.
At Ostheimer, they value wood not only for their products, but also use residual wood for heating their buildings. Every step is dedicated to protecting our environment.
The brand has an extensive collection of wooden animals. You will find farm animals such as cows, pigs and chickens, but also wild animals, including giraffes and elephants.
You will also find animals that you encounter in the forest, for example deer, squirrels and rabbits, but also beautiful sea creatures, such as polar bears, seals, penguins and whales.
They are all beautiful wooden animals. The brand also has an extensive collection of trees, shrubs and buildings such as a farm (more nice brands here).
Ostheimer is best known for the classic wooden nativity scene passed down from generation to generation. They even included a real Sinterklaas en piet in their toy collection.
It is their wish to give children a beautiful and pleasant picture of the world with all its people and animals by means of their toy figures.
Children need such images to grow up healthily in our world.
When Margarete Ostheimer, daughter of Walter and Adeline, turned the company from private ownership into a foundation in 2001, it was her desire to support forward-looking initiatives and projects.
It has always been her belief not to make a profit, but to bring it back into the community.
In addition, it has always been a rationale of this toy company that collaboration between people with and without disabilities is an important part of a healthy work process.
This is what gives the toy a special human presence.
Educational wooden toys and children's furniture: Guidecraft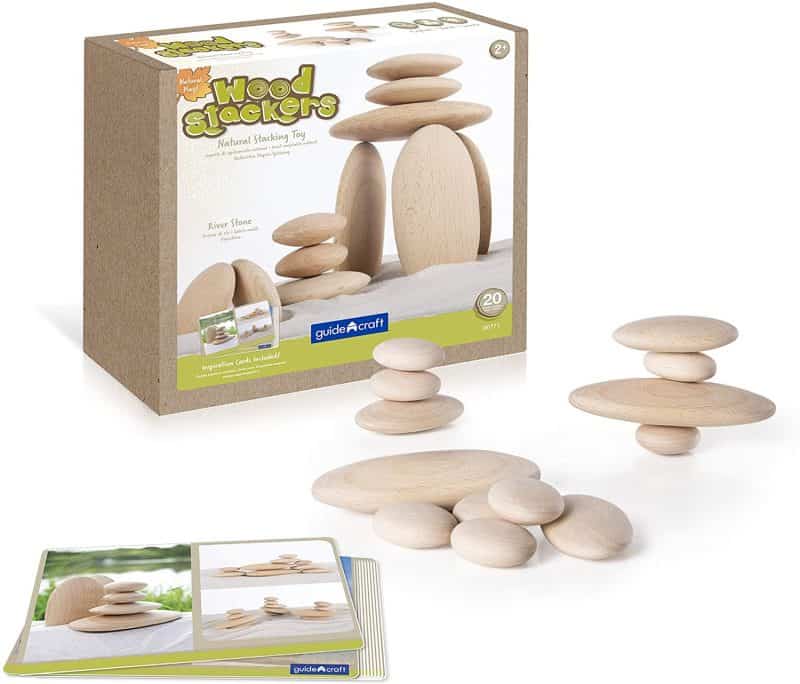 Guidecraft was founded in the year 1966 by Fred Fein in a small wood shop in upstate New York.
The first toy Mr. Fein made was named "Wedgies"; the toy had a wide base and a narrow top, and was designed to be used with unit blocks to stimulate the social and emotional development of children.
Today, Guidecraft is one of the leading early childhood education toy brands with a focus on system based STEM toys.
They also design children's furniture at Guidecraft.
Children and safety are paramount at Guidecraft. All products are tested and meet or exceed international safety standards including EN71, ASTM, Health Canada and AUS / NZ.
They also meet California Air Resources Board or CARB standards and use FSC certified solid wood and wood-based materials such as MDF and plywood. All products are made from environmentally friendly and recycled materials.
The play blocks from Guidecraft are a bit different than you are probably used to. For example, have you seen the rainbow blocks of sand? These play blocks are, as the description indicates, filled with beautifully colored sand!
By stacking the blocks, you can create a colorful whole. Guidecraft also has rainbow blocks with water, which in this case are filled with colored water.
This toy is suitable for kids from 2 years of age.
The Wood Stackers River Stones invite children to build and stack with blocks inspired by the natural, polished shapes of river rocks.
The round, wooden stones are sanded perfectly smooth to emphasize the beautiful, natural grain and tones of the pieces of wood. Different measures help children understand weight, gravity and relationships.
The toys encourage children to build creatively using the natural blocks to create familiar objects and encourage exploration in nature.
The toy contains 20 river stones and inspiration cards in different sizes.
It is advised to keep the toy indoors in a cool, dry place out of direct sunlight.
The toy is intended for children from 2 years old.
Best Wooden Building Toy: Kapla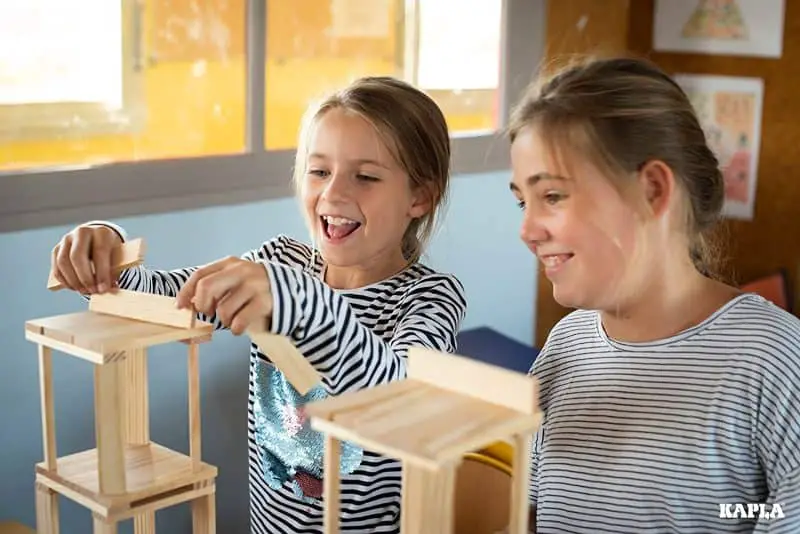 The idea of ​​the fun toy brand Kapla originated around 1985, when the Dutch art historian and antique dealer Tom van der Bruggen left for France and was looking for a shape for a block to castle (always fun to play with knights) build to scale.
The name of the brand, Kapla, comes from the first few letters of the words KAbouter and PLAnkjes.
Unlike what you are used to from the other building games, the Kapla boards are identical. The precision makes it possible to build larger buildings.
Each board has the ratio 15: 3: 1 and the dimensions are (lxwxh) 11,7 x 2,34 x 0,78 cm. The boards are made of pine and are untreated, although you can also get boards in color.
The toys are available in boxes of 20, 40, 100, 200, 280 and 1000 boards. The sets come with interesting ideas booklets, but don't expect step-by-step guides.
The target group is mainly children. In both the Netherlands and France, Kapla is used as educational toys in schools and childcare. However, more and more adults also find these toys attractive.
To create the most beautiful structures with Kapla, you do not need glue, clamps or screws. With Kapla toys you can build bridges, an entire city, robots (no wooden ones of course programmable building set robots like this one) or build castles.
A child automatically comes up with new ideas. The boards can even be placed as a race track, and then with toy cars to continue playing. Or your child makes a construction for the LEGO figures.
Kapla can be played in many different ways. Kapla can therefore be combined with all other toys and is therefore extremely universal.
Simple but so much fun. The toy has already been awarded several times. Originally the Kapla boards were neutral in color, but nowadays they are available in different colors.
You can choose to make small, cute buildings of cheerful colors. Or do you prefer complicated structures, such as skyscrapers and ships?
The toys contribute to the development of a child's fine motor skills and spatial awareness. In addition, the brain is stimulated in terms of concentration, logic, patience and creativity.
Kapla is fun for everyone from 3 years old!
Stimulating play materials for different ages may include the following:
Best Montessori Toys For Baby Up To 2-3 Years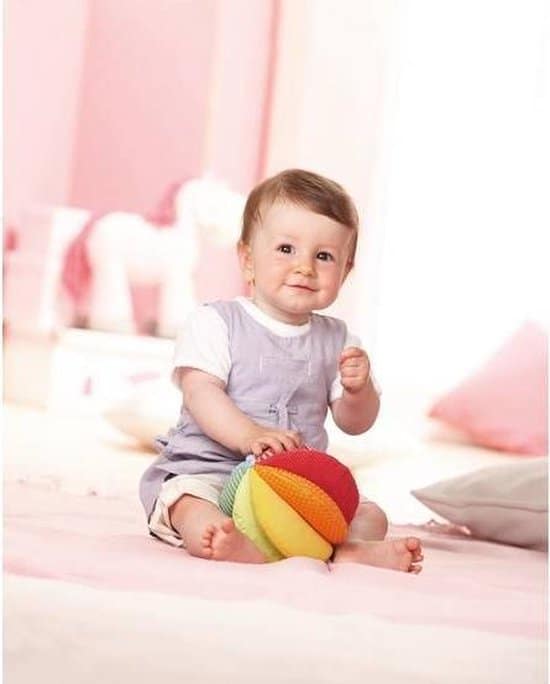 For example, you can stimulate the development of all baby's senses with a fabric rainbow ball. They can see colours, feel the different fabrics and textures with their hands.
The cloth ball crackles, squeaks, rustles and clatters. A world opens up for them!
Check the latest prices here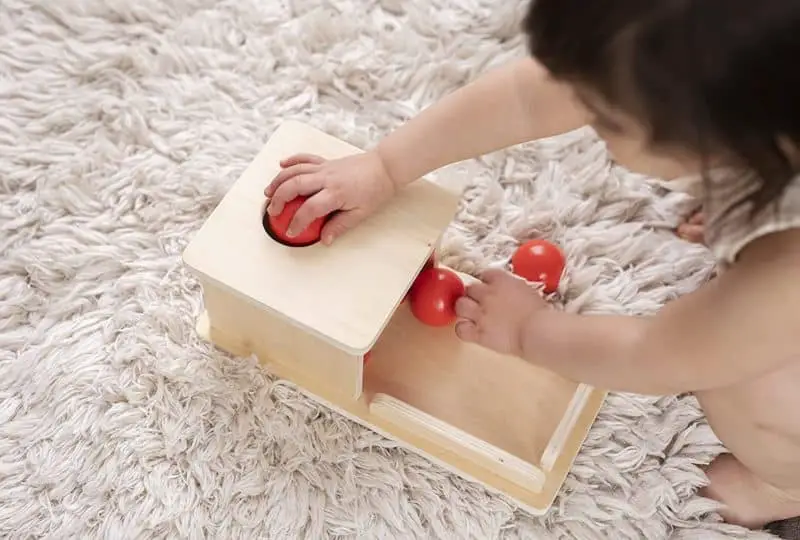 Later, your little one will practice his hand movements at home with the Baby Ball Drop and thus stimulate the development of his hand, wrist and fingers.
It also teaches them what it feels like to succeed when they achieve a goal on their own, it gives them a sense of freedom!
Check the latest prices here
Best Montessori toys for 3-6 years
For example, by handling different materials such as buttons, hooks, zippers, buckles, laces, etc., the child learns to dress independently.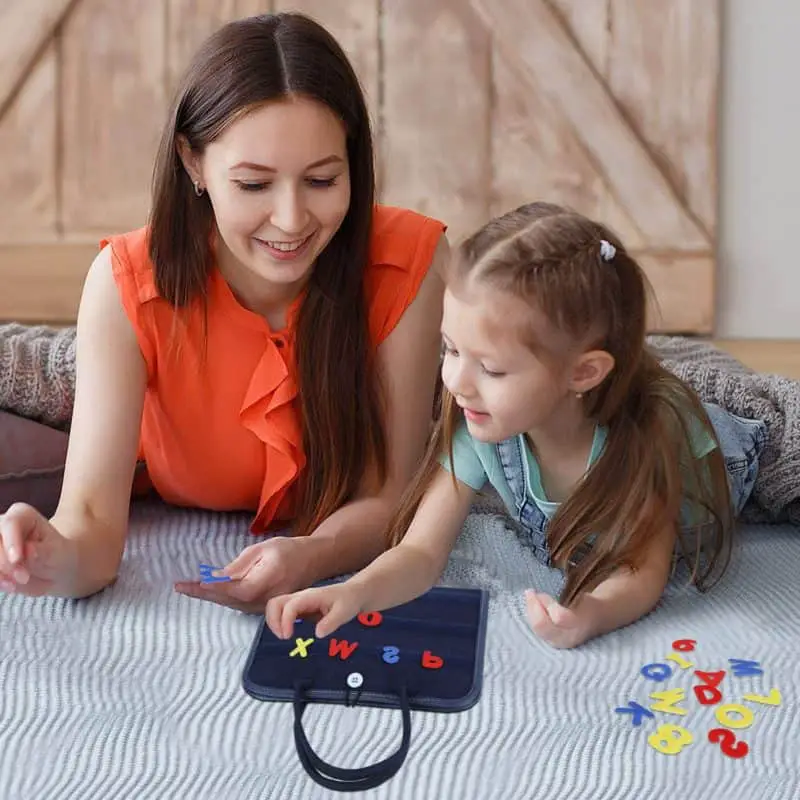 With this Busy Bag with which children can try out everything.
Check the latest prices here
Best Montessori toys for 6-12 years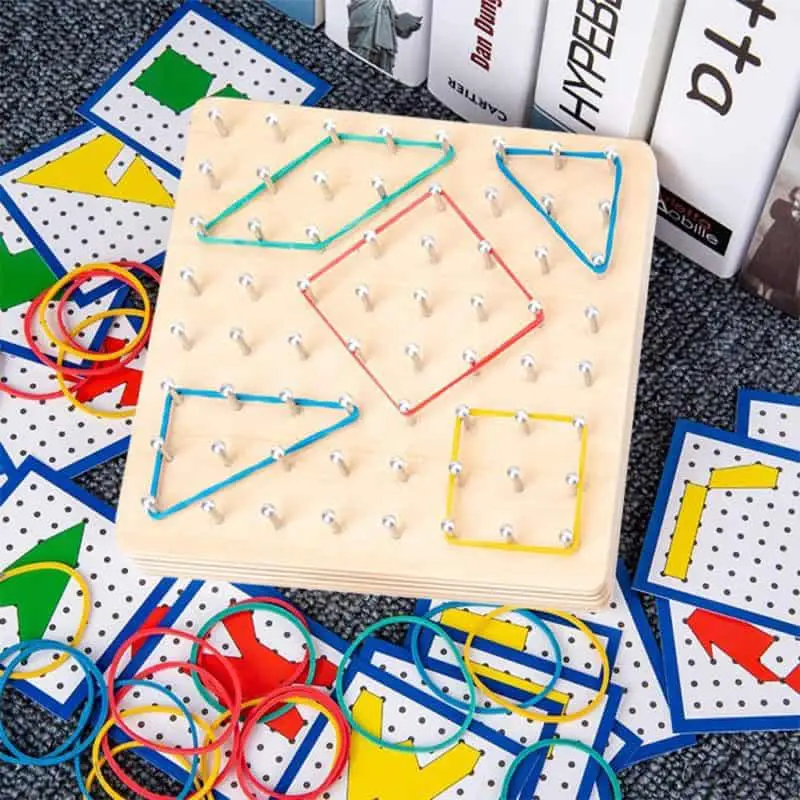 For elementary school children, there are materials that prepare them for math; geometric shapes like abacuses, beads, measuring materials, everything made of wood.
A geo board is a good example.
Check the latest prices here
There are writing practice boards, letters and numbers.
But parents… don't be surprised if children in class are allowed to play with things like leaves, rice or pasta, or to tighten screws with tools.
Look, that's just pulling out all the stops for their development!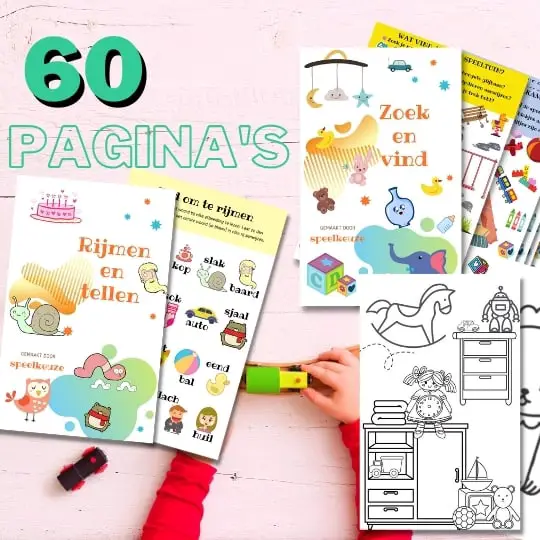 Always something to do for the holidays or rainy day?
Play Choice now has the ultimate activity book collection, with over 60 pages of fun coloring pages and educational puzzles.
Joost Nusselder, the founder of Speelkeuze.nl is a content marketer, father and loves trying out new toys. As a child he came into contact with everything related to games when his mother started the Tinnen Soldaat in Ede. Now he and his team create helpful blog articles to help loyal readers with fun play ideas.