Best wooden open-ended toys: 10 sets you definitely don't know yet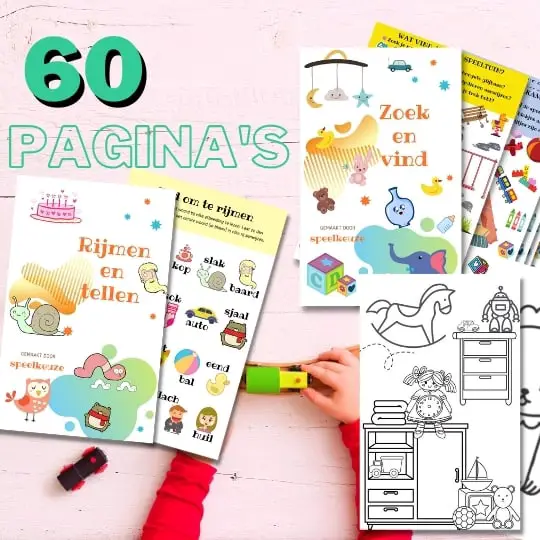 Always something to do for the holidays or rainy day?
Play Choice now has the ultimate activity book collection, with over 60 pages of fun coloring pages and educational puzzles.
Open end toys often keeps them playing the longest. They can try everything and often combine it.
For instance these rainbows from Grimm's. Extremely sturdy wood and great to try anything with. You can stack them, they can serve as bridges or tunnels, and as a background for any imaginative doll play.
In this guide I have found the 10 best wooden open-ended toys for you and tell you what to look for when purchasing.
Let's take a quick look at the top picks. Then I go into more detail about each option.
Wooden open ended toy buying guide
Open-ended toys become the most fun from 2,5 years. When your child can indulge in creative play.
When judging these sets, I mainly looked at age.
Age
It should be fun and challenging for their developmental stage, but also safe enough for small children to play with. You don't want them to be able to swallow small pieces.
For example, with the New Classic Toys Tour Bus you want to stay with it for a while when they are still putting things in their mouths.
The large building blocks from Melissa & Doug are already suitable for the smallest children and those from Tegu for slightly older ones.
And Ostheimer's beautiful animals can also participate in open-ended play at virtually any age.
Here they are all arranged by the most appropriate age.
Open end
The second point I've looked at is how much open-ended it can be played with. Can they endlessly discover the toy and use it in different ways?
Open ended means there are no prescribed rules for using it. For example, the Tour Bus from New Classic Toys is already a Tour Bus, not another kind of car.
But because he can go anywhere on the tour and the wooden dolls can also be used for anything, it is still a beautiful open-ended toy.
The arches from Grimm's and the balance board from Kinderfeets are not only for building or balancing, but can also participate in all sorts of games like bridges and tunnels and whatever else they can think of.
Each toy is rated open ended from 1 to 5 points.
Replayability
How nice is it to grab the toy again and again. Much of this is due to the open-ended nature of the toy, so that's a good thing with the options on this list.
But also, how many different things can you do with it and how much creativity can you put into it.
It is also important whether you can play without friction. Things that just don't work well, for example. For example, the driver of the New Classic Toys bus cannot get out. You can't do EVERYTHING you want.
Each toy is also rated for replayability.
Sustainability
When they have a favorite toy how long will it last? That is why I have also assessed all toys for durability.
From the sturdy wood, to the weak spots in the construction as attachment points.
Top 10 Wooden Open End Toys Reviewed
All a bit of a shame that my son with 3 has the most fun to knock over my constructions :)
Grimm's is the inventor and maker of the original rainbow stackers. It is made of very strong wood and you can feel it.
It is pricey though. Very pricey. But it's good wood and you can feel the wood through the paint. This helps with children's sensory experience.
This is very important with Montessori and Waldorf toys. When you go for a cheap copy of the Grimm's rainbow, you almost only feel paint on cheap wood.
Sure you can have a lot of fun with that too, but it lacks the Montessori part of the toy.
In addition, the raw wood helps when stacking the bows, because that is still quite a challenge.
It is suitable from 3 years, and the best I think from 4 to 7.
The beautiful Bigjigs Alpen train set is a good choice anyway, and our top recommendation.
Bigjigs makes very good quality, and what makes this set extra beautiful is the possibility to expand it endlessly.
Your child will not get tired of it and the toy set also lasts a long time.
This extensive train set is suitable for children aged 4 and over; there are a lot of detailed parts included.
The train track is a fun challenge to assemble and with the help of supporting pillars the rails even go up high.
Very spectacular, the train travels through mountains, valleys and over bridges!
A set to enjoy for a long time, ideal as a first train set for a child, and expandable with rails by means of the BigJigs Rails Expansion Set.
All other Bigjigs train sets fit in seamlessly with it. How about a Dino Train Set with its matching T-Rex tunnel?
It is very educational and very comprehensive because the train travels through different landscapes to the next station. Mountains, forest and village all come along, it is therefore a long train tracks.
And along the way, your child will not only encounter traffic signs, but also figures in various professions and vehicles.
What a pleasure to play with this train that travels over mountains and valleys!
Usually a train set only becomes fun when you buy more of it so that you can actually make some different tracks, but the Alpen set is already quite extensive.
Furthermore, Bigjigs has a lot of fun, and sometimes special (such as a pirate ship wreck, or a dinosaur), expansions that you can connect to it.
Or a pink-purple princess train set, with a bright pink bridge and a purple and pink gate to drive under: houses, trees and even a cool pink helicopter!
Give your creativity free rein and build the whole room with your child with this beautiful train set!
Maybe more of a creative game than a hammer game, but it's a lot of fun to do and hammering straight is also fun for kids.
You have to hammer pirates and their accessories from wood and cardboard onto a cork board. Very fun to do and you can make a lot of creative scenes.
It is really hammering and therefore suitable for children from 6 years.
Some parents give it to younger children, but they can hammer their hands.
There are 4 examples included so you can get through them quickly. But it's also just as fun to come up with things yourself. You could also add commands for them to perform.
A big minus is the cork board. Not really big enough to lay out everything you can think of and even making the examples is very difficult.
Still a very nice set that can keep them busy for quite a few creative hours.
This beautiful, fold-out Melissa & Doug Wooden Dollhouse is suitable for children from three years old.
The house has two floors and is painted in a delicate complexion. Very stylish and with many windows with shutters.
There are a lot of accessories such as a sofa, easy chair, cupboard, bed and a TV furniture. Plus 2 dolls to play with.
A very nice set that they can play with for a long time.
Tegu is a responsible brand that makes its wooden toys in Honduras from sustainable wood.
The toy is therefore also naturally safe without plastic, BPA and with water-based paint.
You spend a little more on these blocks, but playing with real wood gives a hand feel that plastic will never be able to give your child.
Is that worth the extra money than, say, the cheap Pixio? I think so. It is good for your child to play closer to nature.
Tegu is one of the few brands that treats the planet in such a responsible way while also bringing modern toys to the market, such as magnetic building blocks.
This set has blocks in different shapes and the slats also ensure that you can do a lot more.
For example, you can make perfect house constructions, or a real race car:
It is by far the best set in this list, but you pay a higher price for it.
With Melissa & Doug wooden blocks you can build small things. A beautiful house or perhaps a beautiful castle, a fast train or a large car!
Let your little one use his or her imagination. The colorful wooden blocks come in all kinds of shapes and have different colors. Completely open-ended style.
The set is suitable for children from 18 months. A bit younger than Tegu's magnetic blocks. It's also a little more open-ended because you're not tied to the pieces being able to "stick" together.
Even before they can use it as a balance board, it's great for open-ended play. This way it can serve as a bridge or tunnel, just like with the Grimm's rainbows.
But if they get a little older, he can also stimulate gross motor skills.
Kinderfeets uses ecologically friendly stains and lacquers to color the balance board. These are more expensive than solvent based alternatives.
This balance board is comparable to the worldwide known Wobbel balance board: it has the same quality, but at a cheaper price than a Wobbel!
This Kinderfeets balance board is designed in the Netherlands, available in 12 different colors from natural to rainbow.
Balancing on a balance board is a fantastic way to stimulate the physical and mental development of children and offers countless play options for toddlers to adults.
Plus this balance board can bear a weight of up to 220 kg!
The paint that the board is lacquered with is water-based and can therefore be used both indoors and outdoors in the rain.
A perfect purchase if your budget plays an important role and the brand of the balance board makes no difference to you.
Suitable from 18 months to make first discoveries and the best from 3 years.
It doesn't get much better than Ostheimer's hand-carved animals. It is a Waldorf toy par excellence.
Very well finished and durable wood. These will last a lifetime. Well, several lives actually.
It is very pricey, especially if you want to buy several animals, so that is something to take into account.
I also have cheaper sets on this list, such as the Melissa & Doug wagon. But a list of wooden zoo toys just can't be complete without these beautiful creations from Ostheimer.
Lees meer: these are 20 toy brands that put sustainable wood first
A blackboard or "easel" is useful for hanging your other magnet toys. But of course it should also be possible to do more.
You must be able to chalk, draw, paint, and much more.
The Hape easel is very sturdy and made of wood. With the double-sided construction you have a magnetic whiteboard and a chalkboard.
The paper roll on top is also a nice addition, but I was a bit worried that it would run out quickly. But luckily you can buy these types of rolls everywhere and standard sizes just fit.
In addition, it is adjustable in height from 37,5 to 43,5 inches (95 to 110 cm) so that young children can also reach it and it can grow with it.
Hape is a good wooden toy brand and this donkey is really sturdy again.
He will be fun from 3 years old.
Toy cars are already open-ended toys. You can come up with 100 different games with it. Especially if they do not have a specific function such as police cars or the fire brigade.
Although this is a specific car (tour bus) it is still one of the best open ended sets I have seen.
This is because the tour bus can go anywhere. Nothing stands in the way of the dolls to go to the farm, park, dino land or the toy city.
Because the dolls are kept nice and simple, they can also represent anything. So you actually get two playing options in one.
The color of the bus is nice and bright and it is suitable from 1,5 years.
Conclusion
All of these sets will encourage lots of open-ended play in a safe and sustainable way. What will your next toy be?
Also read: this is the best toy for toddlers and preschoolers if you are looking for wood