Best wooden outdoor toys: 10 sets for endless play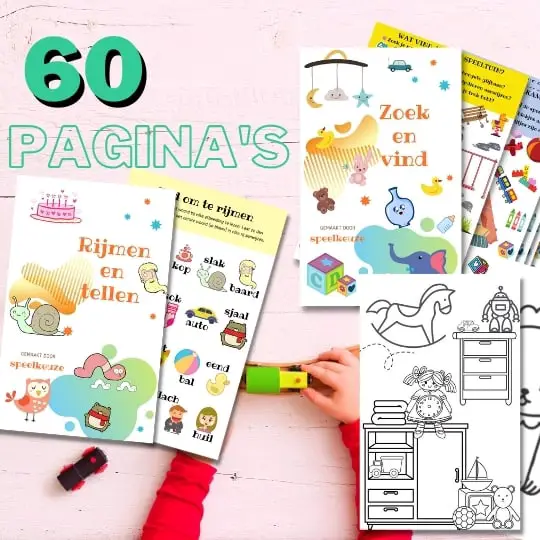 Always something to do for the holidays or rainy day?
Play Choice now has the ultimate activity book collection, with over 60 pages of fun coloring pages and educational puzzles.
many wooden toys that you use inside are not suitable for outside. Sure, you can take it outside but moisture and dirt could ruin it.
That's why you want toys that are made for the outdoors, such as this Jupiduu wooden slide. Great to have a slide outside, but if you don't want a cheap plastic version, this one from Jupiduu is very affordable.
In this guide I discuss the 8 best outdoor wooden toys and what you should pay attention to when purchasing.
Let's take a quick look at the best options. Then I'll dive deeper into each of these choices.
Wooden outdoor toys buying guide
Now let's see what you should pay attention to when purchasing.
Sustainability
To survive outdoors, the product must be of quality. Wood only lasts as long as it is sturdy.
Outdoor toys must be made of hardwood to withstand wetness. Pressed or glued wood will not last long.
A good coat of paint over it like with the Jupiduu slide helps a lot, but the smallest broken corner already ensures that moisture can get into the wood. You don't want to leave these kinds of toys outside.
Impregnated wood such as that from Backyard Discovery can be left outside. This will handle any weather conditions.
Replayability
You also want to look at how much fun it is to play over and over again. Especially when you playing outside want to encourage. Largely, this depends on the challenge it presents.
Can you do more creative things with it than just one? That's why playhouses and play kitchens do so well. You can play with it endlessly open ended.
A competition or playing together effect can also help a lot, such as with the garden games Mölkky and Croquet.
I rated each set on these points on a scale of 1 to 5.
Top 8 wooden outdoor toys reviewed
A beautiful, wooden slide for indoors or outdoors. The slide is safe due to the rounded corners and high sides, and is not only fun for the kids, but also a beautiful and stylish item for the garden.
The slide is designed for children from 1 to about 4 years old.
Looking for a wooden slide? In this category, we prefer the Jupiduu wooden slide.
At Jupiduu they design toys that are great fun for children, and that also look beautiful.
This slide can also be placed indoors, so that children can play all day on this beautiful slide.
In addition to the color white, you can also get the slide in the colors blue, yellow, green and pink.
The slide is safe because all corners are rounded. The high sides make it possible to hold on when you go down the slide.
Besides fun to play with, this slide is also a beautiful detail for your home. The recommended age is from 1 to approximately 4 years.
It is well finished and can handle some moisture outside, but you don't want to leave it outside, but rather in the house or in the shed if necessary.
Many reviewers also hadn't heard of Molkky before ordering it, but were pleasantly surprised by how much fun the game is.
"Easy to set up, simple rules, a lot of challenging others, it all makes for fun moments for our family," wrote one reviewer.
The simple rules make this a hit with all ages, as many reviewers point out, and large groups.
"Nice for any number of players (as opposed to Bocce or tossing beanbags, where you're limited to 2 or 4)," writes one reviewer, adding that it
"Is good for kids because they can throw a little closer, and more importantly, if they get bored and want to quit it doesn't stop for everyone."
One user likened the game to "combining the best elements of horseshoes, bocce, with the hand-eye coordination of bean bags," but many simply describe it as similar to bowling.
A general warning about the game is that it is best suited for the grass.
"You do need a flat garden with shorter grass to get the pegs upright," writes one reviewer.
Another says: "We were playing on asphalt one day and it damaged the pins a bit."
As long as you do the necessary prep work, you'll hopefully find that "It's still slow enough to have a beer and chat with your friends while you play, which is really the main reason for many to get a lawn game. "
The tipi is a pointed tent with long wooden poles, which is easy to set up and take down again
Dimensions: Size: 120 x 120 x 160 cm
A true tipi has been traditionally used by North American peoples with a nomadic lifestyle. So here is a piece of history and culture for your child!
Are you looking for a wigwam play tent? Then you probably mean a teepee.
A wigwam is also a traditional tent style from North America, but has a rounder top and a more permanent function.
The teepee tent theme cannot really be improved in my opinion, despite the fact that we have also found many nice other play tent variants.
And Bandits & Angels is a great brand for kids with safe and well-made products.
This is what it looks like:
It is also a safe tent that can be built fairly stable.
The Discovery Victorian Inn Playhouse is the fanciest playhouse ever! This elegant home from Backyard Discovery is made of warm cedar wood.
It has a lot of beautiful details such as the cute windows, low door and in the ridge, the beautiful white windows and the bench.
The flower box is also not missing. Put a nice plant in it so that the whole looks even more spectacular!
There is also a stove in the cottage, so that your child can prepare delicious dishes with the tasty vegetables that are included.
It really is the pinnacle of playhouses.
The kitchen is complete with sliceable fruit, a cutting board and worktop. Your child can also play in a restaurant, guests can then eat their treats on the bench!
A jewel for your garden, if you have the money because it is quite pricey.
Also read: these are the best outdoor garden playhouses
If you're looking more for an outdoor kitchen to make yummy mud pies without the hassle of cleaning it all up, I've found this TP Muddy Madness Mud Kitchen for you.
It is a durable wooden play kitchen that will also last a long time outside.
Suitable for children from 3 years
What it is: This wooden kid's kitchen/mud kitchen measures 108cm x 43cm x 369cm, and features an oven with opening door, removable sink, refillable faucet and tap.
Also included are some stainless steel pots and pans and a mixing whisk. It takes about 1 hour to assemble.
Find kids it's nice because: They can mix mud in this outdoor play kitchen. It wipes clean easily and looks nice and clean even after being covered in dirt.
Children especially like the real running water from the dispenser. Plus the fact that it came with a set of pots and pans was a bonus for many too.
From 3 years

Best: 4 – 5 years

Until: 6 years
A really fun toy where they can play all kinds of things from the garden. Also good to teach them the different types of garden tools and plants while they are still playing. That makes the set educational, especially about environmental awareness.
Tender Leaf also makes its wooden toys from the rubber tree. They even go one step further by only using reclaimed wood from the latex industry and plant a new tree for every one they use. A good practice for which they have received the ICTI Ethical Toy Program seal of approval.
The set really appeals to the imagination. It comes with a wheelbarrow with 3 seed bags, 3 flower pots (sunflower, carrot, tomato), a water jug, pruning shears and trowel. The ease of use could have been a little better because it is very small. You have to bend over a lot as a child to be able to drive him around. But putting it down and playing with it is a lot of fun.
There is also quite a bit to play. This makes the set versatile. This way you can cut the flower with the scissors and the tomatoes are secured with Velcro so you can pick them. The accessories and loose parts also ensure that it can be easily combined with other toys. All great for replayability.
Reviewers are very impressed with how durable this Jenga set is. "I have a party rental business and my big Jenga games go out almost every weekend," writes one reviewer.
Another reviewer said the blocks "can handle the throwing and carelessness of young children."
On the other hand, one reviewer warns that because the blocks themselves are so strong, everything else is at risk.
This user recommends placing them on a surface that is "resistant to the dents and scratches" associated with this game tipping over.
One reviewer, calling this game a "go-to" for their family, says, "We've had groups of family and friends of up to ten players. Everyone has a lot of fun and gets very involved in the game. … If you are considering buying this set, go ahead and make the purchase, you will be happy with your decision! "
You won't find them much more durable than this. It is made from 100% FSC certified forests.
Includes 4 croquet mallets, 4 balls, 2 rods and ground markers.
Super fun to play outside together. And it doesn't even have to be hot weather. This is also perfect with your warm coat on and you keep moving.
The hammers are attached with screw thread, which wears out over time. I fixed it by gluing them and now it works fine again.
After all that light and sound, it is time for something completely different, an excavator made entirely of wood.
Many hours of fun for your kids with this handmade real wood Pintoy excavator.
It has real rubber tracks and many beautiful details. You can secure and operate the digging arm with a lever.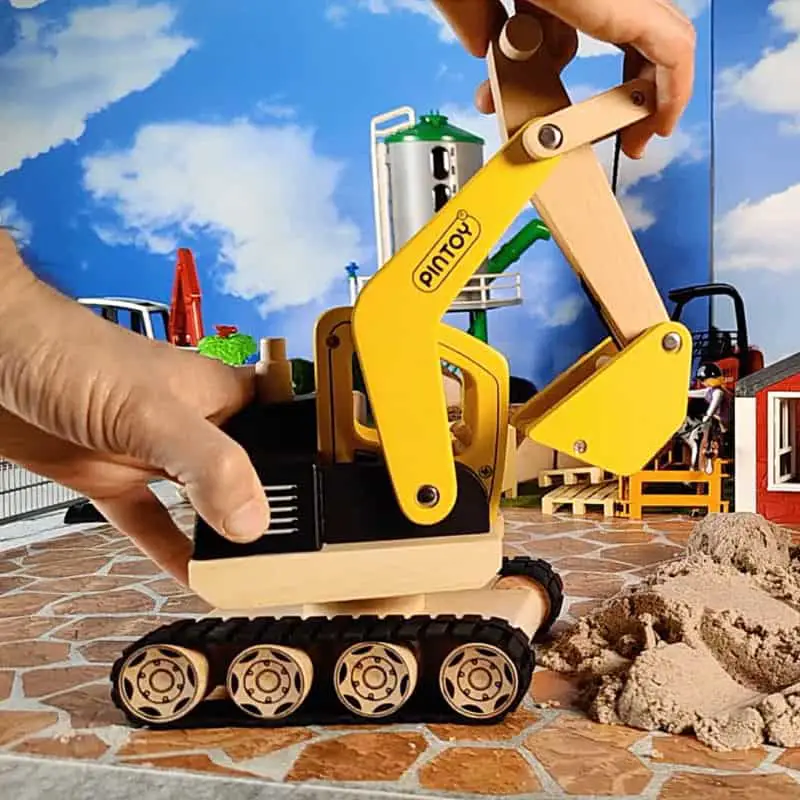 Not even plastic in the controls because the digging arm works with strings to move it up and down.
This may make it a little more difficult to control than all the other plastic toys today, but it's a really nice find and takes you back to when toys were made of wood and quality.
It is certainly a different choice than the others, and an environmentally conscious one!
This is a Small Foot Wooden Tractor and it is sustainably produced, it is also sustainable in terms of playing.
The robust wood means that the next siblings can also play with it, and it will probably last for generations.
The cheerful tractor is suitable for children from the age of three and has huge and sturdy wheels. Also perfect for outdoors.
Conclusion
This toy will keep them busy for a very long time. Good wooden outdoor toys are hard to find, but these sets will last a long time if you take good care of them.
Also read: these are the best wooden toy brands of this generation