11 best wooden roleplay toys for HUGE pretend play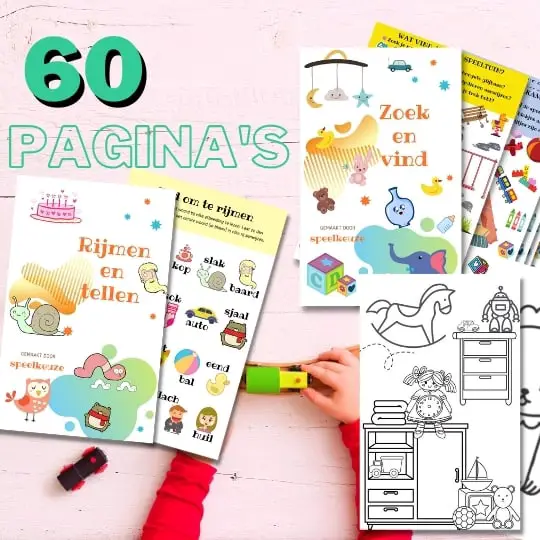 Always something to do for the holidays or rainy day?
Play Choice now has the ultimate activity book collection, with over 60 pages of fun coloring pages and educational puzzles.
Kids love nothing more than copying us, and there's a lot toys to promote that behavior.
Take for example the nicest set I found, this Melissa & Doug dollhouse. A great set for a variety of role-playing and pretend play. It is easy to carry as it can be folded with a sturdy handle.
In this guide, I discuss the 11 best wooden role play playsets and what to look for when purchasing.
Let's look at the top options in a short overview. Then I'll dive deeper into each of these choices.
Wooden role play toy buying guide
Normally I pay a lot of attention to age when buying, but since all the toys on this list are in the 3 to 6 years category I won't go into that too much.
Some sets, such as Le Toy Van Doktersset, have small parts that can be detached. If your child is younger than 4, I would definitely stay with them so they don't swallow anything. Or not giving the smallest parts (yet).
Some sets may be just more fun for a 2-year-old, but there is not much age difference.
Then what do you pay attention to?
Replayability
Replayability is the likelihood that they will want to play with it again and again after doing it a number of times.
The number of functions is a big part of this so that there is always something new to discover, but also the challenge and the amount of creativity they can put into it is important.
Think, for example, of the Melissa & Doug dollhouse with lots of furniture or the vacuum cleaner that also turns it into a real game.
Things like that make them return to it more often.
I rated each toy for replayability on a 5-point scale.
Sustainability
You will also find a score for sustainability with each assessment.
How long will the toy last under normal use?
How well does it take rough play?
Especially if you have found a toy that they like, you want it to last a long time.
Fortunately, you are already choosing wooden toys when you buy something from this list. That is a lot more durable than plastic.
The construction of the individual pieces also plays a major role and how it is attached.
One-piece solid wood is the most durable. Glued parts a lot less, and extra fastening with the right screws can help a lot with this.
Top 11 Wooden Role Play Toys Reviewed
This beautiful, fold-out Melissa & Doug Wooden Dollhouse is suitable for children from three years old.
The house has two floors and is painted in a delicate complexion. Very stylish and with many windows with shutters.
There are a lot of accessories such as a sofa, easy chair, cupboard, bed and a TV furniture. Plus 2 dolls to play with.
A very nice set that they can play with for a long time.
Very nice set made of sturdy cotton and wood. There are 8 parts such as a mirror, brush, eye shadow set, lipstick, compact box and perfume.
The cotton bag can be tied around a child's waist to hold the cosmetics like a makeup artist. So it's not just imitating you, but it can also be played that they do it as work.
Many people complain a bit about the bag. They expected more of a makeup bag to carry it in, but it's really just to tie around your waist and tuck in some of the accessories.
Like all Plan Toys toys, it is made from sustainable rubber wood, with formaldehyde-free glues and organic pigments.
It just looks very cute with a lot of detail, right down to the wooden cap of the lipstick.
Suitable for: from 3 years
The Melissa & Doug vacuum cleaner is quite different from the others on this list, but that is also a lot of fun!
It is made of wood, so if you like wooden toys, this is also a nice choice.
It doesn't really have suction, but it's more like a game where you have to "suck" the popcorn, pretzels and more by going over it with the machine.
As soon as your child does that, the piece of dirt, which is also all made of wood and looks very cute, will be picked up by the bin.
Does your child like to play shop? Then the Kidkraft market stall is a good solution. It is not a mega store so the space it takes up is limited.
Everything you need is included. From a cash register that opens and closes to chalkboard compartments where you put the food.
Quite a few of the toys can eat in whatever you might choose from this list and the market crates in particular work well with this stall.
It is sturdy and stands well on its feet. Only the checkout is not very good. The case is also sturdy, but the buttons feel very cheap and I don't think they will last very long.
The nicest wooden children's kitchen I've found is this one from New Classic Toys, and not that expensive at all, which makes it the best price-quality ratio choice.
There is plenty to play with with the included pans, ladle, spatulas, pepper pot and salt set and even plates. A whole lot of accessories that you don't see in every kitchen, and all made of wood (except for the removable metal sink).
The tap can rotate and the metal countertop is removable. There are storage compartments for the plates at the top plus room for more. In addition, there is a microwave with magnetic closure and rotary knob.
The hob is plastic and may glow red and make noise. Below that is the oven with rotary knobs and more compartments for storage space.
Where the kitchen excels in particular is in the solid rotary knobs of the oven that actually click so that you have the feeling that you are actually setting an oven setting.
A very nice set for a good price. I think they saved on the right things and gave the most important thing a lot of attention.
In a world where dolls are often hyper-realistic and have all their work clothes on, it's nice to see a perfectly normal family as well.
That makes it good for role play. The dolls could be anything, your child can play with them as they please.
You have every role in the family so the first thing played is probably family, but then your child can come up with all sorts of creative storylines.
They are very cute dolls with soft clothes and movable limbs. This way you can let them sit or stand in different positions.
This set has won the Oppenheim Toy Portfolio Gold Seal Award and there are several variants such as an African and Asian family.
The rope hair and soft clothes make it a lot more fun to play with than plastic variants.
The dolls are 1:12 size dollhouse dolls but the adults are very small. Only 4'3" or 1 meter 23. The children's dolls are the right size.
Nice on its own or together with the Melissa & Doug tool box because the pieces also fit together.
Of course, a construction worker needs a belt to store his tools.
The strap is adjustable to fit all children from 3 to 6 years old and it comes with a hammer, screwdriver, wrench, ruler and saw.
The 8 building pieces are not very many so that will get boring quickly, but this set is not really intended for that.
The belt and tool are very sturdy. Those will last for a while. As with the toolbox, the bolts are also glued, so that is a little less for older children.
In a world where everything is digital, you can learn what it's like to make and post letters with this set.
With a sturdy wooden mailbox and a bright red flag you can immediately see when there is mail again! The mailbox has a sturdy hinged door.
They can personalize everything with the stickers. And I especially like the letters, on which you can write or draw, which you can also wipe off.
To be able to use it as a game, there are drawing activities and play ideas. So there is always something to send.
A nice set for 4 to 6 years. The door jams a bit, making it really difficult for smaller children to play independently.
An incredibly fun toy where they can play all kinds of things from the garden.
Also good to teach them the different types of garden tools and plants while they are still having fun playing.
Includes a wheelbarrow with 3 seed bags, 3 flower pots (sunflower, carrot, tomato), a water jug, pruning shears and trowel.
In addition, Tender Leaf makes its wooden toys from the rubber tree, a renewable form of toy making. So it is also better for the environment.
He's very small. To be able to drive it around you have to bend over a lot as a child. But to put it down and play with it is a lot of fun.
There is also quite a bit to play. For example, you can cut the flower with the scissors and the tomatoes are attached with Velcro so that you can pick them.
When it comes to roleplay toys, there are two brands I can't recommend enough. The first is Melissa & Doug. The second, Le Toy Van.
This old-fashioned camera proves it once again. This stimulating wooden toy will inspire your child to create their own storylines.
The spinning gears are a nice addition so that they really have the feeling that they are recording something. The kaleidoscope lens is very funny to look through.
This toy is designed to build your child's confidence and social skills. And it couldn't be more fun than with this imaginative role-playing game.
This set from Le Toy Van is also made of durable rubber wood and is extremely sturdy. Includes a stethoscope, thermometer, syringe, blood pressure monitor, ear scope, reflex hammer, scissors and two vials.
Get ready to be examined!
I really mean that. Many of the other toys on this list can also be played on their own, but not the doctor set.
If you like to participate, or a brother or sister, or friends who often come to play, it's fun. But if you don't always want to play with the set yourself, then it's better to buy something else.
But you can also always encourage your child to thoroughly examine the teddy bear collection.
It also seems more made for that. For example, the strap of the blood pressure monitor is too small and does not fit around a child's arm.
There are very sturdy parts, but the stethoscope breaks quickly, I see after reading a lot of reviews. Many positive ones, but also a couple where parts broke off.
That is a pity for such an expensive set.
Conclusion
These are the best wooden playsets for perfect role play. What will your little one take on his next adventure?