Best Wooden Stacking Toys: 7 Sets You Wouldn't Expect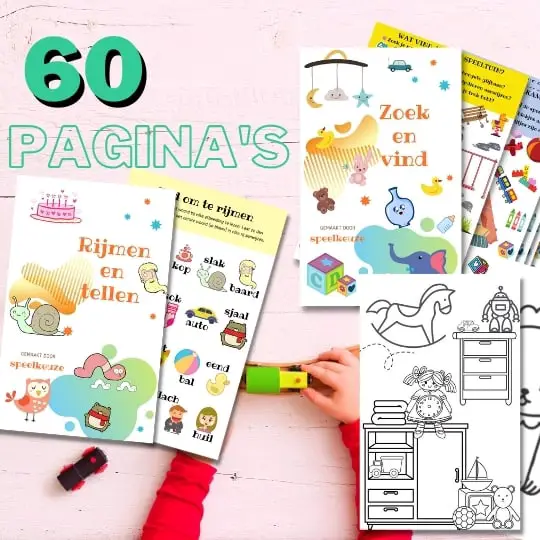 Always something to do for the holidays or rainy day?
Play Choice now has the ultimate activity book collection, with over 60 pages of fun coloring pages and educational puzzles.
Do you want to practice hand-eye coordination with your child? Or a little patience? Then stacking games are great fun.
For instance this Petilou Stacker from Le Toy Van. Super cute animals that can participate in pretend play, but can your child (or you) stack them on top of each other without them falling?
In this buying guide I tell you what to look for at different ages and I discuss the 7 best sets.
Let's take a quick look at the options. Then I'll go into more detail about each of these choices.
Wooden stack toy buying guide
stack toys comes in many shapes and sizes so one thing to watch out for when buying is not there. There are a number of things that apply to each of these types of toys.
Age
The toys must be age appropriate. For example, the Janod train has some small parts that fit in their mouths.
Pay close attention to this when you let them play alone.
Furthermore, the toys must also offer sufficient challenge for their age. That's why I've looked at each toy and arranged it by age.
Replayability
How long can they work with it before it gets boring? That's the replayability of the toy.
Some toys are also fun to use in other ways, such as the Le Toy Van animals. Or build in many different ways like the branches of Guidecraft or arches of Grimm's.
Those are the play elements that make it fun time after time.
With each set, I rated replayability on a 5-point scale.
Sustainability
How long will the toy last, even with vigorous play? With this type of toy, there will also be occasional falls, so it is certainly important here.
Toys like the set of Le Toy Van or Grimm's are indestructible. Others last a little less time, such as Boby or Janod's train.
Each of the sets has also been rated for durability.
Best Wooden Stacking Toys Reviewed
A stacking set made of sturdy wood. These types of toys are suitable for hand-eye coordination and dexterity play, but you can also simply use the pieces in pretend play.
There are 9 cute animals, here more in the forest theme than wild nature as the Crocodile Creek animals.
Children can play with it quite early, but stacking becomes fun from 3 years old.
It is quite a challenge to balance the animals on each other, and I actually enjoy doing it myself. You can come up with the craziest combinations.
All a bit of a shame that my son with 3 has the most fun to knock over my constructions :)
Grimm's is the inventor and maker of the original rainbow stackers. It is made of very strong wood and you can feel it.
It is pricey though. Very pricey. But it's good wood and you can feel the wood through the paint. This helps with children's sensory experience.
This is very important with Montessori and Waldorf toys. When you go for a cheap copy of the Grimm's rainbow, you almost only feel paint on cheap wood.
Sure you can have a lot of fun with that too, but it lacks the Montessori part of the toy.
In addition, the raw wood helps when stacking the bows, because that is still quite a challenge.
It is suitable from 3 years, and the best I think from 4 to 7.
Boby's game is also very well built. It is made of Romanian beech wood.
This Montessori toy combines a magnetic fishing game with stacking, stringing beads and a balance game.
They themselves indicate that this is most suitable for 18 to 36 months, so 1,5 to 3 years.
You can put the fish on the correct color on the play mat and then fish them up
The large whale can be used as a base for stacking
The back of the whale has rods to push the fish on
There is a cord to thread the fish
It is indeed a lot of fun to play, but I have the feeling that they wanted to cram too many games into 1.
It's just not the fishing game. The fish should stand upright because the metal tip is on their nose. This is because there already had to be a hole in the middle for threading and stacking.
The threading is fun, but there are much more fun threading games. The whale is a bit crazy with wooden bars behind it because the fish can also use them.
You get a lot of game for your money and you don't have to buy such things separately, but it's not all that.
This one just had to be added to the list of magnetic wooden toys!
The Janod rocket is quirky and very cheerful. It is a very nice toy to put in the nursery or even living room.
Very sturdy wood and good magnets. Furthermore, it is a fun stacking game with 5 pieces and a separate astronaut that can be removed.
Other than that it's not much anymore, but I have to say that he has often participated in fantasy play.
He is the best from the age of 2 to make a nice start with stacking.
A very fun stacking toy with 21 geometric shapes that you can combine or put back on the three pillars of the sturdy wooden base.
Children from about 1,5 to about 3 years old will love to match the different shapes or sort them by color.
Because they have different thicknesses, it is also quite fun to build, but it is mainly a shape sorting game.
The square building blocks in particular are a nice addition. They collapse in half, which creates an extra building challenge. You don't often see that in shape sorters.
Lees meer: this is the best wooden toy for your baby
If this isn't a Waldorf pile of toys then I don't know what is. Guidecraft keeps its products as natural as possible.
They are ordinary branches and pieces of wood that have been chosen together to make a challenging way of building.
They even have the bark texture for the best sensory experience. These types of toys are designed to encourage free play patterns with no rules on how to play with them.
There are a total of 36 pieces, so a lot to play.
A nice train that you can pull along with the rope, but the best part is of course that you can build it the way you want.
With 17 parts you can make a new creation every time. Each wagon has its own shape when they get the pieces from the train they have to put them back in the right place.
It is recommended from 18 months, but there are also very small pieces that fit in mouths, such as the red chimney pieces.
With these toys you should definitely stick with them, or put the smaller pieces aside until they are a little older.
Conclusion
Stacking games can provide a good challenge for kids of any age. Hopefully this guide has given you inspiration in the possibilities for a beautiful wooden set.
Also read: we have seen many brands, but wooden toys as good as this one are rare