Best wooden toy alternatives: 7 sustainable buying options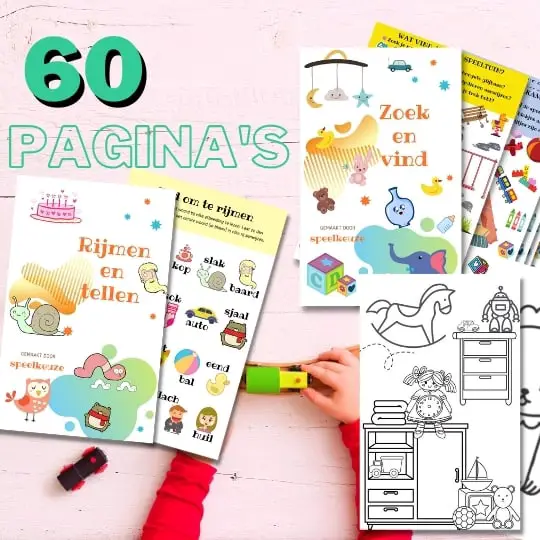 Always something to do for the holidays or rainy day?
Play Choice now has the ultimate activity book collection, with over 60 pages of fun coloring pages and educational puzzles.
Houten toys are very good for development. In Montessori they would say that it is close to nature and therefore you learn from the hand feeling alone.
It's also sustainable when done right, like side plants like Melissa & Doug brands do. Bamboo is the best alternative. This Bamboo Planet marble track for example is just as sturdy and incredibly fun to play with.
In this guide, I look at the best alternatives to wooden toys with 7 examples.
Here are the best alternatives in a quick overview. Then I'll dive deeper into each of these choices.
Wooden toy alternatives buying guide
If you want to replace wooden toys, this can be for 2 reasons:
you want a sustainable alternative to wood
you want a good alternative that costs less
Hardwood toys are expensive. Very very good, but expensive.
That is why I looked at each of these alternatives to see whether it is cheaper than using wood, and whether it is a sustainable alternative.
I also checked whether it lasts a long time, because buying new toys every time is never good, even if they are sustainable.
Top 7 Wooden Toy Alternatives Reviewed
Recommended for children from 4 to 8 years old. If you like sustainability, a bamboo marble track is better than one made of wood or plastic.
This Bamboo planet offers durability and is a very nice toy from 4 years.
This marble track set offers hours of fun not only for children, but also for the whole family.
It consists of 138 parts that can be used to build mazes of various designs, with the marbles spinning through funnels before falling to the bottom of the structure.
The 138-piece set includes 30 marbles and many tubes and straight and curved bamboo rails that they can roll along.
What's great about it: the good thing about the Bamoo Planet marble track is that the manufacturer ensures that all its toys meet quality control and also meet the highest sustainability standards.
If you still have doubts about a wooden playset and don't like plastic, then this bamboo marble track is an environmentally friendly solution for you.
It's actually a whole new way of building, with Clixo. They have done research into how 3D constructions work and how you can make as much as possible with as little material as possible.
It is STEM toy par excellence.
You can already see a number of examples on the picture, but the possibilities are actually endless. With 20 pieces you can already make a very large construction, something that would require more than 200 pieces with LEGO.
You bend the flexible pieces over each other, so that they become convex and you can make large things with a lot of open space on the inside.
That's why you can make a lot with little. They compete with wooden toys and say they only have advantages.
Takes up less space, you can play it anywhere and not just on a flat surface.
It is made of a kind of synthetic paper that is fully recyclable. That also makes it even better for the environment.
It is very pricey, but what a good toy!
Learn the lifelong hobby of knitting with your child with this beginner's kit set.
It is a very nice and educational set, but unfortunately it does contain plastic knitting needles. Not the best quality and not very durable either.
Still, it is quite sturdy and you can of course use it again and again.
Recommended from the age of 8 and really fun from the age of 9.
There are some nice examples and a perfect way to get into knitting.
Felt is also made of wool and is very durable. It is also a cheap alternative to wooden toys.
It's lighter, so easier to transport and play with and nice and soft.
That's why I chose a nice set for the play kitchen. A good alternative to wooden or plastic fruit and vegetables.
With the cute shapes they can participate perfectly in pretend play and the felt basket is also a nice addition.
My son often goes shopping and returns with a selection of food items.
Metal is also quite expensive, although you can do a lot with small building pieces.
This Eitech set, for example, builds 3 different models with 270 building pieces. That's a lot of building material for the money.
Metal is only sustainable if it is made from recycled metal. Collecting metal as a raw material is energy-intensive and it can of course be used up.
But once it's in circulation you can make things with it again and again.
Metal toys are also good for development according to the Montessori philosophy. Like wood, you can grab it and feel what happens in nature. For example, it gets warm when you hold it.
It is perfect for construction toys. That's why I chose a construction set like this great crane from Eitech.
Cardboard is a light, cheap and very sustainable alternative to wood. It has 60% less CO2 and oil emissions compared to the production of other materials.
Great for making toys instead of other materials!
Cardboard is also 100% recyclable, plus it's biodegradable. That's why a brand like Melissa & Doug also has quite a few cardboard toys in their selection.
They always work as green as possible, with good wooden toys where they replant trees. But cardboard takes it one step further.
Transport is cheap because it is so light and also very easy because you can pack it very flat.
Take these large building blocks, for example. Such blocks of wood cost a fortune to transport because of their weight and size.
The disadvantage of cardboard is that the toy does not last very long. That is why I have given a slightly lower sustainability score.
This is not the kind of toy that you will pass on from generation to generation.
Plastic products are not very durable. It takes a lot of energy to make and plastic cannot be broken down properly.
That is why toy products made from recycled plastic are a lot better.
But plastic also contains toxic chemicals that can be released into the local environment when recycled. So it is not 100% sustainable.
In any case, Green Toys tries to do its part to reduce the landfill and makes all their toys from 100% recycled plastic, without BPA, phthalates, PVC or external coatings.
Plastic is in itself a good wood alternative because it is easy to clean. This set even in the dishwasher.
It is also relatively light, but less easy to transport than cardboard, for example, because it cannot be folded.
If you choose plastic, choose good recycled plastic like this one from Green Toys.
Which material is more sustainable than wood?
Trees can be replanted, so as long as that happens, wood is very sustainable. Bamboo is a material that is even more durable than wood because it grows very easily and quickly. Metal is slightly less durable because it takes a lot of energy to process.
Conclusion
There are many alternatives to wooden toys. Hopefully, this guide has helped you on your way to materials and toys to look out for.