12 best wooden toy cars from funny to SUPER sturdy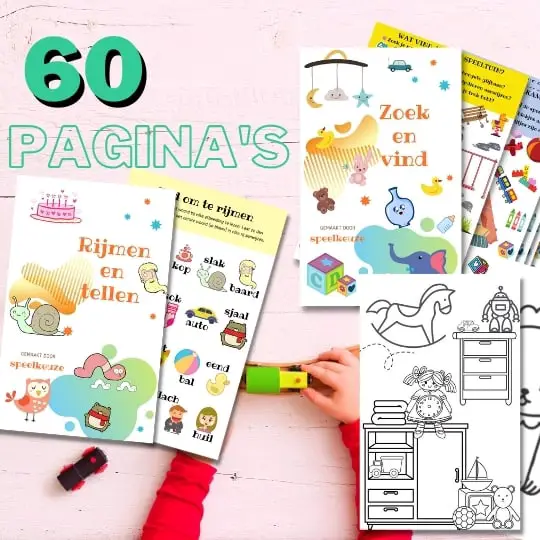 Always something to do for the holidays or rainy day?
Play Choice now has the ultimate activity book collection, with over 60 pages of fun coloring pages and educational puzzles.
I love it when my child is one of the wooden cars instead of plastic to play with.
I've figured out what qualities it needs to have to be more fun for them than detailed plastic or metal versions. Like this Retro Metro set from Le Toy Van with cute design (two cars and a van). They need to have some weight to grip and roll properly.
Unfortunately, that is not the case with every wooden car set you see. That's why in this guide I look at the 12 best sets and what you should pay attention to when buying.
Let's take a quick look at the top options. Then I'll dive deeper into each of these choices.
Wooden toy car buying guide
As for age, you can go with wooden ones toys cars don't go so very wrong.
Sure, a few on the list like the Stanley JR are for slightly older kids (it's a kit). But in general, wooden cars are suitable for every toddler.
If your child is still very young, I would go for the B. Toys Free Wheee-Read. They are also completely safe to suck on :)
What do you pay particular attention to when buying wooden toy cars? I scored every set on these three things:
To drive
How well do the car's wheels perform? You can say a lot about small metal or plastic cars, but they often drive very well.
This is because the material can be precisely molded to always fit properly.
This is more difficult with wooden cars and you will see many wheels that rub or wobble a bit.
I'm still talking about the replayability, but a big part of that is whether they drive well, otherwise children will ignore it again.
Replayability
Do they keep playing with it after the first few times? Replayability depends on so many factors.
With cars, the most important thing is whether they drive well. Without it, they'd rather grab a metal car.
In addition, it is important whether they can do more with it than just driving around. Can they use their imagination in it?
The Melissa & Doug school bus is a very good example of this. Due to the dolls and the school bus theme, this can participate in almost any fantasy game.
He then drives a little less well, but that doesn't really matter.
The Tegu magnet blocks are also very nice because they can build it differently every time. This gives the car an extra dimension.
Sustainability
Do they last? That depends on the type of wood and the construction.
Most of the cars on this list are solid wood. That lasts a lot longer than pressed wood. But the confirmations are also very important.
Your solid wood car can still break at the wheels, and then it won't be of much use to you.
A brand like Fagus has attached everything with wood. With plugs and glue, very solid and all wood.
You can also pay attention to the type of wood. For example, rubber wood is very strong and the most renewable. Other brands such as Melissa & Doug and Goki plant many trees back.
Slightly less renewable but still as environmentally friendly as possible.
Top 12 Wooden Toy Cars Reviewed
This is the kind of car I want my child to play with. No, I want to play with it myself! Beautiful classic vehicles in soft pastel colours.
Especially with such an outspoken model it is good to have a set to be able to play with it together.
Sure, other cars often join the game, but they often end up together in one way or another.
They are an Independent Toy Award winner, painted with non-toxic paint and made from renewable rubber trees.
Just the right size for small children's hands. Great quality for an affordable price.
This set from Melissa & Doug is in the same price category as the Le Toy Van cars. Here you get 9 cars instead of 3.
There has been some compromise on quality. The wood feels a little less sturdy and it is not a renewable rubber wood. But Melissa & Doug do replant a lot of trees to keep their toys environmentally friendly.
You notice in particular that the wheels are slightly less good and roll less well. But very sturdy, they will not break easily.
They also fit perfectly on wooden train tracks of all popular brands such as Brio and Bigjigs.
It is also nice that everything is included, such as a police car and a taxi. Very nice for pretend play. My son immediately gives them each a role.
A wooden car is fun to play with. Nice and heavy and easy to drive. But add 7 wooden figures and it becomes a lot more fun.
They are solid wooden figures with smoothly rolling wheels. Perfect to use with your other toy cars.
But it's really fun because it's a school bus. This allows for hours of imaginative play. He is brought up again and again with us.
The children visit the farm, the construction site, the magnet tile tower.
You name it.
It's quite sturdy with a working door and a flip-up stop sign for safe crossings. It is attached with elastic so it can't actually break.
Tegu is a toy brand that makes everything from wood. Beautiful and sturdy wood.
It's durable and made in Honduras in a responsible manner, that's playing good.
It also makes the set a bit more expensive, but playing with wood gives your child much more in return than plastic toys.
The set is also just very well put together. The magnets click well and stay in place, even during heavy driving.
And that's what you ultimately want from a toy car.
This set offers less building options than the Magformers police set. But you can also supplement this with other sets from Tegu.
They all fit together. Here you get at least 12 building pieces.
Candylab Toys is a brand with beautiful wooden toys that is inspired by the glamorous America of the 60s and modern design.
The brand's wooden toys are of A-quality, or as Candylab says of 'heirloom quality'.
The brand has a unique range of solid wooden toy vehicles with a refined design. Honest and beautiful toys that allow children's imagination to go their own way.
The company is based in Brooklyn and the toy collection ranges from classic American cars to typical American buildings, including typical motels, beach towers and buildings with large neon signs.
The toys are wonderful for young and old. The young audience praises the products, while the adults like to collect and display the wooden toys.
The wooden Candy cars are designed with clean lines and elements of iconic models from the past. When designing the Candy car, a lot of attention has been paid to the details and it is easy to recognize.
The brand also cares a lot about our planet, which is why they try to avoid plastic as much as possible. The beech wood for their production comes from North American well-managed forests.
They try to keep the ecological footprint of their products as small as possible.
Also read: this is the best retro wooden toy rated
This wooden trailer from Melissa & Doug is great fun to play with. He has a magnetic crane with which he can pick up the supplied cars and put them on the trailer.
It is a complete set with truck and small cars. If you don't have many car toys yet, this is a nice first step.
The truck is super sturdy and large with simplified shapes. All corners are rounded so that there are no sharp protrusions.
Hoisting the cars is fun to do, but if you don't do it quietly, the car will fall off.
It's more of a game of skill than just playing. My son (2) couldn't have it so good at his age that it didn't work out.
For me the magnet could have been a bit stronger, but on the other hand, that is also the game I think. In any case, he loves it and really wants to play with it.
There are some challenges, but also a lot of things that make it a lot of fun. All in all a very nice toy with which they can discover a lot.
These cars are made for the smallest children and are suitable from 1 year old. The rounded shapes mean there is nothing for them to hurt themselves on and they are easy to grip.
There are 6 wooden cars with a few different shapes. The kind of handle in the passenger cars is also funny. So they can grab it easily.
Actually, these are the cheapest cars on the list and not Melissa & Doug's.
But they are not really toy cars for your toddler. Then you better buy another one. They don't roll very well and the design is therefore a bit crazy.
But a very nice first set for your baby. The overall score of 6.7 is a bit low because I rated it on the same points as "real" gaming cars.
A very cute addition to your dollhouse. The doors can really open so that you can easily put dolls in them.
The dolls also have a way to visit other places, so it also stimulates fantasy play.
Like all Hape toys, the car is very sturdy and made with non-toxic rubber.
It measures 3.5 (w) x 8.9 (l) x 5.1 (h) inches (8.9 x 22.6 x 12.9 cm). It is super quality but very pricey. It also doesn't drive well enough to pass for a regular toy car.
This is yet another approach to wooden toy cars. Now they can make something themselves to be proud of.
The best part is working on it with your child. The suitable age is from 5 years old so they also need some help. From the age of 8 they can probably do it themselves.
But by 8 years they probably won't really play with it anymore. 5 is the ideal age to get some playtime out of it too.
The kit contains pre-cut pieces of wood, plastic police parts and screws and nails. Plus there is (non-toxic) paint to finish the car.
The car itself is just play worthy. It's not the best quality, but at least the wheels roll. The doors can open so that is a nice addition.
But you really should see this mainly as a joint construction project.
Automoblox are super durable cars made of European beech wood where the body and wheels can be changed.
The cars consist of 3 parts so you can mix and match them. I like this cool T15L Grizzly Pickup the best, but there are many more variants.
The box says "Contains 12 mix-and-match parts" but that is a bit misleading. It is 4 wheels and 4 tires, 3 car pieces and the windshield.
In the end, those are just a few possibilities when you combine them with other cars from the set.
But the car itself is also really good to drive and very sturdy. The mix and match just adds an extra little element.
And that is also allowed for the price. They are quite expensive so buying a pair to be able to exchange costs quite a bit.
The truck is 4,75 inches (12 cm) and suitable for children from 4 years old.
These construction vehicles are not only beautiful to look at, but children also like to play with them.
They are designed for ages 3 and up, but smaller kids 2 and up play with them just fine according to the reviews.
Many of the carts come with simple peg dolls in red and blue that can be the drivers, and they are generally quite heavy so maybe this is why this is recommended for older toddlers.
What sets these wagons apart from others you may have seen is the material and built design.
They are made of beech wood and are connected with plugs and glue (read: no screws or nails)!
The tires remind me of bicycle tires because they are hollow inside and run smoothly on the ground.
The cars are so easy to maneuver for effortless steering. Not only can they actually grab, tip and push, but most of them can also be locked in the different positions.
Here's a little bit of what they look like and how big they are:
Prices for the cars are decent, but these products are heirloom quality and designed to last.
If you have a little one who is in love with construction play this will no doubt be a hit.
Beautiful smooth finish and tactile wood for children's hands and 100% natural. This makes the dump truck, forklift, cement truck, train and much more indispensable for the construction site in the nursery.
It's a great way to develop imagination and role-play, and provides a channel for children to understand and express their feelings through reenactment of everyday experiences.
Goki is a German brand that produces high-quality wooden toys with a strong focus on sustainability.
Furthermore, the brand stands for a good price-quality ratio. It is a functional toy with modern colors. Or like this nature set, very natural wood.
Goki Nature is a specific series and a unique part of the Goki brand. The untreated wood of the Goki Nature series is colored by means of an ecological heat treatment.
Conclusion
There are many more wooden toy cars for sale. But these are the absolute best I've found. Good for a lot of fun with a natural feeling for the children's hands!
Also read: these are the best wooden toy brands and what makes them so good