Best wooden toy hammer game: classic hammer tap & more
I enjoy writing these articles for my readers, you guys. I don't accept payment for writing reviews, my opinion on products is my own, but if you find my recommendations helpful and you end up buying something through one of the links I may be able to receive a commission on that.
More information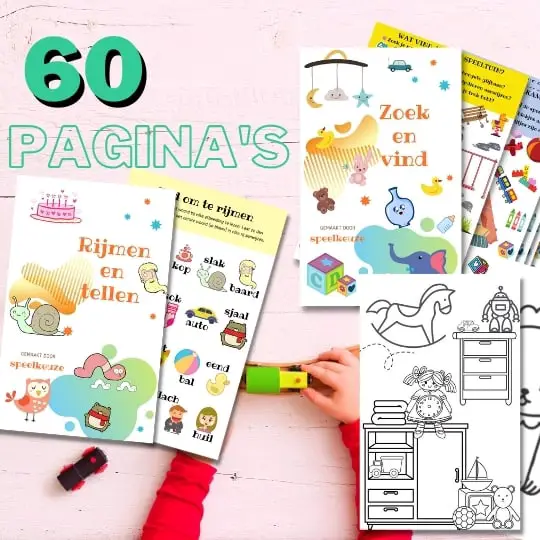 Always something to do for the holidays or rainy day?
Play Choice now has the ultimate activity book collection, with over 60 pages of fun coloring pages and educational puzzles.
Wooden hammer games are super fun. Who didn't grow up with hammer tap? But there are so many different ones!
The best classic is this one from Melissa & Doug. A renowned brand that uses sustainable wood and replants trees. The game is super solid and it's a really fun game.
In this guide I look at the 6 best games and tell you what to look for when buying.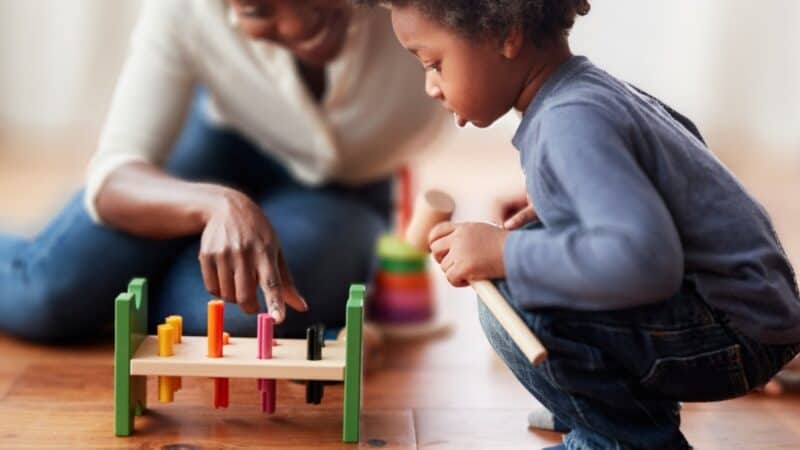 Let's look at all options in a short overview. Then I'll dive deeper into each of these choices.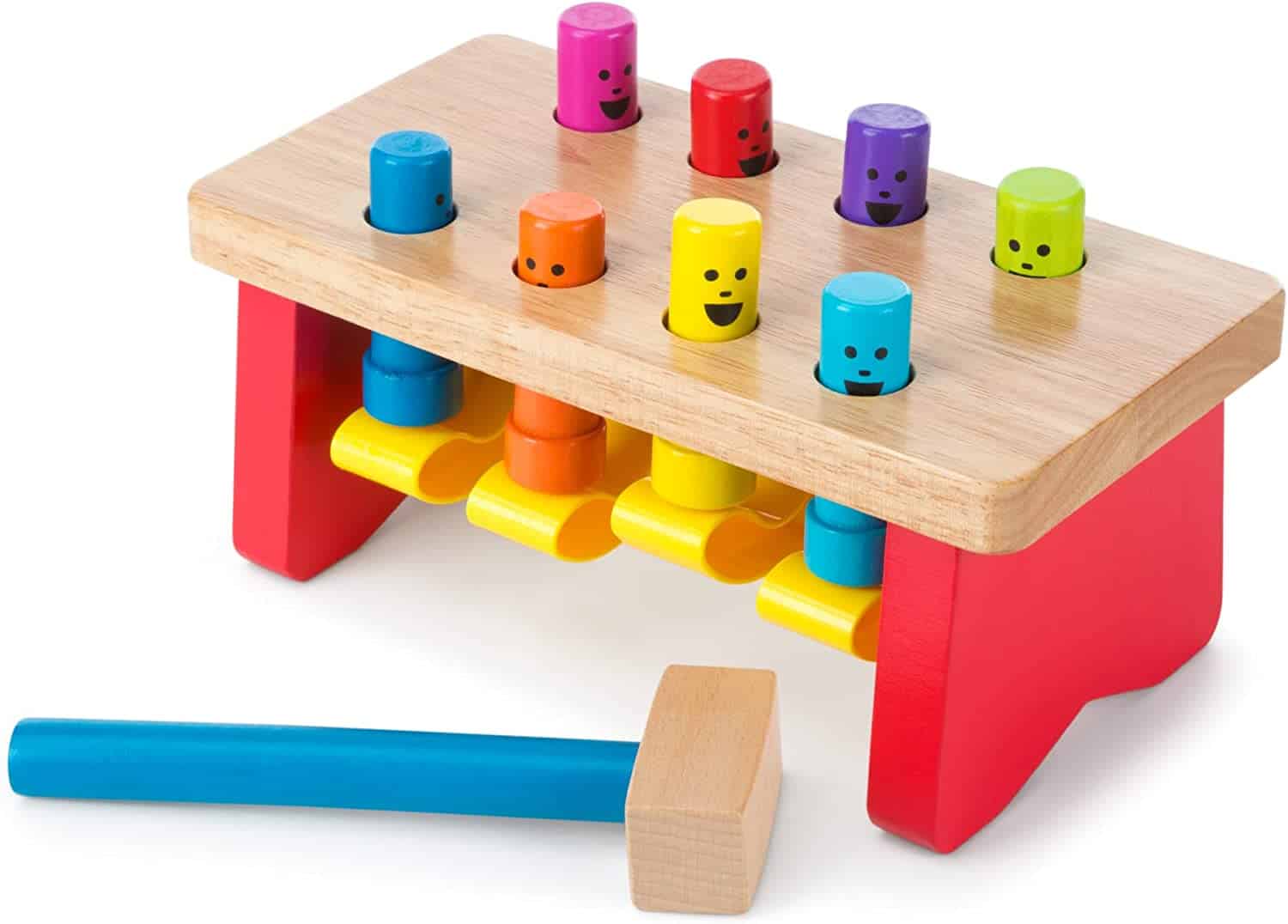 Janod
Brico Magnetic Trolley
Very sturdy wood and the wheels even have metal axles with rubber surrounds so that it runs smoothly and does not damage your floor.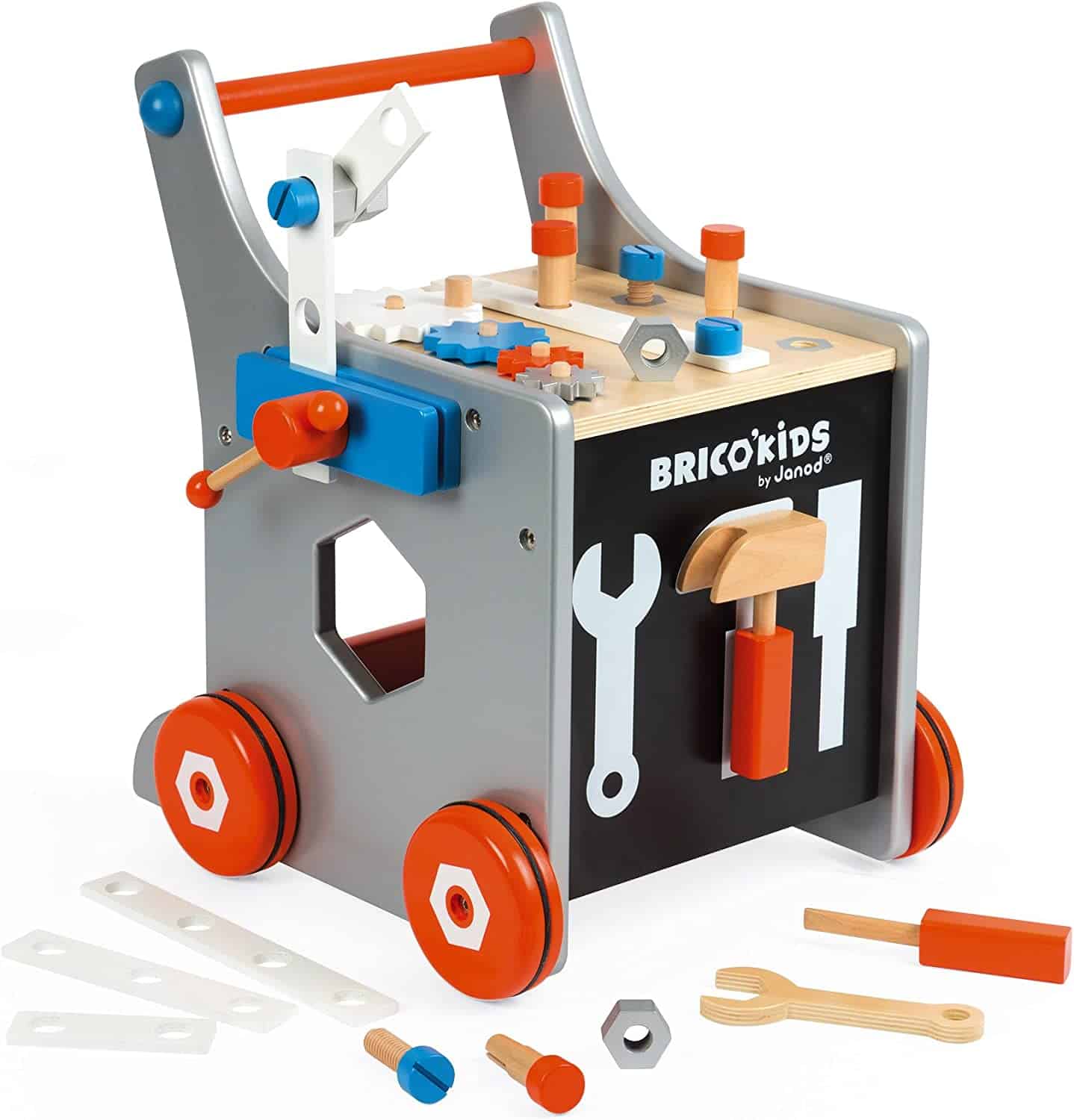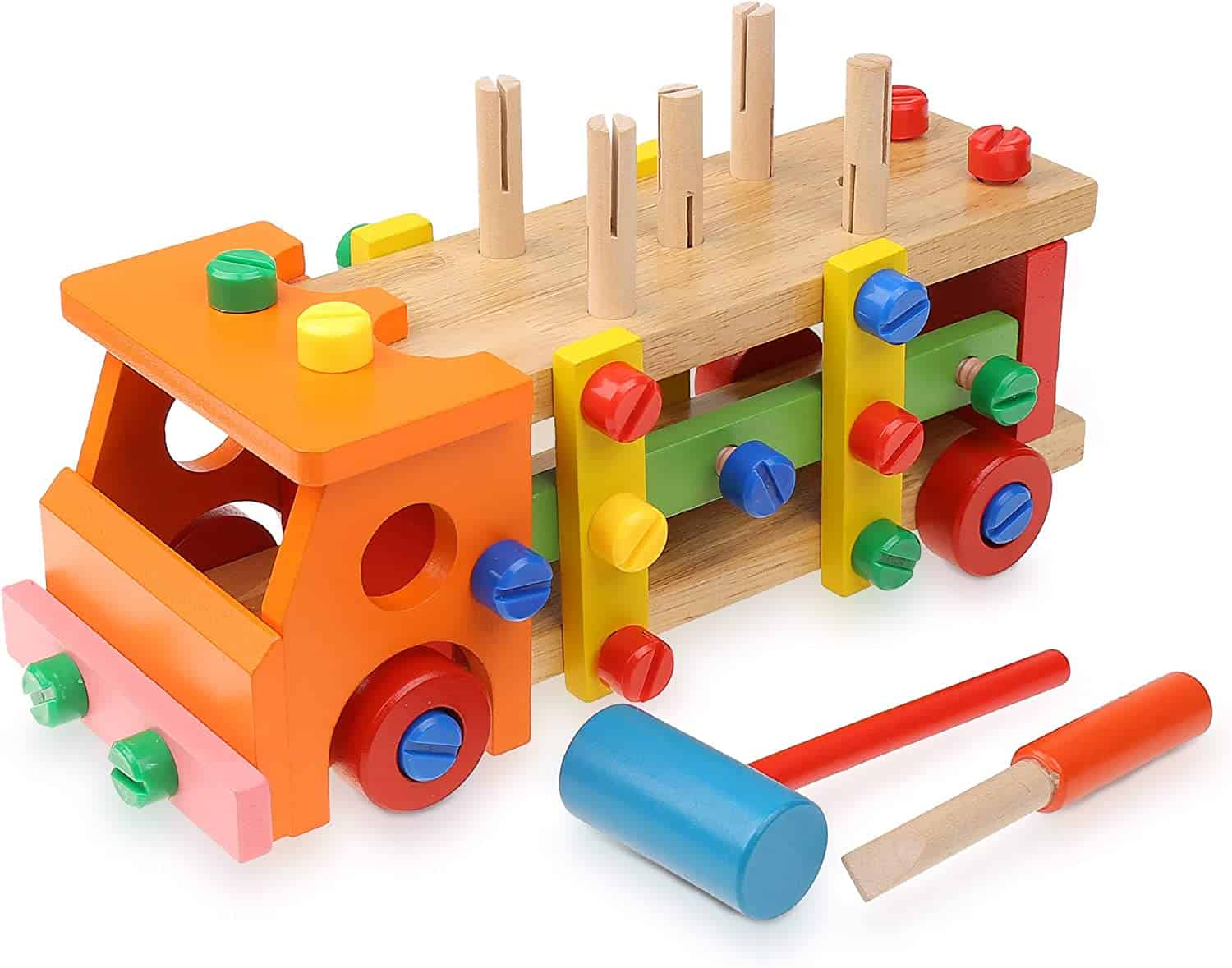 Small foot
Pirate Hammer Art
Pirates and their wooden and cardboard accessories hammer on a cork board. Very nice to make creative scenes.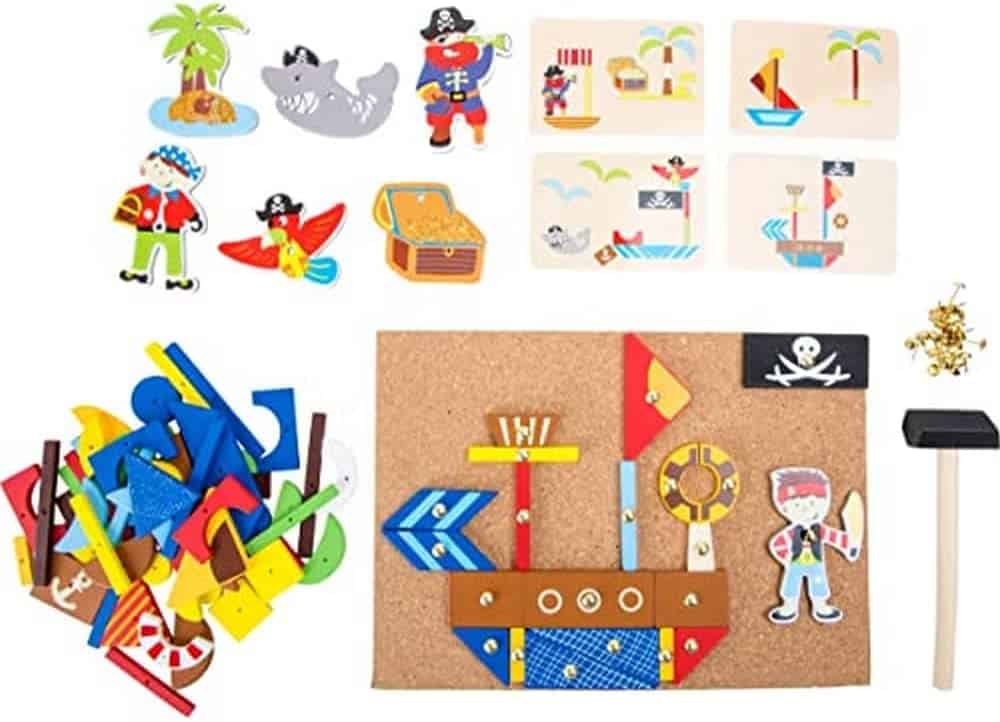 Most educational hammer toy
Kraftic
Woodworking Set
This is where it starts to get real. Real hammering with real nails and a very nice first start in handicraft.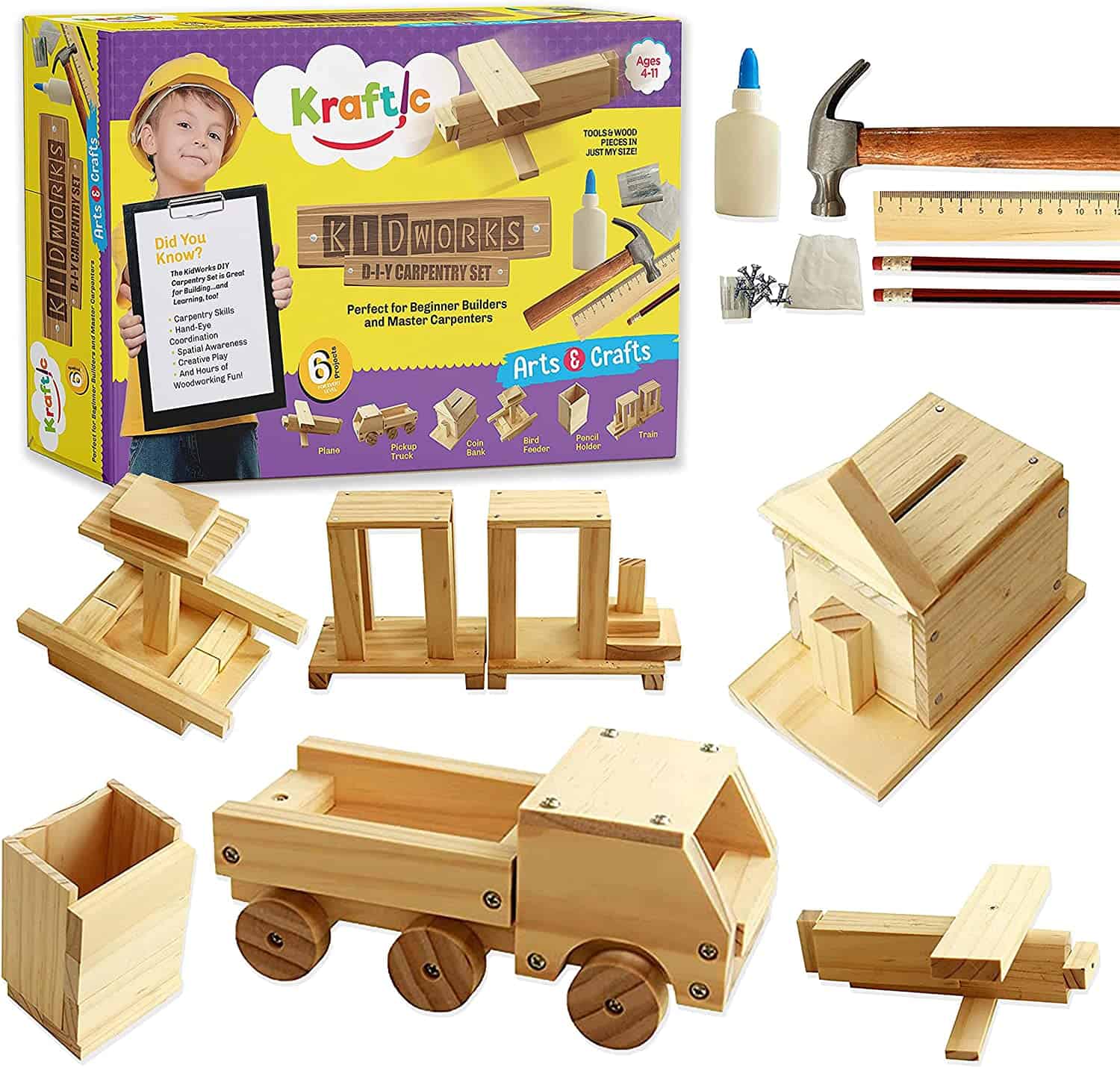 Best toy hammer game for babies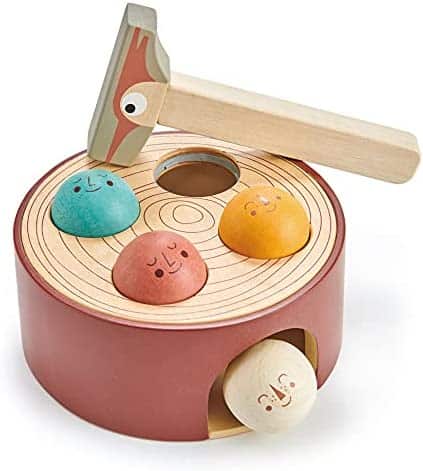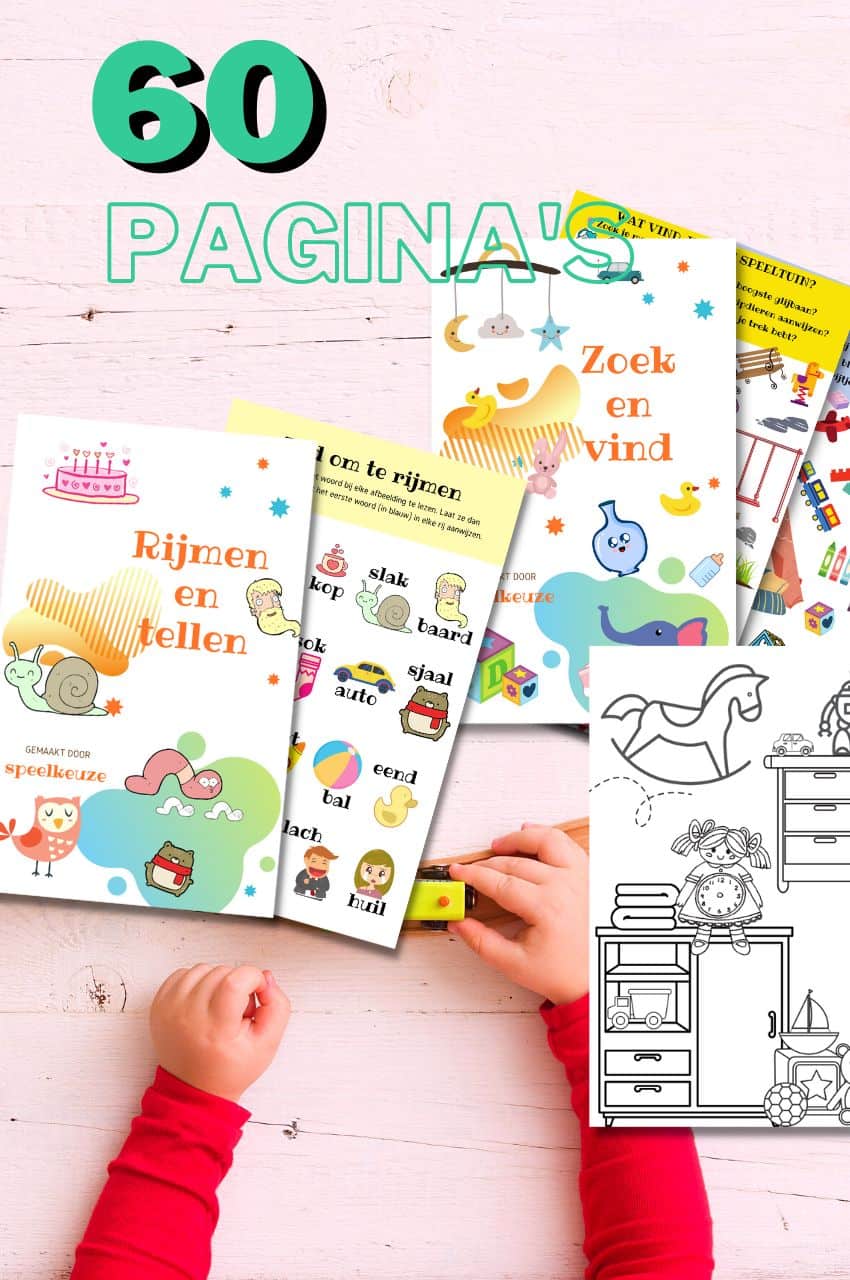 A play theme in your mailbox every month?
Fun play tips, activity books and more, with the first email being our free mini-guide "educational toys"
We will only use your email address for this newsletter and respect your privacy
Mallet game buying guide
A hammer game should be sturdy and last a long time. After all, they are going to work hard at it. That is why you pay particular attention to the quality of the wood.
I have assessed all sets for durability and how solidly they are put together.
In addition, the game must be educational. It is a good opportunity to practice fine motor skills, actually at any age.
As they get older, it also becomes more fun to practice other skills, such as creativity or spatial awareness and math.
The most educational sets touch one or more of these planes.
Finally, it should be fun to play with it over and over again. That's why I also rated the replayability.
I have reviewed all of these points and each toys given a score of 1 to 5.
Top 6 Wooden Toy Hammer Game Reviewed
Melissa & Doug
Hammer Tap Pounding Bench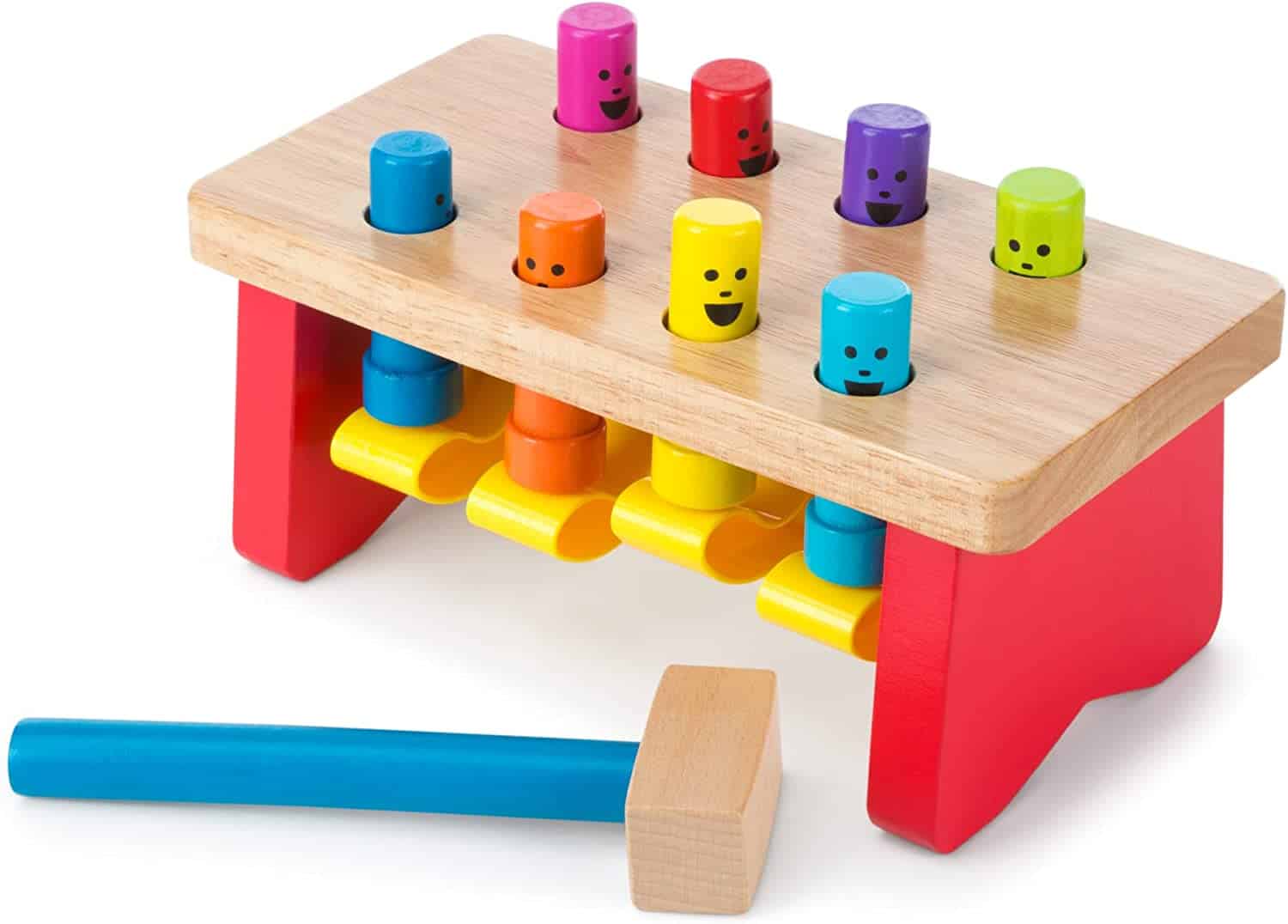 Best for
Happy colors

Nice system that makes nails come up alternately also gives a game element
This is a fun classic. A hammer game with brightly colored figures.
The nails are stuck in the wooden bench so that it is also suitable for small children and fun from about 2 years.
It is quite a well-developed system with a wood under the nails that swings back and forth as you hit the nails. If you knock one down, the other will come up again.
This makes it a bit more fun for toddlers to play longer, until they realize that one keeps coming up.
Of course perfect for training fine motor skills and hand eye coordination.
A disadvantage is that you don't have to hit very hard to get the nails down, which is also why they will grow out quickly.
Janod
Brico Magnetic Trolley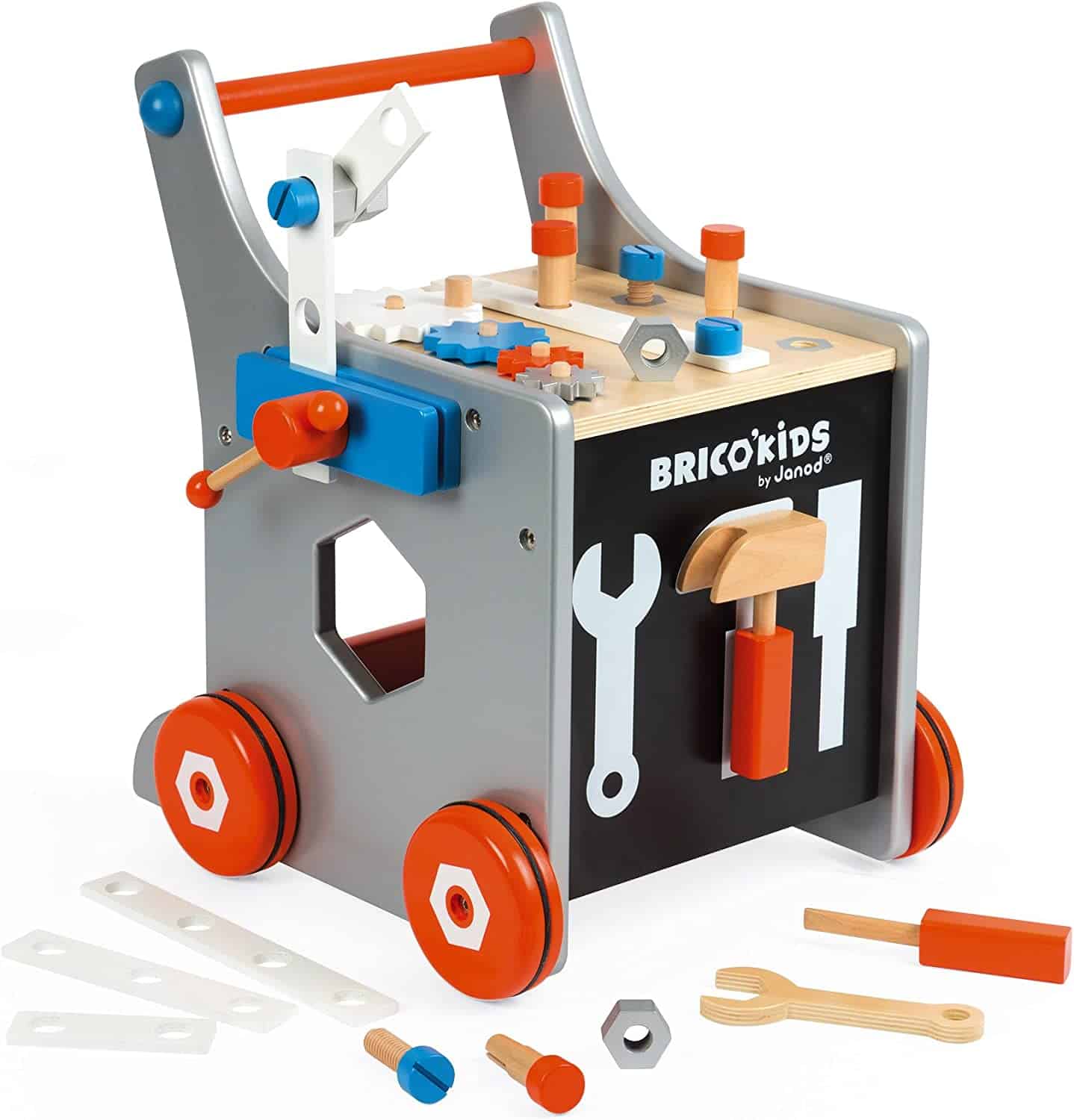 Best for
Many activities in one walker

Wheels drive very well
Less good
Magnet could have been stronger

Wheels can fall off

Quality tools are disappointing
Janod has a lot of wooden tools in the Brico set, very nice to look at them all.
This set contains tools that can be hung on the sturdy trolley with magnets.
Very sturdy wood and the wheels even have metal axles with rubber surrounds so that it runs smoothly and does not damage your floor.
It comes with 26 accessories such as a hammer, screwdriver and wrench that fit onto the magnetic front panel for easy storage.
Other parts include nails, screws, bolts, a vice and rotating gears.
It's nice to have a little bit of everything. That also makes it a bit of a shame because you can't really build anything nice with the set.
It's really more about exploring and hammering and screwing things into the car.
There are holes on top of the workbench where you can hammer the wooden nails.
The magnet could have been a little stronger so that the tool does not fall off every time.
Also, the wheels seem to come off easily, although that hasn't happened to me yet. It is a large part of complaints about the product.
It says to check the screws regularly and then it will at least stay in place with me, but maybe they should have made it better so that it is not necessary.
All in all a very nice set, which you should probably not play too rough with.
This set is also one of them nicest wooden toys on wheels what we have reviewed here
Boxiki Kids
Wooden Hammer Wagon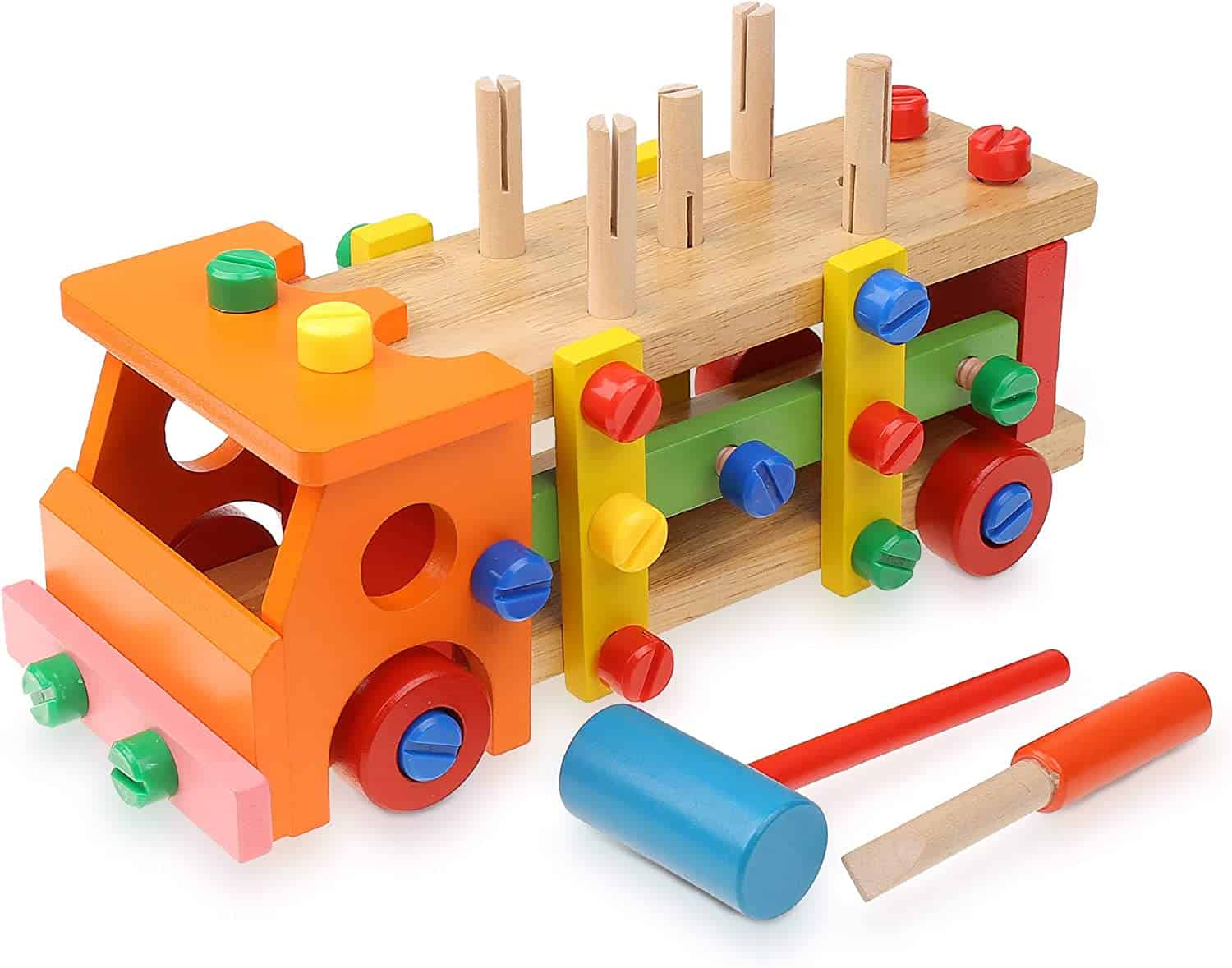 Best for
Many activities

Cheaply priced
Less good
Badly finished

Nails that you need to hammer in just fit through the holes
Good idea to make it so you can roll and hammer it with some more building activity. This makes it more mobile than other hammer sets.
He also often goes from playing location to playing location so that something is always done with it. We made a string to it so that it can be dragged along.
There are 18 building blocks, 30 screws, 1 hammer and a screwdriver and is suitable for children from 3 years.
Unfortunately, it is a cheaply made car. You also don't pay that much for many activities, but there are also some flaws.
Although the car and the wooden construction pieces are quite sturdy, the plastic screws are not. Also, the nails that you have to tap in just fit directly into the holes. So that takes away from the game a bit.
A cheap set to play with, but other sets are better.
Most creative hammer game
Small foot
Pirate Hammer Art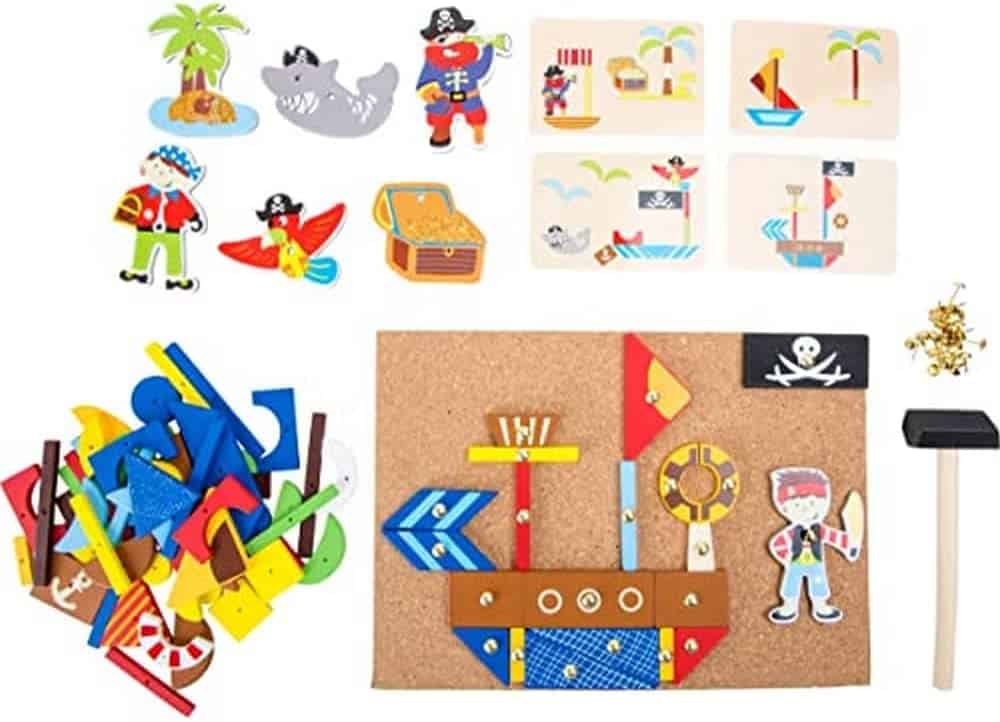 Best for
Hammering is done nicely and the wood is sturdy

Many objects to come up with creative things
Maybe more of a creative game than a hammer game, but it's a lot of fun to do and hammering straight is also fun for kids.
You have to hammer pirates and their accessories from wood and cardboard onto a cork board. Very fun to do and you can make a lot of creative scenes.
It is really hammering and therefore suitable for children from 6 years.
Some parents give it to younger children, but they can hammer their hands.
There are 4 examples included so you can get through them quickly. But it's also just as fun to come up with things yourself. You could also add commands for them to perform.
A big minus is the cork board. Not really big enough to lay out everything you can think of and even making the examples is very difficult.
Still a very nice set that can keep them busy for quite a few creative hours.
Most educational wooden toys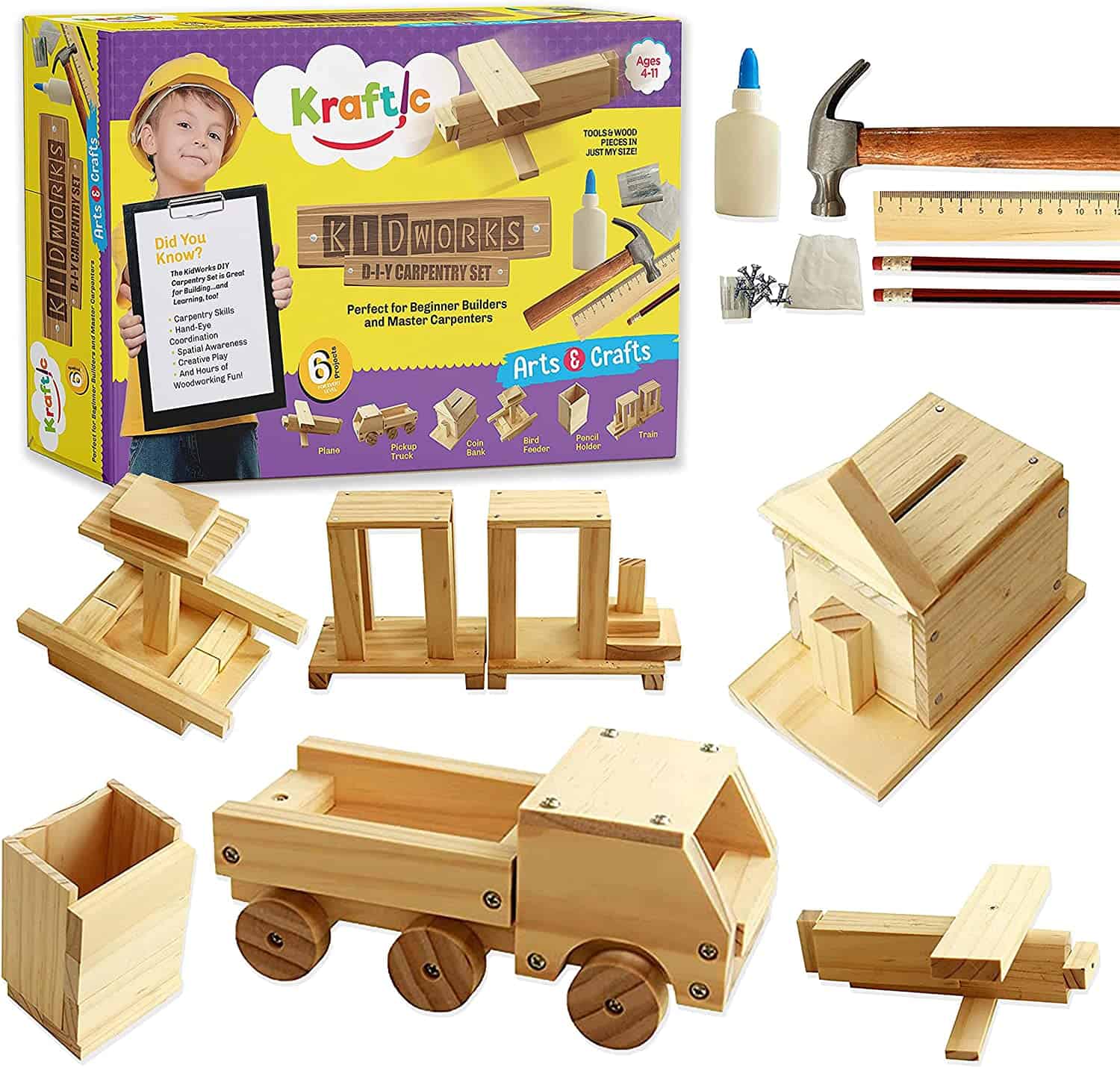 Best for
Real hammering and building with nails and glue

Good first hobby project
Less good
Not all projects are equally good
This is where it starts to get real. Real hammering with real nails and a very nice first start in handicraft.
There are 80 wooden pieces included to make a few different constructions. To make it even more real, you also get 2 pencils, a ruler, nails, sandpaper, glue, a storage bag and a hammer.
You really have to work here with drawing and fitting and measuring.
It is a pity that not all projects are equally well developed. The truck was a lot of fun to do but the plane wasn't very clear.
Also, the pieces are not labeled, but I think this is on purpose and part of it so they have to measure and select the right pieces.
That does lead to some frustration with some users, according to the reviews.
I also think that from the age of 8 it will be fun to get started.
Best toy hammer game for babies
Tender Leaf Toys
Woodpecker Hammer Tap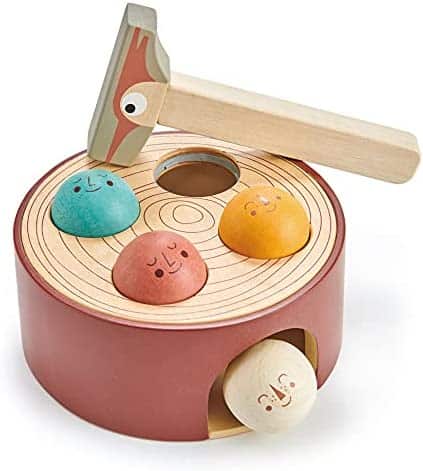 Best for
Very very strong hardwood

Cheerful design also looks good in the interior
A great classic hammer game in a new cheerful jacket. Suitable for children from 1,5 years.
The hammer is a woodpecker and the bench is a tree trunk. This way you can hit the four balls through the hole and they will roll out.
It helps baby practice fine motor skills and is a great sensory experience with real hardwood.
This is really such a set that looks super cute, also just in your interior. But you pay a lot more for it.
Conclusion
There are a lot of hammer tap games or other hammer toys. Every child should have had one in their life I think because it is very educational.
I hope that with this selection you have found something that suits the age and development of your child.
Also read: these are the 20 best wooden toy brands of the moment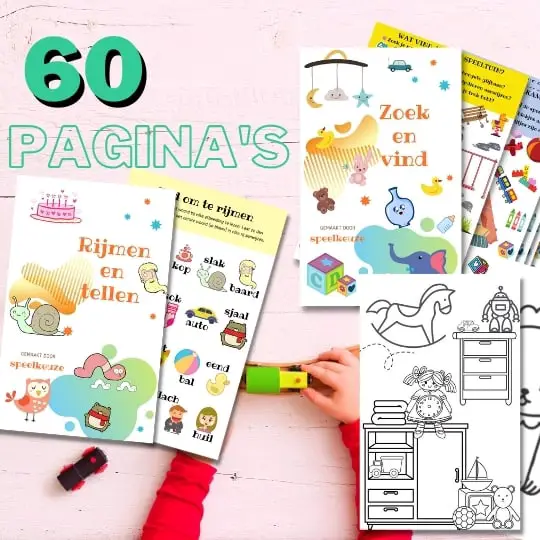 Always something to do for the holidays or rainy day?
Play Choice now has the ultimate activity book collection, with over 60 pages of fun coloring pages and educational puzzles.
Joost Nusselder, the founder of Speelkeuze.nl is a content marketer, father and loves trying out new toys. As a child he came into contact with everything related to games when his mother started the Tinnen Soldaat in Ede. Now he and his team create helpful blog articles to help loyal readers with fun play ideas.