6 Best Wooden Toy Tools: WOW a working chainsaw?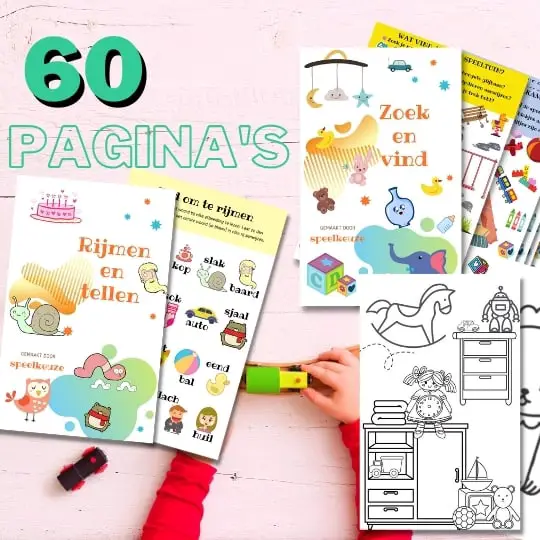 Always something to do for the holidays or rainy day?
Play Choice now has the ultimate activity book collection, with over 60 pages of fun coloring pages and educational puzzles.
Get to work and build things, then you want sturdy tools to have. That's why you choose wooden toys.
Take for example this Janod Brico Drill. It looks like a real tool and the drills can be put on with a magnetic closure. Very realistic and that's what makes it fun to play in fantasy play.
In this article I looked at what you should pay attention to when wooden buy tools and the 6 best toys and tool kits reviewed.
Let's take a quick look at all the options. Then I'll dive deeper into each of these choices.
Wooden toy tool buying guide
With wooden toys tools, you should pay attention to a number of things. For example, is it suitable for the age of your child.
With small pieces, the age limit is equal to 3+ because they can swallow it otherwise. But you also have to look at whether it fits their level of development.
For example, the Melissa & Doug tool box and belt are more suitable for 2 or 3 years, but the real Panda Brothers tools are more suitable from 4 years and more fun from 5.
It is also better to buy the heavy power tools from Janod for a 4 year old.
Furthermore, we have each toys rated for replayability and durability on a scale of 1 to 5.
This way you can be sure that it is fun to keep playing with and that it will last a long time.
Best Wooden Toy Tool Reviewed
If you are looking for one tool and not a whole set then this Janod Brico Drill is really nice.
Maybe you already have a set like the Melissa & Doug or Le Toy Van on this list and want to add to it. A good drill will not be wrong, because this is usually not included in such a set.
Very very sturdy toys and just real. You can even exchange two drills that click into place with a magnet.
The age on the packaging says 3 to 8, but I think it is fun up to about 5 years old. After that, most children won't move on so quickly toys grab tools.
Melissa & Doug has a lot wooden toys of good quality and this is another one of them. A firm wooden box to take the tools with you.
The box itself also serves as a means to attach the screws so that they always have something to play with.
It's a back to basics set, but sometimes that just makes it more fun.
This brand has the added advantage of being very durable. Sure it toys lasts a long time, but they also plant trees back around them wooden toys to continue making.
There are 24 parts included. Tools such as a hammer, wrench, and screwdriver. And also wooden nails, screws, nuts and bolts.
Simple tool toys like these are suitable from age 3 and fun until about age 5.
Children older than that can also apply too much force and, for example, unscrew the top of the bolts (they are glued, not one piece).
The workbench we have from Melissa & Doug has this same problem. Sturdy up to about 5 years but after that it is a bit too cheap.
Other than that, there isn't much special about the box. There are several on the market. Hape, for example, also has one.
But you get a lot for a good price and from a sustainable brand.
This set is too the best wooden toolbox we've reviewed
If you are looking for something more real, this set from Panda Brothers is very nice. Completely in Montessori style you get a real screwdriver and wrench and you will have to get to work.
Metal and wood are perfect Montessori materials because children can really feel nature, more than with plastic.
It says for 3, 4 or 5 years. Some 6-year-olds may still like it if they have never come into contact with real tools.
With 3 years they can turn the various nuts a bit and the tool will probably have to wait a little longer.
I think 4 or 5 years is perfect for this set.
It is made of environmentally friendly, natural wood and it feels very sturdy and is well finished with no sharp edges.
A very nice set to get to know real tools.
Where Melissa & Doug saves some money on the quality to keep the set cheaper, Le Toy Van does not.
It's an expensive set, that's true. But the tools are beautiful and sturdy. You can see this especially with the pliers that are also really easy to operate.
The box also has a compartment that can slide open and of course the large container for all the tools.
It comes with 11 accessories: a fabric bag, pliers, a screwdriver, a wooden board with two holes, two nails, a bolt, a screw, wood glue and a hammer.
Especially the glue is a funny idea. Here's a lot of play with pretending to stick things.
There isn't very much in it. It's also more pretend play than actual building or crafting.
The Kidwill set in particular is more fun for that, but almost every set on this list has more material to build with.
That was clearly not Le Toy Van's approach. Just very sturdy toys for the construction worker who wants to repair things in and around the house.
The second Janod Brico tool on this list. Also incredibly fun, although perhaps a little less applicable.
I like the chainsaw better because it actually works. When you pull the cord, the rubbery silicone 'blades' start to rotate and you also get an engine sound.
We taped it up a bit to keep the noise from being too loud. That makes a big difference, otherwise you will get a little crazy at a certain point.
The twisting of that rubber rim is a nice addition and it works really well for pretend play. Nice saw through trees or branches from the trees. Or of course the legs of mom and dad.
Is that still educational?!?
It's a very small saw so don't expect too much from it. Some customers thought it would be bigger, but it is for 3 years and older.
Nice on its own or together with the Melissa & Doug tool box because the pieces also fit together.
Of course, a construction worker needs a belt to store his tools.
The strap is adjustable to fit all children from 3 to 6 years old and it comes with a hammer, screwdriver, wrench, ruler and saw.
The 8 building pieces are not very many so that will get boring quickly, but this set is not really intended for that.
The belt and tool are very sturdy. Those will last for a while. As with the toolbox, the bolts are also glued, so that is a little less for older children.
Conclusion
There is so much for sale, I didn't even know about the Janod sets before I started doing research. But what a great one toys and good for hours of fun!
Also read: these are the nicest toy brands with sustainable wood