6 best wooden toy workbenches: on legs or for on the table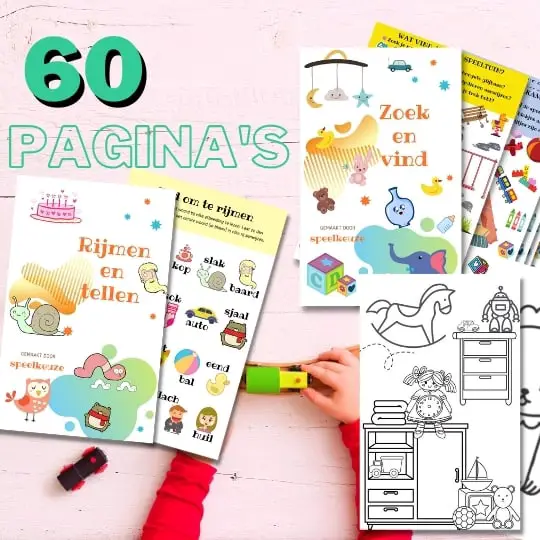 Always something to do for the holidays or rainy day?
Play Choice now has the ultimate activity book collection, with over 60 pages of fun coloring pages and educational puzzles.
When you look at toys tools, then the workbench is the ultimate big gift to get.
There are nice sets, such as this sturdy Melissa & Doug workbench made of wood. A lot of tools and building material such as screws and nuts make it a complete set to play with.
That's also what you want to get out of a toy like this. In this buying guide I go through what you should pay attention to when purchasing and I discuss the 6 best wooden workbenches.
Let's take a quick look at all the top picks. Then I'll take a closer look at each of these options.
Wooden toy workbenches buying guide
When buying a toy workbench you have to pay attention to a number of things.
Age
Are the toys appropriate for their age, but also fun for their developmental level? That is sometimes difficult to see from the box.
I therefore looked at all the sets and ranked them according to their age level.
Please note that all sets contain some small pieces, so for children under 3 you should stick with them or take them out of the set until they are a bit older.
Of course you don't want them to swallow pieces.
Replayability
Is it fun to play with? That has to do with the ease of play without frustration and the accessories that come with it.
I've rated each set for replayability on a scale of 1 to 5 to give you an idea.
Sustainability
Once you have a set that your child likes and is age appropriate, you want them to be able to play with it for a while.
That's why we've rated each set for durability. How long will it last without breaking.
Some sets, such as those from Melissa & Doug and Small Foot, are quite sturdy, but not sturdy enough to handle 6-year-old children's hands.
Other sets are made to last a little longer like Le Toy Van or use plastic for the parts like the 2 sets from Hape.
Sustainability is also rated on a 5-point scale.
Best Wooden Toy Workbenches Reviewed
Are your children getting a little older? Here are the best construction toys for kids ages 4 and up.
Ideal for: ages 3 to 5
If you want to take the construction game a little more literally, you can go to Melissa & Doug's workbench.
This toy consists of nuts, bolts, blocks and of course the workbench which gives your child a variety of items to build things with.
What's great about it: This set is definitely not your typical construction toy.
Your little one should know more about putting things together, giving them a wide variety of challenges while promoting their imagination and motor skills.
It includes:
blocks where the screws can go
a workbench to attach things to with a real vice
boards that you can put together with the bolts and nuts
Really very lifelike and in addition to being educational, it is also just fun to do.
My son was the first to build robots from it…
sigh.
Gears are always fun to pin on something. Especially on your workbench if you can fix them with your own tools.
You get 35 parts with this Hape workbench.
Tools such as a hammer, saw, screwdriver, wrench, vise and angle.
But also screws, nuts, bolts, gears, links and more
The Melissa & Doug workbench is very nice because it comes with so much, but unfortunately not adjustable in height. This one is so that he can also grow a bit from 3 years to 6.
Many parents also give it to them at the age of 2 and indicate that hammering is perfect and screwing is successful with good practice.
It doesn't come with a lot of material, but it's a lot of fun to play with because of the gears, vise and more.
It's a pity that the parts that come with it are made of plastic, but I don't think the gears made of wood would be strong enough either.
Yes, it is an expensive set, but this is well made. Very sturdy wood and built to last.
That is perhaps a bit of a shame. In many of the other sets, each tool has its own compartment, here they hang a bit on the back wall and you also have to put a lot in the compartments.
But you get a fully functioning worksheet in return.
It can be used from 3 years old. Where some of these tables can best be used earlier, this is a bit more difficult because the screws are really stuck in the wood.
That is frustrating to play with for a smaller child.
There isn't much to build with either, so it's fantasy play with the tools.
This one is built a bit cheaper than, for example, the workbench from Melissa & Doug or Le Toy Van, but that doesn't mean it isn't fun to play with.
It is also stuck with the building material that comes with it. The same big wooden nuts and bolts. This in itself makes it fun to put it together yourself first.
It's just not the most sturdy construction. And you run the risk of them breaking it up again. Or maybe that's part of the fun?
There are 21 accessories: 5 nuts, 5 bolts, 3 nails, 3 wooden planks with holes in them and 5 tools.
Nice as a first cheap set for your small child, but for a 3-year-old I would actually rather buy one of the other sets so that they don't grow out of it too quickly.
A very nice set. The workbench itself is very small, but you can use it on the table or we put it on our wooden dining room bench.
The Small Foot workbench is just so small and your child probably has to work on it sitting down. You can place this where you want, so that gives you more options.
Because it also has no legs, it has also remained fairly cheap. Yet there are 26 building parts with 5 tools.
With this set it is also nice that you can saw the wood apart because they stick together. This also gives it a fun game element that I haven't seen with any of the others.
There are also enough pieces to build fun small projects, such as a car or robot.
The fact that it is so small can be a big advantage. Not everyone has room for such a large workbench and you can easily store it when they are done with it.
As with all Melissa & Doug tool toys, it is fairly sturdy but not strong enough to handle older children. It is therefore suitable from 2 years (if you leave out the small pieces) up to a maximum of 5 years.
What a wonderfully comprehensive set this is. I already have such a Science Kit from Hape rated among the best toolboxes, and they also fit together.
There are 79 pieces with which you can do 15 experiments. And of course make your own creations.
The experiments include an excavator, gravity vehicle, flashing light and wind maker.
What makes it especially nice is that it teaches the science behind building, also using a handy app.
Super fun to do with your child. It says suitable from 4 years, but I think it will be especially fun with 5 years and up to about 8 years old.
A disadvantage is that there are not enough parts to keep several projects intact at the same time.
For example, we couldn't leave a large project for a while to review later without breaking it off.
The workbench is also quite low for children from 5 years old, but they can play with it sitting down like I do. The toolbox is then a more logical choice for this age category.
Conclusion
There are a lot of workbenches for sale, and not even just for small children. Before I started researching I didn't know about the Hape Scientific series at all, but they are also great fun!
I hope you now have an idea of ​​what is possible and you can make a good choice for your child.