I enjoy writing these articles for my readers, you guys. I don't accept payment for writing reviews, my opinion on products is my own, but if you find my recommendations helpful and you end up buying something through one of the links I may be able to receive a commission on that.
More information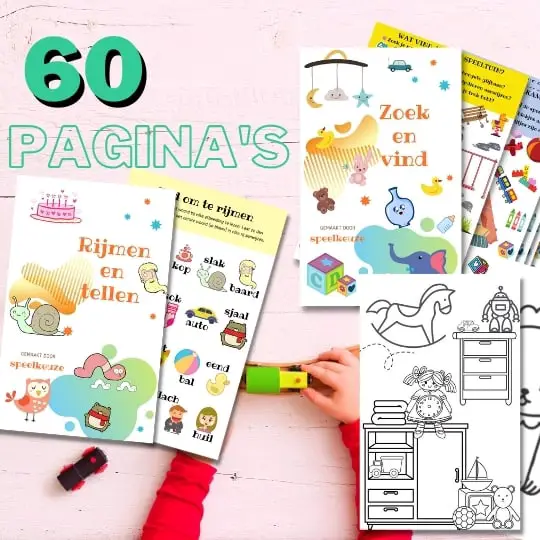 Always something to do for the holidays or rainy day?
Play Choice now has the ultimate activity book collection, with over 60 pages of fun coloring pages and educational puzzles.
Best Wooden Toys For Toddlers & Preschoolers
Best wooden educational games: Haba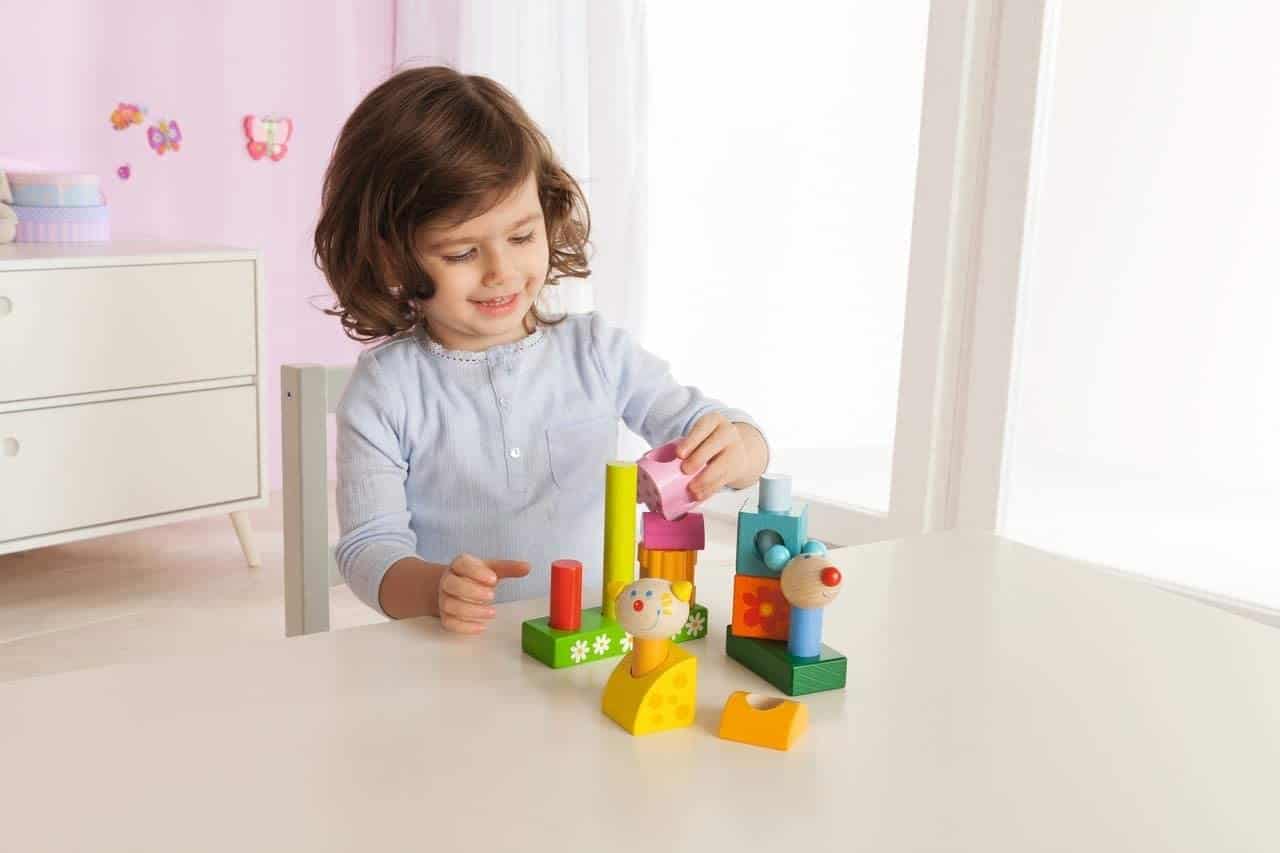 Did you know that Haba toys are well thought-out toys with a high play value?
I thought it was a good idea to take a closer look at Haba toys. I came across many toys from this German brand during my research into responsible and educational games and toys.
Children of all ages can find suitable games or toy items at Haba.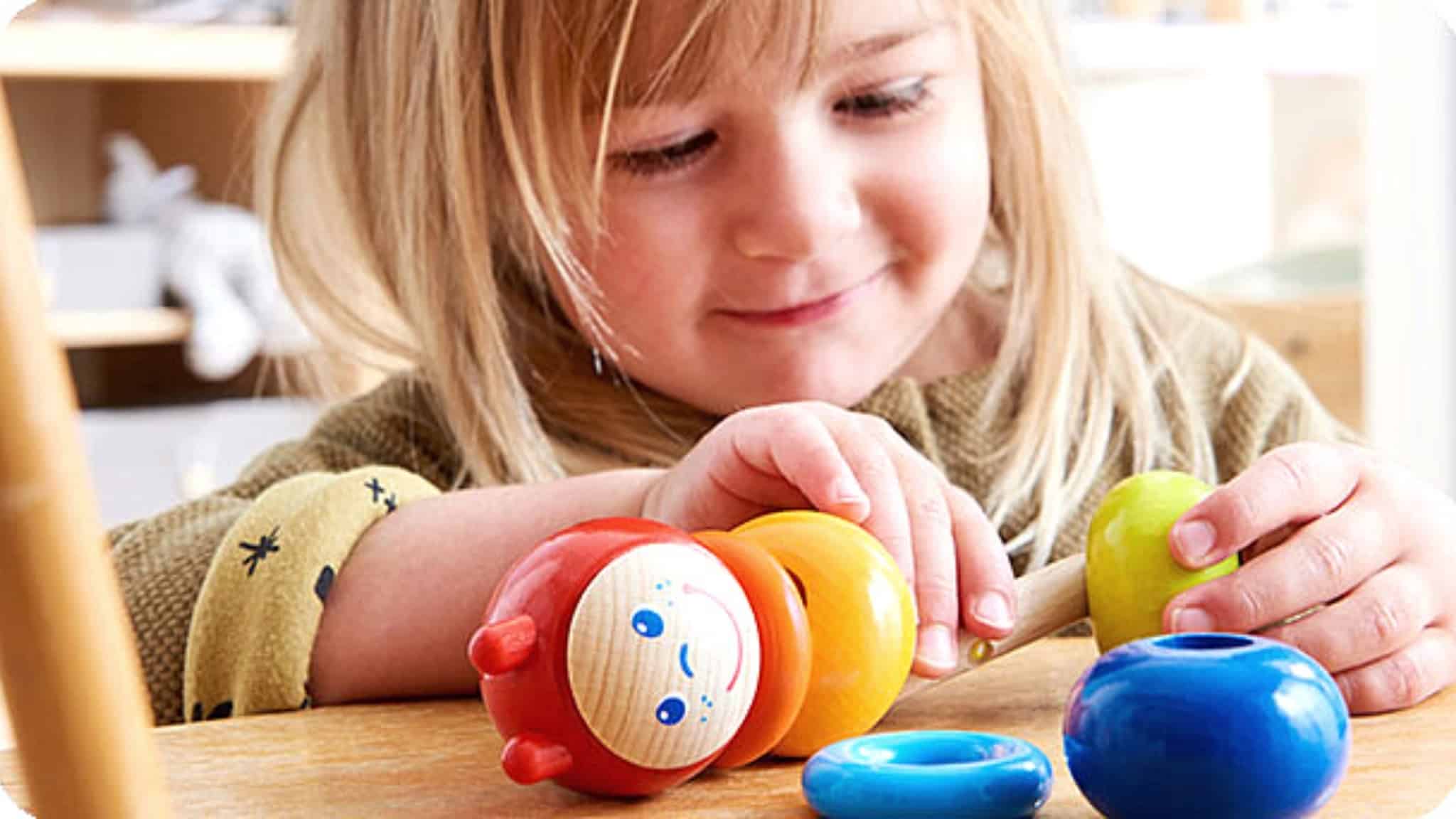 The designers and game editors of this company are often inspired by nature, by animals and also by people and you can see that in their toys.
The wooden toy items from Haba come from sustainable forest management. Wonderful and safe toys for the youngest among us and always at their own level, produced by hand in Germany by proud Haba employees.
It was difficult to choose, but as overall I have the nicest toys from Haba this block mosaic 3-D chosen. It is suitable for children from 3 years old, but is a challenge for children of all ages!
The 10 sample cards - printed on both sides - can be copied with the blocks by the youngest children, but older children or adults can also turn them into a game; whoever makes a mosaic of the chosen card fastest wins.
Why Haba toys?
What particularly attracts me - besides the fact that this brand makes sustainable toys - is that there are already educational board games for very young children.
Haba's approach that a game should not be 'just fun', but also educational and focused on the development of your child is a big plus.
Furthermore, each game adapts to different thinking levels, because it can be played in various ways.
The materials used for their toys are also safe and responsible. Do you think it's crazy that it is one of my favorite brands?
Some Haba history and background
Haba has been a renowned Bavarian toy maker since 1938. It is the first toy manufacturer in Germany.
The toys of this brand meet very strict safety requirements, and in most cases Haba exceeds both European and American standards.
Most of the wooden toys are made in Bad Rodach (Oberfranken region in Germany).
The dyes used are water-based, and therefore safe for in the mouth. The wood that Haba uses for its toys comes from regional forests and has the PEFC label.
In addition to opting for ecologically responsible materials, the brand also uses an active environmental policy in the German factory. The use of materials, emissions and production of waste are kept to a minimum.
Since 1999, Haba has passed the EMAS test without any problems and has received the ISO 14001 certificate for environmental management. This means: innovative materials, short distances and modern production techniques.
They even use new environmentally friendly materials from renewable raw materials for their products. The company tries time and again to implement improvements that benefit nature.
Finally, they have an energy management system certified according to the ISO 50001: 2011 standard to improve the company's energy efficiency.
Overall nicest Haba toys: Block Mosaic 3-D
This block mosaic 3-D wood 48 blocks is a colorful wooden game. It offers building fun to creatives of all ages.
When copying the examples - or with their own creations - your child puts beautiful designs stone by stone:
Your child will automatically get to know the first geometric shapes and the fun is limitless, because the combinations are endless!
Check the latest prices here
Best Haba walker: Broem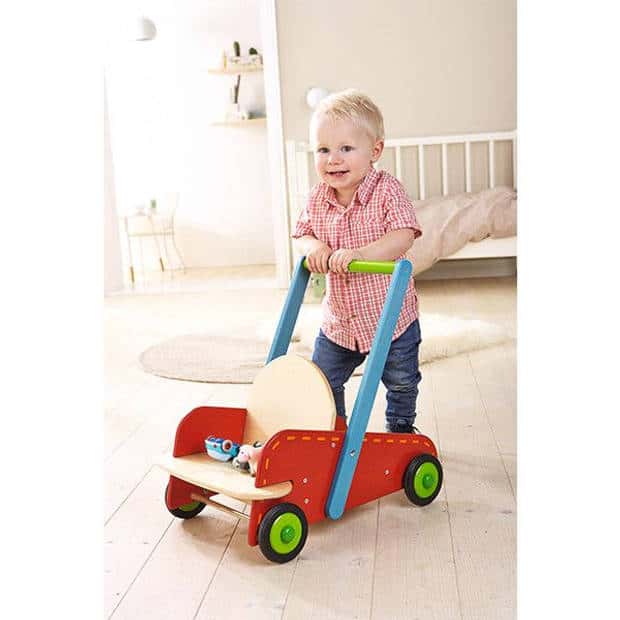 With the robust wooden walker Broem, the little ones who are just learning to walk have some extra support. Walking is promoted with this walking cart and gross motor skills are developed. You still have to assemble the trolley, which is not difficult with Haba runners:
The push resistance can be adjusted to the pace of your child on the adjustable brake.
This walker is cheerful, but above all safe and has a handy seat at the front. This way your child can push her dolls or friends or sit in them herself.
Check prices and availability here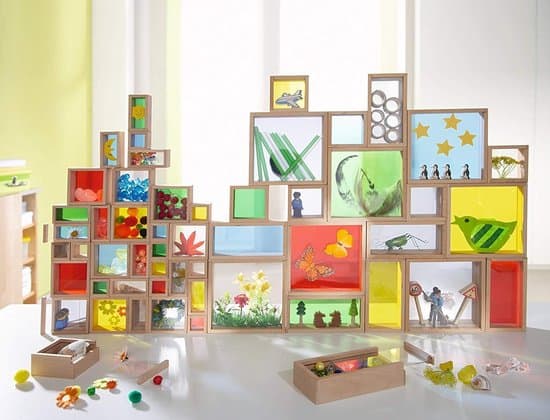 This quite pricey set of building blocks with colored windows is very surprising!
This set contains 21 wooden blocks - or windows - in different colors and sizes. Each block therefore has a colored, but transparent window.
Your child can fill these blocks: with sand, flowers, beads, you name it! A very attractive building game for children from 3 years old.
Good for the development of fine motor skills and also a very creative game by filling the windows in any way!
Check the latest prices here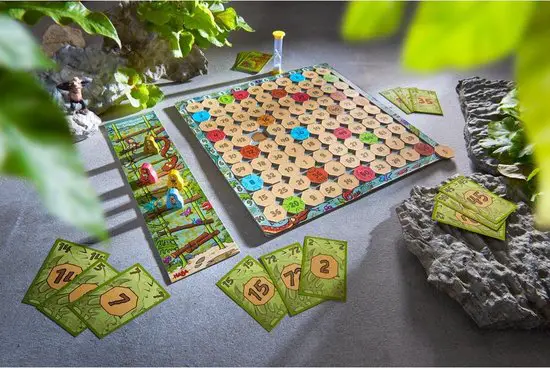 The Haba animal feed game is already suitable for your 2-year-old child. Your child must find out what the cat, turtle or mouse is eating.
The animal cards, the wooden pieces, the shapes and color cards must be properly sorted by your little one.
Children have to appeal to their memory with this game to make as many sets of animal cards and color cards as possible. This game promotes their speech and animal knowledge.
The game comes with 5 wooden pieces - 1 carrot, 1 sod, 1 fish, 1 piece of cheese and 1 bone - and 5 animal cards, 5 shape cards, 5 color cards and 1 a manual.
Here someone from Haba explains how it works, and why it is such a fun game (in English):
Children therefore tell each other which different types of food, animals, colors and shapes there are and which ones match.
The cards are mixed up and at each turn one is turned over, the children tell which animal it is or what color the card has.
Whoever finds both the correct color and the correct animal card with his own food card wins the game.
The game can be played with up to five people and only lasts about five minutes. I also like to play it with my toddler.
The game is made of beech wood and cardboard.
Check the latest prices here
Wooden toys have been Haba's showpiece since its foundation. The company is best known for its wooden building blocks.
The emphasis is still on wood, but in recent years more and more other materials have also been used.
Today, Haba makes many different toy items; including marble tracks, dolls, children's jewelry, (craft) games, but also carpets and even decorations for the nursery.
Some of their products have been voted Toy of the Year in Germany.
The nice thing about Haba toys is that your child does not realize that he is picking up all kinds of skills while playing.
Your child will be helped in his development in a playful way: he learns to recognize, observe and react, concentrate and think logically, make decisions and solve problems.
What to do with children who find a game too difficult? Or children who quickly find a game easy and therefore boring?
At Haba there are always rules for a basic game as well as suggestions for making a game more difficult or easier.
As far as I am concerned, Haba makes suitable and well thought-out toys, with an eye for detail. A great brand!
View more toys from Haba
Cutest wooden toys: Le Toy Van
Age: 3 +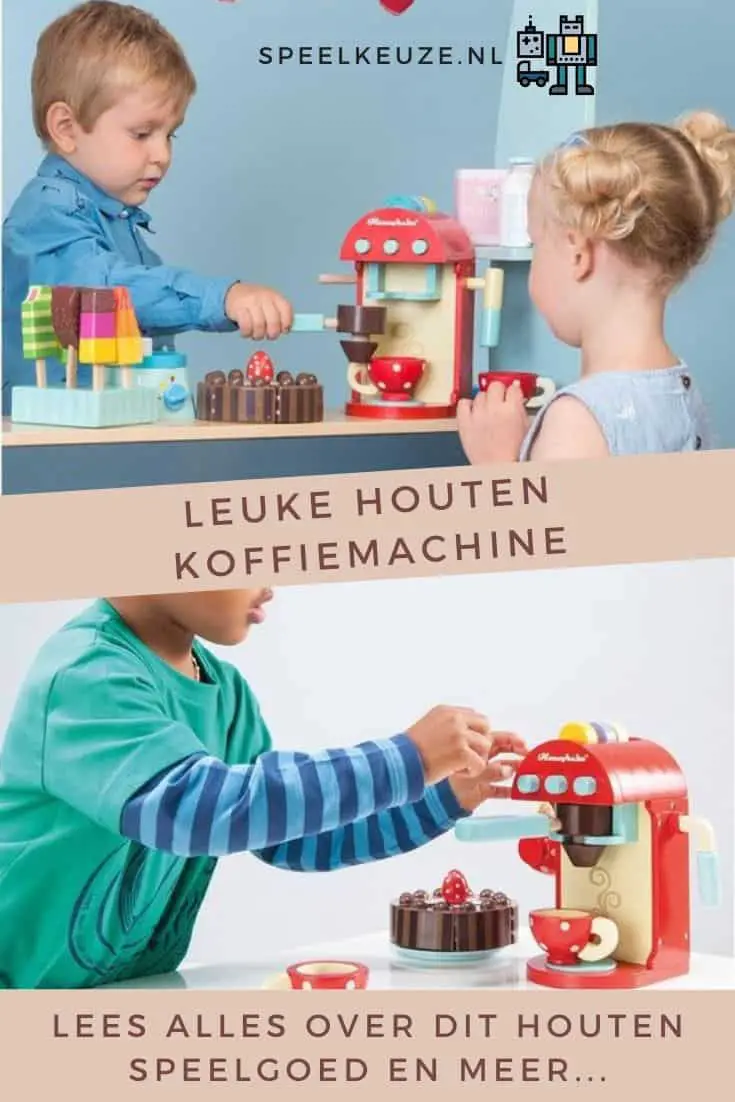 What it is: a brightly colored mini replica coffee machine from the brand Le Toy Van, with 2 wooden cups, spoon, 'milk frother' and a selection of colored fabrics to place in the removable filter.
Why we love it: this toy has the most beautiful (water-based paint) details and is perfect for old-fashioned role play.
Our kid testers had a blast choosing which color fabrics would fit in to make a flavored latte for their parents.
Only drawback is: the coffee is not real!
Check out more from Le Toy Van
About Le Toy Van
A family business designing imaginative wooden toys in Great Britain with a touch of French, since 1995.
Le Toy Van was founded by Georges Le Van, who was later joined by his son and wife, Steven & Marie Le Van, who now run the business together.
The Le Toy Van team has continued to develop and now has more than 150 years of experience in the toy industry.
The toys are ethically made from durable tangible materials. The products stimulate creative and long-term play. The uniquely designed, multi-award-winning and hand-finished toy is a real investment in play!
The brand uses and replantes a by-product of the rubber industry, Rubberwood, which they recycle, among other woods, into beautiful, high-quality, eco-friendly wooden toys. So replant, reuse and recycle.
All toys are designed to meet strict EN-71 and ASTM safety standards. Le Toy Van toys are ethically made by trusted partners and validated by the ICTI & ISO 9001 quality mark.
There are rigorous comprehensive quality, safety and sustainability programs and certifications in place.
Using natural materials including refillable quality smooth rubber wood and a range of techniques from hand screen printing to water stains, this detailed hand finished toy is unique and loved by little hands.
The in-house and on-site quality team ensures the delivery of a consistently high-quality product that Le Toy Van is acclaimed for.
Funniest wooden toys: Bigjigs Toys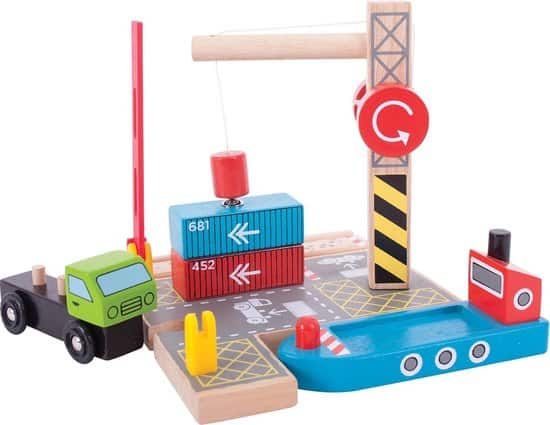 What it is: a 10-piece wooden tea set with a tray, 2 cups, 2 saucers, 2 tablespoons, a teapot with lid, a milk jug and a sugar bowl.
You can buy additional plates and cookware sets that match.
Why we love it: it is perfectly sized for preschool fingers, beautiful quality and charmingly gender neutral.
Last year, our children's testers particularly liked that the teapot had a lid that you can put on and put on.
Bigjigs is a toy brand from Irish soil and a real family business par excellence.
With their ethical values ​​and a focus on education and child development, they make fun and responsible toys.
The couple Liz and Peter were both teachers before they started making toys.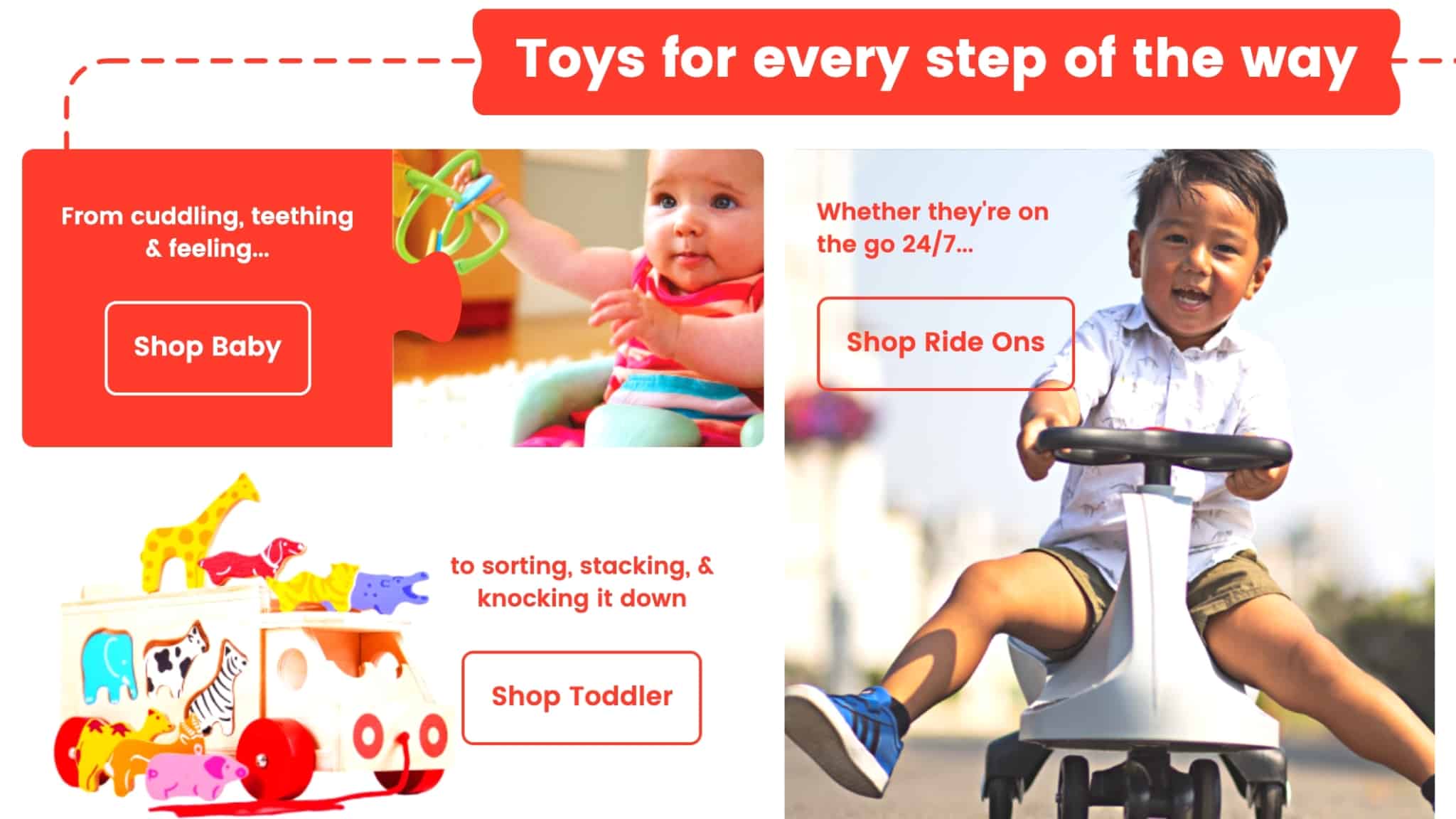 This background has helped them a lot in developing toys that contribute to the development of children.
The fact that the company has grown rapidly does not mean that Bigjigs has lost sight of the family aspect. Liz and Peter's two sons, Sam and Tom, are now directors of the brand.
The whole family is still actively involved in the design and production process of the toys.
Bigjigs toys
You might find the most beautiful (wooden) toys at Bigjigs. From educational puzzles to cute doll houses, this brand is at home in all markets.
At Bigjigs, creativity and sustainability are central and that is certainly reflected in the collections that this brand offers.
Beautiful inviting colors, interesting designs and very high quality wood provide hours of fun!
Bigjigs is also a very accessible brand with great prices that suit every wallet.
Does your child like beautiful buildings and does he or she prefer to construct endless train routes? Then you can go to Bigjigs.
Does your son or daughter prefer a challenging puzzle to train fine motor skills? You will also find what you are looking for at Bigjigs.
Most Bigjigs toys are also portable and therefore easy to take with you on holiday or visiting family. So your little one will never be bored!
There is really something for everyone at this fun toy brand. Even the littlest ones are not left behind with the baby-safe options on offer.
Is Bigjigs an ethically responsible company?
Hell yes!
All of the Bigjigs toys for sale are made in the Middle East, where Liz, the owner, visits regularly to ensure that everything is produced in an ethical and fair manner.
The wood used to make the toy meets all important environmental criteria.
The most commonly used wood in Bigjig's toys is rubber wood. Rubber wood is a by-product of the latex production process and therefore very sustainable wood.
In addition, all Bigjigs partner brands are also selected on the basis of ecological and social references.
How safe are Bigjigs toys?
Safety always comes first at Bigjigs.
Every toy designed and sold under the Bigjigs brand is extensively researched and tested by an independent lab to ensure it meets all safety standards required in Europe and the US.
This testing process is very extensive. Consider, for example, rigorous durability testing, chemical analysis and paint analysis and attention to age-related guidelines.
Small children not only play with their hands, but also with their mouth. That is why it is important that the toy does not contain toxic dyes.
Luckily you can breathe easy with Bigjig's toys; all toys of this brand are 100% safe.
Learning by playing
Toys should not always be fun, but also educational!
Especially at a younger age, when your little one's development is at its peak, it's important that toys also encourage growth.
Bigjigs toys do just that. With puzzles, numbers and rhythm it actively works on the (fine) motor skills of your child.
Read also: What is educational toys for children | pay attention to these 5 things
For which age group are Bigjigs toys best suited?
Bigjigs has toys for virtually every age group. From soft plush cuddly toys to teething rings for babies, to dolls for toddlers and books for the older children.
All toys are divided into age groups:
0 to 12 months
12 to 24 months
2 to 3 year
3 to 4 year
4 to 7 years
8+
What kind of Bigjigs toys are there for sale?
Bigjig's toys are incredibly diverse. This brand really has everything in its range:
Wooden train tracks
Playing with trains and rails is a great way to encourage creative and narrative thinking and encourage imaginative play in your little one.
The train collection is also very easy to expand.
For example, choose a beautiful set of rails with a train and slowly expand the set with a station, a railway crossing, a drawbridge or even a dragon crane!
Check out their fun windmill!
Read also: 11 Best Wooden Toy Train Sets Reviewed: Ideal Educational Toys
Arts & crafts
Let your child discover their creative side with the wide range of Bigjigs creative games and activities.
For example, we really like their bead set, where you can string small beautiful necklaces, or the fun chalk eggs that come in a really, cute egg carton.
This segment also includes the many clay sets of Bigjigs, such as the flower clay set or the racing car clay set.
Baby & toddler
Bigjigs entertains all ages, including the little ones.
The plush, soft cuddly toys offer your baby comfort when they need it most and for the slightly older children there are toys that fit well with the developments that are the most important around this age phase.
Consider, for example, animal puzzles or building blocks. The fun colors look cheerful and keep your little hours busy.
Check out their cute dog cuddly toy!
Educational
Actually, most Bigjigs toys offer an educational aspect, but this special range mainly focuses on that.
The folding blocks teach your little one about organs, tables, football, planets and dinosaurs. A wide selection of books are also available, covering topics such as recycling, the solar system and animals.
Your child can of course also discover the outside world with the insect research pots.
Pretend play
When your children are a bit older, they will probably fantasize more and more freely in their play. With the right toys, your little one can freely enter the dream world!
The dollhouse sets from Bigjis are very fun and colorful. They can also be expanded with other furniture, dolls and accessories.
Another fun fantasy toy is the supermarket set, complete with scanner, order drawer and receipt roll. It fits very nicely with their store set.
Outdoor toys
Is the weather nice? Then there is nothing better than playing outside!
Play with your child outside and plant a vegetable garden! The tool kit with handy fanny pack is perfect for that. Their watering can is also nice for the Outdoor!
A ping pong set is another way to spend time together outside, or hang up the cute swing.
Do you have water nearby? Then you can also choose from a wide range of boats and buckets.
Children's and bedroom
Make the nursery a true inspiration for your little one with colorful furniture and decoration.
The play mats are not only beautiful and handy, but they are also great fun to play with! Your child will certainly enjoy this with a few cars or dolls.
The same goes for the fun ones gaming tables from Bigjigs.
Teach your child to spell his or her own name with the decorative wall letters that are available in many different colors and motifs.
Games, puzzles & gifts
The many balls, music boxes and puzzles belong to this category.
Think of fun jigsaw puzzles or domino sets, but also cars, and golf and cricket sets can be found here.
Check out more from Bigjigs Toys
Best Magnetic Wooden Toy: Tegu
Tegu designs durable wooden magnetic building blocks. The blocks are specially designed for children's hands.
While playing, a child develops fine motor skills and problem-solving thinking with these blocks, and learns about geometry and dimensions.
The brand stands for sustainability, love for play and social anchoring. The blocks are developed in Honduras and thus provide employment.
In addition, the brand only uses wood from sustainable sources and uses lacquer that is based on water. So everything is ecologically sound and non-toxic.
Children play and learn at the same time. When a child plays with toys that challenge them in a certain way, the brain will have a chance to develop.
So learning goes without saying, with the right toys!
Tegu toys are relevant at every stage of development:
Toddler: for developing fine motor skills and hand-eye coordination
Older toddler: dealing with balance and proportions
Toddler: learning to imitate
Older toddler: problem-solving way of thinking
The brand's wooden building blocks are also magnetic. And for many children, magnets have something magical.
The building blocks come in various shapes and sizes, very fascinating and fun toys! In addition to constructions, you can build the coolest helicopters or the smartest robots with a little imagination!
All Tegu blocks are designed to work together. This was a unique challenge for the brand that was solved by making each block around a cubic core module.
By the way, this cube was the first piece they made!
Many people who know the brand wonder: how do they get magnets in the building blocks? According to the brand, there is something magical about what exactly is in a Tegu block.
What people don't always realize is that there's more to it than just a magnet. The magnet is just part of what they hide in a Tegu magnetic block to make it…well…so 'attractive'!
Most unconventional brand: Janod
What characterizes the French is that they have style.
This is also the case for the innovative French company Janod, which produces colorful and beautiful wooden toys, of course with an FSC quality mark.
However, they do not make everything out of wood, such as their trendy vintage children's bicycles.
Janod makes original, responsible toys in beautiful and trendy colors. Sustainability and quality are very important to this company.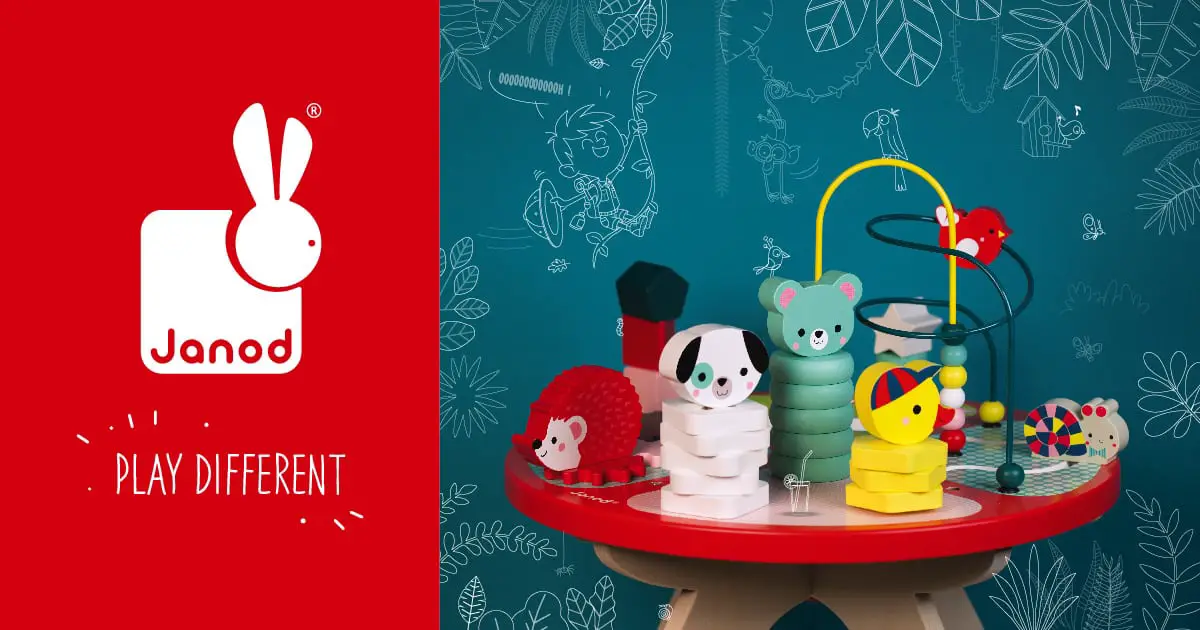 From small wooden animals to wooden kitchens and dolls' carriages, from a magnetic book to tumbler, the collection is enormous.
Janod toys are not only very educational, but above all solid and durable, so the next generation can also play with them again!
Janod toys come with it CE mark.
The brand works a lot with wood, but also with modern versions with magnets. For example, you have a taxi that you can assemble and disassemble completely yourself.
Plus you have Janod's 'Magneti Books', which is something most people encounter first when they discover Janod.
There are already many different variants of this fun concept, so you can always find one with a theme that appeals to your child.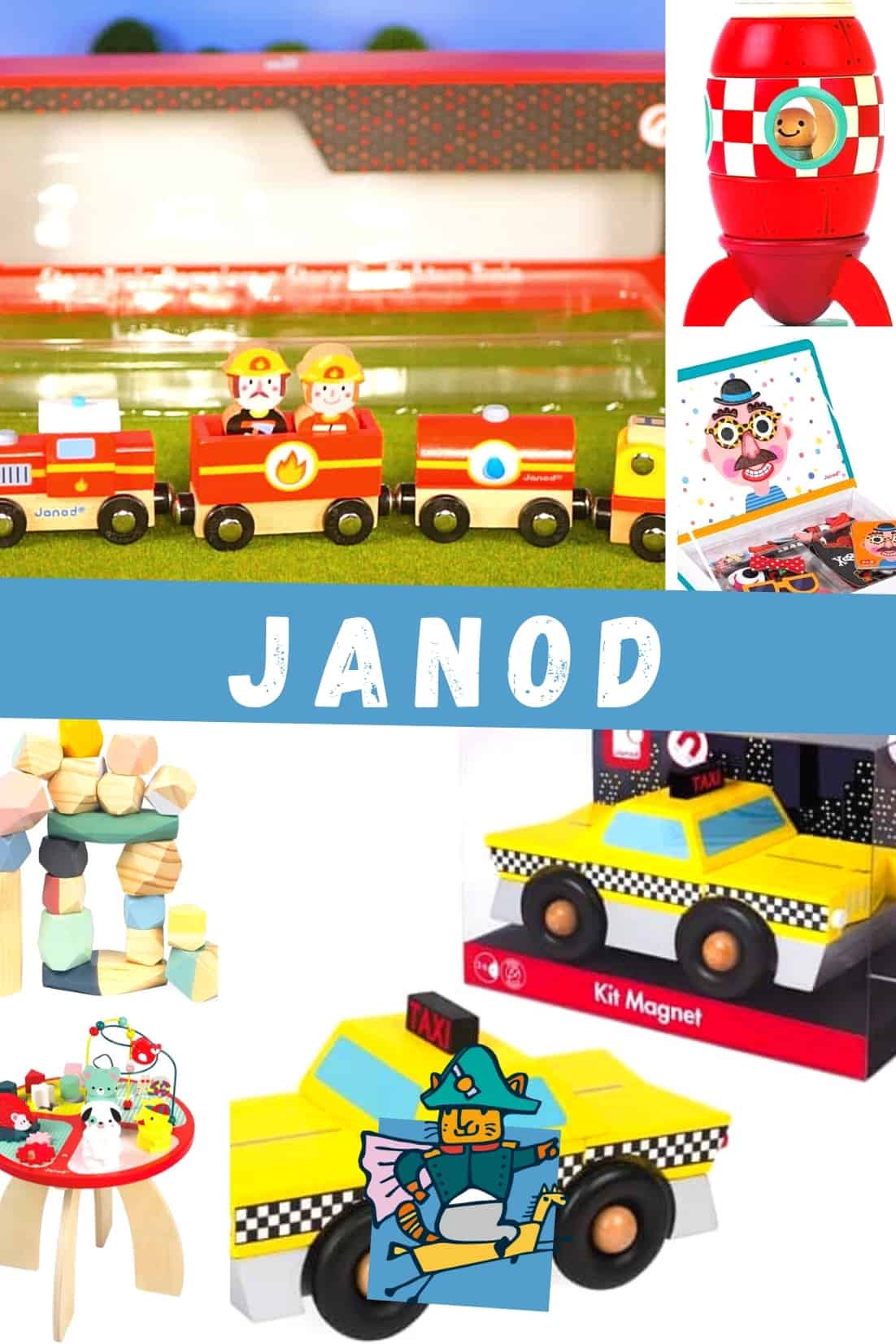 Emergency services are always fun to play with, unfortunately there are not many different ones available from train sets.
Bigjigs has some nice things, but this Story Train from Janod is a really nice addition, and the great thing is that most of those wooden train sets fit together.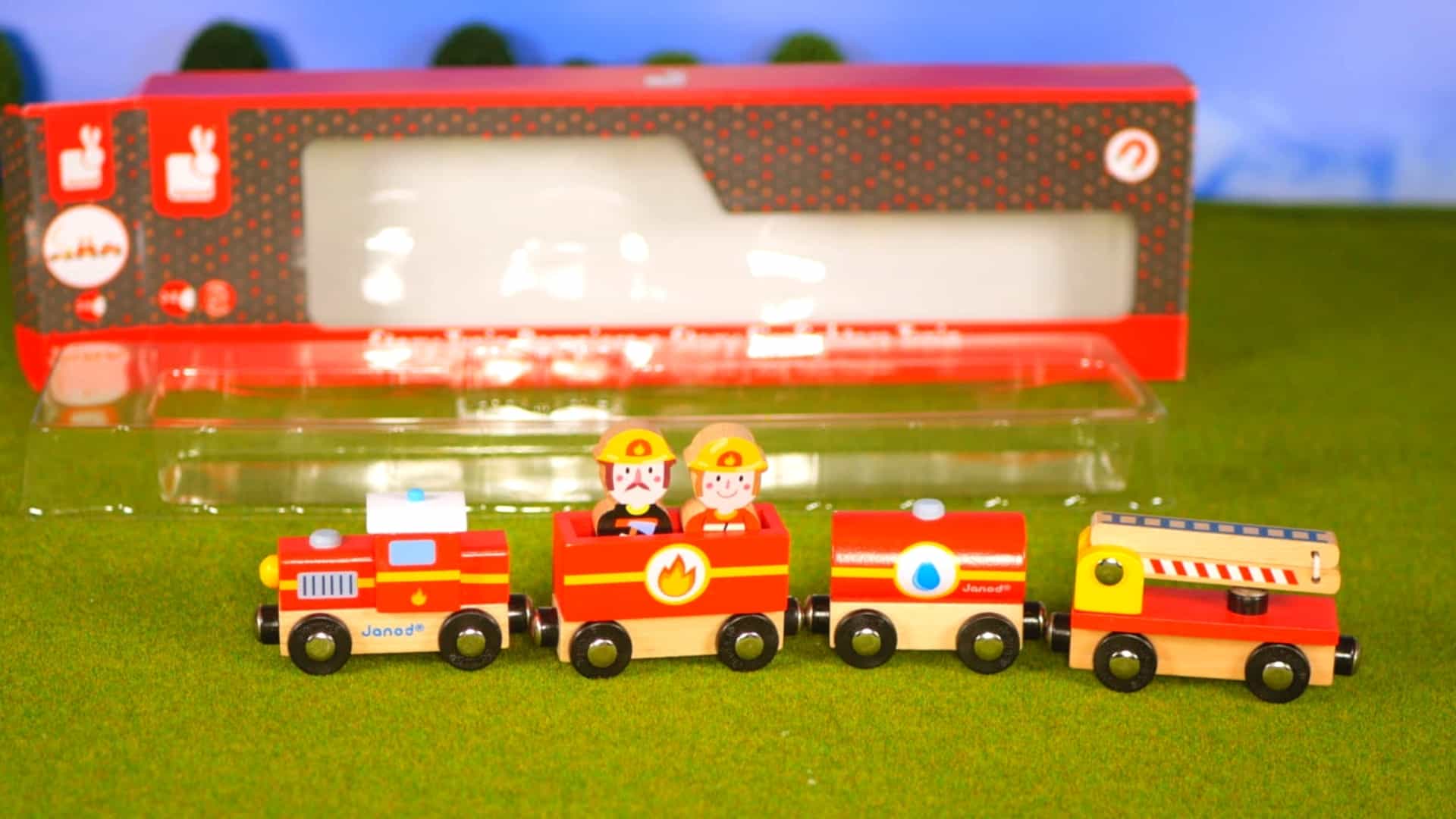 Very nice magnetic wooden train set with a fire brigade theme.
The two wooden figures can jump in and out of the train to extinguish the fire, and of course you can arrange the train as you want and arrange the wagons.
There is also a wagon with a large ladder that is also firmly attached with a magnet, but can easily be removed to unfold and help the firefighters into a building somewhere.
A fantastic fun playset!
The background of the Janod brand
Janod consists of a creative team of fifteen people and is based in the Jura region, which is located in the east of France.
This toy brand was founded in 1970 in France and initially wanted to create traditional toys. Today it is the largest brand in France to design wooden toys and they bring about 150 new toy products to the market every year.
Janod offers colorful and original toys suitable for children between 1 and 9 years old.
The brand also receives a lot of international recognition and has received several awards. Janod is especially proud of the 'Best Toy Awards' label.
Janod guarantees that they only use wood from responsibly managed forests for their toys. Responsibly managed forests are about preserving diversity, ecology, renewing resources and protecting the rights of indigenous peoples.
The brand pays particular attention to the thickness of the cardboard they use to ensure the quality of puzzles and their durability over time.
They also increasingly combine new materials, such as different textiles, with wood to develop the sense of touch of babies and toddlers.
Why are Janod toys suitable for my child?
Janod's toys are fun and educational toys. The colors and shapes make the toys very attractive for kids.
It doesn't just promote the motor development, but also the sensory development.
The child will also improve his cognitive skills. Parents and children benefit from this.
Are Janod toys sustainable?
Janod can take a specialist in the field of wooden toys to mention.
Janod toys are durable, innovative and above all safe.
When you choose toys from Janod, you choose classic toys that the next generations can still use.
What does Janod want to give your children?
All their toys are actually about the nice and gross motor development of a child.
Skills such as building, drawing, imitate, puzzling and creating, it is all covered in their collections.
Because this educational toy - with French design - is also a feast for the eyes, the toy is very successful.
Children all over the world therefore play with it.
Children have a lot of fun playing with blocks and towers, playing games with the family and 'playing' musical instruments.
Balance bikes are your favorite for children, which also applies to kitchens and workbenches.
Bottlenose dolphins and bath toys are wonderful for babies.
All these toys can be found at Janod, all with a beautiful design, for the little ones up to the age of twelve.
View more toys from Janod
Most innovative brand: Kinderfeets
Kinderfeets has great wooden products and the Balance Board is one of them, the other is a very nice cargo bike balance bike for children from 2 that I will treat like this.
They have kept the wood quite natural and feel a bit rough, perfect for kids who are sensitive to different textures and also useful for them to get to grips with.
Many of you may have heard of a other balance board, and it does have the option for a felt bottom while it doesn't, so if you have wooden floors you might want to go for this wobbel board.
For the rest, the wobbel boards are slightly smoother and finer, but also slightly more expensive. For me, the choice would mainly come down to price and the option of a felt base for wood floors.
Here's a video from Helen Purperhart where you can see the board in action:
How did you come up with the idea of ​​placing them in the front instead of the training wheels at the back to create one of the most innovative balance bikes you can get right now?
The beautiful wooden construction ensures that your child can remain stable during practice, but at the same time also has a sturdy container to take along nice toys (or household goods as my son prefers to always use).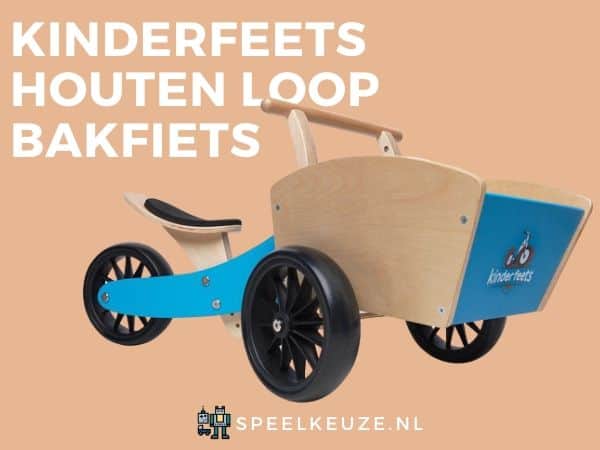 The saddle is, as with all these types of bicycle models with the curved frame, adjustable in height between 21 and 24 centimeters and has a soft lining.
Furthermore, it is safe with a limited angle so that the box can never fall over and the tires are airless for easy indoor and outdoor use.
View the Kinderfeets products here
About the Kinderfeets brand
Kinderfeets is a brand that was born in our own country. The Netherlands: a country where a love for cycling has been cherished since history.
Oscar V. Mulder decided as a young parent to cultivate an appreciation for adventurous learning in his son. It started as a one-off project to build a personal balance bike for little Sebastiaan.
This idea has grown into a thriving, sustainable business that delight and inspire children all over the world.
Where the name comes from? It is a play on words for the Dutch word 'children's bicycle'.
The Kinderfeets bicycles may look simple at first glance, but the targeted properties of each of these bicycles ensure safety and low impact on the environment.
The balance bikes and tricycles are made from 'non-wood bamboo' (made from materials other than wood such as fruits, nuts, vegetables, fish, wild medicinal plants, resins and a range of bark and fibers such as bamboo, rattans and a host of other palms and grasses) and / or birch wood.
The bikes are equipped with low entry frames, adjustable seats, footrests and biodegradable tires.
Bamboo is extremely flexible and resilient, grows incredibly quickly and has the ability to regenerate itself.
It also requires no toxic chemicals or artificial pesticides for growth and maintenance, making it both toxic-free and more cost-effective.
Compared to other hardwoods, it is much more flexible (even though it has dense fibers) and is also pest resistant.
If the brand doesn't use bamboo, they use sustainable birch wood - another fast-growing and eco-friendly option - or German beech wood from FSC-certified factories.
Furthermore, they also incorporate other eco-friendly practices, such as using non-toxic water-based paints and varnishes, minimal packaging, and recycled paper.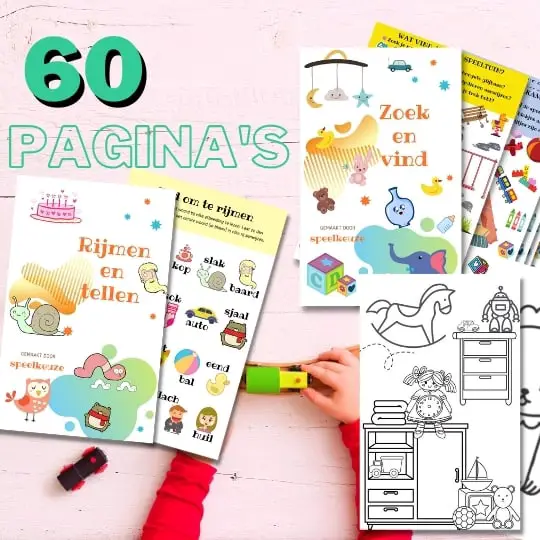 Always something to do for the holidays or rainy day?
Play Choice now has the ultimate activity book collection, with over 60 pages of fun coloring pages and educational puzzles.
Joost Nusselder, the founder of Speelkeuze.nl is a content marketer, father and loves trying out new toys. As a child he came into contact with everything related to games when his mother started the Tinnen Soldaat in Ede. Now he and his team create helpful blog articles to help loyal readers with fun play ideas.