I enjoy writing these articles for my readers, you guys. I don't accept payment for writing reviews, my opinion on products is my own, but if you find my recommendations helpful and you end up buying something through one of the links I may be able to receive a commission on that.
More information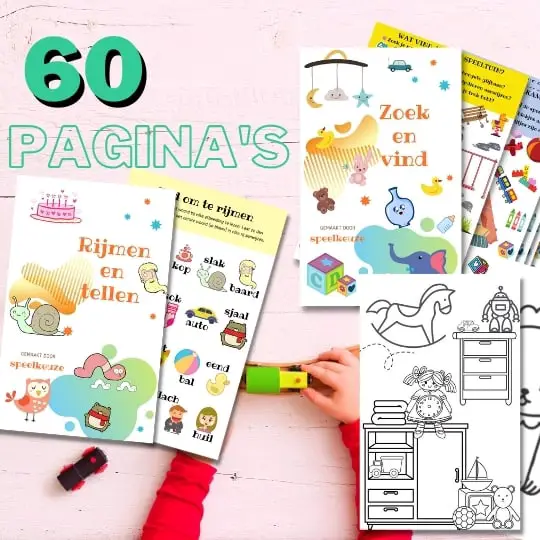 Always something to do for the holidays or rainy day?
Play Choice now has the ultimate activity book collection, with over 60 pages of fun coloring pages and educational puzzles.
There is something very special about a beautifully crafted wooden toy, good wooden toys have a timeless look.
Admittedly, they often cost a little more than their plastic counterparts, but they look great and just feel great.
In this guide I explain what to look for when buying wooden toys, which types of wood are suitable and which are the best brands.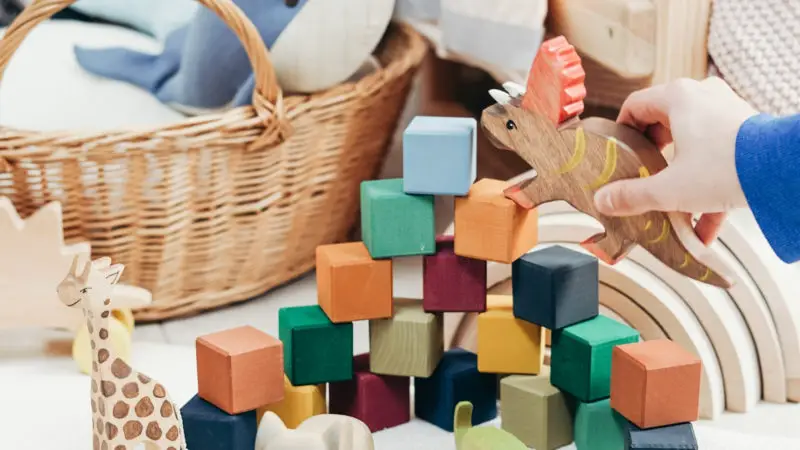 Wooden toys withstand a lot of rough and intense play, often from a whole host of siblings to last for years and years.
Quite a different choice than, for example, electronic toys.
I'll be looking at more of the best wooden toy brands in a minute (my favorite brand is plantoys!), a brand that has a range of toys for babies to toddlers for hours of fun.
But I know a lot of you also come here for inspiration for fun and educational toys or for, for example, free school or Montessori.
I will start with the best wooden toy brands, but feel free to click to a part of this article that you want to read more about.
What do you look for when buying wooden toys?
Look for products made from solid wood (not pressed), combined with other sustainable materials such as:
wol
organic cotton
or stainless steel
and colored with water-based paints or non-toxic paints.
Research where toys are made and to which ones safety standards they comply.
Fun toys that are made with safer materials are also usually more expensive.
That is unfortunately a fact.
However, they are also usually of higher quality and thus last much longer and can even be passed on to future generations.
So maybe it's not such an expensive buy after all :)
Good wooden toys also provide a direct connection to the natural world. Wooden toys have a calming effect on all children and stimulate concentration and imagination.
Today, it seems like every toy manufacturer makes their own version of a classic wooden toy.
As a result, people often ask what the difference is between wooden toys of € 5 and wooden toys of € 50? Or is there really a difference?
Good question!
The answer is yes, there is a difference. There are several components to consider when selecting wooden toys:
the wood itself
the glue used to join pieces together
the sealant and / or paint
and any other pieces / components of the toy, such as metal pins, cotton cords, etc.
Which wood is suitable for toys?
For the wood, always look for toys that are made of solid wood, as opposed to pressed wood, plywood or MDF, which are much cheaper materials but require the use of toxic glue during production.
This type of glue contains formaldehyde, a volatile organic chemical (VOC) that will release gas (this chemical will emit as a vapor for a long time) and eventually be linked to a variety of health problems, including leukemia and cancer.
We live in a disposable culture and often buy products made from cheap single use materials.
We have completely moved away from sustainability and quality, and the products we buy are suffering.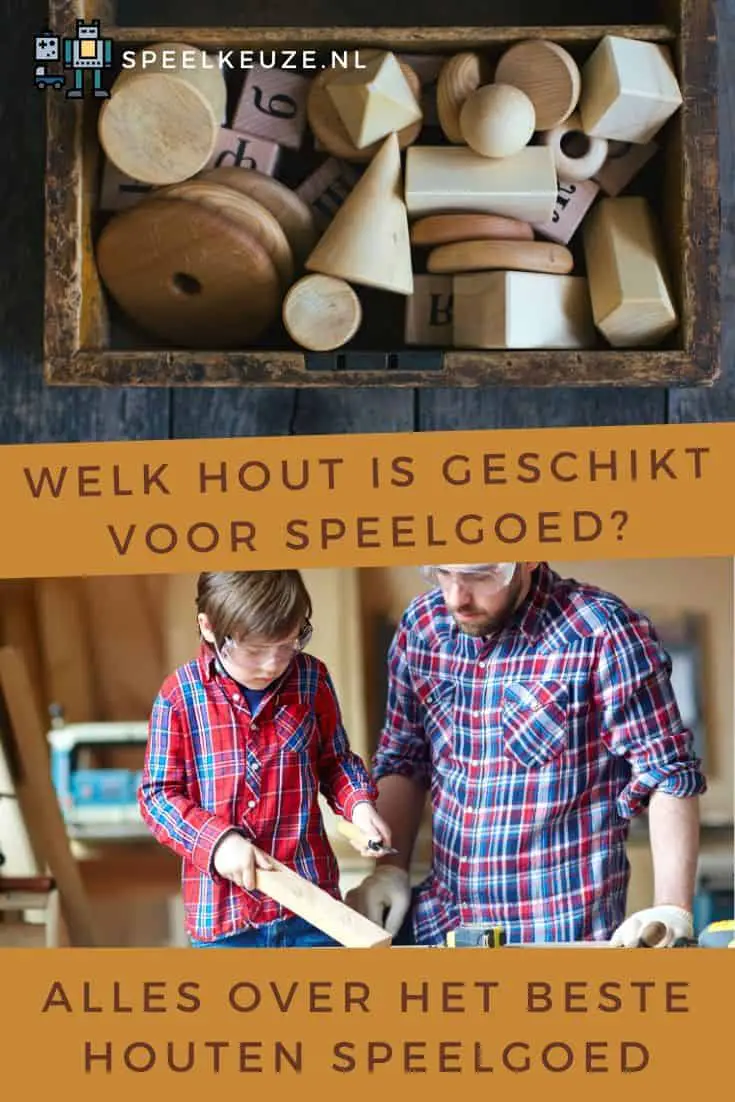 The favorite toys of the past were once made from more durable materials for long-term use, but are now mostly made from cheaper and less durable materials for:
lower product costs
lower consumers
prices and greater profits for the manufacturer
As a result, disposable diapers are one of the largest single consumer items in landfills and far too many toys are also quickly thrown in the trash.
Fortunately, some toys will last for generations. Many such products are well-made wooden toys made from the finest materials.
These wooden toys may cost more than a disposable toy, but your child will always have fond memories of playing with them, and will also enjoy watching their own children play with the same toys.
We even have this whole article about cleaning wooden toys so that your kids will enjoy them for a long time.
When a true wooden toy craftsman takes care of what is made and uses the best possible wood material, the result is a better toy that can be passed down for generations.
Such a toy is an investment in your child that is healthy, safe and worth the money.
The best wood for better toys is high quality hardwood, such as
Maple
birch
oak
beech
walnuts
poplars
eat
Although hardwood is more expensive, it remains the best choice for making toys that will last.
Softwoods such as pine and spruce are cheaper, but they also break more quickly and when they do, the splinters are dangerous.
Of the hardwoods recommended as the best wood for better toys, maple is a favorite that is unlikely to produce splinters, resists drooling, and is hypoallergenic.
Birch is often used in instruments such as guitars and drums.
Oak is legendary for strength and water resistance.
Look for wooden toys made from hardwoods like this one from trees with wide leaves, and prefer to skip wooden toys made from softwoods from trees with needles.
Hardwood is a good choice for wooden toys because they are denser and therefore more resistant to wear and tear.
What glue is it attached with?
In production, glue can also be used to hold different parts of a toy together, so it's best to look for toys made with formaldehyde-free glue.
Formaldehyde has finally made it onto the list of carcinogens, even after decades of pressure to draw attention to its toxicity.
Sealant / paint
When it comes to the sealant and / or paint, we recommend looking for water-based or food grade dyes, paints and sealants.
You have to be careful because conventional sealants and paints can contain lead and other heavy metals, which can cause serious limitations in the developing brains of babies and children.
When buying wooden toys that have not been painted, look for finishes made with vegetable oils (e.g. beeswax, jojoba oil) instead of polyurethane finishes.
Other components
And finally the other components.
As with researching wood, sealants and paints, you want to make sure that any additional components are also free of harmful materials and chemicals such as lead, formaldehyde, PVC, etc.
Which are more the norm when made by hand by an experienced craftsman, able to make intricate (but durable) joints without the use of adhesives.
The good news is that with the increasing number of healthy and safe toys today, you don't have to sacrifice safety for fun, beauty or durability.
The even better news is that what's good for our kids and family is usually better for the planet too, which is always a good thing!
Read also: this way you can keep wooden toys clean
Are wooden toys better than plastic?
We want the best for our kids, but what if you're just not sure about the best toys?
You search online, overwhelmed by the choices.
Your child may be drawn to the flashiest, most expensive item at first glance, while the classic wooden toys at the end of the aisle are overlooked.
Nevertheless, from time to time you should still choose the simple wooden toys with perhaps less attention-grabbing marketing over all the noise-making and light-up gadgets.
Why wooden toys?
Wooden toys never go out of style
There is seldom any major commercial hype surrounding the latest wooden toys, but they have been used well in many open ended play for generations and still last.
Unlike plastic digital fads that are buried in new technology every year, wooden toys are as healthy as they are timeless.
There are many reasons why wooden toys are better not only for your child, but also for the environment.
They are more durable (generate less waste than their plastic counterparts), are biodegradable and can even be made from sustainable wood.
Environmentally friendly, good quality wooden toys also do not contain PVC, phthalates or similar chemicals used in many plastics.
However, keep in mind cheap, low-quality wood. Some are made of plywood that is full of toxic glues and formaldehyde leaching, as we noted above.
Lack of quality control on these cheaper materials means there is a high probability that paint contaminated with lead has also been used.
More and more people are choosing wooden toys for their children, such as that of Jouéco, and that is of course a very positive development.
Perhaps the only downside to wooden and fancy toys is that they are a bit more expensive than a plastic toy.
But there are a lot of advantages to it, and I will mention a few below.
Those vintage wooden blocks and toy wooden train from the eighties are actually just as fun in our time, don't you think!?
You probably used to play with these kinds of toys, and now your son or daughter can enjoy them too.
Wooden toys are timeless and will always be appreciated. It can be passed down from generation to generation. How beautiful is that?
There's nothing more fun than grabbing a toy and pretending to cook in your play kitchen, where your little chef will prepare the most delicious dishes.
Or push your doll (or wooden blocks!) forward in a sturdy and timeless wooden doll carriage.
By the way, wooden blocks are something that teaches young children how to balance things and it greatly improves their fine motor skills while having hours of fun.
And once they are ready, they can learn music on a wooden guitar, woodblock or piano.
Wooden toys are biodegradable
Wooden toys are, for the most part, biodegradable.
Of course, screws or other materials are always needed to finish the toy, but the idea is that the products are ultimately mainly made of wood.
Wooden toys also have fewer disadvantages than plastic toys when it comes to health.
It will last a long time
Wooden toys are generally extremely durable. Wooden toys can also break, but compared to plastic toys the difference in durability is very large.
Wood can withstand a lot better and wooden toys hardly wear out. This prevents destruction and disappointment.
Wooden toys will last for generations and can therefore be enjoyed for a very long time!
Wooden toys give way to more imagination
Most wooden toys are often a bit simpler than 'normal' or plastic toys. By 'simpler' I mean: no (unnecessary) frills.
This ensures that your child has more room to let his or her imagination run wild and to be creative while playing, also called anthroposophical toys.
Safe
Wooden toys also do not contain any toxic substances because they are made from natural materials.
Low costs, high quality
With solid wood toys, you can opt for eco-friendly, even if you're on a tight budget.
There are plenty of high quality wooden toys on the market that won't leave a hole in your wallet, and are actually more educational than you might think.
In 2015, the annual TIMPANI toy study that a simple wooden cash register scored well in the creativity category and was equally loved by boys and girls of every socio-economic background.
Wood is more educational than most plastic toys
When young children play with toys, they are not only entertaining themselves, they are also learning seriously.
Research shows that unstructured playtime, for example simple open-ended wooden toys, is both valuable and loved in the classrooms.
Kids' imaginations soar when they play with things that are not obvious, for just a single use (pushing a button and something happens).
Imagine a toddler playing with wooden blocks: they can be stacked in different shapes like a house, building, zoo or anything else he or she can come up with.
Flashy can tire the brain
Often times, the most popular toy, or the one that most attracts the attention of children, is not a good addition to the toy box.
These types of toys are the flashy, plastic items packed with an electronic element that offers little creative play and can even hinder development despite a manufacturer's claims.
Ultimately, basic is better.
A toy doesn't need all the bells and whistles.
In addition, overstimulation can lead to a negative neural impact, making it more difficult for the brain to think critically.
Why plastic toys are often not environmentally friendly
Even if you don't buy flashy gadgets for your child, there are plenty of reasons to avoid plastic.
Developmental issues aside, many plastic toys can be harmful - and not just to the environment.
You may be aware of the recent reports linking hormone disruption to the chemical bisephenol A (BPA) used in plastics.
This is just one of the many chemicals found in plastic toys.
PVC (vinyl) is another nasty chemical to avoid when shopping for toys and may contain known carcinogens such as phthalates.
How do you know if your playroom contains safe types of plastic?
The good news is that most packaging includes labels such as "PVC free" or "environmentally friendly".
Also look for the recycling number for the type of plastic being used.
Are wooden toys always sustainable?
How nice it is to lend our world a helping hand by purchasing 'green' and good toys.
In this way you make your children more aware from an early age when it comes to protecting our world and the animals that live on it.
You can explain to them that you choose natural materials for them, preferably in the form of recycled toys, because that is very important for our environment.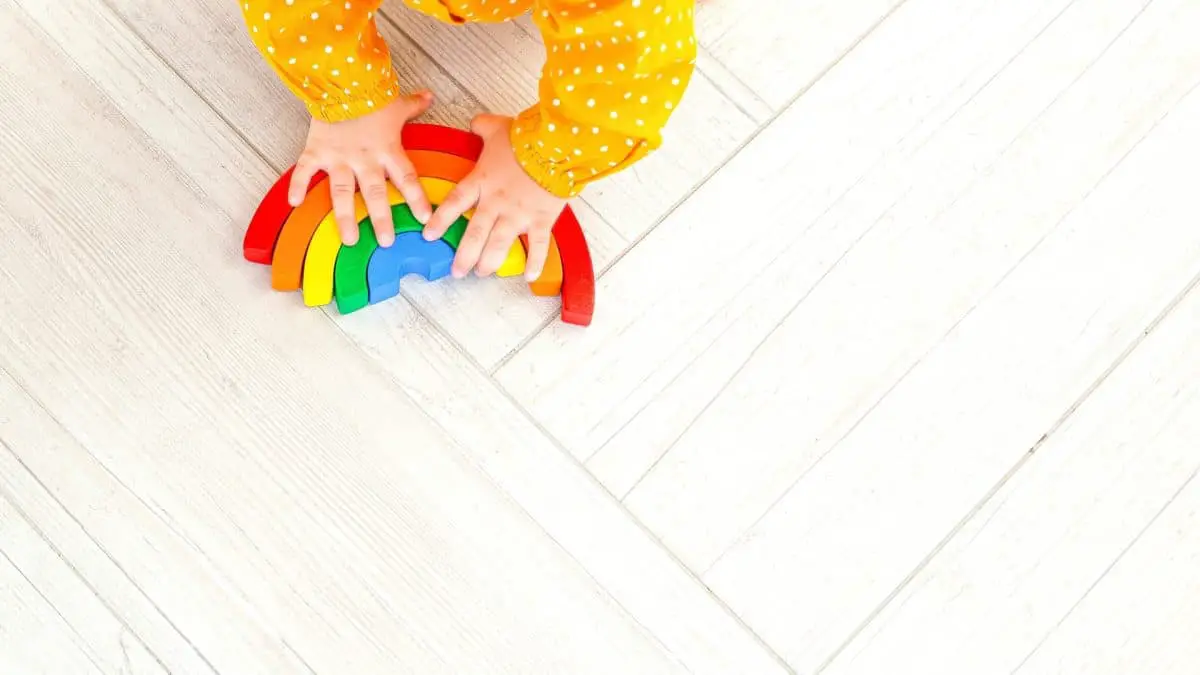 Also for nature, where we like to spend some of our free time.
Why are sustainable toys important?
What can we do ourselves, now that we see how wrong the world is going, how much plastic is floating in the oceans and how many animals are affected?
How the animals from the rainforest have less and less place to live and we also feel the consequences of this.
In any case, we can try to purchase environmentally friendly and sustainable products, including responsible toys.
There is plenty of choice!
Are sustainable toys always made of wood?
There are three top brands when it comes to sustainable toys, we have put these brands as the first 3 in our list, these are:
PlanToys
"Better children, better world!" is their slogan.
At PlanToys, sustainability and the development of children are of paramount importance. By focusing on child safety and the design itself, these wooden toys are great for your little one's development.
Green toys
Sustainable toys therefore do not always have to be made of wood.
For example, you have this Green Toys Helicopter that is made of sustainably manufactured plastic: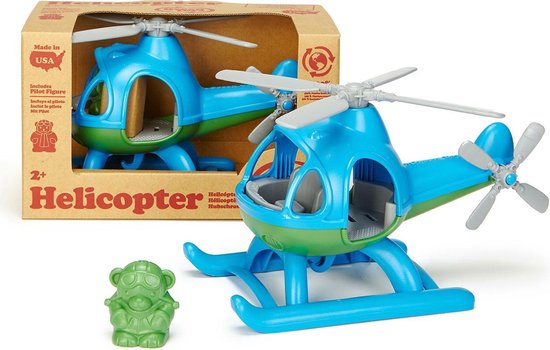 This Green Toys Helicopter is made of at least 50% recycled materials, which is good for our world!
This durable and cool helicopter is ready to take off. A safe choice for your sprout.
Suitable for children aged 2-5.
100% recycled toys!
They have already recycled around 99 million milk jugs. Green Toys believes that 'every day is a day of the earth' so 'reduce, reuse and recycle!
BiOBUDDi
It all started with a father's dream. Steven van Bommel, father, he had recently taken over the toy factory from his father.
His daughter felt that he should no longer make bad and polluting toys - from plastic - and should be more aware of the environment. From that moment on, Steven started to produce sustainable and responsible toys; BiOBUDDi!
With their Wildlife Forest series, a kind of sustainable Duplo atlernative, BiOBUDDi has also managed to gain a gap in the market with responsible gaming:
BiOBUDDi Wildlife Forest is for children from 3 years old, they are safe construction blocks to make a beaver, bird or squirrel.
This educational toy even has an ECO Toy certificate. Tell us how green do you want it?
Sustainable toys provide ecological, social and economic benefits.
Protects public health and the environment throughout the cycle, from the extraction of the necessary raw materials to final destruction.
So many toys are made of plastic, many of these toys contain the toxins BPA and plasticizers.
Fortunately, there are a few safe types of plastic, for example from LEGO or Green Toys.
But what actually makes toys sustainable?
When a toy is sturdy and safe and stays beautiful for a long time. If the material used is recyclable and contains no toxic substances and if the production process is not very harmful to the environment.
Then we think it can be called sustainable.
When purchasing toys, always pay attention to the following points:
check the paint or varnish used, rather buy unvarnished, solid wood if you don't necessarily want different colors, although a lot of beautiful colors are possible, also with wood
avoid buying chipboard or plywood
buy toys that have a manufacturer's name and address on them
check the quality of loose parts such as strings or hair
the CE mark, is it present? However, it is not to say that the product cannot contain harmful substances, but it is something. The German GS mark, TÜV Rheinland and the British standard BS are safe
Before purchasing, check whether a new toy is on the warning list
prefer not to buy toys in foreign web stores
Questions about sustainable toys
Now that we've taken a look at the best products, we have some more useful information about sustainable toys for you.
How do I take care of my sustainable wooden toys?
Wood is naturally antibacterial.
If you need to wash toys such as teethers, gently clean them by hand with a cloth dampened with lukewarm water and a very mild natural soap or a 1/10 dilution of vinegar with water and leave dry completely.
Once dried, toys are ready for use.
To restore the original shine and make them last longer, apply a thin layer of organic oil - sunflower, for example - with a cloth and let it dry before use.
Are wooden toys environmentally friendly?
Wooden toys are more durable, kinder to the environment and very often better for children, both developmentally and physically and because of the many toxic chemicals used in the production of plastic toys, they are often long lasting and a good investment.
Wooden toys can be very environmentally friendly! For example, keep an eye out for wooden toys made from rubberwood, wood from FSC-certified forests, or bamboo (technically, bamboo is a grass with a woody stem, but we'll include it here anyway).
Rubber wood trees produce latex for about 25 years. When they stop producing latex, the rubberwood forests are usually burned down and replanted.
Making wooden toys from the non-producing trees is a great way to make use of materials that would otherwise be thrown away.
Many toys made from environmentally friendly wood come from FSC-certified forests.
The Forest Stewardship Council is an independent organization that certifies forests that meet their management standards that, according to FSC:
"Extending water quality protection, banning harvesting of rare old-growth forest, preventing loss of natural forest cover and banning highly hazardous chemicals are all unique aspects of the system"
Finally, bamboo toys are an excellent choice for environmentally conscious families. This fast-growing grass is as durable as it is safe for babies and toddlers and preschoolers.
Are wooden toys safe?
If you are a parent, you are probably wondering why wooden toys have become more popular again in the past decade.
Very simple: wooden toys are safe for your baby, toddler, toddler and any other age.
It offers endless possibilities for open ended play and will last for years.
Wooden toys can certainly be safer for your child. You may have heard of BPA and PVC, two chemicals that are both common in plastics.
There is no BPA, PVC or phthalates in wooden toys, making them a great choice for parents who want to avoid chemicals.
Wooden toys seem to be more expensive, is it worth it?
Yes! Wooden toys are durable and can be used a lot over many years.
Many wooden toys can even be passed on from child to child and even from generation to generation.
It may seem more expensive when buying a wooden toy for the first time, but in the long run, quality toys always pay off.
Plus you do your part for the safety of your child and the environment.
Will my child be entertained with toys without flashing lights?
Yes! Wooden toys are designed to stimulate the imagination through open play. Such as Johan Cruyff once said: "Simple playing is the best".
We showed you that there are plenty of beautiful and durable toys for sale for children of all ages.
Be aware of the toys you purchase and always check if they are safe; we mean not only small parts and the quality mark, but also the material and the raw materials used.
A toy may look safe, but it may not be. Wood, for example, can be treated with toxic lacquer or paint.
Also plastic, plywood and chipboard often contain toxic substances.
Make responsible choices, especially when it comes to toys!
This was our list of the best wooden toy brands and I hope they will help you find a fun playset for your child.
Read also: the best educational toys for kids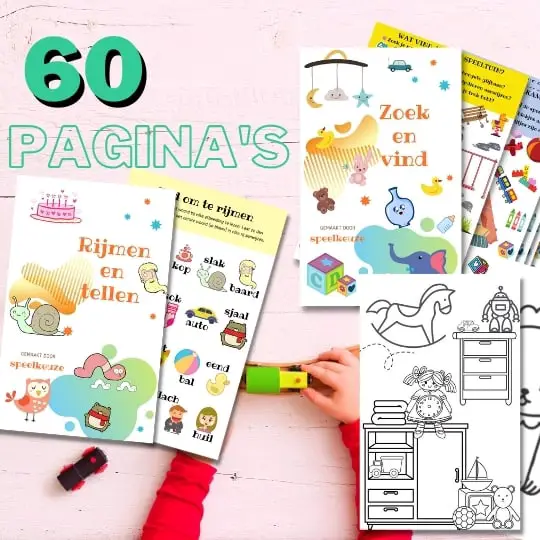 Always something to do for the holidays or rainy day?
Play Choice now has the ultimate activity book collection, with over 60 pages of fun coloring pages and educational puzzles.
Joost Nusselder, the founder of Speelkeuze.nl is a content marketer, father and loves trying out new toys. As a child he came into contact with everything related to games when his mother started the Tinnen Soldaat in Ede. Now he and his team create helpful blog articles to help loyal readers with fun play ideas.