31 Best Wooden Toys: Popular and Unique Brands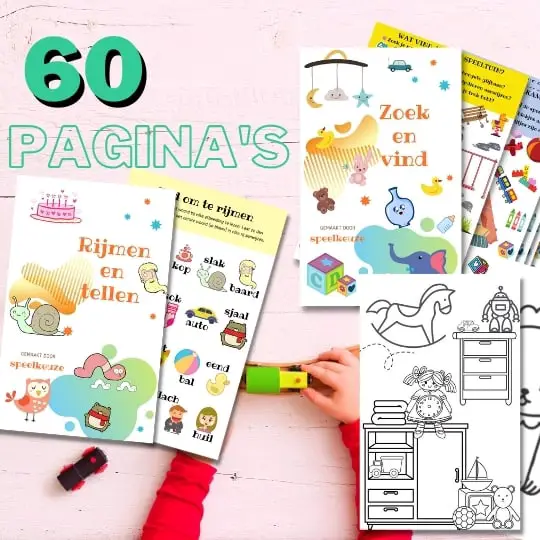 Always something to do for the holidays or rainy day?
Play Choice now has the ultimate activity book collection, with over 60 pages of fun coloring pages and educational puzzles.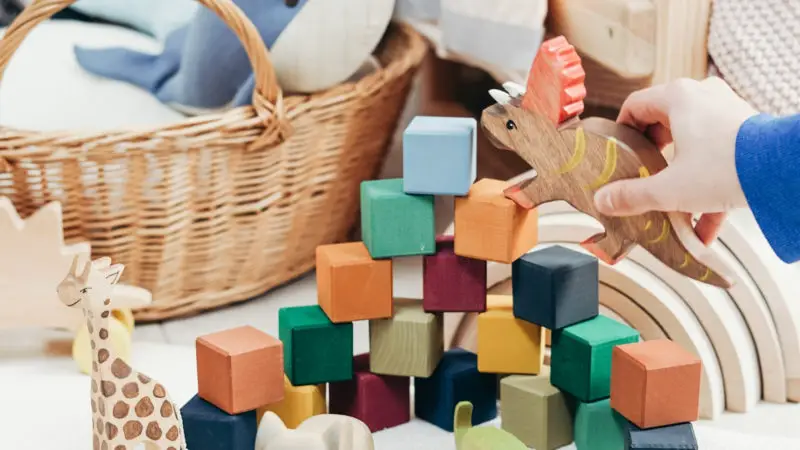 Wooden toys are wholly or mainly made of wood. This can be hardwood from one or a few pieces, but also MDF or other forms of pressed wood. Unlike plastic toys, wood offers a tactile play experience that stimulates children's creativity and skill development.
To determine the quality of wooden toys, look at the materials used such as wood, the finish and the sturdiness of the toy, but even more important are the play value and replayability. It's ultimately about the value you get for your money.
The best toys for this are these rainbow bows from Grimm's, a brand that has a colorful range of toys for babies to kindergartners for hours of fun. The arches provide endless open-ended play with natural wood for a good tactile experience.
But I know that a lot of you also come here for inspiration for fun and educational toys or for example Waldorf or Montessori. The list below has the best option for each theme.
Wooden toys also offer a wide variety of play options, from simple blocks to complex puzzles. In addition, they help children learn and play at their own pace, without the distraction of electronic functions. Wooden toys are also loved for their natural look and beautiful finish.
Moreover, they're suitable for children of all ages, from babies to big kids. They're a popular choice in Montessori-inspired play areas as they stimulate children's imagination and development.
In the list below you'll find the 31 best wooden toys in each major category.
#1 Grimm's Rainbow Arches - Best overall wooden toy
From 3 years

Best: 4 – 7 years

Until: 8 years
Grimm's is the inventor and maker of the original rainbow stackers. It is made of very strong wood and you can feel it.
It is pricey though. Very pricey. But it's good wood and you can feel the wood and the grain through the paint. This helps with children's sensory experience.
Due to these characteristics, the play value is very high. It is also an award winning toy as winners of the Spielgut seal for its educational value.
This is the kind of toy that gets picked up again and again and will last for generations.
#2 Playos Math Sticks - Best Educational Wooden Montessori Toy
From 3 years

Best: 4 – 5 years

Until: 6 years
Montessori toys are about stimulating the senses with natural products, and a lot of wood is used for that. They also look at real world experiences.
Because the Playos Math Sticks are made of bare wood and offer a tangible experience in learning math, this is our best wooden Montessori toy.
The combination of sticks and number blocks makes it very intuitive and easy to use and you can easily clean it up with the tray with storage compartments.
The use of MDF may make it less of a real wooden toy. Yet the durability is very good despite that and the price-quality ratio is therefore extremely high.
More open-ended play, opportunities to mix and match with other toys or social interaction could have increased the play value, but in the end it's a very educational toy that encourages enough play to ensure they enjoy it too.
#3 Fagus Blank Wooden Forklift – Best wooden toy truck
From 3 years

Best: 4 – 6 years

Until: 7 years
The Fagus wooden forklift is made of beech wood (fagus is Latin for beech) in a workshop for people with disabilities. The best part is that they are put together without the use of nails, screws and staples. Interlocking parts, dowels and glue are used with true manual labor.
The play value is reasonable with a high open-ended content due to the supplied dolls without details. Now they can be used for all sorts of imaginative play. The high-quality materials also contribute to the playing feeling. The play value could have been higher due to better ease of use and higher versatility. The handle and rope construction make it difficult to play with the toy.
Safety is extremely high with rounded corners, no paint or toxic glues and no nails or other sharp parts that could come loose.
Many of Fagus' vehicles have received "Spiel Gut" certification for toys with great educational and play value.
#4 Stanley Jr. Plane Kit - Best wooden toy plane
From 4 years

Best: 5 – 7 years

Until: 8 years
The multi-functional aspect of this construction project makes it very versatile. You can build it and then play with it. However, the play value could have been higher with more focus on a single aspect. For example, playing with the plane itself is not very good and there is little room for open-ended play, for example.
Security is decent. The wood has rounded corners and the paint is non-toxic. Sharp screws and sandpaper are included. It is therefore necessary to stay with it during construction.
The possibility to paint your own plane yourself is a nice addition that makes it possible to personalize the toy. This is probably not good for the aesthetics, but it is a project that they can be proud of.
#5 Le Toy Van Barbarossa Pirate Ship – Best wooden pretend play toy
From 3 years

Best: 3 – 5 years

Until: 6 years
This quaint wooden pirate ship looks great and is built to last, a deserved winner of the "right start toy Award". There are interactive features such as a walk-the-plank function, allowing you to give your enemies a terrifying end!
These are for sale separately. The high price and this slightly lower play value ensure a lower price-quality ratio and therefore a low total "Toy score".
The boat is of extremely good quality and the wood is FSC certified. After six months of adventurous adventures, the ship is still in top condition. The wood is very sturdy and no cracks have occurred, even after intensive use.
However, if your child is looking for something with great aesthetic value that appeals to the imagination, this is a very good choice for endless imaginative play.
#6 Ostheimer Wood Carved Waldorf Animals – Best wooden toy animals
From 1 years

Best: 2 – 5 years

Until: 7 years
It doesn't get much better than Ostheimer's hand-carved animals. It is a Waldorf toy par excellence.
Very well finished and durable wood. These will last a lifetime. Well, several lives actually. The design is extremely simple and therefore easy to use. The simple rendering also greatly appeals to the imagination and leads to quality open-ended play.
All materials are safe and durable, the construction has strong and rounded corners and it is great to combine with other wooden animals or with other pretend play.
The play value could only be higher if it were a little more versatile. After all, it is only a wooden animal and if you want to buy several it is extremely expensive. The price-quality ratio is therefore slightly lower, but you get a unique and handmade heirloom toy for it.
#7 Melissa & Doug Take-Along Show-Horse Stable - Best Wooden Horse Stable
From 2 years

Best: 3 – 5 years

Until: 6 years
Easy to play with, as the doors open and close easily, turning the stable into its own carrying case. The fact that you can take it with you also makes the replayability huge plus it is very sturdy.
The material is of nice quality, but MDF and no hardwood. This detracts a bit from the aesthetics and handfeel, but the construction is still quite sturdy.
The play value could have been a bit higher if it had been a bit more versatile. For example, there are no accessories. But the stable and horses are easy to combine with other toys and ensure good open-ended play.
#8 BigJigs Alpine Train Set (BJT016) – Best Wooden Toy Train Set
From 3 years

Best: 4 – 6 years

Until: 7 years
The play value of this mountain set is extremely high. The degree of open end is enormous due to all the accessories supplied. You can build the train track, play with it, there are dolls for fantasy play and everything appeals to the imagination.
For example, there are children and a grandpa and grandma, and my son plays that the children go to visit by train. The possibilities with the set are endless, but it is also easy to combine with other train tracks. For example, I expanded it with a Brio track. In addition, a train set can also participate in almost any other fantasy game. That also makes the replayability high.
Only when the ease of use was higher could the set have an even higher play value. Building with the bridge pieces and the mountain is fun, but playing with it is difficult because the bridge often collapses. Sometimes this causes frustration, but luckily it usually becomes part of the game.
Social interaction is high. I like to play along and because it's such a big set, friends who come over can always join in without getting in each other's way. Furthermore, there are some interactive elements such as the crane that can hoist, and the figures have a nice appearance.
It's not for nothing that they have already won the Independent Toy Awards, and with a versatile set like this you can't miss for hours of fun.
#9 Tender Leaf Toys Royal Castle – Best wooden toy castle
From 3 years

Best: 3 – 5 years

Until: 6 years
This play set is easy to use because you simply click the parts together. This combination of building yourself and many parts and figures gives it a high play value with versatile play full of open-ended and imagination.
It is a fairly expensive set and that ultimately plays a role in our toy score, but with 100 pieces it is also a lot of parts.
The aesthetic is beautiful with fun design and cheerful colors, perfect for displaying in the nursery and the pieces and figures are made of sturdy pressed wood from a sustainable source.
The replayability could be higher if it came with a carrying case or bin, now it's a pain to carry and you have to put it in your own bin. Other than that you get a lot of value for your money.
#10 Janod Sword and Shield Wolf – Best wooden sword
From 3 years

Best: 3 – 5 years

Until: 6 years
You pick up the sword and shield and you can play with them right away. No difficult parts and hard play has been thought of because all corners are rounded and the materials used are sturdy.
Due to the white wooden appearance, the lifespan also remains quite long, but it is mainly made to last. The paint on the shield may come off with rough use. A very nice design with all natural materials such as hardwood, leather for the shield handle and cotton for the handle of the sword.
The play value is high due to a high degree of open-ended play and imagination, and social interaction can also be high if another child has their own sword or if a game is played in another way that appeals to the imagination.
The play value could have been higher if it was something easy to combine with other types of toys. This would have made it more versatile, but in the end it is also a prop that is used for dressing up and pretend play.
The price is high, so the price-quality ratio is slightly lower and so is the total toy score. Quite expensive for a sword and shield toy set, but the materials are excellent.
#11 Hape Checkout Toy Cash Register – Best wooden shop toy
From 2 years

Best: 3 – 5 years

Until: 5 years
I am a huge supporter of toys with less noise and flashing lights and this cash register from Hape fits in perfectly. It gives a little less interactivity than push buttons that do something, but it ultimately increases the educational value and play value enormously. It is made of sustainable wood and even the fabric threads are biodegradable.
The degree of open-ended play and imagination are much greater, making the set more versatile for all kinds of play and combining with other food or shopping toys. With a toy cash register you can learn to count very well, especially if you lend a hand with the pretend play.
It is not a toy that they will play with much themselves, so you will have to work yourself or with friends. This does provide plenty of opportunities for cooperative social interaction.
The portability is a bit lower because it is quite a bulky thing, with wires connected to the accessories. That might make the replayability just a bit lower than it could be, but the durability is great. The lifespan is slightly lower, the loose threads will die first and some paint may wear off here and there from frequent use.
#12 Melissa & Doug Fold and Go Dollhouse – Best wooden toy house
From 3 years

Best: 4 – 5 years

Until: 6 years
There are a lot of accessories such as a sofa, easy chair, cupboard, bed and a TV furniture. Plus 2 dolls to play with. The dolls are very neutral and can be used for anything, which makes the open-ended game high and appeals to the imagination.
The house is a bit small to play with several at once and you can only reach it from one side, one of the few reasons that the play value is a bit lower than it could have been. Furthermore, both the house and the figures can be combined with a variety of other toys for even more replayable value.
#13 Small Foot Legler – Best Wooden Toy Tractor
From 1 years

Best: 2 – 4 years

Until: 5 years
It is very simple and the ease of use is therefore high. Consideration has been given to the large openings so that small hands can also grasp it. The simple design also encourages open-ended play.
The interactivity is not very high except that it can roll, and also the social interaction is low from a toy like this unless it is combined with other cars or farming toys. That makes it versatile, also considering that it can also be used outside due to the large wheels.
The design is completely aimed at small children, but still looks very nice and perhaps even timeless due to its sturdy wooden construction. It is certainly sustainable and also produced in an environmentally friendly way with FSC-certified wood and rubber tires.
Small Foot has won several awards, including the Spiel Gut and the Toy Award from the Toy Fair in Nuremberg.
#14 Le Toy Van Houten Hollywood Camera – Best retro roleplay toy
From 3 years

Best: 3 – 4 years

Until: 5 years
What great play value you get here. Easy to use, high open-ended game and appeals to the imagination. In addition, it is designed to stimulate social interaction because you, brothers or sisters or boyfriends and girlfriends will surely want to be in front of the camera.
It also has quite a bit of interactivity with a push button and a jog wheel and a kaleidoscopic lens. The fact that it doesn't make any noise and doesn't need batteries is actually an advantage.
The replayability only suffers from the lack of versatility and possibilities to combine it with other toys, although it can also be used well with dress-up clothes.
With the sturdy rubberwood construction (also very durable) and the great timeless look, that is actually the only point where the toy score could have been higher.
#15 Top Bright Racetrack – Best wooden toy car ramp
From 1 years

Best: 2 – 3 years

Until: 4 years
Top Bright won't award for design, but it is a very functional and well-priced car ramp that children from 1 year old can enjoy. The ease of use could have been a bit higher because the cars often get stuck in the track, which can lead to the necessary frustration.
It also doesn't really appeal to the imagination and won't encourage a whole lot of social interaction.
But you shouldn't judge this toy on its play value alone. Thanks to the small wooden cars, it is also versatile, easy to combine and the construction is well put together. All of these things add up to tremendous replayability.
You don't need much for your toddler yet. A row of cars whizzing off a race track is actually enough. They can't yet think of a game where the cars have to go through the car wash, or where they have to be parked neatly.
#16 Janod Bolid Key Box – Best wooden toy garage
From 2 years

Best: 2 – 4 years

Until: 4 years
It's really robust and sturdy, with ramps wide enough for larger cars. This makes it easy to combine with more toy cars and other fantasy materials. It is also very versatile due to a multi-functional design with keys.
The design has been kept simple and therefore the appearance has remained very calm. This simple design also appeals to the imagination and helps open-ended play. The combination of simple design and the keys with doors makes the set suitable up to about 4 years old. After that, toddlers will get bored of it.
The toy score could have been slightly higher if the set could have appealed to a wider audience and perhaps used better quality wood. Now the price-quality ratio is on the low side. However, you will not find a set where the small cars also have rubber wheels. So they can also be used outside.
#17 Melissa & Doug Scoop and Serve Ice Cream Counter – Best wooden toy ice cream
From 2 years

Best: 3 – 5 years

Until: 6 years
The set is easy to use, the ice balls are easy to stack on top of each other and the scoop works quite intuitively. There are also handy handles on the tray so that you can take it with you. Working in the ice cream parlor naturally creates a lot of open-ended play and appeals to the imagination.
In the end, there is still quite a bit of plastic in it, which means that it scores slightly lower on materials used, but it is a set that will last a long time and is safe to play with.
#18 New Classic Toys Bon Appetit Play Kitchen - Best wooden kitchen set
From 2 years

Best: 2 – 5 years

Until: 6 years
Extremely easy to use with no complicated functions but still some nice interactive things that increase the play value. For example, the rotary knobs of the oven give a real click, as if you were actually choosing a setting, which appeals to the imagination. The hobs light up and make a bubbling sound, but batteries are required for this and the hob is therefore plastic.
The chosen material is therefore not very good, with MDF wood from an apparently non-sustainable source and still some plastic.
There is plenty to play with the included pans, ladle, spatulas, pepper pot and salt set and even plates. A whole lot of accessories that you don't see in every kitchen, and all made of wood (except for the removable metal sink). This also makes it versatile.
With the many accessories and saving on material, the set is not that expensive at all, which makes it a good value for money choice.
Thanks to all the accessories, it can also be combined with other toys, which improves the replayability. With us, the removable sink and pans always participate in games with color sorting and playing with sensory toys such as dried beans or corn.
The longevity is also very high, nothing has peeled off the verg in the 3 years we have had it and the durability is also high.
#19 Janod Vegetables And Sliced ​​Fruits Maxi – Best wooden food toy
From 2 years

Best: 3 – 5 years

Until: 6 years
The cut vegetables and fruit are incredibly easy to use. Some sets are held together with magnets, but I prefer this Velcro version. It gives a little more resistance when cutting, so your child really has to learn how to hold the knife. This appeals even more to the imagination, plus the texture of the inside gives a different sensory experience.
Toys like this are also extremely versatile, they can participate in all kinds of cooking and shopping games and with us it often joins in with farm toys. This makes it very versatile and easy to combine.
The play value could have been even higher if it encouraged more social interaction. For example, there is only one blade. Yet it is also educational for vocabulary learning and interaction.
What makes the set completely replayable is the fact that everything fits in the handy carrying crate. So you can take it with you wherever you go, combine it, and then store it within reach.
The food is firmly put together and there is even a metal colander. This allows them to have extra fantasy play so that it is just real. I used to let my son play with our colander but it didn't fit in the play kitchen so this is a better solution.
#20 Areaware Cubebot Micro Puzzle – Best wooden toy robot
From 3 years

Best: 4 – 8 years

Until: 14 years
Can be used as a puzzle, fidget toy and small robot, making this toy extremely versatile. In addition, it is also fun for a long time because it is a good room decoration for children of all ages.
It can be a bit difficult to play with in the beginning, if the strings are still a bit stiff and you don't know how the puzzle works. This could have given it a slightly higher play score. But the open-ended character more than makes up for it.
The replayability is even higher, due to the compact size and excellent longevity. As a cheap toy, this makes for the best value for money wooden toy I've seen.
In addition, it is one of the few robot toys that breaks gender stereotypes with a neutral look and design that could be male, female or non-binary. It is made of sustainably harvested wood with elastic connections without plastic or metal.
It is not for nothing that award-winning designer David Weeks has worked on this.
#21 Small Foot Pirate Hammer Art – Most creative hammer game
From 5 years

Best: 6 – 7 years

Until: 8 years
ease of use, degree of open-endedness, imagination, social interaction, interactivity, versatility, aesthetics, ability to combine, portability, longevity, durability, safety, materials. Educational: +awards and educational value
More of a creative game than a hammer game, but it's a lot of fun to do and hammering straight is fun and good for fine motor skills. You have to hammer pirates and their accessories from wood and cardboard onto a cork board. There are many pieces that really appeal to the imagination.
It is really hammering and therefore best for children from 6 years. The play value is somewhat lower because these types of toys do not really encourage social interaction and are not as versatile. The replayability is also somewhat lower because the game has to do it on its own, after all it is not very easy to combine with other toys.
Still, it's a game most kids will return to time and time again.
A big minus is the cork board. Not really big enough to lay out everything you can think of and even making the examples is very difficult. This makes it easy to store and the carrying case still ensures a higher total play score, because you can play it anywhere.
#22 Janod Brico Magnetic Trolley - Best wooden walker
From 1 years

Best: 1 – 4 years

Until: 5 years
Very handy to use because of the magnetic suspension points and the box to store everything. The magnets could have been a bit stronger, but with the storage compartments and anti-fall system, the set ultimately scores high on ease of use.
The walker is also extremely versatile, you can walk, build and hammer in one. There are also enough pieces and tools to enable social interaction, which adds to the play value. The set does not really appeal to the imagination and there are also no accessories to immediately look up social interaction.
It's nice to have a little bit of everything. That also makes it a bit of a shame because you can't really build anything nice with the set. It's really more about exploring and hammering and screwing things into the car.
It is made of sturdy wood and the wheels even have metal axles with rubber surrounds so that it rolls smoothly and does not damage your floor. The durability is therefore high, although the lifespan is somewhat less. The paint quickly showed some scratches with us.
#23 Melissa & Doug Workbench - Best wooden toy workbench