Best wooden zoo toys: 7 sets for a wild adventure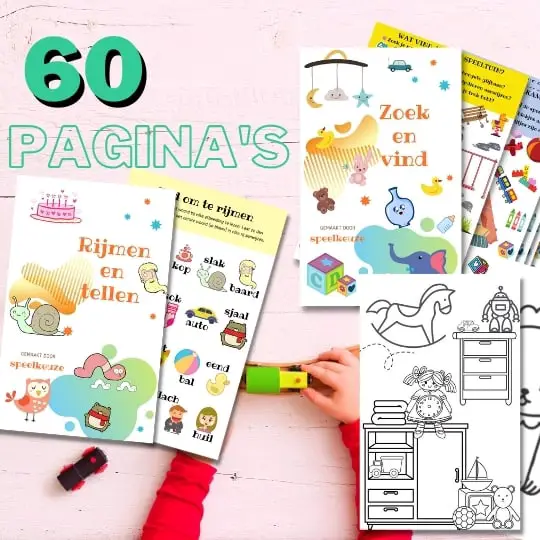 Always something to do for the holidays or rainy day?
Play Choice now has the ultimate activity book collection, with over 60 pages of fun coloring pages and educational puzzles.
Does your child absolutely love your trip to the zoo? Then he probably wants nice animals to play with.
There are a lot of nice sets like this wooden train track from Bigjigs full of safari animals. Great if they also rode a train at the zoo! The train can move around and every animal is sturdy wood.
In this article I look at the 7 best wooden zoo sets and what you should pay attention to when purchasing.
Let's look at the options in a short overview. Then I'll go into more detail about each of these choices.
Wooden zoo toy buying guide
When you look at a nice zoo set, the most important thing is actually very simple:
Is your child's favorite animal included? Mine? That's the sloth, but you won't often see it in a pack. My son loves the giraffe so that should work.
But of course there is more to watch out for.
Age
You probably buy zoo toys for a slightly younger child. Here it is still very important to pay attention to small pieces so that they cannot swallow anything.
Some toys may need to be kept with you or keep the small pieces behind.
I've arranged everything on this list by age:
Sustainability
You don't want the toy to splinter easily. Especially when they still put it in their mouth. Some sets I've seen swell up a lot when it gets wet (mouth) and then splinter.
Fortunately, the sets in this list do not. I've rated each one for durability from 1 to 5 points so you can be sure the toy will last longer.
Replayability
I also rated all sets for replayability. How often do they return to it after playing once.
This is mainly due to how many things you can do with them and whether they can continue to explore and be challenged.
Best Wooden Zoo Toys Reviewed
The best train track set with wild animals!
The safari train leaves for a great adventure. Along the way you will encounter all kinds of wild animals, such as a monkey, a giraffe and a beautiful lion!
This 38-piece wooden track set features a locomotive with two carriages, as well as wildlife including an elephant and a zebra.
Did you know that there are all kinds of extra accessories available to expand this set? The rails can be expanded with, among other things, the BigJigs Rails Expansion Set.
The train set is suitable for children aged 3 to 6 years.
Also read: these are all the best wooden toy train sets for kids that we reviewed
Every child needs a shape sorter in his life. Why not one with cheerful zoo animals?
This safari car from Melissa & Doug is very cheerful and there are 7 animals and 2 rescue rangers.
Just like with any shape sorter, your child has to get the animals through the holes. That is good for fine motor skills.
The animals themselves are also just fun to play with, so they can use it in their pretend play for a long time to come.
It is made of very sturdy wood, so the fairly flat figures can always participate nicely.
The set is suitable for 2 to 4 years, but they can also play with it a little earlier.
What is disappointing is that the animals actually fit in almost all holes, for example if you turn the alligator and push nose first, it just fits everywhere.
That is a disappointment, but otherwise a very nice set.
It doesn't get much better than Ostheimer's hand-carved animals. It is a Waldorf toy par excellence.
Very well finished and durable wood. These will last a lifetime. Well, several lives actually.
It is very pricey, especially if you want to buy several animals, so that is something to take into account.
I also have cheaper sets on this list, such as the Melissa & Doug wagon. But a list of wooden zoo toys just can't be complete without these beautiful creations from Ostheimer.
This 16 piece puzzle is very cute with so many cute animals.
Where many such shape puzzles have a wooden handle on each piece, this one does not. This also makes it easier for the animals to participate in fantasy play.
We also have such an animal puzzle from Djeco and it does have that, but those animals never participate on safari.
The puzzle is very sturdy with bright colors. A really nice set to give.
A handy take-away box that also serves as the zoo. Very handy set to take on holiday or to grandpa and grandma to play.
The box itself is made of cardboard but also very sturdy. Even playing vigorously won't destroy it.
In the picture it looks quite big but it's not that big at all. Some customers have complained about that.
A stacking set made of sturdy wood. These types of toys are suitable for hand-eye coordination and dexterity play, but you can also simply use the pieces in pretend play.
There are 9 cute animals, here more in the forest theme than wild nature as the Crocodile Creek animals.
Children can play with it quite early, but stacking becomes fun from 3 years old.
It is quite a challenge to balance the animals on each other, and I actually enjoy doing it myself. You can come up with the craziest combinations.
All a bit of a shame that my son with 3 has the most fun to knock over my constructions :)
The first set on the list where they can put together their own animals.
A fun kit with 3 animal bodies, 3 colors of wool yarn and 2 rings for easy pom pom making.
So it is a craft kit. In itself fun to make yourself while your 2-year-old plays with the yarn next to you. They are also fun to just play with when finished.
However, it will be the most fun for 5-year-olds when they can make the animals themselves.
That's why it's also fun for smaller children, because they feel so wonderful. But whether you want to do it yourself or keep them for a while until they can, I leave that to you.
The make aspect can only be done once. Once they are made, the yarn is gone and the creature is made.
It might be best to give to the child with a smaller brother or sister so that you benefit from both making and playing.
Conclusion
There are a lot of nice wooden zoo animals for sale. I hope this list gives you an idea of ​​the possibilities for your child.