Top 20 Best Board Games Reviewed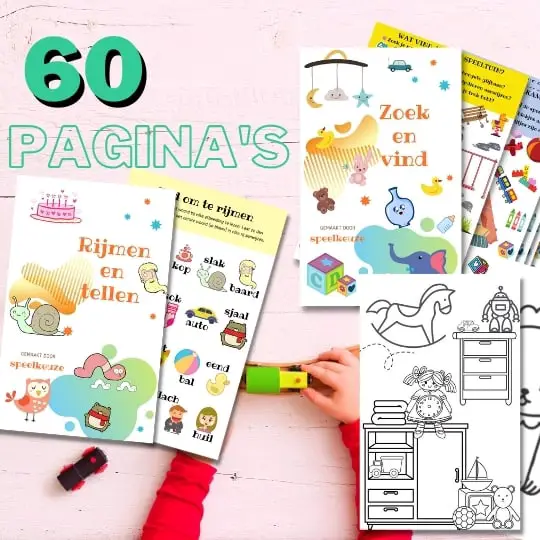 Always something to do for the holidays or rainy day?
Play Choice now has the ultimate activity book collection, with over 60 pages of fun coloring pages and educational puzzles.
Dear geeks and games enthusiasts, pay attention!
Want to get together with friends or family? These are the best board games to play with.
Especially fun when playing challenging games with your slightly older children. Also nice as games that children can play among themselves with the group of friends, or of course just to organize a fun party game evening for yourself.
If you're just starting out, or looking to expand your collection, it can be difficult to choose the best board games to find; after all, there is so much choice!
Fortunately, I did the searching for you.
My tip to start with is therefore the best deal at the moment, Ticket to Ride Europe. A super fun board game with trains for the whole family. And what child doesn't like trains? It is one of the first strategy games that is already fun for younger kids.
But of course there are more fun games, also for adults. Here's a bird's-eye view of the best board games in this list, then I'll go deeper into each of these choices:
Board game buying guide
The best board games depend on the situation in which you use them.
Sure, it's great to have a complex, smart game – like Fallout – when you're playing with a group of like-minded friends, but sometimes you just want something quick and simple enough for your grandma to understand too.
That's why I have a wide range for you, from hardcore games to casual classics.
What should you look for in a family board game?
Number of players
How many are you going to play it with?
There are games for 2,
or a nice evening with 4 people.
Some only become really fun with 6 people
and I even have one for 1 person
This is important to take with you, perhaps THE MOST IMPORTANT.
Difficulty
Some games require more critical thinking than others, which might be a bit difficult for the youngest players.
However, there are plenty of options for people of all ages. Just pay attention to the age rating of a game, but remember that it is often the most fun for an age somewhere in the middle.
For example, a game for 6 to 10 years is often the most fun for 8 years, but that is not always necessary.
Playtime
Playtime is also important.
OH!
The times we had to cut off an exciting game because we had to leave (or the times we went on until 2am even though I just had to work the next day).
This list includes shorter games that require quick thinking and others that test your problem-solving skills over several hours.
What do you have time for today?
Top 10 Best Board Games Reviewed (+4 BONUS)
Age: 8 - 99 years
2 to 5 players
Play time: 60 minutes
The overall best game for the whole family right now? That MUST be Ticket to Ride Europe.
What a nice setting the makers have come up with, and everyone can participate. Certainly from 8 years, but with a little help also a smaller brother or sister.
It is now one of the most popular gateway games (your first introduction to advanced board games) and if you don't have it yet you are really behind.
If you're looking for an easy-to-learn, fast-paced game that's challenging, then this is perfect!
It is a very simple strategy game with trains.
Your goal is to have the most points at the end of the game by claiming routes across the continent and completing destination tickets, but you better be quick!
You get more points if your opponents are also on that route, meaning there can be an all-out race for dominance on a single route, and the tactical element makes it a board game with great replayability.
Ticket to ride vs Catan
Catan is a more complex game that requires more strategy than Ticket to Ride. Ticket to Ride is less fun as a group of adults, but more fun for a family. In Catan you can build settlements, cities and roads, in Ticket to Ride you build with trains and stations.
Okay, okay. I could have gone for Monopoly here as one of the best board games ever made, but that would have been an easy choice.
After all, who has never played Monopoly?
But the game that has made board games popular again among adults is Catan.
In 1999, this popular trading game was voted Toy of the Year.
For me, this was the first adult game I've done, and you get to build towns and cities on a variable game board while trying to be the first to hit important milestones to win!
You start with 2 villages, which you can build at any time on unoccupied spaces around the edge or near resources already occupied by another player's village.
On each turn, you roll two dice (which depend on where your villagers are), then trade with other players or buy from the bank with crops you've harvested in previous rounds.
At first it seems like an easy task, but later on there can be conflicting needs between different tiles, so you have to choose carefully where to build your villages and towns and who to trade with, or who not.
Catan vs Monopoly
Catan, with countless decision options, is more challenging than Monopoly. In Catan, you have to be smart with resources and strategically decide where to build; in Monopoly you can buy what you land on, you want to get as much of one color as possible but the element of luck is a lot higher.
Coffee Roaster gives you the chance to become an expert coffee roaster and is made entirely for 1 player (you can't even play it with multiple people!).
Choose your favorite beans from around the world and roast them with care as they are each roasted at a different temperature for their different flavor profiles!
Coffee Roaster offers players a hands-on experience where they are put in charge of managing, selecting and roasting all kinds of coffee.
Choose carefully which coffee to roast next or risk cooling too much while others are overheated on top!
Quite a lot of beans to keep in the air so…..UH balls!
Anyone who likes to get things just right should enjoy this laborious but rewarding task, as your game board will soon become quite cluttered and disorganized.
The first goal is to find the desired roast for each type of beans; this changes as the players progress through the game.
Tasting correctly will give you more turns with new coffee varieties revealed at different levels, and so you'll have to make some tough decisions about how many moves to plan ahead!
Coffee Roaster offers two types:
those who like strategy (with 4 easy-to-learn rules)
and press-luck mechanics for a simple but surprisingly good game
You may not have heard of the Sequence game, but this card-based strategy game has been a family favorite for a long time.
The best of both worlds:
this board game is easy enough for kids to learn
and tricky enough to keep adults on their toes.
You can play it individually or in teams, and it's recommended for ages seven and up.
Here's how it works: Each player (or team) is dealt a handful of playing cards, and on each turn they lay down one card and cover the matching spot on the game board with a chip.
The goal is to place five chips in a row (the sequence) and each round usually lasts 10 to 30 minutes.
Simple to learn and fun to play again and again makes it one of the best board games for families.
This board game requires a combination of strategy and luck, and your whole family is sure to become more competitive the more you play it!
I used to enjoy it a lot and it remains a good classic for two people.
The box says 6+, but it is often also suitable for slightly younger children, it is easy to explain and gets going quite quickly, plus is of course ideal for vacation.
And anyone familiar with the original version of this game will appreciate that this updated version is very different again.
The game has been improved by also using people of different ethnicities and different skin colors, a simple classic that finally added all the beautiful skin tones and different faces to the game.
If you are using fine motor skills, do you think of small children. But nearly 400 satisfied reviewers confirm that this game is "really great fun for all ages".
Several reviewers also describe it as a 'learning tool', with one explaining:
"It takes a steady hand and attention to balance."
The quality and durability of the game make it very attractive in a home full of children of all ages.
It encourages children to think about weight and balance, as they need to place the squiggly pieces carefully to make sure they don't knock anything over.
Features
Players: 3 - 10
Time to set up: 2 minutes
Play time: 10 minutes
Level: average
Age: 8 +
Pros
Free app streamlines game set-up and flow
Great replayability of the game
A mix of everything that makes cheating games so special
Cons
Fast gameplay prevents the level of paranoia that makes other deceptive games so much fun
Judgement
Distraction and deception go hand in hand in One Night Ultimate Werewolf, a game that makes wink killing practically a competitive sport.
Each player is randomly assigned a role at the beginning - there is a choice of a motley collection of villagers or the werewolves trying to plunder them.
Over the course of a night, where everyone in turn secretly plays their unique game, the players are supposed to find out which one of them is a monster.
So while the 'seer' can turn over another player's card to view it, the 'troublemaker' can then exchange that card with someone else, making it difficult to be absolutely sure who is telling the truth.
As with all games of this kind, the fun is in making accurate judgments based on facts and gut feeling, and successfully playing other players under the table, if you happen to be the werewolf.
There is a lot of uncertainty over the course of every ten minute game, and since there is always a chance that there are no werewolves in a particular game, innocent players will have to do their best not to receive a death sentence.
The free accompanying app makes installation a breeze, especially for games with more players, for which One Night Ultimate Werewolf is ideally suited.
Best for ... larger groups who like to discover that they never know some people as well as they thought.
One Night Ultimate Werewolf vs Daybreak
I recommend One Night Ultimate Werewolf over Daybreak. The original is already game enough, with Daybreak you can possibly add some complexity to it, although I always use reels from the original, not always Daybreak. Daybreak can also be played on its own, but the original is better.
Features
Players: 5-10
Time to set up: 5 minutes
Play time: 30 minutes
Level: easy
Age: 13 +
Pros
Increasing tension during the game
Smart add-ons that change the game
Paranoia Based Unique Gameplay
Cons
Takes you at least one round to really understand
Judgement
If you've ever dreamed of a shouting match with your lover but never had a reason for it before, The Resistance is the game you need.
And since up to ten people can play the game, those swearings can get really loud.
The premise is simple, as is the setup. One must succeed in three out of five missions to win – but the spies who are anonymous want those missions to fail.
Since there only needs to be one spy to shatter everything, the real game is figuring out who is trustworthy at the table and who is a liar.
The game lasts as long as the spies are good at cheating. When one spy throws another out to avoid detection, or when two good players are played against each other, the game takes on a new dimension.
Don't expect to come out of this play experience unscathed (and resentment).
Best for ... people who want to know if they can discern who is or isn't a traitor (or test their ability to fool other people).
One Night Ultimate Werewolf vs Resistance
One Night Ultimate Werewolf is a slightly faster one-round game that doesn't go too deep into strategy and doesn't require much planning ahead, also easier for a game night with non-gamers. The Resistance is a bit more extensive in strategy and takes more time.
Ideal for gamers who want to leave the screen every now and then, but want to play a familiar game.
Features
Players: 1-4
Time to set up: 10 minutes
Play time: 120 minutes
Level: average
Age: 14 +
Judgement
If you are looking for an offline experience with Fallout and you are angry and disappointed with Fallout 76 this is the game for you.
With scenarios from Fallout 3 and 4, this board game is very similar to playing the real game, but with friends.
You explore a map, build influence between factions, and even complete side quests to earn more.
The great thing about this game is the attention to detail - everything feels like it's straight out of the Fallout universe, right down to the descriptions on the cards and artwork.
The length of a game can be a blessing or a curse, depending on how you look at it.
Games can take 2-3 hours, so if you settle for one massive session with friends then that's fine.
However, if less patient or less experienced people are playing, it might be better to choose a slightly simpler and shorter game.
If you are willing to invest time in this game and you have friends who love a game of Fallout then this is perfect.
Best for ... anyone disappointed by Fallout 76
Features
Players: 3 - 6 (2 player variant included in the rules)
Time to set up: 2 minutes
Play time: 15 minutes
Level: easy
Age: 10 +
Judgement
Coup's appeal lies in its simplicity: just like characters from a horror movie, each player will be turned off by hubris or by the actions of another player, until only one person remains.
However, the trick to winning lies in understanding when your opponents are in a weak position and bluffing, and launching your coups at the right time.
Each player has two character cards face down in front of them that only they have knowledge of.
Those characters each have different skills; from killing another player to stealing some of their currency, and most have the ability to prevent another player from taking certain actions.
But because your opponents' cards are face down, it is difficult to find out when they are lying about their characters. It will eventually become a soothing mind game, with double and triple bluffs flying around your ears.
Accusing someone of lying can cost them a character card and influence at court, possibly causing them to lose. -But vice versa, it can also happen to you if you falsely accuse someone.
Best for ... groups of four or five experienced in games that require tough counter-action.
Features
Players: 2-8
Time to set up: 2 minutes
Play time: 15 minutes
Level: easy
Age: 10 +
Most party games are all about fun and bluffing. Codenames is a clever design that also throws a bit of strategy and skill into the mix.
One player comes up with one-word clues that lead his teammates to certain word cards arranged in a grid.
The clue can be anything: it can rhyme with the target, or form a compound word, or be a synonym.
The team does not know that and the person giving the clue is of course not allowed to say anything; so be prepared to go crazy as you observe your team reasoning itself further and further away from the correct answer!
It's more difficult to find clues than it initially seems, which can lead to longer moments of silence. Not the most fun game for your drinking night.
But it also makes things that much more exciting, because wrong guessing can award points to the other team, or even result in an immediate loss.
Codenames vs Codenames pictures
The most notable difference between the original game and its remake is that in Pictures there are images instead of words. In this version, the players and their team have to guess different pictures using some word clues, no different from charades or Pictionary.
The different Codenames variants can also be played separately without needing a basic set.
Features
Players: 2-4
Time to set up: 5 minutes
Play time: 30 minutes
Level: easy
Age: 8 +
Judgement
Another game that is perfect for anyone who likes real video games.
Being a simple card game, Boss Monster can be played anywhere - as long as the surface is flat - and you can take up to four players at once during the action.
We'd actually recommend four players, as the game is a bit less fun with just two players (although it's technically possible).
Regular gamers will love the style of the maps and will instantly 'get' the ideas of boosts, multipliers and damage, while it might take a full game for non-gamers to really understand everything.
But with 20-30 minutes per game and an almost infinite replay value, you can get everyone playing very quickly. It is an ideal warm-up game for a full board game night.
Best for ... Fans of retro games.
Boss Monster vs Boss Monster 2
Boss Monster 1 has more exciting rooms and the better of the two for multiplayer. 2 has a better balance and some more interesting combinations, but if you're only buying one game, Boss Monster is the best buy, as part 2 has a lot less dungeons.
Features
Players: 2-6
Time to set up: 5 minutes
Play time: 30 minutes
Level: easy
Age: 8 +
Pros
Exciting dice battle with social elements
Includes a fun theme with little difficulty
Cons
Judgement
King of Tokyo is a game about Godzilla, or one of the many other crazy super monsters, who have settled in Tokyo. But in this genius piece of abstraction, there is no city map.
Instead, you compete against your fellow monsters to be the one hitting every turn. This will give you points, just like buying cards that represent mass destruction.
Other cards enhance your monster with powers such as extra heads, spitting poison, or a pointed tail.
You can use these to fight the other monsters or crush city districts.
All this is solved through a Yahtzee-style gameplay that you can explain to everyone in a few seconds. Throwing modified dice is great fun.
And there's a social element too, as players conspire to defeat the monster in the city, while everyone hopes to be the one to take their place.
While it is an enjoyable yet silly fighting game, it is also open to strategy in the choice of the cards you buy. If you want a little more tactics, consider the King of New York version.
Best for… party time, or just to measure yourself against your kids. He's also in our list of best dice games
King of Tokyo vs Bang the dice game
King of Tokyo pits you as a huge monster against other monsters, Bang as a gunfighter. Both work with dice throwing as the main game element. Bang crosses out a number of steps and immediately springs into action, and also lasts 15 minutes where KOT takes 40 minutes and gives a little longer build-up time.
Features
Players: 3-6
Time to set up: two minutes
Play time: 60 minutes
Level: Low
Age: 12 +
Judgement
There's nothing like taking part in your own horror movie. Betrayal at House on the Hill makes you one of six famous horror characters - little girl with a doll, for example? Check!
Before you find yourself in a haunted mansion, which you build and explore yourself as the game progresses. Each player puts down room tiles as they carefully explore.
This means a completely unique house, complete with basement, with an eerily overgrown garden and chapel.
The early exploration phase is a perfect time for newcomers to get used to the style of play, and it's a great warm-up for what's to come.
Events take place in every room you enter and Omen cards build up gradually.
Whenever an Omen card is drawn, the responsible player must roll all six dice.
If the number you roll is greater than the total number of Omen cards the house remains relatively safe, if not the Haunt phase of the game starts and it gets interesting.
There is a traitor in the group, which means that one player will read ahead about how the rest are being terrorized, and there is a huge variety of gruesome ways the house will attack the inhabitants.
The Widow's Walk expansion has used many top writers, such as Adventure Time creator Pendleton Ward and Pandemic Legacy's co-designer Rob Daviau, to create new Haunts, so expect some truly bizarre stories as you battle your friends.
Best for ... Brilliant horror fans, has great replay value
Check the latest prices here
Betrayal at house on the hill vs arkham horror
Betrayal brings an innovative idea to horror games, together in the game where suddenly someone becomes a villain to shake things up, although Arkham has more characters and big bosses for better replayability plus deeper character skill system. Arkham is played for 10 minutes while Betrayal can last up to an hour.
Features
Players: 2-5
Time to set up: 2 minutes
Play time: 40 minutes
Level: average
Age: 8 +
Judgement
Considered a classic for good reason, Carcassonne is available on a slew of digital platforms in addition to the original board game, with a recent release of Switch in July this year.
Nevertheless, there is something special about playing the game in its original physical form; to put a stone in just the right place to complete a city and earn serious points.
Carcassonne's challenge is to keep a strategy in mind while placing your pieces.
While you all build a section of the South of France using randomly drawn bricks, smart placement of Meeple will earn you points for every completed city, road, and connected squares - as long as you control that section.
While luck is required in the draw, placing a piece to steal control of an opponent's city requires long-term tactical thinking.
As a result, it is one of those rare games that is easy to pick up, but difficult to master, especially when you compete against other Carcassonne veterans.
Best for ... groups who want to challenge each other through long-term strategic thinking.
Check the latest prices here
Carcassonne vs Catania
Carcassonne is fun with any number of players, including 2 players, but Catan only works well with 3-4 people. Carcassonne is a bit faster at 30 minutes than Catan which can take 60-90 minutes, although that can be more interactive and engaging with more conflict than Carcassonne.
Features
Players: 2-4
Time to set up: one minute
Play time: 30 minutes
Level: easy
Age: 10 +
Judgement
Because of the beautiful box and cards, you can probably imagine that Splendor is a game about gem trading.
Every turn you can take resources or buy a jewel. Once obtained, that jewel is a permanent resource for other gems.
Slowly, players are building their own small economies, aiming to buy the most expensive gems for points. The most efficient spender wins, but the end of the game becomes a sudden, tense sprint to the finish.
It may be a bit old-fashioned. If that's a concern, you can try it on iOS and Android first. But it's okay sometimes to alternate a deep strategy with moments of excitement and interaction.
There are several paths to victory and what each player is aiming for becomes clear from their gems collection, at which point you can start snapping and look up what they need. A ten-year-old can easily learn the rules, even if he cannot fully figure out the tactics.
Best for:… gaming with racy adults
Features
Players: 2-5
Time to set up: five minutes
Playtime: 60-120 minutes
Level: average
Age: 12 +
Judgement
You place pawns to gain resources and deny them to others, it is a popular playing style in hobby board games.
However, many titles are more like spreadsheets than real games.
Lords of Waterdeep is a glorious exception. It's draped in a loose Dungeons and Dragons theme for beginners, plus there are amazing ways to beat your opponents.
You can send them on pointless quests, steal their resources and block their strategies.
I've seen sessions where after the game nobody wanted to talk to each other. Add the Undermountain extension and it's even worse.
This interaction adds to the already demanding strategies and keeps the game from stagnating.
Players themselves add abilities to the options offered by building new spaces with new powers to place their bricks. Range varies by game, so there is no set route to victory.
You will be on the (tactical) edge of your seat again with every game, at least until one of the other players pushes you off.
If you're concerned, this fantastic game might cost you your friends, but there's an iOS version to try first for your child's family ipad.
Best for:… Those looking for a deeper experience (which may cost you your friends)
Features
Players: 2-4
Time to set up: five minutes
Play time: 60 minutes
Level: average
Age: 13 +
Judgement
Legacy is now the most popular concept in board game gaming. It involves players physically changing their copy of the game depending on how each session goes:
you write on the blackboard
destroys a few components
adds new ones from sealed packages
and at the end your game board is unique.
Not only a representation of your current game, but also previous times you played it, requiring different strategies from the other games.
That's why this game is available in red and blue versions: they play the same, but you can have two different created variations if you wish. And now even a yellow version has been added.
The original pandemic was a popular collaborative game. Everyone worked as a team to achieve a joint victory, trying to save the world from a horrible disease.
Each player had a specific role with special abilities and only by merging them could they achieve a victory.
You can watch that old version on iOS or Android if you want. Without the creativity of human opposition, however, it would soon be stale. Adding Legacy took it to the next level and it is now the top rated game.
Best for:… those who prefer collaboration over competition
Features
Players: 3-5
Time to set up: ten minutes
Playtime: 60-120 minutes
Level: average
Age: 12 +
Judgement
Cosmic Encounter was first published in 1977 and has gone through several changes since then.
There are simple reasons for such enduring popularity: it was ahead of its time and remains brilliant.
Each player gets a unique alien power from a huge deck, so no two games have the same mix. Then you should try to establish colonies on rival planets.
But before each encounter, the players involved negotiate temporary alliances with everyone else.
While quite simple, it has a distinct set-up that may seem strange to those familiar with traditional attack and defense games.
But once you get the hang of it, the ever-changing alien abilities make every game a hoot.
Examples include winning encounters by losing, reversing card numbers so 17 becomes 71, or lost ships can be resurrected.
If the options in the box aren't enough for you, there is a great selection of add-ons to add to the game.
Best for:… those who love to talk and play
Check prices and availability here
From: 7 years

Best: 8 – 10 years

Up to: 12 years
The ease of use of Hedbanz is very high. Tie on a band, put a card in it and you have to guess what you are. It couldn't be easier and the band is also easy to attach with studs, just like a cap. The game appeals to the imagination and the social interaction of this game is huge. The play value could only have been higher if the game was more open-ended. It's a bit more straightforward now.
That doesn't really benefit the versatility either. There is only one way to play the game and it can get a bit repetitive after a while. The interactivity is fine, but not huge. In this game you mainly rely on the other players.
The game itself has not won any awards, but Spin Master has many awards to their name. The materials used are not great, although the plastic of the headbands is quite sturdy.
Frequently Asked Questions
What is the most complex game?
Magic: The Gathering is officially the world's most complicated game. It is a fantasy roleplay trading card game. Two players compete against each other in a battle for life points.
What is the rarest board game?
The Jewel Royal chess set, which has cost a whopping $ 9,8 million, making it the most expensive and rarest board game of all time.
What is the oldest board game in history?
Finally we come to the game with the title of oldest board game in the world, Senet. It originated more than 5000 years ago in ancient Egypt and is also known as Senat or Sen't. It shows that board games have a rich history.
Are board games still popular?
Board games are more popular now than ever and they will only get more popular. The global board game market is worth more than $ 3,2 billion and is expected to increase to $ 8,12 by 2021.
What is the largest board game in the world?
World in Flames finally has what it was looking for: recognition as the greatest board game. The game now holds the Guinness World Record for the world's largest board game.
This is an internationally awarded, strategic game about the Second World War. Five color maps represent all war zones: Europe, Russia, Africa, the Middle East, India, Asia, the Pacific, the Atlantic and Australia.
Conclusion
Plenty of beautiful, complex, kid-friendly or almost scary games on the market. There is a good one for every occasion.
Both for the real board game geeks, who like to play the more complex, longer games with friends, as well as for the cozy family evenings, with the perhaps somewhat simpler board games.
A board game evening is popular with everyone and – usually – creates a cozy atmosphere. Don't get annoyed, there's nothing to it!
Want to play while traveling? View our review of the best games to take on your trip