Best Electronic Cutting Plotters Reviewed | the absolute crafts top 4
I enjoy writing these articles for my readers, you guys. I don't accept payment for writing reviews, my opinion on products is my own, but if you find my recommendations helpful and you end up buying something through one of the links I may be able to receive a commission on that.
More information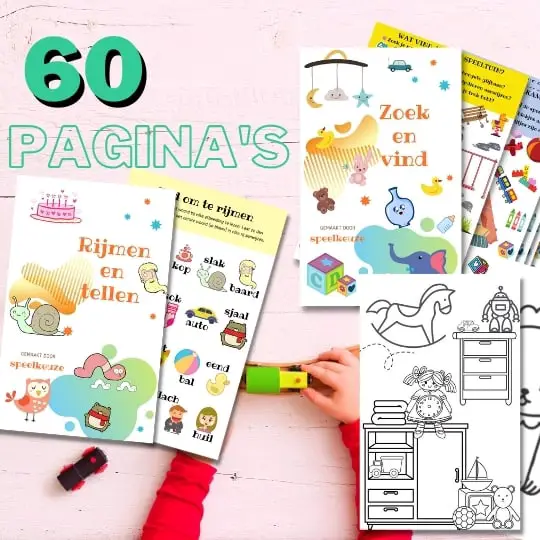 Always something to do for the holidays or rainy day?
Play Choice now has the ultimate activity book collection, with over 60 pages of fun coloring pages and educational puzzles.
Buying an electronic craft slicer can be a big decision. There are many websites on the Internet claiming to sell the "ultimate device."
The most popular brands out there right now are ScanNCut, Silhouette and Cricut, and these brands have dominated the market in recent years with their new and improved models.
But which one is the best?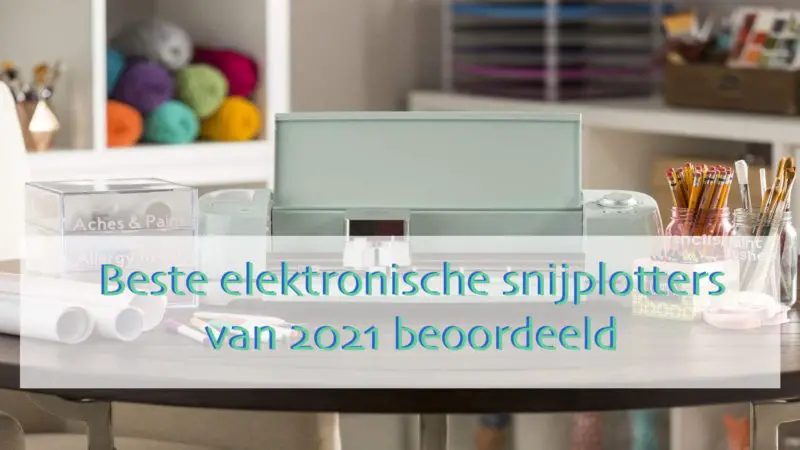 First, every electronic cutter has several functions and cuts a number of different materials, so it's important to know what you want to do with it before you buy!
De Brother ScanNCut SDX is my overall best choice. It's not the cheapest, but it includes a built-in scanner and can cut directly, without the help of a PC. It cuts completely through most materials.
But before I tell you all about this Brother SDX, let me first show you my top 3 best cutting plotters.
Overall Best Electric Embossing and Die Cutting Machine
Cricut
Maker
It can cut very precisely and adjusts the cutting pressure on the knife itself, according to the material you use. Its cutting ability is enormous, allowing you to cut through all materials.
Best cutting machine with some embossing capabilities
Cricut
Explore Air 2
Thanks to its versatile blades and Cut Smart technology, the Cricut Explore Air 2 cuts light to medium-weight materials quickly and accurately, even down to details smaller than a nail sticker.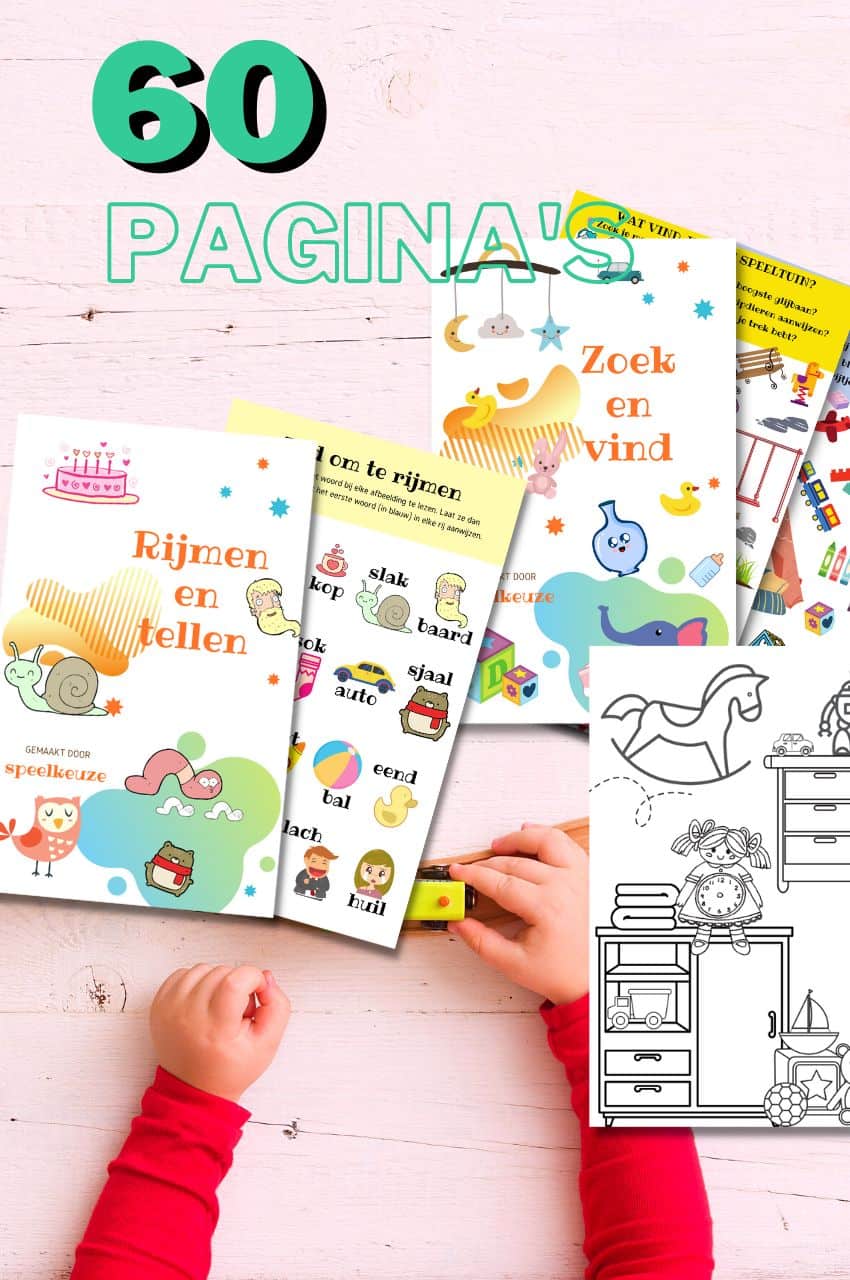 A play theme in your mailbox every month?
Fun play tips, activity books and more, with the first email being our free mini-guide "educational toys"
We will only use your email address for this newsletter and respect your privacy
What do you pay attention to when purchasing a cutting plotter?
Before you make a purchase, make sure you are well informed. First, think about what you are going to use the plotter for.
I would therefore like to give you a few tips before you make a choice. Keep the following points in mind:
What do you want to do with the cutter? You may have specific wishes. Does the cutter need to be able to work independently or, for example, wirelessly?
What do the cartridges cost? Think of the costs for new cartridges and how often you'll replace them. Note: some cartridges are more expensive to purchase, but use less ink.
How much does it cost to replace parts? The (repair) costs of these parts can sometimes be quite high.
Note the size of the device. Does it fit in your hobby room?
I will explain about the features of my favorite crafting machines below.
Best Electronic Cutting Plotters Reviewed
With that in mind, I will now discuss my top 4 electronic cutters in detail. Which will be your favourite?
Overall best electric cutter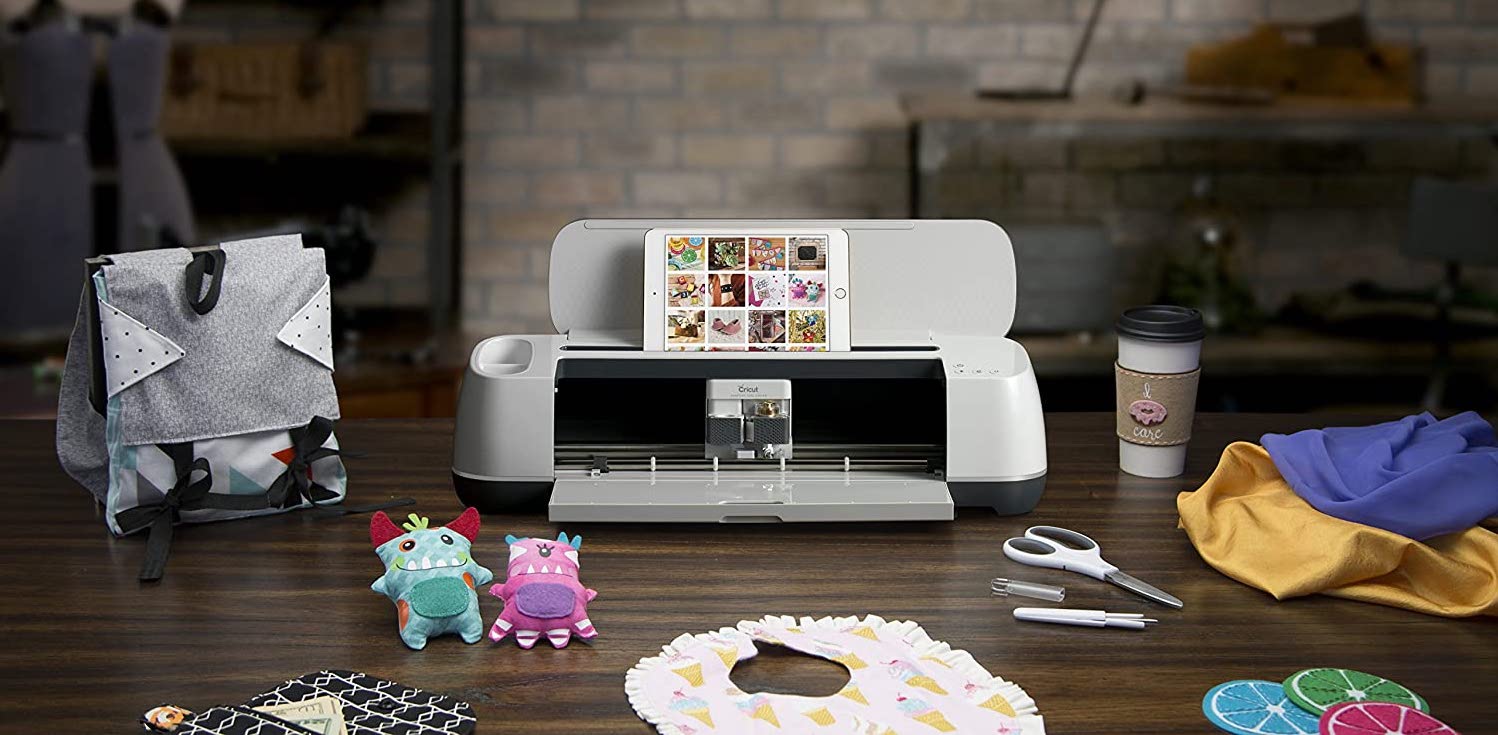 Best for
glides easily through most fabrics and delicate materials, with no support material!

cuts deep: 2,4 cm
Less good
you have to know something about computers to use it

pricey
With the Cricut Maker you will receive a scoring tool, a rotating blade, extra powerful blades, pens and other useful accessories.
Known among the die-hard crafter, it is highly sought after for its versatility.
The Maker is one of the best electronic cutters, capable of cutting over 300 different materials, including heavy materials like board and balsa wood, it excels at cutting leather.
The new blade can basically cut anything you want.
However, more materials also means more tools: there are 11 extra tools available to give your designs the complete, finishing touch.
You can easily change tools with the push of a button on the universal attachment. The Maker's technology goes one step further compared to other cutting machines.
In addition to the precise cutting, the knife adjusts the cutting pressure to the material you are using. The cutting power is 10 times higher, so you can cut through all materials.
As far as embossing is concerned, the Cricut embossing pen works great, it gives a somewhat classic look to your designs. Engraving or debossing is also easy, you can do that with the engraving pen: it slowly gushes a design out of your material.
A Cricut Maker usually comes with: power cable, rotary blade, black fine scribe, practice project and a Fabric Grip mat.
The main difference between the Cricut Maker and the Cricut Explore machine is the technology that powers them.
Most important features
The Maker is powered by the Adaptive Tool System.
Weighs around 12 kg
Power 4k
Cutting depth up to 2,4 mm
Bluetooth & USB Port
57.4 x 18 x 15.7 cm
Benefits
Extremely versatile
Beautiful machine
High Quality
Quick change tools
Cons
Difficult to use at first
Heavy
Cricut Maker vs Cricut Explore Air
The Cricut Maker is for the professional embosser who really takes his work seriously, the Explore Air is for the enthusiastic hobbyist, that's the best way to explain the difference in one go.
The Explore Air is a lot cheaper than the Maker, but you can only process 100 different materials instead of 300
You can't engrave and deboss with the Air while the Maker can
The quality is a lot less than the commercial quality of the Maker, but sufficient for an experienced hobbyist
Best value for money: Brother ScanNCut SDX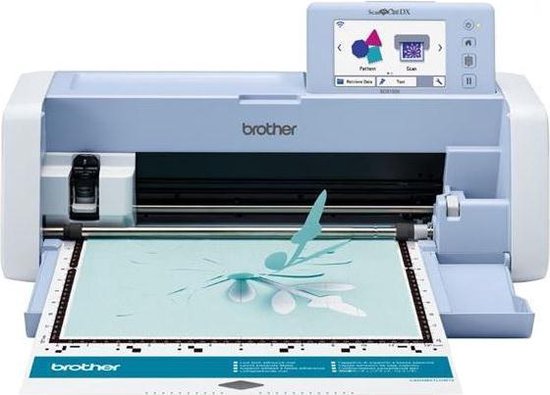 The Brother ScanNCut machines come with a built-in scanner and can scan and cut without being connected to a computer.
This is done very easily using the built-in display. The Brother range can cut the following materials:
Felt
Board
Paper
Read
Fabric
Chipboard
Vinyl
The Brother machines have built-in software that allows you to import SVG (Vector) files along with Brother's own files.
All models also come with 2 different cutting blades (Standard and Deep Cut) to ensure you cut completely through the material.
Another advantage of the Brother ScanNCut range is that it comes with an interchangeable pen set with which the machine can draw your design or make dots to indicate, for example, the seam allowance.
Finally, these machines can also be used as conventional scanners, so just swipe your document/photo through and it will be saved to a USB stick for you.
Scan your design with the Brother ScanNCut SDX to instantly convert it to a cutting file, and cut out your design.
No computer is involved. This lady explains exactly how that works:
You can tinker with up to 682 built-in designs, including 100 quilt patterns and 9 fonts, all with this Brother ScanNCut SDX.
Also read my tutorial on how to merge letters with the Brother ScanNCut
You can also add your own designs. The 5 inch touchscreen LCD is comfortable to use
Supplied accessories
Standard 12″ x 12 adhesive mat
Black pen and touch pen
Spatula
Accessory bag
76 Additional cartridges
Automatic Knife
Automatic Knife Holder
Sample carton
Advantages Brother SDX
Automatic material selection
Cut most materials effortlessly up to 3 millimeters
Disadvantages Brother SDX
The cost of replacement materials can be high
The initial setup of the machine can be tricky
Check the latest prices here
Best Electronic Cutting Plotter for Hand and Carving: Silhouette Cameo 4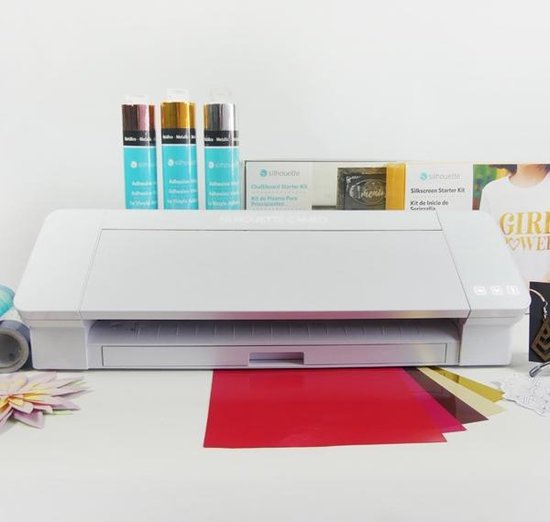 The Silhouette series is perfect for the hobbyist who just wants to design and customize their own project.
The Silhouette has long been regarded as one of the best electronic cutting plotters on the market, and is loved for its simplicity and easy-to-use design studio software.
This advanced software also makes it possible to trace and then cut out any image, it is perfect for logos and lettering.
The Silhouette cutting machines can also use any font installed on your computer.
As an added bonus, anyone who buys a Silhouette machine will receive a free new design every week through the Silhouette store, which every crafter will love.
The Silhouette series cuts the following materials:
Felt
Board
Paper
Read
Fabric
Chipboard
Vinyl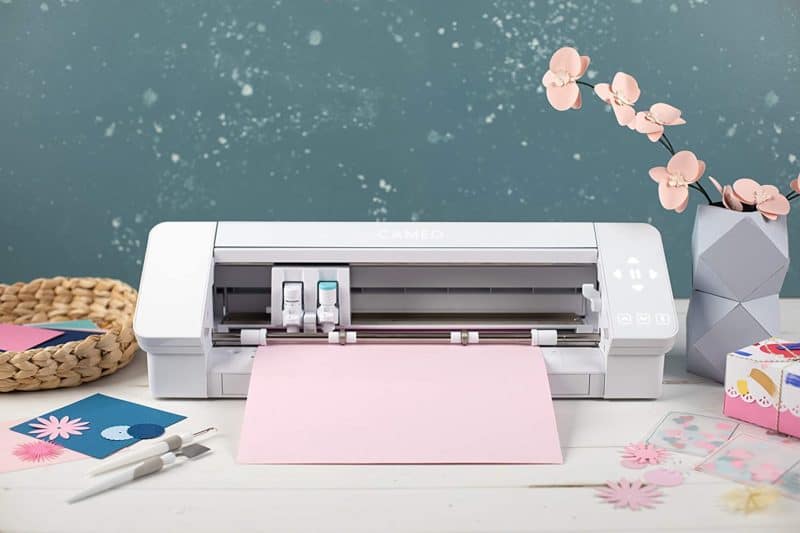 With over 1400 satisfied customers on Amazon, the Silhouette Cameo is not only a craft favorite, but also one of the best electronic craft cutting machines.
The Silhouette Camio 4 is suitable for more than 100 materials: it cuts vinyl, cardstock, vellum, acetate, paper, thin cardstock and much more. Customers rate this Cameo 4 a whopping 4,6 stars on Amazon.com
The machine can work wirelessly and has a cutting blade that changes automatically.
Overall, this is a great cutting machine and perfect for glass etching projects, cards, scrapbook pages, sketch designs, paper crafting, vinyl decorations and much more.
You get the Silhouette Studio design software for free.
Benefits Silhouette Cameo
Perfect for projects
Great Package Deals
Great on vinyl
Autoblade setting is suitable for different heights
Cons Silhouette Cameo
Low pressure cutting blade means cutting ability is limited to thin materials
instructions could sometimes be better
A customer writes:
The reason my first few projects failed was because I selected "Ratchet Knife" from the SEND menu. It looked like a ratchet blade with the numbering and lined lines. I was more surprised that the Cameo 4 did not initially recognize that the automatic blade was installed. I have reset the device to Auto Blade and selected SEND. The trial cut failed. The blade made movements as if it were cutting, but left no marks on the vinyl. Then I increased the cutting depth and tried again. This time I only saw a slight indentation in the material, no cuts. Here, clear instructions could improve the customer experience.
Check prices and availability here
The real beginner can handle the Gemini Mini, but if you want to do more or want to work hard materials like metal, you will want to choose the Gemini Junior.
Best Cheap Electronic Cutting Plotter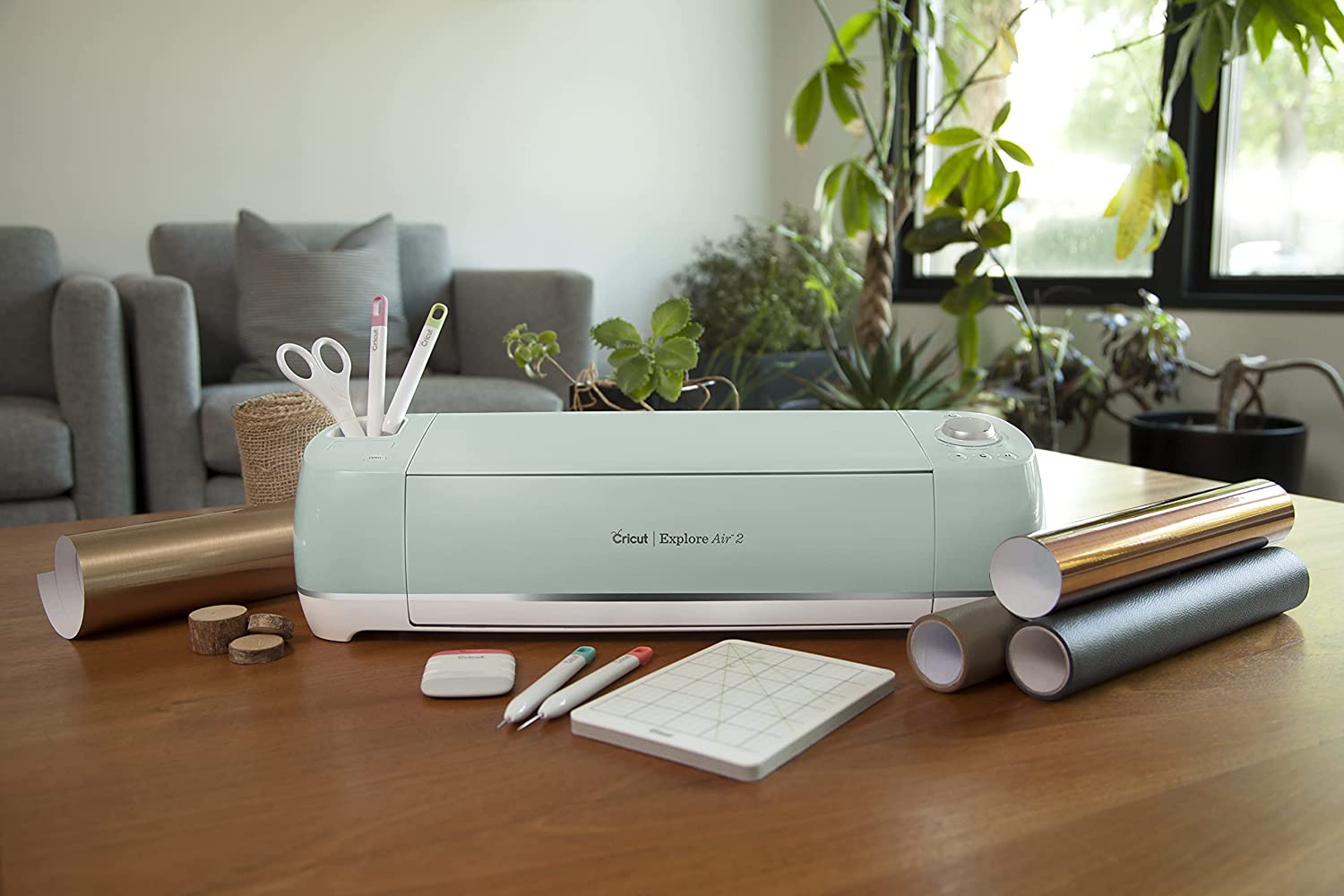 Best for
wireless bluetooth technology

has fast mode to cut and write up to 2 times faster
Less good
made for creative consumers, not really graphic designers

doesn't cut as many materials as the Cricut Maker
Many potential Cricut Explore Air buyers wonder if they can emboss with this electronic cutting machine. My answer is yes and a bit no.
Officially, Cricut does not have specific embossing tools for the Explore machines. The Cricut Maker, for example, does have a "debossing" tool, but it's not compatible with the Explore Air 2.
Fortunately, there are ways to get around this limitation and you can safely use both heat embossing and dry embossing with your Cricut Explore cutting machine.
They are fun and creative techniques that you can use in card making and scrapbooking.
This fast DIY machine – 2x faster than the Cricut Maker – combines time-saving performance with simplicity, cutting 100 different materials from card stock, vinyl and iron-on vinyl to a range of specialty materials.
Most important features
Fine-point knife included, for cutting all popular craft materials.
Fast mode for cutting and embossing up to 2 times faster.
Cuts over a hundred different materials: from cardboard, vinyl and iron-on sheets to specialty materials such as glitter paper, cork and glued fabric.
Technologically more advanced than his older brother
Benefits
Over 5000 accessible images
No complicated set ups – just use the button to adjust the material
Faster cutting speed compared to the previous model
Wireless use
Can cut and write in one easy step
Cons
You will lose all your images if you cancel your subscription
Some designs can be tricky
Finally,
As you have just read, there are many things to consider when choosing a cutting plotter. Check carefully which points are most important to you, so that you make an informed choice!
Every artist and every hobbyist has different demands on his cutting plotter, but I can guarantee you that you can make really beautiful pieces of art with these devices.
Have fun with your projects!
Also read: Crafts with a baby: did you know that you can start from 6 months?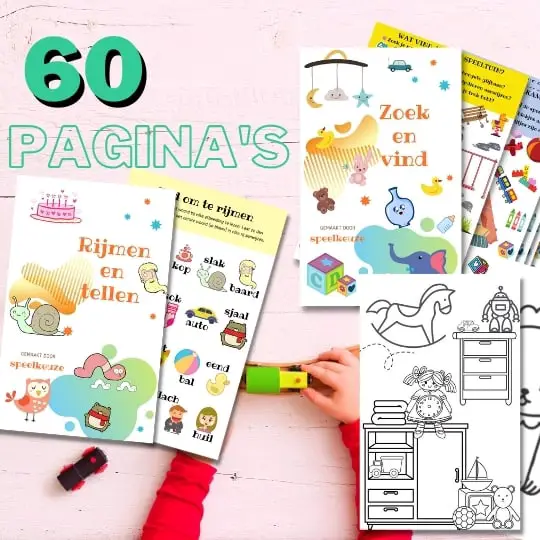 Always something to do for the holidays or rainy day?
Play Choice now has the ultimate activity book collection, with over 60 pages of fun coloring pages and educational puzzles.
Joost Nusselder, the founder of Speelkeuze.nl is a content marketer, father and loves trying out new toys. As a child he came into contact with everything related to games when his mother started the Tinnen Soldaat in Ede. Now he and his team create helpful blog articles to help loyal readers with fun play ideas.