Wooden Train Sets: 11 Best From Small to MEGA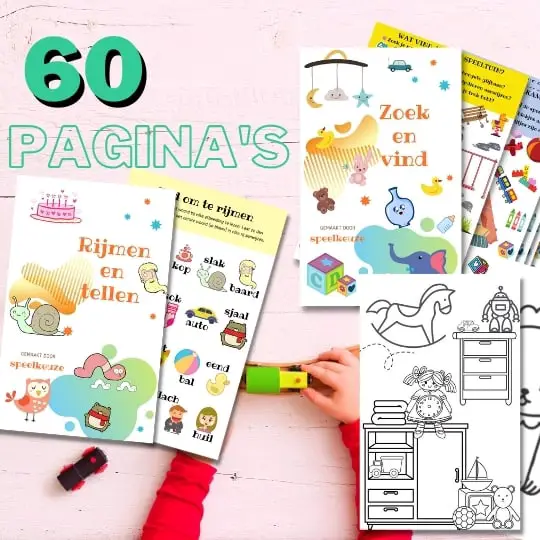 Always something to do for the holidays or rainy day?
Play Choice now has the ultimate activity book collection, with over 60 pages of fun coloring pages and educational puzzles.
A wooden train set has wooden rails that usually fit those of other brands. The locomotive and wagons are also often made of wood, but that's not always necessary. While playing with a wooden train set, your child can learn countless useful skills and their vocabulary and spatial awareness will improve enormously.
They'll have to rely on hand-eye coordination and puzzling to place the rails correctly. A larger wooden train set is perfect and can teach your child the following things.
building and setting up train tracks (together), how does your little one put the rails together?
Name the figures, animals, vehicles, buildings and environment (tree, mountain, river, etc.)
naming colors
making and naming sounds
show associated professions
make up a story together about the environment
Not every wooden train set is the same, so in this article I'll help you choose with extensive comparisons. Choose below which information you are specifically looking for.
When ranking the train tracks on this list we use our "Toy score". This is based on the play value, price/quality, replayability, safety, durability and the materials used. The playing value, together with the price-quality ratio, is the most important thing. After all, the train track should be fun to play with and if it is too expensive, no one can afford it.
With wooden toys, the materials used and durability are also very important. Most wooden train sets are suitable for children aged 3 and over, but this varies per set.
The great thing about wooden train tracks is that they are universal. All major brands therefore fit together, with the rails, trains and wagons, as well as the accessories and extensions.
Below you'll find the reviews of the 11 best wooden train sets.
1. BigJigs Mountain train set (BJT016)
From: 3 years

Best: 4 – 6 years

Up to: 7 years
The play value of this mountain set is extremely high. The degree of open end is enormous due to all the accessories supplied. You can build the train track, play with it, there are dolls for fantasy play and everything appeals to the imagination.
For example, there are children and a grandpa and grandma, and my son plays that the children go to visit by train. The possibilities with the set are endless, but it is also easy to combine with other train tracks. For example, I expanded it with a Brio track. In addition, a train set can also participate in almost any other fantasy game. That also makes the replayability high.
Only when the ease of use was higher could the set have an even higher play value. Building with the bridge pieces and the mountain is fun, but playing with it is difficult because the bridge often collapses. Sometimes this causes frustration, but luckily it usually becomes part of the game.
Social interaction is high. I like to play along and because it's such a big set, friends who come over can always join in without getting in each other's way. Furthermore, there are some interactive elements such as the crane that can hoist, and the figures have a nice appearance.
It's not for nothing that they have already won the Independent Toy Awards, and with a versatile set like this you can't miss for hours of fun.
2. Brio Railway Starter Set 33773
From: 2 years

Best: 3 – 5 years

Up to: 6 years
The Brio Railway Starter Set 33773 is a set for the smallest children. With 26 parts such as a tunnel/bridge, 3 train sets, 3 figures and 16 track pieces, there is plenty to do and this really appeals to the imagination.
It's quite lightweight and everything fits easily back into the box so you can take it with you, and because you can combine it with other toys or train sets it has great replayability.
The material is sturdy as you would expect from Brio, but it still contains a lot of plastic. It loses some points in material and durability.
3. Kidkraft Adventure Town Train Table
From: 3 years

Best: 3 – 5 years

Up to: 6 years
The Table With Waterfall And Mountain Train is a great gaming table with a huge landscape with a train track running through it.
Along the way, the train will encounter a waterfall, but also mountains, forests, a bridge, a police station and much more ... This solid 120-piece train set lets your child experience great adventures!
A large yellow crane lifts the load from the train, a helicopter flies overhead, there is so much to do! A red speedboat is waiting in the lake to go sailing.
Here you can see how to assemble it and what is included:
Is it dinner time yet? Then your child has to tidy up, and preferably quickly.
The entire set fits in the practical, extendable storage bins under the table. The train table (more good ones here) empty.
The accessories have beautiful, bright colors and the game table is solid and large enough to play with all friends.
This set is perfect for kids aged 3 to 6, but they do need help setting up the table.
Attention Parents: Please follow the detailed step-by-step assembly instructions for the console.
Setting up the track and also cleaning up can be done by the child himself, because of the large bins under the table.
4. Brio Farm Train Set 33719
From: 2 years

Best: 3 – 5 years

Up to: 6 years
On the red-black-yellow BRIO Train Set with Farm, the cow and horse are grazing in the meadow, while the red tractor is making hay.
The crane lifts the hay up to the hayloft, where it stays nice and dry.
When it's time to bring the animals in, your child can put them in the wagon and transport them to the stable by train.
This set is easy to set up for a 3 year old. The pieces are a bit bigger, but your child is still challenged in his hand-eye coordination and in his creativity.
In this video Brio shows how it works:
The set can be expanded for not too much money with, for example, the Magnetic bell signal (how cool?) And the red Train of the fire department.
5. Tiny Land 39-piece Bridge Set
From: 2 years

Best: 3 – 5 years

Up to: 6 years
This 39-piece track with bridge and train from the Tiny Land brand is a beautiful building toy for 3+ children.
The rails are universal and fit well on all other brands, the set comes with train and train wagons. All items have a cheerful appearance and are colorful, this set inspires your child's imagination and spatial logic.
Tiny Land toys meets all US safety requirements; the brand is known for the fact that all materials used are safe and non-toxic.
Your child could build the set themselves. Does this not work the first time? Then show how to work small. There is a good chance that he can do it all by himself the second time.
This luxury train set stands for hours of fun and many learning moments and comes with a colorful storage box.
In this way, your child can easily tidy everything up again and possibly also take the set to a guest address.
6. Melissa & Doug Take-Along Railroad
From: 2 years

Best: 2 – 4 years

Up to: 5 years
A very nice one, this Melissa & Doug wooden train track.
A simple and solid wooden platform with preformed rails that your little one - from 3 to 6 years - can play with independently.
Simply fold the set - it becomes a portable briefcase - and take it with you to your boyfriend or girlfriend.
That also makes it a very fun game to take with you to a sleepover!
Experience all kinds of beautiful adventures with the trains, houses and animals.
Of course this track does not fit on the other sets because it is a closed system in a take-away box.
7. Hape Grand City Railway Station E3725
From: 3 years

Best: 3 – 5 years

Up to: 7 years
In 2018, this fantastic set was chosen in several countries Toys of the year.
This wooden railway with stations of the Hape brand has no less than two floors and a lift for the passengers.
It is suitable for children aged 3 and up and will require some help from parents to set up the set the first few times.
What a luxurious set and how many nice extras: real train tickets for the travelers and a display board with lighting.
Hape has a huge train collection.
Your set can be nicely expanded - for little - with the Hape Big Engine Shed, the perfect place to park your trains after a long working day.
The train house has three tracks and fits perfectly with your Hape railway set. All Hape sets are made of solid wood and treated with a child-resistant paint.
The bright red Hape Extended double suspension bridge bridges the gap in your child's track, allowing the trains to continue safely.
The bridge is also made with sustainability in mind and meets international safety and quality requirements.
This item is suitable for children from 3 years old. An exciting addition to any train set!
The Hape brand stands for non-toxic substances and child-resistant materials.
8. Bigjigs Rail Safari
From: 2 years

Best: 3 – 5 years

Up to: 6 years
The best train track set with wild animals!
The safari train leaves for a great adventure. Along the way you will encounter all kinds of wild animals, such as a monkey, a giraffe and a beautiful lion!
This 38-piece wooden track set features a locomotive with two carriages, as well as wildlife including an elephant and a zebra.
Did you know that there are all kinds of extra accessories available to expand this set? The rails can be expanded with, among other things, the BigJigs Rails Expansion Set.
The train set is suitable for children aged 3 to 6 years.
9. Brio My First Battery Operated Train Set 33710
From: 1 years

Best: 2 – 3 years

Up to: 3 years
This First Battery Operated Train Set is for the smallest children from 18 months. It has 25 parts including a motorized train with wagon, 9 wooden train track pieces, a tunnel and elevations.
The ease of use is great and that is necessary to make it suitable for toddlers. The train can be turned on and off with one button and the elevations are very sturdy and click into place on the train track. Because there is not much else included, it is slightly less open-ended than other sets, but it still appeals to the imagination.
The replayability is also very high because it is easy to combine. The track pieces fit on other Brio trains or those of other brands. The materials used are somewhat inferior. Sturdy and safe, but it contains a lot of plastic. This is a nice first electric train set to give.
10. Kidkraft Construction Train Set with Storage Box
From: 3 years

Best: 3 – 5 years

Up to: 6 years
This Kidkraft Construction Train Set has a handy storage box with the mountain as a lid. This makes it very easy to store and take the 61 parts with you.
The play value is high, especially because there is so much to do. This gives a lot of open-endedness and the construction site really appeals to the imagination. The ease of use is somewhat lower because the tap can be difficult to operate, especially for smaller children.
The portability also makes the replayability high and the set is easy to combine, because the pieces fit all other major brands. Plus there are many loose figures and vehicles included to use in other fantasy play.
The materials used could have been a little better. There is a lot of plastic in it, but the wood is sturdy and the set will last a long time.
11. Tooky Toy Prehistoric Train
From: 2 years

Best: 2 – 4 years

Up to: 5 years
This prehistoric train set from Tooky Toy has wooden train tracks and play figures. This makes it a nice complete set for anyone who loves dinosaurs.
The subject appeals greatly to the imagination and leads to a lot of open-ended play, especially because of the bright colors. The ease of use is also high, despite the fact that the figures sometimes want to fall off the train.
The ability to put the figures on the train and the nice backgrounds also make it easy to combine with high replayability. Only the portability of the set could have been a little better as it does not come with a handy box.
The materials used, although wooden, also leave a little to be desired. For example, the paint comes off easily and the price-quality ratio is therefore somewhat less. But it is a very large set for an affordable price.
How do you determine the quality of wooden train tracks?
Wooden train tracks withstand a lot of rough and intense play, often from a whole host of siblings to last for years and years.
When ranking the toys on this list, we use our "Toy score". It's based on the following components, each with its own weight.
Play value (30%)
Price/ quality (30%)
Replayability (20%)
Safety (10%)
Sustainability (5%)
Materials (5%)
The playing value, together with the price-quality ratio, is the most important thing. After all, the train track should be fun to play with and if it is too expensive, no one can afford it.
The play value assesses the product on the features that make it fun to play with. These are ease of use, degree of open-endedness, imagination, social interaction, interactivity, versatility and aesthetics. When a toy is easy to use and understand, is attractive to the child and there are many opportunities to make up your own play with it with open end and imagination, it will be played longer with a higher quality of play.
The value for money is a score based on the ratio of the quality of the toy to the price of the item. This ratio determines how much value you get for your money, in play value and in the intrinsic quality of the item such as the materials used.
Replayability rates the product for features that will ensure it's used again and again. These are ability to combine, portability, longevity, durability and versatility. When the toy can be used everywhere, can also be combined with other toys and lasts a long time, its replayability is high.
How do you determine the quality of wooden toys?
The safety assesses the extent to which children can play with it unsupervised. Safety features such as rounded corners, toys that are not too heavy, no small parts, no parts that can easily come loose and non-toxic materials are important here.
Durability scores the toy on how well it can last through play sessions. Sturdy material, but also sturdy connections and fastenings are decisive here.
Materials are understood to mean all the material that is processed in the product. These are the main components, such as the type of wood in wooden toys. Other materials are also included here, such as the type of paint. The environmental friendliness of the materials is also taken into account in this score.
At good wooden toys The type of wood is very important for the quality. MDF is of lower quality and although some consider it more environmentally friendly, toxic glues are used during production. It is often a lot cheaper than hardwood. MDF is good for value for money, while hardwood is good for durability, safety and play value.
What age is best for wooden train sets?
Most wooden train sets are suitable for children aged 3 years and over. However, always check the age, for the safety of your child. Pay attention to small pieces and, if necessary, keep them separate for young children.
A train set gives your child the opportunity to have fun and develop communication and interaction skills while enjoying pushing the train across the track.
Make sure you choose a set in the correct age category and also whether any expansion is possible.
Is the train set solid? With wood we actually know that the quality is good toys buys. Wooden toys is practically indestructible and often lasts for generations.
Which wooden train set brands fit together?
If you want to expand your train set with a set from another brand, pay attention to whether the rails fit together.
If you want to buy additional accessories, you can easily combine the following brands:
BigJigs
VERVE
Eichhorn
Janod
KidKraft
Mentary
Hape
Bandits & Angels
waytoplay
No one rail is completely identical, but that does not mean that the brands do not fit or connect.
Perhaps the pieces do not always connect seamlessly, but the train will be able to pass them without many problems.
They are interchangeable with each other, which means both the trains fit on the tracks of other brands, if the courses can click on the courses of other brands.
Unfortunately, not all train tracks will fit the above brands.
The train track of the Ikea children's department, for example, can cause problems, it is sometimes difficult to get these pieces of rails in and out of each other.
I have found that the following wooden train tracks do not fit well on the aforementioned brands:
Lillabo from Ikea
Playtive wooden train track from Lidl
Hema train set
These sets would work well together again.
Do accessories fit on all wooden train sets?
The accessories of the large wooden train brands fit any of the other brands. You can use extensions from Hape, Brio, Thomas the Train, Bigjigs, Melissa & Doug and many more brands with the train tracks from each of these sets.
Each brand has its own style, so you can choose exactly the wooden train track accessories that suit your ideal layout.