14 Best Wooden Toys For Toddlers & Preschoolers: Ages 3, 4 & 5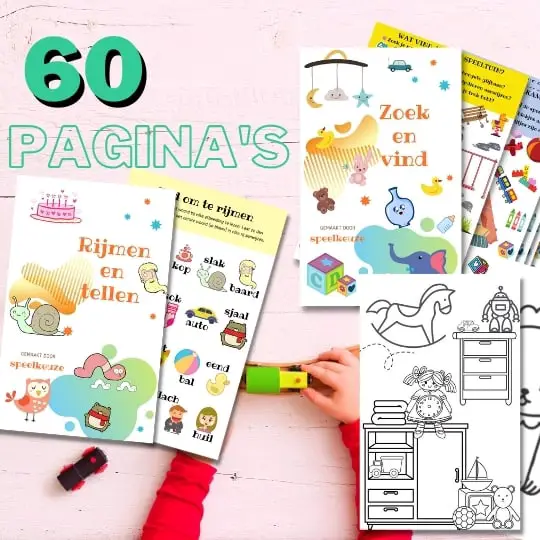 Always something to do for the holidays or rainy day?
Play Choice now has the ultimate activity book collection, with over 60 pages of fun coloring pages and educational puzzles.
Toddlers and toddlers are tired of just grabbing large blocks, they now want to do things with them!
Puzzles and building blocks are the most fun, the sweetest with challenging games like these wooden stack animals from Le Toy Van. Really great at this age and something they can also use perfectly in pretend play.
In this article I take you into the best wooden toys about this toddlers and toddlers.
Let's take a look at the top options first. Then I'll dive deeper into each of these choices.
Wooden toddler and preschool toy buying guide
They develop so much in this phase of life. But few toys remain fun from toddler to preschooler. When they first go to school, they change very quickly.
The first thing I looked at is therefore the age. Does it suit their development and interests?
In this overview I have arranged the sets by age category:
Replayability
Is it fun to play with? That has to do with the ease of play without frustration and the accessories that come with it.
I've rated each set for replayability on a scale of 1 to 5 to give you an idea.
Sustainability
Once you have a set that your child likes and is age appropriate, you want them to be able to play with it for a while.
That's why we've rated each set for durability. How long will it last without breaking.
Some sets, such as the Melissa & Doug workbench, are quite sturdy, but not sturdy enough to handle 6-year-old children's hands.
Other sets are made to last a little longer, such as Le Toy Van or the Tender Leaf dinos.
Sustainability is also rated on a 5-point scale.
Best Wooden Toys for Toddlers & Preschoolers Reviewed
A stacking set made of sturdy wood. This kind toys is suitable as a game for hand-eye coordination and dexterity, but you can also simply use the pieces in pretend play.
There are 9 cute animals, here more in the forest theme than wild nature as the Crocodile Creek animals.
Children can play with it quite early, but stacking becomes fun from 3 years old.
It is quite a challenge to balance the animals on each other, and I actually enjoy doing it myself. You can come up with the craziest combinations.
From: 3 years

Best: 4 – 7 years

Up to: 8 years
Grimm's is the inventor and maker of the original rainbow stackers. It is very very sturdy wood made and you can feel it.
It is pricey. Very pricey. But it is good wood and you feel it wood and the grain through the paint. This helps with children's sensory experience.
Due to these characteristics, the play value is very high. It is also an award winning toy as winners of the Spielgut seal for its educational value.
This is the kind of toy that gets picked up again and again and will last for generations.
A handy take-away box that also serves as the zoo. Very handy set to take on holiday or to grandpa and grandma to play.
The box itself is made of cardboard but also very sturdy. Even playing vigorously won't destroy it.
From: 3 years

Best: 4 – 6 years

Up to: 7 years
The play value of this mountain set is extremely high. The degree of open end is enormous due to all the accessories supplied. You can build the train track, play with it, there are dolls for fantasy play and everything appeals to the imagination.
For example, there are children and a grandpa and grandma, and my son plays that the children go to visit by train. The possibilities with the set are endless, but it is also easy to combine with other train tracks. For example, I expanded it with a Brio track. In addition, a train set can also participate in almost any other fantasy game. That also makes the replayability high.
Only when the ease of use was higher could the set have an even higher play value. Building with the bridge pieces and the mountain is fun, but playing with it is difficult because the bridge often collapses. Sometimes this causes frustration, but luckily it usually becomes part of the game.
Social interaction is high. I like to play along and because it's such a big set, friends who come over can always join in without getting in each other's way. Furthermore, there are some interactive elements such as the crane that can hoist, and the figures have a nice appearance.
It's not for nothing that they have already won the Independent Toy Awards, and with a versatile set like this you can't miss for hours of fun.
Maybe more of a creative game than a hammer game, but it's a lot of fun to do and hammering straight is also fun for kids.
You have pirates and their accessories from wood and hammering cardboard on a cork board. Very fun to do and you can make a lot of creative scenes.
It is really hammering and therefore suitable for children from 6 years.
Some parents give it to younger children, but they can hammer their hands.
There are 4 examples included so you can get through them quickly. But it's also just as fun to come up with things yourself. You could also add commands for them to perform.
A big minus is the cork board. Not really big enough to lay out everything you can think of and even making the examples is very difficult.
Still a very nice set that can keep them busy for quite a few creative hours.
Cause and effect because you press the toaster and a delicious toasted sandwich pops out.
But it is also very good for fine motor skills. There are 10 accessories included. Bread, but also butter for cutting.
Such toys is great fun for the play kitchen or other toys to eat. I don't know how much fun it will remain if this is the only thing toys food is what you have. Then it is a bit of a strange separate set.
Hape toys is always very sturdy and this is no exception.
It is suitable from 3 years, it says on the box, but there are actually no small parts, so a younger child can also play with it.
The buns don't go all the way into the toaster, so it's not 100% just right. That might be a bit of a shame.
But a very nice addition to your play kitchen.
If you want to take the construction game a little more literally, you can go to Melissa & Doug's workbench.
It includes 4 tools and a vise to play pretend play for woodworking.
The set has a total of 62 parts. In addition to the tools, there is a lot of building material such as rings, screws, nails, planks and blocks.
There is a lot to do with it, and the creations also often participate in fantasy play such as running police and building bridges.
The Melissa & Doug Workbench is a nice piece toys for children somewhere between 2 and 5 years old and the best between 3 and 4 years old.
There is a lot to build with and the quality is good, but the age limit is really the age limit. If your child is older, they will probably break it.
Suitable for: from 3 years
The Melissa & Doug vacuum cleaner is quite different from the others on this list, but that is also a lot of fun!
So it is made of wood if you like wooden toys this is also a nice choice.
It doesn't really have suction, but it's more like a game where you have to "suck" the popcorn, pretzels and more by going over it with the machine.
As soon as your child does that, the piece of dirt, which is also all made of wood and looks very cute, will be picked up by the bin.
This beautiful, fold-out Melissa & Doug Dollhouse from wood is suitable for children from three years.
The house has two floors and is painted in a delicate complexion. Very stylish and with many windows with shutters.
There are a lot of accessories such as a sofa, easy chair, cupboard, bed and a TV furniture. Plus 2 dolls to play with.
A very nice set that they can play with for a long time.
The best wooden children's kitchen that I found is this one from New Classic Toys, and not that expensive at all, which makes it the best price-quality ratio choice.
There is plenty to play with the included pans, ladle, spatulas, pepper pot and salt shaker and even plates. A whole lot of accessories that you don't see in every kitchen, and all of them wood (except for the removable metal sink).
The tap can rotate and the metal countertop is removable. There are storage compartments for the plates at the top plus room for more. In addition, there is a microwave with magnetic closure and rotary knob.
The hob is plastic and may glow red and make noise. Below that is the oven with rotary knobs and more compartments for storage space.
Where the kitchen excels in particular is in the solid rotary knobs of the oven that actually click so that you have the feeling that you are actually setting an oven setting.
A very nice set for a good price. I think they saved on the right things and gave the most important thing a lot of attention.
What a nice set for children from 3 years old. A little younger is also possible, but then I would stick with it.
Pretend play starts at about 2,5 so before then they will be walking around or sucking on it on their own anyway.
Due to the sharp corners, it is slightly less suitable for this.
The 8 pieces are made of durable wood and it feels like it will last a long time. Maybe even for the grandchildren :)
Tender Leaf is a good brand that wooden toys makes renewable rubber trees, so that is certainly another plus.
The size is just right for toddlers to play with.
This is the kind of car I want my child to play with. No, I want to play with it myself! Beautiful classic vehicles in soft pastel colours.
Especially with such an outspoken model it is good to have a set to be able to play with it together.
Sure, other cars often join the game, but they often end up together in one way or another.
They are an Independent Toy Award winner, painted with non-toxic paint and made from renewable rubber trees.
Just the right size for small children's hands. Great quality for an affordable price.
The Haba animal feed game is already suitable for your 2-year-old child. Your child must find out what the cat, turtle or mouse is eating.
The animal cards, the wooden pieces, the shape and color cards must be properly sorted by your little one.
Children have to appeal to their memory with this game to make as many sets of animal cards and color cards as possible. This game promotes their speech and animal knowledge.
The game comes with 5 wooden pieces – 1 carrot, 1 sod, 1 fish, 1 piece of cheese and 1 bone – and 5 animal cards, 5 shape cards, 5 color cards and 1 manual.
Children therefore tell each other which different types of food, animals, colors and shapes there are and which ones match.
The cards are mixed up and at each turn one is turned over, the children tell which animal it is or what color the card has.
Whoever finds both the correct color and the correct animal card with his own food card wins the game.
The game can be played with up to five people and only lasts about five minutes. I also like to play it with my toddler.
The game is made of beech wood and cardboard.
Kinderfeets has great ones wooden products and the Balance Board is one of them, the other is a very nice cargo bike balance bike for children from 2 that I will discuss in a moment.
The wood have kept them quite natural and a bit rough to the touch, perfect for children who are sensitive to different textures and also useful for them to get a grip on.
Many of you may have heard of a other balance board, and that one does have the option for a felt bottom while this one doesn't, so you could wooden If you have floors, you might want to go for this wobbel board.
For the rest, the wobbel boards are slightly smoother and better finished, but also slightly more expensive. For me the choice would mainly come down to price and the option for a felt bottom at the front wooden floors.
Conclusion
For good toys for toddlers and toddlers, you not only look at the age, but also whether it is safe and educational. After all, that is the toy that they enjoy the longest.