I enjoy writing these articles for my readers, you guys. I don't accept payment for writing reviews, my opinion on products is my own, but if you find my recommendations helpful and you end up buying something through one of the links I may be able to receive a commission on that.
More information
There is something very special about a beautifully crafted wooden toy, good wooden toys have a timeless look.
Admittedly, they often cost a little more than their plastic counterparts, but they look great and just feel great.
In this guide I explain what to look for when buying wooden toys, which types of wood are suitable and which are the best brands.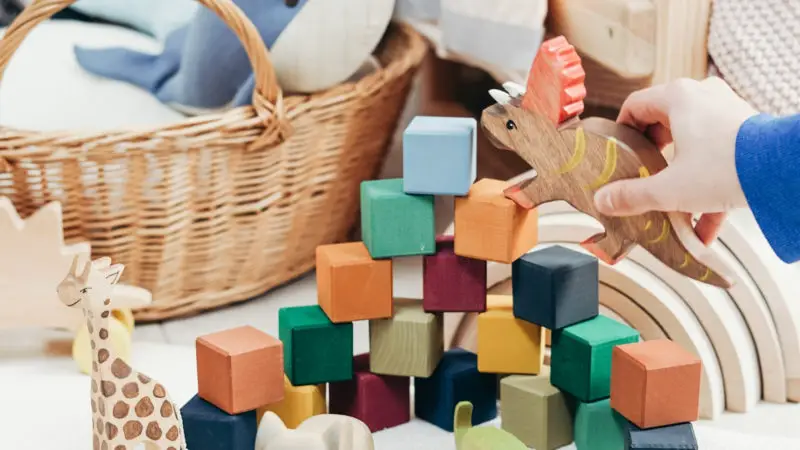 Wooden toys withstand a lot of rough and intense play, often from a whole host of siblings to last for years and years.
Quite a different choice than, for example, electronic toys.
I'll be looking at more of the best wooden toy brands in a minute (my favorite brand is plantoys!)
But I know a lot of you also come here for inspiration for fun and educational toys or for free school or montessori, for example.
I will start with the best wooden toy brands, but feel free to click to a part of this article that you want to read more about.
What do you look for when buying wooden toys?
Look for products made from solid wood (not pressed), combined with other sustainable materials such as:
wol
organic cotton
or stainless steel
and colored with water-based paints or non-toxic paints.
Research where toys are made and to which ones safety standards they comply.
Toys that are made with safer materials are also typically more expensive.
That is unfortunately a fact.
However, they are also usually of higher quality and thus last much longer and can even be passed on to future generations.
So maybe it's not such an expensive buy after all :)
Good wooden toys also provide a direct connection to the natural world. Wooden toys have a calming effect on children and stimulate concentration and imagination.
Today, it seems like every toy manufacturer makes their own version of a classic wooden toy.
As a result, people often ask what the difference is between wooden toys of € 5 and wooden toys of € 50? Or is there really a difference?
Good question!
The answer is yes, there is a difference. There are several components to consider when selecting wooden toys:
the wood itself
the glue used to join pieces together
the sealant and / or paint
and any other pieces / components of the toy, such as metal pins, cotton cords, etc.
Which wood is suitable for toys?
For the wood, always look for toys that are made of solid wood, as opposed to pressed wood, plywood or MDF, which are much cheaper materials but require the use of toxic glue during production.
This type of glue contains formaldehyde, a volatile organic chemical (VOC) that will release gas (this chemical will emit as a vapor for a long time) and eventually be linked to a variety of health problems, including leukemia and cancer.
We live in a disposable culture and often buy products made from cheap single use materials.
We have completely moved away from sustainability and quality, and the products we buy are suffering.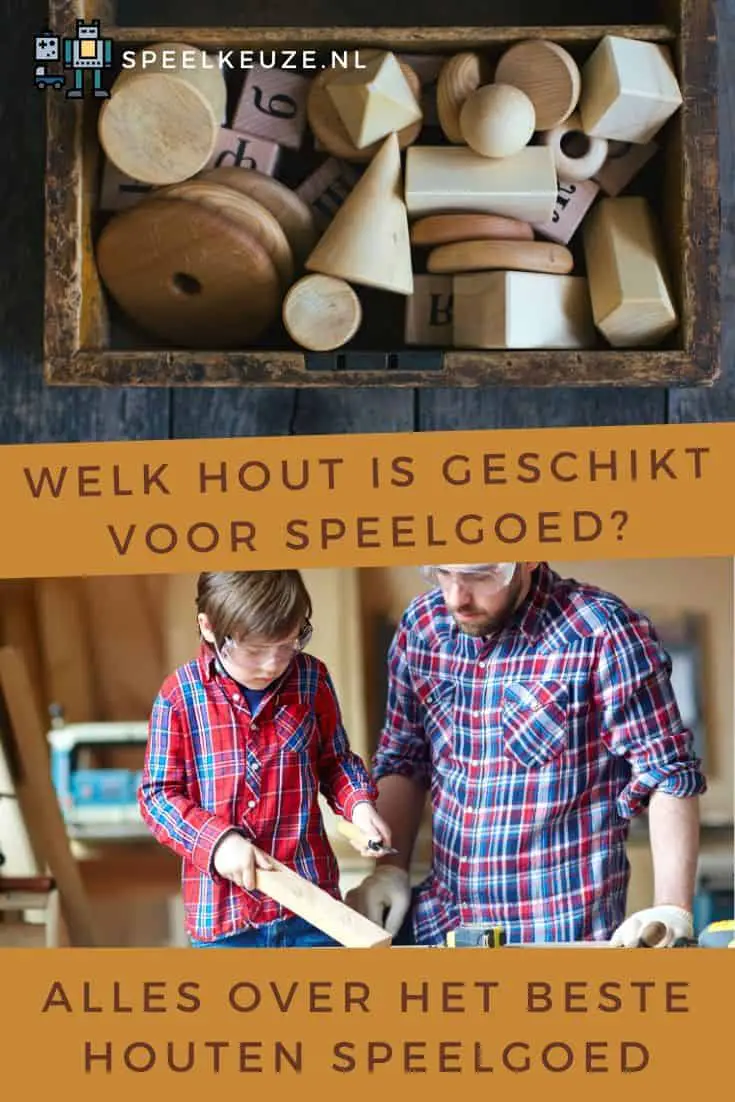 Toys were once made of more durable materials for long-term use, but are now usually made of cheaper and less durable materials for
lower product costs
lower consumers
prices and greater profits for the manufacturer
As a result, disposable diapers are one of the largest single consumer items in landfills and far too many toys are also quickly thrown in the trash.
Fortunately, some toys will last for generations. Many such products are well-made wooden toys made from the finest materials.
These wooden toys may cost more than a piece of disposable plastic toys, but your child will always have fond memories of playing with them, and will also have a great time watching his or her own children play with the same toys.
We even have this whole article about cleaning wooden toys so that your kids will enjoy them for a long time.
When a true wooden toy craftsman takes care of what is made and uses the best possible wood material, the result is a better toy that can be passed down for generations.
Such a toy is an investment in your child that is healthy, safe and worth the money.
The best wood for better toys is high quality hardwood, such as
Maple
birch
oak
beech
walnuts
poplars
eat
Although hardwood is more expensive, it remains the best choice for making toys that will last.
Softwoods such as pine and spruce are cheaper, but they also break more quickly and when they do, the splinters are dangerous.
Of the hardwoods recommended as the best wood for better toys, maple is a favorite that is unlikely to produce splinters, resists drooling, and is hypoallergenic.
Birch is often used in instruments such as guitars and drums.
Oak is legendary for strength and water resistance.
Look for wooden toys made from hardwoods like this one from trees with wide leaves, and prefer to skip wooden toys made from softwoods from trees with needles.
Hardwood is a good choice for wooden toys because they are denser and therefore more resistant to wear and tear.
What glue is it attached with?
In production, glue can also be used to hold different parts of a toy together, so it's best to look for toys made with formaldehyde-free glue.
Formaldehyde has finally made it onto the list of carcinogens, even after decades of pressure to draw attention to its toxicity.
Sealant / paint
When it comes to the sealant and / or paint, we recommend looking for water-based or food grade dyes, paints and sealants.
You have to be careful because conventional sealants and paints can contain lead and other heavy metals, which can cause serious limitations in the developing brains of babies and children.
When buying wooden toys that have not been painted, look for finishes made with vegetable oils (e.g. beeswax, jojoba oil) instead of polyurethane finishes.
Other components
And finally the other components.
As with researching wood, sealants and paints, you want to make sure that any additional components are also free of harmful materials and chemicals such as lead, formaldehyde, PVC, etc.
Which are more the norm when made by hand by an experienced craftsman, able to make intricate (but durable) joints without the use of adhesives.
The good news is that with the increasing number of healthy and safe toys today, you don't have to sacrifice safety for fun, beauty or durability.
The even better news is that what's good for our kids and family is usually better for the planet too, which is always a good thing!
Wooden toy brands extensively viewed
Most Colorful Wooden Toys: Grimm's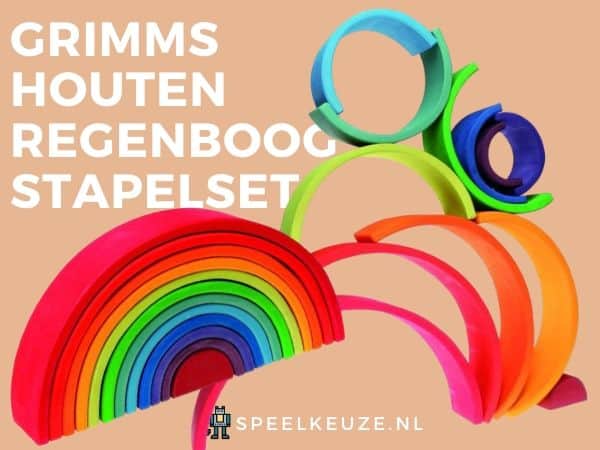 The Grimm's rainbows are infamous. They are handcrafted with simple designs before being hand-dipped in non-toxic food coloring.
This gives them an instantly recognizable style; matte, structured and lively.
The rainbow is one of the most famous pieces; available in the original colors, pastels, monochrome or natural versions, they are a classic.
Grimm's, certainly a great choice when it comes to wooden toys!
Did you know that Grimm's is inspired by Waldorf and Montessori education?
It is super durable, ecologically sound and all hand-made toys from Germany.
You may have already considered buying these for your little one. We say do!
Your child can really build anything with it, on the internet you can find a lot of inspiration about play options with these beautiful wooden arches.
Beautiful, but at the same time very simple, this rainbow toy set from Grimm's and that is what the brand stands for.
With this construction set of 12 curved boards you can come up with new constructions and designs. Check out Instagram for inspiration!
De rainbow is made of lime wood and lime wood treated with colored ecological varnish. As a result, the original wooden structure remains visible.
The product matches great with the various Grimm's building sets and accessories, such as the Grimm's Building Boards and the Grimm's Rainbow Balls. These are also available in different color combinations.
It depends on what your child likes and which colors look great in the nursery.
The rainbow is very decorative in any color, so even if it is not played with for a while, it is not wrong.
But how exactly should you use Grimm's rainbow? Grimm's rainbow looks beautiful, but the real fun starts when you let your little ones loose on it.
It's instantly transformed into a series of tunnels and bridges for cars, a stacking set, curves to rock on the ground, or even bits to hit your dad with, if your kid is a bit like mine.
Here's Yael Haller and Levi with a rainbow set trick:
You can also combine these bows very well with other Grimm's toys, for example with the nice 5 math friends in a wooden tray or the Grimm's cars.
Because all toys can be combined with each other!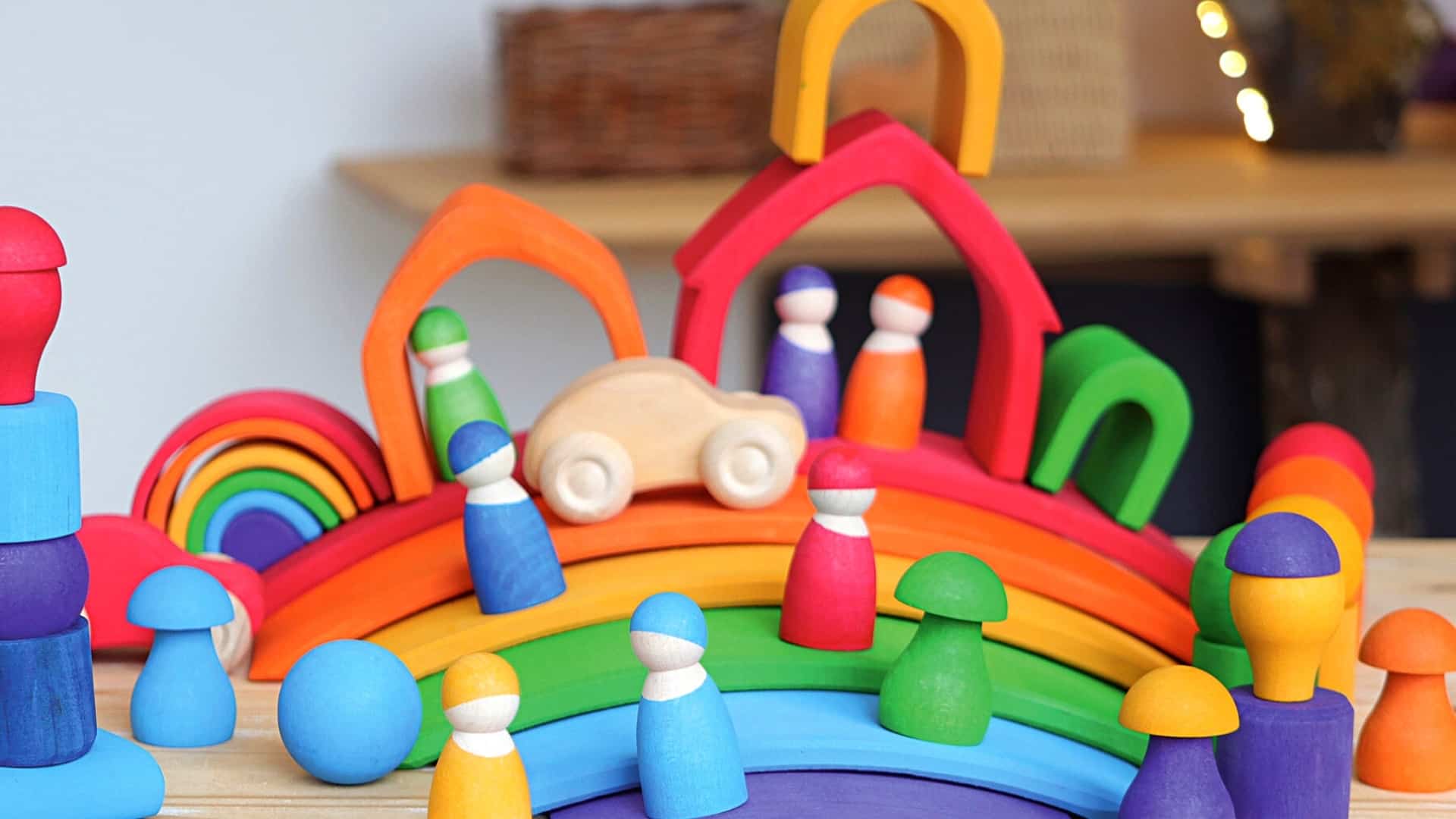 What is really nice about it is that the toy can be used in so many different ways.
What's so beautiful about Grimm's toys?
Grimm's designs are deliberately kept simple. Children have the space with these toys to develop their imagination to the maximum.
Because the wood is only stained, it retains its soft, natural texture.
The stain that Grimm's uses is biodegradable and the natural scent of the wood is retained after processing.
The wood grain and structure are also preserved as much as possible. This wood is suitable for 'tasting' and for biting. The woods used - from European forests - also have antibacterial properties.
All Grimm's toys are carefully sanded by hand into soft shapes. The paint or stain is water based and the items are hand painted and then put in the vegetable oil.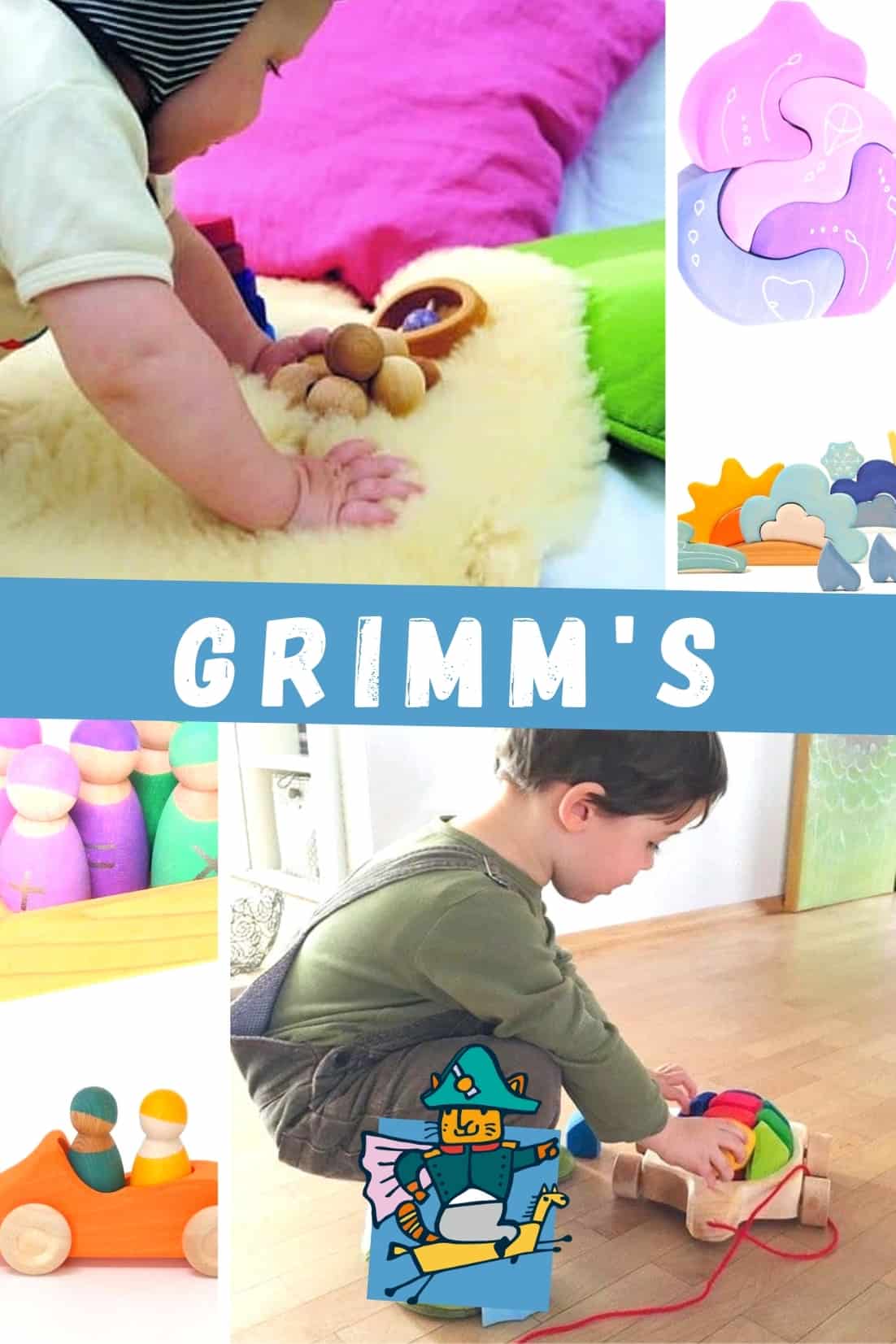 It couldn't be more natural, that's why it's not a problem if your little one wants to suckle on these toys.
Do pay attention to the size of a toy, after all, you do not want your child to put something in his mouth with the risk of choking.
With Grimm's toys your child lets his imagination run wild.
Your little one starts, without a real goal, just playing with the 4 pink-purple pieces and sees where the ship ends up.
For example, you have building blocks and puzzles, and it doesn't matter how it is put together!
Grimm's toys: responsible, safe and beautiful
What comes to the fore in Grimm's range of wooden toys are the simple shapes, beautiful colors and natural materials they use.
The shiny, vegetable oils keep the surface of the wood alive and you can still see and feel the structure.
All toys have a slightly rough, yet velvety surface that feels very nice for children.
It also makes building easier, because the blocks of wood don't slide off each other easily.
Grimm's wants a child to just play nicely, without being forced upon it. Their goal is to let children discover the world through simple items.
Open ended play with Grimm's
Let them play without having a real goal in mind; a so-called 'open ended play' experience, that is exactly what Grimm's offers your child. This philosophy stems from the Waldorf, Steiner and Montessori education.
Let your child tinker, build, puzzle and fantasize with these fantastic wooden toys.
Children and adults alike are attracted by the colors and beautiful unpainted wooden toys.
What we really like about this company is that they have a very strict environmental policy, which applies not only to the toys themselves, but also to their packaging.
Strict quality requirements and high durability
The smaller companies that work for Grimm's - in Germany - must adhere to the high standards that Grimm's places on toys and their production.
There is also close cooperation with various sheltered workshops.
Grimm's is one of the most sustainable toy manufacturers we know. That's why we give Grimm's a big 10!
Are Grimm's toys a good investment?
Yes, Grimm's toys are definitely worth it!
When you consider the quality of toys in general, the many uses, the cost and the resale value, this is a toy brand worthy of its price.
It's a rarity to find toys - like Grimm's - that tick all the boxes.
Are Grimm's toys safe?
Hell yes! All colors and oils are completely harmless and non-toxic.
They are certified according to EN 71 and CPSIA / ASTM 963 standards.
Most of Grimm's products are also suitable for therapeutic work in many ways. The following products have been successfully tested in therapy: the octagonal puzzle and the butterfly puzzle.
What are Grimm's toys made of?
What kind of wood is used for their toys? The wood comes only from sustainably managed forests in Europe.
They use alder, linden, beech and maple wood. These are anti-bacterial woods.
The idea behind wooden toys like this is that they let your little one's imagination run wild as they can be used in so many different ways.
I like that the toy will stimulate your child's imagination, it is beautifully finished but it is not cheap.
Check out more Grimm's wooden toys here
Most unconventional brand: Janod
What characterizes the French is that they have style.
This is also the case for the innovative French company Janod, which produces colorful and beautiful wooden toys, of course with an FSC quality mark.
However, they do not make everything out of wood, such as their trendy vintage children's bicycles.
Janod makes original, responsible toys in beautiful and trendy colors. Sustainability and quality are very important to this company.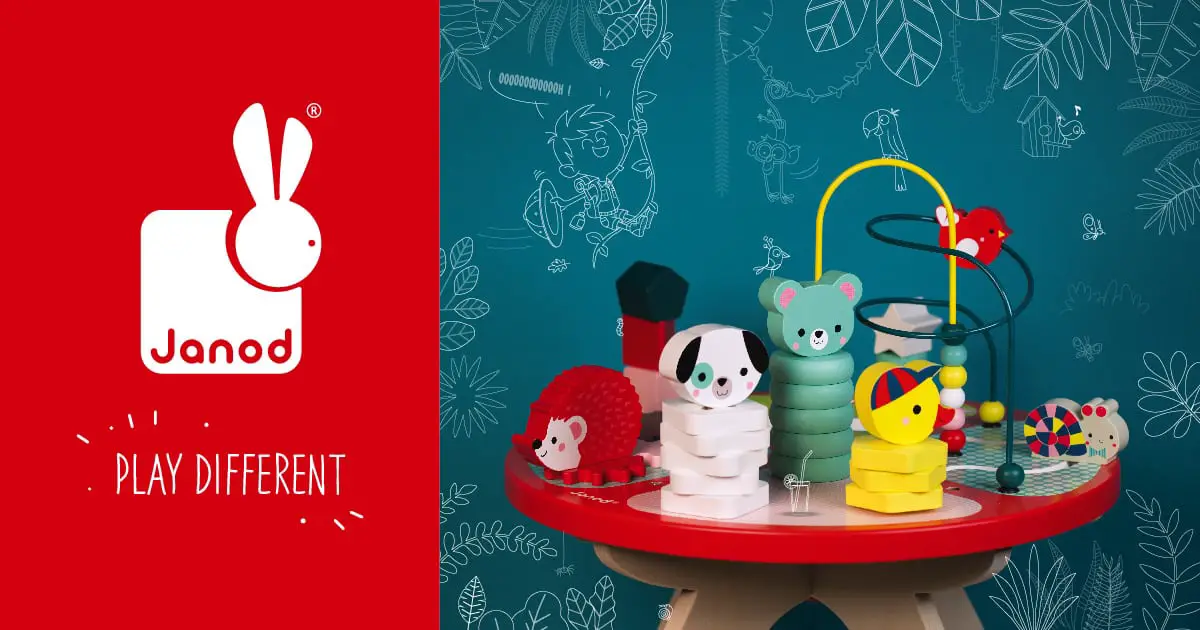 From small wooden animals to wooden kitchens and dolls' carriages, from a magnetic book to tumbler, the collection is enormous.
Janod toys are not only very educational, but above all solid and durable, so the next generation can also play with them again!
Janod toys come with it CE mark.
The brand works a lot with wood, but also with modern versions with magnets. For example, you have a taxi that you can assemble and disassemble completely yourself.
Plus you have Janod's 'Magneti Books', which is something most people encounter first when they discover Janod.
There are already many different variants of this fun concept, so you can always find one with a theme that appeals to your child.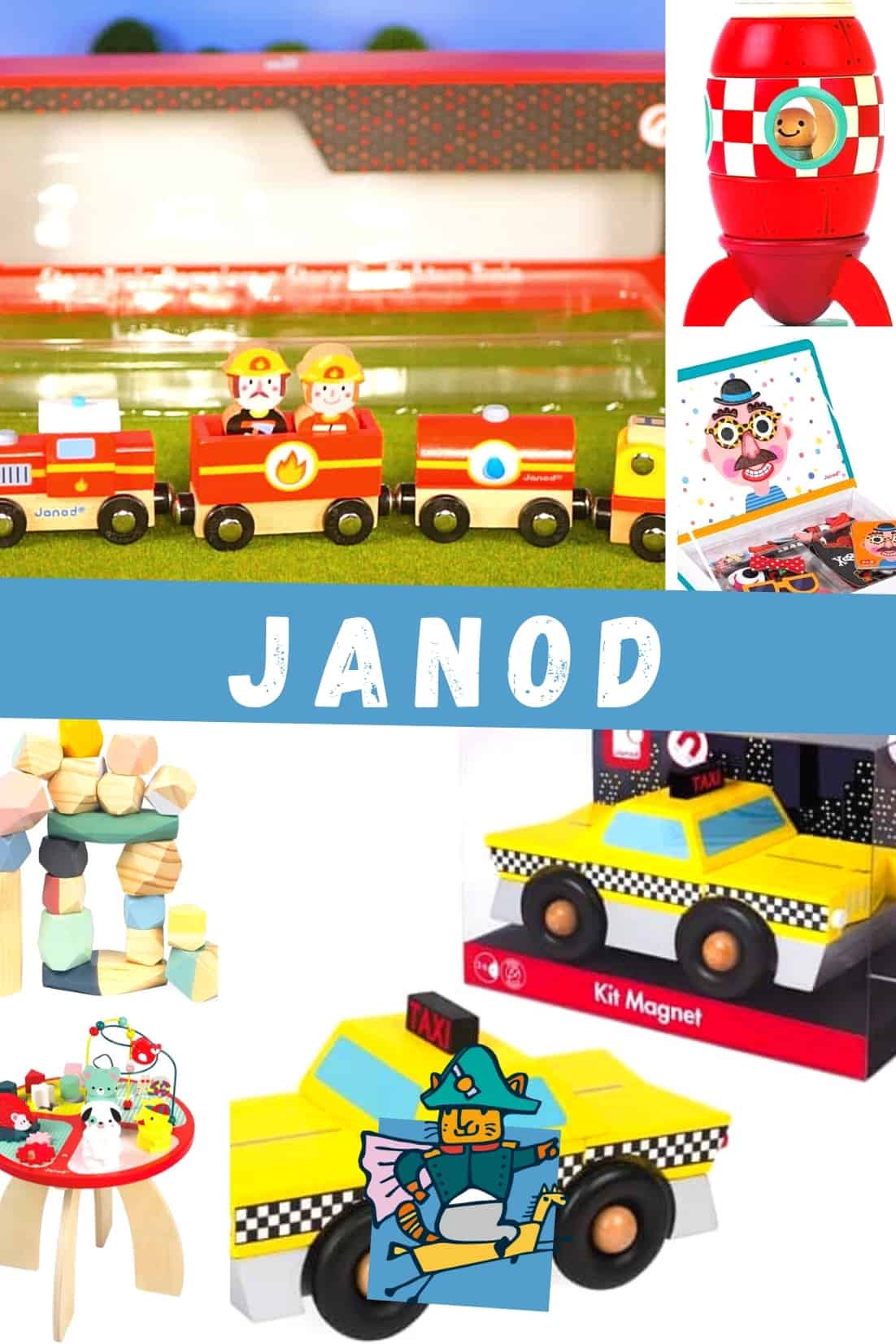 Emergency services are always fun to play with, unfortunately there are not many different ones available from train sets.
Bigjigs has some nice things, but this Story Train from Janod is a really nice addition, and the great thing is that most of those wooden train sets fit together.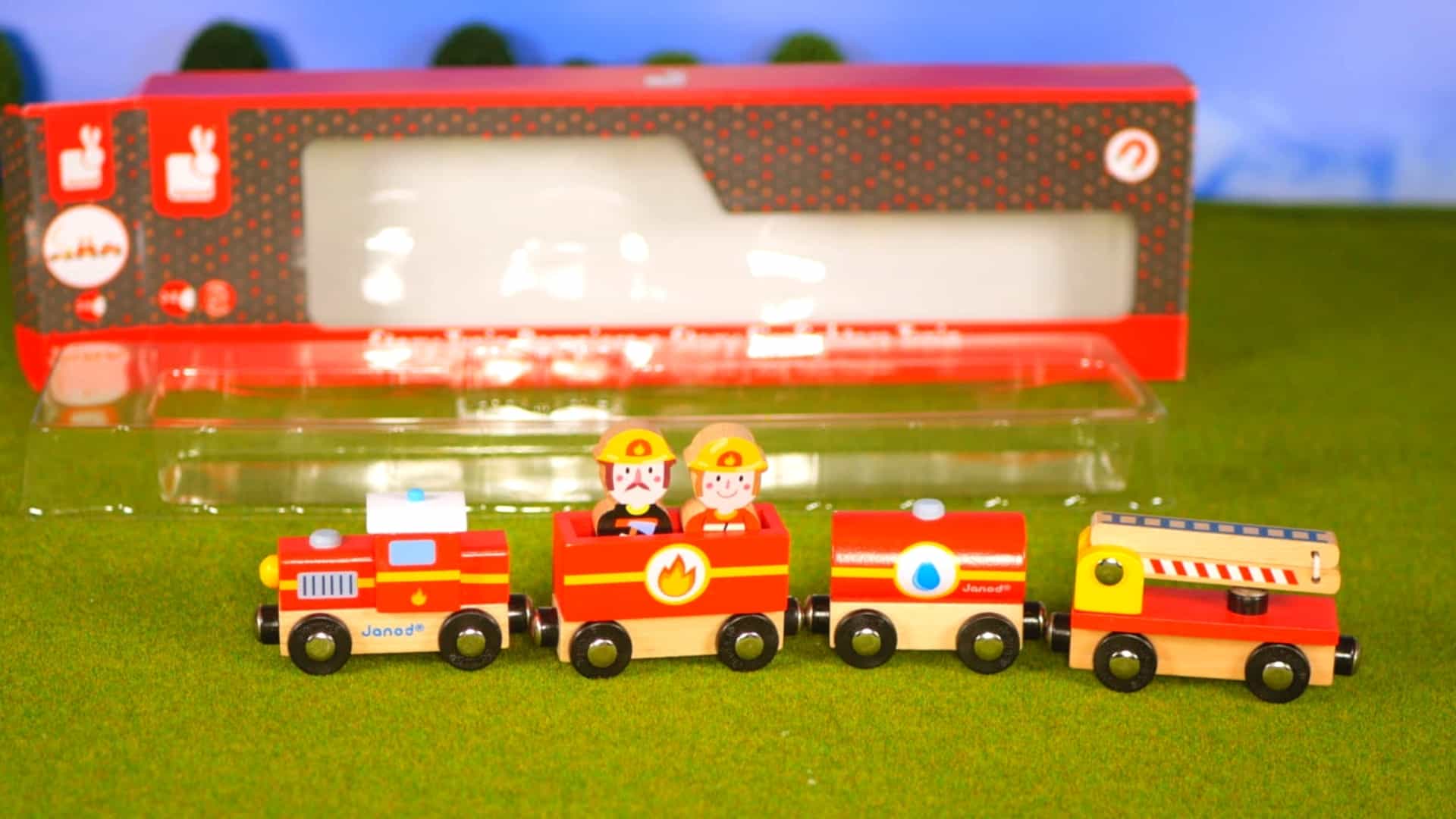 Very nice magnetic wooden train set with a fire brigade theme.
The two wooden figures can jump in and out of the train to extinguish the fire, and of course you can arrange the train as you want and arrange the wagons.
There is also a wagon with a large ladder that is also firmly attached with a magnet, but can easily be removed to unfold and help the firefighters into a building somewhere.
A fantastic fun playset!
The background of the Janod brand
Janod consists of a creative team of fifteen people and is based in the Jura region, which is located in the east of France.
This toy brand was founded in 1970 in France and initially wanted to create traditional toys. Today it is the largest brand in France to design wooden toys and they bring about 150 new toy products to the market every year.
Janod offers colorful and original toys suitable for children between 1 and 9 years old.
The brand also receives a lot of international recognition and has received several awards. Janod is especially proud of the 'Best Toy Awards' label.
Janod guarantees that they only use wood from responsibly managed forests for their toys. Responsibly managed forests are about preserving diversity, ecology, renewing resources and protecting the rights of indigenous peoples.
The brand pays particular attention to the thickness of the cardboard they use to ensure the quality of puzzles and their durability over time.
They also increasingly combine new materials, such as different textiles, with wood to develop the sense of touch of babies and toddlers.
Why are Janod toys suitable for my child?
Janod's toys are fun and educational toys. The colors and shapes make the toys very attractive for kids.
It doesn't just promote the motor development, but also the sensory development.
The child will also improve his cognitive skills. Parents and children benefit from this.
Are Janod toys sustainable?
Janod can call himself a specialist in the field of wooden toys.
Janod toys are durable, innovative and above all safe.
When you choose toys from Janod, you choose classic toys that the next generations can still use.
What does Janod want to give your children?
All their toys are actually about the nice and gross motor development of a child.
Skills such as building, drawing, imitate, puzzling and creating, it is all covered in their collections.
Because this educational toy - with French design - is also a feast for the eyes, the toy is very successful.
Children all over the world therefore play with it.
Children have a lot of fun playing with blocks and towers, playing games with the family and 'playing' musical instruments.
Balance bikes are your favorite for children, which also applies to kitchens and workbenches.
Bottlenose dolphins and bath toys are wonderful for babies.
All these toys can be found at Janod, all with a beautiful design, for the little ones up to the age of twelve.
View more toys from Janod
Best Wooden Animals: Ostheimer Wood Carved Waldorf Animals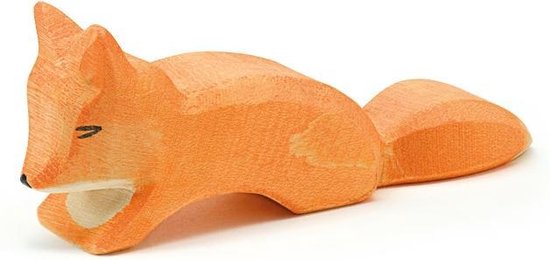 For modern consumers, Ostheimer toys may look almost too simple. Their figures and buildings are carved and painted in muted natural tones.
Ostheimer makes some of the most amazing toys you can find.
The company was founded by Walter and Adeline Ostheimer in XNUMXs Germany, and the ethos behind their products remains the same almost a century later.
The child's imagination is central to every toy they make. Shapes are simple, themes are broad. But it's the simplicity of these beautiful handmade toys that make them such perennial favorites.
Being so neutral means that the child can give each piece their own meaning, and that meaning can change every time they interact with the toy.
Here someone plays shows a huge collection of Ostheimer wooden toys:
Children love toys because of the fantasy they attach to them, not the toys themselves. They want to play with it because of what it makes possible for them, not because of what it can do on its own.
Each product is designed, sawn, sanded, rubbed, painted and oiled by a highly skilled craftsman. They have been handmade in the same slow and steady tradition for nearly a century.
It is this craftsmanship and simplicity that makes a natural product so much fun to play with.
View all wood carved animals here
What makes Ostheimer toys sustainable?
Ostheimer uses wood from regionally and sustainably maintained forests for its toy products.
All materials used, including the paint, are certified and are processed safely.
The figures are painted by hand and the paint is based on organic oil. In this way, the wood structure remains tangible and visible.
At Ostheimer, they value wood not only for their products, but also use residual wood for heating their buildings. Every step is dedicated to protecting our environment.
The brand has an extensive collection of wooden animals. You will find farm animals such as cows, pigs and chickens, but also wild animals, including giraffes and elephants.
You will also find animals that you encounter in the forest, for example deer, squirrels and rabbits, but also beautiful sea creatures, such as polar bears, seals, penguins and whales.
They are all beautiful wooden animals. The brand also has an extensive collection of trees, shrubs and buildings such as a farm (more nice brands here).
Ostheimer is best known for the classic wooden nativity scene passed down from generation to generation. They even included a real Sinterklaas en piet in their toy collection.
It is their wish to give children a beautiful and pleasant picture of the world with all its people and animals by means of their toy figures.
Children need such images to grow up healthily in our world.
When Margarete Ostheimer, daughter of Walter and Adeline, turned the company from private ownership into a foundation in 2001, it was her desire to support forward-looking initiatives and projects.
It has always been her belief not to make a profit, but to bring it back into the community.
In addition, it has always been a rationale of this toy company that collaboration between people with and without disabilities is an important part of a healthy work process.
This is what gives the toy a special human presence.
Best natural wooden wagons: Fagus
These construction vehicles are not only beautiful to look at, but children also love to play with them. They are designed for ages 3 and up, but smaller children as young as 2 play just fine with them, according to the reviews.
Many of the carts come with simple peg dolls in red and blue that can be the drivers, and they are generally quite heavy so maybe this is why this is recommended for older toddlers.
What sets these carts apart from others you may have seen is the material and built design. They are made of beech wood and are connected with plugs and glue (read: no screws or nails)!
The tires remind me of bicycle tires because they are hollow inside and run smoothly on the ground.
The cars are so easy to maneuver for effortless steering. Not only can they actually grab, tip and push, but most of them can also be locked in the different positions.
Here's a little bit of what they look like and how big they are:
Prices for the cars are decent, but these products are heirloom quality and designed to last.
If you have a little one who is in love with construction play this will no doubt be a hit.
View all cars here
About the origin of Fagus toys
Fagus was founded in 1969, but it wasn't until 1981 that they started producing wooden toys.
The products of this toy brand are made in Germany in a sheltered workshop by people with an occupational disability.
The production process revolves around sustainability, quality and safety. The products are made to be passed down through generations.
The great thing about these toys is that many parts actually work mechanically. Consider, for example, the crane; which can steer, lift, hoist, turn and extend.
The vehicles are designed in such a way that children can easily pick them up and then experience them with all their senses: feel, turn, drive, slide, etc.
The toys contribute to the development of gross and fine motor skills and fantasy play.
The surfaces of the toys are treated with transparent lacquer that protects the wood but at the same time ensures that the structure remains visible. This allows children to experience the characteristics of the material.
The Fagus story is also one about trees, which gives the brand its name.
European beech (Fagus) is a genus of deciduous trees in the family Fagaceae, native to Europe, Asia and North America.
Most innovative brand: Kinderfeets
Kinderfeets has great wooden products and the Balance Board is one of them, the other is a very nice cargo bike balance bike for children from 2 that I will treat like this.
They have kept the wood quite natural and feel a bit rough, perfect for kids who are sensitive to different textures and also useful for them to get to grips with.
Many of you may have heard of a other balance board, and it does have the option for a felt bottom while it doesn't, so if you have wooden floors you might want to go for this wobbel board.
For the rest, the wobbel boards are slightly smoother and finer, but also slightly more expensive. For me, the choice would mainly come down to price and the option of a felt base for wood floors.
Here's a video from Helen Purperhart where you can see the board in action:
How did you come up with the idea of ​​placing them in the front instead of the training wheels at the back to create one of the most innovative balance bikes you can get right now?
The beautiful wooden construction ensures that your child can remain stable during practice, but at the same time also has a sturdy container to take along nice toys (or household goods as my son prefers to always use).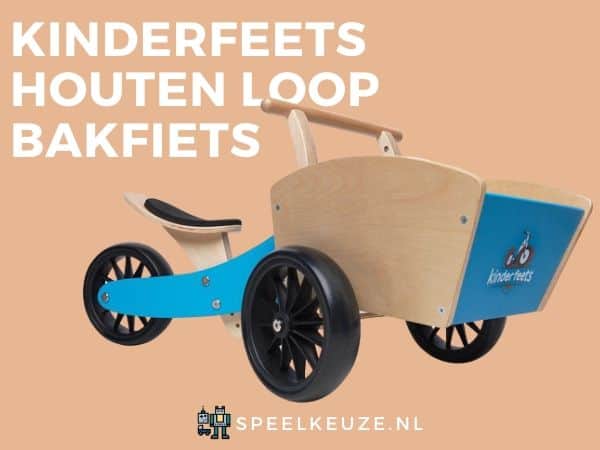 The saddle is, as with all these types of bicycle models with the curved frame, adjustable in height between 21 and 24 centimeters and has a soft lining.
Furthermore, it is safe with a limited angle so that the box can never fall over and the tires are airless for easy indoor and outdoor use.
View the Kinderfeets products here
About the Kinderfeest brand
Kinderfeets is a brand that was born in our own country. The Netherlands: a country where a love for cycling has been cherished since history.
Oscar V. Mulder decided as a young parent to cultivate an appreciation for adventurous learning in his son. It started as a one-off project to build a personal balance bike for little Sebastiaan.
This idea has grown into a thriving, sustainable business that delight and inspire children all over the world.
Where the name comes from? It is a play on words for the Dutch word 'children's bicycle'.
The Kinderfeets bicycles may look simple at first glance, but the targeted properties of each of these bicycles ensure safety and low impact on the environment.
The balance bikes and tricycles are made from 'non-wood bamboo' (made from materials other than wood such as fruits, nuts, vegetables, fish, wild medicinal plants, resins and a range of bark and fibers such as bamboo, rattans and a host of other palms and grasses) and / or birch wood.
The bikes are equipped with low entry frames, adjustable seats, footrests and biodegradable tires.
Bamboo is extremely flexible and resilient, grows incredibly quickly and has the ability to regenerate itself.
It also requires no toxic chemicals or artificial pesticides for growth and maintenance, making it both toxic-free and more cost-effective.
Compared to other hardwoods, it is much more flexible (even though it has dense fibers) and is also pest resistant.
If the brand doesn't use bamboo, they use sustainable birch wood - another fast-growing and eco-friendly option - or German beech wood from FSC-certified factories.
Furthermore, they also incorporate other eco-friendly practices, such as using non-toxic water-based paints and varnishes, minimal packaging, and recycled paper.
Best Natural Wood: Goki Nature
Beautiful smooth finish and tactile wood for children's hands and 100% natural. This makes the dump truck, forklift, cement truck, train and much more indispensable for the construction site in the nursery.
It's a great way to develop imagination and role-play, and provides a channel for children to understand and express their feelings through reenactment of everyday experiences.
Check out more Goki toys here
The background of Goki Nature
Goki is a German brand that produces high-quality wooden toys with a strong focus on sustainability.
The products are produced in Europe and all locations where they are made have a climate neutral energy balance.
Goki also fights against child labor by supporting various institutions. In addition, donations are made for planting trees (currently 50.000 pieces !!).
Furthermore, the brand stands for a good price-quality ratio. It is a functional toy with modern colors.
Goki wooden toys comply with the 2009/48 safety guidelines for children's toys. It has a CE mark and meets the EN 71 standards for mechanical and physical safety, fire safety, free from heavy metals and free from harmful chemicals.
Goki Nature is a specific series and a unique part of the Goki brand. The untreated wood of the Goki Nature series is colored by means of an ecological heat treatment.
The series therefore consists only of natural and brown colored wood and the treatment gives the wood a characteristic odor and color.
Goki Nature's toys are made from 100% natural wood, which is of the highest quality and ecologically sound. The toy does not contain any chemical additives.
Widest range: PlanToys
The goal of PlanToys' Timber Tumble game is to remove as many tree stumps from the dam as possible without letting the beaver on top fall off.
Kind of like an animal version of Jenga. Perfectly sized for small hands, kids can easily stack the wooden U-shaped holder with cylindrical wooden blocks of different sizes to set up the game, and then players push the cylinders out with a stick.
While playtime is often short, I love that this game not only helps kids develop hand-eye coordination, but also encourages patience and concentration, as well as teaches strategy.
In this video from PlanToys you can see how it works:
And although it can be played by up to four people, this game can also be used by your toddler alone for a game or even the blocks separately for some open-ended block play, great!
Check out more from PlanToys
Why is PlanToys such a good brand?
In 1981, seven university graduates came together with a shared mission to bring more positivity to the world.
Vitool Viraponsavan, one of the group's strongest voices, founded PlanToys and has been inspiring children and families around the world ever since.
At PlanToys, sustainability and the development of children are top priorities. With a strong mission to create a sustainable world, PlanToys consciously takes into account every single production step to minimize the impact on the environment.
This mission is implemented through the three pillars of PlanToys, also known as the "Sustainable Road". This includes sustainable material, sustainable production and sustainable spirit.
PlanToys' products are made from rubber wood from rubber trees that no longer produce latex. The remaining materials are used for the recycled series that bears the PlanWood name.
Did you know that PlanToys produced the first prefabricatedfabric dollhouse produced in the world?
PlanToys was the first toy manufacturer to design a user-friendly dollhouse that was easy to assemble.
The PlanToys My First Dollhouse only requires 10 screws!
PlanToys has received more than 70 awards from 11 countries around the world.
Over the years, PlanToys has gained worldwide recognition for their philosophies and beautifully crafted wooden toys.
Best Large Wooden Toy: KidKraft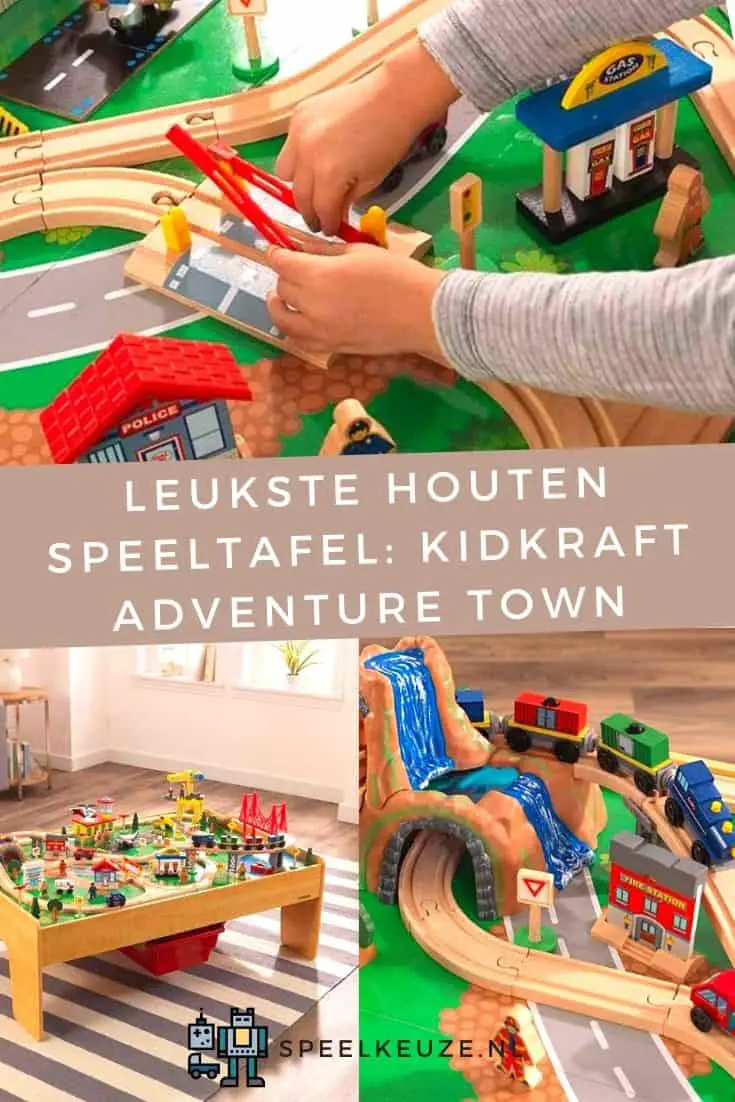 The KidKraft Adventure Town Railways Set Play Table is an essential addition to any little train enthusiast's play area.
This solid wood play table with beautifully designed rails and colored play accessories is sure to keep kids busy for hours.
With a unique foldable design, the console can be assembled or folded in no time. The table is very sturdy, but the 120-piece set in particular is something that will keep them playing for a long time.
Here KidKraft shows you what's included and how to put it together:
You have colorful vehicles, people, signage, buildings and much more and the raised table edges ensure that not just everything falls off when playing.
Furthermore, they have really thought of everything with those mini figures, because you even get two collapsible storage bins for easy storage and cleaning!
Why KidKraft toys are so much fun
There are thousands of toys for children to enjoy themselves with.
However, as a parent you also want educational and safe toys for your child, with which they can discover the world while playing.
Original toys, such as a children's kitchen, dollhouse or train set, stimulate your child's imagination and help make friends.
With the wooden toys from KidKraft your child can re-enact daily tasks in the household.
Children like to imitate their parents or other adults. They want to cook, take care of the baby or just empathize with role play.
For that we recommend the KidKraft toy sets.
KidKraft has hundreds of products, but we are especially fans of the play kitchens, train tables and dollhouses.
They contain nice details and are realistically finished, made of durable and safe wood for hundreds of hours of fun.
What we also like is that KidKraft's sets often feature light and sound.
These light and sound effects make the whole thing even more immersive and interactive for your child.
The dollhouses and play kitchens are built in different modules and can be easily assembled following the instructions in the KidKraft app.
There is no age limit on fun, but KidKraft toys seem best suited to kids from 3 to 9 years old.
KidKraft has dozens of beautiful dollhouses, but the beautiful KidKraft Camila dollhouse stood out for us.
This brightly colored wooden dollhouse exudes festive and exotic luxury. At the same time, it feels cozy and homey, so children will love it.
With four floors and eight rooms, full of illuminated and moving details, the Camila offers hours of fun.
Children can feel like a real celebrity or movie star. Sound effects and detailed images make everything more realistic.
Together with their dolls or playmates, they can go on a journey of discovery and adapt the interior of the dollhouse to their own taste, because all parts are removable.
A dollhouse is something that you can easily use for different children or even the next generation.
What makes KidKraft toys so unique?
KidKraft aims with its wooden playsets for sustainable products that stimulate the child's imagination and invite them to create their own game.
That is much more pleasant for the child and more beneficial for the parents.
What ages are KidKraft toys suitable for?
Most KidKraft playsets are suitable for ages three to nine.
No more boredom with KidKraft
Not only children, but parents also love KidKraft toys.
It helps children get to know the world in a social, spontaneous way and stimulates their imagination.
This is good for development, and the toys are also safe so that you as a parent do not have to keep an eye on your child.
What else do you want?
View more Kidkraft here
Most Affordable Wooden Toy Brand: Melissa & Doug
All the classic versatility of the toy, but with the sturdy timelessness that wood offers.
Blocks have been a staple of children's play since the earliest days, for a simple reason: kids love them.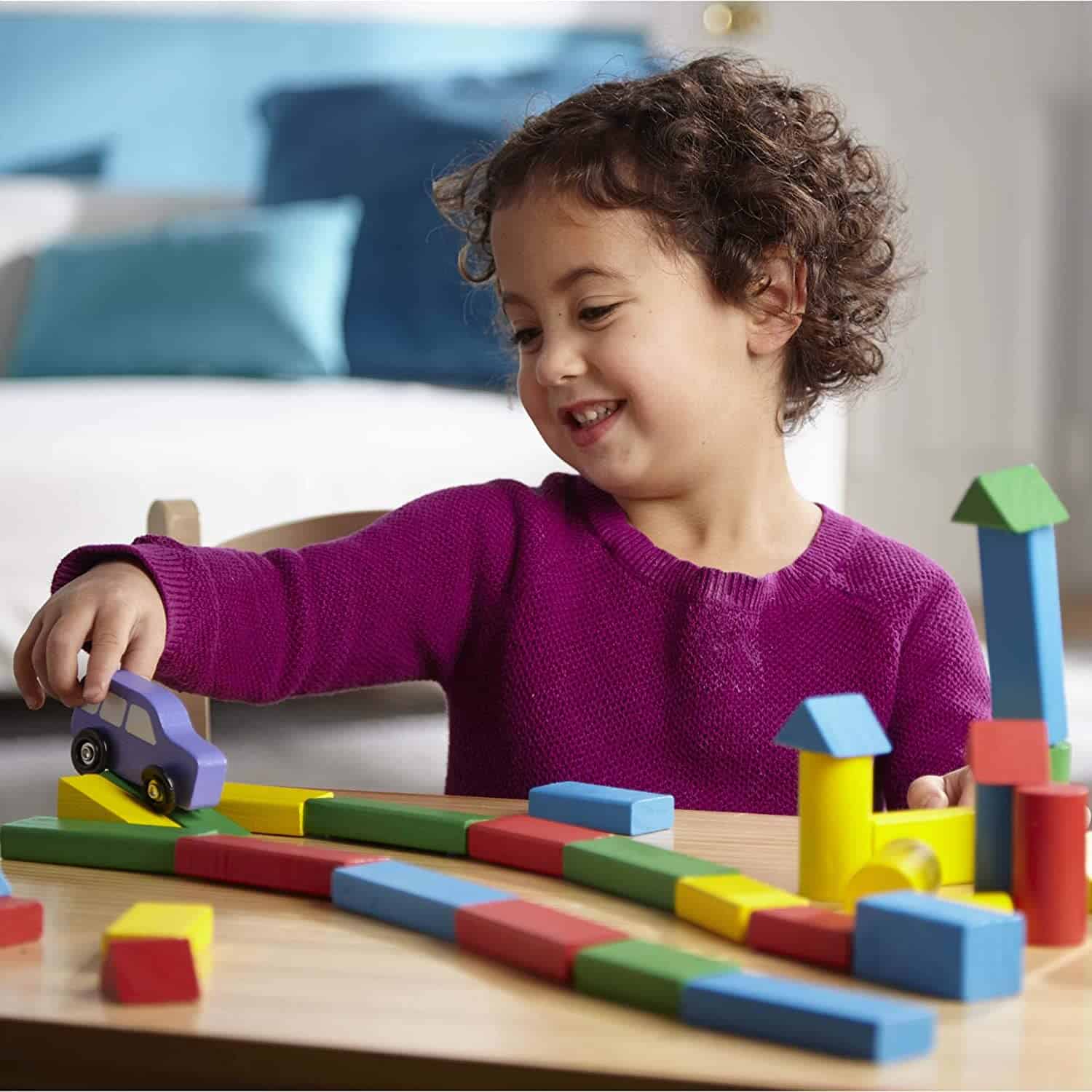 This set from Melissa & Doug offers all the classic toy versatility, but with the sturdy timelessness that wood offers.
There are 200 pieces in this set for maximum fun when building, stacking and taking down.
They come in nine different shapes and four different colors (red, blue, yellow, and green), so there's no limit when it comes to building options.
Not only do they inspire creative play and motor and spatial skills, but they can also be used to teach shapes, colors, counting and more in a fun way.
Recommended for ages three to eight, the only limit to what they can do with these blocks is their imagination.
Did you know that Melissa and Doug - from the toys - are real people?
We're talking about a spontaneous couple from the United States who started this great fun toy brand back in the XNUMXs.
While building their company, this couple also raised a family with six children!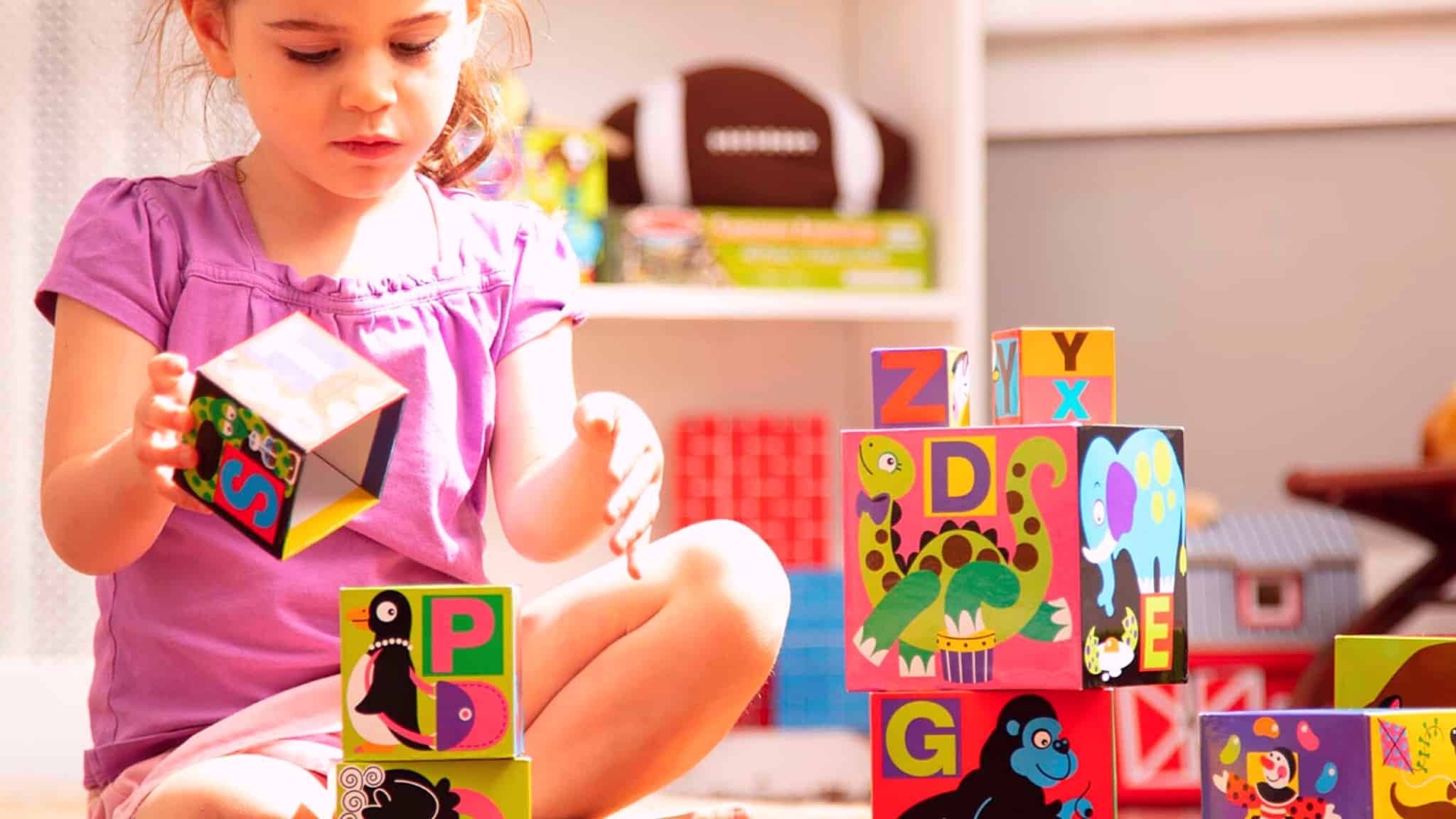 These kids play an important role in the development of Melissa and Doug's toys.
Melissa and Doug - an idealistic couple with a passion for children and toys - make beautiful and solid toys.
From puzzles to dolls and from a wooden fishing rod set to toy treats and dress-up sets. You can't think of it as crazy as they have it.
They make a prototype of each successful toy design themselves, first with their own hands.
They ask their children's opinions and let them try out the toy item. Only then do they send it to the factory that produces everything for them.
They want to inspire children and give them food for thought with their toys: they know that our kids are naturally attracted to imitating the behavior of adults.
With that idea they developed, for example, a fantasy game with treats; just like mom and dad, children can buy fruit, vegetables and drinks - in their own shop!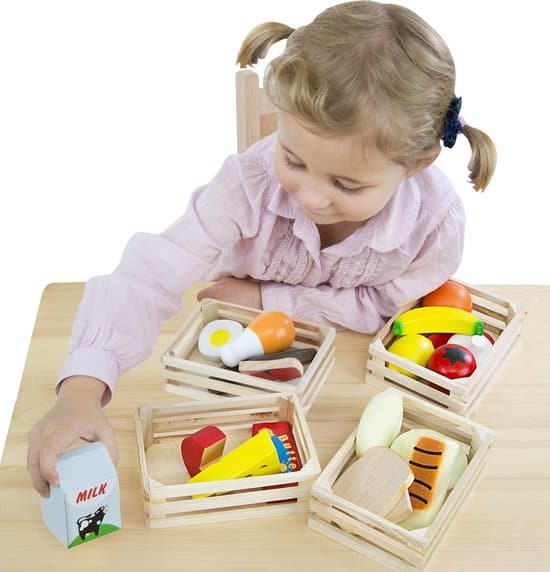 After developing a solid toy series and games for toddlers and preschoolers, Melissa and Doug have also started making inspiring toys for the youngest children.
They now also have a baby toy series.
What are Melissa and Doug's toys?
Melissa & Doug is an idealistic American manufacturer of children's toys, including wooden puzzles, craft products, stuffed animals and other educational toys.
All products are designed in the Wilton, Connecticut headquarters by a team led by Melissa herself.
What makes Melissa & Doug toys so much fun?
By playing, your children discover themselves: their interests, passions, but also their strengths.
Playing builds social skills and makes all children more resilient. Their cognitive skills are also sharpened in a playful way.
Melissa and Doug keep all these points in their sights perfectly and want to give as many different play experiences as possible to children.
Melissa & Doug let our children experience various play experiences, which is why they have in their collection:
classic toys, with for example dolls and puzzles
games where children have to design themselves
different kinds of toys, food and treats, kitchens and shops - from the Let's Play House series
the Mess-Free series, tinkering without making a mess
3D or On the Go, tinkering and sticking with 3D stickers
a dress-up series, with fantasy and professional clothing
Through these fun, creative and cool toys, a child can find out who he really is and what he really likes to do, according to Doug and Melissa.
They want to ensure that children are happy and when they are 'grown up' can build a career that is true to their core.
What does Melissa & Doug toys stand for?
Melissa and Doug are on a 'mission' and want to share their idealistic vision of the world through their toys.
They believe that playing freely, expressing creativity, fantasizing and discovering is of great importance for every child.
All children in the world should have the opportunity to discover their life purpose while playing, they say.
Melissa & Doug want to provide children (and their parents) with a platform that sparks the imagination and a sense of wonder in all children, so that they can discover themselves, their passions and their purpose.
That's why they are committed to making products that encourage creative thinking and encourage children to see new possibilities.
Melissa & Doug want to stand for a better world and therefore call on everyone to unite against racism and show love, compassion and respect for each other.
An interesting fact:
Did you know that the American Academy of Pediatrics works with Melissa & Doug to improve the health benefits of open-ended play game for children?
Melissa & Doug are also researching parents' views on toys.
Experts agree that certain toys are essential for children's development, but what do parents actually think?
Listening to feedback from parents is very important to Melissa & Doug.
What do we like the most Melissa & Doug toys?
The toy range of Melissa and Doug is so extensive and so cool that it is not very easy to make a good choice.
We will choose two of our favorite items for your child from each series:
classic toys, like baby doll Brianna (3-12 years), who would love to take care of your child, or the Magnetic Wooden Dress Up Doll (3-12 years), who can be dressed in various professional clothing. Your child is introduced to 8 professions. Or how about the cute wooden stud puzzle with safari theme?
games where children can design themselves: Make and decorate your own bracelets with the creative Design-Your-Own Bangles set (3-12 years) or create your own wooden Birdhouse (5-12 years) and help the birds hibernate.
different kinds of toy foods and treats - from the Let's Play House series such as the Wooden Ice Cream Shop Playset (3-12 years) to play shop with and the Snijset Breakfast on board (1-3 years) to cut bread into pieces and make a delicious breakfast for you boyfriends.
the Mess-Free series, coloring and tinkering without messing with the Water WOW! reusable coloring books (4-12 years) or the Booster Glitter sticker set (5+ years)
3D or On the Go craft and stick with 3D stickers with for example the reusable sticker pad 3D, reusable over and over (3+ years), and the fun Hangman on a Journey game (also fun for the car!) (6-12 years)
a dress up series including the cool Astronaut Costume (3-6 years) for children who are fascinated by rockets and planets. And what do you think of the cool Vet costume set? For the child who likes to make all animals better.
Let's face it, what's not to like about this toy brand?
All types of toys are covered in the Melissa & Doug collection and children can develop their interests, passions and talents in every way.
All their skills are developed in a playful way, and that's what we all want, right?
A piece of Melissa & Doug history
In the eighties, when Melissa and Doug are both over 20, their successful Start-up story begins, in the garage of Doug's parents.
Since they are both big fans of puzzles, they first decided to take children's puzzles to the next level, by applying different fabrics and materials.
Melissa and Doug work together to get their own children to try out all the toys before putting them on the market.
They have an idealistic attitude and want to let all children in the world play happily.
So they had success with their first 'Fuzzy Farm Puzzle', with the puzzle pieces in different textures, and that's how their dream became a reality.
Their company gradually expanded and they managed to further expand their collection - and also their family.
They moved to a larger, professional space in Connecticut, USA, but always remained personally involved in all choices to this day.
Melissa & Doug will continue to make all prototypes by hand and let their own kids play with them before sending it to the toy manufacturer.
A wonderful company with a mission!
What are Melissa & Doug toys made of?
Most of Melissa & Doug's wooden toys are made from MDF.
They are generally not that forthright and transparent about what exactly their toys are made of. The company itself prefers to simply say 'wood'.
But what exactly is MDF? Is the material of concern? The answer to that is: yes and no. MDF is a concern if the sawdust produced is inhaled. However, that risk disappears once the product is ready and sealed.
But there are those who argue that MDF can still pose a health risk even after the finished product is finished.
As a parent, you should be in control of how to deal with this issue.
In any case, it might be wise to keep an eye on your child when it plays with MDF toys, so that you avoid putting it in its mouth.
Is Melissa and Doug Montessori a Responsible Toy?
Melissa and Doug is a Connecticut toy manufacturer that has been making beautiful toys since the late XNUMXs.
They offer many toys that fit the Montessori approach to children's materials, but not their entire collection is 'Montessori Responsible'.
This toy is made with great attention to detail.
How do you clean Melissa and Doug's wooden toys?
Use a mild cleaner or just use a damp cloth.
If you want to sanitize, try plain white distilled vinegar. It has natural antibacterial properties without the chemicals.
Read more: Cleaning wooden toys: easy with these tips.
Melissa & Doug: a fun and educational responsible toy brand
Play is extremely important for healthy brain development in a child; our children learn to understand the world around them.
Toys are an essential tool for learning to understand language.
Play is also a way in which our children develop new skills that build their (self) confidence.
Melissa & Doug toys help your child not only discover what he likes to do most, but also develop all his skills.
By playing our children learn that making mistakes is okay and how they can correct them.
They are allowed to try out all kinds of new things and if they do not succeed with building or tinkering, it is not bad at all in a safe environment.
Play is simply everything for the development of a child and the Melissa and Doug toys help your little one with that!
Hopefully, after reading our article, you have been able to get a good idea about this sympathetic brand!
Read also: What is educational toys for children | pay attention to these 5 things.
Check out more from Melissa & Doug
Best retro wooden toys: New Classic Toys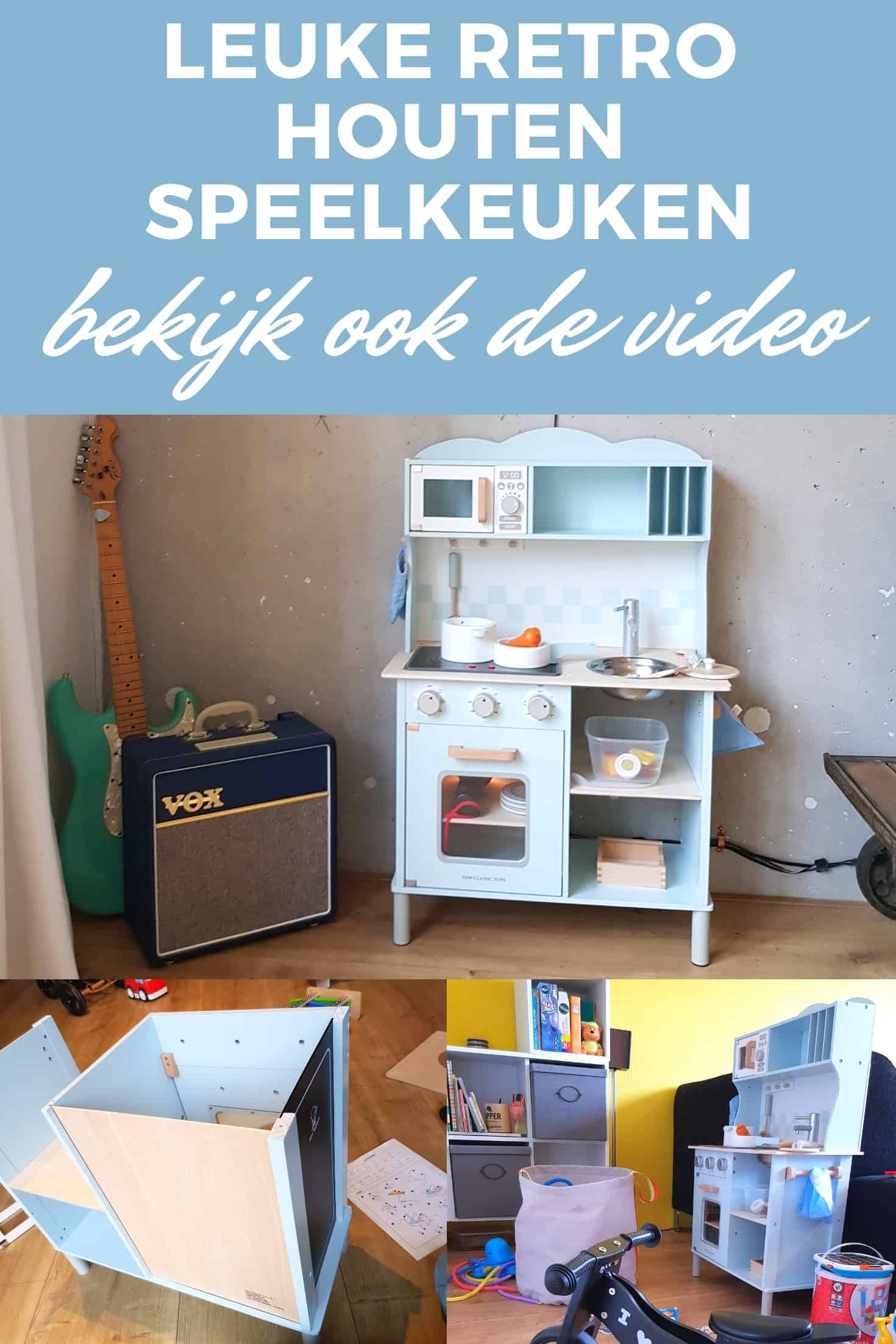 This wooden kitchen set is a recipe for fun!
There is also a sink with built-in storage space at the bottom to keep pots, pans and other essential kitchen utensils.
It's great for smaller spaces and recommended for ages three and up, little cooks will love it.
In any case, New Classic Toys has quite a few nice toys, a lot of wood and I think that's the approach, making new classics. So they are also products of quality.
But in terms of price it is not too bad. We have done a lot of research into play kitchens with what the possibilities are and buttons are of course great fun for children.
That is why we wanted to include a play kitchen with buttons.
You also have differences between rotary knobs, which is found on many kitchens. Some that turn loose and some that you can turn with a real click sound and feel, and this one from New Classic Toys has that also with the oven.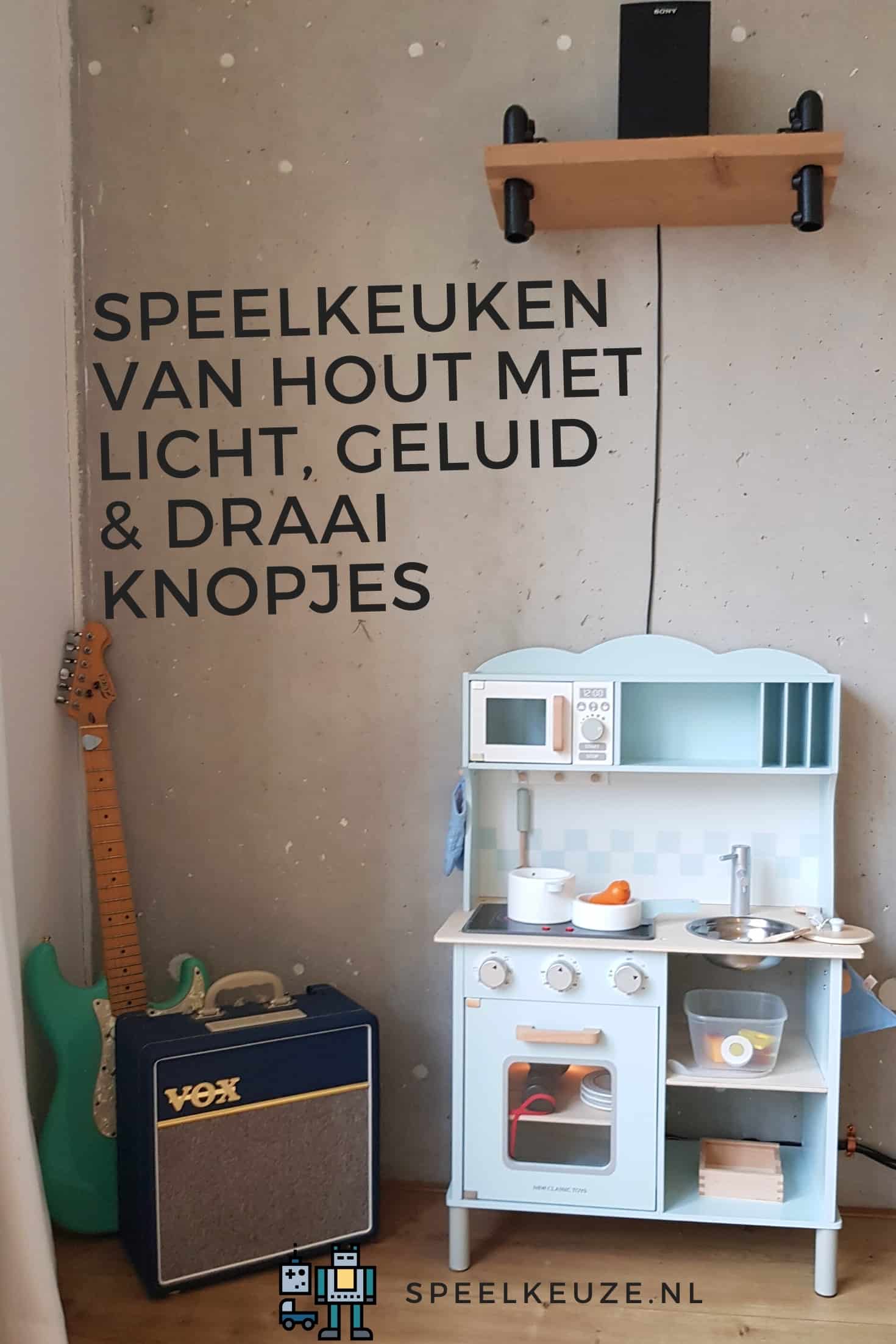 That really gives the feeling that you are setting something up.
The only pity I found that the button at the top of the microwave is not made that way and that it just keeps rotating.
The color setting of this kitchen is very nice with soft colors and looks good in your interior. Despite being small, it is of course a toy that will be in plain sight.
And you can also play with what's included:
you get a pan to fry your things
and one for cooking things
sturdy metal sink
ladle and spatulas
dishcloth
oven mitt
salt and pepper
signs
You can press the buttons and then the light of the stove will go on so that also gives a more real feeling of cooking, and if you press it again it stays on and it also gives a cooking sound.
Furthermore, there is a sturdy metal bowl as a sink and our son really enjoyed helping with the dishes. He wanted to do that in real life too.
Food is not included, but I would advise to buy nice wooden cutting vegetables and fruit and bread and the like, because that makes the game much more fun.
You can then cut it open because it has Velcro. You cut it with the knife, so that is also great fun to do.
The blade is also made of wood and is slightly tapered to make it easier to cut through
The oven can be closed and you can store everything there and you can turn the knobs to set everything for your fantasy baking, and you can also neatly put the dishes that have been washed away in the drying rack at the top.
It all looks very neat and it is quite a large play kitchen with everything you need to let your little one come up with his own game.
Check out more from New Classic Toys
We have a lot more play kitchens reviewed in this earlier article, with a lot of wooden choices in it too.
Some New Classic Toys background
New Classic Toys was founded in the Netherlands in 1991 and stands for quality and educational toys.
They have a wide collection and the toys are also durable and attractive, made of honest materials.
They offer toys that appeal to the imagination. All products meet the safety requirements of the EN-71 standard.
One of the highlights in the collection of this brand is the port series: a series of wooden boats, cranes and trucks around the theme 'The Containerhaven'. The series was developed in collaboration with the designers of Goochem Dutch Design.
New Classic Toys creates authentic wooden toys in European style. Manufactured to high standards of quality and durability, the products encourage children to learn to build, stack and imitate through play.
Most solid wooden toys: Brio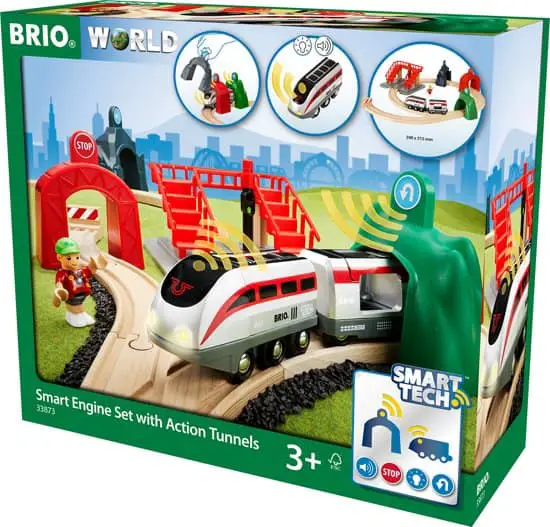 What it is: a small but perfectly formed train set by Brio with 'action' tunnels that respond to the train passing under it by starting and stopping it, changing direction and speed, honking the horn and flashing its lights.
Comes with motor and car, buffer, 3 tunnels, 9 pieces of track, a bridge and a figure. Requires 2 x AA batteries (not included).
Why we like itOur testers were all impressed with the 'action' tunnels - and we loved the solidity and versatility of the track (made from FSC certified wood).
It's expensive, but a high quality buy.
What our child testers have made of it:
"Esmee likes to play with this train set. The tunnels are very clever in how they make the train make noise, stop and reverse! She plays with it for hours, rearranges the track and the tunnels. "


Lisette, mum of Esmee, 3
"Sander says he loves his new train and wants to play with it every day. He and his older sister are having a lot of fun moving the tunnels to see how the train will leave. "


Bregje, Sander's mom, 4
View more sets from Brio here
Why are Brio toys so much fun?
Brio is a brand that was founded in 1884 in Osby, a small town in southern Sweden. Since their inception, they have been making toys with simple designs that boost children's creativity and imagination.
The wooden toy items are produced from traceable FSC certified wood. Since 2015, Brio has been owned by Ravensburger, one of the most famous European puzzle and other games manufacturers.
The wooden toys from Brio are suitable for all ages. There is already a wooden train available for children from 1,5 years old!
The brand is best known for its extremely good quality and innovative products.
At Brio you can choose from various train sets, locomotives, bridges, tunnels, buildings, wagons and vehicles. You can even get wooden draft animals there.
A train from Brio is incredibly versatile. Much attention is paid to details. The wagons and locomotives are equipped with a magnet, so you can easily attach them to each other.
The Brio wooden train track has become the standard for many other brands. The train track can therefore also be combined with these other toy brands.
This means that a Brio train can run on the rails of almost all major wooden train brands, and vice versa!
The Brio wooden train track is made of first-class quality beech wood and is robust and beautifully finished.
The brand offers various starter sets that you can expand further with separate rails, stations, bridges and train sets. You can even go to the brand for electric train sets, for even more play variety!
Brio toys are safe, because only materials that have been rigorously tested are used. Brio trains are the brand's best-known toys.
All the wood they use at Brio is beech wood, except in one case where pine is used. Beech trees only grow in Europe; from the south of Sweden to the northern part of the Balkans.
Since 2014, all the wood they use at Brio is FSC certified; this label guarantees that the wood comes from renewable forests and that no unique biospheres have been destroyed.
Cutest wooden toys: Le Toy Van
Age: 3 +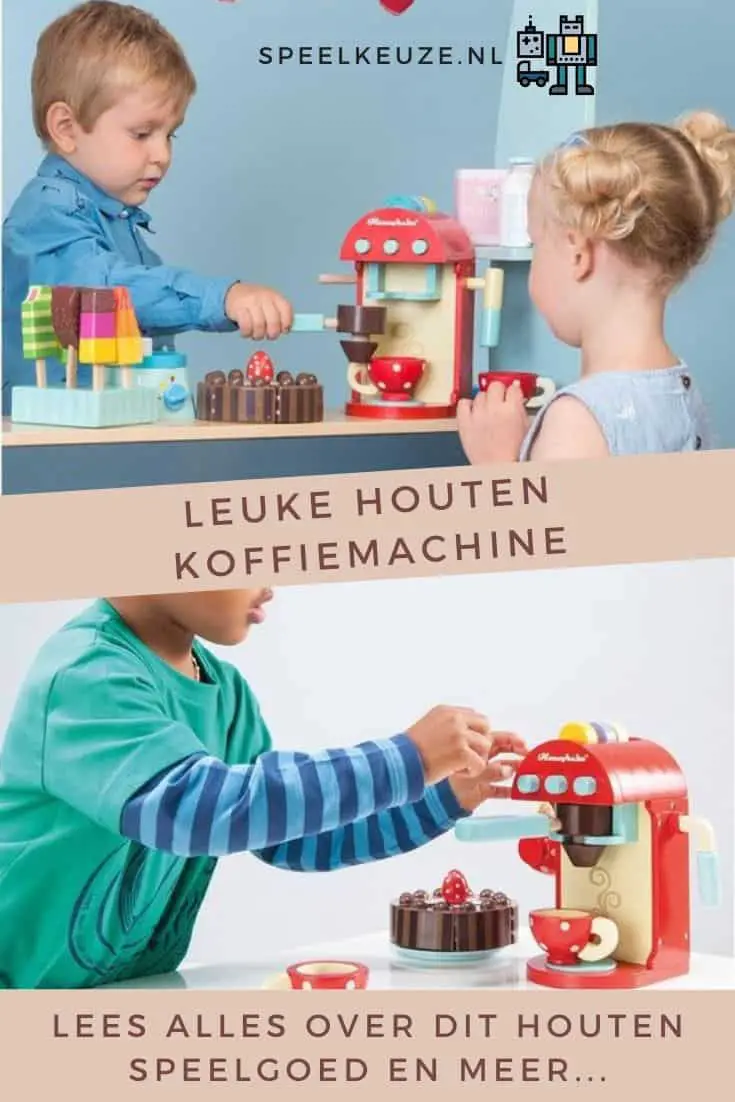 What it is: a brightly colored mini replica coffee machine from the brand Le Toy Van, with 2 wooden cups, spoon, 'milk frother' and a selection of colored fabrics to place in the removable filter.
Why we love it: this toy has the most beautiful (water-based paint) details and is perfect for old-fashioned role play.
Our kid testers had a blast choosing which color fabrics would fit in to make a flavored latte for their parents.
Only drawback is: the coffee is not real!
Check out more from Le Toy Van
About Le Toy Van
A family business designing imaginative wooden toys in Great Britain with a touch of French, since 1995.
Le Toy Van was founded by Georges Le Van, who was later joined by his son and wife, Steven & Marie Le Van, who now run the business together.
The Le Toy Van team has continued to develop and now has more than 150 years of experience in the toy industry.
The toys are ethically made from durable tangible materials. The products stimulate creative and long-term play. The uniquely designed, multi-award-winning and hand-finished toy is a real investment in play!
The brand uses and replantes a by-product of the rubber industry, Rubberwood, which they recycle, among other woods, into beautiful, high-quality, eco-friendly wooden toys. So replant, reuse and recycle.
All toys are designed to meet strict EN-71 and ASTM safety standards. Le Toy Van toys are ethically made by trusted partners and validated by the ICTI & ISO 9001 quality mark.
There are rigorous comprehensive quality, safety and sustainability programs and certifications in place.
Using natural materials including refillable quality smooth rubber wood and a range of techniques from hand screen printing to water stains, this detailed hand finished toy is unique and loved by little hands.
The in-house and on-site quality team ensures the delivery of a consistently high-quality product that Le Toy Van is acclaimed for.
Funniest wooden toys: Bigjigs Toys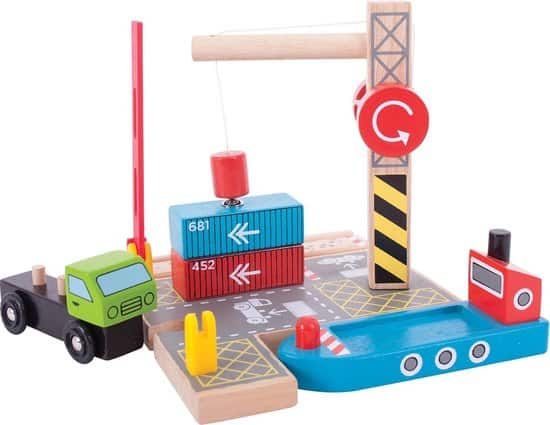 What it is: a 10-piece wooden tea set with a tray, 2 cups, 2 saucers, 2 tablespoons, a teapot with lid, a milk jug and a sugar bowl.
You can buy additional plates and cookware sets that match.
Why we love it: it is perfectly sized for preschool fingers, beautiful quality and charmingly gender neutral.
Last year, our children's testers particularly liked that the teapot had a lid that you can put on and put on.
Bigjigs is a toy brand from Irish soil and a real family business par excellence.
With their ethical values ​​and a focus on education and child development, they make fun and responsible toys.
The couple Liz and Peter were both teachers before they started making toys.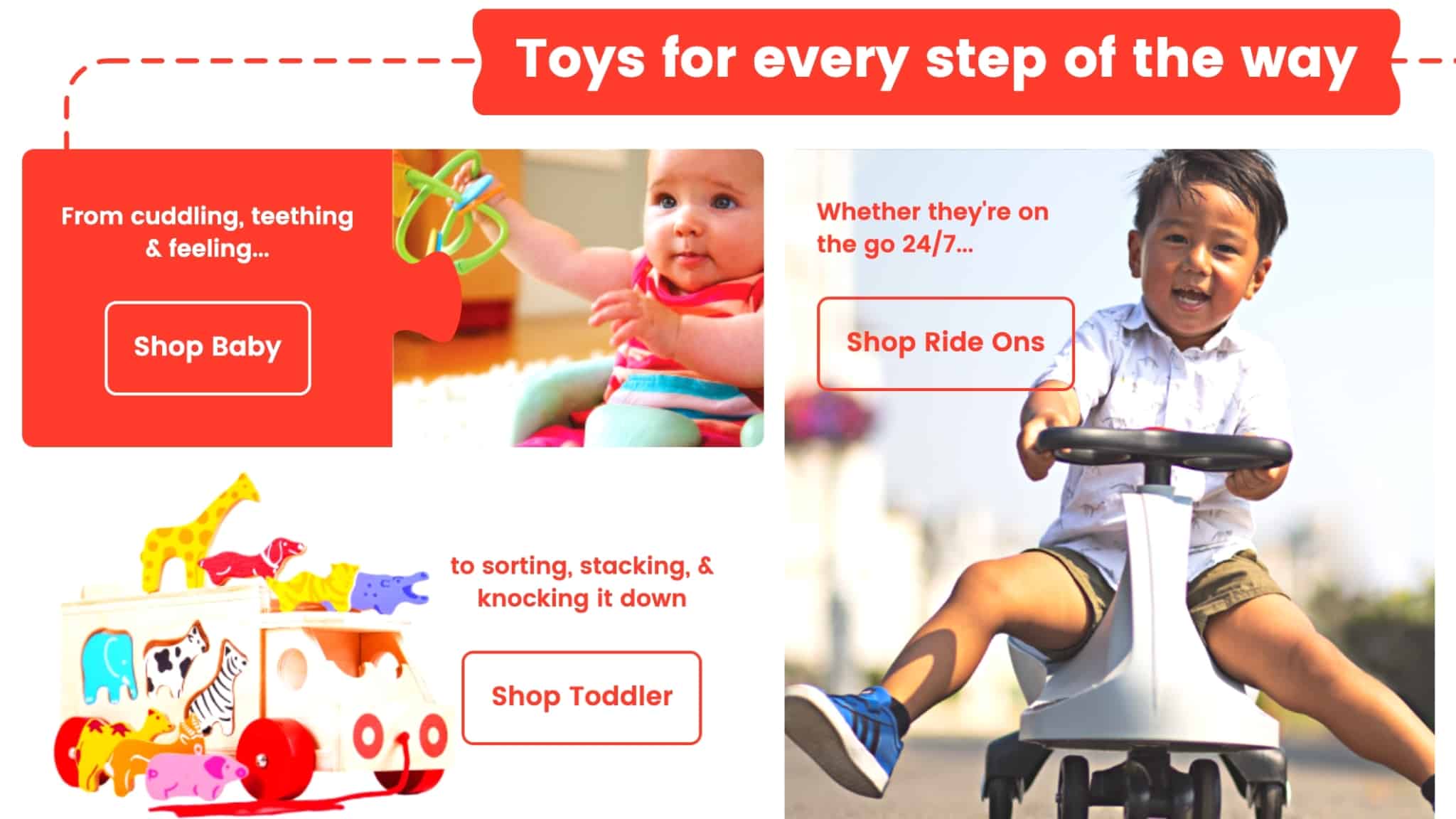 This background has helped them a lot in developing toys that contribute to the development of children.
The fact that the company has grown rapidly does not mean that Bigjigs has lost sight of the family aspect. Liz and Peter's two sons, Sam and Tom, are now directors of the brand.
The whole family is still actively involved in the design and production process of the toys.
Bigjigs toys
You might find the most beautiful (wooden) toys at Bigjigs. From educational puzzles to cute doll houses, this brand is at home in all markets.
At Bigjigs, creativity and sustainability are central and that is certainly reflected in the collections that this brand offers.
Beautiful inviting colors, interesting designs and very high quality wood provide hours of fun!
Bigjigs is also a very accessible brand with great prices that suit every wallet.
Does your child like beautiful buildings and does he or she prefer to construct endless train routes? Then you can go to Bigjigs.
Does your son or daughter prefer a challenging puzzle to train fine motor skills? You will also find what you are looking for at Bigjigs.
Most Bigjigs toys are also portable and therefore easy to take with you on holiday or visiting family. So your little one will never be bored!
There is really something for everyone at this fun toy brand. Even the littlest ones are not left behind with the baby-safe options on offer.
Is Bigjigs an ethically responsible company?
Hell yes!
All of the Bigjigs toys for sale are made in the Middle East, where Liz, the owner, visits regularly to ensure that everything is produced in an ethical and fair manner.
The wood used to make the toy meets all important environmental criteria.
The most commonly used wood in Bigjig's toys is rubber wood. Rubber wood is a by-product of the latex production process and therefore very sustainable wood.
In addition, all Bigjigs partner brands are also selected on the basis of ecological and social references.
How safe are Bigjigs toys?
Safety always comes first at Bigjigs.
Every toy designed and sold under the Bigjigs brand is extensively researched and tested by an independent lab to ensure it meets all safety standards required in Europe and the US.
This testing process is very extensive. Consider, for example, rigorous durability testing, chemical analysis and paint analysis and attention to age-related guidelines.
Small children not only play with their hands, but also with their mouth. That is why it is important that the toy does not contain toxic dyes.
Luckily you can breathe easy with Bigjig's toys; all toys of this brand are 100% safe.
Learning by playing
Toys should not always be fun, but also educational!
Especially at a younger age, when your little one's development is at its peak, it's important that toys also encourage growth.
Bigjigs toys do just that. With puzzles, numbers and rhythm it actively works on the (fine) motor skills of your child.
Read also: What is educational toys for children | pay attention to these 5 things
For which age group are Bigjigs toys best suited?
Bigjigs has toys for virtually every age group. From soft plush cuddly toys to teething rings for babies, to dolls for toddlers and books for the older children.
All toys are divided into age groups:
0 to 12 months
12 to 24 months
2 to 3 year
3 to 4 year
4 to 7 years
8+
What kind of Bigjigs toys are there for sale?
Bigjig's toys are incredibly diverse. This brand really has everything in its range:
Wooden train tracks
Playing with trains and rails is a great way to encourage creative and narrative thinking and encourage imaginative play in your little one.
The train collection is also very easy to expand.
For example, choose a beautiful set of rails with a train and slowly expand the set with a station, a railway crossing, a drawbridge or even a dragon crane!
Check out their fun windmill!
Read also: 11 Best Wooden Toy Train Sets Reviewed: Ideal Educational Toys
Arts & crafts
Let your child discover their creative side with the wide range of Bigjigs creative games and activities.
For example, we really like their bead set, where you can string small beautiful necklaces, or the fun chalk eggs that come in a really, cute egg carton.
This segment also includes the many clay sets of Bigjigs, such as the flower clay set or the racing car clay set.
Baby & toddler
Bigjigs entertains all ages, including the little ones.
The plush, soft cuddly toys offer your baby comfort when they need it most and for the slightly older children there are toys that fit well with the developments that are the most important around this age phase.
Consider, for example, animal puzzles or building blocks. The fun colors look cheerful and keep your little hours busy.
Check out their cute dog cuddly toy!
Educational
Actually, most Bigjigs toys offer an educational aspect, but this special range mainly focuses on that.
The folding blocks teach your little one about organs, tables, football, planets and dinosaurs. A wide selection of books are also available, covering topics such as recycling, the solar system and animals.
Your child can of course also discover the outside world with the insect research pots.
Pretend play
When your children are a bit older, they will probably fantasize more and more freely in their play. With the right toys, your little one can freely enter the dream world!
The dollhouse sets from Bigjis are very fun and colorful. They can also be expanded with other furniture, dolls and accessories.
Another fun fantasy toy is the supermarket set, complete with scanner, order drawer and receipt roll. It fits very nicely with their store set.
Outdoor toys
Is the weather nice? Then there is nothing better than playing outside!
Play with your child outside and plant a vegetable garden! The tool kit with handy fanny pack is perfect for that. Their watering can is also nice for the garden!
A ping pong set is another way to spend time together outside, or hang up the cute swing.
Do you have water nearby? Then you can also choose from a wide range of boats and buckets.
Children's and bedroom
Make the nursery a true inspiration for your little one with colorful furniture and decoration.
The play mats are not only beautiful and handy, but they are also great fun to play with! Your child will certainly enjoy this with a few cars or dolls.
The same goes for the fun ones gaming tables from Bigjigs.
Teach your child to spell his or her own name with the decorative wall letters that are available in many different colors and motifs.
Games, puzzles & gifts
The many balls, music boxes and puzzles belong to this category.
Think of fun jigsaw puzzles or domino sets, but also cars, and golf and cricket sets can be found here.
Check out more from Bigjigs Toys
Best for baby and toddler: Jouéco
Age: 1+ years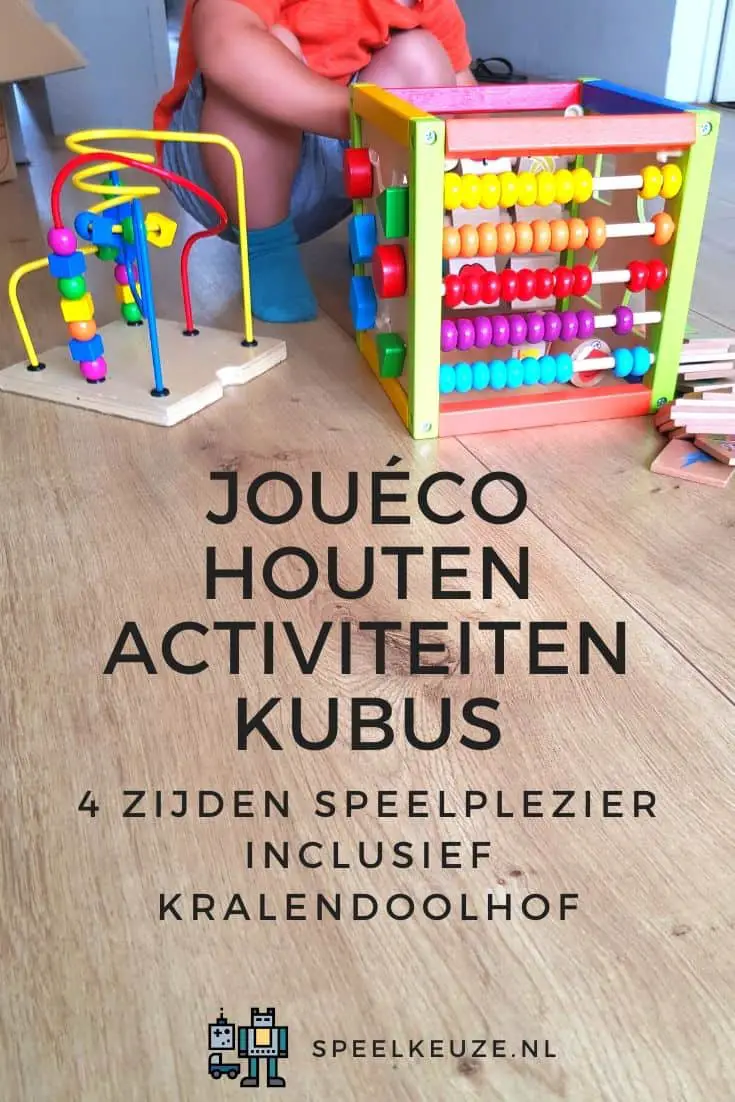 What it is: a wooden cube measuring 14 cm x 13 cm x 13 cm with lots of things for little fingers to play with.
An activity cube offers a child many possibilities to play with and there are many different ones available. The advantage of a cube is that it is easy to store.
For example, this one has a pretty big bead maze to play with and my son really started to get that after he had it for a while. At first he mainly played with the beads on the side and tried to get the blocks on the other side into the correct holes as with a shapeshifter (more reviewed here!).
But the advantage of the cube is that you can easily store the bead maze in the cube itself, say upside down, so that cleaning up the rather large toy takes up minimal space.
Jouéco is one such brand that makes fun and affordable wooden toys, and this cube is a very nice addition to the playroom. It is made sturdy, has no dangerous parts and offers enough to keep children of different ages entertained.
It really is the kind of thing he keeps returning to pick it up again and try something new with it.
For example, we think it is good to rotate toys from time to time so that he does not have too many at once, and he discovers these again and again in the bedroom or in the playroom.
Jouéco is a brand that produces wooden toys and is committed to the environment and sustainability. An 'ecofriendly' toy brand, as we like to call it nowadays.
The wood comes from FSC certified trees from managed forests. These trees must meet a large list of criteria before they are certified.
By using sustainable wood, Jouéco contributes to a healthier living environment and a better future for humans and animals.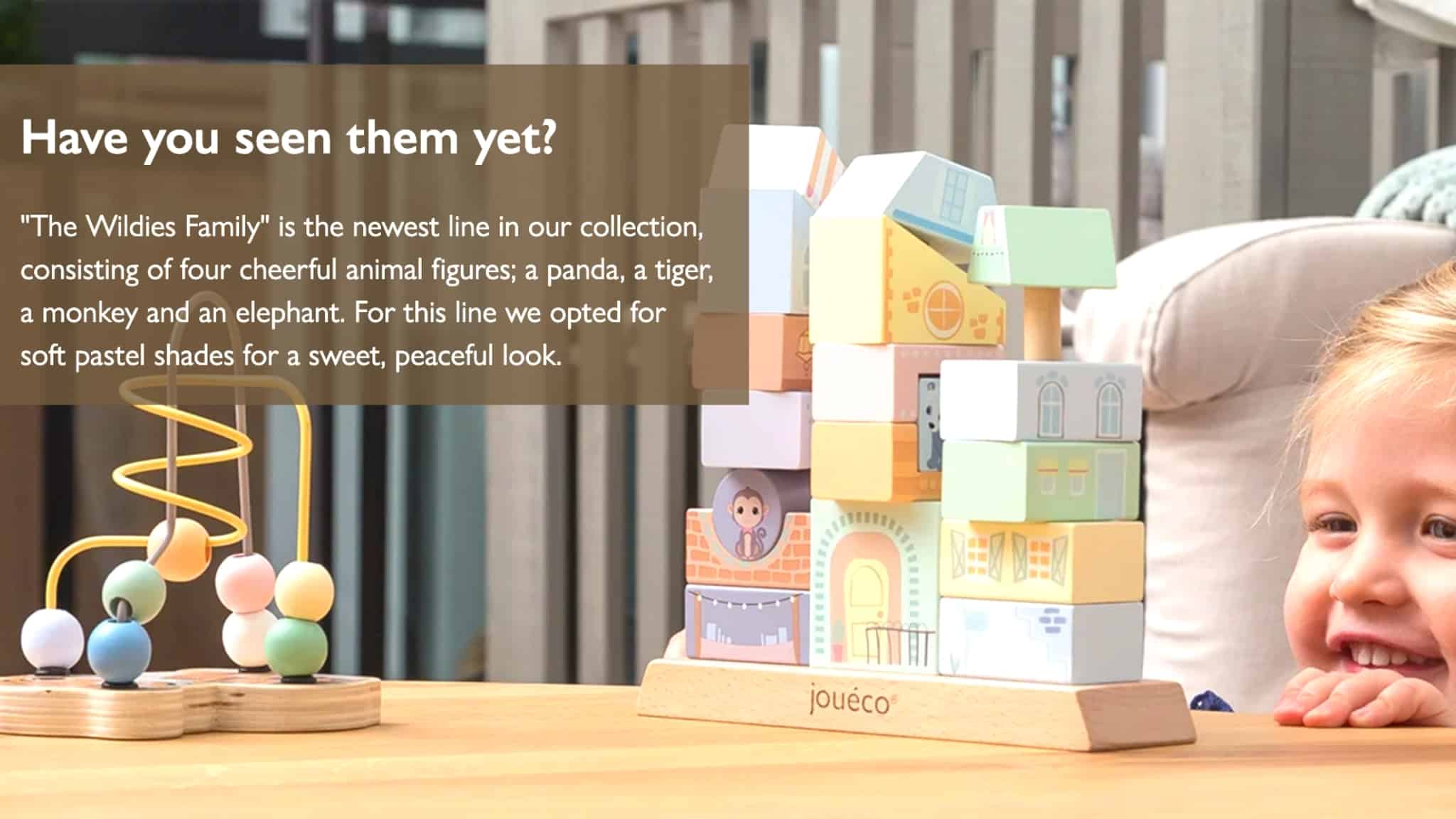 Jouéco believes it is important that we can all enjoy our beautiful nature for a long time to come.
In this article I discuss my favorite Jouéco toy items.
To be honest, I find it difficult to really choose my true favorite. All Jouéco toys look really beautiful and serve an educational function.
Thanks to Jouéco, a child learns everything about daily life in a playful way.
But if I had to choose one, it would be the Jouéco Wooden Cash Register with Scanner and Debit Card are.
This toy has received several positive reviews from satisfied moms and dads.
The toy consists of a wooden cash register with scanner, card reader and other accessories. Children learn through these toys what a cash register is used for and how it is used.
In addition to this fantastic wooden cash register, there are a number of other interesting toy items that I would like to discuss.
Is your little one crazy about trains? Check out the 11 best wooden toy train sets here!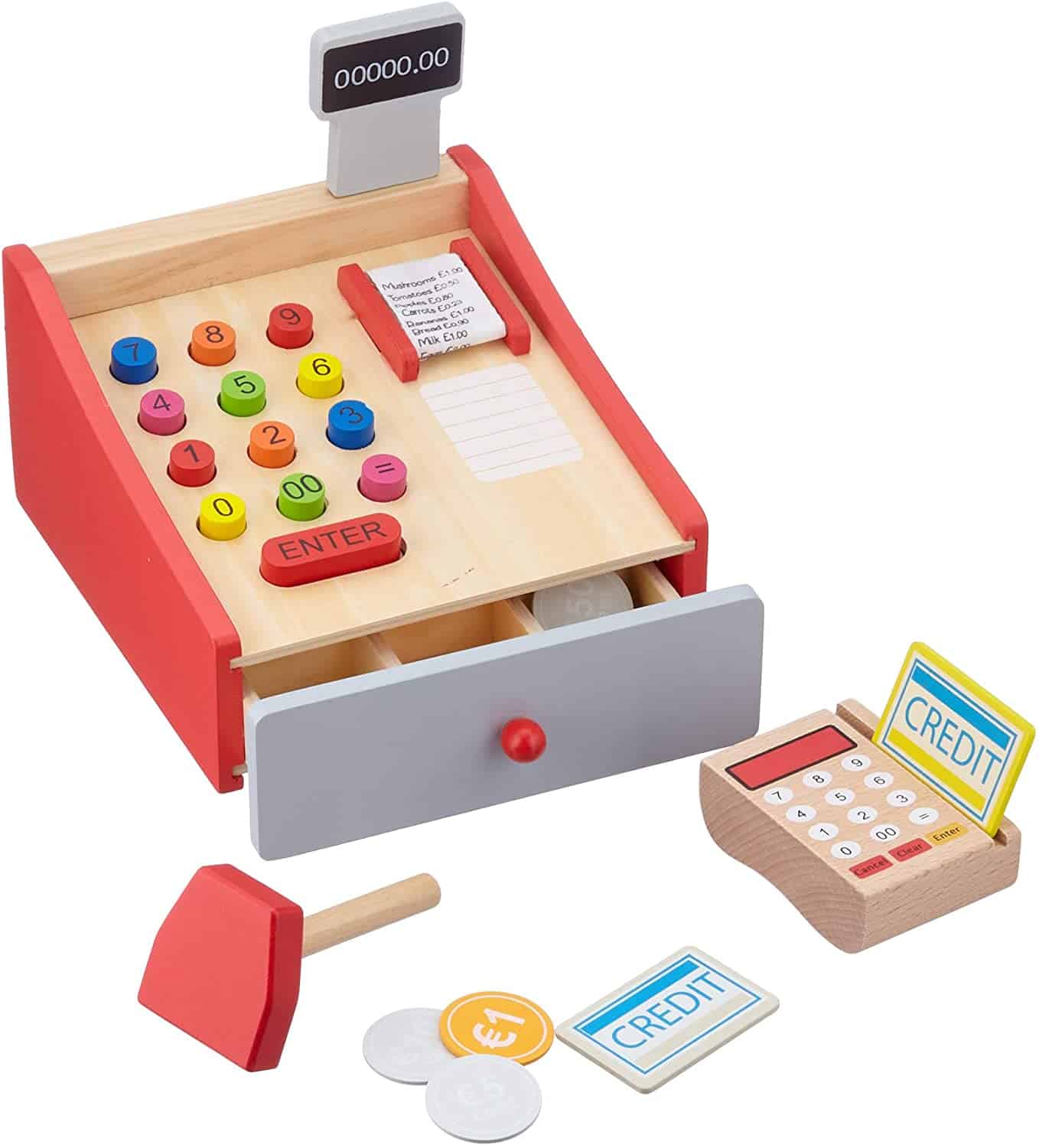 As I mentioned above, this wooden cash register with scanner and card reader is a very interesting toy for young children.
It is a sight to behold! The cash register has beautiful colored buttons that invite you to play.
The toy comes with all the necessary accessories to introduce a child to a cash register and pay. You even get coins and a credit card.
By means of the buttons on the cash register, a child will learn to recognize the numbers as well as the colors. Also, the toys will help a child to recognize colors.
In addition, it will contribute to the development of hand-eye coordination and teach a child to reason.
To make playing with the cash register even more realistic, kids can make their own receipt on which they can scribble or write.
The recommended age for this toy is between 2 and 4 years.
For whom are Jouéco toys fun?
Jouéco toys are aimed at children from 6 months to 3 years old, but also older.
The toys have beautiful cheerful colors and often contain cute illustrations. The range of wooden toys is wide.
The toys can continue to be used while growing up and will have different purposes over time. Certainly an example of this durable toys due.
Thanks to the Jouéco play world, children learn leren in a playful way how a doctor works for example, how to do housework, or what goes with the job of a police officer.
I can hardly imagine that after reading this article you have not yet become convinced of Jouéco!
As far as I am concerned, the toys of this brand only have advantages, and they also look great on the console.
Besides the attractive appearance of the toy, it is also safe, made of natural materials and extremely durable. The environment plays a very important role at Jouéco.
It is time to think a little more about our nature and future, and therefore buy more products that are environmentally friendly.
Less plastic, more wood!
View everything from Jouéco here
Read also: this way you can keep wooden toys clean
Best wooden marble tracks: Hape
Age: 6 +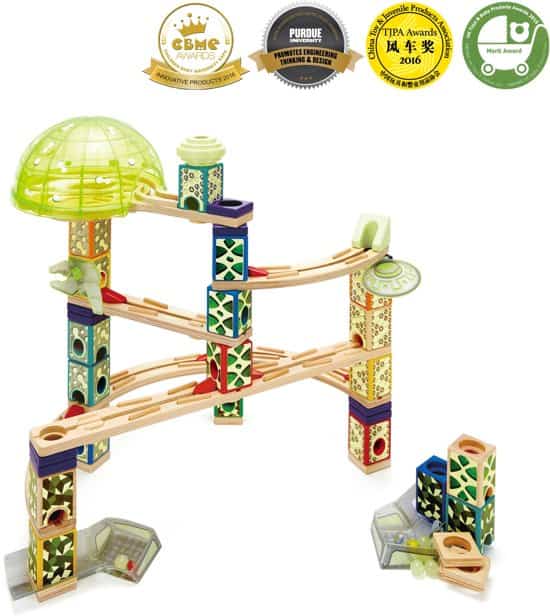 What it is: A 176-piece wooden marble track, which comes with glow-in-the-dark stickers and both regular and glow-in-the-dark marbles.
Pieces include a cosmic dome, glowing loops, curved rails, bases, and a marble pool.
Can be built in in different runs, using the color coded blocks. Comes with an instruction booklet.
Why we like it: This marble run is both beautiful and cool to build, and you can connect them together using the ideas in the booklet or building for free with your imagination.
It was a huge hit with all of our kids testers who found the set exciting to build, and 'great' when played in the dark!
View the Hape marble tracks here
More about Hape
Hape is the world's largest producer of wooden toys and uses only natural materials.
A sporty appearance, beautifully finished and a streamlined design; these are the characteristics of Hape's vehicles.
The brand even has a complete line of bamboo toys. Bamboo is the fastest growing woody plant. The bamboo that Hape uses comes from sustainably managed plantations.
Did you know that a sustainably managed bamboo plantation provides about 2 to 5 times as many cubic meters of dry material per year compared to plantations where types of wood such as teak or oak are grown?
By making strategic choices, including in energy use and packaging materials, Hape is able to minimize the impact on the environment and optimize efficiency.
They also ensure that the by-products produced always have as little impact as possible on the environment.
They use a water purification system that uses limited to no chemicals to return the purified water to circulation.
Because the Hape factory is only 3 km from one of the largest ports in the world, the Ningbo-Zhoushan port, there are also advantages in terms of transport and environmental friendliness.
All toy products meet or even exceed the safety and quality standards EN71 (European toy standard) and ASTM (American Society of Testing Materials).
The chemical materials that come in are immediately checked and tested by a certified external lab. In addition, product test reports are updated every year by an external certified lab.
FSC is an independent non-profit organization developed to promote responsible management of global forests. Hape supports this organization by offering FSC products.
The paint is also water-based and non-toxic, and an environmentally friendly eco adhesive is used for the glued parts, which contains no formaldehyde.
The packaging is printed with soy or water based inks.
Best wooden educational games: Haba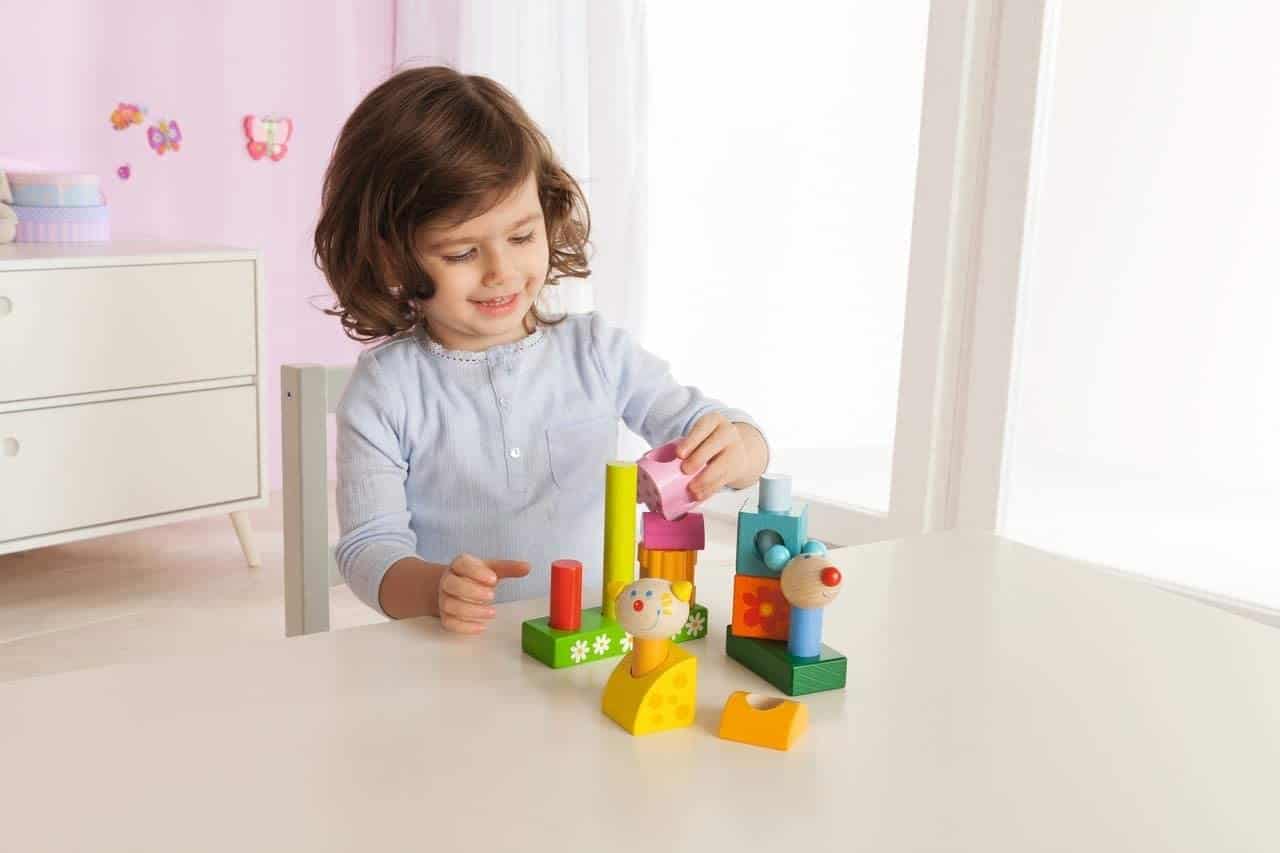 Did you know that Haba toys are well thought-out toys with a high play value?
I thought it was a good idea to take a closer look at Haba toys. I came across many toys from this German brand during my research into responsible and educational games and toys.
Children of all ages can find suitable games or toy items at Haba.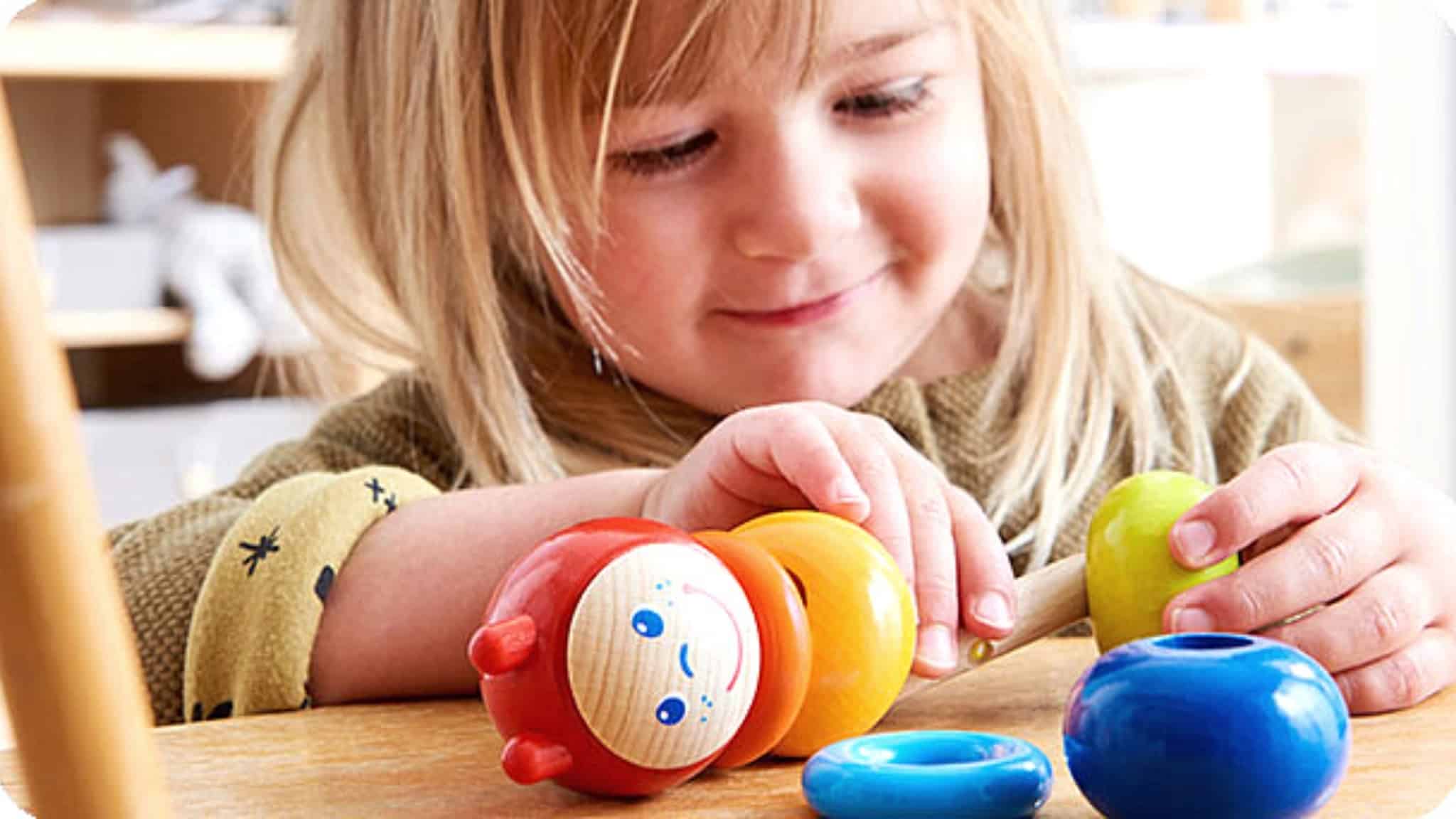 The designers and game editors of this company are often inspired by nature, by animals and also by people and you can see that in their toys.
The wooden toy items from Haba come from sustainable forest management. Wonderful and safe toys for the youngest among us and always at their own level, produced by hand in Germany by proud Haba employees.
It was difficult to choose, but as overall I have the nicest toys from Haba this block mosaic 3-D chosen. It is suitable for children from 3 years old, but is a challenge for children of all ages!
The 10 sample cards - printed on both sides - can be copied with the blocks by the youngest children, but older children or adults can also turn them into a game; whoever makes a mosaic of the chosen card fastest wins.
Why Haba toys?
What particularly attracts me - besides the fact that this brand makes sustainable toys - is that there are already educational board games for very young children.
Haba's approach that a game should not be 'just fun', but also educational and focused on the development of your child is a big plus.
Furthermore, each game adapts to different thinking levels, because it can be played in various ways.
The materials used for their toys are also safe and responsible. Do you think it's crazy that it is one of my favorite brands?
Some Haba history and background
Haba has been a renowned Bavarian toy maker since 1938. It is the first toy manufacturer in Germany.
The toys of this brand meet very strict safety requirements, and in most cases Haba exceeds both European and American standards.
Most of the wooden toys are made in Bad Rodach (Oberfranken region in Germany).
The dyes used are water-based, and therefore safe for in the mouth. The wood that Haba uses for its toys comes from regional forests and has the PEFC label.
In addition to opting for ecologically responsible materials, the brand also uses an active environmental policy in the German factory. The use of materials, emissions and production of waste are kept to a minimum.
Since 1999, Haba has passed the EMAS test without any problems and has received the ISO 14001 certificate for environmental management. This means: innovative materials, short distances and modern production techniques.
They even use new environmentally friendly materials from renewable raw materials for their products. The company tries time and again to implement improvements that benefit nature.
Finally, they have an energy management system certified according to the ISO 50001: 2011 standard to improve the company's energy efficiency.
Overall nicest Haba toys: Block Mosaic 3-D
This block mosaic 3-D wood 48 blocks is a colorful wooden game. It offers building fun to creatives of all ages.
When copying the examples - or with their own creations - your child puts beautiful designs stone by stone:
Your child will automatically get to know the first geometric shapes and the fun is limitless, because the combinations are endless!
Check the latest prices here
Best Haba walker: Broem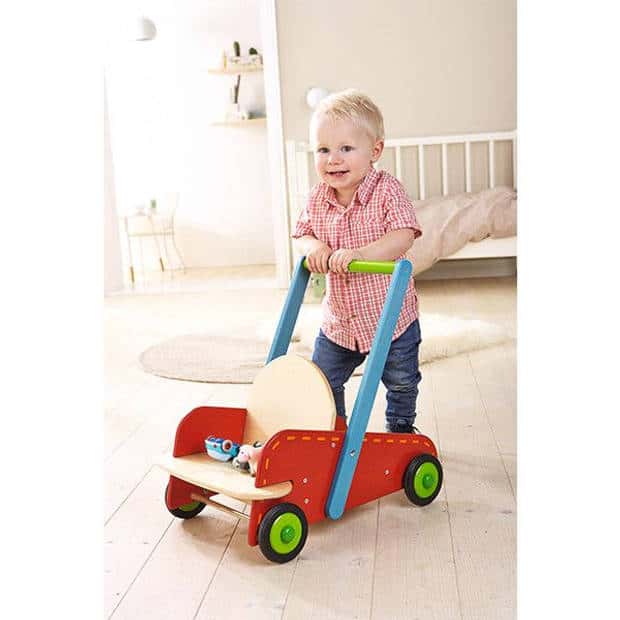 With the robust wooden walker Broem, the little ones who are just learning to walk have some extra support. Walking is promoted with this walking cart and gross motor skills are developed. You still have to assemble the trolley, which is not difficult with Haba runners:
The push resistance can be adjusted to the pace of your child on the adjustable brake.
This walker is cheerful, but above all safe and has a handy seat at the front. This way your child can push her dolls or friends or sit in them herself.
Check prices and availability here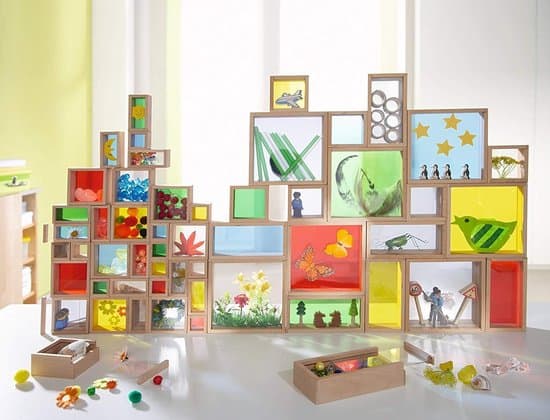 This quite pricey set of building blocks with colored windows is very surprising!
This set contains 21 wooden blocks - or windows - in different colors and sizes. Each block therefore has a colored, but transparent window.
Your child can fill these blocks: with sand, flowers, beads, you name it! A very attractive building game for children from 3 years old.
Good for the development of fine motor skills and also a very creative game by filling the windows in any way!
Check the latest prices here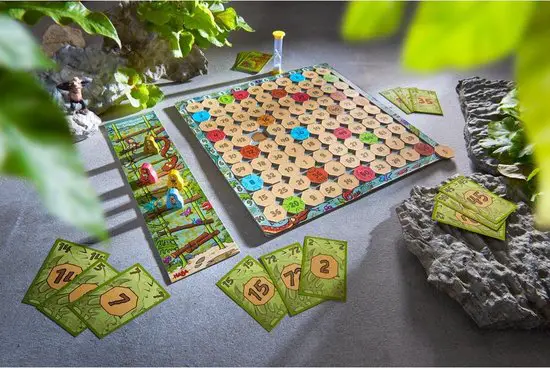 The Haba animal feed game is already suitable for your 2-year-old child. Your child must find out what the cat, turtle or mouse is eating.
The animal cards, the wooden pieces, the shapes and color cards must be properly sorted by your little one.
Children have to appeal to their memory with this game to make as many sets of animal cards and color cards as possible. This game promotes their speech and animal knowledge.
The game comes with 5 wooden pieces - 1 carrot, 1 sod, 1 fish, 1 piece of cheese and 1 bone - and 5 animal cards, 5 shape cards, 5 color cards and 1 a manual.
Here someone from Haba explains how it works, and why it is such a fun game (in English):
Children therefore tell each other which different types of food, animals, colors and shapes there are and which ones match.
The cards are mixed up and at each turn one is turned over, the children tell which animal it is or what color the card has.
Whoever finds both the correct color and the correct animal card with his own food card wins the game.
The game can be played with up to five people and only lasts about five minutes. I also like to play it with my toddler.
The game is made of beech wood and cardboard.
Check the latest prices here
Wooden toys have been Haba's showpiece since its foundation. The company is best known for its wooden building blocks.
The emphasis is still on wood, but in recent years more and more other materials have also been used.
Today, Haba makes many different toy items; including marble tracks, dolls, children's jewelry, (craft) games, but also carpets and even decorations for the nursery.
Some of their products have been voted Toy of the Year in Germany.
The nice thing about Haba toys is that your child does not realize that he is picking up all kinds of skills while playing.
Your child will be helped in his development in a playful way: he learns to recognize, observe and react, concentrate and think logically, make decisions and solve problems.
What to do with children who find a game too difficult? Or children who quickly find a game easy and therefore boring?
At Haba there are always rules for a basic game as well as suggestions for making a game more difficult or easier.
As far as I am concerned, Haba makes suitable and well thought-out toys, with an eye for detail. A great brand!
View more toys from Haba
Educational wooden toys and children's furniture: Guidecraft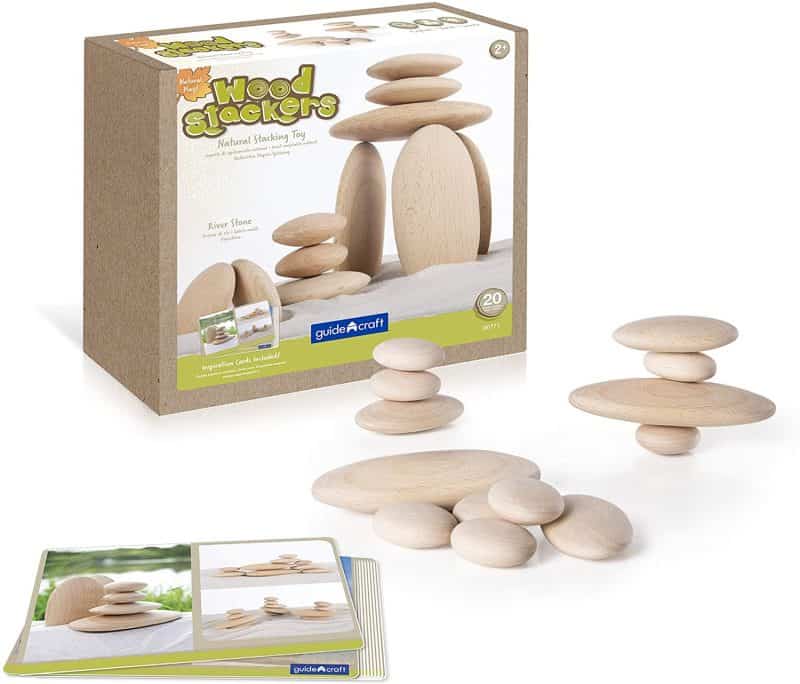 Guidecraft was founded in the year 1966 by Fred Fein in a small wood shop in upstate New York.
The first toy Mr. Fein made was named "Wedgies"; the toy had a wide base and a narrow top, and was designed to be used with unit blocks to stimulate the social and emotional development of children.
Today, Guidecraft is one of the leading early childhood education toy brands with a focus on system based STEM toys.
They also design children's furniture at Guidecraft.
Children and safety are paramount at Guidecraft. All products are tested and meet or exceed international safety standards including EN71, ASTM, Health Canada and AUS / NZ.
They also meet California Air Resources Board or CARB standards and use FSC certified solid wood and wood-based materials such as MDF and plywood. All products are made from environmentally friendly and recycled materials.
The play blocks from Guidecraft are a bit different than you are probably used to. For example, have you seen the rainbow blocks of sand? These play blocks are, as the description indicates, filled with beautifully colored sand!
By stacking the blocks, you can create a colorful whole. Guidecraft also has rainbow blocks with water, which in this case are filled with colored water.
This toy is suitable for kids from 2 years of age.
The Wood Stackers River Stones invite children to build and stack with blocks inspired by the natural, polished shapes of river rocks.
The round, wooden stones are sanded perfectly smooth to emphasize the beautiful, natural grain and tones of the pieces of wood. Different measures help children understand weight, gravity and relationships.
The toys encourage children to build creatively using the natural blocks to create familiar objects and encourage exploration in nature.
The toy contains 20 river stones and inspiration cards in different sizes.
It is advised to keep the toy indoors in a cool, dry place out of direct sunlight.
The toy is intended for children from 2 years old.
Best Wooden Building Toy: Kapla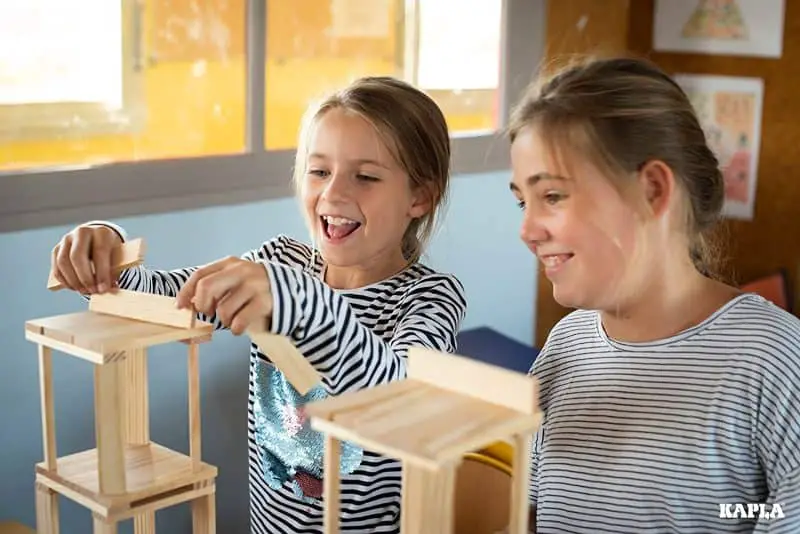 The idea of ​​the fun toy brand Kapla originated around 1985, when the Dutch art historian and antique dealer Tom van der Bruggen left for France and was looking for a shape for a block to castle (always fun to play with knights) build to scale.
The name of the brand, Kapla, comes from the first few letters of the words KAbouter and PLAnkjes.
Unlike what you are used to from the other building games, the Kapla boards are identical. The precision makes it possible to build larger buildings.
Each board has the ratio 15: 3: 1 and the dimensions are (lxwxh) 11,7 x 2,34 x 0,78 cm. The boards are made of pine and are untreated, although you can also get boards in color.
The toys are available in boxes of 20, 40, 100, 200, 280 and 1000 boards. The sets come with interesting ideas booklets, but don't expect step-by-step guides.
The target group is mainly children. In both the Netherlands and France, Kapla is used as educational toys in schools and childcare. However, more and more adults also find these toys attractive.
To create the most beautiful structures with Kapla, you do not need glue, clamps or screws. With Kapla toys you can build bridges, an entire city, robots (no wooden ones of course programmable building set robots like this one) or build castles.
A child automatically comes up with new ideas. The boards can even be placed as a race track, and then with toy cars to continue playing. Or your child makes a construction for the LEGO figures.
Kapla can be played in many different ways. Kapla can therefore be combined with all other toys and is therefore extremely universal.
Simple but so much fun. The toy has already been awarded several times. Originally the Kapla boards were neutral in color, but nowadays they are available in different colors.
You can choose to make small, cute buildings of cheerful colors. Or do you prefer complicated structures, such as skyscrapers and ships?
The toys contribute to the development of a child's fine motor skills and spatial awareness. In addition, the brain is stimulated in terms of concentration, logic, patience and creativity.
Kapla is fun for everyone from 3 years old!
Most outspoken wooden brand: Candylab Toys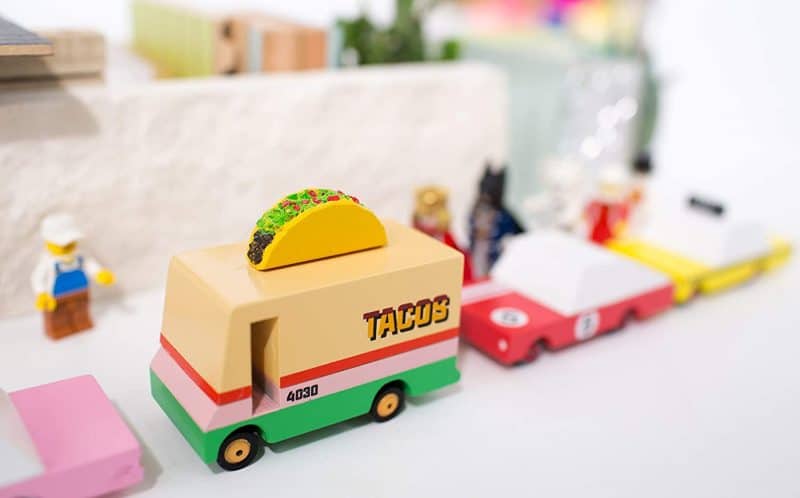 Candylab toys makes beautiful wooden toys that are inspired by the glamorous America of the 60s and modern design.
The brand's wooden toys are of A-quality, or as Candylab says of 'heirloom quality'.
The brand has a unique range of solid wooden toy vehicles with a refined design. Fair and beautiful toys that allow for children's imaginations to go their own way.
The company is based in Brooklyn and the toy collection ranges from classic American cars to typical American buildings, including typical motels, beach towers and buildings with large neon signs.
The toys are wonderful for young and old. The young audience praises the products, while the adults like to collect and display the wooden toys.
The wooden Candy cars are designed with clean lines and elements of iconic models from the past. When designing the Candy car, a lot of attention has been paid to the details and it is easy to recognize.
De Candylab Toys Woodie is a true classic.
You can even click a surfboard on the roof and hook the Candylab camper to the Woodie via the magnetic towbar.
The cars are sturdy and last a very long time. Furthermore, you can easily combine Candylab toys with other types of toys, including Playmobil.
The brand also cares a lot about our planet, which is why they try to avoid plastic as much as possible. The beech wood for their production comes from North American well-managed forests.
They try to keep the ecological footprint of their products as small as possible.
Best Magnetic Wooden Toy: Tegu
Tegu designs durable wooden magnetic building blocks. The blocks are specially designed for children's hands.
While playing, a child develops fine motor skills and problem-solving thinking with these blocks, and learns about geometry and dimensions.
The brand stands for sustainability, love for play and social anchoring. The blocks are developed in Honduras and thus provide employment.
In addition, the brand only uses wood from sustainable sources and uses lacquer that is based on water. So everything is ecologically sound and non-toxic.
Children play and learn at the same time. When a child plays with toys that challenge them in a certain way, the brain will have a chance to develop.
So learning goes without saying, with the right toys!
Tegu toys are relevant at every stage of development:
Toddler: for developing fine motor skills and hand-eye coordination
Older toddler: dealing with balance and proportions
Toddler: learning to imitate
Older toddler: problem-solving way of thinking
The brand's wooden building blocks are also magnetic. And for many children, magnets have something magical.
The building blocks come in various shapes and sizes, very fascinating and fun toys! In addition to constructions, you can build the coolest helicopters or the smartest robots with a little imagination!
All Tegu blocks are designed to work together. This was a unique challenge for the brand that was solved by making each block around a cubic core module.
By the way, this cube was the first piece they made!
Many people who know the brand wonder: how do they get magnets in the building blocks? According to the brand, there is something magical about what exactly is in a Tegu block.
What people don't always realize is that there's more to it than just a magnet. The magnet is just part of what they hide in a Tegu magnetic block to make it…well…so 'attractive'!
Waldorf, montessori and free school wooden toys
Many people who choose wooden toys often do so because of the durability of the product for the environment or the quality of construction.
The other reason could be to get kids to play with more natural products.
That's where Waldorf, Montessori and Free School come into play.
What exactly is the difference between Waldorf, Waldorf, and Montessori?
Waldorf is what we often call free school, so they are the same, but while Waldorf and Montessori both emphasize the importance of connecting with the environment, Montessori looks for real-world experiences where Waldorf puts the child's creativity and imagination first. .
Both movements therefore look at as many natural toys as possible, ie made of wood, but rubber and such materials could also be used.
Waldorf also often looks at toys that do not really represent anything by themselves, so that your child can give a meaning to.
What is Waldorf or Free School Wooden Toy?
Besides being just natural toys, what actually makes a toy a "Waldorf toy"?
As families have become more environmentally conscious in recent years, toy makers are producing far more environmentally friendly and natural toys to meet increasing demand.
But Waldorf schools, created in the XNUMXs, have always provided children with toys made from natural materials, such as wood, silk, wool and cotton.
Choosing wooden toys is already a good step towards more sustainable and responsible toys, and Waldorf toys are also a step towards toys that are closer to nature, with unfinished wood and sustainable materials.
De stacking blocks from Grimm's in Europe and the Branch Blocks from Guidecraft in America with the bark still on, I think the clearest example of this.
They are anthroposophic toys in which the child can decide for himself what to represent. This stimulates creativity.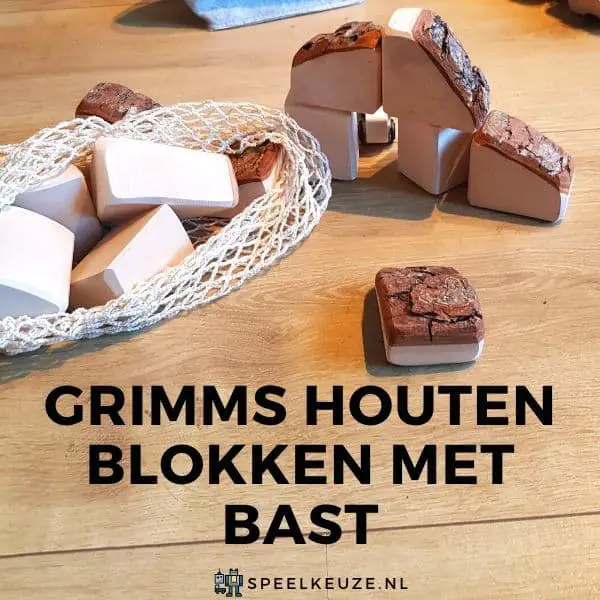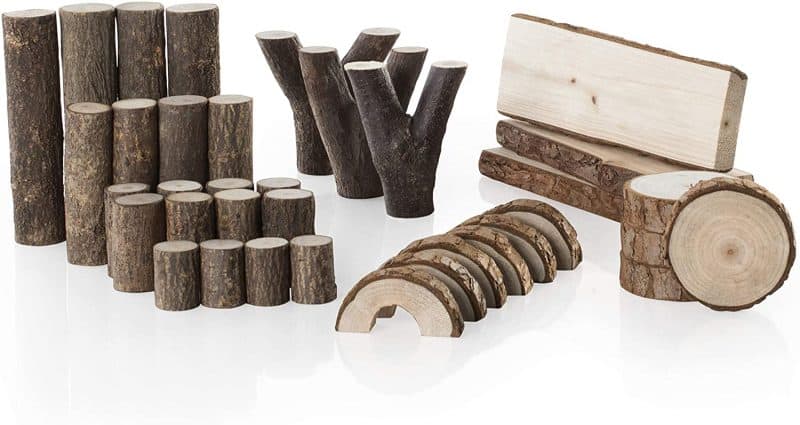 These irregularly shaped pieces can be played on their own by building, sorting, counting and making shapes.
They are also an excellent source of loose building pieces that your child can use in any imaginary world they want to think of, such as on top of the images along with the rainbow blocks that Grimm's is perhaps best known for.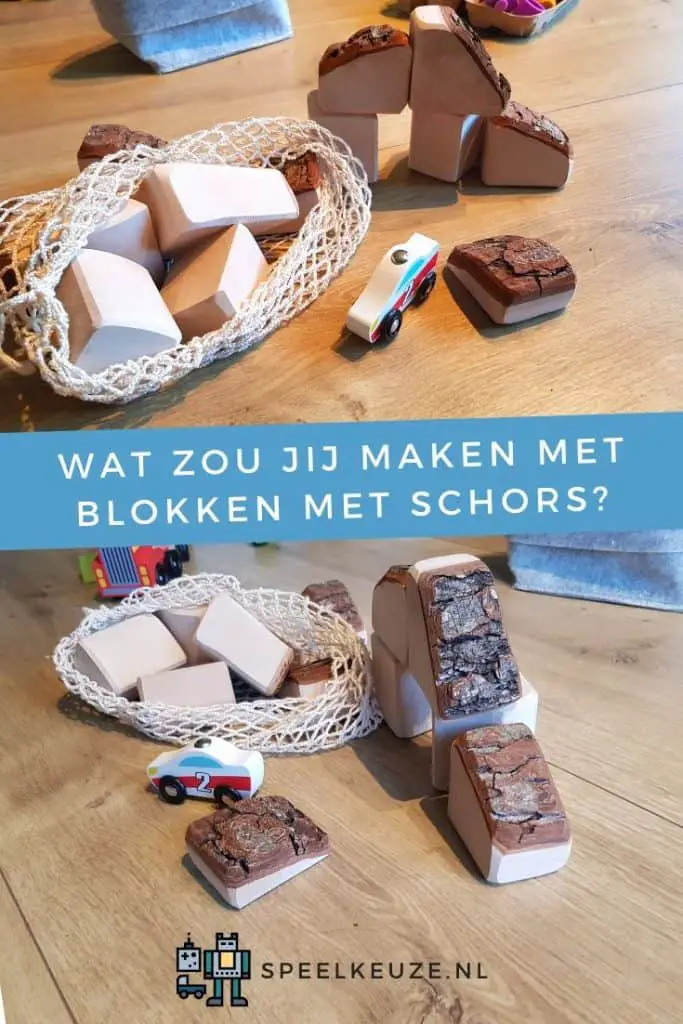 Each block is unique in its shape and sizes and shapes can vary from set to set. The blocks are sanded individually by hand and are therefore free of sharp corners and edges.
Both brands have left the bark on, so they are a more natural kind of toy. That's called Waldorf that way, so play as naturally as possible.
They are all a bit of a different shape, so just a little bit slanted and so you can start building really nice things, so the intention of children is to put as much their own creativity into it.
And because it is nothing in itself, you can really do anything with it. Do you see how stimulating the child's imagination and creativity comes into play here?
I even found the blocks of Grimm's a bit bigger than I expected in the picture and Grimm's is known for fun wooden toys. These are sturdy and of quality and they come in a net.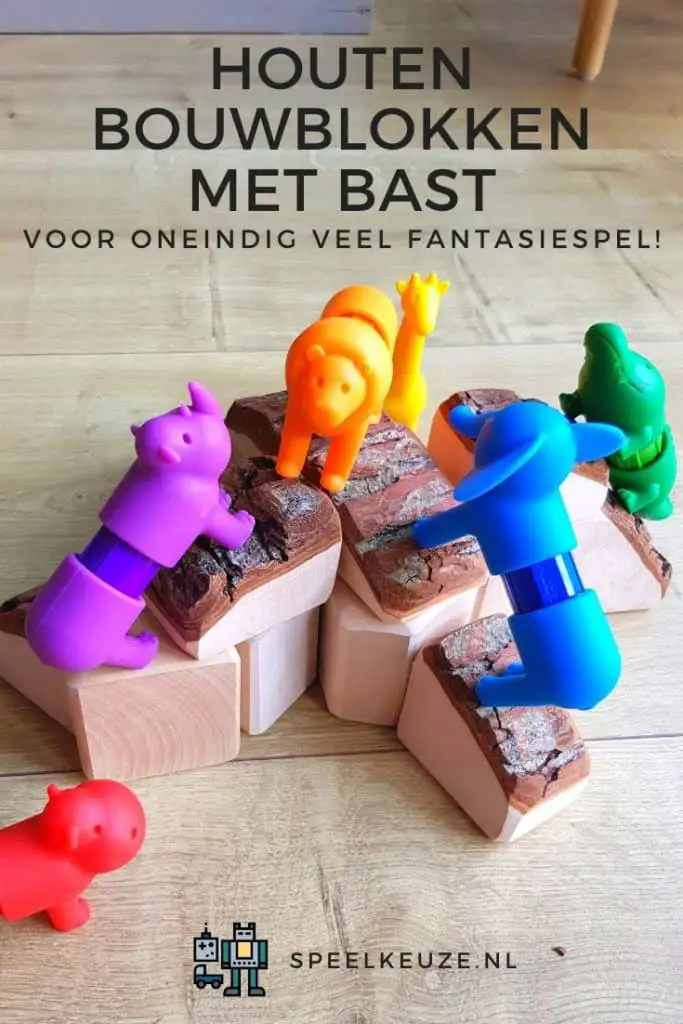 Definitely nice, something different from normal wooden stacking blocks and we can build a nice arch for the cars to drive under, or have a few cute animals use them as rocks.
So an important feature of a "Waldorf toy" is that it is nourishing to the senses of a young child.
Imagine the sensory experience of a toddler hugging a cold hard plastic doll with synthetic hair and then hugging a Waldorf doll stuffed with wool, covered in cotton with a cup of soft mohair.
Not only is the Waldorf doll more aesthetic, but its softness and warmth will have a calming and soothing effect on a young child.
This is also how it works with Waldorf wooden toys.
Beautiful to see
Waldorf toys also need to be beautiful to look at, because sight is just as important as touch. We want to educate children in a beautiful environment and their toys must also be beautiful.
By surrounding children with beauty, we not only contribute to their sense of well-being, but also develop their aesthetic awareness and appreciation.
Toys made from natural materials, with rich, natural colors and lovingly handcrafted, are inviting and contribute to a child's 'sense of life'.
A child is much more likely to feel reverence for a beautifully handmade toy and take good care of it than for a mass-produced plastic toy.
As Plato so eloquently acknowledged:
"The most effective type of education is for a child to play among beautiful things."
Inspire the imagination
Rudolf Steiner, the founder of Waldorf Education, suggested that children's toys should be largely undeformed to stimulate a child's imagination.
What does this mean?
Waldorf toys are often simple, without much detail. Waldorf teachers believe that toys should be simple and open.
Baskets of tree branches, play floss, stones, pinecones and shells can all be transformed into a variety of objects.
On a typical morning in a Waldorf kindergarten, you'd likely see shells turn into money; wooden blocks become food; a small piece of tree branch becomes a telephone; silk becomes skirts and veils; and so on.
By giving children objects that are not very shaped and detailed, they can easily become more than one thing and let children's imaginations run wild.
If you are familiar with a Waldorf doll, you have no doubt noticed that such dolls have minimal facial features and sometimes no faces at all!
What is montessori wooden toys?
With Montessori wooden toys it is therefore also about stimulating the senses with natural products, here too a lot of wood is used.
But here we look more at real world experiences and not so much at leaving everything to the creativity of the child.
A toy is therefore allowed to have a clear role, such as a clear father figure and child figure with painted faces and matching clothes, whereas Waldorf prefers dolls without a face or clear role.
You can also see a lot of wooden educational toys in the montessori school.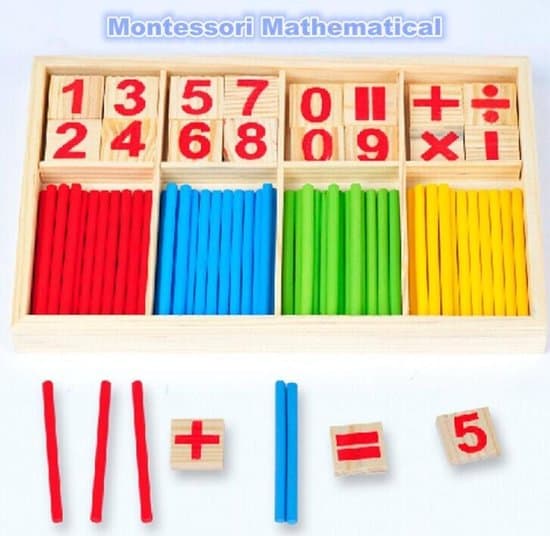 This educational Montessori Math toy is fun and varied and made of wood.
If your little one is a math prodigy or has the ambition to perhaps become one, give him some math fun!
Different ways of calculating are possible which stimulates learning, and a sustainable and educational game for inquisitive children.
Are wooden toys better than plastic?
We want the best for our kids, but what if you're just not sure about the best toys?
You search online, overwhelmed by the choices.
Your child may be drawn to the flashiest, most expensive item at first glance, while the classic wooden toys at the end of the aisle are overlooked.
Nevertheless, from time to time you should still choose the simple wooden toys with perhaps less attention-grabbing marketing over all the noise-making and light-up gadgets.
Why wooden toys?
Wooden toys never go out of style
There is seldom any major commercial hype surrounding the latest wooden toys, but they have been used well in many open ended play for generations and still last.
Unlike plastic digital fads that are buried in new technology every year, wooden toys are as healthy as they are timeless.
There are many reasons why wooden toys are better not only for your child, but also for the environment.
They are more durable (generate less waste than their plastic counterparts), are biodegradable and can even be made from sustainable wood.
Good quality eco-friendly wooden toys also do not contain PVC, phthalates or similar chemicals used in plastic toys.
However, keep in mind cheap, low-quality wood. Some are made of plywood that is full of toxic glues and formaldehyde leaching, as we noted above.
Lack of quality control on these cheaper materials means there is a high probability that paint contaminated with lead has also been used.
More and more people are choosing wooden toys for their children, such as Jouéco's, and that is of course a very positive development.
Perhaps the only downside to wooden toys is that they are a bit more expensive than plastic toys.
But there are a lot of advantages to it, and I will mention a few below.
Wooden toys are biodegradable
Wooden toys are, for the most part, biodegradable.
Of course, screws or other materials are always needed to finish the toy, but the idea is that the products are ultimately mainly made of wood.
Wooden toys also have fewer disadvantages than plastic toys when it comes to health.
It will last a long time
Wooden toys are generally extremely durable. Wooden toys can also break, but compared to plastic toys the difference in durability is very large.
Wood can withstand a lot better and wooden toys hardly wear out. This prevents destruction and disappointment.
Wooden toys will last for generations and can therefore be enjoyed for a very long time!
Wooden toys give way to more imagination
Wooden toys are often a bit simpler than 'normal' or plastic toys. By 'simpler' I mean: no (unnecessary) frills.
This ensures that your child has more space to express his or her imagination and to be creative while playing, also known as anthroposophic toys.
Wooden toys never go out of style
Those vintage wooden blocks and toy trains from the eighties are actually just as fun in our time, don't you think !?
You probably used to play with these kinds of toys, and now your son or daughter can enjoy them too.
Wooden toys are timeless and will always be appreciated. It can be passed down from generation to generation. How beautiful is that?
Safe
Wooden toys also do not contain any toxic substances because they are made from natural materials.
Low costs, high quality
With solid wood toys, you can opt for eco-friendly, even if you're on a tight budget.
There are plenty of high quality wooden toys on the market that won't leave a hole in your wallet, and are actually more educational than you might think.
In 2015, the annual TIMPANI toy study that a simple wooden cash register scored well in the creativity category and was equally loved by boys and girls of every socio-economic background.
Wood is more educational than most plastic toys
When children play with toys, they are not only entertaining themselves, they are also serious about learning.
Research shows that unstructured playtime, for example simple open-ended wooden toys, is both valuable and loved in the classrooms.
Kids' imaginations soar when they play with things that are not obvious, for just a single use (pushing a button and something happens).
Imagine a toddler playing with wooden blocks: they can be stacked in the shape of a house, building, zoo, or anything else he or she can come up with.
Flashy can tire the brain
Often times, the most popular toy, or the one that most attracts the attention of children, is not a good addition to the toy box.
These types of toys are the flashy, plastic items packed with an electronic element that offers little creative play and can even hinder development despite a manufacturer's claims.
Ultimately, basic is better.
A toy doesn't need all the bells and whistles.
In addition, overstimulation can lead to a negative neural impact, making it more difficult for the brain to think critically.
Why plastic toys are often not environmentally friendly
Even if you don't buy flashy gadgets for your child, there are plenty of reasons to avoid plastic.
Developmental issues aside, many plastic toys can be harmful - and not just to the environment.
You may be aware of the recent reports linking hormone disruption to the chemical bisephenol A (BPA) used in plastics.
This is just one of the many chemicals found in plastic toys.
PVC (vinyl) is another nasty chemical to avoid when shopping for toys and may contain known carcinogens such as phthalates.
How do you know if your playroom contains safe types of plastic?
The good news is that most packaging includes labels such as "PVC free" or "environmentally friendly".
Also look for the recycling number for the type of plastic being used.
Are wooden toys always sustainable?
How nice it is to lend our world a helping hand by purchasing 'green' and good toys.
In this way you make your children more aware from an early age when it comes to protecting our world and the animals that live on it.
You can explain to them that you choose natural materials for them, preferably in the form of recycled toys, because that is very important for our environment.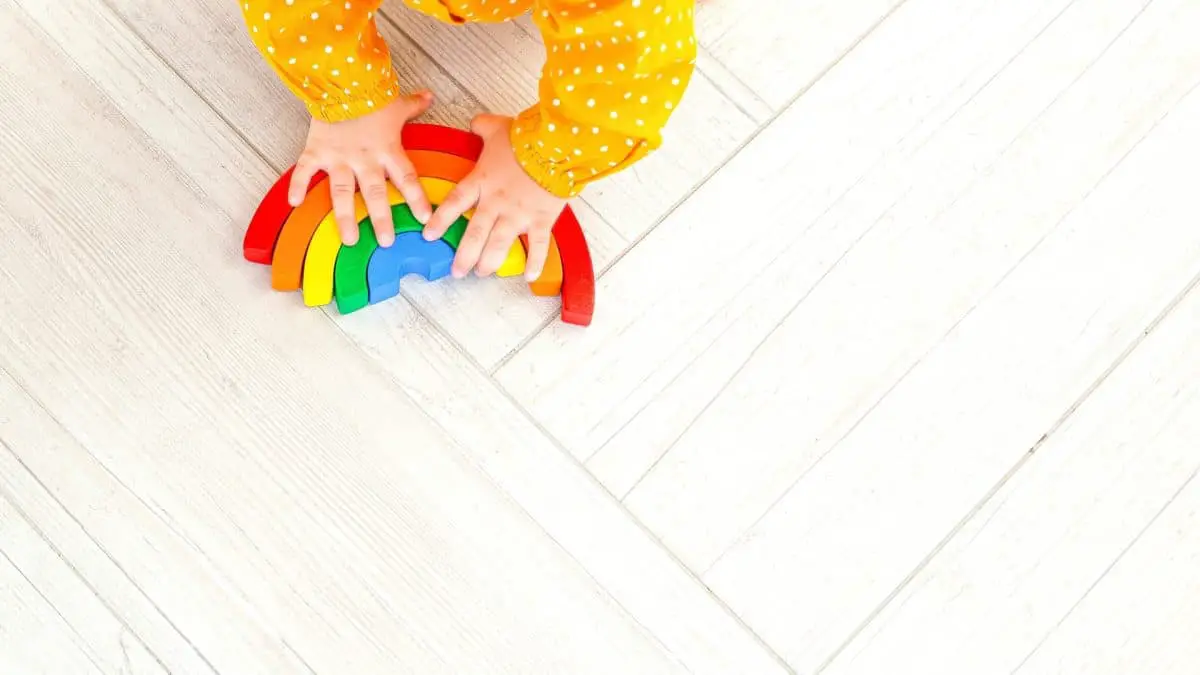 Also for nature, where we like to spend some of our free time.
Why are sustainable toys important?
What can we do ourselves, now that we see how wrong the world is going, how much plastic is floating in the oceans and how many animals are affected?
How the animals from the rainforest have less and less place to live and we also feel the consequences of this.
In any case, we can try to purchase environmentally friendly and sustainable products, including responsible toys.
There is plenty of choice!
Are sustainable toys always made of wood?
There are three top brands when it comes to sustainable toys, we have put these brands as the first 3 in our list, these are:
PlanToys
"Better children, better world!" is their slogan.
At PlanToys, sustainability and the development of children are of paramount importance. By focusing on child safety and the design itself, these wooden toys are great for your little one's development.
Green toys
Sustainable toys therefore do not always have to be made of wood.
For example, you have this Green Toys Helicopter that is made of sustainably manufactured plastic: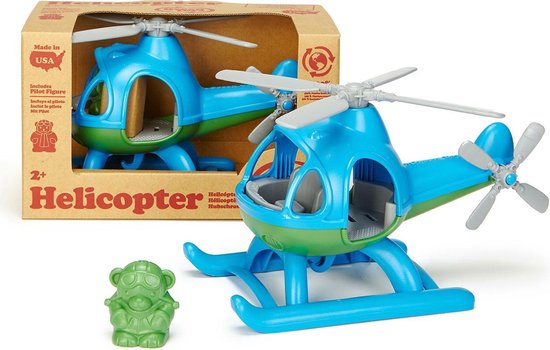 This Green Toys Helicopter is made of at least 50% recycled materials, which is good for our world!
This durable and cool helicopter is ready to take off. A safe choice for your sprout.
Suitable for children aged 2-5.
100% recycled toys!
They have already recycled around 99 million milk jugs. Green Toys believes that 'every day is a day of the earth' so 'reduce, reuse and recycle!
BiOBUDDi
It all started with a father's dream. Steven van Bommel, father, he had recently taken over the toy factory from his father.
His daughter felt that he should no longer make bad and polluting toys - from plastic - and should be more aware of the environment. From that moment on, Steven started to produce sustainable and responsible toys; BiOBUDDi!
With their Wildlife Forest series, a kind of sustainable Duplo atlernative, BiOBUDDi has also managed to gain a gap in the market with responsible gaming:
BiOBUDDi Wildlife Forest is for children from 3 years old, they are safe construction blocks to make a beaver, bird or squirrel.
This educational toy even has an ECO Toy certificate. Tell us how green do you want it?
Sustainable toys provide ecological, social and economic benefits.
Protects public health and the environment throughout the cycle, from the extraction of the necessary raw materials to final destruction.
So many toys are made of plastic, many of these toys contain the toxins BPA and plasticizers.
Fortunately, there are a few safe types of plastic, for example from LEGO or Green Toys.
But what actually makes toys sustainable?
When a toy is sturdy and safe and stays beautiful for a long time. If the material used is recyclable and contains no toxic substances and if the production process is not very harmful to the environment.
Then we think it can be called sustainable.
When purchasing toys, always pay attention to the following points:
check the paint or varnish used, rather buy unpainted solid wood
avoid buying chipboard or plywood
buy toys that have a manufacturer's name and address on them
check the quality of loose parts such as strings or hair
the CE mark, is it present? However, it is not to say that the product cannot contain harmful substances, but it is something. The German GS mark, TÜV Rheinland and the British standard BS are safe
Before purchasing, check whether a new toy is on the warning list
prefer not to buy toys in foreign web stores
Questions about sustainable toys
Now that we've taken a look at the best products, we have some more useful information about sustainable toys for you.
How do I take care of my sustainable wooden toys?
Wood is naturally antibacterial.
If you need to wash toys such as teethers, gently clean them by hand with a cloth dampened with lukewarm water and a very mild natural soap or a 1/10 dilution of vinegar with water and leave dry completely.
Once dried, toys are ready for use.
To restore the original shine and make them last longer, apply a thin layer of organic oil - sunflower, for example - with a cloth and let it dry before use.
Are wooden toys environmentally friendly?
Wooden toys are more durable, kinder to the environment and very often better for children, both developmentally and physically and because of the many toxic chemicals used in the production of plastic toys.
Wooden toys can be very environmentally friendly! For example, keep an eye out for wooden toys made from rubberwood, wood from FSC-certified forests, or bamboo (technically, bamboo is a grass with a woody stem, but we'll include it here anyway).
Rubber wood trees produce latex for about 25 years. When they stop producing latex, the rubberwood forests are usually burned down and replanted.
Making wooden toys from the non-producing trees is a great way to make use of materials that would otherwise be thrown away.
Many toys made from environmentally friendly wood come from FSC-certified forests.
The Forest Stewardship Council is an independent organization that certifies forests that meet their management standards that, according to FSC:
"Extending water quality protection, banning harvesting of rare old-growth forest, preventing loss of natural forest cover and banning highly hazardous chemicals are all unique aspects of the system"
Finally, bamboo toys are an excellent choice for environmentally conscious families. This fast-growing grass is as durable as it is safe for babies and toddlers.
Are wooden toys safe?
If you are a parent, you are probably wondering why wooden toys have become more popular again in the past decade.
Very simple: wooden toys are safe for your baby, toddler, toddler and any other age.
It offers endless possibilities for open ended play and will last for years.
Wooden toys can certainly be safer for your child. You may have heard of BPA and PVC, two chemicals that are both common in plastics.
There is no BPA, PVC or phthalates in wooden toys, making them a great choice for parents who want to avoid chemicals.
Wooden toys seem to be more expensive, is it worth it?
Yes! Wooden toys are durable and can be used a lot over many years.
Many wooden toys can even be passed on from child to child and even from generation to generation.
It may seem more expensive when buying a wooden toy for the first time, but in the long run, quality toys always pay off.
Plus you do your part for the safety of your child and the environment.
Will my child be entertained with toys without flashing lights?
Yes! Wooden toys are designed to stimulate the imagination through open play. Such as Johan Cruyff once said: "Simple playing is the best".
We showed you that there are plenty of beautiful and durable toys for sale for children of all ages.
Be aware of the toys you purchase and always check if they are safe; we mean not only small parts and the quality mark, but also the material and the raw materials used.
A toy may look safe, but it may not be. Wood, for example, can be treated with toxic lacquer or paint.
Also plastic, plywood and chipboard often contain toxic substances.
Make responsible choices, especially when it comes to toys!
This was our list of the best wooden toy brands and I hope they will help you find a fun playset for your child.
Read also: the best educational toys for kids
Joost Nusselder, the founder of Speelkeuze.nl is a content marketer, father and loves trying out new toys. As a child, he came into contact with everything around games when his mother started the Tin Soldier in Ede. Since 2016, he and his team have been creating helpful blog articles to help loyal readers with fun play ideas.