8 Best Interactive Toys Reviewed for Intelligent Stimulation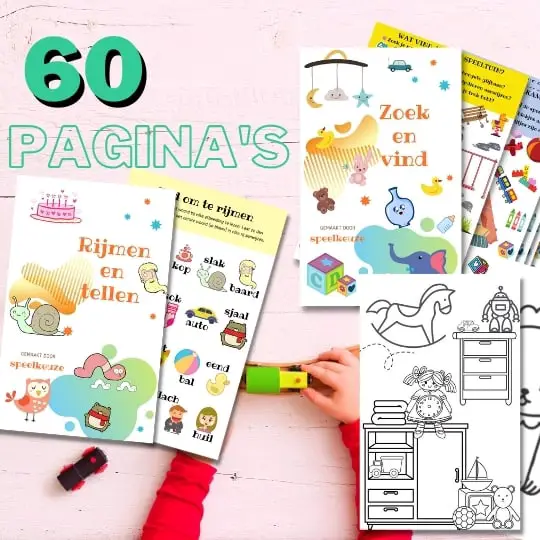 Always something to do for the holidays or rainy day?
Play Choice now has the ultimate activity book collection, with over 60 pages of fun coloring pages and educational puzzles.
Interactive toys are fun for children because they allow them to explore and learn in a playful way.
This toy can help children develop their creativity, problem solving and social skills.
One of the nicest interactive toys options is this Osmo Coding Starter Kit. The app that accompanies this toy is not only a passive learning tool, but a tool that keeps children engaged. The toy has won several awards, including Time Magazine's Best Invention Award.
If you are looking for interactive toys, you will definitely be overwhelmed by the number of options out there on the market.
In this article, we are going to look at some of the best interactive kids toys available on the market.
What to look for when buying interactive toys?
There are so many toys on the market that as a parent you sometimes hardly see the trees for the forest.
In addition, there are also many toys that children quickly get bored of, and that is a shame (for both your wallet and the sustainable side of it).
Interactive toys "interact" with your child and are a great way for children to learn and explore through play, and if you choose wisely, your kids will often be able to play with them for quite some time.
So, what should you look for when buying interactive toys?
Beware of trends
It has probably happened to you: when you return home after school, your child starts with an argument why it is vitally important to drive straight to the toy store.
Almost everyone in the class already has one (insert a name here), and without it they won't be able to show their faces at school tomorrow.
Well, the toy industry is also sensitive to trends. On the one hand, this ensures that new and increasingly innovative toys are constantly being developed, but sometimes it also means that children get bored pretty quickly.
That's why it's a good tip to check when buying whether it matches your child's hobbies, interests or passion. Of course, those in young people also change at high speed, but if it matches their interests, chances are they will last much longer with the toy.
In addition, the number of functions that the toy has are also quite important. We'll go into that further below.
Age
It is important that you pay attention to the age category. For the little ones, interactive toys are often a lot simpler, with sounds and lights to stimulate their senses as they play.
For older children there are often a lot more functions and options. They learn about geometry, mathematics, language, the weather or sometimes coding themselves.
Educational
The nice thing about interactive toys is that they are almost always educational for kids. In addition to stimulating the imagination while playing, they also all learn new skills.
Even an interactive cuddly toy can be educational, which can, for example, invite role play. Or it teaches them, for example, how to take care of a "pet".
In addition, there are many interactive toys that also stimulate other skills.
We've said it before, but think of things like language development, or creative skills through learning to photograph or make a film.
Safety and durability
It is of course important that the toys are safe, that goes without saying. We have listed the best brands for you below that make both safe and sustainable toys.
Top 8 Best Interactive Toys Reviewed
Let's take a closer look at each of my favorites. What makes these products a good choice for your child?
OSMO has emerged as one of the foremost toy manufacturers in the recent past and is known to produce some of the most interactive toys.
What will my child learn?
The OSMO Coding Starter Kit can be divided into 3 parts; Single player to learn to code, coding duo with more difficult puzzles and music to learn to think in sequences. With the help of your iPad, it not only teaches your child about these topics, but also deals with them.
Do I need accessories?
You do need a Base to use it, which is included in this package. The app comes free with the kit. It has won several awards, including Time Magzine's Best Invention Award.
Most important points:
Compatible with iOS and Fire
Very interactive
Award-winning toys
Osmo Genius vs Osmo Coding Starter Kit
Osmo is known for the fun and educational toy kits they release.
The games are aimed at developing an interest in "STEM" (science, technology, engineering. as math), and do so by combining physical game pieces with games on the Ipad or Fire tablet.
The Osmo Coding Starter Kit is for the very youngest with an ambition to learn more about code and writing it. Kids learn more about "sequencing" and "loop".
The reviews are mostly positive, mentioning that even five-year-olds absolutely love the Coding Kit.
The only downside mentioned is that if your kids are already familiar with looping, this kit isn't very challenging as they don't actually learn to code.
The Osmo Genius, on the other hand, focuses on language, math and geometry.
The kit therefore feels a bit more expansive as it has several themes and options to choose from.
On both kits children can play together, for example with hangman, on the Osmo Genius.
Actually, the only thing mentioned as a disadvantage for both is the price.
Osmo is not cheap, and if you have a add-on If you want to buy it, it costs almost as much as the original package.
Why do I want this?
Think of the globe our father and grandfather had, and how proud we were of tracing a location using latitude and longitude.
But today's generation is much further than that.
How will it help?
Until you manage to bring technology to learning, it will be difficult to capture their imagination.
This augmented reality world just does that. It brings the world to life and teaches about it in a really fun way.
Most important points:
Compatible with Android and iOS
10-inch globe
Augmented Reality Toys
Also read: this is the best toy using apps
Why is this so fun?
There are many toys that become unusable after a few uses, which is not great value for money.
There are many reasons why the 4M Kidzlabs Green Science Weather Station is so much fun to play with.
First, it's a great way to learn about the weather. You can observe the weather, record your own weather findings and even make weather forecasts.
It's also a great way to recycle a plastic drinking bottle. By using the bottle as a greenhouse, you can study the greenhouse effect.
Finally, it's a cool kit with a weather station (yet to assemble), screws, thermometer, compass and detailed instructions.
What can I do with it?
With this kit you can measure rainfall, check wind direction, monitor temperature and do many more things.
You can make this weather station with a recycled soda bottle, which is also good for the environment.
Most important points:
To learn by practise
Will be useful for months
Recycle a soda bottle
Why would a child need this?
This is a SmartWatch which every child should have as it is packed with different features, from dual camera to motion sensor, it has it all.
Characteristics?
In addition to taking photos and recording videos, the dual camera is also used for augmented reality gaming.
It has about 55 analog and digital faces that help your child to learn to read time and impress his/her friends as well.
Most important points:
Packed with features
Available in 2 colors
55 different faces
Who is Dash?
Dash is an interactive robot that can brighten up even the bleakest day for your child. It is packed with features for a fun experience.
Is it educational?
Dash comes with an app that can be used to program it. Your child will learn the basic logic behind programming as you play with it.
Other possibilities?
You can race it, set up an obstacle course in front of it and do all kinds of fun activities.
It has a younger sibling named 'Dot' who can also be a great companion. Dash and Dot are both truly interactive toys for both children and adults.
Most important points:
Great pet toys
Can be programmed
Has a brother or sister
Why is this recommended?
Every person, be it a child or an adult, had at some point in his/her life the desire to become a spy and fight bad people.
This kit will help your child fulfill that desire. It will teach your kid some basics of espionage like how to write morse code, use the cypher wheel, etc.
What do I get?
In the box you will find:
Super Spy Journal
X-ray Secret Notes
White Invisible Message Writer Pen
Black Message Developer
Secret Code Library
Morse Code Shutter Torch
Cypher Wheel
Super Spy ID Card
Most important points:
Kids love spy toys
Including experiments
20 page spy journal
What?
Simon Memory game with light and buttons was featured earlier in this blog. You can consider this with the technologically updated version of the same game.
How to play it?
Playing with this is easy, but not easy. The headset will show you a light pattern and you have to replay it.
How hard is it?
The game starts with a very low difficulty. And as the game progresses, so does the difficulty.
Most important points:
Improve memory
Looks futuristic
Difficulty increases
Prefer something more old-fashioned? These are the top 10 best board games of the moment
Why a movie set?
I believe that filmmaking is the pinnacle of different kinds of art, from painting to music to acting and writing.
Hence, making a film opens up different dimensions to a child.
This movie making kit allows your child to create beautiful movies in the comfort of your home.
What do you get?
You get a set, characters, props and everything you need to make a movie. All you have to do is download the app on your phone.
Most important points:
Make unlimited movies
The app allows you to edit
Props are provided
Conclusion
Interactive toys are a great way for children to learn and explore through play.
Some of the best interactive toys on the market are the Osmo Genius Kit and the Shifu Orboot.
These toys allow children to learn through play, and they can help children develop their creativity, problem-solving and social skills.
Also read: 14 cutest baby dolls reviewed – from interactive to nice and soft