I enjoy writing these articles for my readers, you guys. I don't accept payment for writing reviews, my opinion on products is my own, but if you find my recommendations helpful and you end up buying something through one of the links I may be able to receive a commission on that.
More information
Nowadays EVERYTHING goes digital and everyone works with means to keep up with the times and your child sees and wants this too.
A good children's tablet helps children deal with this properly, with handy settings that make it safe and educational.
A regular tablet does not always work well, and EVEN NOT all children's tablets offer enough functions to take children along.
That's why I've been testing kids' tablets for the past few weeks to make it EASY for you to choose.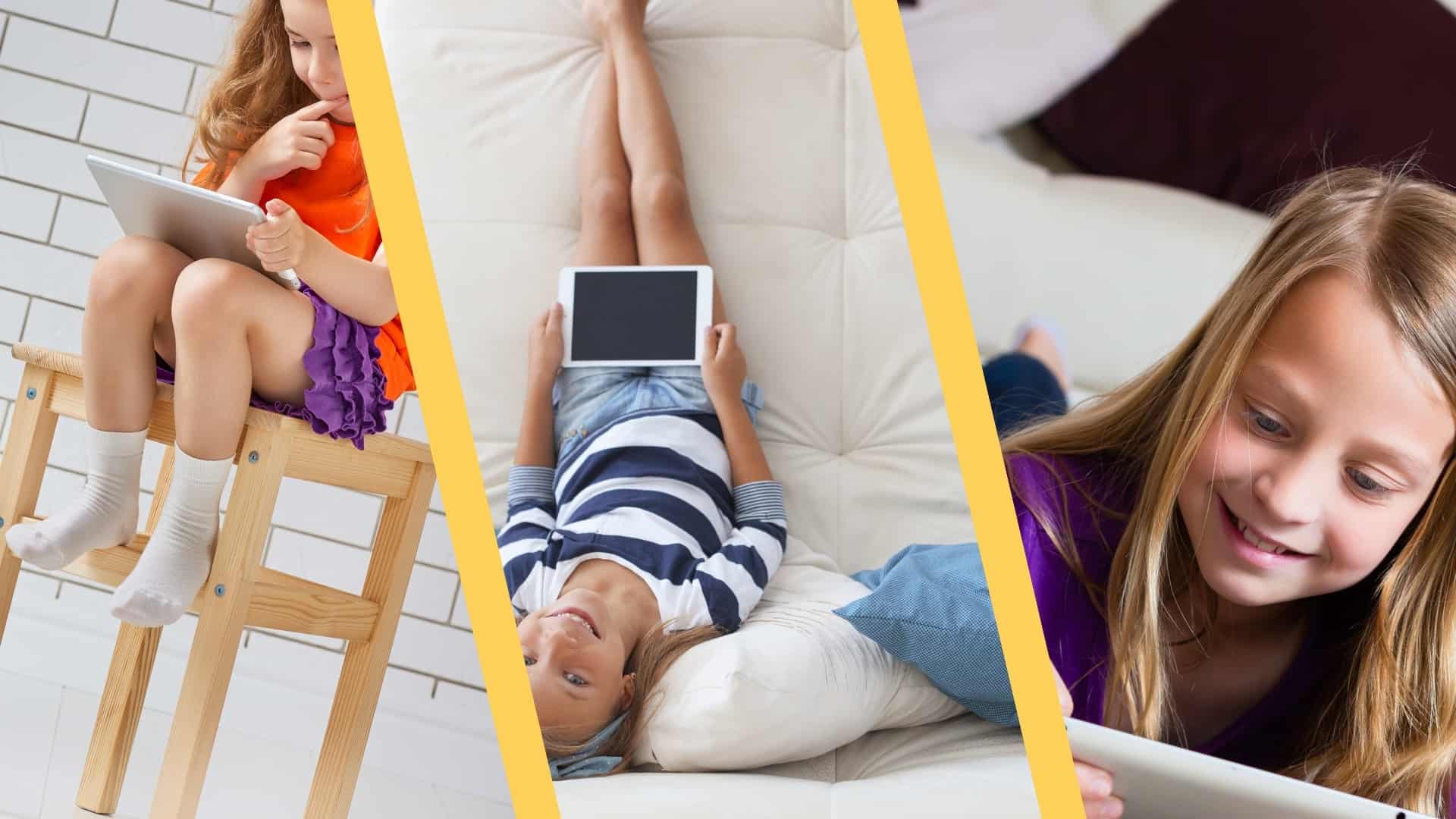 The ABSOLUTELY best this Kurio Connect. It is not the cheapest, but still very affordable and the parental settings, such as a time restriction on specific activities and one of the largest libraries of own content, make it the children's tablet of the moment.
I also reviewed 11 other tablets and there are also some more budget choices to choose from, plus one specifically for younger children.
I have looked at the included games, security, speed / memory, design and of course a good price-quality ratio.
Here are the best from the test in a nutshell, then I discuss all the important functions per tablet:
Children's tablet buying guide
When looking for a tablet for your child, at least look at the age suitability.
That is why I have drawn up this visual decision aid and I would also like to pay extra attention to this: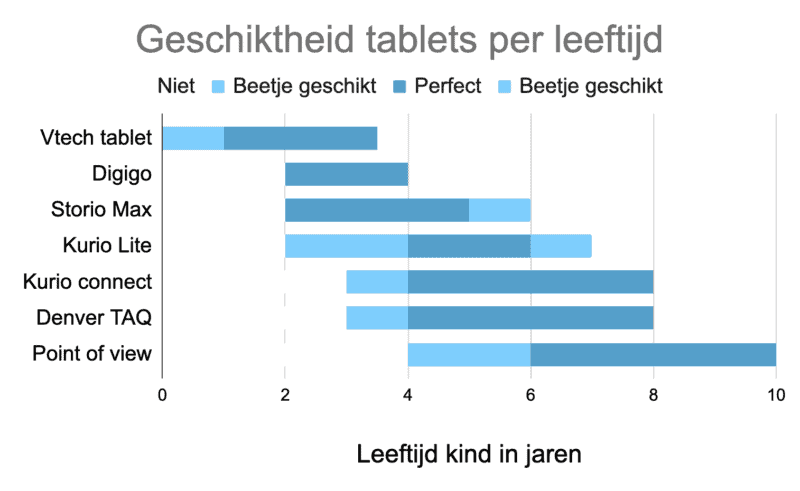 We've got a few more alternatives on this list that are cheaper, for example, or with a better cover, but these are the top picks to choose for your child's age.
Is your child older than 10? Then I would definitely go for an adult tablet that you might also want to make a bit more child-friendly, such as the:
Tablets, just like laptops or telephones, have basic components on the inside such as:
the core processor (responsible for all calculations that your device makes, such as opening a browser, playing videos, music, games, etc.),
RAM or Random Access Memory (responsible for making your computer faster when loading programs - the more RAM, the faster your computer / tablet / smartphone will run),
GPU or Graphics Processing Unit (comparable with the core processor, except that it is specially developed to be able to display graphics on your screen of the device),
Motherboard (houses all other essential parts such as the core processor, GPU, RAM, etc.),
HDD or Hard Disc Drive / internal memory (many desktop PCs and laptops contain HDDs; however, smaller devices contain solid state drives or SSD to store data).
All these parts work harmoniously together to give you the best experience in using your tablet or smartphone.
Although these things are a little less important for a children's tablet (because you are not going to run difficult software and most children's games are quite simple, especially for the younger children), it is still important for the speed with which the tablet responds, and thus the EASE OF PLAY (* * Daddy! The tablet is slow to respond! **)
Dimensions
The size of the display of the tablet that you are going to choose depends most on what you will need the tablet for.
Are you going to use it purely for multimedia? Or do you also need it if you travel a lot with your family?
Do you need a tablet that is convenient to transport but also decent enough to watch a video and play games?
If you are someone who likes to draw and edit a lot, we still recommend choosing the tablets with a screen size of 10 - 18+ inches.
Plus you have to take their small hands into account with young children.
Choosing the OS (operating system or operating system)
In addition to the better known operating systems such as iOS (Apple), Windows (Microsoft) and Android (Google), there are also other OSes that you can choose for your tablet.
Most children's tablets also have a standard OS already built in and that means that you usually work with Android with a child-friendly shell around it.
These are the specific tablets made for children of a certain age.
For what purpose?
How you are going to use your tablet is another consideration that you have to take into account.
Is this only for your young child, or should other family members also be able to use it such as older children for school or you also a bit for work or email?
In the latter case you probably want to go for a full tablet with child-friendly settings, such as the Samsung tablets that we wrote about before.
If children are the reason for buying a tablet, there are some that are specially designed for children like the Kurio.
In any case, a children's tablet is often used to play games or watch YouTube videos, but it can also be used for educational purposes.
That's also why I let my kids play and learn on a kids tablet, but of course with protected internet settings and I limit screen time.
Do they need their own tablet? Not in itself ...
I have researched which device our readers give their children, and that is often their own tablet or telephone, especially up to a certain age.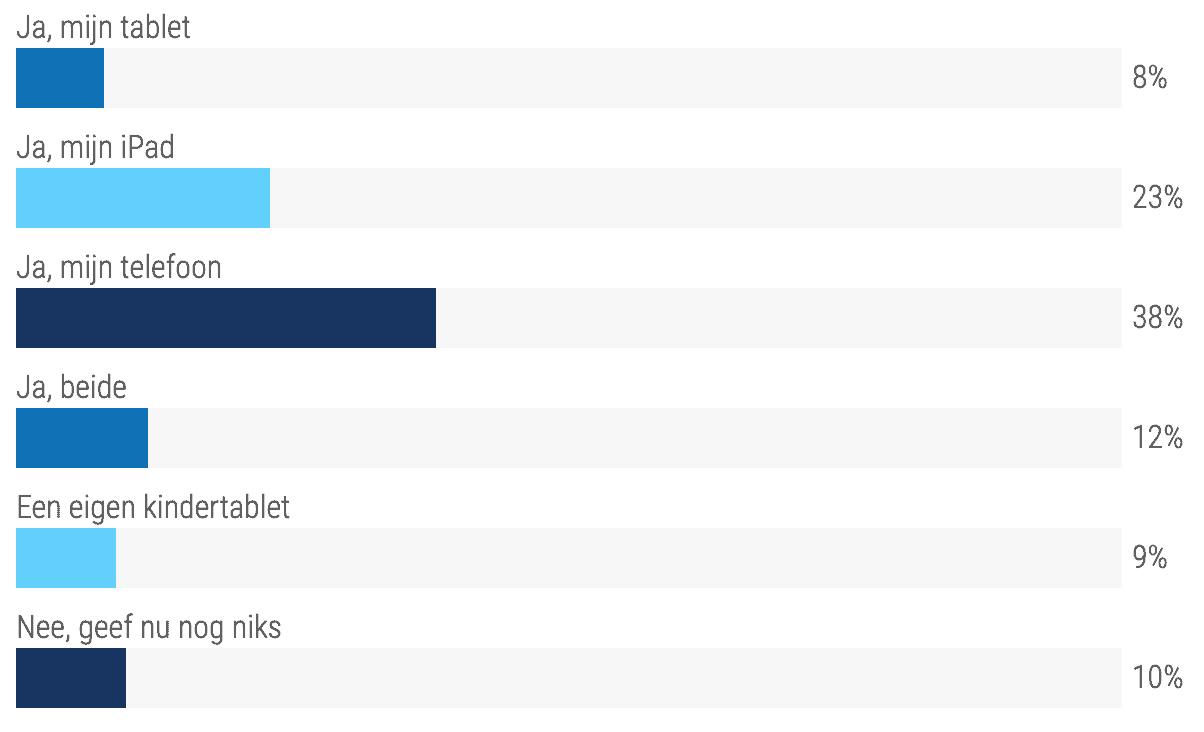 Most people give at least some sort of device to their kids, and on the other hand, many parents are concerned about screen time settings and parental controls.
The right children's tablet can then be very useful to get a better grip on how long and what they use a tablet for, only entertainment or also to learn something?
Considerations for Using Apps and Content
All major OS developers, which are iOS, Android and Windows, have their own app stores where you can download various apps and programs for free or paid.
With children, you would prefer to choose a children's tablet that cannot simply access this, or buy a full-fledged tablet and block the stores or set a limit of an amount.
Android clearly has a big lead over Apple's products in terms of apps for children, but also in making the tablet child-friendly.
Battery life
What's the most important element to perhaps spend a little more on kids' tablets? Battery life!
Yes, because if your battery doesn't have enough power to keep up with all that high performance, your tablet won't be nearly as fun as you thought it would be.
The problem with high quality specifications is that they consume far too much battery and will run out quickly.
So if you want to spend a little more, choose a good battery in particular.
The price
Because tablets are developed by different brands with different sizes, specifications and features, you can be sure that the price can vary considerably from the lowest price segment (starting from € 50) to the higher segments (€ 150 to € 200 or more for a child's tablet).
The final choice, of course, depends on yourself and will largely depend on your goal for the tablet.
Your use and necessity is what determines your decision. Do you mainly use it at home and can it often be on the charger? Or is it the intention that he goes on the road and on vacation a lot?
Make a choice based on your need and purpose for your tablet.
Best children's tablets rated
Well, the advantage of these tablets specifically designed for kids is that you can set the limit in how much you want them to play on them and even what activity.
So you can say, ok…. You can watch videos for half an hour, but then only use educational apps. You can control it as a parent if you want to invest the time to set it up.
And therein lies the power of a real kids tablet instead of just giving the family tablet to your child and hoping it will work out.
Overall best children's tablet: Kurio Connect Telekids
The most bought kids' tablet right now, and with good reason!
Best suited for: 3 to 7 year
Safe browsing: Yes
Youtube: Ja
Size: 7 inch
Speed: Quadcore 4 GB RAM (average)
Where the Denver TAQ is really a budget choice, the Kurio Connect Telekids costs a bit more, but you get a lot of specifications and fun in return
Suitable for: Children who want to do a little more with it, often slightly older children. Convenient integration with the Telekids or Studio 100 offering and great safe-internet mode.
To begin with, as a parent, you have full control over what your child does with the tablet and how long the device is used.
You can filter out unwanted apps with the handy App Management, and websites are filtered and categorized.
This is where this Tab Connect SHINES!
The most useful child-safe settings you can find, and quite easy to set up.
In addition, you can always control and stay in touch with your child with your own phone and App, a unique parental experience that none of the other tablets offers.
That is also the choice you make for this tablet, because it is, for example, less powerful than the even cheaper Denver TAQ.
But for parents who want the greatest security and the best child-friendly content and apps, the Connect is unbeatable.
Not for nothing the MOST SOLD children's tablet at the moment!
Create multiple profiles for your kids
You can set the desired internet behavior for each profile, so that your child can always use the internet safely.
In addition, you can set a maximum time per session that your child uses the tablet, so that your child cannot sit on the tablet all day.
Blue light filter is also a nice function that makes looking at the screen less bad for the eyes.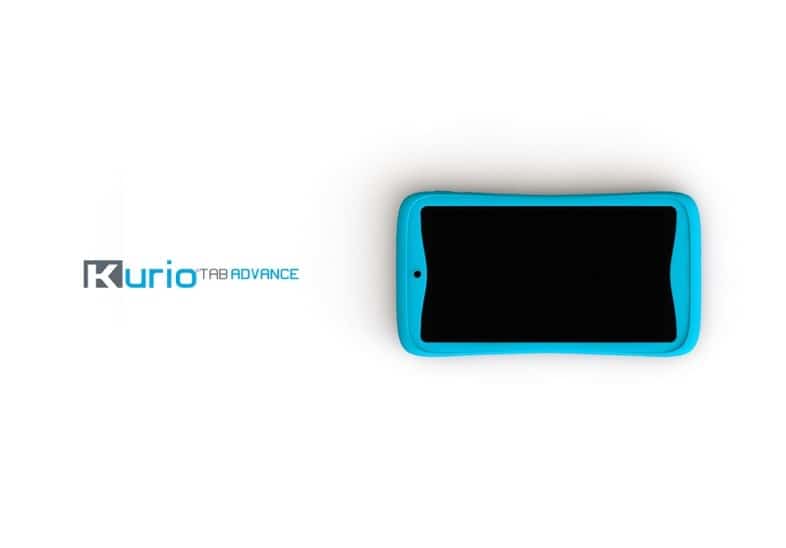 In addition, 8 profiles can be set on the tablet, which is easy if several children use the tablet. The device then remembers what the preferences are based on which profile is used.
The tablet also has Kurio Motion Games that are played with the camera of the tablet, which is of course very cool for the kids.
The Kurio Connect is packed with handy gadgets, making it a very attractive tablet and therefore also earned a place in the top 11.
It is an investment because the device is quite expensive, but it is well worth it!
Also watch Kurio's trailer about the Connect:
Check the most current prices and availability here
Best Budget Kids Tablet: Denver TAQ
Suitable for several ages, safe and cheap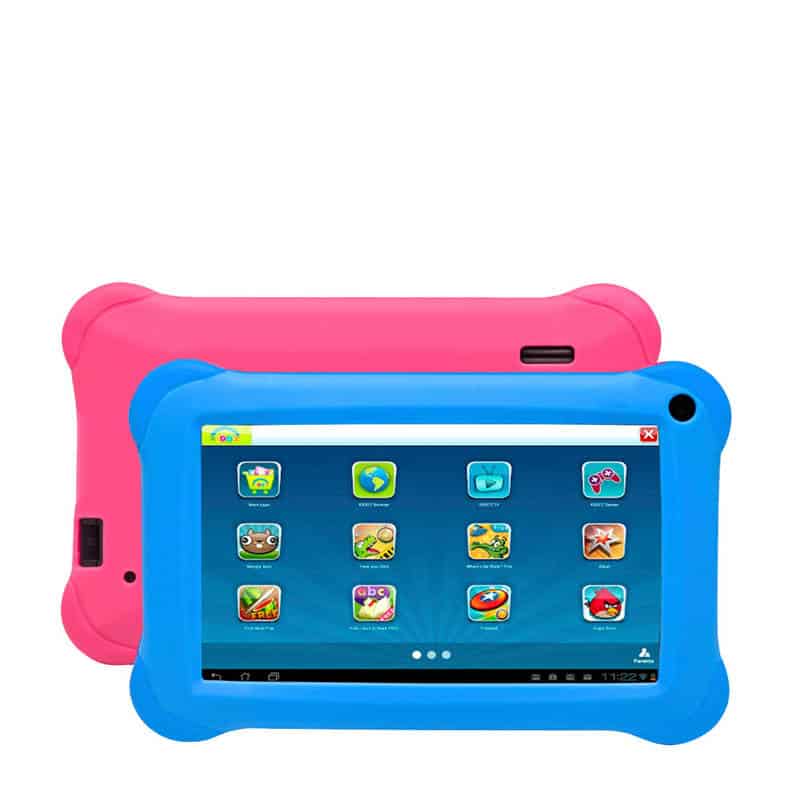 Best suited for: 3 to 7 year
Safe browsing: Yes
Youtube: Ja
Size: 7 inch
Speed: Quadcore 4 GB RAM (average)
Suitable for: Smaller children who mainly use the children's apps. It is a lot cheaper and easy to use for younger children.
Furthermore, the tablet has a memory of 8 GB, which is expanded because it fits a micro-SD card.
That is a big advantage, as it allows you to download more games from the Google Play.
Finally, the price is one of the main reasons that the tablet has ended up in the top 11, the tablet does not cost much at all and is therefore one of the cheaper tablets in this list.
All in all, a good tablet with which to enjoy a lot of fun for a low price.
We do want to be fair in our assessment. As a result, some features lag a bit behind, but the price-quality ratio is great.
You also have access to the KIDO'z software that makes learning and playing very easy for children.
Denver en hun ontwikkeling voor kids
Denver is een Noors bedrijf dus dat is wel weer eens een leuke afwisseling van al die van origine Japanse en Chinese bedrijven of de Amerikanen.
De tablets worden wel in China gemaakt overigens.
Design en ontwikkeling helemaal in Noorwegen.
Tegenwoordig maken overigens alle grote fabrikanten hun producten in ofwel China of India dus op zich hoeft dat geen issue te zijn.
Ze hanteren hoge kwaliteitseisen geven ze aan.
Denver TAQ: gemaakt voor kinderen
De tablet is helemaal ontwikkeld met het oog op de kids. Hij heeft daardoor een uitermate simpel menu en felle kleuren.
Ook is hij wat betreft functionaliteit helemaal uitgekleed tot die features die een kind nodig zal hebben.
Dit kan een groot voordeel zijn aangezien je niet altijd mee kijkt over de schouder van je kind. Je kunt je kleine hierdoor veilig laten verkennen en ontdekken.
Het is voor velen echter ook wel een nadeel. Je moet deze niet nemen als je er ook eentje wilt die je tegelijk voor jezelf gaat gebruiken.
Dan kun je beter voor een kindvriendelijke volledige tablet gaan.
Maar als je er eentje voor naast je huidige wilt, specifiek voor je kinderen, dan is het wellicht een goed alternatief.
KIDO'z platform voor kindvriendelijke content
Dan komen we op het grote voordeel en van gespecialiseerd product. Wat je misschien inlevert op overall functionaliteit krijg je terug in de vorm van het KIDO'z platform.
Het is een content ontdekkingsplatform speciaal voor kinderen waar ze veilig op zoek kunnen gaan naar dingen die ze leuk vinden, zonder dat ze per ongeluk op het (echte) internet dingen ontdekken die helemaal niet geschikt voor ze zijn.
Het is niet alleen een platform waar ze zelf kunnen zoeken, maar ook eentje die op basis van slimme technologieën weet te leren van de voorkeuren van het kind en zo met hem mee kan groeien.
De juiste content op het juiste tijdstip, daar staan ze voor.
Op KIDO'z kunnen ze zowel leren als genieten van leuke filmpjes en boekjes.
Verder heb je nog heel maar dan ook heel veel spelletjes in verschillende leeftijdscategorieën.
Ook deze zijn weer te onderscheiden in vooral leuke spelletjes, en games die tegelijk ook educatief van aard zijn.
Zo heb je altijd zicht op de speeltijd die je kind heeft op het tablet en of deze ook wel educatief gezien het beste wordt besteed.
De features van de Denver TAQ
Een kindvriendelijke tablet beoordeling is niet compleet zonder het ook over de technische features te hebben, dus daar willen we bij deze Denver TAQ-90033K toch ook even bij stilstaan.
Hij heeft is klein en handzaam met een inch touch screen.
Het scherm heeft een resolutie van 800x480 (16:9). Dat is niet optimaal vergeleken met bijvoorbeeld de 1024×600 resolutie van de Kurio Tab 2.
Een 1.2 ghz quad-core CPU chip en 1GB DDR3 ram werkgeheugen zorgen voor een vloeiende werking van het besturingssysteem en de KIDO'z software. Meer heb je ook niet nodig aan processorkracht
Met 16GB intern geheugen zou je nog wel een tekort kunnen komen. Zeker wanneer je ook je eigen apps en spelletjes wilt downloaden of ze ook lekker aan de slag laat gaan met de camera. en SD kaart kan dan helpen
Een camera aan de voorzijde van 0.3 megapixel is niet heel goed, maar wordt toch voornamelijk gebruikt voor spelletjes waarbij de ruimte om het kind heen wordt bewerkt
Ingebouwde batterij (3500mAh). Die gaat een aantal uren mee zonder op te hoeven laden. Voldoende voor de speeltijd van de kinderen dus.
Hier kun je zien wat er allemaal bij zit:
Prestatie
Om de prestaties van Denver TAQ in deze sectie te evalueren, controleren we de count van de processor, processorfrequentie en CPU-architectuur door deze met andere tablets te vergelijken:
Processor Cores Count: 76%
Processor frequentie: 80%
CPU-architectuur: 80%
Uit de analyse van de functies van deze Denver TAQ bleek dat de Denver TAQ echt een behoorlijke prestatie levert, zeker voor het geld.
Dan komen we op het eindoordeel. Is het de beste tablet die je ooit in je handen hebt gehad? Nee, dat zeker niet. Moet hij dat zijn?
Nee, lijkt me ook niet.
Het is er eentje om er extra bij te hebben in het gezin en waar je alleen de kinderen op laat spelen en leren. In dat opzicht voldoet hij zeker aan deze behoefte.
Met een meer dan gemiddelde ergonomie, redelijk acceptabel scherm, echt solide batterij en mooie aangename prestaties, heeft de Denver TAQ voldoende prestaties.
Hij heeft gelijk een stevig hoes zodat je zoiets er ook niet nog extra bij hoeft te kopen zoals bijvoorbeeld voor je iPad.
En hij heeft voldoende leuke content om de kids jarenlang mee te vermaken.
Hij draait de applicaties snel en zonder schokken, en dat zijn toch eigenlijk de dingen waarnaar je op zoek bent.
Check de meest actuele prijzen en beschikbaarheid hier
Beste voor baby en dreumes: Vtech activiteiten tablet
De VTech Baby activiteiten tablet is even groot als een tablet voor volwassenen, maar is ontworpen voor kleine handjes.
Meest geschikt voor: 1 tot 2,5 jaar
Veilig surfen: Nee
Youtube: Nee
Grootte: 20 x 17 x 4 cm
Snelheid: n.v.t.
Het is een educatief, interactief speelgoed met lichten, geluiden en kleuren (de hele mikmak!) die de kleintjes zal stimuleren en ze een hele tijd bezig zal houden.
Elke knop doet iets anders en kleine gebruikers ontvangen een muzikale beloning voor elke actie.
Maar dat is het ook wel. Deze is echt geschikt alleen voor de jongste kindertjes en niet meer na jaar 3.
De vlakken op het touchpad zijn behoorlijk nauwgezet, daarmee bedoel ik dat je best wel precies moet drukken, anders speelt de tablet een standaard deuntje af.
Dat maakte het voor onze oonbest frustrerend tot hij ongeveer 2,5 was, omdat hij steeds misdrukte.
Ik denk daarom dat hij het leukste is om samen te doen van baby tot 2,5 maar als tablet om ze zelf even mee zoet te houden van 2,5 tot 3,5.
Daarna is het tijd voor een meer volwaardige tablet als de Kurio Connect of Denver TAQ.
Het wordt geleverd met twee volume-instellingen (wanneer de herhaling en het geluid je verstand beginnen te bedreigen) en is veilig, met mooi afgeronde randen, waar je zeker van zult zijn dat je kindertjes het op een bepaald moment zal gebruiken om op te kauwen.
De tablet is klein genoeg om in een reistas te stoppen als je onderweg onderweg wat entertainment nodig hebt, en hij is robuust, zelfs bestand tegen onderdompeling in ondiep water … je weet wel, kinderen!
Echte jonge baby's vinden de tablet soms een beetje veel, maar het is handig als snelle afleiding en het biedt ook een goede prijs-kwaliteitverhouding.
Ik moet er ook bij zeggen dat onze zoon het moeilijk vond om precies op de knopjes te drukken, want als je er naast drukt speelt een standaard geluidje af.
Door deze frustratie begon hij het pas weer leuk te vinden op 2,5 jarige leeftijd.
Hij is hier te koop bij bol.com
Beste voorgeïnstalleerde spellen tegen lage prijs: Waiky Power Tab
Waiky heeft de leukste spellen die ik ben tegengekomen
Meest geschikt voor: 3 tot 6 jaar
Veilig surfen: Ja
Youtube: Ja
Grootte: 7 inch
Snelheid: Quadcore 4, 1 GB RAM (laag)
Geschikt voor: De powertab heeft meer dan 50 voorgeïnstalleerde spellen plus toegang tot de Google Play store en is toch een van de goedkopere op deze lijst.
De tablet kan geleverd worden in blauw of roze en heeft een aantrekkelijk en stevig design. Middels Parental Control kan je restricties aangeven wat er wel en niet bezocht mag worden, waardoor je je nooit zorgen hoeft te maken als je kind op de tablet speelt.
Een groot voordeel is dat de tablet wordt aangeleverd met 50 voor geïnstalleerde spellen, waardoor er voor iedereen wat te beleven valt, en natuurlijk een prijsbewuste keuze om je robot speelgoed mee te besturen.
Hiertussen zitten race, sport en behendigheid spelletjes, maar ook educatieve spelletjes om de ontwikkeling te bevorderen.
Het apparaat zit aangesloten op de Google Play store, waardoor de ouders ook zelf apps erop kunnen zetten om de tablet maximaal te kunnen benutten.
Hiervoor heeft de tablet ook een uitstekende batterij (2800 mAh), waardoor de tablet uren gebruikt kan worden zonder dat hij moet worden opgeladen.
Het is een geweldige budget tablet voor de wat jongere kinderen.
De kindertablet is beschikbaar in 2 verschillende kleuren: roze en blauw.
De tablet wordt geleverd met een Nederlandstalige Waiky kindertablet handleiding, een USB oplader, een host device micro-USB en een koptelefoon.
De tablet draait op Android en heeft al 50 vooraf geïnstalleerde spelletjes erop staan.
Daarnaast is er de mogelijkheid om meer spellen te installeren via de Google Play Store en er staat ook parent control software op.
Een nadeel is dat het apparaat snel traag wordt.
En vooral omdat er al 50 spellen op staan geïnstalleerd bij aanschaf, kan het opstarten erg lang duren.
De Waiky kindertablet heeft een 8 GB Nand Flash en 1 GB RAM geheugen en is uit te breiden met het Micro SD slot met een geheugen tot 32 GB.
Dat is ook de reden dat ik hem goed vind voor wat kleinere kinderen maar dat het wanneer je zoon of dochter ouder wordt en er meer op begint te doen, dat hij dan niet goed mee kan komen.
Vooral wanneer ze er zelf apps en spelletjes op beginnen te installeren en je er zelf minder controle op zult (willen) hebben, kan hij sommige grotere programma's niet meer aan.
Zowel op de voorkant als de achterkant van de tablet zit een camera en de Waiky kindertablet kan ook gebruik maken van het wifi netwerk.
Het scherm is diagonaal 7 inch groot en de tablet is in totaal 20x12,5x1,2 centimeter (lengte x breedte x hoogte).
Ondanks dat de tablet gemaakt is voor kinderen en schokbestendig is, is het scherm zelf wat fragiel.
Een Waiky kids tablet hoes is te koop voor €10 en is ook verkrijgbaar in de twee kleuren: blauw en roze.
Ook bet deze extra bescherming, is het scherm nog onbeschermd dus houd hier goed rekening mee.
Wat aan de Waiky Kids Tablet positief opvallend is, is dat hij relatief goedkoop is voor de vele verschillende mogelijkheden die je ermee hebt.
Een minpunt is dat hij snel traag wordt, vooral tijdens het opstarten. Maar voor dit bedrag kun je nu eenmaal geen topkwaliteit verwachten.
Beste goedkope educatieve apps: Clementoni Clempad
Meest geschikt voor: 3 tot 9 jaar
Veilig surfen: Ja
Youtube: Ja
Grootte: 7 inch
Snelheid: Quadcore 4, 1 GB RAM (laag)
Waar Waiky zich heeft gericht op de leuke en vermakelijke games, is Clementoni een ander pad ingeslagen met zijn tablet (en ook al hun andere speelgoed trouwens!) door met name educatieve apps aan te bieden.
Dat wil niet zeggen dat deze educatieve apps niet vermakelijk kunnen zijn, want dat zijn ze zeker, maar misschien niet altijd wat je kind gelijk zelf zou kiezen.
Het is wel de beste keuze als je wilt dat een tablet vooral leerzaam moet zijn voor je kind, hoewel je ook toegang hebt tot de playstore om nog veel meer te installeren natuurlijk.
Door de educatieve inhoud, die op verschillende leeftijden is afgestemd, is hij ook voor wat meer leeftijden geschikt en blijft hij leuk tot een jaar of 9.
De fabrikant zegt tot 12 jaar, maar ik zie mijn kind niet tot die leeftijd op deze tablet spelen, dan willen ze zeker al een iPad.
Check de meest actuele prijzen en beschikbaarheid hier
Beste bijgeleverde hoes: ALCATEL 1T7 Family
Een van de belangrijkste features bij jongere kinderen is hoe goed de hoes is van de tablet. Je kunt natuurlijk een aparte hoes kopen die stevig is, maar deze heeft beste bijgeleverde hoes
Meest geschikt voor: 3 tot 7 jaar
Veilig surfen: Ja
Youtube: Ja
Grootte: 7 inch
Snelheid: Quadcore 4, 1 GB RAM (laag)
Geschikt voor: Een kindertablet met een van de beste hoezen op de markt in één is gelijk een duurzame koop.
Deze Alcatel 1T7 heeft echter een van de stevigste en gemakkelijkste hoezen op de markt met een draagring en een uitklapbare stand aan de achterkant om hem neer te kunnen zetten.
Verder is de tablet ook nog eens een van de goedkopere. Voor de rest heeft de tablet niet enorm veel features, het is vooral het uiterlijk wat telt bij deze tablet.
Beste met groot scherm: Denver TAQ 10 inch
Meest geschikt voor: 3 tot 7 jaar
Veilig surfen: Ja
Youtube: Ja
Grootte: 7 inch
Snelheid: Quadcore 4, 2 GB RAM (gemiddeld)
Geschikt voor: Voor wanneer jij of je kinderen een groter scherm fijner vinden, meestal geschikt voor wat oudere kinderen aangezien hij ook ietsje zwaarder wordt om vast te houden.
De volgende tablet in onze top 11 is de Denver TAQ. De tablet is inderdaad al een keer voorgekomen in het rijtje, maar deze tablet is bestemd voor degenen die graag een groter scherm hebben.
De tablet heeft namelijk een scherm van 10 inch, 3 inch groter dan de andere Denver TAQ. Verder heeft de tablet dezelfde kenmerken als zijn kleinere broertje, uitgezonderd van de prijs.
Kortom, voor €20 meer hebben de kids een mooie grote tablet voor meer speelplezier.
Check de meest actuele prijzen hier
Goedkoper maar wel de Kurio kindveilige instellingen: Kurio Tab Lite
Het kleine broertje van de Kurio Connect
Meest geschikt voor: 3 tot 6 jaar
Veilig surfen: Ja
Youtube: Ja
Grootte: 7 inch
Snelheid: Quadcore 4, 1 GB RAM (laag)
Geschikt voor: Een goedkopere variant van de Kurio Connect met wat minder features en prestaties maar wel alle kindvriendelijke instellingen die je mag verwachten.
Dit is een bijzondere tussen onze tablets, omdat het apparaat wat meer is uitgekleed wat betreft features! Hierdoor maakt het de tablet gelijk heel erg multifunctioneel, want op deze manier kunnen de kinderen ook huiswerk maken en sneller met het apparaat werken tegen een toch lage prijs.
Net zoals op de Kurio Tab Connect kunnen er games voor de camera van de tablet gespeeld worden, de zogeheten Kurio Motion Games. Een van de weinige nadelen van de Kurio Lite Tablet is de prijs, die helaas wel erg hoog uitvalt voor een budget tablet.
Een goed argument is wel dat je geen aparte laptop hoeft af te schaffen voor het maken van huiswerk of andere zaken van de kids, wat je later geld bespaard.
Beste kindertablet voor peuters: vTech Storio Max XL Tablet
Stoer en robuust, met een interface gericht op de iets ouder wordende peuters en jonge kleuters
Meest geschikt voor: 2 tot 5 jaar
Veilig surfen: Ja
Youtube: Ja
Grootte: 7 inch
Snelheid: Quadcore 4, 1 GB RAM (laag)
Op de tablet is het mogelijk om foto's te maken, spelen te spelen en muziek te luisteren. Daarnaast kan er ook nog geluisterd worden naar verhalen.
De VTech Storio Max is een tablet speciaal gemaakt voor kinderen, met ingebouwde "kindveilige" Wi-Fi, videocamera en speler, MP3-functies en een heleboel leuke, educatieve en creatieve apps.
Er is ook een boeiende Kid Connect-berichtentool die linkt met de smartphone- en tablet-app van een ouder. Een beetje zoals de Kurio Connect, maar met wat minder ouderlijke instellingen.
Het is een erg fijne tablet voor wat jongere kinderen van 3 of 4 tot een jaar of 5 en is een goede en educatieve investering.
Aan de negatieve kant vonden we de tablet frustrerend traag om games en apps te laden, of zelfs om tussen ze te schakelen.
Het is goed gebouwd en beschikbaar in de, voor kindertablets verplichte kleuren, roze en blauw.
De hoes beschermt het scherm als het niet in gebruik is en dient ook als standaard voor een betere kijkhoek bij het bekijken van video's of diavoorstellingen met foto's.
Of je kunt de hoes helemaal verwijderen als je de meer klassieke tablet-look wilt.
Wat ik er geweldig aan vind, is dat het een tablet is maar ook weer niet.
Het is niet bedoeld voor oudere kinderen of voor jezelf om ook te gebruiken, maar specifiek om jongere kinderen in aanraking te laten komen met nieuwe technologie die ze later in hun leven zeker meer gaan gebruiken.
Sowieso meer dan wij vroeger ooit gedaan hebben en het wordt alleen maar meer.
Maar het is ook weer niet zo'n speelgoed tabletje die alleen een paar muziekjes kan en enkele tientallen spelletjes.
Onder de motorkap zit wel echt een Android besturingssysteem en een hele bioblitheek aan Vtech's eigen video en spelletjes. Het zit precies midden in het segment van speelgoed, en educatieve tablets.
Hij is dan af en toe wat traag met laden, maar misschien ook wel goed om geduld te leren aan kinderen.
En aan de andere kant zullen zij niet vaak veel te veel zware dingen tegelijk willen doen waardoor het allemaal wel mee valt.
Er zijn een paar leuke unieke features zoals de wonder cam, de movie-maker app en art studio die je kids een hele tijd zoet kunnen houden.
Tekenen, schilderen en werken met stickers doet het altijd erg goed bij mijn kinderen. En er is genoeg content die je ook nog weer kunt downloaden.
Beter dan van die speelgoedtablets heeft het ook een ingebouwde browser en wifi.
Deze is verder niet kindvriendelijk of niet in te stellen, hij heeft gewoon één kindvriendelijke modus.
Dat is ook waarom het niet een tablet is voor zowel jezelf als je kind, maar dat is ook niet erg.
Al met al een hele goede tablet die echt voor de kinderen is.
Voor een tablet alleen voor je kind misschien wat prijzig, maar voor het geld vol met features en unieke kindvriendelijke content.
Het is geen volwaardige tablet die je zelf ook zou willen gebruiken, dat is wel iets om in het achterhoofd te houden.
De VTech Storio Max zul je willen kopen voor kinderen van 3-6 jaar en bevat leuke en creatieve spelletjes en educatieve inhoud om ze verantwoord bezig te houden.
Laten we nu kijken naar de volledige beoordeling en features van de Vtech Storio Max.
Voor welke leeftijd is de Storio Max geschikt?
VTech is van mening dat de Storio-tabletten geschikt zijn voor kinderen van 3 tot 9 jaar.
Ik denk dat kinderen van 7 jaar en ouder een aantal van de meegeleverde games een beetje simplistisch of kinderachtig vinden vanwege hun dan verfijnde smaak, maar voor kinderen van 3 tot 5 of 6 is het een leuke keuze.
Kinderen vinden het heerlijk om te voelen dat dit hun eigen apparaat is, in plaats van voor altijd te smeken om de telefoon of tablet van mama of papa te mogen lenen.
Android, maar met een eigen sausje
De Storio Max is eigenlijk gebaseerd op Android, maar heeft een interface die is ontworpen voor kinderen.
Het is eenvoudig te gebruiken en beschikt over een 7-inch touchscreen (1.024 x 600 pixels) dat met de vinger of de bijgeleverde stylus kan worden bediend.
Het feit dat deze wordt aangedreven door Android (4.2 als je dat moet weten) betekent dat je meer dan 200 door docenten goedgekeurde Android-games kunt downloaden en niet beperkt hoeft te blijven tot VTech's eigen 650 softwaretitels.
Het mist nog steeds de rijkdom aan apps die je van een normaal Android of iPad krijgt, en er zijn genoeg games met bekende kinderfilms en tv-programma's.
Ja, er is een Frozen-game (£ 4,99) en andere dingen van het Disney/ Pixar-merk.
Voorgeïnstalleerde apps
Het wordt geleverd met 18 geïnstalleerde apps, waarvan er twee na het registreren uit de app-winkel van VTech Learning Lodge moeten worden gedownload.
De apps die je meteen krijgt, zijn de Wonder Cam Max, waarmee kinderen grappige gezichten maken en fotolijsten toevoegen, meer dan 60 speciale effecten en "caleidoscopische creaties".
De Movie Maker-app is erg leuk en zorgt ervoor dat kinderen zich vermaken. Met toezicht en begeleiding door een volwassene kan dit een interessante creatieve tool zijn.
Er is ook een Art Studio voor tekenen, schilderen en stickers toevoegen. Jonge kinderen zijn dol op het toevoegen van een sticker, zoals elke ouder je kan vertellen.
De 2-megapixelcamera is netjes als hij kan draaien om foto's of video te maken, zowel aan de voorkant als aan de achterkant.
Beeldkwaliteit is niet wat je van je compactcamera of smartphone gewend bent, maar het is zo ongeveer acceptabel dat kinderen ermee kunnen spelen.
Dit geldt trouwens ook voor de LeapPad, en het zou leuk zijn als op een dag de camera van een kind fatsoenlijke foto's zou maken.
De tablet heeft een interne opslagcapaciteit van 8 GB om al die foto's, video's, muziek en apps te bewaren.
We houden van de mogelijkheid om deze opslagcapaciteit uit te breiden tot 32 GB met een microSD-kaart.
VTech downloaden van extra content
Je kunt extra video-inhoud kopen, zoals Charlie en Lola, Pingu, Octonauts en sommige Disney-shows, hoewel deze niet goedkoop zijn.
Er is een e-Reader met Verhalenwoordenboek, waarmee kinderen kunnen leren lezen.
Ik had liever dat er meer dan één eBook bij was, hoewel er ook gratis boeken te downloaden zijn.
De ingebouwde Wi-Fi betekent dat je games rechtstreeks naar de tablet kunt downloaden in plaats van dat je de pc van een ouder moet gebruiken, wat frustrerend was voor eerdere kindertablets.
Het is er ook voor de webbrowser van Storio Max.
Veilig internet browsen
VTech beweert dat de browser "kindveilig" is en dat er een heleboel doorgelichte websites zijn waar kinderen door kunnen bladeren.
Dit maakt het veel meer een internetervaring dan zijn rivaal, de LeapPad van Leapfrog, die een browser heeft die niet veel meer is dan een reeks vrij willekeurige video's die kinderen kunnen bekijken.
Hoewel we uiterst beperkt waren, vonden we de LeapPad-browser beter dan de InnoTab Max om het kindveilige embleem beter waar te maken.
Een van de vooraf gekoppelde websites is de uitstekende HowStuffWork, die vol zit met fascinerende feiten die kinderen vermaken en opvoeden, maar die ook een hoofdstuk over seksuele disfunctie bevat.
Hoewel er niets obsceen of pornografisch is, geven ouders er misschien de voorkeur aan hun jongeren niet te laten lezen over "Hoe je seksleven te starten" of vragen over "Herb Sex Boosters" te beantwoorden.
Het is duidelijk dat dergelijke risico's bestaan, ook op anderszins onschadelijke websites zoals het bovenstaande, en dus is het geweldig dat bezorgde ouders eenvoudig websites kunnen toevoegen of verwijderen van de goedgekeurde lijst van elk kind met behulp van de Web Browser Controls.
Helaas kunnen een aantal nuttige, educatieve websites niet worden toegevoegd omdat ze Javascript vereisen.
We kunnen bijvoorbeeld de website van Mathletics niet laten werken. Dit zou een geweldige toevoeging zijn geweest aan de Storio Max webbrowser.
Ouders moeten op blijven letten wanneer ze hun jonge kinderen hun telefoon of tablet overhandigen, tenzij omdat kind goed kan bladeren naar ongepast materiaal, tenzij ze ouderlijk toezicht hebben ingesteld.
De ouderinstellingen van de Storio Max moeten het gemakkelijker maken om dit risico te beperken.
Wifi op de Storio
Een van de Wi-Fi-functies die we echt leuk vonden, is Kid Connect, waar kinderen tekst en spraakberichten, foto's, stickers en tekeningen kunnen verzenden en ontvangen aan InnoTab-vrienden en familieleden die de Kid Connect-app op hun iPhone of Android-smartphones installeren .
Kid Connect biedt ook gezinsgroepchat, multiplayerspellen en Family Bulletin-functies. Met de mobiele app Kid Connect kunt u de contactenlijst van je kind beheren.
Oudere kinderen genieten vooral van de berichtfunctie, hoewel ik vond dat het verwarrend was en moest vragen aan een andere ouder die Storio had helpen.
Beveiliging is redelijk goed als een ouder elke vriend moet goedkeuren, en het is gemakkelijk te gebruiken, zelfs voor een vierjarige.
Ouderlijke instellingen
Ouderlijke instellingen omvatten tijdsinstellingen, zodat je de hoeveelheid tijd kunt beperken die jouw kind met de tablet mag spelen. Dit is een uitstekend idee.
Zelfs met educatieve tabletten zoals de Storio moeten ouders de hoeveelheid tijd die aan dergelijke technologie wordt besteed beperken.
We vinden het ook leuk dat je hem ook op je tv kunt aansluiten via een mini-HDMI naar HDMI-kabel - ook bekend als een HDMI-type A naar type C-kabel.
Je moet dit echter wel apart kopen.
De Storio MAX kan de meeste cartridges gebruiken die zijn ontworpen voor oudere InnoTab-modellen.
Vanwege het grotere scherm moet je echter eerst bijgewerkte versies downloaden naar de tablet om deze oudere cartridges te kunnen spelen.
Vtech Storio Max 7 prestaties
We vonden dat de Storio Max 7 traag is bij het laden (soms erg traag), met het draaiende pictogram Loading gedurende frustrerend lange tijden.
Als je gewend bent aan een snelle iPad of Android, zal dit je ongetwijfeld irriteren, hoewel ik denk dat het kinderen de waarde van geduld leert!
Vreemd genoeg weerspiegelt zelfs de iOS- en Android Kid Connect-app de trage laadtijden.
Andere apps bevatten een klok (wanneer kunnen ze die eigenlijk lezen?), een rekenmachine, een kalender, notities en een muziekspeler.
Met toezicht van een volwassene helpt de VTech InnoTab Max je kind met elementaire wiskunde (tellen, optellen, aftrekken) en Engels (handschrift, spelling en lezen).
Andere spellen kunnen de ruimtelijke betekenis, waarnemingen en patroonherkenning van een kind verbeteren.
Gelukkig is de batterij oplaadbaar (via de meegeleverde micro-USB-kabel), dus het kost je geen fortuin aan batterijen.
VTech Learning-spellen
Het downloaden van nieuwe games en apps kan echter duur zijn.
Net als bij de LeapPad is extra software niet goedkoop, met nieuwe spellen van gemiddeld 3-5 euro, wat iets goedkoper is dan van Leapfrog.
Moet ik de Vtech Storio Max 7 kopen?
De VTech Storio Max is het meest geschikt voor kinderen van 3-6 jaar en bevat leuke, creatieve spelletjes plus een uitstekende berichtfunctie waarvan kinderen houden.
Het kindveilige surfen op het web heeft wat ouderlijk toezicht nodig, maar is uitgebreider dan dat van rivaal Leapfrog.
We vonden de Storio Max frustrerend traag laden en de fotokwaliteit is net zo slecht als bij alle kids-tech, maar het is zeker een goede keuze voor de eerste tablet van een kind.
Aan de andere kant kan de tablet misschien iets gaan sneller vervelen voor de kinderen omdat ze niet op het internet kunnen. De vTech Storio Max is te koop voor €120.
Budget voor kleinere kinderen: vTech DigiGo
Meest geschikt voor: 2 tot 4 jaar
Veilig surfen: Nee
Youtube: Nee
Grootte: 4.3 inch
Snelheid: n.v.t.
We blijven nog even bij het merk vTech, want de volgende tablet is de vTech DigiGo.
Dit apparaat heeft een scherm van 4.3 inch, wat ideaal is voor de kleinere kinderen.
Verder beschikt de tablet ook over wifi waarmee je allerlei dingen kunt delen met familie of vriendjes, denk hierbij aan spraakberichten of stukjes tekst.
De DigiGo heeft een intern geheugen van 4GB, dus daarmee kunnen aardig wat berichten opgeslagen worden. Met de 10 ingebouwde apps kan er gelijk mee gespeeld worden.
Naast de ingebouwde apps worden ook twee gratis downloads via Explorer Park aangeboden, waar er een enorm aanbod van apps op je staat te wachten. Nog een coole feature van de DigiGo is de 180˚ draaibare cameralens, waarmee de tofste foto's gemaakt kunnen worden.
Voor kinderen in deze leeftijdscategorie kun je leuke technische snufjes kopen.
Tegenwoordig is iedereen of binnen bezig met een dedicated kindertablet, of ze zijn naar buiten met een hoverboard truukjes aan het doen (lees ook onze uitgebreide beoordeling van verschillende hoverboards).
In vergelijking met de Storio van vTech is de DigiGo misschien nog wel de betere van de twee met meer functies en een zachtere prijs. De DigoGo is namelijk te verkrijgen vanaf €90.
Beste voor oudere kinderen: Point of View kindertablet met koptelefoon
Meest geschikt voor: 6 tot 10 jaar
Veilig surfen: Ja
Youtube: Ja
Grootte: 10 inch
Snelheid: Quadcore 4, 2 GB RAM (hoog)
Als je kind spullen vaak laat vallen, is de Point of View tablet een ideale keuze. De tablet is namelijk voorzien van een bumper om het 7 inch scherm heen, waardoor er niet snel schade opgelopen zal worden na een valpartijtje.
De Point of View heeft een MicroSD slot waarmee je het geheugen kunt uitbreiden, wat de Point of View helaas niet zoveel heeft (1GB).
De Point of View word heel slim meegeleverd met een draadloze koptelefoon, dat zorgt ervoor dat de kids nooit over loshangende kabels kunnen struikelen. Al met al is de Point of View dus een hele veilige en praktische keuze om schade te voorkomen.
Qua prijs is het wel een ietsje duurdere optie, dus je zult moeten overwegen of je de praktische voordelen van de Point of View belangrijker vind dan bijvoorbeeld geïnstalleerde spellen of Parental Control software.
Check de meest actuele prijzen hier
Beste kindertablet voor boeken: Amazon Fire Kids Edition
Meest geschikt voor: 3 tot 8 jaar
Veilig surfen: Ja
Youtube: Ja
Grootte: 8 inch
Snelheid: Quadcore 4, 2 GB RAM (gemiddeld)
Hier wil ik nog even specifiek ingaan op de Amazon Fire en de Kindle tablet want veel mensen vroegen me of deze ook in Nederland te verkrijgen en te gebruiken is.
Amazon Fire Kids Edition of Kindle in Nederland
En je kunt hem gewoon kopen en gebruiken in Nederland.
Wanneer je nog wat jongere kinderen hebt kun je het beste de kids editie aanschaffen want die heeft een zachte beschermhoes bijgeleverd.
Als je kinderen al wat ouder zijn en hem waarschijnlijk niet meer zomaar laten vallen, of je koopt er eentje voor jezelf, dan kun je de gewone Kindle kopen, wat iets scheelt in bedrag versus processorkracht en voor jezelf natuurlijk veel handzamer is.
Dan is er nog de handige Kindle Paperwhite die je gemakkelijk laat lezen alsof je een boek leest zonder die spiegelende display, én waterdicht dus ook perfect voor in bad :):
Kun je Nederlandstalige boeken lezen op de Kindle?
Je kunt tegenwoordig ook Nederlandstalige boeken lezen op de Kindle E-reader sinds amazon.nl zijn aanbod online heeft gezet. Ook kun je er terecht voor een hoop populaire Engelse auteurs.
De kindle e-book sectie is het enige onderdeel wat Amazon tot dit moment in Nederland heeft uitgerold op de .nl website, voor alle andere dingen moet je (nog) in Duitsland zijn.
Wat op zich helemaal niet erg is want je kunt er heel goedkope producten vinden die je natuurlijk ook hier in Nederland kunt gebruiken.
Maar wanneer je een Kindle e-reader koopt, zoals de paperwhite, dan wil je wel ook boeken in je eigen taal kunnen lezen.
Er zijn super veel boeken beschikbaar van Nederlandse schrijvers die je hier kunt vinden om niets te hoeven missen van je favoriete auteurs.
Er is ook een hele sectie beschikbaar met Engelstalige boeken wat je misschien ook prima kunt lezen, die vind je hier.
Nederlandse E-reader boeken omzetten naar Kindle
Hoe mensen het voorheen deden is om boeken hier te kopen op bol.com en deze om te zetten naar Kindle door het EPUB formaat te converteren naar MOBI.
Nadat je het boek hebt omgezet kun je hem laden op je e-reader van Kindle.
Deze video laat zien hoe je dit gemakkelijk kunt doen:
Nu Amazon ook in Nederland beschikbaar is zal de noodzaak om dit te doen wat minder zijn maar het is nog steeds een goede optie wanneer jouw favoriete boek niet in het Nederlands op de Kindle beschikbaar is.
Amazon Fire kids edition in Nederland
De Fire Edition tablet start in de Amazon Free Time en het ontwerp is doelgericht voor kinderen.
De lettertypen en achtergrondkleur van het apparaat komen in een kindvriendelijke indeling.
Bijvoorbeeld, het kind kijkt alleen die titels waarvoor ze toestemming hebben om te zien.
Het startscherm toont de geschiedenis van de recente titels zodat je mee kunt kijken waar je kind naar heeft gezocht.
Bovendien kunnen kinderen visueel navigeren om de inhoud te baseren op onderwerpen en karakters.
Ontworpen voor kinderprofielen: De tablet heeft een functie waarmee ouders een kinderprofiel kunnen maken en de inhoud kiezen waarmee ze hun kinderen willen openen.
Met andere woorden, een ouder kan het tablet personaliseren naar de behoeften van zijn kind.
Het kinderprofiel beperkt toegang tot e-mail, sociale media en in-app-aankopen.
Schermtijdgrenswaarden: Het tablet biedt innovatieve controles die een ouder kan gebruiken.
Deze controles zorgen ervoor dat de kinderen eerst leren voordat ze verder gaan spelen om zo de schermtijd te beheren.
De vrije tijd stelt de ouder in staat om alle inhoud te kiezen die het kind kan zien en hun schermtijd te beperken op basis van inhoudstype.
Zo kan de ouder video's en games beperken, maar zorgt ervoor dat er onbeperkte leestijd is.
Bovendien blokkeert de Free Time in-app betalingen en slaat u zich daarom niet meer zorgen over extra kosten of kosten.
Ontwerp en duurzaamheid: De tablet wordt geleverd met verschillende connectiviteitsopties.
De aan / uit-knop staat bovenaan, samen met de hoofdtelefoonaansluiting en de microUSB-poort. De volumeregelingsknop staat aan de linkerkant.
Echter, in vergelijking met de andere tabletten op de markt, verlaat de Kids Edition de microUSB-optie die het aanvult met interne opslag.
Een ouder kan de Kids Edition verder upgraden van 8 GB naar 16 GB door te vertrouwen op Amazon Cloud Storage of tijdens het afrekenproces.
Prestatie: De Kids Edition-tablet komt met een scherp scherm met een afmeting van 1280 op 800.
Dit is sterker dan de andere concurrerende tabletten met een weergave van 1024 bij 600.
De schermtekst is scherp zichtbaar en de kleuren zijn levendig wanneer je spelletjes speelt.
Onlangs hebben de Kids Edition uitstekende scores opgeleverd in het benchmarking programma (PCMark for Android).
De Kids Edition heeft een score van 3610 punten in de prestatietest van het programma vastgesteld. De score is de hoogste in de onderzochte tabletten.
De test beoogt de dagelijkse tabletten taken te simuleren zoals browsen en documenten bewerken.
Tijdens de batterijcontrole van het programma heeft de Kindle een uitstekende score van 4 uur en 49 minuten.
Wi-Fi-connectiviteit: De tablet heeft een Wi-Fi met een antenne. Dit ondersteunt private en publieke netwerken met behulp van:
WLAN 802.11b-laagste kosten
Signaal bereik is goed en niet gemakkelijk belemmerd
WLAN 802.11n - Met de snelste maximale snelheid en het beste signaalbereik. Het is meer bestand tegen signaalinterferentie van buitenbronnen.
Het verbindt ook met de WLAN 802.11g-standaarden en ondersteunt de WEP-, WPA2- en WPA-wachtwoordverificatie verder. Het tablet ondersteunt geen verbinding met de netwerken van peer-to-peer Wi-Fi (ad-hoc).
Check de meest actuele prijzen hier
Heb ik een speciale kindertablet nodig?
Om de digitale wereld veiliger en intuïtiever te maken voor kinderen is er sinds nog niet heel lang de tablet speciaal voor kinderen uitgevonden. Dit gaat om een tablet die bestemd is voor kinderen van alle leeftijden.
Zij zijn speciaal ontworpen en geprogrammeerd om het gemakkelijker te maken voor kinderen om met de tablet om te gaan.
Aan de buitenkant worden ze vaak gemaakt met sterke materialen waardoor de tablet flink wat stoten en vallen kan ontvangen zonder dat de tablet ernstig beschadigd raakt zoals zou gebeuren met een normale tablet ontworpen voor volwassenen.
Vaak komen deze tablets met een speciale hoes om ze extra beveiliging te geven. Voor de rest zijn er veel modellen die ook waterbestendig zijn. Ideaal voor je kind.
Intern zijn ze geprogrammeerd voor kinderen en de nieuwste modellen kunnen worden ingesteld op de leeftijd van je kind.
Je kunt als ouder ouderlijk toezicht instellen op de tablet van je kind. Veel van de nieuwste modellen zijn vrij veilig.
Ze hebben een eigen veilig internetbrowser en kunnen worden aangepast aan wat jij als ouder het liefst wilt dat je kleine allemaal wel en niet doet op zijn of haar tablet.
Je kunt bij deze apparaten een beperking instellen van wat je kleine wel en niet mag zien, doen, downloaden en meer.
Daarnaast kun je ook zorgen dat er een tijdsbeperking is waar de tablet zichzelf blokkeert na een bepaalde tijd dat je kind erop heeft gespeeld.
Of je kunt een bepaald uur aangeven tot wanneer de kleine kan spelen.
Er wordt overal aan gedacht bij het creëren van de nieuwste kinder tablets.
Jaarlijks zien we steeds meer modellen met meer mogelijkheden en meer kwaliteiten verschijnen.
Er zijn bepaalde merken die het behoorlijk goed doen op de markt en aan de top staan.
Bekijk de reviews in video format, of lees verder voor alle achtergrond informatie en uitgebreide tips:
Wat is een speciale kindertablet?
Een kindertablet is een handheld computer met touchscreen die met name geschikt is gemaakt voor het gebruik door kinderen, soms met een volledig kindvriendelijke omgeving met eigen apps en educatieve spelletjes.
Vaak is het een tablet met volledige functionaliteit maar met speciale instelling die het gebruik door kinderen veilig maakt, zoals ouderlijk toezicht en beperkte toegang tot sites en apps.
Ouderlijke controle
Sommigen hebben vingerafdruk ondersteuning en PIN die alleen de ouder kan instellen.
Anderen hebben robuuste ingebouwde controles die ervoor zorgen dat ouders het type toepassingen beperken waarmee de kinderen toegang hebben en het type website dat ze kunnen bezoeken.
Een ouder hoeft zich dus geen zorgen te maken over wat de kinderen aan het doen zijn tijdens het gebruik van de tabletten.
Mits je er eentje koopt die specifiek voor kinderen geschikt is. Anders is het toevoegen van Wifi een gevaarlijke aangelegenheid.
Wi-Fi-connectiviteit
De term Wi-Fi is kort voor "draadloos", die verwijzen naar apparaten die draadloos kunnen verbinden of aansluiten op een privé-internetverbinding.
Voor een succesvolle verbinding stuurt een draadloze router een signaal dat Wi-Fi-enabled apparaten toegang geeft tot verbinden.
Het gebruik van Wi-Fi was voornamelijk voor laptops. Tegenwoordig hebben veel meer apparaten zoals Smartphones, surveillance camera's en ook tablets toegang tot WiFi.
Zolang er een internet signaal is, kan een Wi-Fi-apparaat op elk gewenst moment aan het netwerk verbonden worden.
De meeste fabrikanten die kinder-tabletten maken, nemen de tablet op met automatische Wi-Fi die hen helpt bij het leren, gamen, downloaden van applicaties en films kijken.
Normale tablet vs kindertablet
Tablets zijn belangrijke apparaten geworden vanwege hun computerkracht, draagbaarheid en gebruiksgemak.
Kid's tabletten hebben vergelijkbare eigenschappen aan gewone tabletten, maar het ontwerp is geoptimaliseerd voor de specifieke behoeften van de kinderen en ouders.
Kid's tablets hebben een breed scala aan kindervriendelijke features.
Deze moderne tijd vraagt om de juiste producten, die ook qua leeftijd geschikt zijn voor de kinderen.
Veel (groot)ouders twijfelen of dit een goed idee is en zoja, welke tablet dan?
Een kindertablet is de juiste oplossing. Zo kunnen kinderen op een veilige wijze leren over de moderne technieken van deze tijd.
Een kindertablet is een leuk cadeau met een verjaardag, kerstmis of Sinterklaas, of als beloning na een goed prestatie.
Een kindertablet is bij vele winkels verkrijgbaar, uiteraard van diverse merken.
De speelgoedwinkel Intertoys verkoopt deze, maar ook speciaalzaken in electronica, zoals Mediamarkt.
Daarom is het goed om de mogelijk heden eens op een rijtje te zetten, zodat de juiste keuze voor de juiste kindertablet kan worden gedaan. Een tablet voor ontspanning, of als hulpje bij het huiswerk en/of de sociale contacten.
Een kindertablet is uiteraard anders dan die voor een volwassene. Daarom is het belangrijk om te kijken en te vergelijken.
Als de kinderen op een volwassen tablet mogen, is de kans groot dat ze allerlei zaken onder hun ogen krijgen die niet bij hun leeftijd passen.
Als ze op de tablet van hun ouders mogen, kunnen ze zelfs privé zaken ontdekken, het is niet raadzaam om dit te doen.
Een kindertablet geeft geen toegang tot bijvoorbeeld you-tube filmpjes die niet geschikt zijn voor hun leeftijd.
Ouders kunnen namelijk aangeven wat wel en wat niet wordt toegelaten op de tablet van hun kind(eren), op de meeste kindertablets is hier een functie voor.
Deze functie kan ook gelden voor de maximale tijd dat kinderen op hun tablet mogen werken.
Andere voordelen van de tablet speciaal voor kinderen is dat deze uitermate stevig zijn.
Dit is natuurlijk van groot belang, dit maakt de tablet veel minder kwetsbaar, ook bij ruw gebruik. De tablet is bijna onverwoestbaar.
Voordelen van een kindertablet
De technische wereld is de laatste jaren snel gegroeid en dit proces lijkt oneindig.
Daarnaast zijn mensen constant enthousiast over het verschijnen van verschillende gadgets en productieve apparaten die het ontdekken waard zijn.
Er is echter één technologie-speelgoed, dat, afgezien van andere apparaten, onbetwistbaar gewenst is door de jongere generatie.
Een tablet is een fascinerend apparaat dat voor het eerst werd geïntroduceerd in de jaren negentig en kort daarna in ons leven werd gegraveerd.
Tegenwoordig is tablet voor veel kleine kinderen een van de lievelings apparaten geworden.
En hoewel je misschien nog twijfelt over of je er eentje wilt kopen voor jouw kind, gezien ook alle discussie over schermtijd en de ontwikkeling van kinderen, zijn er ook heel veel educatieve positieve kanten aan het gebruik van een kindertablet.
Ik adviseer om alles met mate te gebruiken en goede richtlijnen te stellen over het gebruik van schermen, en wil dan ook graag even stilstaan bij de voordelen voor je kind.
Volgens het Pew Research Center heeft ongeveer 58% van de (Amerikaanse) tieners te maken met tabletcomputers, en 46% van de gezinnen er ten minste één tot hun beschikking heeft (aldus de Grunwald Associates studie).
Deze hoge cijfers geven aan dat ouders het niet erg vinden om zo'n gadget voor hun kleintjes te kopen.
Bovendien vinden ze dat het een positief effect heeft op de manier waarop kinderen groeien, denken en omgaan met problemen of met de wereld om zich heen.
Er zijn veel redenen waarom tablets goed zijn voor kinderen, en ik ben zelf groot voorstander van ze vroeg al in aanraking te laten komen met technologie.
Het gaat immers zeker hun toekomst zijn en waarschijnlijk hun toekomstige baan.
Maar het gaat er niet eens alleen om dat ze technisch onderlegd zijn of zich amuseren.
Laten we dus eens kijken naar de voordelen van het gebruik van een tablet door jouw kleine man of meid:
Entertainment
Games, animatieseries, films, muziek, boeken en apps die geschikt en veilig zijn om je kind te kunnen vermaken of zelfs opvrolijken als hij humeurig is.
Omdat alle tablets een internetverbinding hebben, wordt het plezier grenzeloos. Een kind heeft alle trendy amusement binnen één gadget.
Bovendien wordt dit een tijd voor ouders om een ​​band met hun kinderen op te bouwen en samen tijd door te brengen om leuke en positieve momenten te beleven.
Het is een manier om samen te leren terwijl je spelletjes speelt maar ook om connectie te maken met familieleden en videobellen.
Educatie
Niet alleen helpen educatieve boeken of programma's om te leren, maar ook de meeste van de bovengenoemde kindertablets bevatten educatieve spelletjes.
Het spelen van games helpt bijvoorbeeld om het denken of begrijpen van bepaalde dingen bij kinderen te verbeteren, en je hebt er iets bij voor elke leeftijd.
Voor peuters en kleuters is er leuke content om ze te vermaken terwijl ze leren en gewend raken aan touchscreens, iets wat ze meer en meer zullen gaan zien in de wereld.
Voor schoolgaande kinderen is er veel ondersteuning en aanvullend leermateriaal voor rekenen, taal en meer.
Voor tieners is het cruciaal om toegang te hebben tot schoolboeken, huiswerk te kunnen maken op een tablet of presentaties te geven.
Omdat een tablet in staat is om aan al deze behoeften en taken te voldoen, voelen kinderen zich zelfverzekerder en leren ze hun eigen tijd te waarderen en te beheren.
Ontwikkeling
Dit aspect heeft rechtstreeks betrekking op peuters en baby's die actief de wereld verkennen.
Met meerdere toepassingen en games ontwikkelt een kleintje
zijn reactievermogen,
leert hij hoe hij zijn handen moet gebruiken en kan hij dingen regelen met vingerbewegingen
leert hij hoe digitale apparaten kunnen reageren op wat zij doen
Tech-talent
Verschillende technologieën worden geïntroduceerd en constant geïmplementeerd in alle gadgets en in ons leven in het algemeen.
Een kind een tablet laten gebruiken is een goede oplossing om onze jongen op de hoogte te houden van de technologie.
Met een tablet en zijn functies leren ze hoe ze instellingen kunnen maken, wijzigen en aanpassen aan hun behoeften.
Het is een aanzienlijke stap voor toekomstig succes en gemakkelijke aanpassing in de samenleving.
Nu maken gadgets ons sociale leven compleet en het is erg belangrijk voor onze kinderen om te weten hoe ze ze moeten gebruiken en beheren.
Volgens de Nielsen Survey zegt 70% van de gezinnen met kinderen onder de 12 dat hun kinderen tablets gebruiken, waar
77% van de kinderen spelletjes speelt,
57% educatieve doeleinden nastreeft,
en 55% zich vermaakt tijdens het reizen,
waar een lager aantal kinderen tablets gebruikt om alleen tv te kijken of communiceren met anderen.
Uit deze statistieken kunnen we afleiden dat ouders geneigd zijn hun kinderen tablets te laten gebruiken voor verschillende doeleinden.
Samen met veel positieve aspecten voor kinderen om een ​​tablet te gebruiken, zijn er een aantal voordelen voor ouders om het te kopen en de kinderen het apparaat te laten gebruiken:
Relatief goedkoop: Een kindertablet combineert functies van meerdere nuttige en belangrijke zaken van tegenwoordig, zoals internettoegang, tv's, mp3-spelers, gameconsoles, boeken, notebooks. Met deze set van waardevolle functies wordt een tablet met zijn 10-20 keer lagere prijs een redelijke vervanging voor een gewone computer die honderden en vaak duizenden euro's kost.
Draagbaarheid en lichtgewicht: Een comfortabel formaat en een licht gewicht maken het voor kinderen mogelijk om een ​​tablet mee te nemen. Bijna alles wat een jongere van een laptop of desktop-pc mag verwachten, is nu gemakkelijk onderweg beschikbaar.
Snel opstarten en langdurig werken op batterij: Soms is het erg belangrijk voor ouders om een ​​kind onmiddellijk en voor een behoorlijke tijd te vermaken. Voor degenen die naar school gaan, is een snelle toegang tot de informatie of continue werking erg belangrijk. Zo kunnen tablets zowel volwassenen als hun kinderen tijd en zenuwen besparen.
Mogelijkheid om kinderen te volgen: Tablets zijn een geweldige manier voor ouders om het leven van hun kinderen bij te houden en bepaalde dingen te controleren. Zo weet je bijvoorbeeld altijd waar je kinderen zijn als je een app op hun tablet installeert. Of je kunt ongepaste apps en sites blokkeren, kun je specifieke tijdslimieten instellen en hun schermtijd inzien.
Oneindige uitbreidbaarheid: Moderne tablets kunnen een essentieel onderdeel van het leven worden dankzij de redundante mogelijkheden om functies uit te breiden en apps van internet te installeren. Bovendien is een tablet met een USB-poort, geheugenkaartsleuf of HDMI een echte verademing voor ouders die altijd hun kinderen proberen te entertainen.
Gelegenheid om samen te komen: Een tablet verbindt ouders met hun kinderen door middel van handige en grappige apps. Games spelen, samen dingen leren en een serie kijken, complementeert betere relaties en een hechtere band tussen kinderen en hun ouders en grootouders.
Nu je weet wat de waarde is die een tablet voor kinderen en hun ouders biedt, is het moeilijk om te praten over de nadelen die deze gadgets kunnen hebben.
Er zijn er zeker een paar, maar het hangt allemaal af van de houding ten opzichte van tabletgebruik, onderwijs voor kinderen en andere dingen.
Dus laat dit kleine apparaat de technische vaardigheden van je geliefde kinderen entertainen, onderwijzen en verbeteren en maak er goede afspraken over, zoals een van deze manieren om schermtijd te verdienen.
Voordat we in de beoordelingen duiken wil ik ook nog even stilstaan bij een aantal tips om op te letten wanneer je overweegt er eentje te kopen:
Kindertablet aanbiedingen
Zeker bol.com en Mediamarkt zijn twee giganten die bekend staan om hun prijsvriendelijkheid en goede aanbiedingen. Hou hun aanbod dan ook goed in de gaten.
En hoewel bol.com alles online aanbiedt, kan de website van Mediamarkt soms een doolhof zijn, dus kijk hier voor sommige van de beste tablets bij Mediamarkt. En wij zullen hier wat aanbiedingen en tips bespreken!
Aanbiedingen bij Bol.com
Bol.com heeft jaarlijks terugkerende speciale acties, naast de maandelijks wisselende aanbiedingen.
Bol.com heeft elke maand weer nieuwe aanbiedingen. Naast deze wisselende aanbiedingen heeft bol.com ook elk jaar terugkerende acties, waarbij mooie kortingen worden gegeven.
Een overzicht van de speciale acties vind je terug op de website, op deze pagina hier staan de deals op elektronische apparaten. Maar ook zijn er vaak prijsreducties op losse apparaten zoals kindertablets.
Bovendien zijn er ook speciale seizoensacties en zelfs dan houdt de lijst nog niet op. In de lijst vind je ook permanente acties waarbij de artikelen altijd veranderen, zoals de Koopjeshoek en de Weekendsale.
Bol.com heeft altijd wel een paar goede acties lopen, dus controleer regelmatig of er ook een leuke kinder tablet tussen de aanbiedingen staat zodat je deze voor de beste prijs kunt aanschaffen!
Aanbiedingen bij Mediamarkt
Mediamarkt heeft een geweldige actie met BTW weg ermee, en heeft wekelijks wisselende aanbiedingen met fijne kortingen op diverse artikelen.
Mediamarkt heeft een hele bekende terugkerende actie, namelijk BTW weg ermee. Een paar dagen lang wordt de BTW van je aankoop afgetrokken, dus je kunt hier een mooi bedrag mee besparen.
De BTW op elektronica is 21%. De 21% komt bovenop de prijs die winkels vragen voor hun artikelen, dus de weergegeven verkoopprijs is eigenlijk 121%.
If you want to calculate how expensive your chosen children's tablet is during the promotion, the calculation is simple: 'the price * 100/121' gives the correct price without VAT that you will have to pay!
The products and brands that participate in this promotion will sometimes change. Just before the promotion, it is always announced which products and brands are participating. So make sure that your chosen children's tablet also participates in the promotion!
The offer applies in the Mediamarkt stores and in the webshop, so if your children's tablet takes part in the promotion, you don't even have to leave the house to get the children's tablet with a nice discount.
The range of this giant is actually quite limited when you consider the other products they sell.
For example, you will get lost in the TVs, laptops, speakers, and home appliances they offer.
In the field of children's tablets, there is really only one brand on offer, and that is Kurio.
They offer a total of 3 models, the Telekids Tab Advance (pink or blue) and the Kurio Tab 2 in green.
These are one of the most qualitative tablets available on the market and the store guarantees that too.
The models do fit in different price ranges
View the range of children's tablets at MediaMarkt here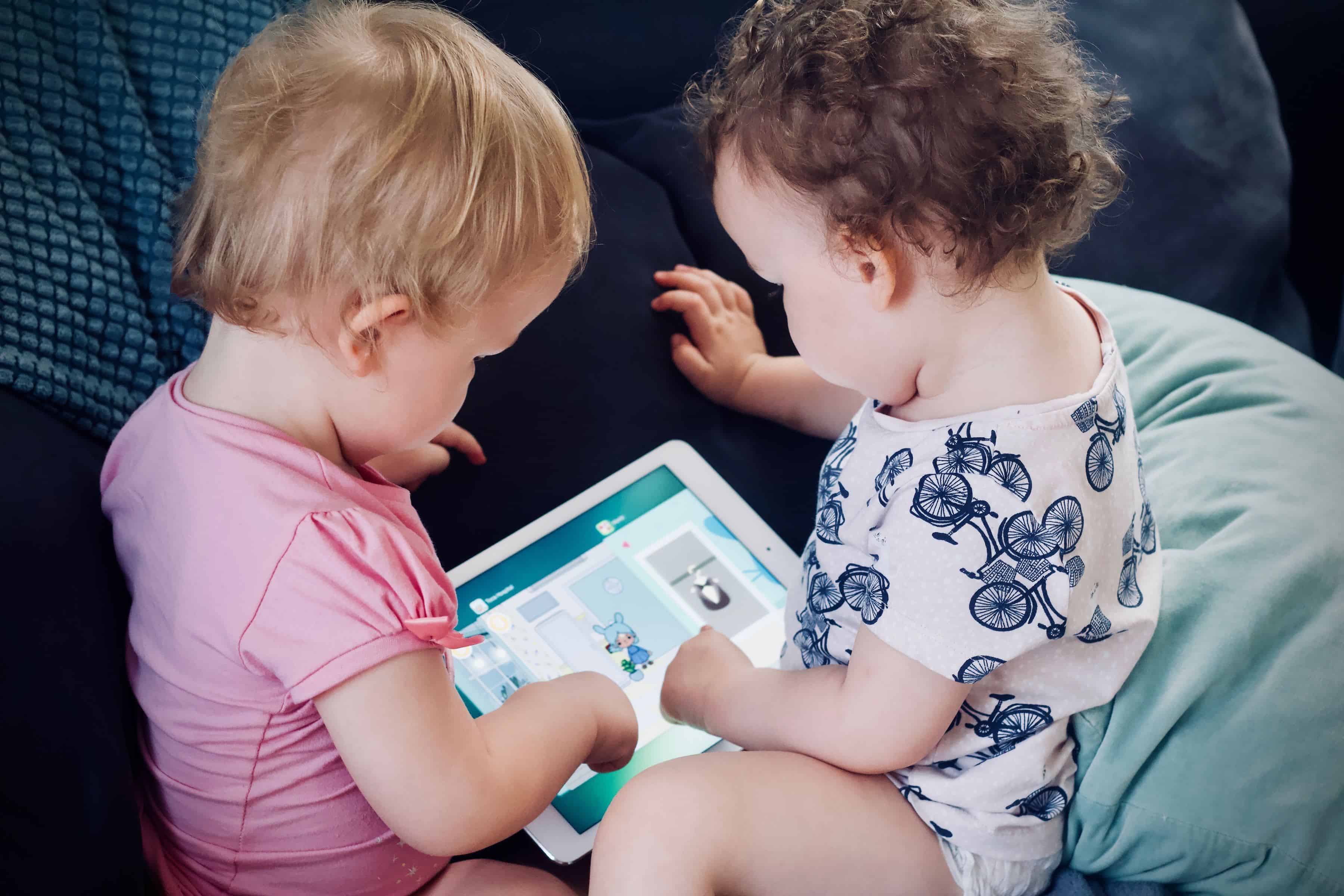 In addition to the nice VAT away with it promotion, Mediamarkt naturally also has offers running all year round, which change every week.
You can also view the brochure online if you don't get it home.
Also keep a close eye on this, because your child's tablet might be there. How much discount you get varies greatly.
Yet there are often good offers where you get a nice discount.
And then you don't even have to wait for the VAT away with it, and you can get the tablet even earlier.
Conclusion
Buying a kids tablet can be quite pricey, but you don't have to. As long as you keep an eye on the offers and wait for the right time!
Bol.com has annually recurring promotional weeks with many different discounts, and Mediamarkt has gotten away with the well-known VAT promotion.
In addition, both stores have constantly changing offers, which you can also keep an eye on for well-discounted children's tablets.
We hope that with the top 11 tablets you have gained more insight into the range of available children's tablets on the market!
So here's my favorite, the Kurio Connect Telekids: a good offer at bol.com.
Read also: the best laptops for school children
Joost Nusselder, the founder of Speelkeuze.nl is a content marketer, father and loves trying out new toys. As a child, he came into contact with everything around games when his mother started the Tin Soldier in Ede. Since 2016, he and his team have been creating helpful blog articles to help loyal readers with fun play ideas.