14 best (grow-with) cribs: from baby, toddler to toddler
I enjoy writing these articles for my readers, you guys. I don't accept payment for writing reviews, my opinion on products is my own, but if you find my recommendations helpful and you end up buying something through one of the links I may be able to receive a commission on that.
More information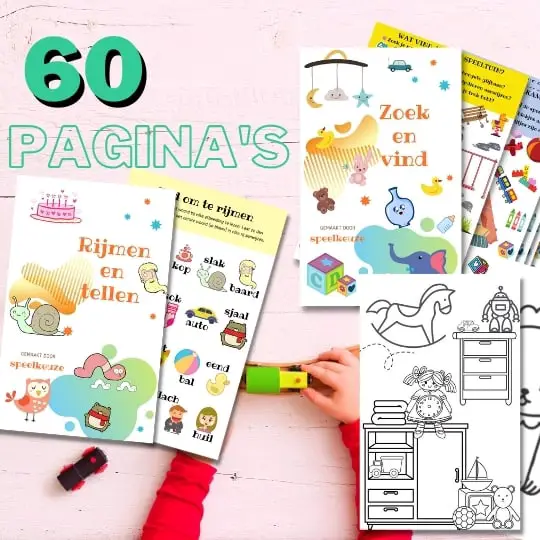 Always something to do for the holidays or rainy day?
Play Choice now has the ultimate activity book collection, with over 60 pages of fun coloring pages and educational puzzles.
Do you doubt the best way to sleep for your baby or toddler?
Having an crib still appears to be the safest way to sleep for your little one.
But what if I want to feel my baby close to me, do you think? There is also a solution with a special co-bed!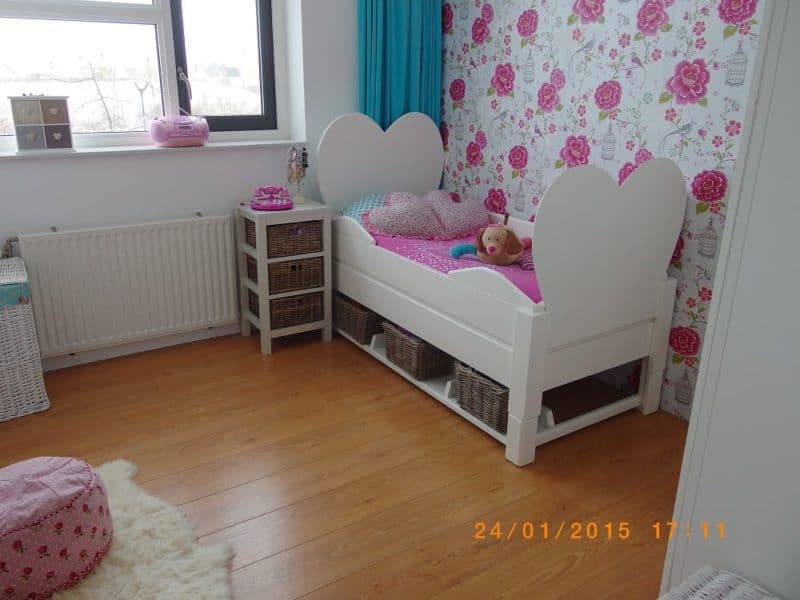 Some parents would like to have a growingcrib for their child. There are also beautiful cribs for older kids and even adults.
I would like to show you the nicest and best cribs, and I will tell you about all the pros and cons.
I'll start right away with my overall best choice that fell on the special Lorelli 3-in-1 crib for babies. Why? First of all, it has a lot of conversion options!
I'll tell you more about it in a moment, let's go to my top 14 first: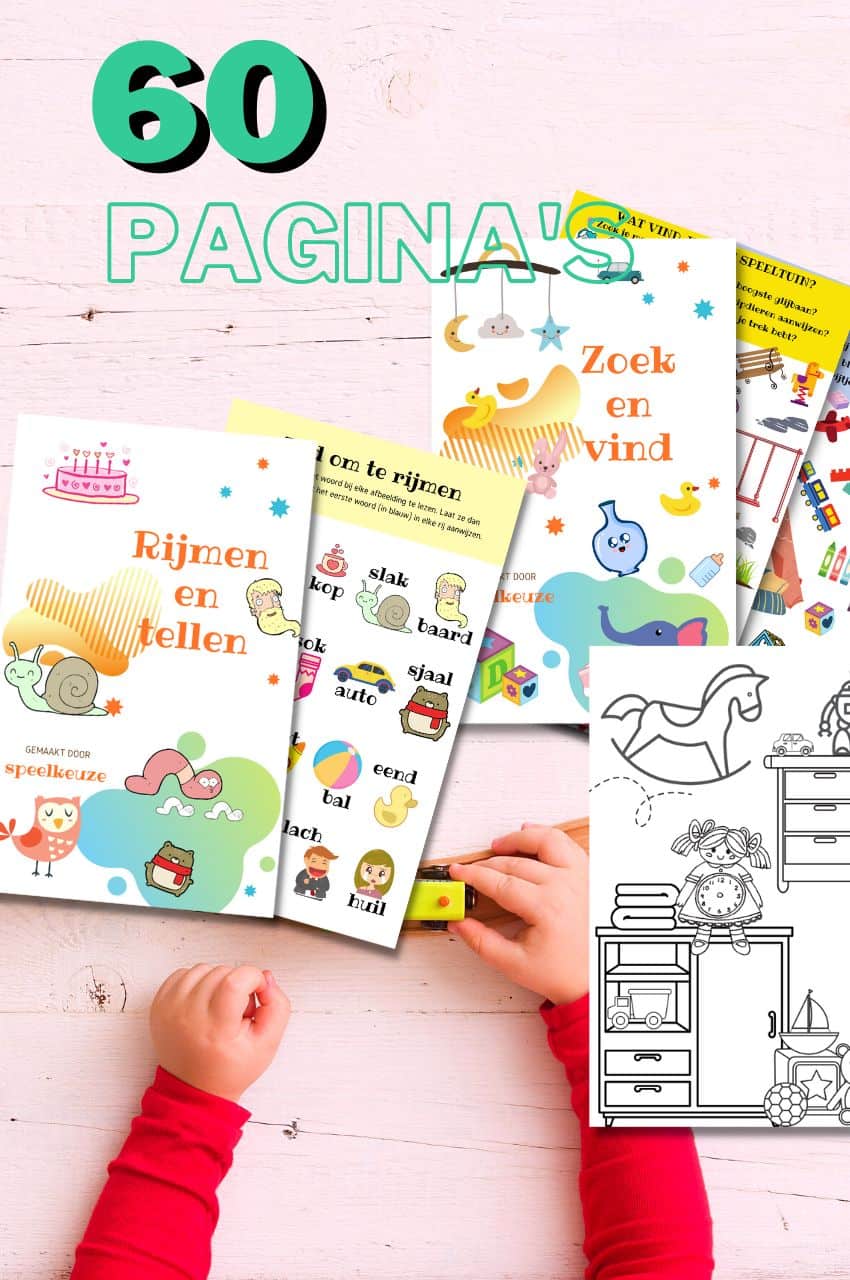 From toddler to toddler activity book collection
Educational games and coloring pages for 3 to 6 years
Your toddler and preschooler will love this e-book, along with the accompanying printables. He or she can play with it at every stage of development, together with mom and dad.
Buy at Bol.com
Buying guide crib
What should you pay attention to when purchasing one? crib?
Naturally, you take different points into consideration for your little one than for one crib for older children or for adults.
However, the following applies to all cots:
Pay attention to the correct (length) size. Add about 20 cm to your body height to arrive at the correct length of the bed. So if you are 180 cm tall, 200 cm is a good bed length for you.
Comfort is very important, think of bottom and mattress (and are these included?)
Does the crib have a good finish? The finish should be splinter free and smooth, especially for children.
With a baby or toddler you also think of the following points:
width and length
Go for one crib with a minimum width of 55 cm. Then make sure that - measured from the head - the child has a clearance of at least 20 cm in length.
Safe bars
Make sure that the bars have a spacing of at least 4,5 to 6,5 cm.
It should be wide enough to allow for free breathing if your baby were to roll into the side, and narrow enough not to dive through.
The bars continue to the bottom. Always ensure a safe environment around the cot, your little one can climb out of it one day!
A good soil
A slatted base is most suitable. This prevents your baby from overheating while sleeping.
In addition, the bottom must be adjustable, easier for you, and your child will not fall out later when he is bigger.
In the lowest position, the side walls should be at least 55-60 cm high, measured from the top of the mattress. In the highest position, this distance should be at least 20 cm.
Any wheels under the legs of it crib you must be able to lock it.
Matching mattress
It is important that the mattress fits well in the cot. The space between the mattress and the side walls should be a maximum of one finger wide.
The mattress should not curl up. The thickness of the mattress does not matter, it should just not be too soft. Again, consider the risk of suffocation.
Use a mattress protector with a ventilating top layer and a honeycomb structure on top of the mattress. Please do not use a sail.
Best Cribs Reviewed
Now that you know what to look for when choosing one crib for your child or for yourself, I will show you the best rated cribs on the market.
Overall best cot: Lorelli 3 in 1 cot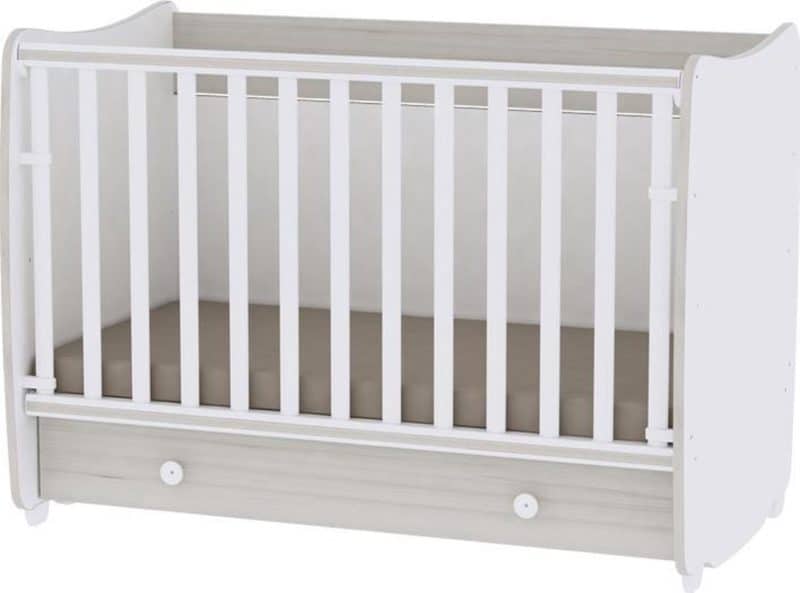 This Lorelli crib for babies and toddlers is made of high-quality chipboard, and above all it is a very practical baby bed that will last a long time.
This is due to all its original conversion options; you can turn it into a swing bed, a toddler bed, even a desk, and use it as a regular one crib use with two adjustable sleep levels.
I liked that it has a large drawer, you always have some sheets and blankets that you like to store neatly and can grab again in no time.
Its color is white and the drawer has an oak motif, which makes it a nice combination; I think it's cool and somewhat vintage. The price is great, especially because you can do so much with it!
Pros
convertible
Easy to assemble
Cons
Features
Bed dimensions: L145 x W75 cm
Material: 18 mm high-quality melamine chipboard
Bottom: Height adjustable on 2 levels
Mattress: Not included, suitable for mattress dimensions 140x70x12 cm
Best crib with drawers: ZOË heart bed sofa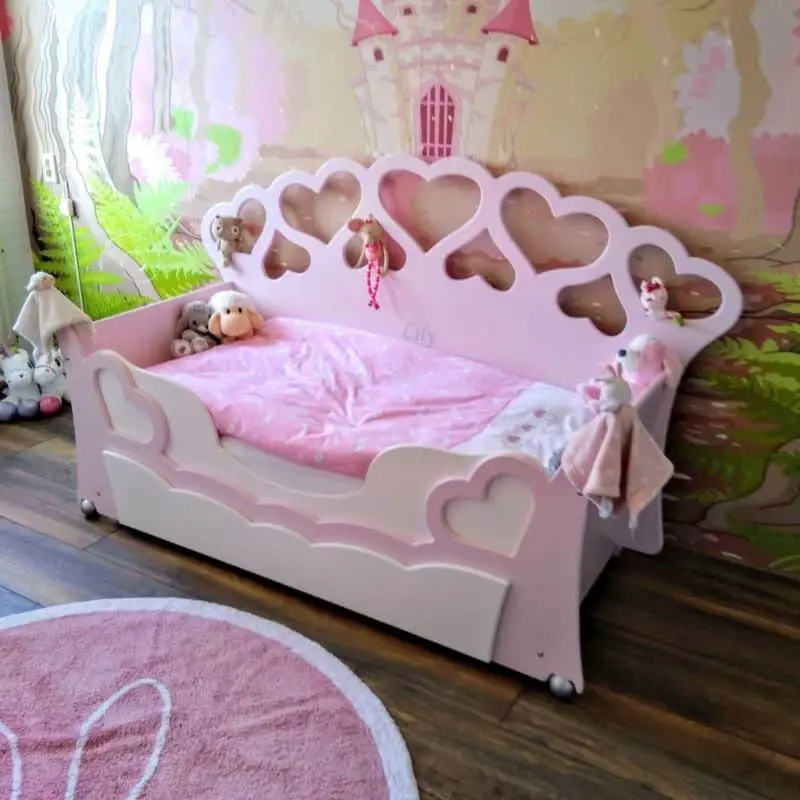 The price of the ZOË heart bed sofa is a bit higher than the much simpler Pericles Grow Bed, but it really is a showpiece!
The crib can be ordered with fall protection, if desired it can be delivered in a different color than the bed.
You could also order LED lighting in white or in color. Another possibility is to make a drawer at the bottom; all this, however, at an additional cost.
The makers of ZOË use Histor lacquer and you can choose multiple colors (eg pink and white). If you want to have it painted in your own colors or the name of the child on it, that is also possible.
Pros
Customizable
Looks great in the nursery
Can be used as a sofa
Cons
All extras for a fee
Pretty heavy
Features
Bed dimensions: L158 cm x W78 cm x H120 cm
Material: Wood and MDF
Bottom: Not adjustable
Mattress: Yes, cold foam mattress L150 cm x W70 cm
Weight: 80 kg
Best Crib with Changing Table: Bellamy Paso Doble Combi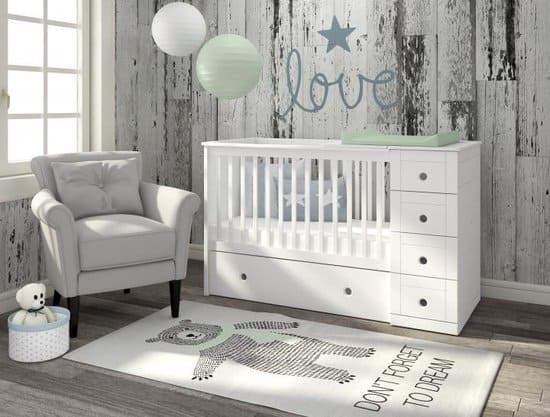 The Paso doble combi bedstead from Bellamy is handy.
Do you want to make optimal use of the space in the baby room? Then this is the combination crib with a chest of drawers perhaps a nice one.
It has a handy large bed drawer to store all your larger baby essentials, and 4 small drawers for wipes, lotion, or diapers.
You can choose whether you want the 4 small drawers on the left or right, as well as the shelf on which you place the changing/changing pad.
Pros
Space saving
Large drawer on wheels
Easy assembly
3 adjustment levels
On the side a clothes rails for small clothes
Cons
Manual in English can be tricky
Features
Bed dimensions: W72 cm x H100.5 cm x L164 cm
Material: Solid wood, chipboard and MDF
Bottom: Adjustable to 3 different heights
Mattress: 60 x 120 cm
Weight: 50 kg
Best extendable bed cot: Sebra Kili junior bed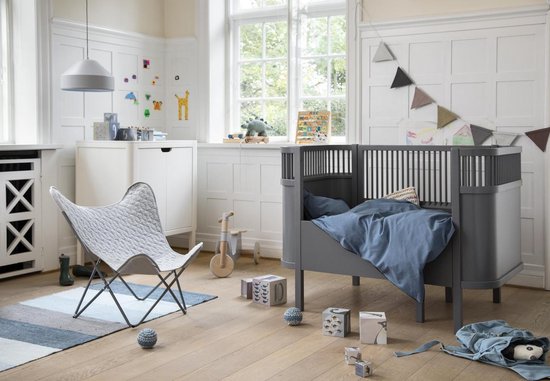 This sleek Kili crib A junior bed is a lot more expensive than the ZOË heart bed (almost double), but Kili grows with your child from birth to about 7 years, while the ZOË crib is not suitable for babies, but more for toddlers and preschoolers.
On the other hand, the Kili has the same grow-along features as the much cheaper Pericles Grow-along Crib. You can use both as crib and junior bed.
The Kili crib However, it is made of wood and features a beautiful Danish design, the simple Pericles crib is made from MDF.
When your child is one and a half to two years old, he can get out of it himself crib steps when you remove the front rack. The bed can easily be extended into a junior bed, with a pair of extra legs underneath.
Note: Kili is delivered without a mattress, you have to order this separately!
Pros
Real birch wood
Beautiful design
Rounded shape
Lasts 7-8 years with your child
Cons
Features
Bed dimensions: L110 cm x W70 cm x H90,5 cm
Junior bed sizes: L150 cm x W70 cm x H90,5 cm
Material: Birch wood gray lacquered
Bottom: Height adjustable
Mattress: Not included
Weight: 34 kg
Best crib with door: Dream Furniture Competitor Treehouse Bed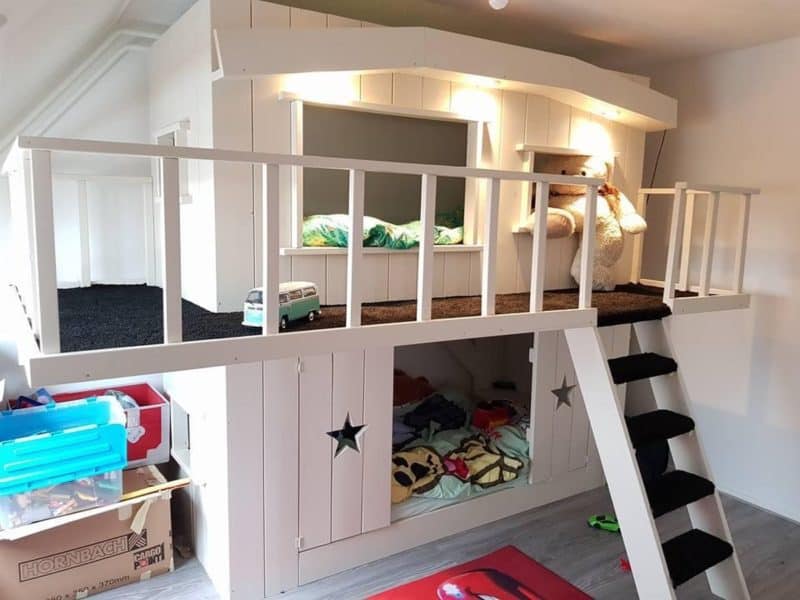 Which child doesn't dream of a tree house bed? This beautiful crib has a huge price, but it is rather a beautiful and luxurious house for the children's room.
The dimensions are 225 cm high, 295 cm long and 160 cm deep.
It has deep-pile carpet and a balcony plus recessed spotlights. Upstairs in the cottage is a toy box built in and it has a staircase. The bed/house is beautifully finished with scaffolding wood and has a sleek shape.
Downstairs is a place to sleep and there are two doors that partially close the space.
All planks have been machine-sanded and are therefore completely splinter-free. You have the choice to have an asterisk / diamond or heart cut out in the head or foot of the bed to personalize the bed.
In principle, you can place any slatted base in this scaffolding wooden bed, but you can also have a slatted base supplied. The dimensions are based on the mattress size.
Pros
A complete cabin
super cozy
Cons
Very pricey
Only fits in a large room
Features
Bed dimensions: L300 cm x W 158 cm x H225 cm
Material: Wood
Bottom: Not included
Mattress: Not included, 90 cm x 200 cm
Do you think a loft bed is a great idea for your child† I have reviewed more beautiful loft beds here
Best Crib Co-Sleeper: Fillikid 2 in 1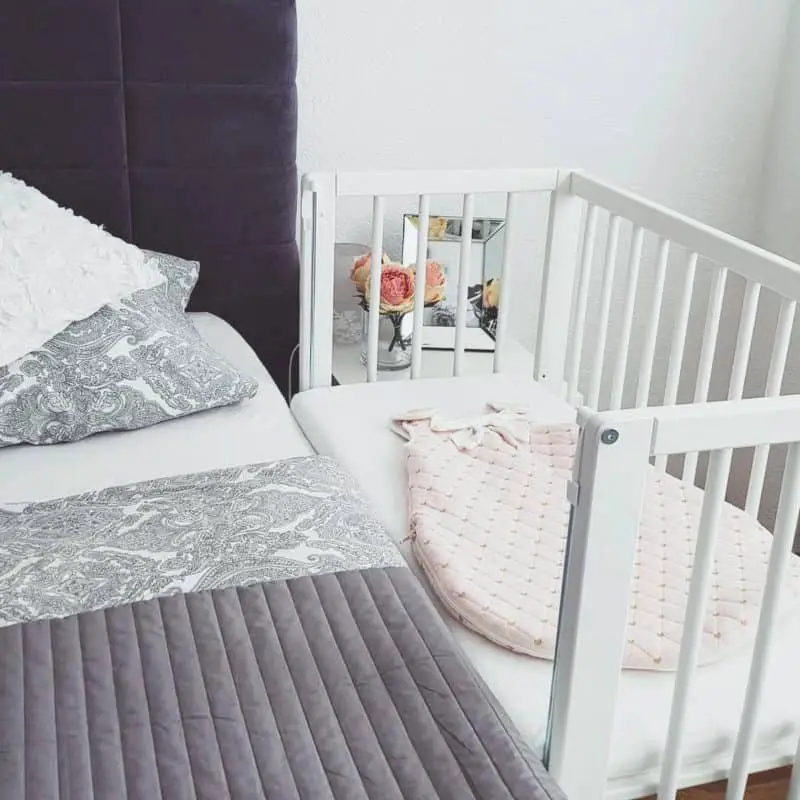 The Co-sleeper 2 in 1 from the Fillikid brand can be used as a baby cot but also as a safe and side bed because one side can be removed from the crib and can easily be attached to your large bed.
Great that you no longer have to get out of bed at night to feed or comfort the baby. The crib comes with a mattress, bed frame, duvet, pillow and duvet cover, wow!
The cot has wheels with brakes. This crib is made of high quality solid beech wood and unlike other woods is of higher quality! And that for its great price.
Pros
5 different height levels
Includes mattress with removable cotton cover, washable
Includes washable bed surround (165 x 26)
Including duvet and baby pillow
Including duvet cover stars 80 x 80 duvet
With safety belt to attach to parental bed
Wheels have a safety lock
High-quality solid beech wood
2 in 1
Good price
Cons
It is not always entirely clear how the brakes on the wheels work
Baby won't last very long, probably up to 2 years
It is actually not recommended to place bed frames for the safety of your baby
Features
Bed dimensions: W47 cm x L95 cm x H96 cm
Material: Solid beech
Bottom: adjustable in 5 levels
Mattress: 40 x 90
Best Crib on Wheels: Agashi Panda Crib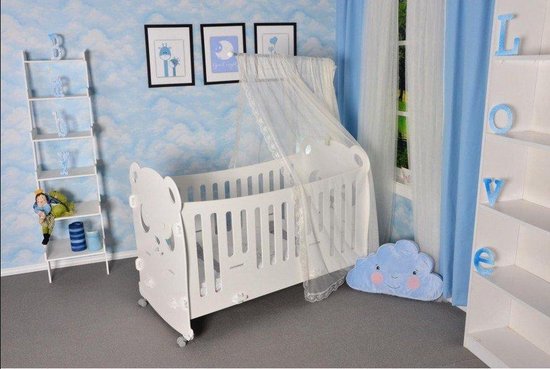 Agashi's Panda Crib consists of five separate parts. Very easy to assemble and disassemble without the use of tools, everything clicks together in no time.
You can move the Panda with you around the house whenever you want, thanks to the wheels. While a cot like the Co-sleeper 2 in 1 also has wheels, but can also be used open, as a co-sleeper.
Pros
Material is 100% organic MDF, no toxic substances used!
Easy installation without tools, without screws
Take your baby anywhere in the house in this crib
Light
Cons
Does not grow, suitable from birth to a year or 2-3
Features
Bed dimensions: L120 cm x W60 cm x H85 cm
Material: Unprocessed 'organic' MDF with a thickness of 10 mm
Bottom: Adjustable in height Including mattress
Mattress: Including 60 cm x 120 cm
Weight: 15 kg
Best Crib with Storage: Cabino Combibed Memphis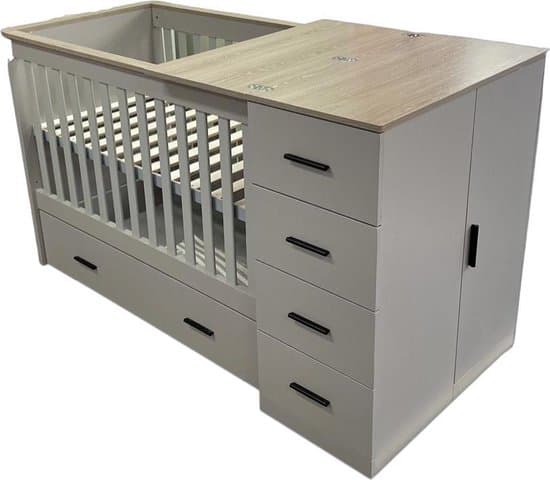 This Cabino Combibed Memphis is a bit similar to the Paso Doble combi Cot, but a lot cheaper because it is made of MDF.
This Memphis combination crib also has a chest of drawers and drawers, but even has a wardrobe on the side!
The combination crib Memphis is finished in a gray color and therefore fits into any interior.
Pros
Well priced
Clothes hanging cabinet on the side
Cons
If your child is a bit bigger, he may be able to open the drawers from the cot
Features
Bed dimensions: L164 cm x D72 cm x H100 cm
Material: Chipboard
Bottom: Height adjustable
Mattress: Yes included, 60 x 120 cm
Weight: 50 kg
Best natural bed: Grapol Open Basic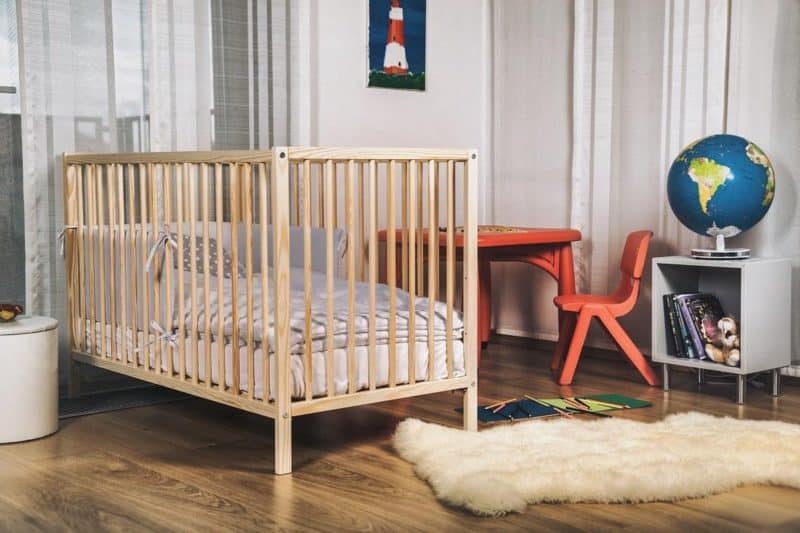 This natural wooden crib from Grapol has no drawers and no shelf for a dresser like the Paso doble combi bed.
But it is a beautiful natural color and really super affordable crib.
The Open Basic with 4 open sides is nice and basic, but that's why it's beautiful. Because of its low price, it is also suitable for placing at grandparents' house, if your child sometimes sleeps there.
The bottom of this crib is height adjustable and comes with slatted base. This crib Can be used from birth to approximately 3 years.
Pros
Cons
Very basic, no special features
Features
Bed dimensions: L66 cm x W80 cm x 125 cm
Material: Wood in natural color
Bottom: Height adjustable
Mattress: No, but you need one of 60 x 120 cm
Best crib toddler bed: Children's bed Tipi pine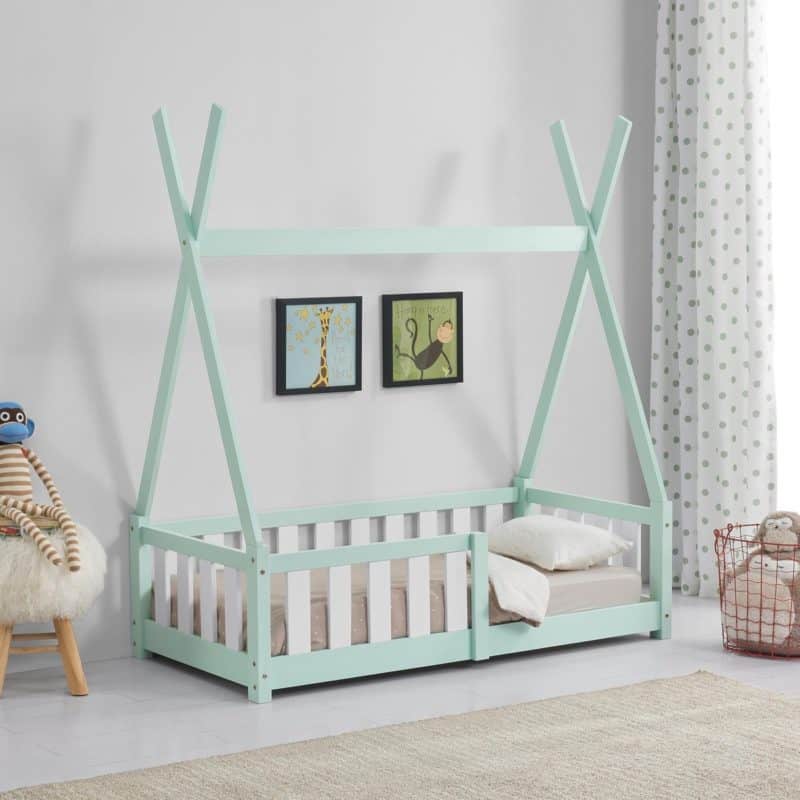 This Tipi pine cannot be compared in size (and price) with the tree house cot, but kids have at least as much fun with this nice Tipi bed.
The Tipi bed is low and has a fall protection.
It is a beautifully conceived design, also for making a tent while playing. Not suitable for babies, but suitable for toddlers, preschoolers, up to children of about 7 years old.
Even though it is probably not the most convenient cot, I was immediately sold and opted for this dreamy version in mint green with white. But you can also choose the combinations grey-white, pink-white, or just white.
Pros
Never fall out of bed with the fall protection 75 x 40 cm
Easy and quick to assemble
Lasts a long time due to very sturdy construction
Cons
Mattress not included
Bed on the low side
Features
Bed dimensions: L148 cm x W76 cm x H165 cm
Material: Pine wood
Bottom: Height adjustable
Mattress: 140 x 70 cm, not included
Weight: 18 kg
Best crib 70 x 140: Pericles extendable bed Sophie Taupe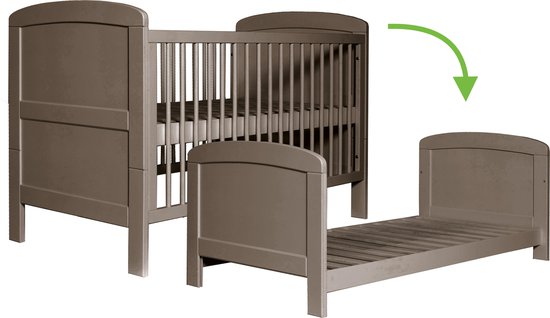 The certainly not too expensive Pericles Grow Bed Crib is a beautiful and high-quality babycrib that you can convert into a toddler and preschooler bed.
From about 2 years old you can convert this bed into a toddler bed, and then your child can continue to use the bed until he is 5 to 6 years old. The bed has a beautiful, warm color taupe.
If we call it Pericles crib with the Lorelli crib By comparison we see that the Lorelli has a drawer and grows in a completely different way than this Pericles.
This has the possibility to be converted into a bed in which children up to 6 years old can easily sleep.
Pros
Grows with your child for years
Bottom adjustable on 3 levels
Cons
Features
Bed dimensions: W75 cm x H145 cm
Material: MDF
Bottom: Slatted base adjustable on 3 levels
Mattress: 70 x 140cm
Weight: 28 kg
Best crib adults 140 x 200: Goossens Excellent Bed Nord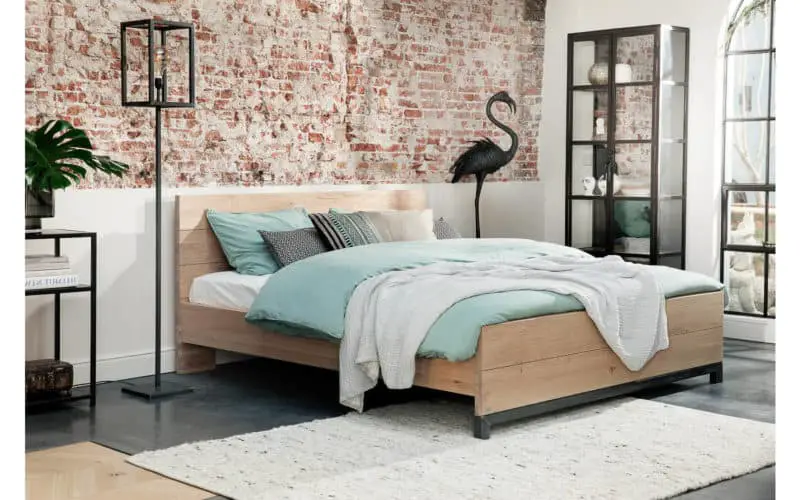 Bed Nord is made of oak and adds a calm yet sturdy atmosphere to your bedroom. The metal legs give Bed Nord a sturdy look.
The bed has a natural character due to the grains and knots that the oak shows.
The solid wood also ensures that Nord has a long life. You can combine the Nord bed with other furniture from the Nord range. All very stylish and durable.
It is a pity that you have to purchase both a slatted base and the interior to place the bottoms on separately. A crossbar or low feet is essential to be able to place a slatted base in the bed.
It is about as expensive as Bed Merrick, which has a mattress width of 180 cm. But solid oak is simply expensive.
Pros
Nice finish
sturdy frame
Eiken
Sustainability and
2 year CBW + 10 year construction warranty
Cons
No slatted base included
Exclusive interior for slatted base
Features
Bed dimensions: 149 x 95 x 209 cm
Material: Steamed and sandblasted oak
Bottom: Slatted base not included
Mattress: Comes without mattress (140×200)
Best crib for adults 160 x 200: Bed frame Mimosa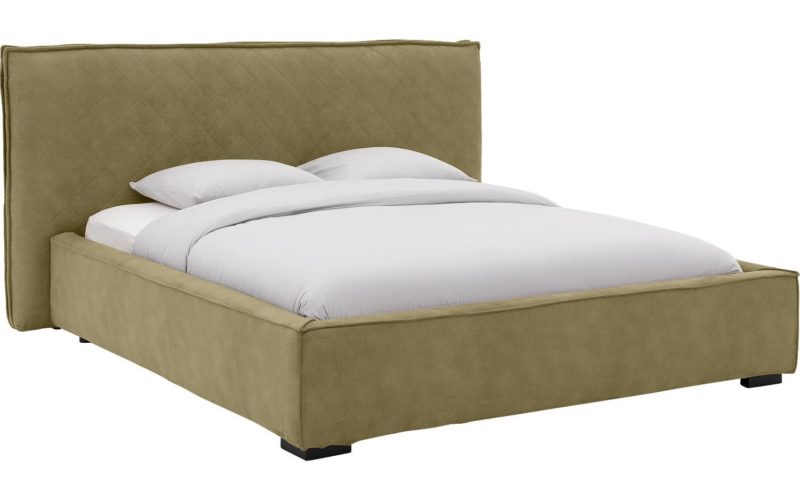 Are you looking for a chic, upholstered crib from Alcamara? Then Bedframe Mimosa is the bed for you.
The bed resembles a luxury box spring, but is a bed with a slatted base. The bed has a beautiful khaki color.
With its 1.60 width, it is between Bed Merrick and Bed Nord in width, but it is a bit more expensive.
It also has a high, softly stitched headboard so that you can sit comfortably against it to read a book, for example. The bed has a wooden crossbar as standard on which the slatted base rests.
For an even better sleep quality, it is recommended to buy a steel crossbar or low legs (which you attach directly to the slatted base). This way the frame is not loaded and will not crack.
You will still have to purchase the slatted base and a mattress yourself. With this bed you can also choose two slatted bases of 80 cm wide.
The mattress length should be 200 cm with the standard size of the Mimosa bed, and is then suitable for people shorter than 185 cm.
Pros
Nice finish
sturdy frame
2 year CBW + 10 year construction warranty
Cons
No slatted base included
Largest available length is 210 cm, not suitable for very tall people
Features
Bed dimensions: W214 x L236 cm x H121
Material: Alcamara fabric (a hardwearing microfibre)
Bottom: Slatted base not included
Mattress: Comes without mattress (160 x 200)
Best crib adults 180 x 200: Bed Merrick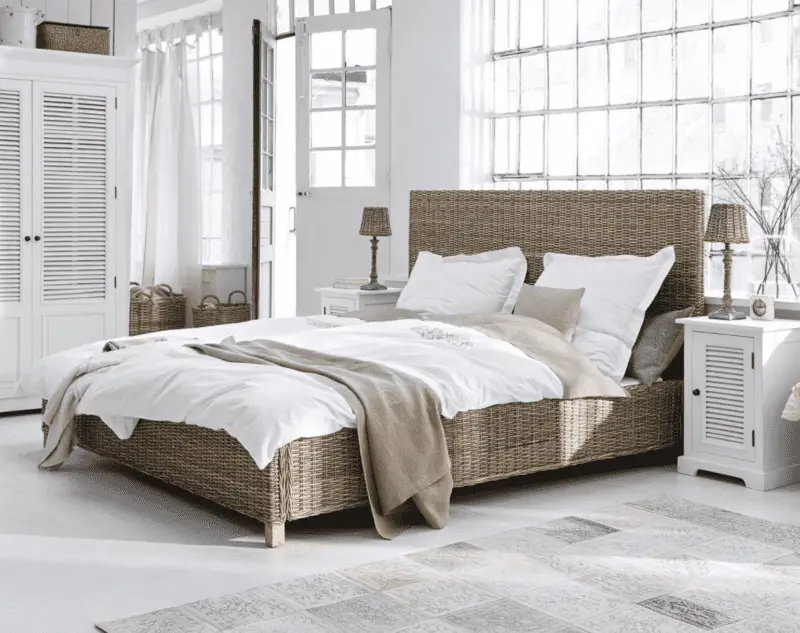 Bed Merrick is made of woven rattan and has a present but nice high headboard.
The frame plus the slatted base are made of mahogany and the legs come from the rubber tree, so it is not a tarry rattan bed, but rather one that will last.
The bed looks calm and natural, and has generous dimensions. The slatted base is included in the price.
It looks beautiful and goes well with the country, dreamy style or country style.
Pros
Including slatted base
Warm appearance
Cons
A slightly lower entry-exit
Not suitable for very tall people
Features
Bed dimensions: 140 x 195 x 225 cm
Material: Woven rattan, the legs of rubber tree wood (hevea) and the frame and slatted base of mahogany
Mattress: Not included, 180 x 120 cm
Weight: 80 kg
Crib or crib?
Your baby needs to sleep well in order to grow, and so do you, of course, to take good care of him. Often, however, parents have difficulty leaving their child in their cot with peace of mind.
What is the safest solution now? It is best to choose one crib or for a cradle?
Having an crib is the safest option for your child, because the side walls are open, with bars.
As a result, your baby cannot get into breathlessness if he ends up with his face to the side while turning.
Having an crib is also a cheaper purchase, because it is suitable from birth until your child is about 2,5 years old.
That doesn't change the fact that a crib isn't safe and is: but only the first 3 to 6 months. Then your baby will roll over and can lie with his face against the side. And then there is the risk of choking.
A crib is easy to keep your baby close to you. It is light, you can easily put it on the couch or next to you on the bed.
Make crib for baby
It is wise not to put pillows or stuffed animals in the cot. Anything that your child can roll against with his mouth and nose can cause respiratory distress. That is why head protectors are also unsafe.
Also keep a (music) mobile out of the reach of your child. This one is just there to watch and listen to.
A crib and crib you basically make it up in the same way, and that's really not difficult. The most important thing is that you make the bed neat and short.
Your baby's feet should be just slightly away from the foot end. Your baby is therefore at the bottom of the mattress.
You tuck the bedding in well on the sides and the foot end, so you prevent your baby from turning. The tight tuck-in gives your baby a wonderfully secure feeling.
Twisting can put your little one in a position that can hinder their breathing. A baby cannot turn back properly yet, so this can lead to dangerous situations and even cot death.
Advantages and disadvantages crib
Before I end my story, I would like to briefly explain the pros and cons of having a baby crib give.
Benefits crib
Suitable from birth until your child is about 2,5 years old
Adjustable bottom
'Open' structure
Disadvantages crib
Not easy to move, provided there are wheels underneath
More expensive to buy than a crib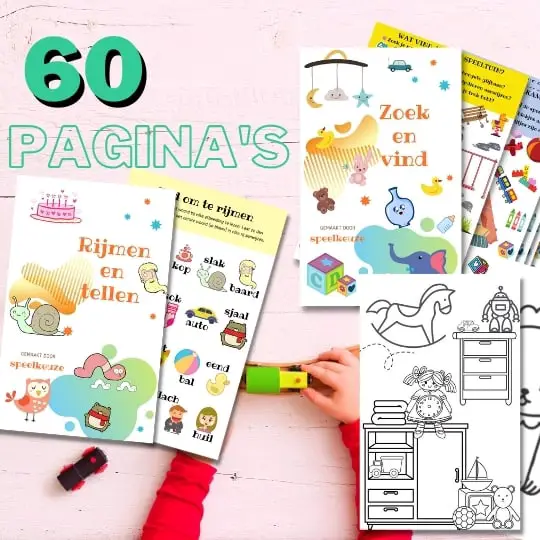 Always something to do for the holidays or rainy day?
Play Choice now has the ultimate activity book collection, with over 60 pages of fun coloring pages and educational puzzles.
Joost Nusselder, the founder of Speelkeuze.nl is a content marketer, father and loves trying out new toys. As a child he came into contact with everything related to games when his mother started the Tinnen Soldaat in Ede. Now he and his team create helpful blog articles to help loyal readers with fun play ideas.