17 Best Robot Toys: Tested by age, education and coolness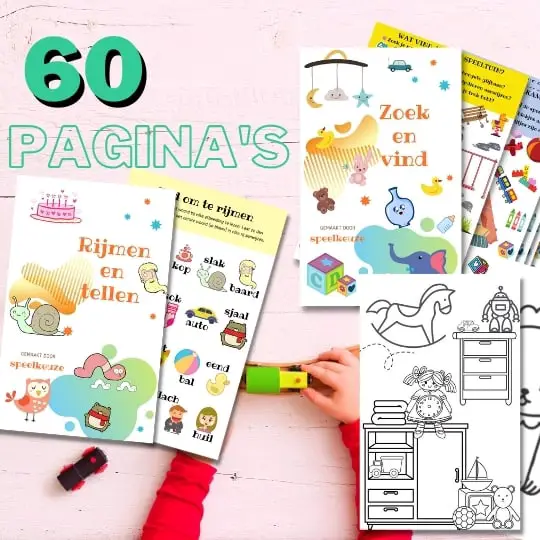 Always something to do for the holidays or rainy day?
Play Choice now has the ultimate activity book collection, with over 60 pages of fun coloring pages and educational puzzles.
Toy robots are more than just those toys that waddle back and forth and stick their arms out. They have become smart devices that can teach your child a lot about cause and effect and programming.
A 2010 study by Penados, A., Gielen, M., Stappers, P., & Jongert, T. (2010) concluded that children aged 4 to 8 years already had a good understanding of the functions of interactive robot toys and were able to use them. even stimulate physical activity.
Klein, T., Gelderblom, G., Witte, L., & Vanstipelen, S. discovered in their 2011 study that robots can enrich the play of children with developmental disabilities.
For most kids who want to start with a robot, I recommend this Wonder Workshop Dash especially from 6 years to about 8 years old, although it is still fun later on. An award-winning design and great fun to learn different challenges.
In the list below are more options for different age groups and game themes.
In various categories, I have made the best robot selection for you from 17 options, from the best basic functions to the best personality and the most extensive educational functions.
#1 Wonder Workshop Dash – Overall best interactive toy robot
Dash is a colorful robot designed to make coding fun without the typical frustrations of building and programming a robot.
Winner of the "Best Toy Award", Dash is ready to play right out of the box, responds to your voice and rolls through the living room immediately after opening.
While Dash is ready to recognize a number of commands and can be used in games like hot potato, programming it for hundreds of other activities is really fun.
Use the free Apple, Android, or Kindle Fire apps to code in a fun 'Quest Mode' that's colorful and engaging, a great introduction to coding for kids from six years old.
Here's a first overview of what he can do:
With the push of a button, he can explore all his surroundings right out of the box. He sees for himself where he can go and where not.
He will automatically see where the edges of a table or room are, although the table can sometimes present challenges and it could fall off.
Dash can be programmed to follow a race track, dance, light up, make sounds, joust or play all kinds of other games.
Actually very easy with Blockly, an app on your phone or child's tablet to create a pattern for Dash to follow.
This is the best overall robot because of its many features and easy functions straight out of the box without actually programming.
Your kids unlock new skills the more programming assignments they make, using a reward system to keep them motivated and engaged.
Dash robots play well together, so your kids and their friends can even complete missions together.
This robot is well built, endlessly entertaining, and actually fun to program.
#2 Gear2Play Fisca the Dancing Dog – Best robot animal
As a parent of a curious 6-year-old, I was looking for interactive and cool toys that matched my child's development. The Fisca the Dancing Dog turned out to be a fantastic choice! This intelligent robotic dog offers an array of fun features that are sure to captivate children of this age group.
The Fisca the Dancing Dog has a number of striking advantages:
Interactive Friendliness: My kid really enjoyed interacting with this cute robot. By touching the dog's chin, he responded with playful movements and sounds. This created a great companion for my child, which is especially nice for times when there is a need for a playmate.
Educational Programming Fun: I appreciated the fact that my child could experiment with Fisca the Dancing Dog by programming custom actions. This stimulates not only their creativity, but also their understanding of cause and effect.
Entertainment in Motion: The dog dance and music features made my child feel active and entertained. The dog has three dances with music, which made my child dance enthusiastically and have even more fun playing.
This smart dog is perfectly suited to the development of 6-year-olds. It offers not only entertainment, but also educational elements, such as programmability and interaction. The high-quality material meant that I didn't have to worry about my child's safety while he played.
#3 Makeblock mBot – Best educational coding robot for ages 9 to 11
From: 8 years

Best: 9 – 11 years

Up to: 12 years
The mBot Robot is an educational starter kit designed to introduce children to STEM fundamentals such as programming, electronics, and robotics. Programming is powered by Makeblock software Scratch 2.0, which gives kids a drag-and-drop graphical programming platform to dictate a variety of robot functions. The system is therefore very flexible and the most educational of any of the robots here.
Assembly parts are obvious to put together but allow for a deeper level of creativity and thinking to do with your bright 10-year-old. The ease of use does suffer a bit, but that is made up for in play value with an open-ended platform.
The core robot is a simple two-wheeled vehicle with a cute smiling face that is controlled via an app. You can choose simple games like balloon bursting or soccer and sumo – each requires fun programming goals. Kids can even customize the robot with Makeblock extensions and LEGOs as they develop in the Arduino open source ecosystem so they can create the robot of their dreams! This makes it very versatile and gives great replayability.
mBot is a winner of multiple awards, such as the Edison Gold Award, IDEA Gold Award, and CES Design Award.
#4 Huntex RC Transformation Police Car – Best remote control robotic car
A blue and white Lamborghini police car that can transform into a robot (and vice versa)? WOW!
With this Huntex you make your child twice as happy. With just the push of a button you can make the transformation a fact.
Both the car and the robot can move in all directions. The car has four smooth wheels and can rotate 360 ​​degrees in both the robot form and the car.
The plastic toy features cool lighting and realistic engine sounds.
Content toy package:
Huntex transforming car/robot
Remote control
2 AA batteries for remote control
2 Rechargeable batteries for car/robot
Charger
Manual
Batteries are included and the battery life is 40 minutes. Charging takes about an hour.
The recommended age for this toy is 4 to 12 years and the maximum speed of the car is 10 km/h. The maximum operating distance is 10 meters.
The toy is strong and resistant to falling, and absolutely safe for children. The dimensions of this robot/car are 24 x 9,5 x 7,5 cm (lxwxh).
The car battery is rechargeable by means of the USB charging cable. The toys can be played both indoors and outdoors!
Characteristics:
Robot and car in 1
With lights and realistic sounds
With batteries
Battery life: 40 minutes
Battery charging time: 1 hour
For children from 4 to 12 years old
Maximum speed: 10 km / h
Maximum operating distance: 10 meters
For indoor and outdoor
Dimensions (lxwxh): 24 x 9,5 x 7,5 cm
Plastic
#5 Engino Kit Paleontology - Learn About Dinosaurs - Best robot dinosaur
As a lover of paleontology and STEM education, I was very excited when I discovered the Engino Kit Paleontology. The kit allows children to delve deep into the world of prehistoric creatures and discover how they lived, roamed and ruled the earth. I built this kit with my child and we had a lot of fun with it.
One of the best aspects of this kit is that it encourages children to develop problem-solving, critical thinking and engineering skills. As they build each model, they are challenged to think about construction and design, and to use the engine parts to bring the models to life. It's great to see how the dinosaurs move and interact with their environment.
What I especially liked about this kit is that it's not just build and play. It comes with 11 pages of theory and facts accompanied by fun experiments to test the newly acquired knowledge. In addition, a quiz section is included to test the understanding of the children. The kit therefore offers an educational experience and stimulates children's curiosity.
Another highlight of this kit is the accompanying 3D app. This cutting-edge, interactive app enables children to build virtually in reality. The app contains detailed instructions for an additional 3 construction projects. It's great to see how the instructions can be rotated in 3D, allowing you to view the building process from all angles. This makes it especially useful in more complex designs.
I also appreciate the quality of the components. Engino has designed award-winning components that explain complex scientific concepts in a clear way. The sturdiness and durability of the pieces make them suitable for long-term use.
#6 Sphero Bolt – Best outdoor ball coding robot
I am really impressed with the Sphero BOLT, the programmable robotic ball designed specifically for outdoor use. It offers endless opportunities to be creative, have fun and learn at the same time. As a parent, I am thrilled with the advanced features and educational value this robot offers.
The Sphero BOLT has a tough, watertight plastic housing that protects the electronics inside, making it resistant to adventures in the water. The wireless, inductive charging ensures there are no charging ports for liquid to enter, which is reassuring.
The robot is equipped with advanced sensors, such as a compass, light sensor, gyroscope, accelerometer, motor encoders and infrared communication. In addition, it has a striking and animated LED matrix that attracts children and stimulates their creativity. With the free Sphero Edu app, you can easily create and customize games, program the BOLT by drawing on the screen, dragging and dropping blocks, or writing JavaScript.
What I love about the Sphero BOLT is that it's more than just a robot. It is a powerful learning tool that allows children to learn programming in a fun and interactive way. It stimulates their creativity and helps them develop essential skills such as problem solving and collaboration.
The durable, scratch-resistant housing ensures that the robot can withstand rough play and accidents. With an inductive charging technology, the BOLT offers up to 4 hours of playtime after just 6 hours of charging. I also appreciate the Bluetooth Smart connection, which allows me to see the commands and creations on my phone and experience the interaction with the robot.
#7 Transformers Rise of The Beasts Optimus Primal & Skullcruncher – Best Little Robot Action Figure
I was looking for a fun toy for my 4 year old and came across the Transformers Optimus Primal. This is a really great toy for kids that age!
What I also like about this toy is that it lasts a long time. It is very well made of durable plastic and can take a beating. I also read some reviews from other parents who said their kids had been playing with it for months and it was still in great condition.
Actually most suitable from 6 years old, but 4-year-olds can already play with it perfectly and so this set can also grow.
#8 Smartmax Roboflex Plus – Best robot toy for 3 year olds
The possibilities are endless with this set, especially when you combine it with other Smartmax bar sets.
That makes this the best magnetic robots set. You have a regular version and a plus version that is slightly larger.
You can get by with both, although most parents say they would have liked to go straight for the plus version because their child likes it so much.
The magnets are good, but maybe just not good enough. The construction aspect of this set is the most fun.
Playing with it is difficult because the parts can fall off quickly, especially with the craziest creations.
Yet that often doesn't matter because then they just click it back on, and it has even become part of the game every now and then.
The flexible tubes with magnets on the end make it an exceptional toy, rather than just fun.
#9 Learning Resources Code & Go Mouse - Best first robot coding toy for 4 year olds
From: 3 years

Best: 4 – 5 years

Up to: 6 years
Play value: ease of use, degree of open-endedness, imagination, social interaction, interactivity, versatility, aesthetics, ability to combine, portability, longevity, durability, safety, materials. Educational: +awards and educational value
The educational value is very high with the toy aimed at developing critical thinking, programming skills and problem solving skills in children aged 3 and 4 years old.
The play value is also very high due to the interactivity, the degree of open ending and how the theme appeals to the imagination (the mouse has to get his cheese). It could have been a bit higher if the ease of use had been a bit better, as coding can be tricky.
The replayability is also a bit lower, mainly because you can only do one type of game with it and it has to be completely self-contained to get caught again and again. It is difficult to combine it with other toys. The activity guide with hands-on introduction to programming concepts along with the 16 maze grids, 22 maze walls and 3 tunnels thankfully make it more interesting, providing endless possibilities for creating mazes.
The toy is quite sturdy and well put together, with only the wheels of the mouse being a minor weak spot. This is not a toy to drive yourself, but perfect for a quiet educational moment.
#10 VTech Smart Friends Twinkle the Magical Unicorn – Best cute robot toy horse
Experience a great adventure with Twinkel, VTech Merry Friends Magic Kingdom Unicorn from Femke Fee!
When Femke Fee or another friend sits on one of the two Magic Points, Twinkle suddenly starts moving her head and also walking.
Your child can communicate with Twinkle by pressing the heart button so that she makes funny sounds and nice melodies.
Twinkel's horn can flash and also change color. She knows no less than six melodies and can sing three songs.
The horse is suitable for kids from one year, this is a sturdy and durable product. The friends and Femke Fee are available separately.
#11 Learning Resources Botley 2.0 Activity Set – Best coding robot for ages 5 and 6
From: 4 years

Best: 5 – 6 years

Up to: 7 years
The Botley 2.0 has multiple ways to program and learn from it. Programming is done using the supplied controller, so the child can learn sequences and even start learning loops.
Botley does not actually learn to code, after all, the programming is done on a controller, but they do learn the basic skills of thinking like a programmer, and is therefore also a robot for 5 to 7 years.
There is a lot going on here and that is good for the versatility. You can really do anything with it and that also makes it easy to combine with other toys such as Duplo that you have lying around or to build something from magnetic tiles that it has to go through without knocking it over.
Botley was a lot of fun to play with, but the play value could have been higher if the ease of use had been better. My son is now 5 years old and having the patience to play with it properly is sometimes difficult. I also think playing with it under 5 will be a challenge. The play value is still very high due to the enormous interactivity, from coding to secret cheat codes.
Botley 2.0 has also won several awards, including Innovative Toy of the Year, Best of CES from Reuters and Best Toy of the Year 2018 from Parents magazine.
#12 Silverlit Robo Kombat Duo Set – Best fighting robots
I have a bit of a love-hate relationship with these robots.
On the one hand, it's just fun entertainment and good bashing for a relatively low price, where you get two robots.
On the other hand, they are not very smart and in the end it is more just pounding than strategy
But perhaps you shouldn't expect too much robot-like behavior from it either.
Still, I wanted to list them because of the AI ​​that Silverlit put into it. That means you can play on your own while the other robot defends itself with the help of AI.
So you can fight in pairs by each picking up a controller, or you can battle alone by using only one of the two included controllers so that the other robot will defend itself.
A small disadvantage is that they often overlap each other.
Maybe it was made on purpose to make the fight last a little longer and you have to time when the other strikes.
But…. you can pack some punches, and that makes it a nice playset for children who need to get rid of something, shall we say.
But all in all, you shouldn't expect too much AI and not too much robot smartness.
#13 N/C Inductive Tracer Bot – Best line tracing robot
A tracer robot is also a great fun toy for smaller children. For example, my son is just between the Lego and Duplo, and often wants to build blocks with Duplo.
Now with such a tracer bot, he has another nice reason to take them out again, namely to build obstacles and tunnels so that the tracer robot can pass underneath.
A tracer bot is a robot that scans the ground for lines. Once he finds one, he will continue to follow that line, as in the picture above.
With this set you get a base plate, although it is a bit small, but that ensures that you immediately understand how it can work.
With every black marker you can draw a line however you want, and thus create a pattern that the tracer will continue to follow bot.
We first saw this on Youtube videos about hamster mazes, and this model at least appears as a robot boss at Major Hamster in several videos that they have made.
We wondered how that worked exactly, and it is a sensor that detects thick lines based on induction:
Now it has become a great addition to our son's toy suitcase, and nice and small so he could take it with him as a gift when traveling.
#14 Snap Circuits Teach Tech Mech 5 – Best coding robot for ages 11 and 12
The Snap Circuits Teach Tech Mech 5 is a unique mechanical programmable robot designed to inspire young engineers to learn about mechanical engineering and coding basics. This entry-level STEM robot can throw, lift, kick, draw and much more simply by attaching the programming buttons to the programming wheel.
I have personally found the Mech 5 to be a great educational tool. Building the robot was a fun and engaging activity, and the process gave me an insight into how mechanical systems work. It's a great way for kids to learn by doing.
The reviews show that the Mech 5 is generally well received. Many people appreciate its educational value and the fact that it does not require screen use. Some users found building the robot challenging, but the result was worth it. It is noted that the programming options are somewhat limited as the code is the same every time the wheel spins, but this is intended to teach children the basics of coding.
Another positive point mentioned is the manufacturer's customer service. Some users had problems with parts, such as broken wheels, but the manufacturer responded quickly and sent replacement parts.
One negative point that emerges is that building the robot can be time consuming and it may require careful disassembly of the plastic parts before you begin. Some people found this frustrating and commented that it may not be as suitable for younger children without adult help.
Overall, I think the Snap Circuits Teach Tech Mech 5 is an excellent educational toy. It offers children the opportunity to learn about mechanical engineering and coding basics in a fun and interactive way. While the building process may take some time and patience, the results are worth it. I would definitely recommend this as a no-screen activity for kids ages 10 and up interested in engineering and coding.
#15 Miko 3 Programmable STEM Robot – Best robot toy with AI
As a parent I am always looking for ways to combine education and fun for my children. Miko 3 has emerged as a great choice in that area.
This smart robot goes beyond traditional toys and offers a unique blend of educational content and entertainment. It's like Miko 3 becomes a friend that my children get to know a little better every day.
With advanced AI and a friendly personality, Miko 3 really impressed us. It is also one of the few robots with an HD camera.
Miko 3 is much more than just a toy. It provides educational support and has even been proven to increase engagement in academic activities.
In addition, Miko 3 is interactive and entertaining, with a wide variety of conversations, stories and songs to keep children entertained.
What really appealed to me is Miko 3's friendly personality, who really feels like a friend to my kids. Whether telling jokes, dancing together or even doing yoga, Miko 3 has carved out a place in our daily lives.
#16 Playskool Mega Mighties Bumblebee – Best big and tall toy robot
This 10-inch (25 cm) Mega Mighties Bumblebee is a real eye-catcher. It's clear that the emphasis is on durability and size, perfect for small hands and active play.
Although the Bumblebee figure cannot transform, it still offers plenty of play opportunities. This may be a disappointment to some parents, but it's important to remember that the emphasis is on safety and durability for younger children.
The manufacturer indicates that it's suitable from 3 years and up. This is because something could come loose, for example the head when pulled or hit extremely hard. We have not succeeded in doing this in the more than 2 years that we have been playing with it.
#17 Areaware Cubebot Micro Puzzle – Best wooden toy robot
From: 3 years

Best: 4 – 8 years

Up to: 14 years
Can be used as a puzzle, fidget toy and robot, making this toy extremely versatile. In addition, it is also fun for a long time because it is a good room decoration for children of all ages.
It can be a bit difficult to play with in the beginning, if the strings are still a bit stiff and you don't know how the puzzle works. This could have given it a slightly higher play score. But the open-ended character more than makes up for it.
The replayability is even higher, due to the compact size and excellent longevity. As a cheap toy, this makes for the best value for money wooden toy I've seen.
In addition, it is one of the few robot toys that breaks gender stereotypes with a neutral look and design that could be male, female or non-binary.
It is not for nothing that award-winning designer David Weeks has worked on this.
What age are interactive robots for?
Technology has become the second human language after speech. Therefore, it is necessary to involve children as early as possible. There are interactive robots for ages 2 and up for all ages, but according to the American Academy of Pediatrics, children under age 2 should not be given digital devices yet.
It is important that toys are age appropriate to suit their skill level and stage of development.
In the table and graph below you can see for which ages the 15 toy robots in this review are suitable.
For example, an educational robot that matches the age can help in the learning process in various ways.
How can robot toys help in the learning process?
Both the school and home curriculum are now incorporating many robots and other digital devices as learning tools for children. Particularly in recent years, robot toys for children are gaining popularity in many households. More and more educational robotics are also being used in schools.
The use of robotic technology for children's toys has shown a significant positive impact on learning.
In general, toys have been shown to improve children's development. They enjoy themselves, increase their creativity and stimulate their imagination.
Educational robots and robotics are versatile and can be used to create different designs and they simplify technology and complex STEM principles such as programming to a level that matches children's skills.
Can robot toys learn to code?
Yes, STEM robots provide a good introduction to coding and programming. Although it's just fun for them, they are slowly learning the basics of programming. They also learn that solving challenges involves breaking them into small manageable chunks, perfect for coding.
Coding is now an important part in many industries. It is believed that in the future, like computer literacy, coding will be a required qualification in almost every career. So toys that help teach coding are a good investment.
How can apps assist in interactive robot toys?
Screen-free learning is good, inspired by the Montessori philosophy as Primary Montessori describes it: "Too much screen time can hinder a child's ability to focus and thrive in learning." Still, apps can help with coding. It's more like how kids use it later on too.
Toys with apps can therefore be used for educational purposes, as long as you limit screen time.