7 best toy cars with light & sound for great pretend play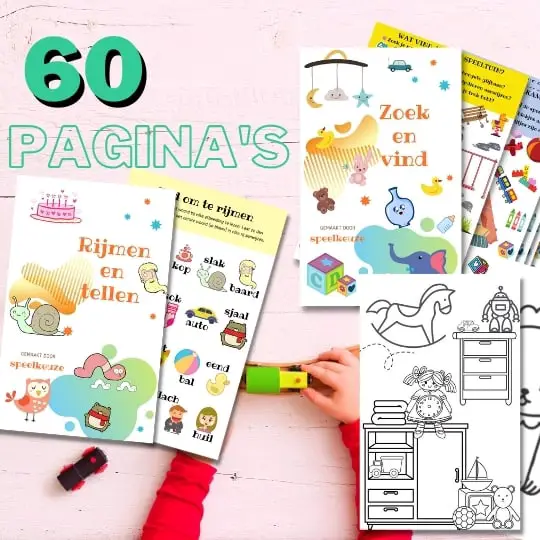 Always something to do for the holidays or rainy day?
Play Choice now has the ultimate activity book collection, with over 60 pages of fun coloring pages and educational puzzles.
There are a lot of annoying toy cars light and sound. Way too loud or it doesn't look like their function at all.
Fortunately, there are also brands like Playmobil with this police bus who build a realistic car that is fun to play with. A great play set that can be used with all other Playmobil toys.
But there are more good options. In this guide I look at the 7 best toy cars with light and sound and what you should pay attention to when purchasing.
Let's take a quick look at the top options. Then I'll go into more detail about each of these choices.
Toy car with light and sound buying guide
What should you pay attention to when buying toy cars with light and sound?
That they are fun to play with of course. But also that the sound does not become annoying.
Some toys are way too hard. Have you ever taped toys to the speaker so that it was less loud :)
Well, I do.
In addition, the sound must also resemble the function. For example, a police siren or a realistic engine sound.
In addition, there are a few things to watch out for with toy cars.
Sustainability
There are quite a few differences in quality between toy car brands. Just look at the difference between Bruder and Dickie Toys, you can clearly feel the quality.
In any case, almost nothing can go wrong with toy cars for toddlers such as the Toet Toet range from Vtech. That's what I paid extra attention to when assessing the durability of the cars.
Quality of driving
With toy cars you want them to be able to drive well. Some may be for display only, not for play. But you still want them to roll well.
A few things to watch out for are:
the distance from the wheels to the chassis: some toy cars run into problems so they don't drive very well
the rigidity of the shaft: some toy cars are very wobbly so the wheels can move far in and out, and still rub
the quality of the wheels: is it plastic or are there really rubber wheels on the tires? Rubber rolls a lot better
the weight of the car: you may not realize this right away, but the weight of the car plays a very large role in how well it rolls. A heavier car made of diecast or wood rolls a lot better and further than a plastic car
Replayability
Much of the car's replayability is in how well it drives, but there are other factors that determine how often they return to it.
Age also plays a part. Is it a car that stays on the left after toddlerhood or can it last longer because it is also suitable for older children?
The number of extra functions also plays a major role, such as the extra dolls at Playmobil or the dirt snivel bins at Joyin.
I rated each of the cars on this list on these parts on a 5-point scale.
Top 7 toy cars with light and sound rated
Playmobil is always perfect for pretend play. You not only get a car that drives well, but also a lot of accessories.
The same goes for this police bus. The button on the roof turns on the lights and sounds for a realistic police sound.
There are two dolls included but there is enough room in the bus for seven and the rear seat folds down for more storage space.
Furthermore, there are handcuffs, a walkie-talkie and 2 pistols. You can easily transport the crooks in the bus because the roof is removable and the sliding side doors and rear doors can really open.
A real toy car like the Interceptor from Dickie Toys drives a little better than Playmobil. This is more of a playset.
For a cheap car it has very realistic sounds. It is a 10-inch (25 cm) Cat Dump Truck made of very sturdy plastic.
The engine rumbles when you start the car. It also has flashing lights, engine revs, reversing and hydraulic sounds.
It takes 2 AA batteries and it lasts quite a long time. The car is also super sturdy, but there is one weak spot at the connection of the box. There he could break over time.
But with us he lasted a very long time with intense play, so definitely one for wild children.
Come to the rescue with this Bruder Fire Truck! With the fire brigade you can save people! Turn on the siren (which makes a real sound) and let everyone know that the heroes are on their way!
Of course it has a high crane so that is great fun and you can do up and down then and it can also stretch very far with the tray that can tilt.
Furthermore, the front can be detached and then you can actually see what is in it under the hood in such a car.
The front has a flashing light with 4 buttons. This allows you to turn on different sirens and a kind of engine sound. That's a bit blurry. It also has a spray sound.
The car is also quite big. Very big actually. That's very cool of course, but it makes it difficult to combine with other toys.
Fortunately, we have quite a few other Bruder toys that fit it exactly, but many other toys are in 1:24 scale or smaller.
Still, he's a lot of fun to play with.
Age: 12 months +
The Vtech Toet Toet car garage is what we chose for our son. We already had a loose toot toot car got, I'm guessing at birth or when he turned 1 maybe.
And he already played quite well with the car. If you press on the front, it makes a noise and of course he could drive around with it.
But what makes the cars really nice is that they have pins on the bottom that make it possible to say different sentences.
That is why it was time to give the garage a try, because it also has elevations and when the car drives over it, the pins on the bottom are pressed in a certain way.
Because some pins are pressed and others are not, the car says a certain sentence that belongs to that place on the garage:
like parking,
going to wash in the car wash
ride the elevator to go up and down
Stand on the repair platform ready for maintenance
Those kind of things.
The garage itself can also make noise by pushing the buttons and there is one tow truck that triggers songs, phrases and fun sound effects when it crosses one of the garage's 9 SmartPoints.
The only sad thing about it was that the car that comes with it is one of the least suitable for the garage because it is a bit high and does not slide off the garage slide so well, while the car we already had is much better off to drive.
Anyway, this is only a minor detail and immediately fixed if you buy several cars for it.
Why I like him: a well-priced, easy-to-assemble garage that is solidly set up for children under 3 and offers a lot for the money.
The buttons to press are nice and sturdy, and the sound effects are great, entertaining and educational, but not too overwhelming and fortunately it also has two volume levels.
A car that drives well with big wheels. It is made under an official Ford license for a 1:18 scale Interceptor police cruiser.
This one also has the buttons on top near the flashing lights so that it lights up and makes noise.
The necessary batteries are already included and it is for children from 3 years old because there are some parts that could be removed.
It's not the strongest car. You can clearly feel the difference between the plastic from Dickie Toys and Bruder, which uses plastic from the automotive industry.
It's also a lot cheaper than such brands, but it probably won't be a toy for generations like Bruder is.
It drives very well and that is ultimately the most important thing for your toddler and preschooler, something they can just enjoy playing with.
This Majorette is about the ambulance theme. We didn't have it on the list yet, but it is of course perfectly suited for light and sound.
Majorette always has very sturdy die-cast cars with a lot of detail. This ambulance has transparent windows and a detailed interior.
The rear doors open to load and unload patients, adding another element of pretend play.
The tires are real rubber and ride well. It is a nice little car that fits with many other toy cars for toddlers such as Hot Wheels and of course other Majorette cars.
They also did a good job of hiding the sound system in the tapes. When you push the front wheels down, the sound turns on so you don't have any ugly push buttons on top.
This keeps the ambulance looking like a real ambulance.
He is about 15 cm (6 inches) long and that is 1:43 scale. This small size and hard exterior makes it slightly less suitable for babies and small toddlers, but perfect for children from 3 years old.
Joyin is not my favorite brand because it's a bit cheap plastic, but the amount of fun they manage to put into their toys every time is huge.
And my son never finds the build quality much of a problem.
This garbage truck can be taken apart with the screwdriver with 3 types of replaceable heads. It is 12,5 inches long and 4,5 inches wide (31 x 11,4 cm).
The best activity is the garbage arm that can actually lift the 3 included garbage cans.
It is also a friction powered system (push-n-go without batteries) and has lights and sounds.
It is not suitable for children under 3 years old because all screws and such are very small. But if you stay with it, a 2-year-old could also play with it.
You will probably have to put it back together yourself often because they can unscrew it with 3, but they can no longer put it together.
They have tried to cram a whole lot into one car, so everything has not been worked out properly.
But it gives a lot of fun and it is mainly me who has a problem with it, not my child.
Conclusion
When it comes to light and sound there is a lot of nonsense for sale. It seems like all the cheap brands are diving in first because it's easy to score with kids.
But you also have to listen to it. With the toys on this list you can be sure that you are buying quality.
Also read: we have reviewed many toy cars and these are the best