I enjoy writing these articles for my readers, you guys. I don't accept payment for writing reviews, my opinion on products is my own, but if you find my recommendations helpful and you end up buying something through one of the links I may be able to receive a commission on that.
More information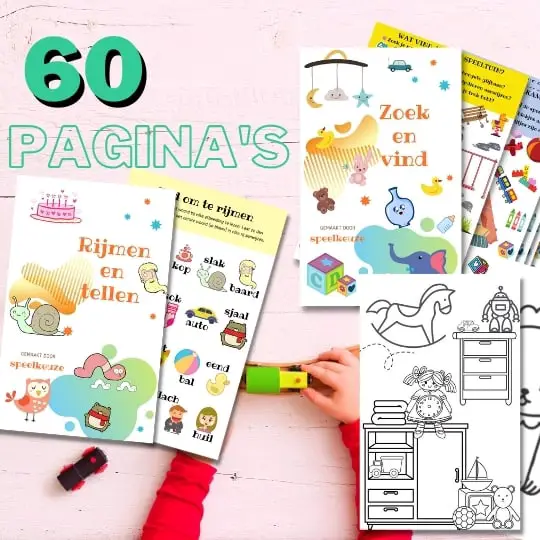 Always something to do for the holidays or rainy day?
Play Choice now has the ultimate activity book collection, with over 60 pages of fun coloring pages and educational puzzles.
Are you looking for the best children's microphone?
If so, you may have noticed that there are plenty of options available, which means it can be difficult to find the one that will give your child the most pleasure.
I've written about it before the best toy microphones for kids, but that was more of a general article.
Today I want to talk about the best variants with a speaker in it, because many of you have asked about them too.
That's why we've researched the best microphones for kids and laid out all the details in an informative review just below.
My favorite is this Technaxx BT-X31 which offers a lot of freedom. It's not too expensive, but the sound quality is still pretty good.
The real strength is in the freedom to use any app you want for a fun game of karaoke.
An important thing to consider is whether a more realistic microphone is right for your child, or a microphone that is more of a toy microphone.
If you're still struggling to make up your mind after reading our guide, you can find a Buyer's Guide section at the end to help you learn more about finding the perfect toy for your child.
Let's take a quick look at all the best models:
3 best toy microphones with speaker rated
Now let's take a closer look at all three:
Best Buy: Technaxx BT-X31
The MusicMan BT-X31 is connected via Bluetooth to its stereo speakers and the 3-watt amplifier to the iPhone, iPad or Mac, optionally a music player can also be connected via Aux or a FAT32 formatted UBS stick with sing-along music in MP3 and WAV formats.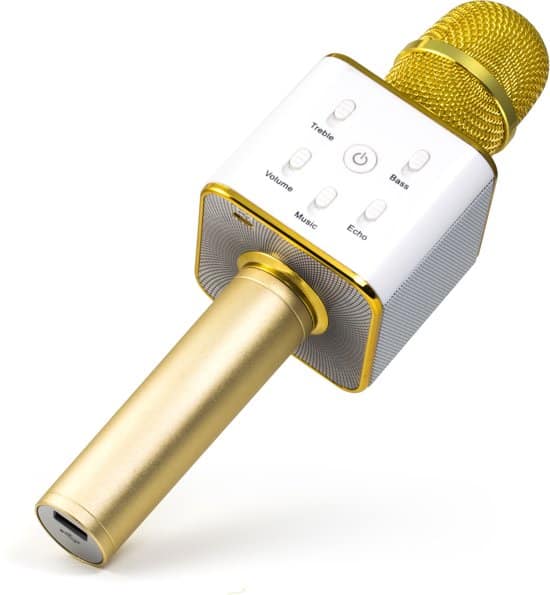 Five controls are available: one combines the volume of the music source and the vocals, two are responsible for bass and treble, but really only there because we hardly notice a difference when we press the buttons.
Another adds a slightly awful echo effect to your own voice, the latter being ultimately responsible for the overall volume.
The controls look like on / off switches, but can in fact be moved continuously.
But only more than two centimeters, so they are not really fine adjustable.
The Bluetooth pairing is fast and uncomplicated. The sound is not what you get from your Harman Kardon and can be a bit "tinny", but very good in relation to the price and all the features.
The gold-colored microphone has a battery of 2000 mAh ready, which is sufficient for 3,5 to 6 hours depending on the volume.
It is a pity that there is no app for the karaoke microphone.
This is exactly where the manufacturer could have made a difference and recommended at least one for iOS or Android or macOS or Windows or maybe even released its own.
Then just browse the app stores and YouTube to find resources for karaoke fun.
Technaxx names this as a great advantage, so that you are not dependent on a specific karaoke app but can use whatever you want, which means great freedom at any singing party.
Best grip: Toyrific Mi-mic
One of the things kids love the most is singing! They sing all day and everywhere!
They always watch kids sing on YouTube Kids and Tic Toc and wants to imitate them! One of the most handy speaker microphones for children is the Toyrific Mi-Mic:
The box contains:
1 x Mi-Mic speaker
1 x USB charger
1 x manual in different languages
Most important features:
Quality speaker and microphone: clear and loud sound quality
7 color flashing LEDs
Built-in high capacity USB rechargeable battery
Can be used for up to 4 hours
Charging time via USB: 2,5 hours
Official Bluetooth License: Quickly and easily connects to your phone / tablet / other Bluetooth devices to play songs
Compatible with iOS and Android devices
Transmission distance of 10 meters
FF / RW / Pause / Play buttons and volume buttons
Available colors: silver, pink and black
Mi-Mic is a karaoke microphone with built-in speaker and Bluetooth functionality.
It is equipped with an SD card reader, USB rechargeable battery and charger.
With the Bluetooth function, you can connect the Mi-Mic to any paired device (iPhone, Android phone or tablet) so that you can play music from the device through the microphone speaker while singing into it.
The built-in speaker then broadcasts both the music and vocals, creating a more complete karaoke experience.
This allows you to play any song directly from your device. You can put on your favorite tune and then sing along.
While doing this you can sing 'karaoke style' and the Mi-Mic will add your voice to the song being played and you will hear a mix of the original song, your voice plus the addition of extras added from the Mi-Mic.
You can get extra creative by adding an echo effect and distortions to your vocals!
Mi-Mic also comes with 7 color beat matching LED lights that blink to the beat of the music.
You can choose a static color or changing colors that light up while singing.
The mic also features FF / RW / Pause / Play buttons and volume knobs so you can make the song as loud or quiet as needed.
Turn up full volume to use it as a conventional Bluetooth speaker (you may not have separate bluetooth speaker more needed for the nursery) or lower the volume and let your best Adele impression take center stage.
This microphone is charged via USB and the high capacity rechargeable battery lasts up to four hours on a single charge!
It has a range of ten meters and also takes TF card. This makes it perfect for a kids karaoke party.
The Mi-Mic is suitable for children of 6 years and older, but children as young as 3 years old often enjoy playing with it too, especially if they see an older sibling with it.
I've tried it too and I have to say it's really fun! It's great that you can sing your favorite songs and listen to them at the same time.
The sound effects also add to the fun! As you can see, this microphone is perfect for the whole family!
Best speaker: Promate Vocalmic-3
Start a karaoke party anywhere with this lightweight and portable karaoke microphone with built-in speaker.
Perfect for any party and you don't need extra speakers.
User-friendly controls to adjust treble, bass, volume and echo, making every voice sound better than ever.
Supports
Bluetooth
Micro SD card slot
3,5mm audio connection
In particular, it has one of the best speakers we've tested, with a powerful echo effect and adjustable volume.
The sound is loud and clear, no distortion, no hiss or static and the volume is high enough for a small or medium-sized room.
And with the remarkable echo effect, your little ones will feel like a huge rock star!
Just flip the switch on and adjust the volume and echo, then ready to sing.
Easy to pair with your smartphone and other Bluetooth devices. Using the karaoke is simple and friendly.
View the most current prices and availability here
Buyer's guide
Now that you know a little more about what the best types of kids microphones have to offer, you can be sure to find the perfect one that your child will love.
Don't worry if you're not quite sure which one to buy yet, though.
I've put together this section as a buyer's guide to give you some additional information to help ease the decision-making process.
As you have seen, there are different types of microphones for children. Please see below to help you distinguish the differences between these microphones.
Wireless microphone
All options in this review are wireless handheld microphones. This is because they are the most popular choice among children.
Many children would like to have the freedom to walk around while they sing and especially when you go for a microphone with a built-in speaker.
A toy microphone with speaker is a great way to hear your child sing with greater clarity.
Not only does the speaker increase the volume of the music they are singing to, it also increases the sound of their voice, which is great at a party.
With keyboard
There are some kids microphones that also come with a keyboard. This can be a fun addition for children who want to be able to play the keyboard while also singing.
If you want to read more about that, check out my article on toy keyboards with microphones.
With stand
A kids microphone with a stand can be a good option if your child wants to stay in one place to sing.
The toy microphone with stand can be easily adjusted to the height of your child.
I written here about children's microphones on a stand if you just want to know more about that.
Here are also a few with wire because then your child will be performing more in one place.
LED lights
Play microphones that light up are incredibly fun for kids. There are a lot of light up microphones in this review that are highly appreciated by customers.
They are great for parties and they stimulate your child's visual senses.
I particularly like how some of them flash in tune with the beat.
Bluetooth microphone for children
Most of the microphones I reviewed in this post have a Bluetooth feature.
Allows you to connect to Bluetooth devices, such as phones, laptops or children's tablets. As a result, you can play any song you want.
Conclusion
Finding the best girl or boy microphone can be tricky because there are so many options available
However, I hope I have given you all the information you need to be more confident in your choice of a fun microphone for your kids.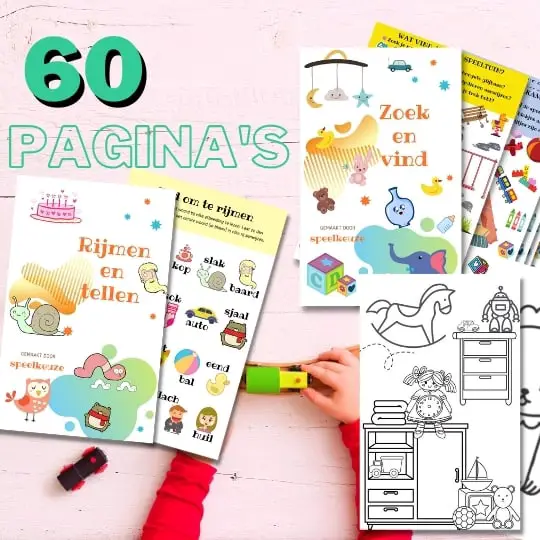 Always something to do for the holidays or rainy day?
Play Choice now has the ultimate activity book collection, with over 60 pages of fun coloring pages and educational puzzles.
Joost Nusselder, the founder of Speelkeuze.nl is a content marketer, father and loves trying out new toys. As a child he came into contact with everything related to games when his mother started the Tinnen Soldaat in Ede. Now he and his team create helpful blog articles to help loyal readers with fun play ideas.