12 best garden playground equipment rated for every age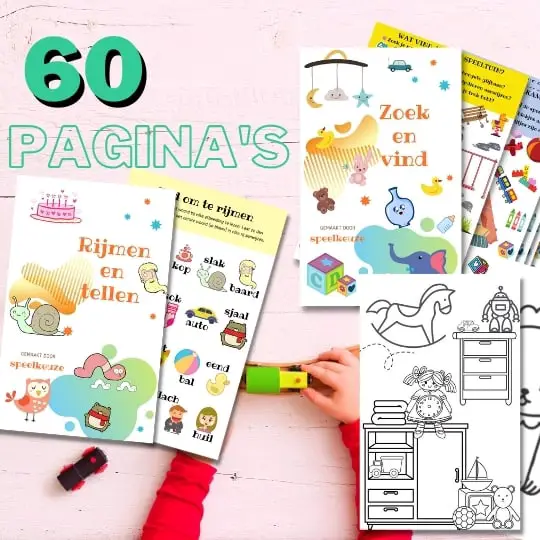 Always something to do for the holidays or rainy day?
Play Choice now has the ultimate activity book collection, with over 60 pages of fun coloring pages and educational puzzles.
Climbing and scrambling is nice, and all in its own Outdoor! Children lose their energy nicely AND it's also SUPER healthy!
But a playground that can be used for various activities will certainly keep them busy for a long time. That's why this Wickey Smart Action climbing tower came out on top in the test. Kids can climb, hang, spin and even play basketball so they always have something to keep them occupied.
That's why I have the 15 best playground equipment for your home that will DEFINITELY get your child excited!
Okay, this might be a bit too enthusiastic ...
But…
How do you choose one:
that is appropriate for your child's age
which is safe and stable
with which your child can do many different things
that also fits in your garden (or maybe even a larger nursery inside)?
These are the best playground equipment that offers a perfect play experience for every situation:
The playground equipment buying guide
Ok, now that you've seen all the options, it's time to see how to choose one.
The most important is: what does your child like?
klimmen
to slide
a playhouse
a sandbox
to swing?
You'll know that soon enough.
What is the age of your child? Do you have one or more children, how old are they?
Then you have to look at how much space you have, because good play equipment can quickly take up quite a bit of space in your home Outdoor, and you also want to be able to have a drink in your garden chair (**and I also want to be able to have a bite to eat at the garden table, actually**).
How much space does a playground equipment take up, or how much space do I have left to place the device?
Should I go for wood, plastic or metal? Wood and plastic do not rust, wood is not maintenance-free, metal could rust, plastic is often less attractive.
Playground for children of different ages
Small children often need one slide, a sandbox and possibly a safe swing.
Monkey bars, tire swings and climbing walls are great fun for children between the ages of five and twelve.
Children in that age category need more challenge, they work on their agility and are very energetic; their movements are already fluid and confident.
They also like to have a clubhouse or a cabin where they can chill out with friends.
You can of course consider purchasing a somewhat larger playground equipment with space for activities for small and large kids.
You then place a 'baby' swing for your child and, for example, a tire swing for the older children.
You can place a slide and sandpit on one side for your little one and on the other side you can place the monkey bars and climbing walls for your older child.
You can also start with just a simple basics and add or exchange play accessories over the years.
You let the device grow with your family and expand it a bit more!
Best 12 playground equipment rated
Dimensions: 220 x 250 x 105 cm
Oh wow! A basketball board and a climbing frame? Which kid wouldn't want this?!?
That is why it is at the top of my list, but also because of the VERY solid construction of the Wickey playground equipment.
This WICKEY Climbing Tower is a beautiful solid wooden device from the Wickey Smart Series. The wood is impregnated and different arrangements are possible!
I would recommend making 3 by 3 meters of leeway for this climbing frame in each case, as you also want some "leeway" to jump off or run up.
Because that's what children do with playground equipment ...
Here's how to set up such a monster:
The device has, among other things, a rope ladder, climbing stones, a climbing ladder and wall and a horizontal bar.
There is also a window with a nice awning above, so that your little 'shop' can play with his or her friends.
The playground equipment must be anchored in concrete so know what you are buying, but there is an extensive installation manual in the package plus all necessary screws.
Do you already see him in your home? Outdoor stand?
5 stars for this unit. A satisfied buyer writes 'hours of fun, just stood and they were already in it'
+Endless fun
+Nice design
+Good quality
The versatility of this playground equipment is enormous, and great for the development of gross motor skills.
However, if you are looking for something specifically for fine motor development for a younger child, you should go for something like the Step2 Wonderball (see below).
Features
Age: 4 to 12 years old
Material: impregnated wood with a 10-year warranty
How much space needed: 5 m²
Activities: about 2 per 1 m²
Rope ladder with wooden rungs
10 Climbing Stones
horizontal bar
Climbing ladder straight
Straight climbing wall
hanging ladder
Shop with awning
climbing net
Climbing rope
Basketball
chalkboard
Dimensions: 190 x 66 x 125 cm
A lot smaller than the Wickey Smart Action climbing tower above, but with a slide, is the SwingKing Irma.
You also get a climbing wall here, but with fewer other accessories in a more compact format.
You need a little less space for this one, but still a good 2 by 1 meter to climb on and slide down again.
The SwingKing play tower is your child's own play castle Outdoor!
The play tower is made of impregnated FSC wood and can be expanded with other accessories such as a telephone or binoculars!
The use of square wood minimizes the risk of surface cracks. A beautiful castle for your little knight (more good knight toys here)!
SwingKing is known for its… yes, swings – swings – but has since become a playground brand that keeps everything close to nature with beautiful and sturdy wood.
Do you want one of the safest and robust wooden couples in your Outdoor with slide? Then there is no better one than the SwingKing!
Features
Age: 3 to 7 years old
Material: impregnated FSC wood with plastic slide
How much space needed: 2 m²
Three handle sets
Can be expanded
Activities: 2 per m²
play tower
5 Climbing Stones
Slide
Plateau
Dimensions: 349 cm x 111 cm x 117 cm
AXI makes its playground equipment from great quality FSC certified wood, which is reflected in the sturdy construction…and the price tag.
It is another wooden playground equipment with a slide, but this one is really big for you Outdoor, with many more options, but also takes more from you Outdoor seized.
If you're going purely for a slide, I'd go for Irma, but with this sturdy wooden frame (most swings use a metal frame that bends a little more) this is the best complete device you can get.
This great climbing frame climbing frame is just like a real beach house! Climb and slide to your heart's content for your kids.
And that's exactly what they like to do! Via the stairs they can climb into the tower and then they simply slide back down.
There is a sandbox under the play tower, where your child can romp around with a bucket and shovel! Or does your child prefer to swing like a monkey on the swing?
The combination of white and gray wood gives this play tower a 'beachy' appearance, it will appeal to any Outdoor without further ado!
You could also consider expanding the tower with, for example, a rock climbing wall and climbing frame.
The sturdy FSC Hemlock wood comes from sustainably managed forests. The wood does not splinter and is perfectly resistant to all weather conditions.
The 'Prefab' panels make installation very easy! These panels have already been treated with an environmentally friendly water-based stain, which is handy!
Features
Age: 3 to 10 years old
Material: impregnated (Hemlock) FSC wood with plastic slide
How much space needed: 11 m²
Can be expanded with climbing wall and rack
Double swing
Activities: 2 per m²
play tower
Sandpit
Slide
2 swings
Play platform
A satisfied 5 star customer writes 'Nice playground equipment that the children have a lot of fun with. Now that they are at home a lot, they can play and swing and even we can go on the swing'.
Dimensions: 343 x 180 x 125 cm
The Little Tikes Expedition Climber - Climbing Frame has a real drawbridge, slide and a super tunnel to crawl through. Your child will love the Expedition Climber and have a great time!
The playground equipment is suitable for both indoors (if you have the space!) and outdoors; That means fun for your toddler or toddler all year round! The playground equipment is suitable for children from the age of two.
Features
Age: 2 to 4 years old
Material: Plastic
How much space needed: 6.5 m²
Can be placed indoors
Might need some work to put together
Activities: 1 per m²
To climb
To hang
Crawling through tunnel
Slide
2 Play platforms
Lots of 5 star customer comments including 'Easy to set up and not too big. Our daughter has been playing with it for hours, so perfect!'
and 'Very cool climbing frame. My 2 year old son loves it. It's also nicely compact.
Putting it together is quite a few screws, but fairly easy. This has to be done with 2 people.
However, a dissatisfied customer finds the device 'difficult to set up and not for 2 year olds'. She writes:
'It's a nice picture, but it's almost impossible to put together because you have to drill in plastic where it's not indicated.
Took a long time to read the manual properly. This is not suitable for 2 year olds.
They can't hold on to anything at the slide to sit down. Then they are launched once they slide. A big disappointment.'
I really love the Little Tikes Activity Garden for my baby. This multifunctional playset is perfect for stimulating my child's curiosity and imagination. It offers a variety of activities, sounds and games for my child to enjoy.
What I really like is that the playset can be used in two ways. It converts from an enclosed play center to an open play center with two sides, allowing it to grow with your child.
The detachable play panel is great for on the go and includes a bead roller, mirror, spinning "gears" and even music. My child can play with it for hours.
The playset's interactive features, such as opening and closing the shutters for a game of hide and seek, using the window planter for a ball game, and discovering shapes and colors in the mailbox, are great for developing my child's imagination and skills. stimulate.
The Tap-A-Tune piano is also a favorite of my kid. The colored sounds and buttons let my child go on a musical journey of discovery.
The playset is easy to assemble and transform without tools. It is safe and durable, which makes my child feel at home. In addition, the play set is suitable for children from 6 months to 3 years, so my child can enjoy it for a long time.
Dimensions: 83 x 80 x 106 cm
A nice indoor playground? That too is possible! The Step2 Toddler Corner House is an open playhouse that fits perfectly into the playroom, in every corner of the room.
Little ones can enter the playhouse through the garden gate. The cottage offers lots of fun activities; Among other things, a 'wall maze' where your child can throw large play balls, which then end up in the sink.
There are three rotating gears on the gate to improve fine motor skills. This playhouse is sure to bring lots of fun for all toddlers!
This playhouse is also for the very little ones, but something completely different from the Little Tikes Expedition Climber above; The house takes up only a small space and is only aimed at fine motor development.
Features
Age: 1 to 3 years old
Material: Plastic
How much space needed: 1 m²
Activities: 7 per m²
ball maze
Spiral with figures
Mailbox with shapes
Sink
Garden door
turning gears
Slingshot for the balls
This customer writes:
I recommend this product - Endless fun - Nice design - Good quality - Easy to assemble is a plus. Nice sturdy playhouse that you still have to assemble yourself. Once that's done, it's a very nice house.
Dimensions: 272 x 158 x 197 cm
This brightly colored playground equipment is suitable for children from 3 years.
Unlike the other devices in my top 15, which are made of wood and/or plastic, this device has a metal frame with plastic swings.
It is made of good quality metal, highly recommended if you do not want maintenance!
With its two 'normal' swings for toddlers and older, and the seesaw swing or double swing that toddlers can use, this device is suitable for different ages.
Apparently he's a bit underwhelmed.
A customer writes:
Easy to set up, good quality, but too small. Due to its height, not a toy up to 12 years, but more up to 5 years, it is small
Features
Age: 3 to about 7 years
Material: Plastic swings with metal frame
How much space needed: 6m²
Not suitable for children over 50 kg
Activities: 1 by 2 m²
Dimensions: 170x46cm
The multicolored Buxibo has the shape of a caterpillar! Your child can pass through it and also enjoy hiding in it.
It is of course a very different idea than it Backyard Discovery Timberlake house (see below), which may last a little longer, but hey, it's ideal to let the little ones move in a safe way!
It is a wonderful place to be alone and to hide, but it can also be a wonderful addition to a course that you set out.
Suitable for indoor and outdoor use and designed for smaller kids.
Features
Age: 2 to 5 years old
Material: Plastic
How much space needed: 2 m²
Activities: 1 per m²
Dimensions: 240 x 260 x 215 cm
Several kids can have fun at the same time on this cool nest swing, the WICKEY Swing & Playset Smart Rush!
This swing naturally grows with you, and that is with the AXI Baby swing below not really the case. The Axi is safer for the little ones.
The swing can carry up to 100 kilos and is suitable for children from three years old. This blue nest swing hangs in a solid wooden frame. A top swing for you Outdoor!
Features
Age: 3 to 12 years old
Material: impregnated wood, 10-year warranty
How much space needed: 6 m²
Can be expanded with climbing wall and rack
Nest swing Swibee made of polyethylene Ø98 cm
Seat with grid pattern, water-resistant material
Activities: 1 by 6 m²
Rocking, lying or sitting, alone or with more kids
Dimensions: 120 x 134 x 103 cm
A lovely and solid swing, the AXI Baby Swing Brown with seat for your baby, toddler or toddler! A perfect way to introduce your little one to outdoor swinging.
Learning to swing is a great experience for your child. He or she thus develops balance, coordination and muscle strength.
The AXI Baby Swing has a comfy baby swing seat with a high back for safety and a T-bar with a safety belt. Your child can use it from nine months to about three years.
The low frame is built in strong and durable FSC 100% Hemlock wood. The kit comes with four ground anchors for extra stability and safety. A must for your baby or toddler.
Features
Age: 1 to 3 years old
Material: Plastic swing and impregnated Hemlock wooden frame
How much space needed: 1.5 m²
Activities: 1 by 1.5 m²
A customer from Belgium writes:
5 stars; only positive: right size, easy to set up and good quality
It is also the nicest outdoor baby swing in our full article on baby swings
Dimensions: 117 x 107 x 140 cm
Make your own Outdoor a cozy place for your children!
This warm, wooden playhouse has wide windows and a half front door.
The entrance is decorated with flower pot holders (pimp the house with colorful flowers) and there is a cute snack window for serving snacks and drinks.
Inside there is also a kitchen with a sink, tap and hob.
The house comes as a kit and some holes are pre-drilled, others have to be drilled during assembly.
In addition to all 5 star reviews, there is one customer who gives 4 stars:
Very nice house with large windows and built-in kitchen and telephone. The flower boxes complete it. Easy to assemble, but made of soft wood. Fits nicely in the Outdoor and is definitely not as ugly as a plastic garden shed. The children are very happy with it!
Features
Age: 2 to 6 years old
Material: stained wood
How much space needed: 1.5 m²
Activities: about 3 per 1.5 m²
Play restaurant
Cooking
A place to read and chill
Check out even more playhouses in our review here
Dimensions: 84 x 91 x 107cm
This colorful house from Step2 Four 'Wonderball' is great fun for your toddler or toddler!
It is small in size and suitable for your children from 2 years, but has plenty of nice details.
Ball games all over the place! Great for developing fine motor skills and lots of fun!
The 'Wonderball' house is made of plastic and easy to clean. It can stand both outside and inside.
An enthusiastic grandfather writes:
Our grandson does not get tired of this house. He gets in and out quickly and always closes the door behind him with visible pleasure. There are plenty of ways to drop the balls or make them disappear through holes to resurface elsewhere. The mailbox is also a hit. The cover is constantly opening and closing! We put a play mat under the house so that it does not have to sit on the floor and our laminate does not get damaged. Expensive but sturdy. A good purchase.
Features
Age: 2 to 5 years old
Material: Plastic
How much space needed: 1 m²
Activities: 7 per m²
Ball fun
door
Hatch for balls
To shape
Kitchen with utensils
Slingshot
Rolling Numbers
Dimensions: 200 x 113 x 151 cm
Ship Ahoy! Sandbox Ship Boat (also reviewed more here) playground equipment in sight!
Does your child love pirates or maybe just boats? Then this sandpit in the shape of a ship is the ultimate gift for him or her!
This boat has spacious seats and a bright red steering wheel. Also the flag and the lifebuoy are not missing.
Little ones who like sand or boats may prefer to play in this covered boat than in a 'normal' wooden playhouse!
Under the bench is a small storage space, where your child can store sand molds and toys.
The boat sandbox is easy to assemble and comes with a handy groundsheet. Just add some sand and the fun can begin.
It is covered, so if it doesn't rain too hard, your child will be dry. Truly a beautiful design, it will surely become your eye-catcher Outdoor!
Features
Age: 3 to 8 years old
Material: Impregnated Northern European pine from sustainable forests
How much space needed: 2,5 m²
Clear manual
Activities: 1 by 1 m²
Sandpit
Sailing and steering
Why buy a toy device?
Do you still have doubts about the purchase of a playground equipment or a swing set?
We would like to give you a number of reasons why playground equipment, preferably made of solid and sustainable European wood, should not be missing in your home. Outdoor.
Better school performance
We all know that playing, especially playing outside, is good for your child's health.
It has even been shown that children who play a lot outside have better school performance; I am talking about writing, arithmetic, critical thinking and listening.
Their ability to concentrate is also much better after playing outside.
Physical Benefits
Playing a lot makes your little one super smart and super healthy and we haven't even talked about the physical benefits:
It improves the agility, balance and muscle development of your child.
As a result of all these efforts, your little one will naturally get tired physically and mentally, it won't be difficult to get to bed on time and go to sleep right away!
The fact that kids nowadays sit still for long periods of time, such as in class at school or at home at the computer or on their PlayStation, makes playing and exercising outside even more important.
A play set stimulates the imagination
Children learn to use their imagination and creativity on a playground. They suddenly find themselves in a fairytale castle, a pirate boat or, why not, a restaurant!
They can replay all imaginable roles and fully immerse themselves in the role in question. This is very good for them, they can process important emotions in this way.
Every day they are exposed to new experiences and these must be given a place.
Children also learn to make better assessments through climbing. Their confidence will increase and they will be flexible and fit; They will of course feel good about themselves!
With play equipment at your home or in the Outdoor you can also keep an eye on your child! The children in your class or the neighborhood children will probably love to play along!
This is how the kids learn to work together, they will also compete with each other, they learn how to fall and get up again!
And isn't that what our lives are all about?
Health and playing outside
Did you know that children who get enough exercise are much less likely to develop cardiovascular disease, diabetes and osteoporosis later on?
A recent study has shown that one in three children in the Netherlands is deficient in vitamin D, the result of this is a weak immune system and less strong bones.
It is therefore good and very important to let your child play outside in the sun a lot. That is why an outdoor playground is of course ideal!
What if it rains?
When kids are having fun playing outside they are often not bothered by the rain. It mainly depends on how we, parents, deal with it.
Are we grumbling and complaining about the wet clothes and dirty shoes? Yes, then you probably reduce your child's playing pleasure.
Do not always mention the rain, your child will also realize that it is wet outside.
Rather give your child a nice warm sweater, a rain suit and wellies; This way he or she can easily play outside for an hour, in the rain!
Did you know that your child can slide down the slide even faster with rain pants? Every disadvantage has it's advantage!
Away from the PC
The new technology has undoubtedly brought a lot of advantages. However, spending too much time on the computer, mobile phone, tablet or smartwatch is not recommended by doctors.
They advise to keep a maximum of two hours for watching a screen outside school hours.
The best material to place around a playground equipment
It is recommended to use rubber mats, wood chips or sand as child-friendly surface in the garden around the playground equipment and under the swing or slide, so that a fall does not cause too much damage.
Normally, the layer of wood chips or sand should be topped up at least once a year.
If the playground equipment is used a lot, it may be necessary to replenish wood fibers every six months.
A playground equipment can also be placed on grass, only then the wood that comes into contact with the, often wet, grass must be properly treated with stain before it is placed.
Playground equipment then and now
Playground equipment used to be made only by playground equipment manufacturers. The devices were only available in wood or metal, there was no more choice.
The safety of these devices was also not immediately to write home about. If you wanted something original, you had to design and build it yourself.
In the last twenty years, however, the playground equipment and the market have undergone enormous changes.
Many devices are still supplied by manufacturers, but many are also made by gardeners and green companies.
They are placed by them or delivered as a do-it-yourself kit. The range of playground equipment has grown strongly and there are now equipment in wood, metal, aluminum and plastic.
The number of experts involved in the design and production of the playground equipment has increased significantly.
In the past, the experts could be counted on one hand, but now there is a large group of professionals who work daily with the design, materials and safety of the devices.
Conclusion
You have seen that there is a lot of choice in playground equipment. Some brands even offer you the choice to assemble your device from scratch.
The possibilities are endless; There are small and large playground equipment, with or without swings or slide, with a shop, house or a climbing wall.
You can also sometimes opt for an extension module. You can then gradually expand the device and thus spread the expenses.
A solid device lasts a very long time and most devices are suitable for children in different age categories.
Your children will love a playground and will spend many hours in it. That means that you have your hands more free, which is also very nice!
Our playground equipment is in front of the kitchen window (in the backyard). I can cook quietly and keep an overview at the same time.
Last but not least; playground equipment always retains a good resale value!
Good luck making your choice!
Also read: this is the best outdoor toy for the garden