8 Best Sandboxes from Small Turtle to Big Boat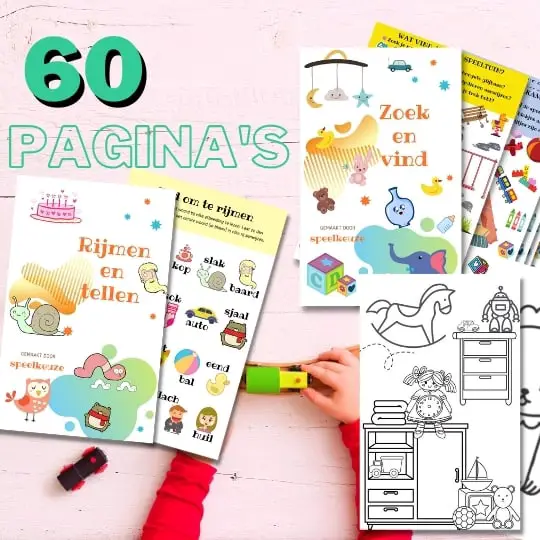 Always something to do for the holidays or rainy day?
Play Choice now has the ultimate activity book collection, with over 60 pages of fun coloring pages and educational puzzles.
Remember how much you loved sandboxes when you were a kid? Well, they still are!
If you have the money (and the space), it is this pirate sandbox boat from Kidkraft really very good. There are hours of fun with all compartments, rudder, seats and of course sand.
In this article I discuss the best and the nicest sandboxes for your child. These top choices are guaranteed to provide hours of fun.
But I have looked at many more different sandboxes for you, for every budget.
Here is a quick overview of all the best sandboxes you can find and later a more extensive review of each of these options, after which I will give you all the background information about playing with sand and sandboxes:
Watch the best choices in my video, or read on for an explanation about sandboxes and an extensive assessment of all choices:
Sandbox for home buying guide
It is not easy to make a good choice, you have to take a number of factors into account:
how much space do you have in your garden or on your balcony if you want to add toys there?
where do you put the sandbox: depending on where you want to place the sandbox, you choose the model and size of the sandbox. Choose a dry spot and, if possible, a shady spot with occasional sunlight, so that the sand can dry.
are you going for a sandbox on the ground or on legs?
which material do you choose: also choose a model that is easy to maintain and clean.
the size of the sandbox, related to your child's age
the price of the sandbox
if you are going to dig the sandbox: then it is good if you choose a sandbox with an opening at the bottom to drain any excess water from the container
The size of the sandbox
I recommend a small model sandbox for young children, from 1-3 years old. They still often play alone and can feel lost in a big one sandbox.
For slightly older children of about 3-6 years, choose a large model, even if several children will often play together, choose a large model sandbox.
Fill and cover the sandpit
Je sandbox fill with play sand that has been well sieved and washed. After all, young children can sand in their mouth (or put!).
The recommended amount sand is stated on the instructions you receive sandbox .
You fill the smallest sandboxes with about 30 kg sand, while for the largest models you may need almost 600 kg.
But how full should you fill the sandboxes? You fill one sandbox not all the way to the edge, but to know exactly how many kilos sand there in your sandbox you need to take the length x the width x the height of the sandbox (you can subtract some of the height if you use the sandbox don't want to fill it to the brim).
Play sand weighs approximately 1500 kilos per cubic meter (1m3).
In the normal sandbox shell, however, can hold approximately 60 kg per half sand. In the big one sandbox shell can hold (per half) approximately 80 to 100 kg sand.
How expensive is it to fill the different containers? A bag sand of 15 kg usually costs around €9 to €10, but if you buy more in bulk it may be slightly cheaper.
How much does it cost to fill a sandbox?
In the table below you can see how many kilos you need for our top 8 sandboxes!
Wood versus plastic sandbox
Do you already know if you have a wooden one? sandbox want, or rather a plastic one sandbox? Let me compare the pros and cons for you.
Advantages & disadvantages wooden sandbox
Usually a lot bigger than the plastic version. Handy when several children are playing in it at the same time, but perhaps too big for a small garden
Cannot be moved just like that
No bottom, so the water can pass through easily.
Can be left outside and is made of wood that is impregnated under pressure with a wood preservative, the sandpit is protected against weather influences, fungi and woodworm.
Advantages & disadvantages plastic sandbox
Easy to clean
Often has a lid
Doesn't take up that much space
Is easy to move and store
A plastic sandbox can quickly be transformed into a bath
Top 8 best sandboxes rated
One sandbox is not the other, so we have found out for you which types of sandboxes there are and which ones are the most fun.
Are you looking for a wooden one? sandbox, but you don't want just any regular wooden one sandbox?
Then you can choose this particularly cool wooden one sandbox in the shape of a pirate ship.
With these pirates sandbox your child can play fun games such as treasure chest hunting and boating.
But you can also hide a treasure very well in this wooden one sandbox. The possibilities are endless!
With a pirate theme, your child's imagination will be stimulated and you will see that the child will come up with very nice stories.
The sandbox is very practical and keeps your child safe in the shade thanks to the beautiful blue roof.
The boat also has storage space for toys such as shovels and sand molds. What we also like about this one sandbox boat are the benches at the back of the boat.
Other pirates could be sitting on this or perhaps other sailors. In short, a very interactive one sandbox with nice options.
This big green one sandbox with a turtle shape is perfect for hours of sand fun and is from the well-known children's toy brand Little Tikes.
The sturdy sandbox has a high edge on which the children can sit and a practical lid to protect the sandbox Cover it when you are not using it.
The lid fits exactly on the sandbox and will deter unwanted visits from pests and pets.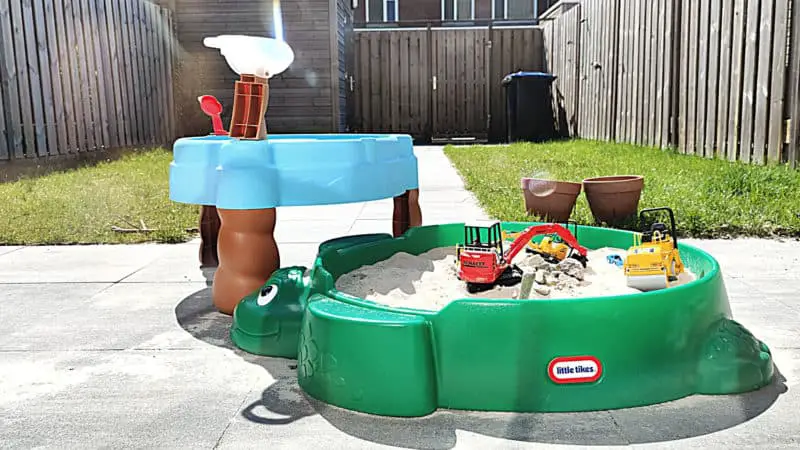 This is a delicious one sandbox for the little ones from 1 year old to dig with a shovel and a bucket. The fact that they are in a large turtle naturally gives them extra pleasure.
A practical table sandbox which your child can enjoy for a long time is this AXI Best choice with benches made of wood.
Your child aged 3 years and older can sit comfortably on the bench while playing with it sand plays. Children who prefer none sand want to shit their pants will happily take a seat at this table.
The sand also remains safe and clean for the next play.
Children will have hours of fun with this picnic table and sandbox in a! Would you like to eat a sandwich together at the table? Place the table top on top of the 2 plastic containers.
With sand to play? Remove the table top and fill the containers with sand or water. They can of course also be used as a storage compartment. The containers are easy to remove and clean.
The table has 2 benches, is suitable for 4 children and is made of FSC certified natural wood.
Find here the 16 best playground equipment rated for every age
This Little Tikes sand digger is a beautiful one sandbox which offers endless fun.
This choice is actually my favorite, My son really loves excavators and I kind of wish I had bought this one for him.
We had already bought a water table from Little Tikes that he also likes, and we do that occasionally sand .
But if I could do it all over again, I would have bought it for him. Super cool such excavator (here we reviewed more)!
It's a special one sandbox and that's all you really need to keep the little builders busy.
Your child can play on it together with other children and you also get other toys including a descending road for trucks.
The children can dig and create to their heart's content just like real builders and create their own city or harbor. It is a sandbox with many options and possibilities and we like that very much.
These Little Tikes construction site (here are some more toy construction site choices) sandbox makes it possible for several children to have it sand and explore water.
The sandbox comes with a large crane and a truck and is suitable for children from 2 to 6 years.
When you have several children at home or when your child receives a visit from friends, a versatile sandbox table is very useful.
On the one hand, it is possible sand be played with and on the other side with water. And all that under a protective parasol.
This fun sandpit table is easy to store and also has a drainage hole to drain the water after use.
It is made of plastic and therefore very easy to rinse after use.
Do you want it sand save? Then you simply close the sandbox table with the supplied lid.
The table has loops that keep the lid in place.
These children sandbox– and water table are great outdoor toys that offer your children hours of fun. It's going to be splashing and digging with Step2.
This table is suitable for children from 1,5 years and comes with a rake, shovel, boats, not to mention a nice parasol.
Content of the sandbox is 5 kg and the capacity of the water container is 10 L.
Would you like a water table? Here you will find 12 other fun water play tables reviewed!
This is not an ordinary one sandbox, but a very exclusive one sandbox with many practical and fun options.
It's a mobile one sandbox which is on wheels and can easily be moved from one corner of the to the other Outdoor.
The sandbank also has a small veranda where your little one can play in the shade. Under one roof with UV 50 sun protection.
Does the little one not feel like eating? sandbox then you simply slide it under the veranda. The toy is then transformed into a fun house to play in and it stays that way sand also nice and clean and protected against cats, etc
In our opinion, the adventures for this play equipment are limitless and very practically designed. Definitely a nice addition to the Outdoor.
The Step2 Play sandbox with lid is a nice one sandbox with a contemporary design.
Four contoured seats give children a place to sit while playing, but rather it can accommodate just two little ones.
This sustainable sandbox is shaped like a treasure chest and is a great toy for imaginative play.
They can put their toys and 'treasures' in the sandbox leave; it has a properly sealable and protective lid and that is immediately good against insects and cats.
You get the sandbox fully assembled at home, just open it and play!
The color is a protective color, the sandbox disappears between the plants and trees, so no noticeable colors in you Outdoor.
It holds 90 kg. sand in this treasury. Ideal for children from 2 years old.
This not only practical, but also beautiful sandbox from KidKraft is covered with a navy blue and white striped canopy.
Your child is protected against bright sun rays and that is a great added bonus sandbox.
The wooden one sandbox is large enough for several children to play in at the same time, its dimensions are LxWxH 1.60 x 1.53 x 1.30 m and it is suitable for children aged two to eight years.
The sandbox panels – which require mounting – are made of weather-resistant wood and prevent warping and weathering. A tarp is added to cover it sand to lay.
The wide edge fits the two supplied plastic ones sand– and water bowls, where your child can literally muddle around. They are removable and also useful for storing toys.
The sand stays clean because the sandbox Comes with a mesh lid that protects it sand protects when not in use.
Conclusion
The own sandbox your child is like a whole new adventure with hours of fun.
By a good one sandbox you can also be sure that your child will get the most out of the benefits of met sand can enjoy playing.
You don't have to worry about unsafe contamination sand, because you know exactly what is and is not in your sandbox ends up.
By one's own sandbox At home, your little one can play in a controlled environment, as long as you maintain it properly.
We hope our top list of the best sandboxes has helped you on your way!
Looking for more fun toys for outside in the Outdoor? You can read more about our overview here the best outdoor toys!