I enjoy writing these articles for my readers, you guys. I don't accept payment for writing reviews, my opinion on products is my own, but if you find my recommendations helpful and you end up buying something through one of the links I may be able to receive a commission on that.
More information
In the Netherlands, it is normal for children to learn to cycle at an early age. It makes many daily activities faster and easier.
Many children go to school by bike, and as a parent you take the bike quickly to drop off your child at a friend's house.
Has your child reached the age and the will to learn to ride a bicycle? Then it's time to buy a new bike!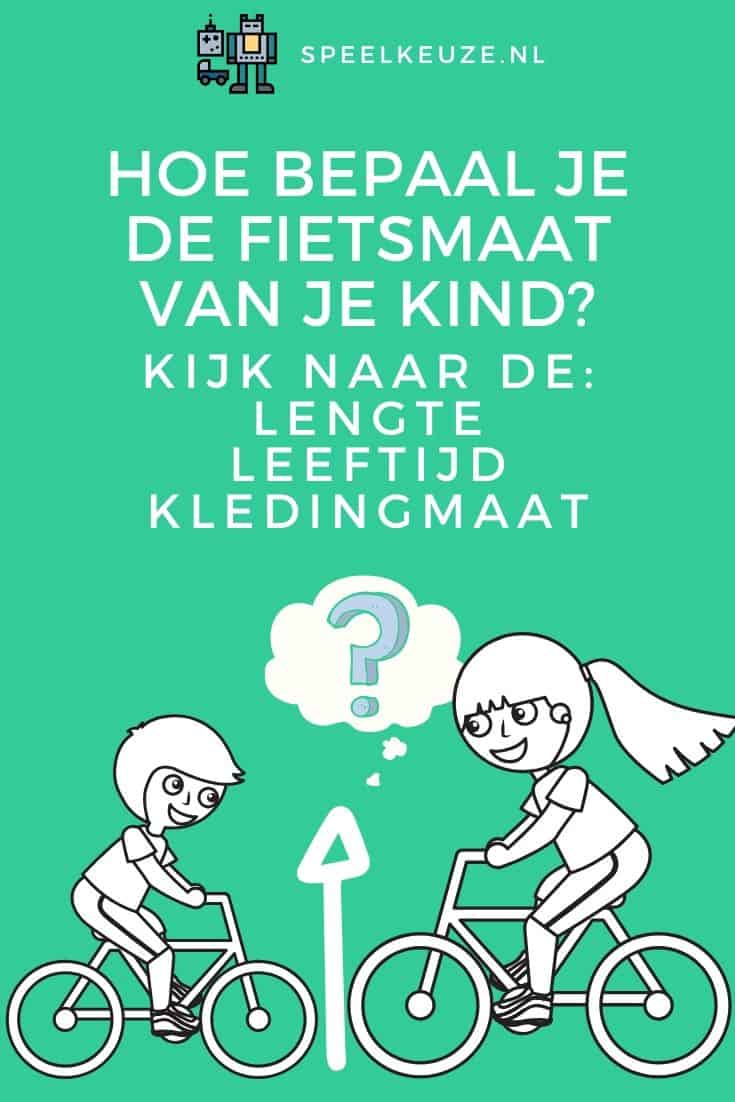 Most children learn to ride a bicycle when they reach primary school age. It is important as a parent to be patient and to give your child confidence.
This way your child will learn to cycle independently faster! When purchasing a new bicycle for your child, there are a number of things that you as a parent should take into account.
For example, how do you know what your child's bike size is, and what are the best children's bike brands?
In this article we will discuss what you should pay attention to when purchasing a new bicycle for your child!
What is your child's bike size?
Children grow like crazy! If you want to buy a new children's bicycle for your child, it is of course extremely important to take the size of the bicycle into account.
Safety above all else.
The size of children's bike your child needs depends on his or her height and clothing size.
Sometimes the age of a child is taken as an indication, but it does not always provide the correct information.
That is because a child can sometimes be a bit smaller or larger than the average height of his or her peers.
In these tables you can see which bike size is suitable for your child, depending on his or her height, age and clothing size.
Bike size per body size
It is best to find the right bike size or frame size by using the height of your child. This is the most accurate way to find the right bike:
| Bike size | Length |
| --- | --- |
| 10 inch | 85-95cm |
| 12 inch | 95-100cm |
| 14 inch | 100-105cm |
| 16 inch | 105-110cm |
| 18 inch | 110-115cm |
| 20 inch | 115-122cm |
| 22 inch | 122-130cm |
| 24 inch | 130-144cm |
| 26 inch | 145 cm |
| 28 inch | > 145cm |
Bike size by age
The easiest way to find the bike size of your child is by age, because then you don't have to measure anything. But it is also the least accurate as not every child is the same size for his or her age:
| Bike size | Age |
| --- | --- |
| 10 inch | 1-3 jaar |
| 12 inch | 2-4 jaar |
| 14 inch | 4-5 jaar |
| 16 inch | 5-6 jaar |
| 18 inch | 6-7 jaar |
| 20 inch | 7-8 jaar |
| 22 inch | 8-9 jaar |
| 24 inch | 9-11 jaar |
| 26 inch | 11-13 jaar |
| 28 inch | > 13 years |
Bike size per clothing size
The best alternative to height is to take your child's clothing size to determine the frame size of the child's bicycle. This also gives you a good indication of the height of your child:
| Bike size | Clothing size |
| --- | --- |
| 10 inch | 85-95 |
| 12 inch | 95-105 |
| 14 inch | 105-112 |
| 16 inch | 112-117 |
| 18 inch | 117-122 |
| 20 inch | 122-126 |
| 22 inch | 126-130 |
| 24 inch | 130-140 |
| 26 inch | 140-156 |
| 28 inch | > 156 |
Based on that information, you determine the wheel size (in inches) of the bicycle that would be most suitable for your child.
Children's bicycles are available in the following inch sizes: 10, 12, 14, 16, 18, 20, 22, 24, 26, and 28, with 10 inches suitable for children between the ages of 1 and 3, and 28 inches for children over 12 years old (an adult bicycle).
However, is your child in between sizes? Then it is best to have your child test bikes on both bike sizes.
For example, find a friend or classmate with a bicycle to try out which size best suits your child's height.
Here Roel also tells about the wheel size of the children's bicycle:
What should you pay attention to?
If you are going to buy a bicycle for your child, you naturally want him or her to enjoy it for several years.
Because your child grows in the meantime, it is important to always adjust the handlebars and saddle to the correct height.
It is essential that your child can touch the ground with his or her feet when he or she is on the saddle.
The handlebars must be adjusted so that the knees do not touch the handlebars while cycling, otherwise a child could lose control while cycling.
It is therefore important that the handlebars and saddle are adjusted to the correct height, and are always adjusted as the child grows.
The feet should touch the ground so that they are less likely to fall over and have a stable base.
The child must have complete control over the bicycle and be able to play with it safely, and that is only possible if these things are taken into account!
A child must also be able to get on and off easily to prevent falls.
Do you prefer to buy a children's bicycle too big, or just right?
Many parents want to buy a child's bicycle on growth. That is understandable, of course you do not want to dispose of the bicycle after a few months because it has become too small.
Even if you prefer to buy a slightly larger bicycle for your child so that he or she can use it for longer, that is not the best choice. You have to buy a bicycle just right to ensure utmost safety.
A bicycle can be considered safe if your child can touch the ground with both feet when on the saddle (and of course it can easily reach the pedals).
With a new bicycle it is also good if your child can touch the ground with the toes.
If your child has seen a beautiful bicycle that is not available in his size, then it is preferable not to take the bicycle in another size.
Your child can then much better choose another beautiful bike that fits his or her body size perfectly!
What are the best children's bicycle brands?
There are so many different children's bicycle brands, but which ones are the most popular now? We list them for you.
Volare: this bicycle brand comes from Rotterdam and produces high-quality bicycles. They have bikes for all ages. The bikes are safe and have a design that appeals to children: cool bikes or a bike with a Disney hero, Volare has it all! A good example of such a beautiful Volare bicycle is the Liberty Urban Bicycle - 12 inch.
Alpina: also a Dutch brand, owned by Kruitbosch. Kruitbosch is the owner of even more famous bicycle brands, including Cortina. From princess bikes to cool mountain bikes, Aplina has bicycles for children from 2 to 12 years old. The Alpina balance bike - boys - 12 inch - red blue is a fantastic bike for boys!
Yipeeh: Yipeeh comes under the Volare brand. Yipeeh is mainly intended for the little ones among us, where balance bikes, tricycles and go-karts are also sold. Yipeeh is the number one in balance bikes, see for example the Yipeeh Wooden Jeans Balance Bike - Boys and Girls - 12 inch - Blue.
Loekie: Loekie has been one of the best brands in children's bicycles for over 30 years. This Children's Bicycle Loekie Superstar M 18 "Green is a beautiful and safe children's bicycle for boys or girls. Loekie belongs to the bicycle brand Sparta.
The Netherlands has a lot of home-grown children's bicycle brands. And that is almost impossible in a country known for its cycling culture!
Also read all about it the best children's bikes in our article with 13 reviewed models for every age
How do you teach your child to ride a bike?
Every child learns differently, and there are different techniques to learn to ride a bicycle.
Many parents like to let their child start with a walking bike (from about 18 months): a bicycle without pedals, where a child uses his feet to push off and brake.
For example, a child learns to balance on a bicycle at an early stage. In addition, it stimulates the gross motor skills of a child and trains the leg muscles.
If a child then switches to a tricycle, they will probably quickly learn to ride a real bicycle. Use the following checklist for your little one to learn to ride a bike:
Motivation: it is very important that your child is motivated to learn to ride a bicycle. Have a conversation with your little one: does he or she enjoy practicing, or does it interest him or her little (yet)? If the motivation is there, that's a good time to start.
Buy the right bike: we are mainly talking about a bike that has the right size for your child. In addition, the height of the bicycle must match the height of your child. The feet must be able to touch the ground. It is of course extra fun if your child can choose the bike himself!
Training wheels: You could start with a bicycle that contains training wheels. This way your child learns what it feels like to pedal, without having to be afraid of falling. It is important to immediately teach your child to look ahead, and not to the handlebars or pedals! It is also essential to teach your child that when it wants to stop, it must brake in time and that a foot must be placed on the ground when stopping.
The training wheels lift: if your child is used to the training wheels, you can mount the wheels a little higher. In this way, more reliance is placed on the balance of your child, because the wheels will only touch the ground if the bicycle threatens to fall.
Without training wheels: This is of course a very exciting moment! It is important to provide support to your child in the beginning, for example by holding the luggage carrier. This will also make your little one feel more confident and less likely to fall.
Let go: at a certain point you can let go of the luggage carrier every now and then, but do this step by step. Do not let go secretly, always communicate with your child what you are going to do. Let go a little longer, until your child can do it all by himself!
No matter how careful you are and how well you guide your child, falls cannot be ruled out, even if the child can cycle independently.
To prevent serious injuries and accidents, it is best to let the child wear a helmet. Do this right from the start so that it becomes a habit.
Let your child choose a cool helmet so that he or she likes to wear it while cycling!
Read also: this is good and sturdy clothing that they can easily cycle in
Joost Nusselder, the founder of Speelkeuze.nl is a content marketer, father and loves trying out new toys. As a child, he came into contact with everything around games when his mother started the Tin Soldier in Ede. Since 2016, he and his team have been creating helpful blog articles to help loyal readers with fun play ideas.