Can airtracks go outside? On the grass, in the garden, even in the water!
I enjoy writing these articles for my readers, you guys. I don't accept payment for writing reviews, my opinion on products is my own, but if you find my recommendations helpful and you end up buying something through one of the links I may be able to receive a commission on that.
More information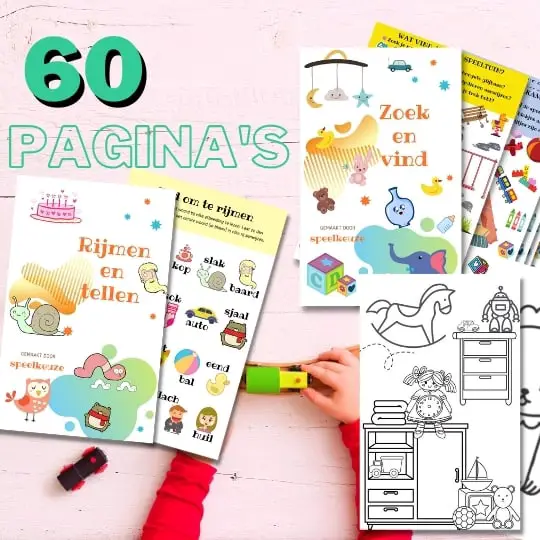 Always something to do for the holidays or rainy day?
Play Choice now has the ultimate activity book collection, with over 60 pages of fun coloring pages and educational puzzles.
Your kids absolutely love them AirTrack and are already doing something special spectacular tricks (even if they say so themselves). But the big question is, can AirTracks also do the Outdoor in?
The AirTrack can be used outside on the grass or tiles. The mat can even be taken to the park, the beach or the campsite, but pay attention to a good surface and use a bottom sheet and do not leave it outside.
In this article we discuss how to use an AirTrack safely Outside (and even on the water), and we give you useful tips for maintenance so that it lasts as long as possible.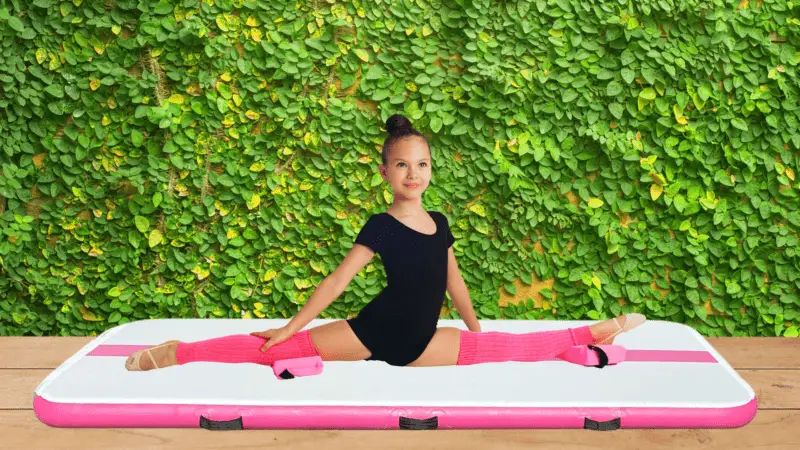 You do want to take a number of things into account before you turn your backyard into an AirTrack paradise.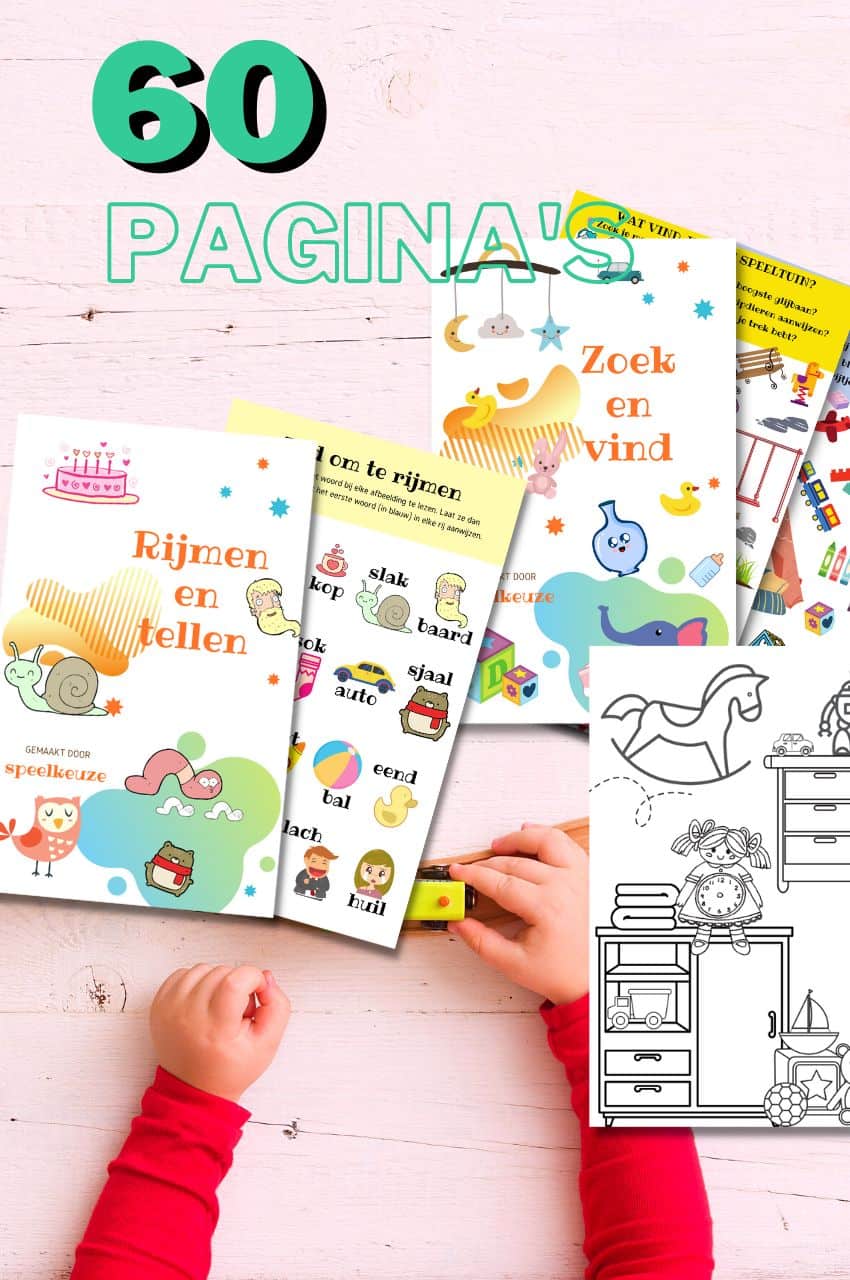 A play theme in your mailbox every month?
Fun play tips, activity books and more, with the first email being our free mini-guide "educational toys"
We will only use your email address for this newsletter and respect your privacy
Is an AirTrack mat suitable for outdoor use?
As we just mentioned, the answer is (fortunately) yes. An AirTrack mat is perfectly suited for outdoor use. What a relief!
When the sun starts to shine, you can move the air track to the garden without worry, which is easy with these light air mats.
The AirTrack can be used on the grass, but also on other surfaces. Besides the garden you can also use your AirTracks:
in the park
At the camping
On the beach
Or at a lake, the nice thing about it is that you can even take it into the water (more on that later).
These guys have given their garden a really big makeover with a huge AirTrack mat:
Of course you don't have to take it so rigorously. You can go for a smaller one, even on an AirTrack of one meter you can do gymnastics very well!
If you want to take your AirTrack outside, there are a few things to keep in mind.
What kind of surface should you place the AirTrack on?
Although these inflatable installations are stronger than ever, unfortunately they are not indestructible.
But a small hole in the air mat is certainly not the end of the world or your AirTrack. It is even quite easy to fix, as we explain here.
But prevention is still better than cure, so you have to pay a little attention to where exactly you place the AirTrack and especially where you place it.
Airtracks can be on grass, sand, concrete or on play tiles.
It may be a bit self-explanatory but you want to keep sharp objects away from the mat.
Also with the 'correct' surface it is a good idea to protect the air mat extra, for example by means of a protective mat.
protective mat
Small stones are a natural enemy to inflatable things and therefore also these jumping mats, and by placing a protective mat under the AirTrack you prevent a leak.
A non-slip mat is useful for a smooth floor indoors, but it is also a good option outside. You don't want the mat to suddenly shoot away, with all the consequences that entails.
In addition to safety for the users, it is also "safer" for the AirTrack.
In addition to a non-slip mat, you also want everything to stay clean. We therefore recommend that you also place an outside sail under the AirTrack.
Like for example this sturdy outside sail. This way you can easily keep things clean if you also use it indoors.
Other tips to protect your airtrack outside
It is not only the substrate that can cause a leak in the mat. Also pay attention to:
Moving the mat. If you want to move the mat outside make sure you either lift it or inflate it outside. Dragging on the floor can damage the mat.
Cleaning the underside of the mat. It must be thoroughly cleaned before jumping on it. Even with a tarpaulin under the mat, you want to check in advance whether there is no dirt on the underside.
That you do not constantly leave the mat outside. Yes, the AirTrack can go into the garden, but it is not meant to be left here for weeks. This is not a good idea, especially on sunny days. The UV light will affect the plastic and therefore the mat will last a lot less.
That if you do leave it outside, you let quite a bit of air out at night. This prevents overpressure when the sun starts to shine the next day and the AirTrack heats up.
Store the mat in a dry place, and make sure that no insects or other vermin can get to it.
Can AirTracks stand up to water?
AirTracks are multifunctional and are used for different purposes.
In addition to gymnasts, martial artists and freerunners, the inflatable mats are also popular for families because children can use the mat as a bouncy castle.
AirTracks are made of PVC, or the technical name: 1000D Double Wall Fabric PVC (Drop Stitch).
The two outer layers have an edge thickness of at least 10cm and have thousands of connected wires inside.
This makes them not only durable, but also waterproof.
That means that your AirTrack mat suddenly gets a lot of nice new functions.
Slip and slide
On a summer day you can turn it into a fantastic size slip and slide job – and that promises hours of fun.
As you can see below, this is not only fun for the kids, you can also join in the fun!
How do you set up a slip & slide with the AirTrack mat?
It is very easy to set up:
Step 1: Place the AirTrack in the garden, leaving room on both the sides and especially the end. You want to have enough space and a safe landing place, if you go a little too far slide.
Step 2: Inflate the mat. If you go for a lower air pressure, there is more suspension in the mat. This is how fun antics can be pulled off!
Step 3: grab the garden hose and you're done: make sure the mat is well wet and let's play.
You can have fun sliding or come up with fun games – see who gets the furthest, or vice versa; run towards the mat as fast as you can, but as soon as you start to slide, try to slow yourself down.
Can an AirTrack float in the pool?
There is another really nice option that not everyone is aware of: the Airtrack is not only waterproof, it also floats!
The AirTrack is fine to use in the water. They are very large, rectangular SUP boards!
The big plus points of airtracks are of course their multifunctionality and their convenience. But mobility is also a huge advantage.
Once empty, you can easily store the inflatable floor in the trunk and take it anywhere.
On a summer day it is therefore easy to transport to the nearest lake or swimming pool.
With an electric pump you have it ready for use within a few minutes. If you don't have access to electricity, don't forget to a foot pump to bring along.
Children and teenagers can play for hours, but you too can let your inner child come out and have a bomb.
Sliding, jumping or sunbathing, the inflatable bouncy castle once again offers a lot of fun.
As you can certainly see with these young men:
AirTracks: for indoors… and outdoors!
Do you have a fanatic gymnast at home, or a future freerunner? You are probably already aware of all the advantages of an AirTrack.
Still not quite sure why AirTracks are so incredibly popular these days?
They are:
Quick to set up: with a pump you have it inflated in minutes and ready.
Easy to move: after all, the mats are filled with air, so quite light! Rolled up, the mat fits easily in the trunk.
Better for the joints: the pressure or hardness of this inflatable floor can be adjusted by means of the amount of air. This ensures that different users can safely practice and play on it. You can even use the mat as a trampoline.
Multifunctional: from gymnastics to martial arts, as a bouncy castle or for strength training. You can go either way with it.
AirTracks with a thickness of 1ocm are seen as the entry-level model and come closest to traditional gymnastics mats.
They are ideal for gymnastics, strength training and beginners.
The thicker mats of 15-20cm offer more options for use. Freerunners, freestyle and martial arts practitioners often go for the thicker version.
The thicker mat is also recommended if you want to use the mat as a trampoline.
The length will also depend on what you want to use it for. Not quite sure which size to choose?
In this handy AirTrack buying guide we help you make the right choice.
Conclusion
The AirTrack is a training mat that combines the advantages of a trampoline, bouncy castle, jumping floor and landing mat in one.
This mat can be used for gymnastics, parkour, cheerleading, tricking, kung-fu and even physiotherapy and is suitable for different levels of sports because you can play with the air pressure.
In addition to that, you can also use it in the garden as a slip and slide, or in the pool as a floating playground.
We love the AirTrack mats and are curious if you already have one at home.
Did you know many trampoline games & tricks can also be performed on the AirTrack?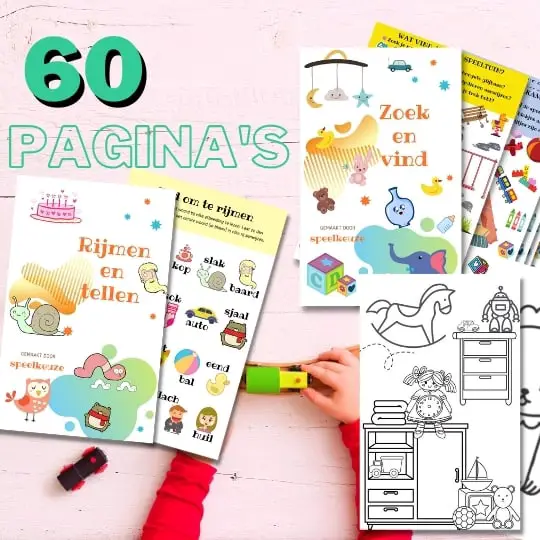 Always something to do for the holidays or rainy day?
Play Choice now has the ultimate activity book collection, with over 60 pages of fun coloring pages and educational puzzles.
Joost Nusselder, the founder of Speelkeuze.nl is a content marketer, father and loves trying out new toys. As a child he came into contact with everything related to games when his mother started the Tinnen Soldaat in Ede. Now he and his team create helpful blog articles to help loyal readers with fun play ideas.