These are the 9 best children's clothing stores in Alkmaar and surroundings
I enjoy writing these articles for my readers, you guys. I don't accept payment for writing reviews, my opinion on products is my own, but if you find my recommendations helpful and you end up buying something through one of the links I may be able to receive a commission on that.
Further information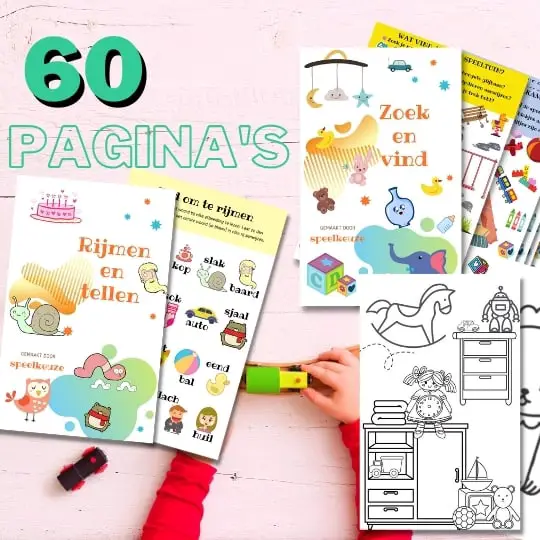 Always something to do for the holidays or rainy day?
Play Choice now has the ultimate activity book collection, with over 60 pages of fun coloring pages and educational puzzles.
Alkmaar is a place with a rich history. While you enjoy all the nice streets and squares, you can also do some shopping in the meantime.
Especially when you have your kids with you. Here are some of the best children's clothing stores Alkmaar has to offer.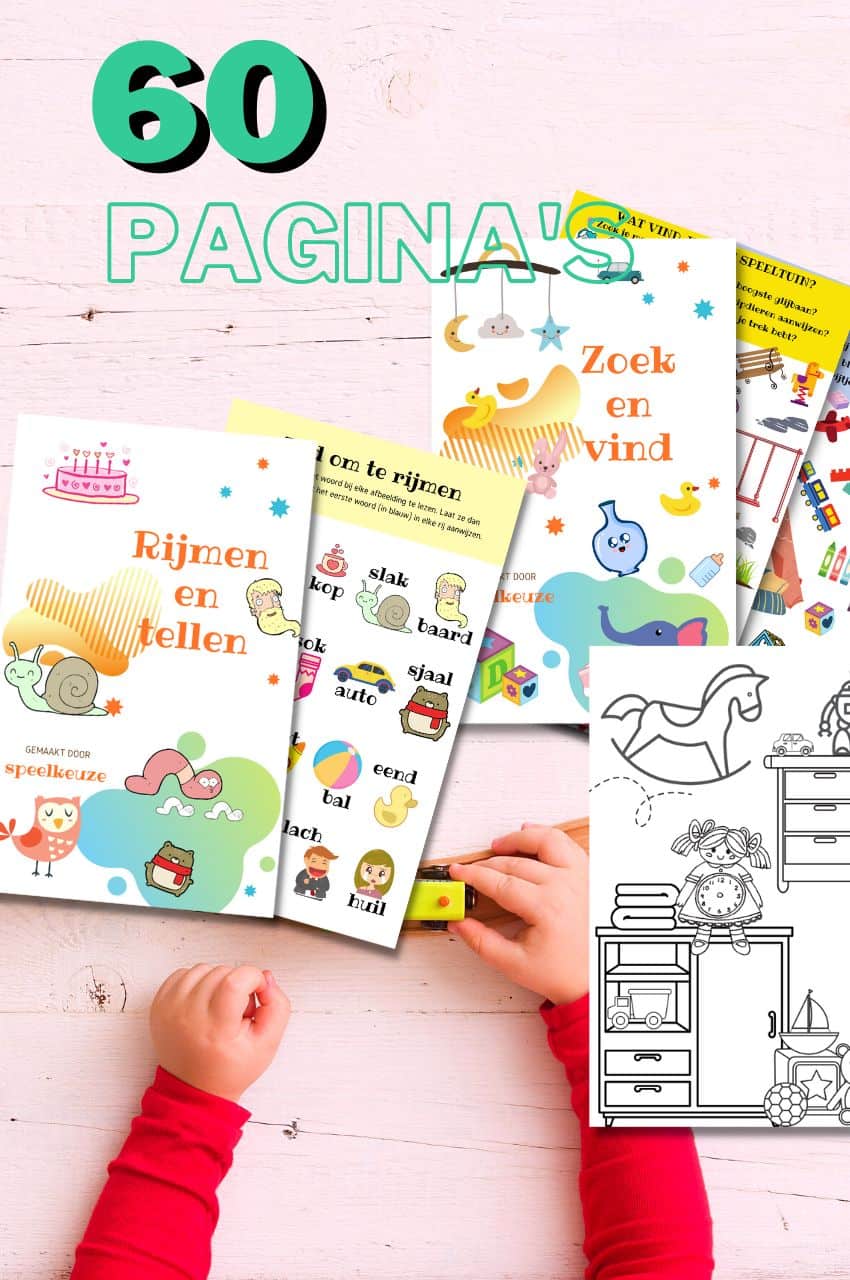 A play theme in your mailbox every month?
Fun play tips, activity books and more, with the first email being our free mini-guide "educational toys"
We will only use your email address for this newsletter and respect your privacy
children's clothing stores on the map of Alkmaar:
9 best children's clothing stores in Alkmaar
Pinokkio second-hand clothing - Huigbrouwerstraat 2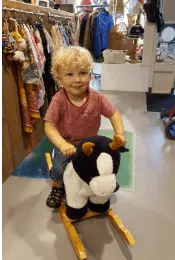 You can go here for second-hand children's clothing, but also maternity clothes and toys! Second-hand baby, children's and women's clothing and toys.
In addition, there is an ever-changing collection of new articles, often handmade.
Wooden toys, wooden toddler beds, nice gadgets for the home, and more!
The clothes hang in the store for a maximum of 2 months and new clothes arrive every day.
Pinokkio second-hand clothing is located at Huigbrouwerstraat 2,1811 BJ Alkmaar.
Wonderstore - Ritsevoort 25
Shop everything for your future child at the Wonderstore in Alkmaar. Wonderstore is the store in Alkmaar where you can get everything for your future child.
From the nicest baby clothes from brands such as Small Rags, BESS, Little Label, Koeka and CarlijnQ, the most modern prams and car seats from Joolz, Bugaboo, Stokke, Cybex and complete baby rooms.
You will also find all the necessities in the field of care here. From newborn pacifier to breast pump.
In addition, they have an extensive range for the (expectant) mum, consisting of maternity clothing from Mamalicious and Love2Wait, maternity lingerie and accessories.
The store consists of more than 500 m2 of shop floor, fully equipped with children's rooms, well-known brands of prams, food & care products and of course also baby clothing and maternity clothes.
Wonderstore Alkmaar is located at Ritsevoort 25,1811 DM Alkmaar.
Also read: baby sleeping bags are important for safe sleep, read why
Room Seven Outlet - Kanaalkade 20
Super cute children's clothing from Room Seven, supplemented with other great brands!
The Room Seven Shop on the Kanaalkade in Alkmaar exclusively offers the entire range of Room Seven, supplemented with nice other brands such as Oilily, Anne-Claire Petit, Rice and much more!
In addition to the clothing, you will also find super fun children's (room) accessories from a lot of other brands! Room Seven Outlet is located at Kanaalkade 20,1811 LP Alkmaar.
Mixi for Boys & Girls! - Achterstraat 41
Nice children's clothing store for kids between 6-14 years old. With many beautiful brands! In the cozy
Achterstraat in the center of Alkmaar, diagonally opposite Van Goeden Huize, is this children's clothing store.
Drop by to view the great brands! Mixi for Boys & Girls! Located at Achterstraat 41,1811, XNUMX LH Alkmaar.
Kixx Kidswear - Release 177
In the heart of Alkmaar is the super cute children's clothing store Kixx Kidswear. Nice store with beautiful brands! At Kixx Kidswear you always succeed!
Experienced and expert salespeople are happy to help you choose the best outfits for your child.
Your children will be amazed in a historic, atmospheric building. The underground train and the cool fitting rooms always do well with the little ones!
The brands you can find here include: Scotch schrunk, Scotch R'Belle, Street called Madison, Retour, Vingino, By Bar, Penn & Ink, Moscow, Z8, Like Flow, Noeser, Tumble 'n Dry, Petite Bateau, Feetje, noppies, Bart.
In addition to children's clothing, you can also go there for accessories, nice to complete your outfit or if you are looking for a fun and original gift!
Our range consists of cool children's clothing from different brands, but you can also easily order affordable children's clothing online.
Filtering by price is easy via the filter on the left side of the product overview page.
But if you have favorite brands, you can also quickly select them. This way you can easily find exactly what you are looking for.
Endless scrolling through the wide range is of course also possible, and so much fun! Trendy children's clothing from the latest collections.
Here you will find a wide range of new collections of baby clothing and children's clothing from the best brands with daily replenishment and expansion.
All baby clothes, boys clothes and girls clothes are available from stock and professionally photographed so what you see is what you get!
Kixx Kidswear is located at Laat 177,1811 EE Alkmaar.
Divali Fashion - Huigbrouwerstraat 12
Nice shop with a lot of offer! Children's clothing store in the center of Alkmaar. Brands such as Supertrash Grils, Guess Kids, Moncler and Burberry.
Diwali is a (web) shop for ladies and kids. The physical store is located in the center of Alkmaar.
We have the best clothes, shoes and accessories to put together a perfect outfit.
Lots of shops with organic cotton don't have such nice children's clothes. There is something for everyone, for the tough boy, modern mama and the chic girls.
Our range consists of a mix of high end and affordable. Diwali Fashion is located at Huigbrouwerstraat 12,1811, XNUMX BJ Alkmaar.
Lou & Blue - Koorstraat 16-20
A beautiful large children's store with cool brands of baby clothes and toys from Scandinavia!
At Lou & Blue you will find fun, separate children's clothing, accessories and toys for both the smallest and the slightly older boys and girls.
Near the Grote Kerk in Alkmaar you will find the unique shop Lou & Blue.
The range consists of separate children's clothes for boys and girls, cool accessories, toys and handy care products.
Think of wall stickers, piggy banks, diaper bags, bath toys, stuffed animals, etc.
Nice sweaters from Iglo Indi, Mingo and Sproet & Sprout, cool pants from Petit by Sofie Schnoor and Little Indians, but also brands such as Huxbaby, Iglo Indi, many cool dresses, cardigans and skirts.
They also have brands such as Tellkiddo, Flatout Frankie, MarMar and Sebra in house. Lou & Blue is located at Koorstraat 16-20,1811 GP Alkmaar.
Villakids - Koorstraat 27
A cozy children's clothing store in the center of Alkmaar with many great brands!
At Villakids they think it is important that the kids are dressed in cool, but affordable clothing!
The brands you can find at Villakids: Beebielove, Carbone, Cars, Little Miss Julliette, Mim-pi, Petrol, Retour Jeans, Vingino.
Here you will find the best children's clothing that is also affordable. In our webshop you can easily buy online from the comfort of your armchair.
Our mission is to dress children in trendy and cool clothing that is also very affordable. Prefer 'live' shopping?
That is possible in our store in the center of Alkmaar! Villakids Alkmaar is located at Koorstraat 27,1811, XNUMX GM Alkmaar.
Primark - Release 128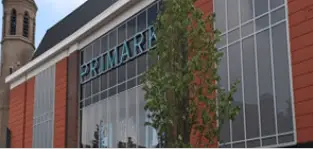 Primark Alkmaar is open! Nice children's clothing for low prices. Then just to Kixx across the street!
Close your eyes when you walk in and go straight to the 2nd floor! There you will find nice children's clothing for very affordable prices!
Then walk to Kixx across the street to complete the set! Primark Alkmaar is located at Laat 128,1811, XNUMX EL Alkmaar.
How to reach the Alkmaar shopping center
Alkmaar by car
Are you coming to Alkmaar by car? You can always park easily in Alkmaar. Alkmaar has no fewer than eight municipal parking garages in and around the center.
Digital signs indicate the route to the nearest parking garage where space is still available. Other parking options in Alkmaar.
Parcade Overstad car park. Five minutes walk from Alkmaar center. Parking garage under Noorderarcade Shopping Center.
A non-municipal garage, with different rates.
Bike
Alkmaar is a bicycle-friendly city. Park your bicycle in one of the guarded bicycle sheds:
Free bicycle shed Canadaplein - A large, guarded bicycle shed under Canadaplein, open every day until midnight.
Free bicycle shed Ridderstraat - This free bicycle shed is open during the opening hours of the shops.
Bicycle shed Station Alkmaar - The central station also has a guarded bicycle shed.
Alkmaar with Public Transport
By train to Alkmaar? From Amsterdam it is only 35 minutes by train and 5 trains per hour leave for Alkmaar.
The railway station is about a 5-minute walk from the center.
By bus to Alkmaar
Buses leave from many villages and towns in North Holland and Friesland to the Alkmaar bus station, which is located next to the Alkmaar Central train station.
The City buses stop at a large number of points in and near the city center, including the Kanaalkade and the Laat.
Lees meer: wardrobes for your children's clothes
Also nice nearby:
A trip to Bergen | Be sure to visit these 5 children's clothing stores
In Bergen you can easily combine a day of shopping with the kids with a visit to the beach.
Either you go shopping yourself, while your hubby leaves behind on the beach with children… or you go shopping first and then visit the sea and laze on the beach.
There are countless fun combinations to come up with and it's fun too to visit from Alkmaar.
The cozy village, the cycling and walking routes, the nice shops and cozy restaurants, the beach and the many events attract a wide audience to the artists' village of Bergen.
The shops here are always open on Sundays and offer opportunities to find something for everyone.
Children's clothing stores on the map of Bergen:
kids
The staff is ready to advise and assist you or you can look around the beautiful case yourself with a very diverse and fun offer.
Look forward to the brands: Name IT, ltd, Tumble 'N Dry, Costbart, Frankieandliberty, Aikogirls Feetje, Jubel & Sturdy and Bergstein.
The collection is adapted as the seasons change and you can be sure that the collection includes the best and newest items.
Visit Kidzs and be pleasantly surprised by the atmosphere, the nice shop and all the nice items you can choose from.
Kidzs you visit the Kerkstraat 11, 1861 KR Bergen.
Lancelot 4 Kids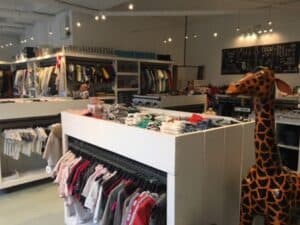 You see, there is no lack of choice. Beautiful brands and cool styles, everyone can score a nice outfit at Lancelot 4 Kids!
After your acquisition, you can relax on a cozy terrace around the corner.
You can visit Lancelot 4 Kids at the Breelaan 2, 1861 GE Bergen.
Hema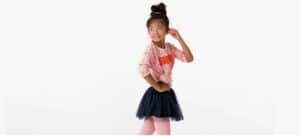 Children's clothing is available at Hema up to size 176.
hema: Square 79, 1861 JX Bergen.
shoeby
Shoeby stands for contemporary, recognizable and a clear identity of its own. At Shoeby you will find the own clothing brands Jill and Mitch.
There is plenty of choice of children's clothing for boys and girls. The collection changes regularly and you will be helped very nicely by super friendly and fun staff.
For every occasion you can score the right outfit for your son or daughter at Shoeby.
Your child will always look hip and trendy in clothes from Shoeby. Shoeby knows exactly what the youth likes and responds very well to it.
The girl brand Jill makes a young diva feel very special.
Girls 'clothing runs from size 92 to size 170. Cool boys' clothing is offered from size 92 to size 176.
The Shoeby collection has it all and is therefore of good quality.
Shoeby you can visit the Jan Oldenburglaan 13, 1861 JS Bergen.
Sissy Boy
When you buy clothes from Sissy-Boy you know that you are buying good quality clothes and the attention that the clothes have received from the designers is splashing off.
Fun and trendy details have been carefully considered and the combinations of colors and materials give the outfits surprising and unique twists.
Don't know the store yet? Or are you a loyal customer? It does not matter. Visit Sissy-Boy in Bergen and see if there is something you like.
Sissy-Boy can be found at the Jan Oldenburglaan 3-5, 1861 JS Bergen.
Also read: with or without bed surrounds in your cot
Our location and how to get there
With public transport: To get to Bergen you will in any case have to take a bus. Bergen has no train station and if you come by train you will have to change at Alkmaar station. It will depend a lot on the time you travel, how long it takes you. It can take anywhere from one and a half to two and a half hours before you arrive in Bergen from Utrecht CS.
Bus lines 6, 410 and 606 run to Bergen. Although they at Christmas time drive less often.
By car: you can drive to Bergen in about an hour and fifteen minutes, calculated from Utrecht - via the A2, the A9, the N9 and the N510.
You can park in Bergen, but pay attention to where. Different rules apply in different zones.
In Bergen, you generally have to pay for parking between 10 a.m. and 19 p.m., with a limit of a maximum parking time of one and a half hours in the city center.
If you have mobility problems, park in the zone around the city center.
There you only need a parking disc and you can walk into the pleasant center of Bergen in a few minutes.
We have tried to give the best and complete overview of children's clothing stores in Bergen, but cannot guarantee that we have not overlooked anything.
Also nice on the road:
Children's clothing stores in Schagen | These are the best
It is always nice to go shopping in Schagen. Schagen is a nice and authentic town with a great diversity of shops and entertainment venues.
Especially for children's clothing it is fun to browse around.
Shops in Schagen can be found in one of the popular shopping streets such as the Nieuwstraat, Gedempte Gracht, Witte Paal or Nieuwe Laagzijde.
In Schagen you also have the indoor shopping center Makado with more than 60 shops, great for the days when the weather is not so good.
Children's clothing stores on the map of Schagen
Flashy
At Blits you will find clothes for boys and girls from size 86 to size 176. You will find very nice and affordable brands.
The collection is regularly updated so there is always something new to be found.
You will find nice and cute dresses and sets. The skirts can be combined well with matching shirts.
There is also a lot of fun for the boys! You have boys' shirts and comfortable jeans. Also super cool jackets for all seasons.
For both boys and girls you will find the brands: Name IT, Cars jeans, Levi's, Kids Only and Lmtd.
Definitely worth a visit if you are looking for nice children's clothing in Schagen.
Blits: Makado Center 26, 1741 JA Schagen
Amazing Kids
At Amazing Kids they know what is important for children's clothing.
Amazing Kids clothing meets strict standards such as a comfortable fit and high quality.
The clothing is of course also tailored to the latest fashion trends.
For boys and girls you have clothes in cheerful colors with fun motifs, prints and designs.
The collection is so extensive with so many different styles and colors that it can sometimes be quite difficult to make a choice.
But the store staff will advise and assist you to make the right choice for your boy or girl.
Amazing kids: Gedempte Gracht 31A, 1741 GA Schagen
Zeuvenuurgoed
At Zeuvenuursgoed you will find clothing that can be combined well with each other. The existing collection can also be combined very well with the new collection.
All nice sets that you can put together for the kids so that they can appear in a new outfit almost every day. Whether at school or for a party.
For the girls you will find varied clothes in trendy styles in different colors and styles. Clothing that is very soft and sweet but also very cool.
For the boys you will find cool and fun jeans and every fit. Also look out for the nice jogging pants, nice shirts in different colors and models.
At Zeuvenuursgoed you will come across the following fun children's clothing brands: CARS, Z8, TYGO & Vito, Skurk, Z8, leChic, Nais, Blue Seven, LoveStaion22, Legends22, B'Chill and O'Chill
Zeuvenuursgoed: Molenstraat 30a, 1741 GK Schagen
shoeby
For the girls you have the brand Jill. The Jill brand guarantees fashion according to the latest fashion trends. Nice and cool clothes for your little fashionista.
The collection is trendy, energetic, full of humor, sweet but also a bit tough and affordable. You will find clothes for girls of different ages.
For the boys they have the Mitch brand at Shoeby. Very special for the curious and inquisitive guys.
Look out for the cool T-shirts and Urban shirts with catchy texts, photos and designs.
The boys feel comfortable in Mitch's clothes and can play and romp around.
Shoeby: Gedempte Gracht 6, 1741 GC Schagen
terStal Family fashion
At terStal you will find various fashion items for the little ones to the bigger kids.
You will find clothing in different sizes, such as for the newborn in sizes 50 to 68, for the baby in sizes 68 to 86.
For the toddlers you will find cute clothes in sizes 92 to 128. For the slightly older children you will find beautiful clothes in sizes 134 to 176.
The children's clothing collection at terStal is composed of various diverse fashion trends of the moment.
You will find children's clothing for boys and girls in the hottest trendy and fresh colors.
Within the collection you can also make endless combinations so that the kids can always appear in a new outfit for the day.
terStal Family fashion: Nieuwe Laagzijde 1, 1741 GE Schagen
Jeans Center
Jeans Center also knows that children grow really fast and need new clothes regularly.
That is why at Jeans Center you will find a wide range of children's clothing for friendly prices.
You will find very nice skirts and dresses for the girls, but also very cool jeans. For the boys you will find fun and cool outfits in which they can enjoy themselves.
Jeans Center: Makado Centrum 42, 1741 JA Schagen
Bristol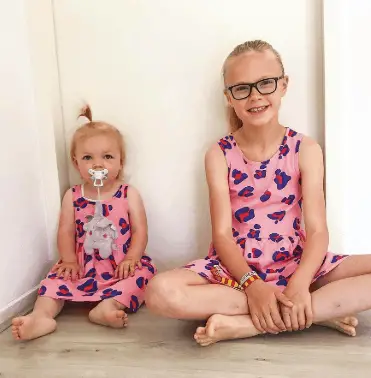 For the girls you buy cute dresses, cool jumpsuits, hip sweaters and well-fitting jackets.
For the boys you have a wide range of cool T-shirts with funny prints, trendy checkered shirts, cool (jeans) pants, fine jackets, sporty sweaters and hooded cardigans.
In Bristol clothing, the kids can play and romp to their heart's content without the clothing breaking the first time.
This way they can enjoy the beautiful Bristol clothes for a long time to come.
Bristol: Langestraat 5B, 1741 HB Schagen
HEMA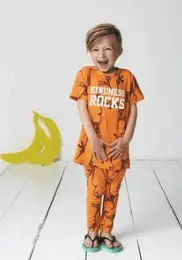 At HEMA they always follow the latest children's clothing fashion trends, but they also always stick to their basics.
This basis stands for good quality and affordable children's clothing. That fits well, is safe and looks nice. And in which children can of course be themselves!
In addition to children's clothing, you will also find great accessories such as socks and hair stuff, but also backpacks, lunch boxes and rainwear.
Old and trusted but always innovative, it is certainly worthwhile to visit HEMA every now and then. Especially if you are looking for fun children's clothing!
Sailor
The children's clothing design is usually kept as simple as possible at Zeeman. This way, the price can also be kept low. And that makes parents happy.
All Zeeman clothing is made of quality fabrics and also has a good fit.
Every season you can find a new collection at Zeeman, tailored to the fashion trends of that moment.
You can choose dresses, skirts, blouses, T-shirts, sweaters, jeans, coats and jackets. You can also find sturdy underwear and sweet pajamas at De Zeeman.
Sailor: Nieuwstraat 19, 1741 BT Schagen
scapino
For girls there are children's shirts in cheerful floral prints and models with ruffles and gathered sleeves.
Of course there are also cool children's shirts with a stripe or a solid print.
At Scapino they do their best to have a nice collection of affordable children's fashion.
You will find clothes for the very little ones, but also for your tough teenager you will find an extensive collection at Scapino.
Scapino: Molenstraat 6, 1741 GK Schagen
Accessibility Schagen
Schagen: you are there in no time! By train between Amsterdam and Den Helder and by bus. But also by car, Schagen is a junction of various provincial highways.
With public transport
Schagen has its own train station, with connections to Den Helder and Heerhugowaard, Alkmaar and Haarlem.
In less than an hour you are also in the center of Amsterdam.
Over the water
You can also easily reach the city of Schagen by boat. There are berths for recreationists in the harbor along the N245 and the Stolle-Kolhorn canal.
By car
Schagen is less than an hour's drive from Amsterdam. You can go in all directions via the provincial roads N241, N245 and N248.
For example towards Alkmaar, Hoorn or Den Helder.
Nes Noord can be reached from the N421 via the newly constructed Cornelis Blaauwboerlaan, the connecting road with De Nes and Frans Halsstraat.
You can park for free on the large parking deck with no fewer than 250 parking spaces.
Parking in Schagen
If you go shopping in Schagen, you can park at the following parking garages: Makado Parkeerdak, Vomar Parkeerdek and P + R Schagen.
We have tried to give as good and complete as possible a picture of children's clothing stores in Schagen, but cannot guarantee that we have not overlooked anything.
Also nice nearby:
8 Children's clothing stores to visit during a trip in Hoorn
The city center of Hoorn is really worth a visit. It is not just a historic city, you really walk into history.
And everything comes together on the Roode Steen, a square in the center of Hoorn, with a magnificent statue of Jan Pieterszoon Coen and the West Frisian museum as a showpiece.
A very nice trip to make if you are a bit north want to travel from Amsterdam.
In addition to this historic splendor, you can visit the beautiful harbor or relax in one of the cozy restaurants in the city.
Tired feet can take a break. And if you can continue, dive into one of the beautiful streets for shopping.
Every last Sunday of the month it is Super Sale Sunday in Hoorn and you can take advantage of one of the nice shops or boutiques in the city.
Children's clothing stores on the map of Hoorn:
Intema youth fashion
The collections on offer are suitable for babies, distinguishing between Newborn (0-6 months) and Minis (6-18 months), children with sizes 92 to 140 and teenagers.
In the baby collection you will find brands of Z8, Levi's, Tumble 'n Dry, Dirkje and Name it.
In the kids collection you can choose from more than 15 brands including Cars Jeans, Indian Blue Jeans, Levi's, Molo, Name it, Nik & Nik, Quapi and more.
And you will also find the right fashion for teenagers. For the teenagers, you can choose from a whole range of brands, such as: Garcia, LMTD, Levi's and Cars Jeans.
The collections are adapted and supplemented throughout the year.
The staff will be happy to advise you or provide information about the collections in the store.
Intema youth fashion is at the forefront Kruisstraat 32, 1621 EJ Hoorn.
'T GLOP
It is therefore an ideal way to score a nice item for not too much money and this store also offers opportunities for people who do not know what to do with their used children's clothes.
You can find 't Glop on, yes: Glop 2, 1621 ES Horn.
Kennedy Kids
The collection for older children up to and including 16 years old hangs in the front of the store and baby clothes that start at size 50 at the back of the store.
The Kennedy Kids collection changes regularly, but always adheres to the same criteria: quality clothing that is trendy, so that your (grand) son or (grand) daughter looks stylish.
Beautiful brands such as Tommy Hilfiger, McGregor and Pepe Jeans are some of the favorites. In addition to clothing, you can also succeed here for nice accessories.
You will find Kennedy Kids on it Kleine Noord 20, 1621 JG Hoorn.
Spines & Tails
We try to offer a unique experience in the store, by offering brands that you do not find everywhere.
In addition, we work hard to maintain the personal approach; a lot of attention is paid to the customers.
For example, they cannot dispose of their entire stock in the store, but they do have everything online.
Do you know that you are coming to Hoorn, let them know which items you would like to see in the store and they will make sure that it is ready for you when you visit the store. Talk about service!
The collection is versatile and changes with the trends and seasons. The clothing starts at size 50 and runs up to size 170.
Spines & Tails is on the Kleine Noord 7, 1621 JD Hoorn.
As in most Dutch cities, there is also a series of (inter) national fashion chains in Hoorn.
We provide an overview of those stores below.
AC
C&A has such a long history in the Netherlands that in principle the store no longer needs an introduction.
But if you still have doubts about what they offer, read on.
The store excels in offering varied, fun and playful clothing for children of good quality for a very decent price.
You will find many different types of clothing, from sporty to chic, from underwear to jackets and shoes. Actually, you can get a full look here.
Baby sizes start at size 50 and continue up to size 92. Children's clothing starts from size 92.
C&A is also in the city center: Great North 25-29, 1621 KD Hoorn.
Cool Cat Junior
CoolCat has the right clothing collection for every season.
You can visit CoolCat at the Grote Noord 65, 1621 KL Hoorn.
scapino
Well-known brands at Scapino are Ai-girl or Oiboi. These collections are so extensive that you will have trouble making the right choice.
For the tough guys and girls who like to be outside, there is the Mountain Peak brand.
You can visit Scapino at the New North 54, 1621 EP Hoorn.
WE Fashion
And because WE also sell accessories, you can find a nice and complete outfit together.
WE Fashion in Hoorn is located on the Grote Noord 95, 1621 KH Hoorn.
Opening hours office
As you can see from the interactive map placed at the top of this page, all stores are just steps away from each other.
The Hoorn station is also a few minutes walk from the center the train packing to Hoorn is a good option.
In half an hour you travel by intercity directly from Amsterdam CS to Hoorn.
By car: travel by car half an hour to the north from Amsterdam and you are by car in the center of Hoorn.
Paid parking does apply in the city center, from € 2,50 per hour, with exceptions for certain areas and certain days (such as Super Sale Sunday).
Consult the website of the municipality of Hoorn in advance to find out where it is best to park your car.
We have tried to give the best and complete overview of the children's clothing stores in the city center of Hoorn, but cannot guarantee that we have not overlooked anything.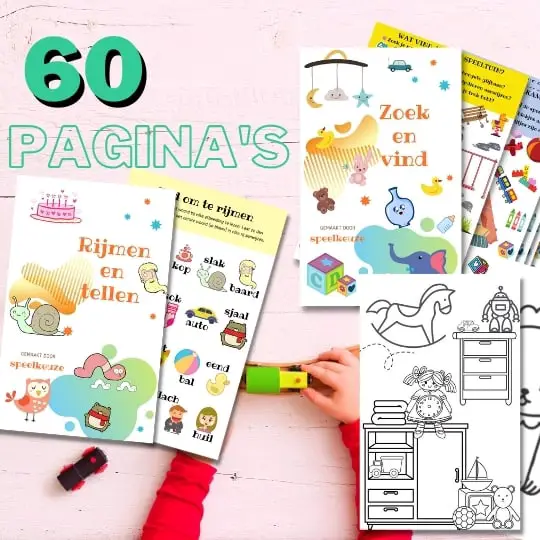 Always something to do for the holidays or rainy day?
Play Choice now has the ultimate activity book collection, with over 60 pages of fun coloring pages and educational puzzles.
Joost Nusselder, the founder of Speelkeuze.nl is a content marketer, father and loves trying out new toys. As a child he came into contact with everything related to games when his mother started the Tinnen Soldaat in Ede. Now he and his team create helpful blog articles to help loyal readers with fun play ideas.