These are the 30 best children's clothing stores in Amsterdam and surroundings
I enjoy writing these articles for my readers, you guys. I don't accept payment for writing reviews, my opinion on products is my own, but if you find my recommendations helpful and you end up buying something through one of the links I may be able to receive a commission on that.
Further information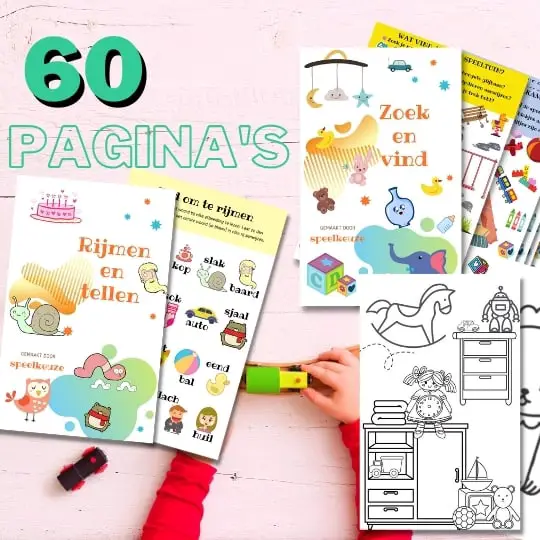 Always something to do for the holidays or rainy day?
Play Choice now has the ultimate activity book collection, with over 60 pages of fun coloring pages and educational puzzles.
Are you going to spend a day in Amsterdam with the kids? These are some of the best kids' clothing stores you can drop by.
Some of the shops are just outside the center, which is sometimes where you can find the best things. Make a day of it and take the tram!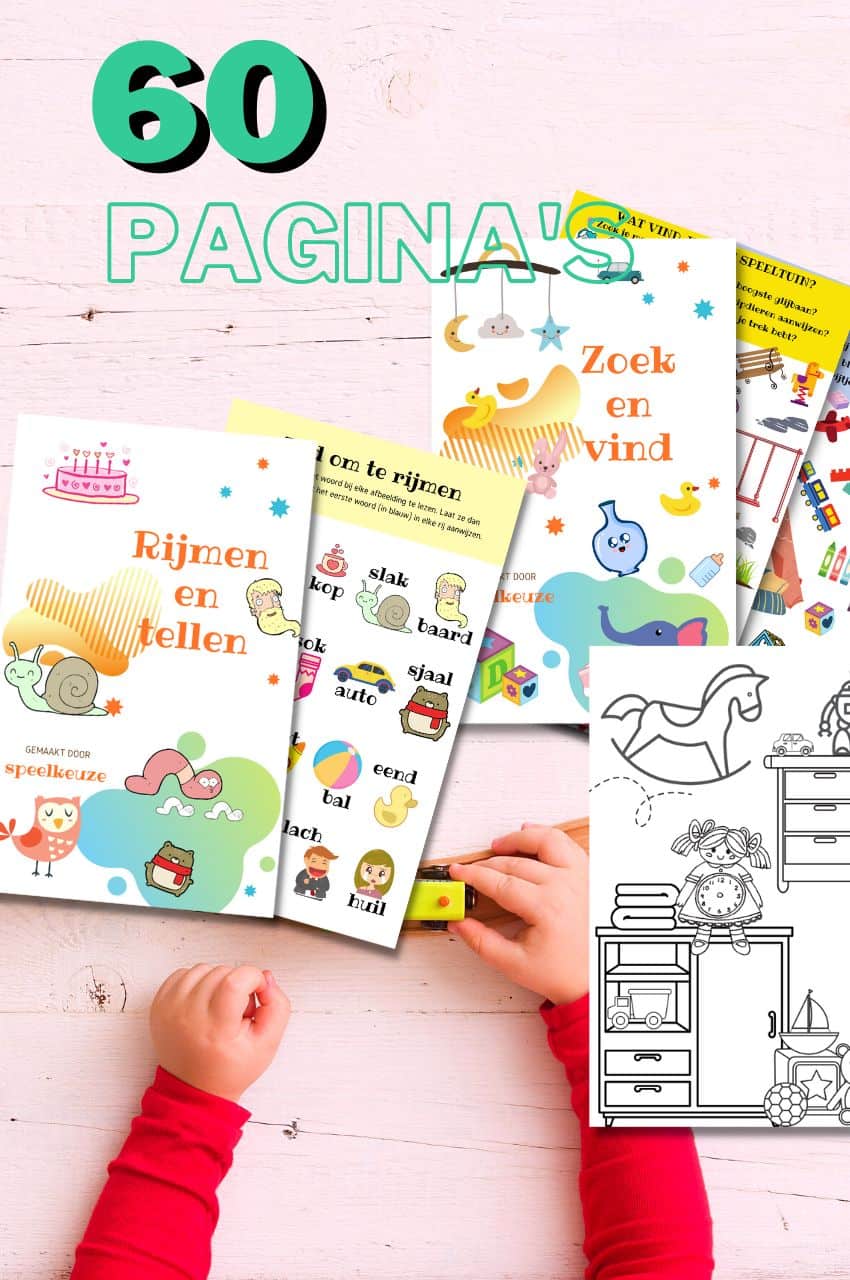 A play theme in your mailbox every month?
Fun play tips, activity books and more, with the first email being our free mini-guide "educational toys"
We will only use your email address for this newsletter and respect your privacy
children's clothing stores on the map of Amsterdam:
30 best children's clothing stores in Amsterdam
Koter & Co - Scheldestraat 55
Koter & Co, the nicest children's store in Amsterdam! Your child is the most important thing in the world and they will find that at Koter & Co too.
That is why Koter & Co has been offering the best, but also the most practical range for babies and children for over 10 years.
In the store you will find many beautiful and inspiring brands, especially from Dutch soil such as Bugaboo, Lodger, Koeka, Cottonbaby, Imps & Elfs, Bengh, Scotch Shrunk, Scotch R'belle, Petit Bateau, Kikkid and many more.
New are the brands Otentic (beautiful scrap wood furniture for the children's room) and iGlowbes (string lights, which are too beautiful to hang alone with a party).
Have a look at this beautiful children's store packed with the best for kids from 0 to 12 years! Koter & Co is located at Scheldestraat 55,1078, XNUMX GG Amsterdam.
Azzurro Kids - PC Hooftstraat 22
If you like luxury and quality, you have come to the right place at Azzurro Kids!
With no fewer than three shops in the PC Hooftstraat, Azzurro has been able to dress modern women and her children like no other for three decades.
The collection is international, sporty, classic, fashionable, original and often ahead of the trend.
Here you will find the combination of brands and styles for young and old!
Azzurro Kids is located at PC Hooftstraat 22,1071, XNUMX CD Amsterdam.
Serendipity Kids - Leliegracht 32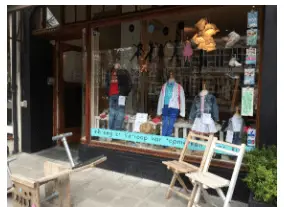 Serendipity Kids is an attractive, fresh store with second-hand designer clothes for children from 0 to 12 years old.
The broad clientele guarantees a continuous supply of second-hand clothing.
The most beautiful articles from the best brands are selected from the large amount of input.
New items are added almost every day, making it worthwhile to check in regularly.
A visit to Serendipity Kids is always a joy. They are located on one of the most beautiful canals in Amsterdam.
The shop is cozy and well-organized and while you can shop with a cup of coffee or fresh mint tea in hand, the children play in the play corner.
Of course there is a glass of lemonade with a biscuit for them. Serendipity Kids is located at Leliegracht 32,1015, XNUMX DG Amsterdam.
Beautiful - Constantijn Huygensstraat 31
Take a look at Moois, you will find clothes, stuffed animals, books, toys and lots of gifts!
Moois has cool and sweet clothing for babies and toddlers from 0 to 5 years old.
They are the only ones who always have Oshkosh garden suits in stock and an abundance of stuffed animals, books, wooden toy and lots of presents for babies and mom.
At Moois you can also get organic baby and toddler clothing, made of 100% organic cotton. Moois is located at 1ste Constantijn Huygensstraat 31,1054 BR Amsterdam
La Boite Kids Fashion & Shoes - Zeilstraat 29
At La Boite, real 'fashionatas' can fully enjoy themselves thanks to the wide choice of major brands!
The children's clothing and shoe store La Boite is a large store where you can get many famous brands.
Think for example of Gucci, Fendi, Armani and D&G. La Boite consists of 4 stores that are connected to each other.
There is a store for babies, toddlers, teens, shoes and a section for Burberry.
A fun merry-go-round and a car ensure that the little ones can enjoy themselves while shopping and trying on!
La Boite is located at Zeilstraat 29-35,1075, XNUMX SB Amsterdam.
't Schooltje - Overtoom 87
Will you come shopping in this beautiful and especially huge store full of children's clothing and shoes? 't Schooltje has been around since 1973.
The first store was in Schoolstraat, where the name also comes from. However, that business soon became far too small for the ever-growing range of children's clothing.
Fortunately, 't Schooltje was able to move to the Overtoom and soon shoe collections were also included in the offer.
This made them the first children's fashion store in the Netherlands where you could succeed for your entire outfit!
To this day, 't Schooltje is one of the most famous and most popular children's shops in Amsterdam and the surrounding area.
There are not many places where you can find such a wide range! And you also get excellent advice. 't Schooltje is located at Overtoom 87,1054, XNUMX HC Amsterdam.
The Miffy's Shop - Scheldestraat 61
In this store you can find everything in van Miffy for the smallest to the biggest fans!
The Miffy shop offers the most extensive collection of Miffy articles. Here you can really indulge yourself if you are a Miffy fan!
Would you like something nice from Miffy in your room? And do you also want useful Miffy items to go to school? You can find them at the Winkel van Miffy!
You can of course also go here for cuddly toys, books, toys and crockery. There is much more to get!
Miffy's shop is located at Scheldestraat 61,1078, XNUMX GH Amsterdam
Wijs West - Bilderdijkstraat 62
Here you can buy toys and clothes, get your hair cut, have lunch and do workshops.
Wijs West is located in Amsterdam West, your children's store for anything and everything. Children's clothing, toys and gifts.
Looking for original children's clothing or a nice gift? Wijs West has everything in their curated range. From picture books to shirts made of fine, warm fabric.
You will find the best products from well-known brands, but also original items from local entrepreneurs.
Wijs West is located at Bilderdijkstraat 62,1053, XNUMX KV Amsterdam.
Unicorn Boutique - Tweede Tuindwarsstraat 1
At the Unicorn Boutique you will find the best gifts and children's clothing! In addition to children's clothing, Unicorn Boutique also sells men's and women's clothing.
New articles are added to the collection every week. In addition to clothing, you can also buy original gifts, jewelry and many more nice things.
Unicorn Boutique is located at Tweede Tuindwarsstraat 1,1015 RX Amsterdam.
Check out shops with Afterpay our online internet shop page.
Blender Kids - Ruysdaelstraat 11
At Blender you will find children's clothing, gifts and a child-friendly café with a large play area.
The café offers a generous play area and enough space for prams. You can eat the most delicious sandwiches and cakes, but you can also just have a drink.
There is also a special and extensive children's menu with healthy, responsible and delicious food.
The shop offers a wide variety of exclusive gifts, original children's clothing from 0-12 years, children's furniture and toys.
In addition, clothing and accessories for adults are also available. Blender Kids is located at Ruysdaelstraat 11,1071, XNUMX WX Amsterdam.
The Kunstboer - Prinsengracht 270
All the animals you can imagine on clothes, bags, pouches and much more! Animals, striking designs and available colors ... what do you get?
The clothing and accessories from De Kunstboer! The art farmer has a diverse range, but with the same style.
You can go there for colorful (children's) bags, children's clothing, pencil cases, toiletry bags, wallets, pillows, cards and posters.
If you love animals, take a look at the store. The art farmer is located at Prinsengracht 270,1016, XNUMX HH Amsterdam
The Children's Clothing Store - Beethovenstraat 19
Clothes and gifts for children from 0 to 12 years old! All articles can be viewed in the online webshop, including prices and sizes.
The categories are:
BABIES: clothing for boys and girls, sizes 50 to 68. MINI-BOYS: clothing for boys, sizes 74 to 98.
MINI-GIRLS: clothing for girls, sizes 74 to 98.
BOYS: clothing for boys, sizes 104 to 152.
GIRLS: clothing for girls, sizes 104 to 152.
Items can be exchanged, except for the items with a 50% discount. Delivery time within 3 working days.
The brands from which articles are sold include Name IT, Claesens, Molo, Design Heroes and Petit Louie.
The Children's Clothing Store is located at Beethovenstraat 19,1077, XNUMX HM Amsterdam.
Wollepop - Bosboom Toussainstraat 49
Wollepop gives a new life to children's clothing and children's stuff.
At Wollepop you can put your child in the 'new', browse for unique items, find the clothes from that nice collection from a while back or you just run into something that makes you think "How FUN! How handy! "
Here you will find what you really need NOW because they have suddenly grown out, or because birthdays are coming.
Beautiful items are brought in almost every day and every day you can find something unique in the store: beautiful picture books, exciting reading and audio books, games and those Donald Ducks that do so well when we have to drive far; that perfect dress for that party or for the upcoming sun holiday, the rain pants you were looking for because they will soon be too small.
Wollepop is located at Bosboom Toussainstraat 49,1054, XNUMX AN Amsterdam.
Lightning & Stars - ijburglaan 1153
The store in IJburg for cool, fresh, contemporary and above all affordable children's clothing and shoes!
The children's clothing brands are for children from 2 to 14 years old. Shoes are sold up to size 40.
In addition to clothing and shoes, they also sell nice accessories. As brands you will find here: Birkenstock, Koel4kids, Ewers, Funky XS, Hip Shoes, Wild, Name IT, Quick, Skechers.
Bliksem & Sterren is located at IJburglaan 1153,1087, XNUMX GJ Amsterdam.
miniChiChi Club - Spaarndammerstraat 43H
Here you will find authentic children's and baby clothing, toys and much more other stuff.
The miniChiChi Club has an assortment of baby and children's clothing, toys and handy gadgets for you as a parent and for your child.
The clothing is sustainably produced and original. The toys are also slightly different.
MiniChiChi also has a webshop where you can still make your purchases after closing time. MiniChiChi is located at Spaarndammerstraat 43H, 1013 ST Amsterdam.
!! growl !! - Haarlemmerdijk 180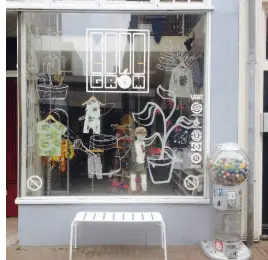 This trendy children's store sells clothing and shoes from well-known board sports brands for kids from 0 to 16 years, as well as everything that fits in the board sports lifestyle.
You should think of brands such as Vans, DC, Volcom, Element, Munster, Kids Ink, Mini Rodini, Santa Cruz, Independent, Circa, Keep and many more.
There is plenty of choice from super nice socks, caps, key rings and belts.
A small portion of the total range is intended for the larger kids, who are already ready for a larger size, or of course for mom and dad who also love this style.
And are you all Vans crazy? Then you are in the right place here. Everything that is in the store of this brand is very popular at the moment.
Brands of: Vans, DC, Volcom, Element, Munster, Kids Ink, Mini Rodini, Santa Cruz, Independent, Circa, Keep, Roxy and Quiksilver.
!! growl !! is located at Haarlemmerdijk 180,1013 JK Amsterdam
De Bijenkorf - Dam Square 1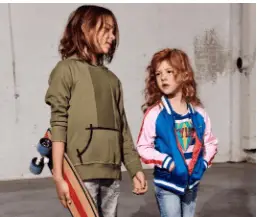 Who doesn't know this department store? But did you know that it is also fun to go with your child?
Every visit to this large department store is an experience. There is so much to see, and you can take the escalator from one floor to the other.
The store is arranged according to the season and for every holiday. This makes it very nice for kids to come.
On the fourth floor you will find everything for children; children's clothing, children's shoes and toys. Here is also a TV that shows children's programs.
The kids can relax on the colored benches, while you still make your way at the three crazy days, for example.
At the very top is a restaurant with a view over Amsterdam, which is of course also a true experience! De Bijenkorf is located at Dam 1,1012, XNUMX JS Amsterdam.
And they have one larger children's department than, for example, the Bijenkorf in Eindhoven.
Flo 4 Kidz - ijburglaan 1273
Clothing, shoes, accessories, gifts ... You will find it all at Flo 4 Kidz!
At Flo 4 Kidz you have come to the right place for a constantly changing collection of clothing, shoes, accessories and (maternity) gifts.
There is always something new to find from well-known brands such as Barbapapa, Bergstein, Converse, Fitz Kits and Petit Bateau.
Curious about what else can be found in this great store? Stop by and have a look!
Flo 4 Kidz is located at IJburglaan 1273-1275,1087, XNUMX GJ Amsterdam.
Blitskikker - Javastraat 117H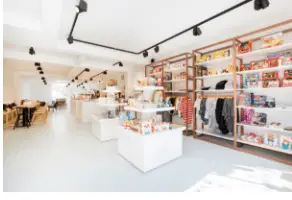 In the cozy Javastraat in Amsterdam East you will find children's concept store Blitskikker!
Blitskikker is a shop for children from 0 to 12 years old, where you can buy toys, clothes and nice gifts.
In the family cafe you can eat, drink and of course you can play in the play corners. Fun for both young and older children!
In addition, every week from Wednesday to Sunday there is a Kinderkapper Amsterdam in the shop that turns every haircut into a party.
Blitskikker is located at the Javastraat 117h, 1094HD Amsterdam.
Big and Belgian - Jan Pieter Heijestraat 83
At Big en Belg you will find a cheerful collection of children's clothing and toys. It is always nice to walk in at Big en Belg.
The colorful collection is fun to view. The children's clothing has fun and surprising prints, so you will not soon see someone else walking with it!
Not only can you buy existing brands, there are also homemade paintings and jewelry for sale! So for an original gift you've come to the right place.
Do you want crazy cardboard glasses, for example? Or do you prefer a cool cap?
Stop by to have a look. Big en Belg is located at Jan Pieter Heijestraat 83,1053, XNUMX GM Amsterdam.
My Lemonade - Middenweg 46HS
At My Lemonade you will find a hip clothing store in Amsterdam East, including maternity gifts and lifestyle products.
My Lemonade likes to keep up with the times and always keeps moving. They stand out because of their minimalist and stylish appearance, but are also always in for fun!
There is something for everyone, from 0 to 16 years old.
In addition to Fashion you can also find all kinds of toys, original maternity gifts, shoes and lifestyle products for the children's room.
My Lemonade is located at Middenweg 46HS, 1097BR Amsterdam.
Kids and Koters - C. van Eesterenlaan 46
The store for second-hand baby and children's items! There is also a children's hairdresser! A household name in the Eastern Docklands of Amsterdam Zeeburg.
The store sells everything for babies, children and expectant mothers.
Clothing (sizes 50 to 176), shoes, toys, books (both pregnancy and children's books), baby products and accessories.
There is also a wide range of costume items for sale. There is something for every conceivable party.
Kids en Koters is located at C. van Eesterenlaan 46,1019, XNUMX JN Amsterdam.
Knotsknetter - Jan Evertsenstraat 100
At the Knotsknetter you will find original children's clothing, toys, accessories and other trendy things. And also a children's hairdresser!
Things shouldn't get any crazier at Knotsknetter! You can find everything you are looking for for kids here.
From hip, original and comfortable baby and children's clothing to bedroom accessories and from kitchen utensils to reading books!
At Knotsknetter you will find many Scandinavian brands with cool clothing.
An additional advantage is that a large part of the clothing collection is organic and that by buying clothing at Knotsknetter you also contribute to a better world.
Knotsknetter is located at Jan Evertsenstraat 100,1056, XNUMX EH Amsterdam.
Sunday Market - Haarlemmerweg 8-10
Every first Sunday of the month you will find plenty of cozy stalls here in Amsterdam for great shopping.
Sunday Market is a creative platform for young and old! Come and browse through different stalls and find the most surprising things.
In addition to the large number of stands with original children's toys, children's clothing and other gadgets, there are also many food stalls and terraces at the Sunday Market.
A wonderful place to meet and send the children out to do their own shopping.
Sunday Market is located at Haarlemmerweg 8-10,1014, XNUMX BE Amsterdam.
ANNLIZ - kids - Reestraat 16
Stylish & Fair Collection for women & kids. You can find ANNLIZ in the 9 Streets! A beautiful store that could no longer be missed in the 9 Streets.
ANNLIZ knows how to seduce everyone with the most beautiful products from all over the world and their fair philosophy.
ANNLIZ also has the sweetest dresses and super cool outfits for kids that you will fall in love with immediately. Not everything revolves around design.
It is precisely the ethics of the designer, the chosen materials and the production method that are important.
The ultimate combination between FABULOUS + FAIR. At ANNLIZ you will find brands such as Mini Rodini, Emile et Ida and Soft Gallery.
ANNLIZ is located at Reestraat 16,1016, XNUMX DN Amsterdam.
Imps & Elfs Store - Sloterkade 41-44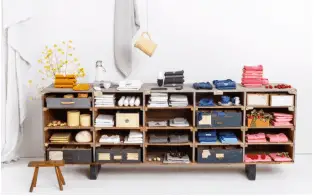 Imps & Elfs is a unique children's brand and the only Imps & Elfs Store in the world is located in Amsterdam! Imps & Elfs stands for children's clothing without frills.
Where you will only find part of the Imps & Elfs collection in other stores, the entire collection is available in the Imps & Elfs Store; unique clothing from size 50 to clothing for kids aged 15 years.
In addition, the clothing is made of organic cotton. By buying these clothes you also contribute to a better world.
In addition to the fun kids collection, the Imps & Elfs store also has a nice collection for mothers: scarves, bags, jewelry, you name it!
And everything from very nice brands! Imps & Elfs store is located at Sloterkade 41-44,1058, XNUMX HE Amsterdam.
They have their range too online here where you can view it and have it delivered to your home.
MA78 concept store - Marnixstraat 78
MA78 is a shop, living room cafe, workplace, play area and workshop space under one roof!
In the store you will find second-hand designer clothing, outlet and handmade clothing, jewelry, breastfeeding shawls and health products.
You can also go to MA78 for a maternity party, baby shower and children's party. In the living room cafe you can enjoy organic and / or homemade products.
You can play in the children's kitchen while mommy has a break while enjoying an organic cup of coffee raw food cake, browsing the store or working behind the laptop.
MA78 is located at Marnixstraat 78,1015, XNUMXVX Amsterdam.
Do Re Mi Children's Boutique - Westerstraat 194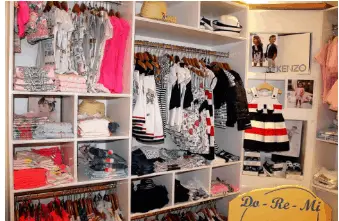 In the middle of the Jordaan is a very nice and cozy children's boutique with beautiful and exclusive clothing!
While enjoying a cup of coffee you will receive friendly help at Do Re Mi Kinderboetiek. Here you will find fun and exclusive clothing for your kids.
They can also enjoy themselves while you can choose from the best brands, such as Anthony Morato, Supertrash, Vingino and Scotch & Soda.
There is also a wide range for babies. If you want to surprise someone else with an original gift, you can get a gift certificate here.
Do Re Mi Children's Boutique is located at Westerstraat 194,1015, XNUMX MR Amsterdam.
Good! From then - Ruyschstraat 90
Goed van Toen has fair and organically produced children's and baby clothes that are comfortable. Goed van Toen is a great children's clothing store in Amsterdam East.
Their collection is produced in a good & sustainable way. The clothing is especially playful, comfortable and comes in cheerful colors and prints.
Brands that you will find at Goed van Toen are WILD, Tapete, Samfolk, Nosh Oragnics and many more. Goed van Toen is located at Ruyschstraat 90,1091, XNUMXCG Amsterdam.
Transport for shopping in Amsterdam:
Within Amsterdam you can travel quickly and easily by tram, metro, bus and ferry.
If you want to use the P + R rate, you have to travel further by public transport to the center of Amsterdam.
Individual P + R GVB cards can be purchased at a discount on the P + R sites, but you can also use your own OV chip card.
Note: You cannot travel with an OV chip mobile.
Centrum Nieuw West is easily accessible by public transport, tram 1 and tram 17 leave from Amsterdam Central tram stop and also stop at Amsterdam Lelylaan tram stop.
From Amsterdam Lelylaan you are within 10 minutes by tram at Centrum Nieuw West.
And so you can shop for children's clothing in the fun children's clothing stores in Amsterdam.
The Kalverstraat is the most famous shopping street in Amsterdam. On Dam Square you will find the Bijenkorf, one of the oldest and largest department stores in the Netherlands.
The Nieuwendijk is the oldest shopping street in Amsterdam and connects Dam Square with Central Station.
In addition to the larger retail chains, you also have countless smaller, trendy fashion stores and catering establishments here.
The 9 Streets: the most beautiful vintage and original gifts
The 9 Streets in the Jordaan are part of the canal belt and therefore have the status of UNESCO World Heritage.
This authentic neighborhood is full of picturesque monuments and has a unique range of specialized shops, often with vintage products and fun, original gifts.
Also nice nearby:
You want to visit these 13 great children's clothing stores in Amstelveen
Time to go shopping for the kids?
Amstelveen has it all: from beautiful independent boutiques to the well-known large chains such as H&M, CoolCat, Zara and of course a Hema.
Just below Amsterdam, where you can of course also indulge yourself in children's clothing stores, it is very easy to reach.
In Amstelveen you will find a huge indoor shopping center called Het Stadshart that is definitely worth a try.
There is plenty of parking space in the underground parking garages and you can shop very comfortably here even during less nice weather.
Another must is the weekly market in Amstelveen center.
Here you will find freshly baked bread, organic cheese, fresh fish, but also fun fashion and beautiful flowers.
Finished shopping? Then just relax on one of the terraces on the edge of the square.
Children's clothing stores on the map of Amstelveen:
Twinkel4Kids Amstelveen
Twinkel4Kids has been a household name in Hoofddorp for years, once started as Baby Twinkel.
They also opened their doors in Amstelveen 7 years ago and have since grown into the successful Twinkel4Kids formula.
Here you can find beautiful children's clothing brands such as Z8, Name it, Baker Bridge, Bomba, Vingino and Return.
You can also count on fun accessories from Koeka and Snooze Baby, Sophie the Giraffe and Happy Horse.
The helpful employees of Twinkel4Kids are happy to assist you to help you choose the right children's clothing.
Twinkel4Kids: Kostverlorenhof 12, 1183 HE Amstelveen
Tumble'N Dry
The kids can indulge themselves with the Tumble 'N Dry collection.
At Tumble 'N Dry they closely follow the latest trends and guarantee affordable quality clothing that is nice and comfortable and also durable.
The right clothing is developed for each age category that fully matches the needs and style of the children.
Tumble 'N Dry can now be found in more than 1000 children's clothing stores in the Netherlands, Scandinavia, Belgium, Germany, Spain, Eastern Europe, Canada, Japan, Italy, Greece, Switzerland and Australia.
Tumble 'N Dry: Binnenhof 26, 1181 ZH Amstelveen
Scotch & Soda
There is also plenty to find for adventurous explorers.
From comfortable trousers in well-combinable basic colors to sweaters with striking texts that the children will love to wear.
A top priority at Scotch & Soda is to consider the world around us when conducting their business.
They stand behind the challenge of making fashion more sustainable. A real Dutch brand, designed in the heart of Amsterdam.
Scotch & Soda: Rembrandtweg 55, 1181 GE Amstelveen
Little Label basics for kids
The clothing is always of good quality, is comfortable and is trendy and stylish. Here you can also go for good customer service and flexibility.
It is a close-knit team that stands behind Little Label basics for kids with a lot of passion for developing trendy basic clothing for children.
The collection includes clothing for every season with a good fit.
Solid quality clothing made of 100% high-quality cotton that still looks great after many washes.
Little Label basics for kids: Rembrandtweg 665, 1181 GV Amstelveen
H&M
Look out for the multipacks of all-in-ones made from soft organic cotton.
For your toddler you will find comfortable jerseys and cute shirts with fun designs. You will find the clothing in sizes 50 to 74.
For kids between 8 and 14 years old, you can choose from supple jersey dresses, slim-fit jeans and airy tops.
For boys between 1½ and 10 years old, you have cool and comfortable clothing with nice hip and trendy figures.
You can also choose from the jeans collection, cargo shorts and nice shirts.
H&M: Rembrandthof 9, 1181 ZL Amstelveen
Also read: bed surrounds for a safe crib
ZARA
You can opt for practical coats and jackets for both girls and boys that are tailored to the latest season fashion.
Nice tops, sweaters, dresses and pants in different sizes and colors that are perfect for school or other occasions.
ZARA: Rembrandtweg 41 A, 1181 GE Amstelveen
AC
The collection is continuously supplemented with children's fashion according to the latest trends. Clothing in which the children can move freely and happily.
Look out for the different clothing styles with bright colors and fun prints.
For your baby you can choose the Baby club brand. It is comfortable and looks cute.
For the toddlers you can also choose clothes from the Palomino brand for kids from 2 to 6 years.
At C&A you will also find the Here & There brand for kids from 7 to 14 years old and the Clockhouse brand for older teenagers.
C&A: Pieter Lastmanweg 1-3, 1181 XG Amstelveen
Sailor
You will find very nice clothes for your baby.
Cute onesies in beautiful colors and made in a functional way so that you can easily put them on and take them off.
Also look out for nice girls and boys clothing in sizes 68 to 86, such as well-fitting jogging pants, T-shirts and tops, dresses and cardigans in various colors and models.
At the Zeeman you will also find clothes for boys and girls in sizes 92 to 128.
Sturdy, sturdy garments that do not tear easily while playing or romping around.
The kids sleep well in the super soft pajamas with different motifs.
Zeeman: Rembrandtweg 427, 1181 GN Amstelveen & Van der Hooplaan 111, 1185 GA Amstelveen
MANGO
This makes MANGO one of the largest fashion brands worldwide, known for its trendy designs and extensive collections.
For both boys and girls you will find trendy but also high-quality clothing.
From the fine basics such as long sleeves and t-shirts in neutral colors, to the hip skinny jeans and fine sweaters with prints and fun texts.
Beautiful clothing made of natural fabrics in which the kids can move freely and happily.
Mango: Handelsplein 3, 1181 WC & Rembrandthof 11, 1181 ZL Amstelveen
WE Fashion
For example a simple long-sleeved shirt. These can be worn in winter as an extra layer under sweaters and in summer on jeans.
Also think of basic sweaters and shirts, or a beautifully colored cardigan and a simple white T-shirt.
They are useful items of clothing that you can combine with different accessories.
You can wear this to school with a nice jacket over it. Enough combination options to appear in a new outfit almost every day.
WE Fashion's clothing is made of soft cotton. It is comfortable and of good quality.
WE Fashion: Binnenhof 24, 1181 ZG Amstelveen
Cool Cat
For the boys you will find quality clothing with cool prints and special designs.
The clothing is made of good material and can take a beating, which is necessary for active children.
Choose from the many nice jeans models and nice shirts that can be combined well with each other.
Or, for example, the comfortable jogging pants or shirts with short or long sleeves in different colors and prints.
For the girls you will find cute dresses, skirts, jumpsuits, jeans, nice tops, tank tops, T-shirts with fun and funny texts and much more.
You can make different combinations with the clothing from CoolCat. Whatever the season, you will find the matching trendy clothing and fun accessories at CoolCat.
CoolCat: Rembrandthof 13, 1181 ZL Amstelveen
AmericaToday
Look forward to the Junior collection which is perfect for the tough boys.
You will find classics such as well-fitting jeans, T-shirts in different colors with long or short sleeves, sweaters, jogging pants and the always popular hoodies.
America Today basics are casual, trendy, relaxed and timeless.
The girls can also choose from beautiful shirts with fun texts and prints, with short or long sleeves.
Also look out for the fun and well-fitting pajama shorts. In America Today clothing, kids and teens are ready for any day of the week.
America Today: Binnenhof 73, 1181 ZJ Amstelveen
Hema
During the design of the children's clothing, the latest fashion of the season is closely followed, but at the same time the clothing has a timeless appearance.
The clothing is comfortable and lasts a very long time. Even after many washes, it still looks very good.
You can make endless combinations with Hema clothing. So every day your boy or girl can leave the house in a new look.
When the kids grow up, the next size of clothing is also ready at Hema. So your boy or girl's wardrobe can be updated regularly.
Which is also necessary because children are growing fast!
Hema: Binnenhof 8, 1181 ZG Amstelveen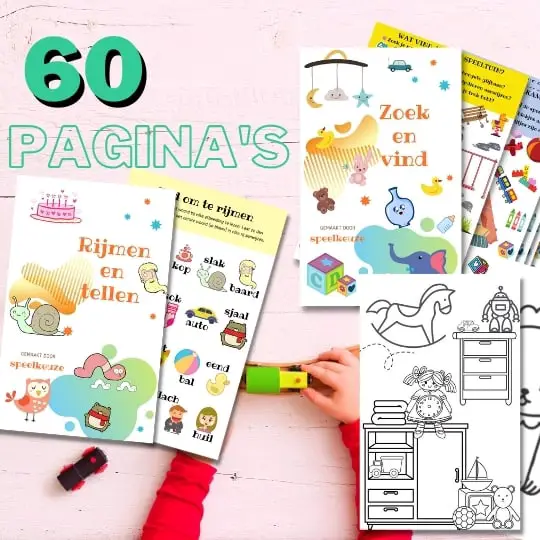 Always something to do for the holidays or rainy day?
Play Choice now has the ultimate activity book collection, with over 60 pages of fun coloring pages and educational puzzles.
Joost Nusselder, the founder of Speelkeuze.nl is a content marketer, father and loves trying out new toys. As a child he came into contact with everything related to games when his mother started the Tinnen Soldaat in Ede. Now he and his team create helpful blog articles to help loyal readers with fun play ideas.